Meet the Super Couple that has made Trekking Independently their way o...
Share this story
Xenophobia: Fear of the unknown. If the blame game was to be played about why trekkers are afraid to trek independently and discover new trails, Xenophobia would be the one to be blamed. Its accomplice would be the extra logistics and planning. It keeps so many of us from trekking in the Himalayas independently. We fear of getting lost, the extra time involved, the planning, the preparing and the lack of an already pitched tent or cooked food.
But in the process of worrying about these trivialities, the perks often get sidelined. The freedom of deviating from your path, the rush of getting lost and then finding the right trail, the gratification of a self-pitched tent and the sense of achievement on successfully completing a trek. Here is a couple from Delhi who decided that they would not let anything get sidelined.
Meet Jason Byrne and his partner in crime and life Shalini Patwal. They live in Delhi and every morning they wake up and get ready to go to work. When they find time, they love experimenting with food. Twice a year they plan a long, extravagant vacation, the first around February/March and the next around October/November.
Flip the calendar pages to before 2015. The vacation destinations on their minds were Goa, Malaysia, Singapore or any other tourist magnet. Sound like your average enviable couple next door?
So what radiation were they exposed to that gave them the superpowers to replace these destinations with a Himalayan trek done independently sans even a guide and transform into a super couple? Let's find out!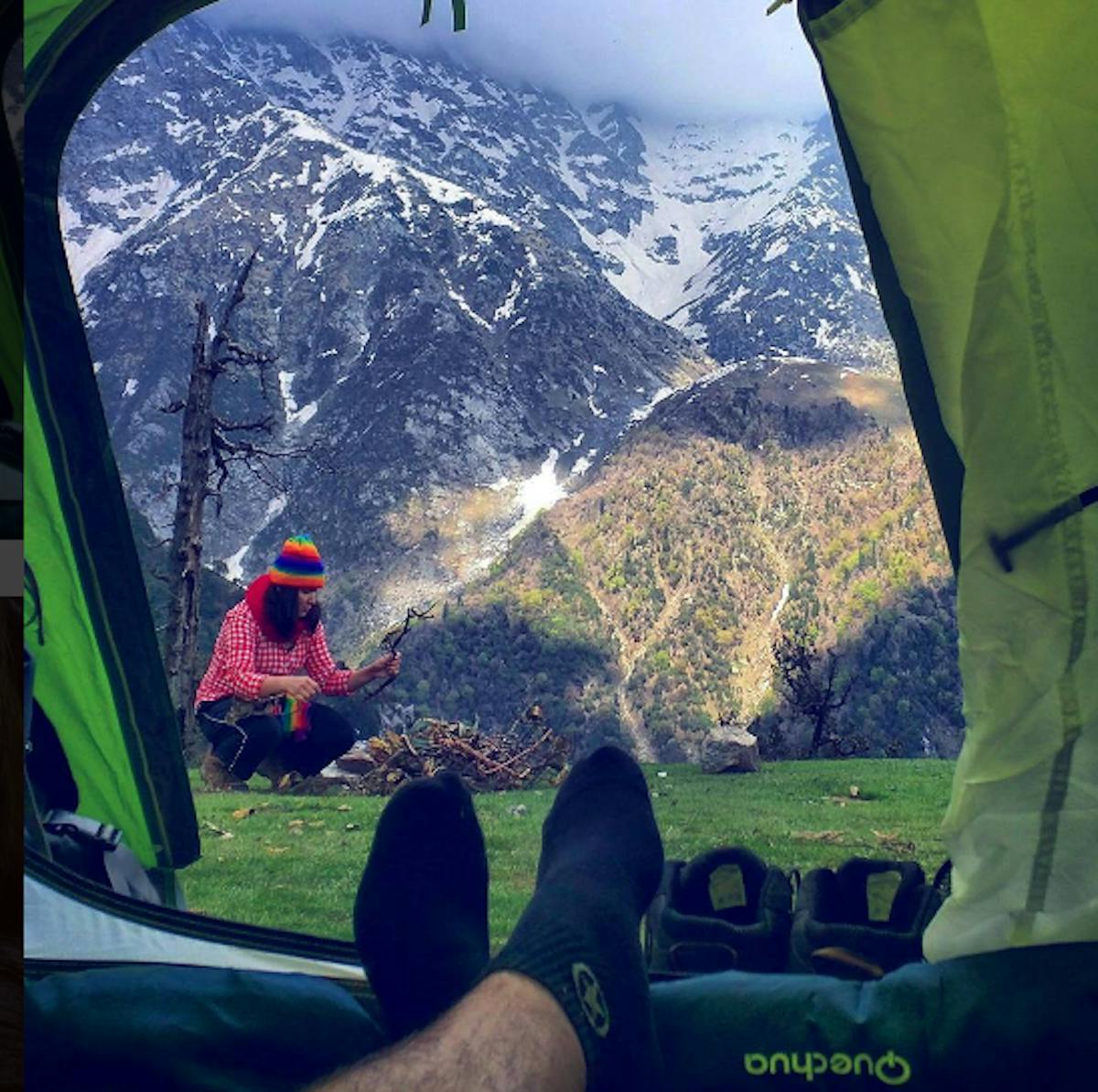 "It was late afternoon, cloudy with patches of rain. Shalini was busy separating the dry firewood in anticipation of a long, cold night. 5 minutes later, a hailstorm soaked all the dry firewood. We enjoyed the hail but had no campfire that night. Made us realize that its life's simple pleasures that make all the difference and the simplest of pleasures make the best memories."
The Radiation
In every superhero movie, before he gains his powers, the superhero must always have some inbuilt characteristics that make him the perfect candidate. Jason and Shalini were the ideal candidates. Shalini hails from Garhwal. Jason spent his formative years in boarding school in Mussoorie. So it goes without saying that they have a deep rooted  love for the mountains and an itch for adventure and the unknown.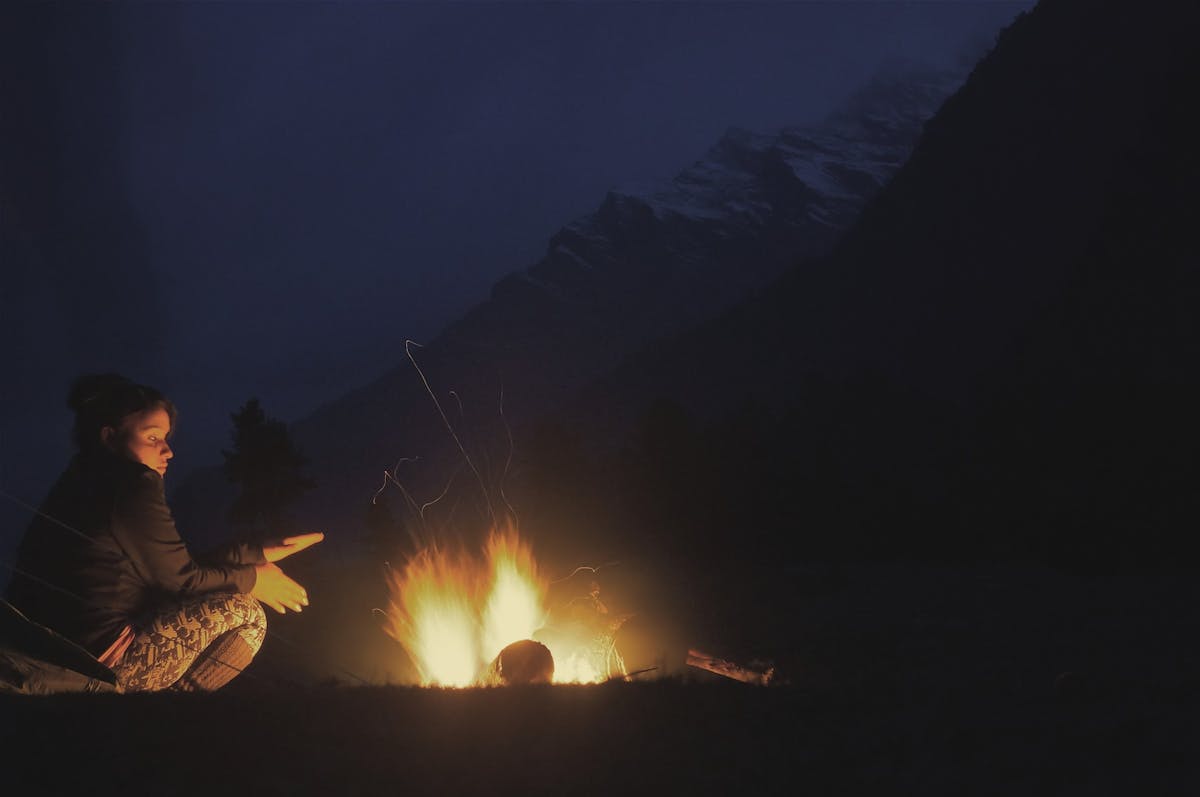 Building a fire is not so difficult for this couple anymore!
Then came the radiation. It came in the form of the movies like Everest, Into Thin Air, and Sherpa. Once they were exposed, there was no turning back. They were intrigued by the Himalayas and Indiahikes offered the perfect compilation of offbeat treks, which they often browsed.
The thought of being completely alone excited them. They loved the challenge of doing a trek without a local guide who knew the route. This meant that they would feel lost even when they were on the right track, but something at the back of their mind assured them that even then, they were right where they wanted to be. .
Shopping for a cape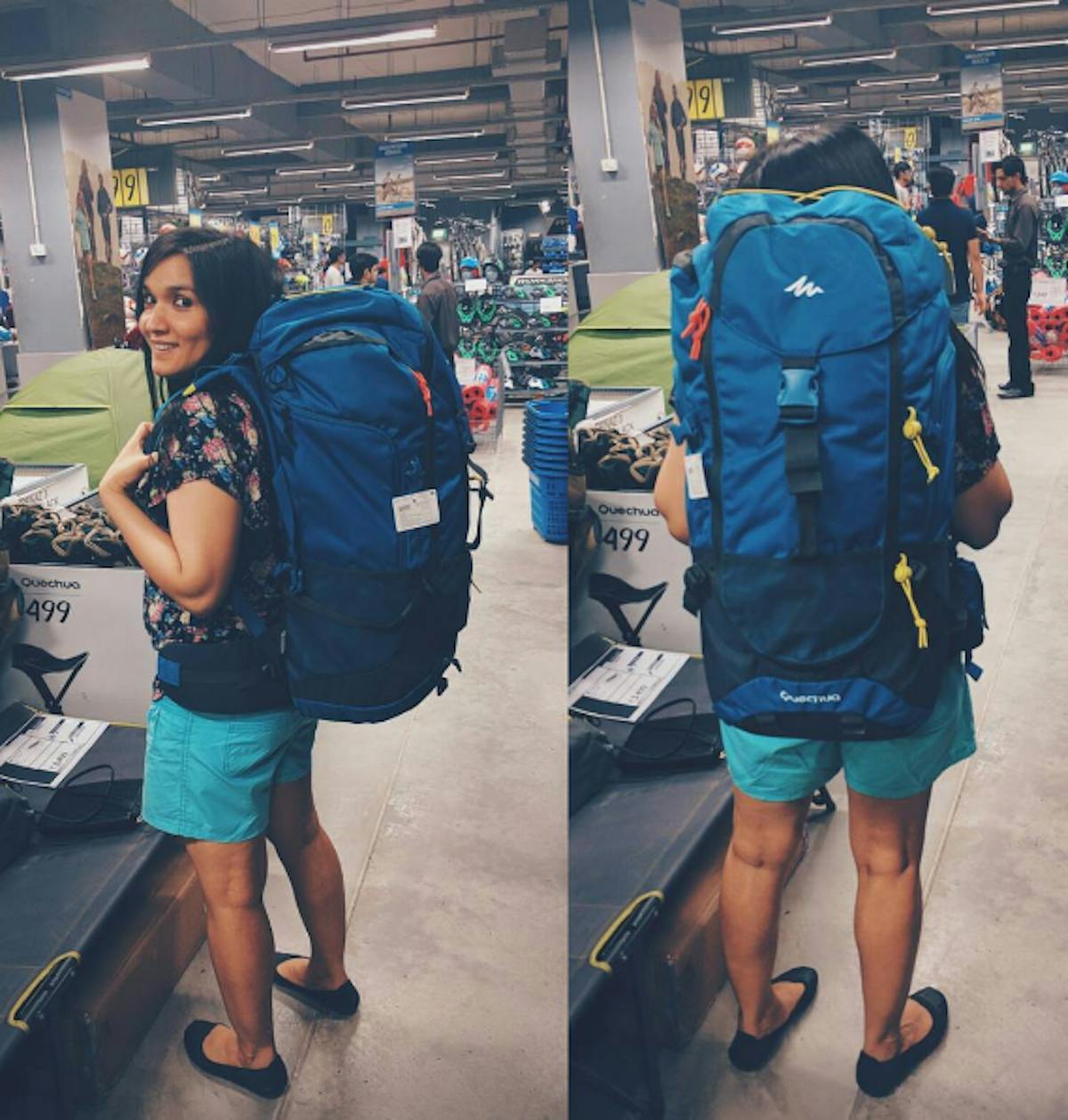 Shopping for the perfect trek
For their quest, they needed to gear the hell up! Being alone at temperatures dipping below zero requires some good preparation. Their shopping list included jackets, shoes, sunglasses, leg warmers and every other piece of clothing that would shelter them from the cold. The super-couple needed their beauty sleep too. Hence, they added sleeping bags and a tent to their list!
"We headed to Decathlon and were stunned at how affordable a tent is. Just 2-3 grand," says Jason. That's the first misconception that people have. Trekking equipment is quite affordable as it is durable and not in use all year round. In most cases, it is a one-time investment. 
To fuel themselves they picked up a small burner that came with a holder for a dish. They mostly carried packets and packets of Maggi, Oats and soup as a staple on the trek.
Offloading on mules? That's a word that you will not find in this couple's dictionary! Once they had checked everything off of their shopping list, they packed it up. Jason's backpack weighs about 12-15kg on average and Shalini's about 10-11kg. 
With all the gear, they were ready for their first adventure!
First adventure
Triund: The one where it all began
The couple chose to do Triund in March as their first independent trek. It was off season. There was a nice cover of snow over everything. The nearest person was a few 100 meters away.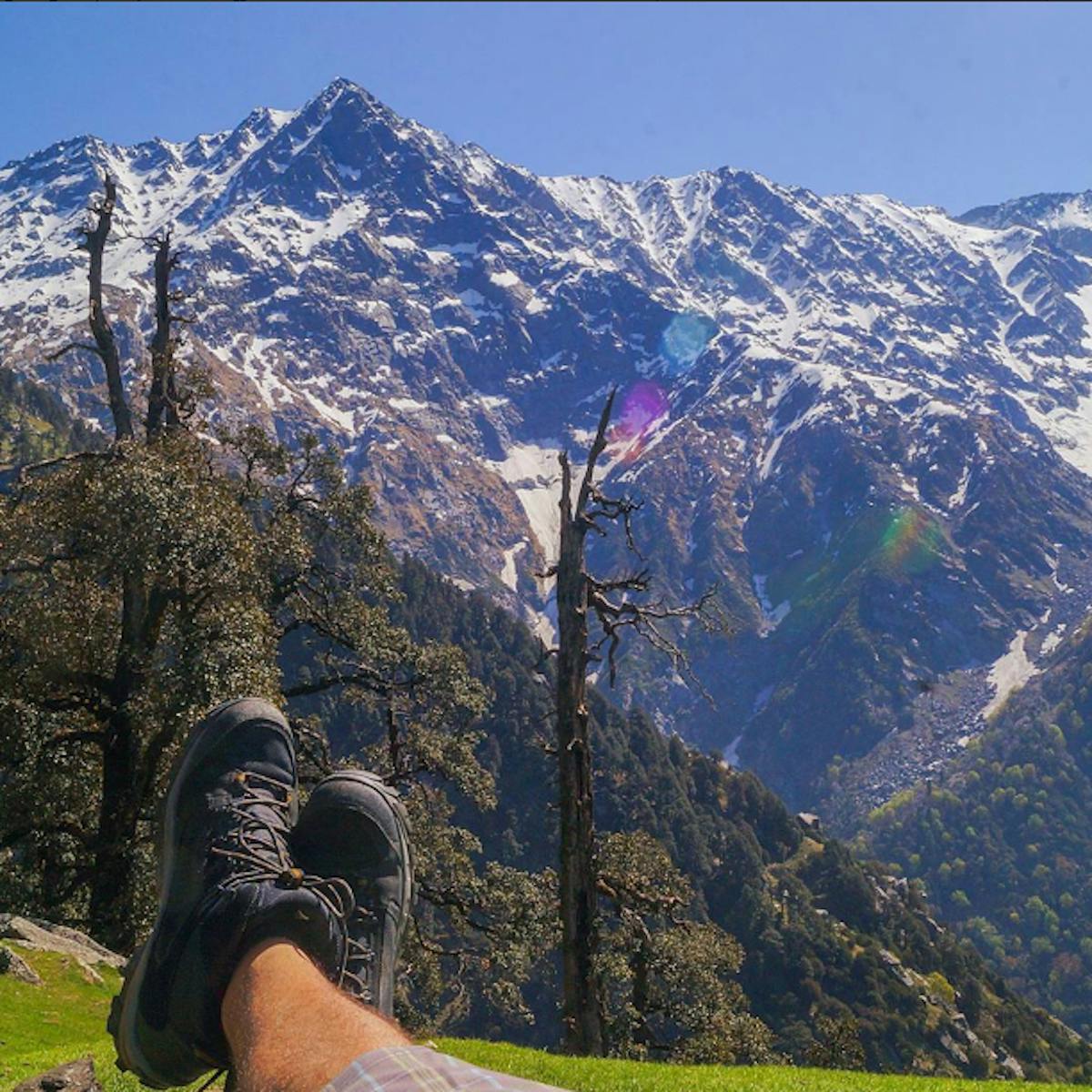 The destination ahead – Triund peak
Shalini and Jason were finally living their dream. Right when they got onto the trail, they decided that luxurious holidays were not for them. They were into a different kind of luxury. One that doesn't involve getting pushed through streets to see a monument, or getting oil rubs from a masseuse. They wanted the luxury of space, of the unknown and of nature.
Being their first high altitude trek, Jason admits it was strenuous, but not difficult. The trail is a gradual incline but for the last 2km it becomes a bit of a vertical climb. Since they had the liberty of tweaking their itinerary whenever necessary, they could take pauses to soak in a pretty sight. "It was magical," exclaims Jason.
They returned to Delhi with a pocketful of sunshine and a head full of memories. They couldn't wait for the next adventure.
Six months later, they were already putting their backpacks on again. Out of the High Altitude menu, they chose Mantalai Lake – slightly more challenging than Triund, but not too difficult. 
Second Adventure
Mantalai Lake: The one where they almost suffocated in their tents
With Mantalai Lake in mind, their first camp was Kheerganga. Tents pitched, sleeping bags zipped and feet finally warm, Shalini and Jason dozed off. But the night was filled with surprises. Suddenly they woke feeling stuffy. Breathing was becoming difficult. They were damp. And then slowly, they realised, that they were witnessing the first snowfall of the season and it was burying them. It was 2 am and Jason stepped out to take a look and realised that snow had blocked the tents air circulation, which is why they were finding it hard to breathe. The only way to get through the night was to step out every few hours to shovel the snow off the tent. There is no sugar coating this, it was a struggle.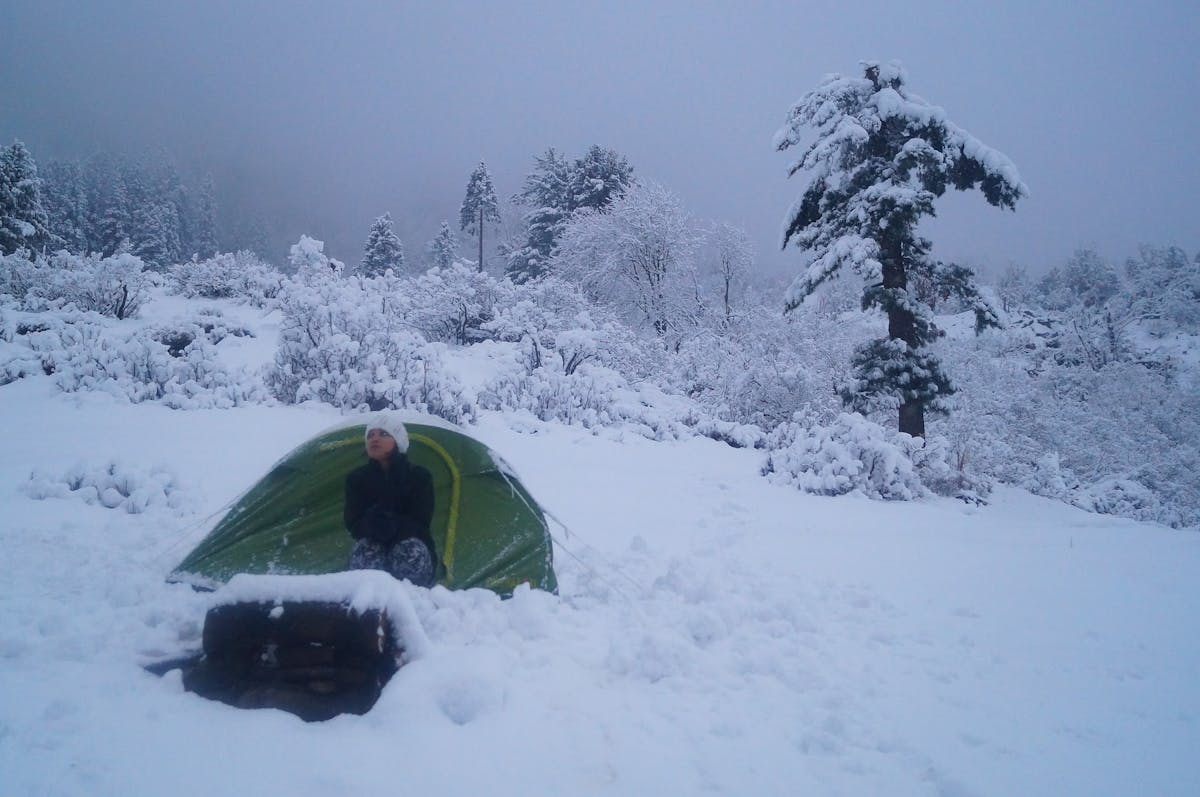 Snowfall at Mantalai lake campsite
But what they woke up to at dawn was nothing less than a scene out of a fairytale. It was the most beautiful snowy landscape, it was the perfect early morning chai time. This was their silver lining. It was the fairytale moment to their superhero movie. From surviving on porridge and soup to the grueling effort they put in, this is when they decided that it was all worth it!
They planned on continuing to  Mantalai Lake trek but bad weather forced them to reconsider and they returned to Delhi. Soon they started to write the script for their sequel.
Third Adventure
Beas Kund: The one where they had their first fight
For this trek, the adventure started all the way from Delhi when the couple ditched their personal Batmobile to try out public transport. Jason says it was during this journey when the couple had their first and only argument while on a trek. It was for the window seat on the bus! They're allowed to want the luxury of two windows, aren't they?
It was also a completely different experience because unlike the other two treks, on this one they were completely alone. No humans in sight for long stretches of the trail. I could create some hype about this power couple and say that they didn't get lost even once. But I don't write fiction. They did get lost. But here is where preparation and research comes in handy. They knew that horses had a homecoming instinct. Hence, when lost, the best option is to follow them. And, in no time, couple was back on track after following a few horses.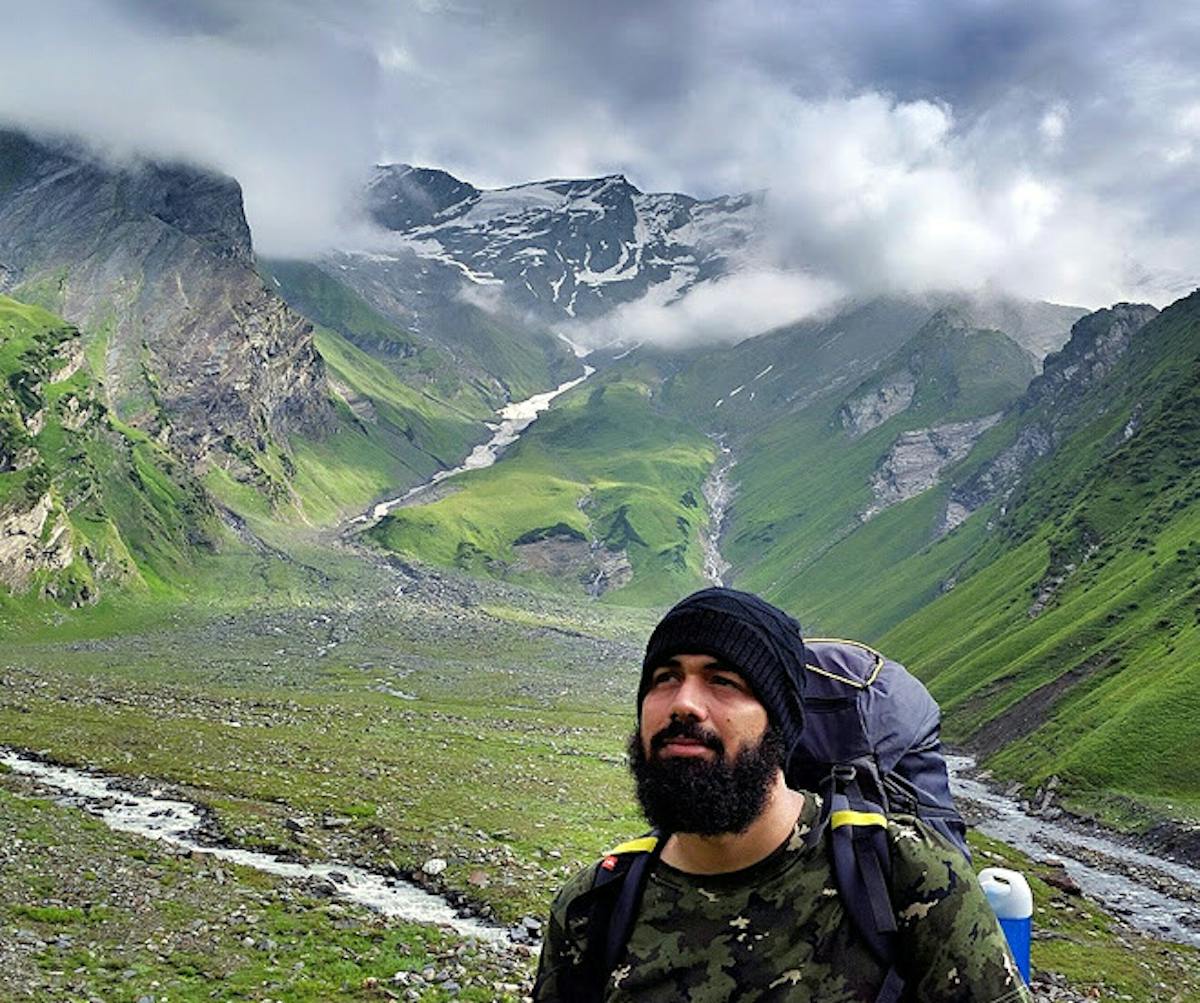 The beautiful Beas Kund glacier
"The Indiahikes documentation of the Beas Kund helped us throughout the way. It really goes a long way to know what you will be seeing en route. The description of the scenery and landmarks that you should look out for, these give you confidence as you proceed with the trek. Reading how every detail was mentioned in the documentation, it made it seem very doable and  motivated us to take up that challenge," says Jason.  
They crossed the beautiful meadows of  Bakar Thach and headed to Beas Kund. Beas Kund was absolutely mesmerising. Shalini and Jason had some time to themselves to explore their campsite for the night. They walked in all directions and about 200 meters away they came across the only sign of life, a shepherd hut and a flock of sheep. They were interested. This was their sightseeing, it was their monument.
They headed to the hut and met the shepherds, two brothers. These men were going to bring a newfound respect and hope for humanity in Shalini and Jason. They fed them hot chapatis and lamb curry. No five star restaurant could compare to this meal that they shared under a million stars. It felt like heaven after days of packaged food. As much as they would have liked to stay back, they had an important responsibility at Beas Kund.
Their beloved pet labrador had passed away and they had carried with them her ashes on the trek. She deserved to be in a special place they said. They sprinkled her ashes at Beas Kund and prayed for her soul to find peace. Is there any gesture sweeter to show their love for man's true best friend?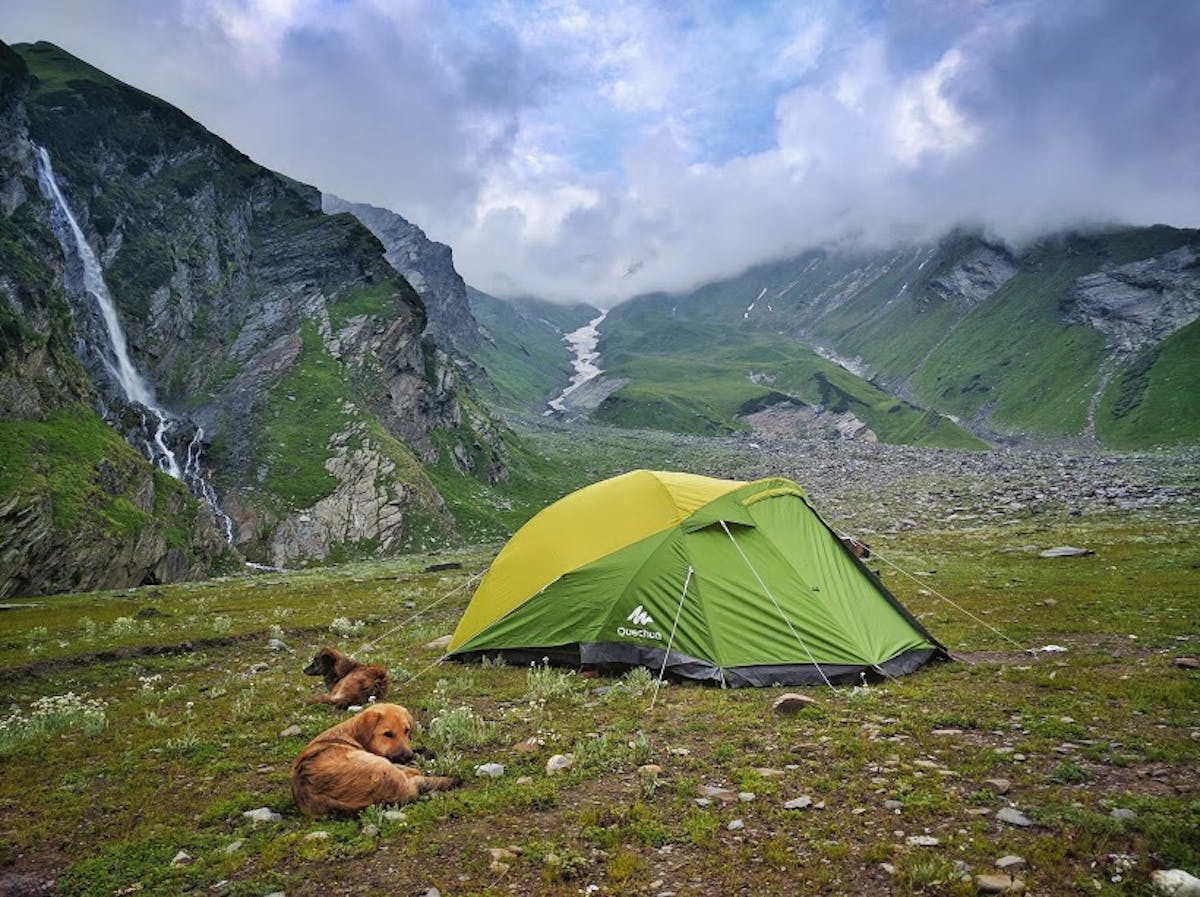 A campsite on the Beas Kund trek
How did they tough up to the conditions
Jason says that planning is no rocket science. A good amount of research will do wonders. As for the workload, the couple did try to divide it equally amongst themselves. Shalini's forte is cooking; she is extremely particular about it. So while she cooks up a hot meal, Jason heads out for water and firewood. But by the end of it all they are usually so bummed out that they end up sharing the load of everything else. They set up camp together and help each other pitch the tent.
Ask them what they miss on treks? It is not late night TV or a burger from Wengers that they missed. Trekking makes you appreciate the bare essentials. What they missed the most was hot water. There is no better way to end a day than a nice hot bath. On the other hand, the unavailability of junk food is a good cleanse.
Time Management
Living in Delhi is a huge bonus. It has such good connectivity to Uttarakhand and Himachal Pradesh. The couple saves time on travel by starting late evening so that they can reach their base early the next morning and start trekking immediately. It is not too difficult to get a few days off from work and club it up with a weekend.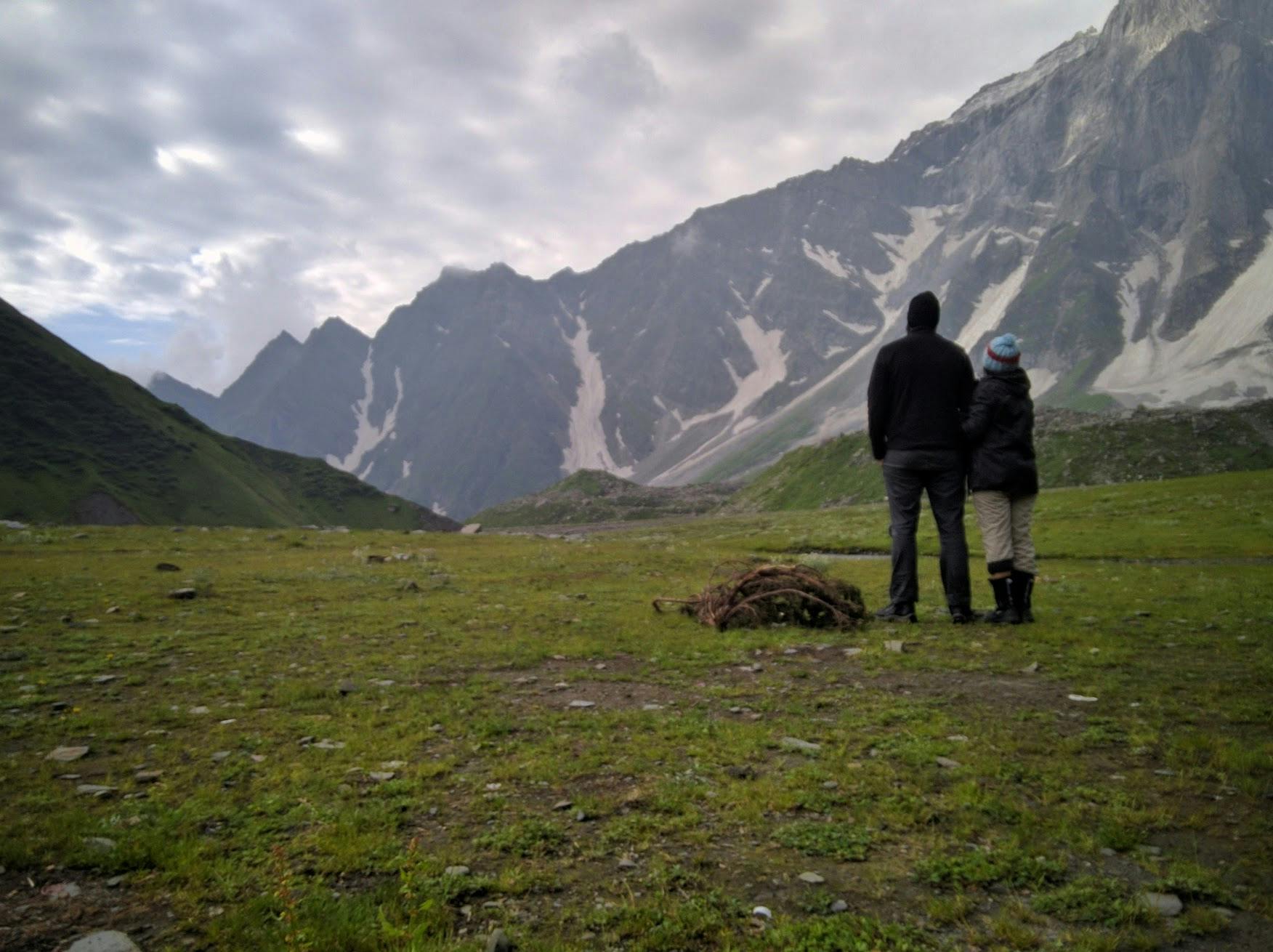 The couple plans to mix up their vacation next year and have come to a settlement. They plan to go to Goa for Shalini's birthday and on yet another independent trek for Jason's birthday.
Until they went on their first adventure, Triund, the couple was never satisfied after a vacation. Now they return home feeling rejuvenated. Jason boasts that he has since converted a number of friends to develop an interest in trekking and go on their first trek.
You can follow Jason's Instagram account where he posts quite actively about their trekking adventures here!
Sign up for our much loved Weekly Mailer
We have terrific trekking tips, trek updates and trek talks to look forward to