What Makes The Har Ki Dun Trek One Of The Richest Cultural Experiences
Share this story
My relationship with Har-Ki-Dun began much before my love for the mountains evolved, perhaps even before I was born. My parents celebrated their honeymoon there. They pitched tents alongside rivulets in the lap of these vast valleys. Photographs of the Swargrohini peaks, the misty forests and the quaint village of Osla kept popping up in family albums.
It was many years later that I visited the Har Ki Dun valley. I spent around 6 to 7 months here and what I witnessed was truly enchanting. The trail is breathtakingly beautiful. But what brought more to my journey was the rich culture that I saw and became part of.
The simple yet unfamiliar way in which the villagers lived and farmed, the colourful clothes they weaved, the temple rituals, the beating of the village drum, the ancient architecture of the houses, their folk songs and stories… It was like entering a different world, a time warp of ancient culture and beauty.
It's no wonder that at Indiahikes, we have always maintained that this is one of the most culturally rich treks in India. Right from the basecamp at Kotgaon, you begin to feel a deep sense of culture and the presence of a time gone by.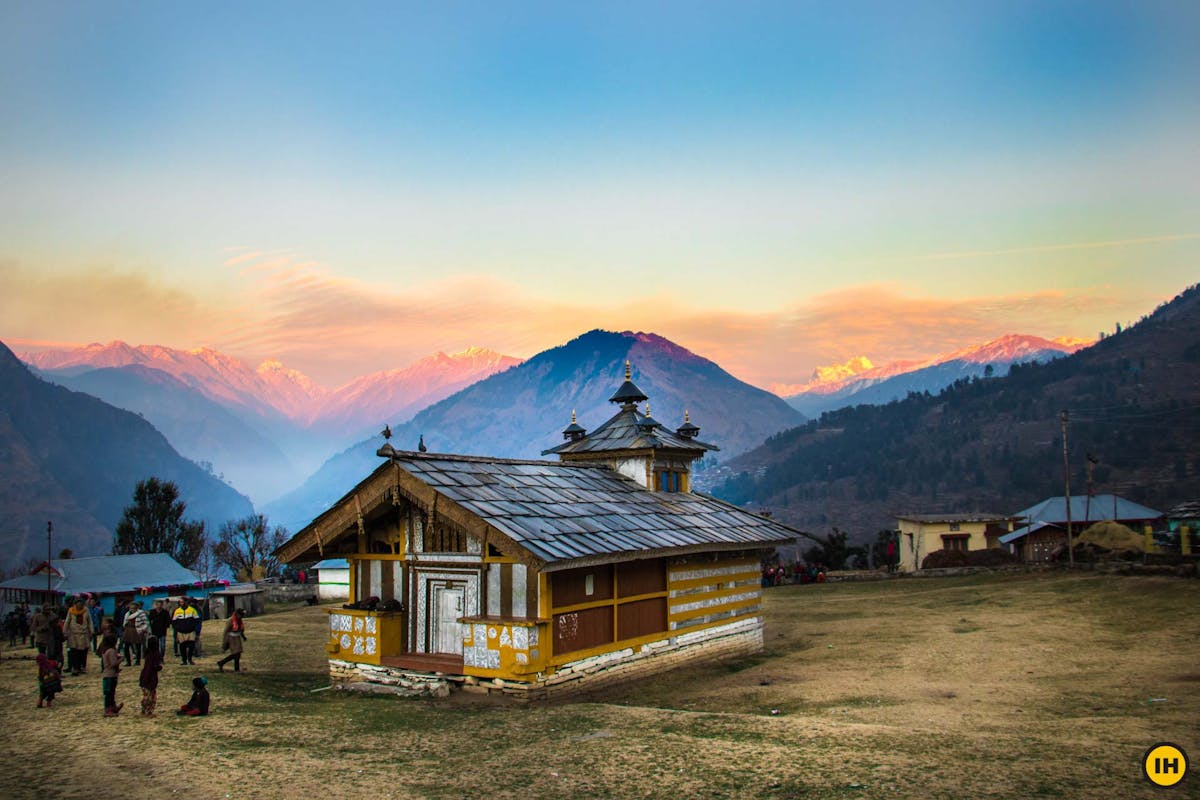 The entrance of the Kotgaon village is marked by a lovely temple with lovely wooden architecture. Picture by Vishwas Kallur
At the cusp of cultures
The entire Har Ki Dun valley, called the Ranwai Ghati, or locally as Parvat Ghati, is geographically situated very close to the borders of Uttarakhand and Himachal. Also, this valley lies close to the Jaunsar Baawar tribal region. So the local customs, mythology, cuisines, dance forms and rituals have major influences from Himachali, Jaunsari and Ranwai cultures, which make the valley an alluring Treasure Trove of heritage and history.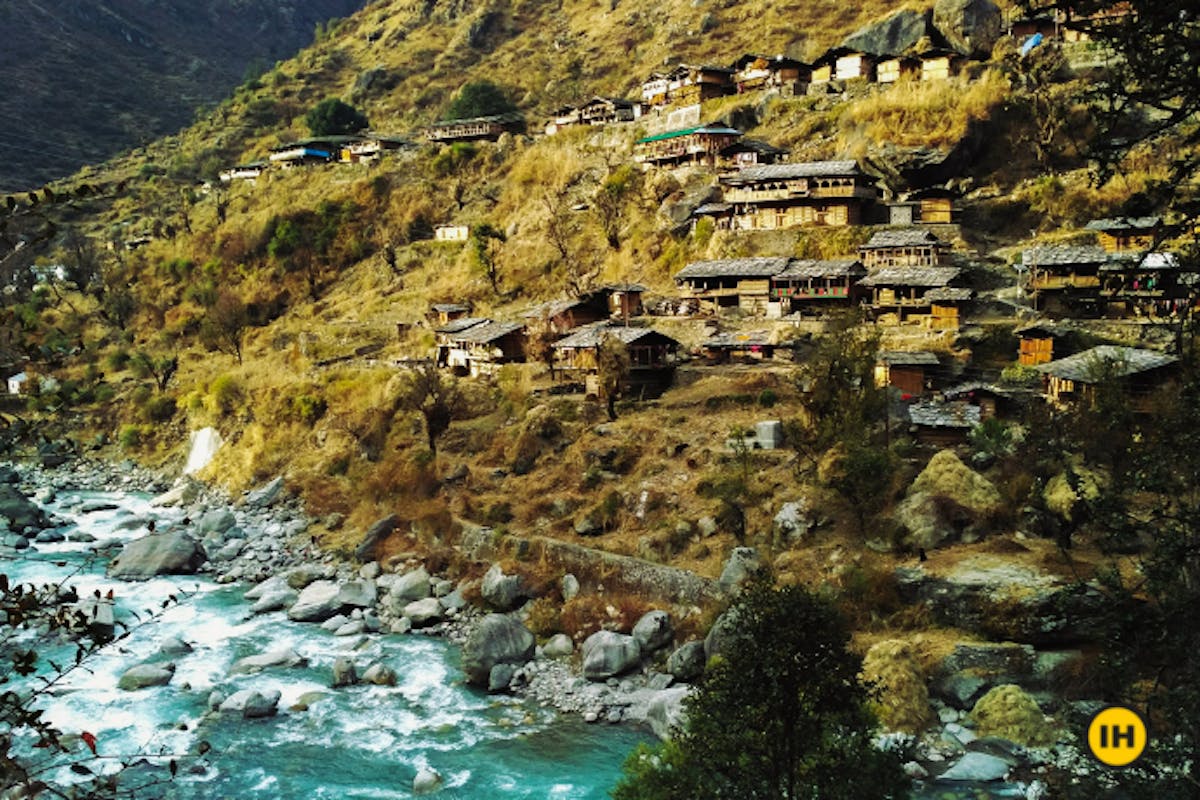 The Osla village spread out on the mountainside with houses almost hanging in the air. Photo by Reni
Ancient architecture and carvings
The beauty begins right at Kotgaon, Indiahikes' base camp of the Har Ki Dun trek. Kotgaon has ancient wooden houses, some dating back to even 300 years. The houses are built of wood and stone. You'll notice smooth carvings of flowers, leaves, sometimes tigers on the façade and on the pillars. Run your hand over them. It's ancient art. Smell it and you will inhale the sweet woody fragrance of Deodar. It is a strong-hardy specimen, perfect for building sturdy homes.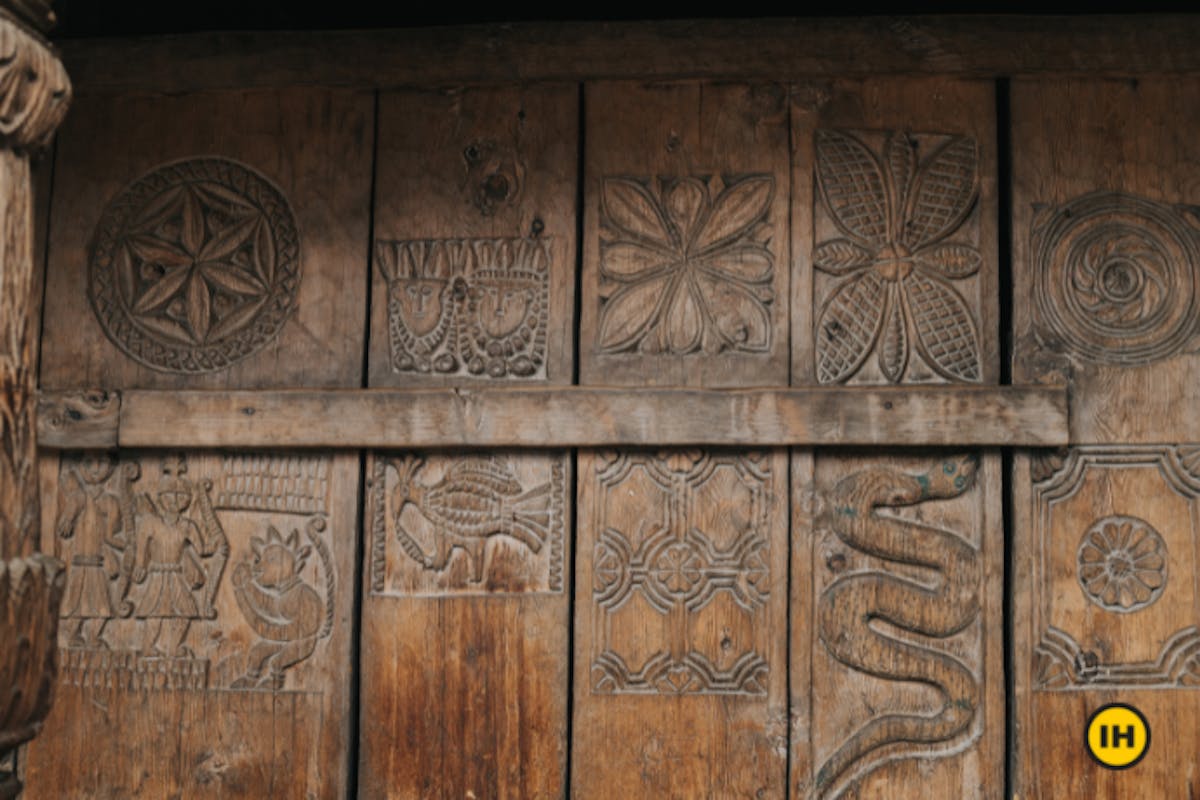 Ancient carvings on old houses of these villages. Photo by Urvish Joshi
The roof of these ancient houses is made of a grey stone called Pathaal in the local language. Skilled artisans who have an in-depth understanding on how to measure, hew and polish these stones are invited to construct these roofs.
These wooden houses can be up to five storeys in height and are named according to the level of floors on them, Dwipura for two floors, Tripura for three, Chaupura for four floors and so on.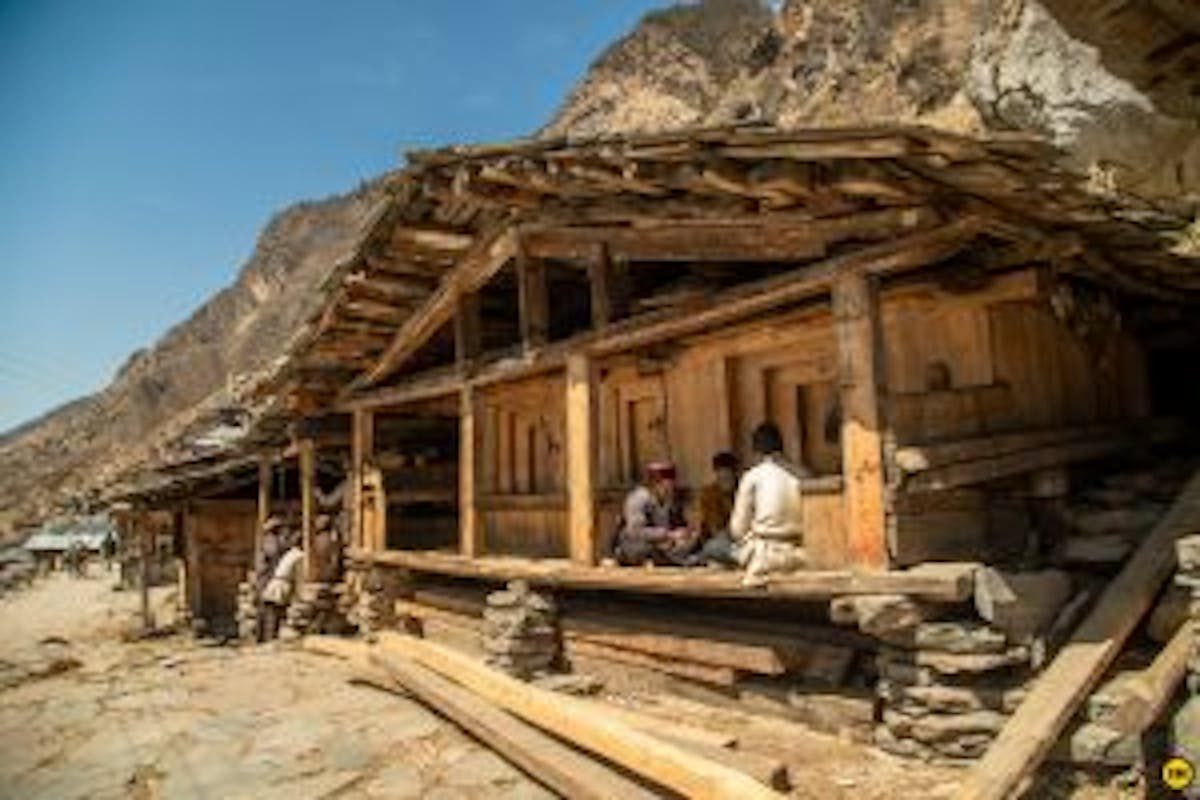 A wooden house at Osla Village. Photo by Jothi Ranjan
If you happen to visit the town of Uttarkashi (around 8 hrs from Mori), at Tiloth, you can see a Panchpura, or a five storeyed wood house that is approximately 300 years old. Don't forget to ask the locals the story of Nar-Bijola,the two warrior princes who fought for the hand of a pretty princess and lived there.
What's fascinating is that these houses are a perfect blend of aesthetics and sensibility. The ground floor is usually reserved for the animals. In addition to providing a safe shelter for the cows or buffaloes, this place generates a lot of heat because of the body heat of the animals and thus, insulates the entire house.
Strike up a polite conversation with the owners of the house at the village of Kotgaon, Osla or Gangaad and they will be happy to show you around. If they like you back, you will be blessed with a cup of sweet pahadi tea along with local stories of gods and goddesses hunting down demons.
Our photo trekkers especially love capturing the intricacies of the wooden carvings. Set against the backdrop of snow-capped mountains, they're a thing of utter beauty. 
A rare temple dedicated to Duryodhana-King of Kauravas
All along the trek route, in the villages as well as on the trail, you will come across many temples dedicated to the local gods and goddesses. You will learn that the people here deeply revere the Mahabharata. But what will take you completely by surprise is that they not only worship the Pandavas, but they also pray to the Kauravas! 
While trekking to Osla, you come across a shrine dedicated entirely to Duryodhana — the king of the Kauravas, the only other known temple being Poruvazhy Peruviruthy Malanada located in Kerala.  
This temple at Osla is a three chambered wooden temple adorned with bells and prayer flags. Observe the exquisitely carved pillars at the back and front of the temple. The temple is a beautiful structure, built on the lines of ancient Hindu architecture. In recent times, owing to political pressure, the local authorities renamed it The Someshwar Temple and "re-dedicated" it to Shiva but the 5,000-year-old ritual of the drum being played thrice a day in honour of Duryodhana continues even today.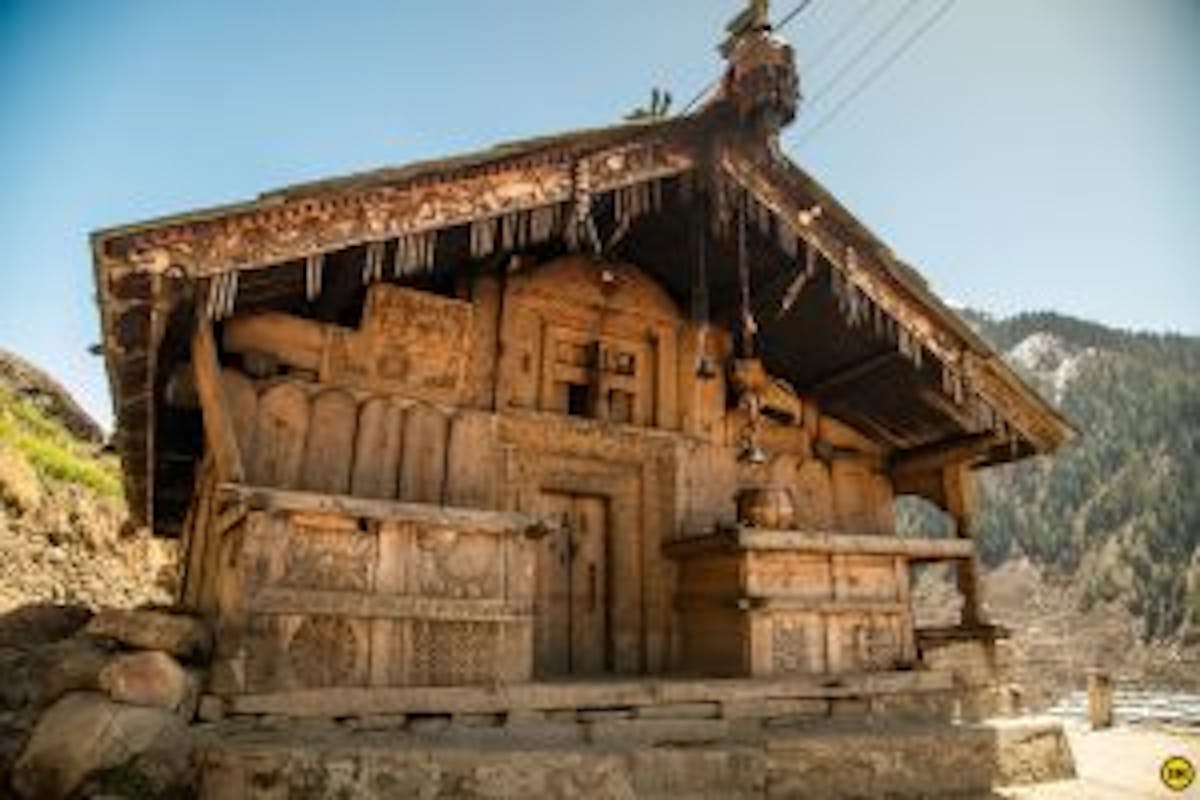 Temple dedicated to Duryodhan at Osla Village. Photo by Jothi Ranjan
The story goes that Duryodhana appealed to Lord Mahasu, the local god of these climes, to bless him with a piece of this valley so that he could take care of its people and its fauna. Lord Mahasu granted his wish and Duryodhana looked after the affairs of the people of this land. In the war, when the Kauravas were killed along with Duryodhana, the people of his kingdom wept and those tears became the river Tamsa, which means river of sorrow that still flows through this valley.  
If you happen to be at Osla in the second week of July, you will be met with a colourful Doli procession of Duryodhana and sounds of celebration coming from the temple courtyard. 
Some say that Dehradun gets its name from Duryodhan!  Myth and mystery all have a place in creating culture.
The Intriguing Melas 
The annual Melas are an altogether different affair in the mountains. They're filled with local customs and rituals that make attending one a truly unique experience. If you happen to be at Har-Ki-Dun in the months of January or September, you'll be invited to euphoric celebrations where colourfully clad villagers congregate, sing and dance to local folk songs. 
Har-Ki-Dun valley celebrates two kinds of Melas. One is the annual fair usually called the Magh Mela that happens in January like in most parts of Uttarakhand but the second fair that happens around the Monsoon months of July, August and September is the more interesting one. This fair is usually held at night and besides being a time to meet and make merry, it is also a space for — believe it or not — eloping! 
Many young couples elope on these night Melas. This is a practice that is followed mostly by people belonging to different castes or economically poor backgrounds who do not have enough resources to throw a wedding ceremony. The couple spends a few days at a relative's house, wherein the elders from the girls' village come and talk to the "runaway" couple.
Here, the girl's point of view is taken into consideration and the marriage given social acceptability if deemed so by the elders. If you are planning to do something on similar lines, do let your trek guide know so that he can come find you later on.
Another unique marriage custom is the concept of Bride Price that the groom's family has to pay through livestock, known locally as Pashu Dhan. This practice is usually followed by well-to-do families of the villages.  
Colourful weaves and Cuisines
Outside of the architecture, another thing that trekkers admire is the colourful clothing adorned by the people here. 
The villagers have their own customary sets of clothing that are usually weaved by hand on homemade wooden handlooms and dyed using natural dyes (although synthetic dyes are fast replacing the natural ones). 
You will come across men and women wearing rough-looking sheep coloured fabric. This fabric is made from using sheep's wool and is cut into upper and lower garments in the form of waist coats – Sadri, full coats – Farzi and lowers – Suthan. They are very warm and keep one from freezing even in sub-zero temperatures!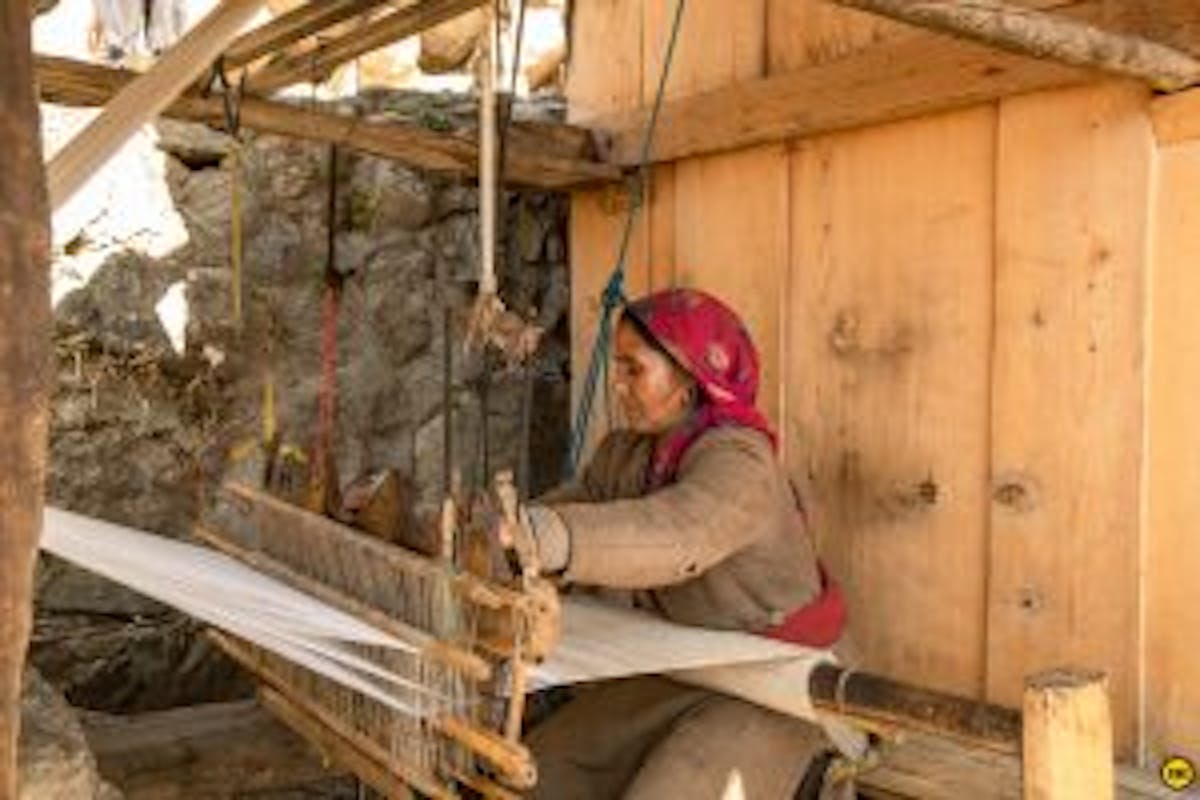 Villagers have their own customary sets of clothing that are usually weaved by hand. Here's a woman from Osla weaving the winter's clothing. Photo by Jothi Ranjan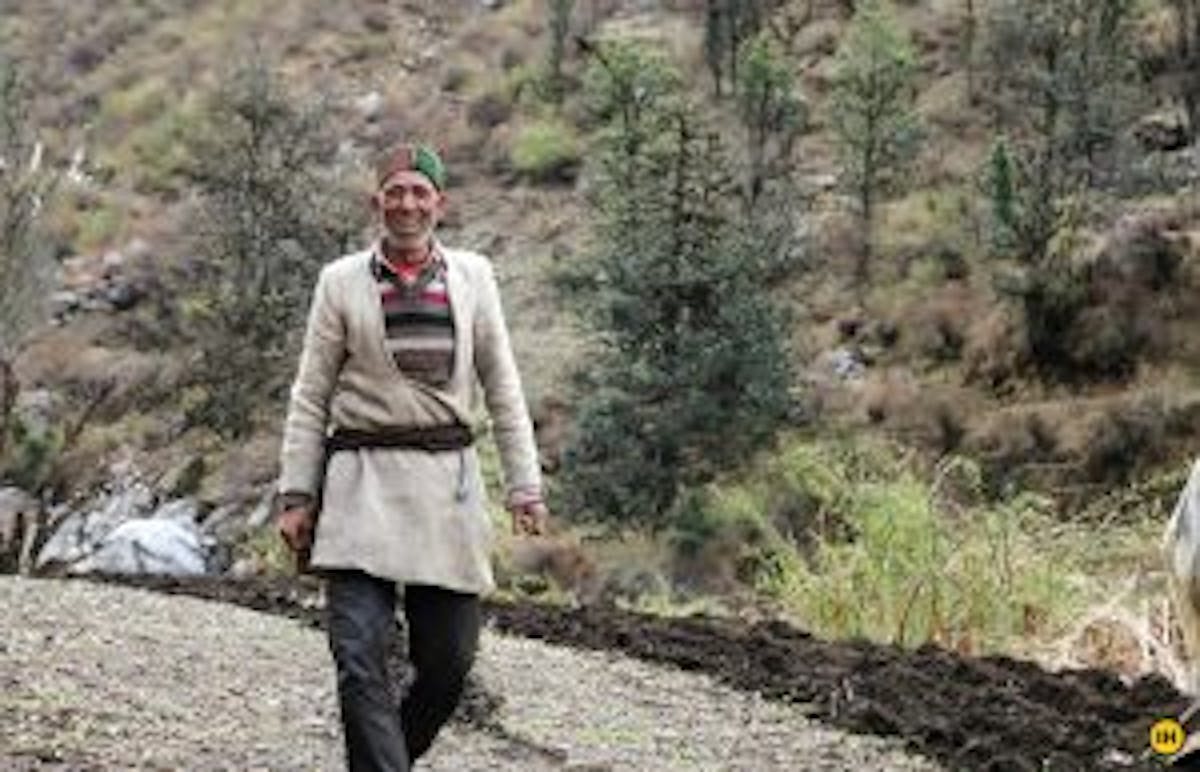 Often, you'll notice men and women clad in home-made clothing, right from the head gear to their footwear. Local man in Gangaad Village. Photo by Jothi Ranjan
The women also wear headgear – Dhantu and jewellery. However, in the summer months, this clothing is substituted for lighter wear. If you want to see these handlooms, just request any village local from Osla or Gangaad and they will definitely be happy to show you around their homes and handlooms.  
As you pass through the villages, you will notice water mills – known as Gharat in the local language – these are wooden mills that use the kinetic energy of water to crush grain. Your first campsite- Puani Gharat – gets its name from this. Puani or paani for water and Gharat for grindstone. You will find this indigenous water run grindstone located inside a small hut.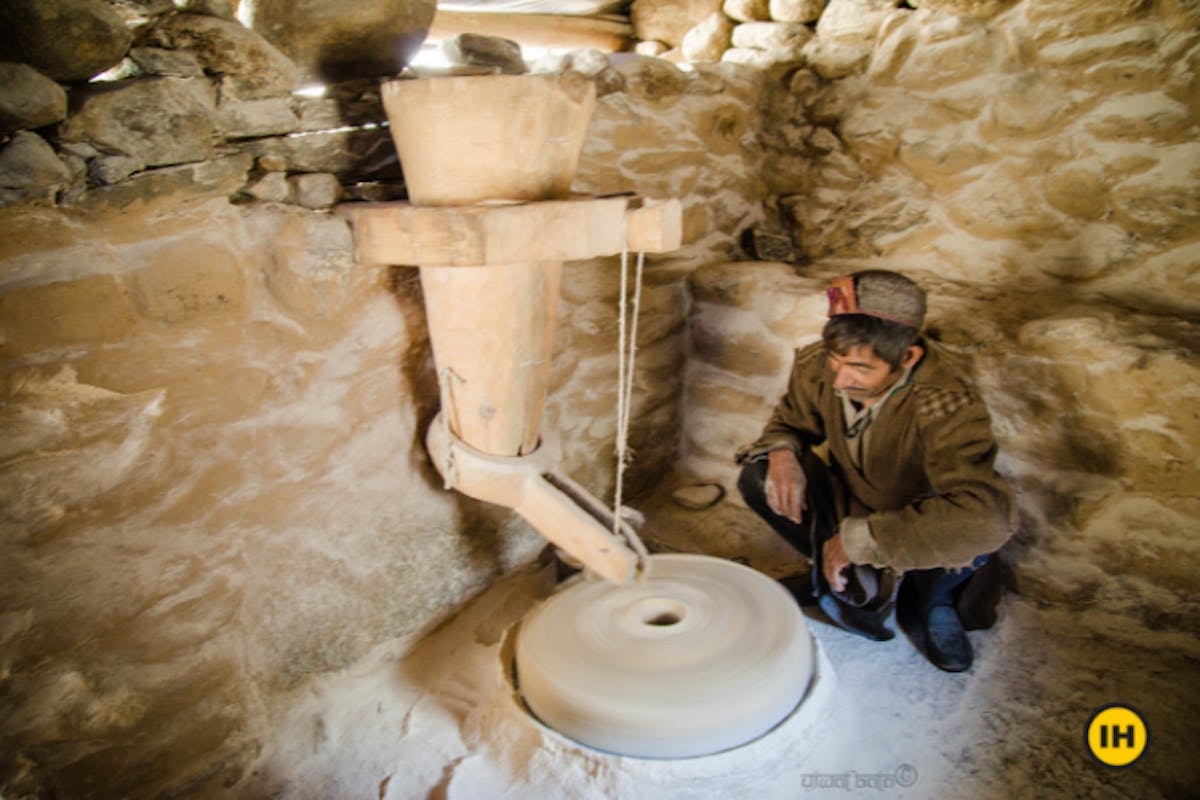 One of the water mills seen on the way. Picture by Ujwal Bala
There will be many fully functioning Gharats along  your way at Osla, Gangaad ,Seema, Dhatmir and Dharkot villages.  Local millets like Ragi and Jhangora are crushed here for household consumption.
On top of all this, you will get to taste the local cuisines in the form of Lengde (local fern), the wild mushrooms, Rye and Palak ( local greens), dance to the local folk songs, jiggle to a few steps of the Raso or the Nati or just watch the women folk singing songs of love and loss while working in the fields.
On most treks, you have to take an hour or two out of the trail to find such deep-rooted culture. That's where the Har Ki Dun trek stands out. You'll find this culture right on the sides of your trail, where you can spend time and take it all in.
I'll leave you with two secrets…
Each trek has its well kept secrets. In most of the treks, these secrets are beautiful places — a hidden waterfall, a surprise meadow, a lake — but Har Ki Dun has two kinds of secrets. I am going to let you in on both.
The first is the untouched beauty of parts of the trail — like the trail from Dhatmir to Dharkot is unvisited by most and therefore lies pristine. The waterfall that you will encounter en route from Kalkathiyadhar to Osla is a beautiful well kept secret. 
The second secret of Har Ki Dun is the ancient culture that it still upholds. The trek route itself does not have any summit but the cultural bonanza that lies hidden for you at Har-Ki-Dun is worth more than an actual summit. It is a cultural treasure that not many get to witness. Myth, lore, art, philosophy, religion, dance, song and mountains combine to inspire awe — that feeling in which you feel diminished and exalted at the same time just like when you're on top of a summit. 
At Har Ki Dun,the experience of witnessing an exotic culture against the backdrop of the snow-clad peaks will leave you enriched and  truly transformed.
If you've been to the Har Ki Dun trek and have some of your cultural experiences to share we would love to hear you in the comments. 🙂
Latest Videos
Best Time To Do The Har Ki Dun - Ruinsara Tal Trek
Why The Har Ki Dun Trek Incomplete Without Ruinsara Tal
How To Reach Har Ki Dun Trek Basecamp
Sign up for our much loved Weekly Mailer
We have terrific trekking tips, trek updates and trek talks to look forward to