8 Surprising Eye-Openers About Day 4 Of Kashmir Great Lakes Trek
Share this story
Editor's note: This blog is based on an internal note shared by the Indiahikes founder, Arjun Majumdar. It is about some rare, lesser-known facts from the Day 4 of Kashmir Great Lakes Trek. Even if you have done the trek, you might not know many of these points. Take a look! 
1. Distorted Names Of Vishansar And Krishansar Lakes
Let's start with the name Vishansar. This is a distortion of the name Vishnu Sar which over the years got corrupted to become Vishansar. 
Something similar happened with Krishansar. It is the corrupted form of Krishna Sar, but it's no longer called that. Today, a lot of people mispronounce the name of Krishansar as Kishansar. But that's a mistake. Krishansar is with an 'R'.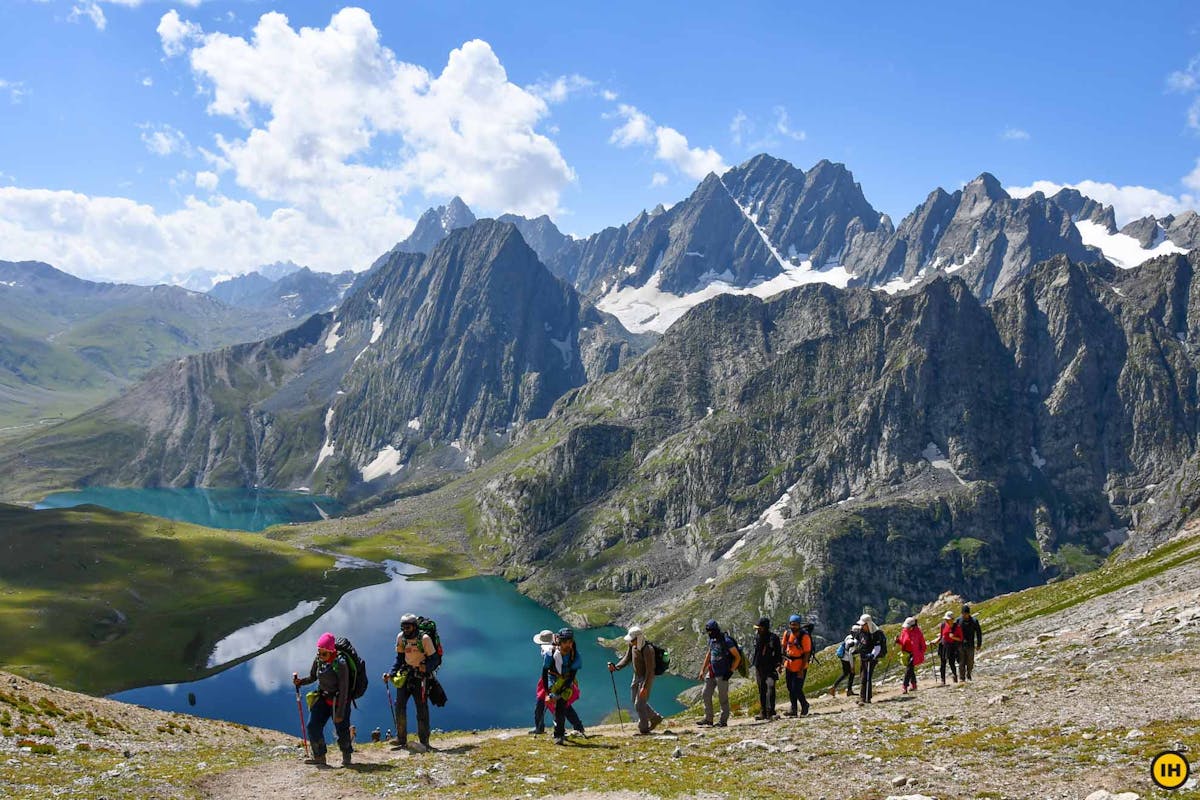 The view from Gadsar Pass. Picture by Jeremy Lee
2. Vishansar And Krishansar Are Connected
Vishansar and Krishansar are twin lakes, this is a well-known fact. But not many know that they are connected. And you will see that on the Day 4 of Kashmir Great Lakes trek.
Notice that they are not at the same level. Krishansar is at a higher ground than Vishansar. And that's so unique because you don't usually get to see one huge lake above another huge lake. 
These lakes are surrounded by mountains on three sides. And the lakes get water from the snowfields on these mountains. 
The water of the Krishansar lake flows down to Vishansar. And water from Vishansar flows further down, forming river Neelum. This river flows down 250 km, goes all the way to Pakistan and eventually joins River Sutlej.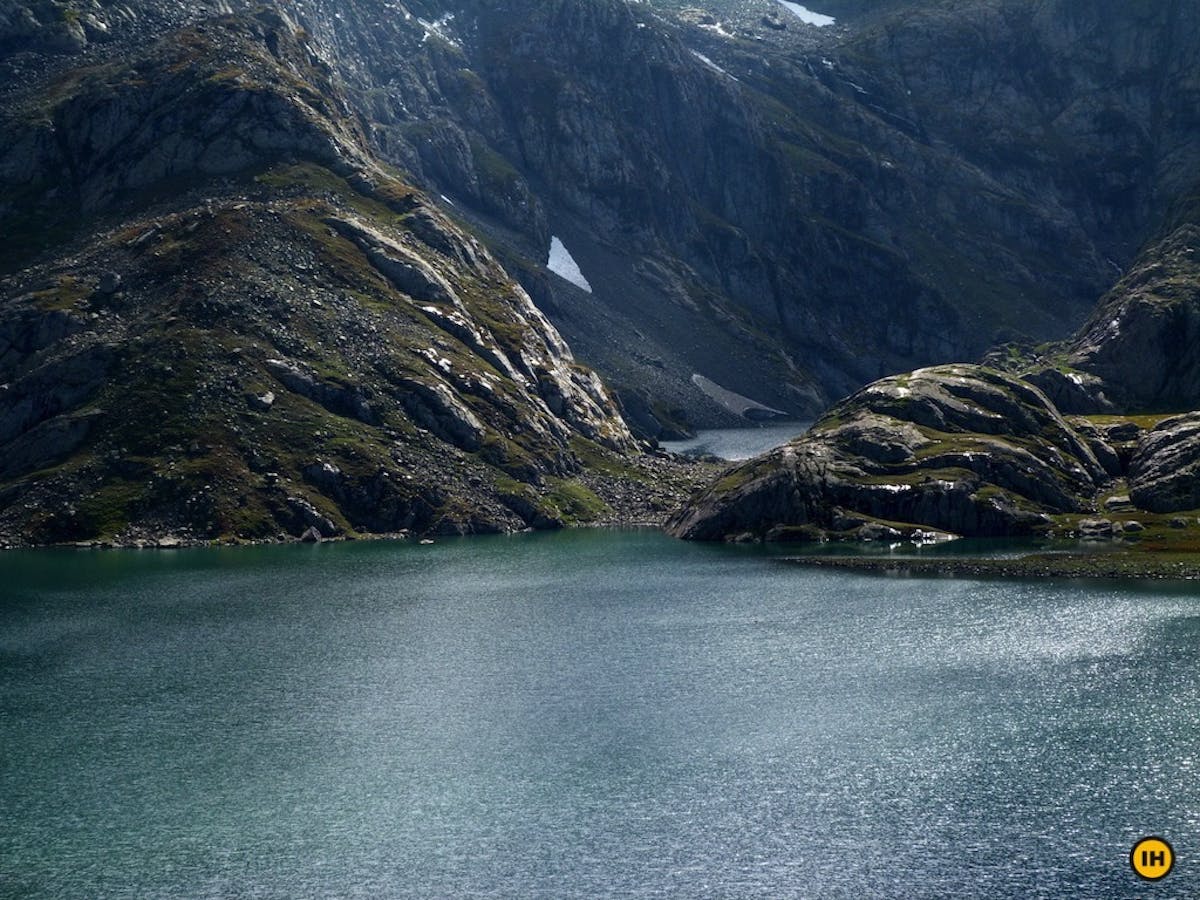 Did you know that the waters of Krishansar feeds Vishansar? Which later goes onto form River Neelum?
3. Finding The Rare Brown Trouts In Kashmir Lakes
There's one striking thing about the lakes on this trek – the crystal clear water. They have a shimmering turquoise blue hue which comes from the depth of the lake. And the water in these lakes is so pure, drinkable.
But do you know what makes them so blue and clear? 
It is because these lakes do not support any life forms like algae. That makes the water crystal clear. 
It only supports one life form. The famous and rare – the brown trout. The trout you see on Day 4 of Kashmir Great Lakes trek, you won't see anywhere else. And so a lot of people started fishing it in the past.
To discourage this, the government has issued a lot of restrictions. Now you need special permits to fish in these lakes. 
But that's only for fishing. You are free to watch these rare brown trouts swimming in these pristine lakes if you get close enough to Krishansar and Vishansar lakes.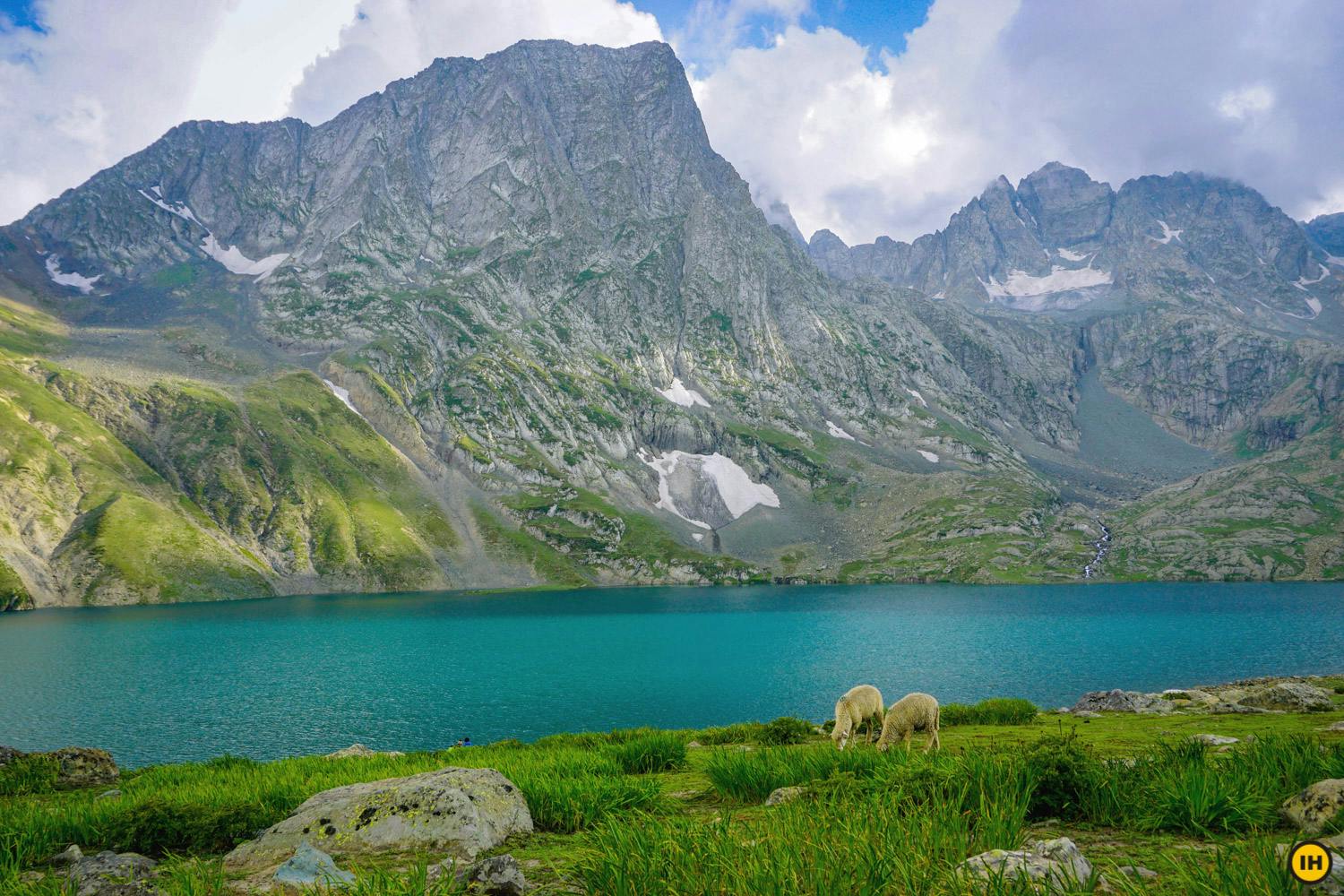 The water gets its blue because it does not support life forms such as algae. Picture by Animesh Hazra
4. The Most Photogenic Peak Of The Kashmir Great Lakes Trek
The Krishansar lake is a photographer's delight. Not just for the lake, but because of the background of the lake too. So, keep your camera ready. It takes about 40 mins to get from Vishansar to Krishansar lake.
Now from Krishansar lake, watch for one particular summit behind it. This is the Krishansar peak. It is so lovely, so unique as it is the only dome-shaped summit/mountain top that you are going to see on this entire trek.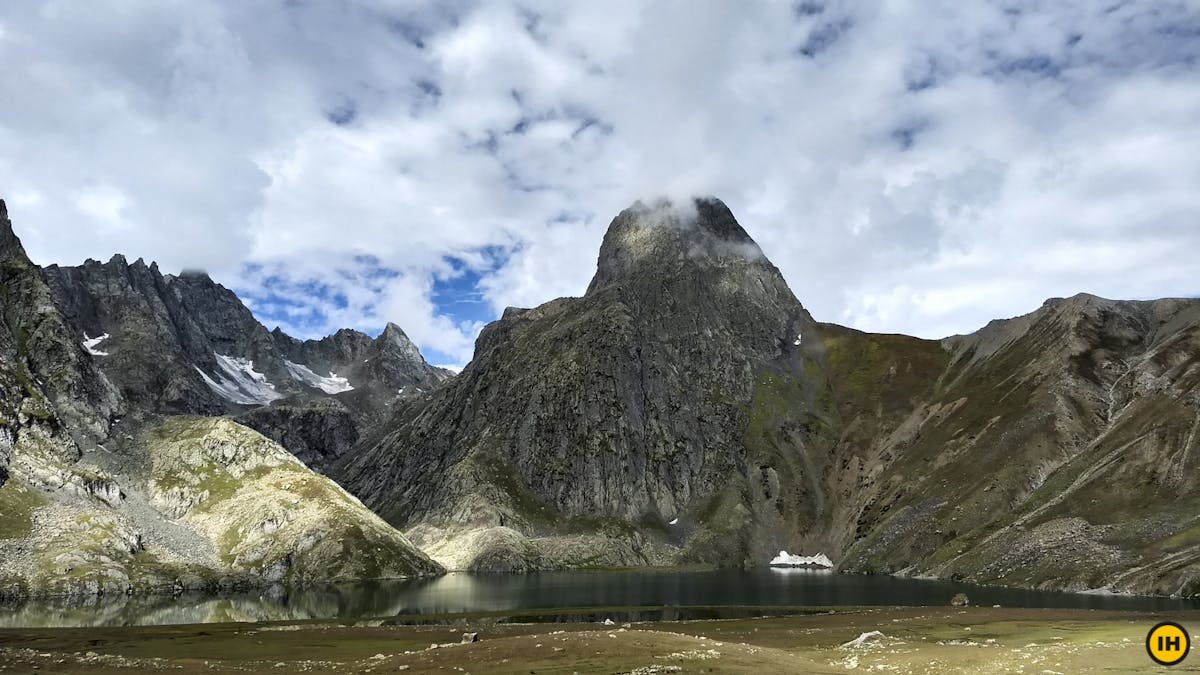 Watch out for the Kishansar Peak right above the lake. It's a very pretty peak. Picture by Swathi Chatrapathy
5. The Legendary Climb To Gadsar Pass
On Day 4 of the Kashmir Great Lakes trek, you will trek almost 16 km. It will take you 7-8 hours. And during this, you will touch the highest point of your entire trek – the Gadsar Pass at 13,800 feet. 
And from Krishansar you will see the trail, hugging the mountainsides, all the way to the Gadsar Pass.
It is quite a climb from the bottom of the lake to the pass. But all photographs that you see of the Kashmir Great Lakes trek, are taken from this section on Day 4 of Kashmir Great Lakes trek.
The journey from Krishansar lake to the Gadsar Pass is a photographer's delight. People go mad taking in the different colours of the lake because as the sunlight touches it from different angles, depending on what time of the day you are going, you will get to see different colours of the lake. 
Even if you go back from here I think your trek is done.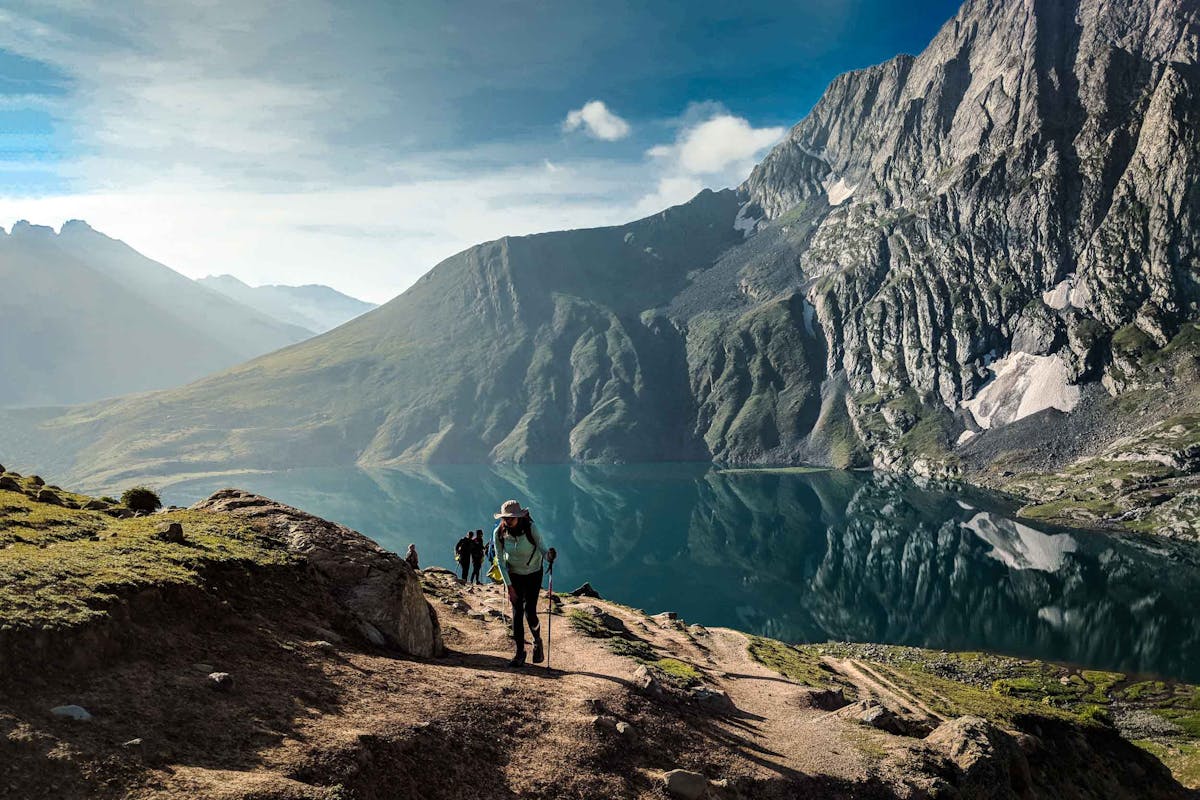 The climb to Gadsar Pass is a photographer's delight, with light falling on the lakes in different angles, allowing for a lot of experimenting and fantastic shots. Picture by Rakesh Shetty
6. The Valley Of Flowers On Kashmir Great Lakes Trek
Moving on, climbing from Krishansar to Gadsar Pass will take you an hour and a half. Maybe a little more because people generally slow down just taking a glimpse of these lakes and it is also a little bit of a steep climb. 
It can get a bit slushy and slippery if it's raining. So, extreme caution is required. And here, sometimes your trek leader will stop the trek and halt it if it's raining very heavily. 
You get a feeling of accomplishment, on day 4 of the Kashmir Great Lakes trek, once you reach the pass because it is the highest point. But the delight is actually seeing lakes from the pass and also taking the view from the other side. 
Early in the season, expect to see a lot of snow patches on the other side as it does not face the sun. 
And there are wildflowers on the way to Gadsar Lake.
This is a photographer's delight. One of my favourite sections of the entire Kashmir Great Lakes trek. 
Trekkers fall in love with because of the valley setting and stream flowing on the right. The grasslands, the flowers in the grassland. Oh my God, the flowers. You will see lots of these in the early or middle of the monsoon season.
The wildflowers you see here, in this section between the pass and the Gadsar lake, are the most you will see in the entire trek. 
This view of the entire setting surrounded by tall mountains in nature, and running between it is a lush grassland is unforgettable.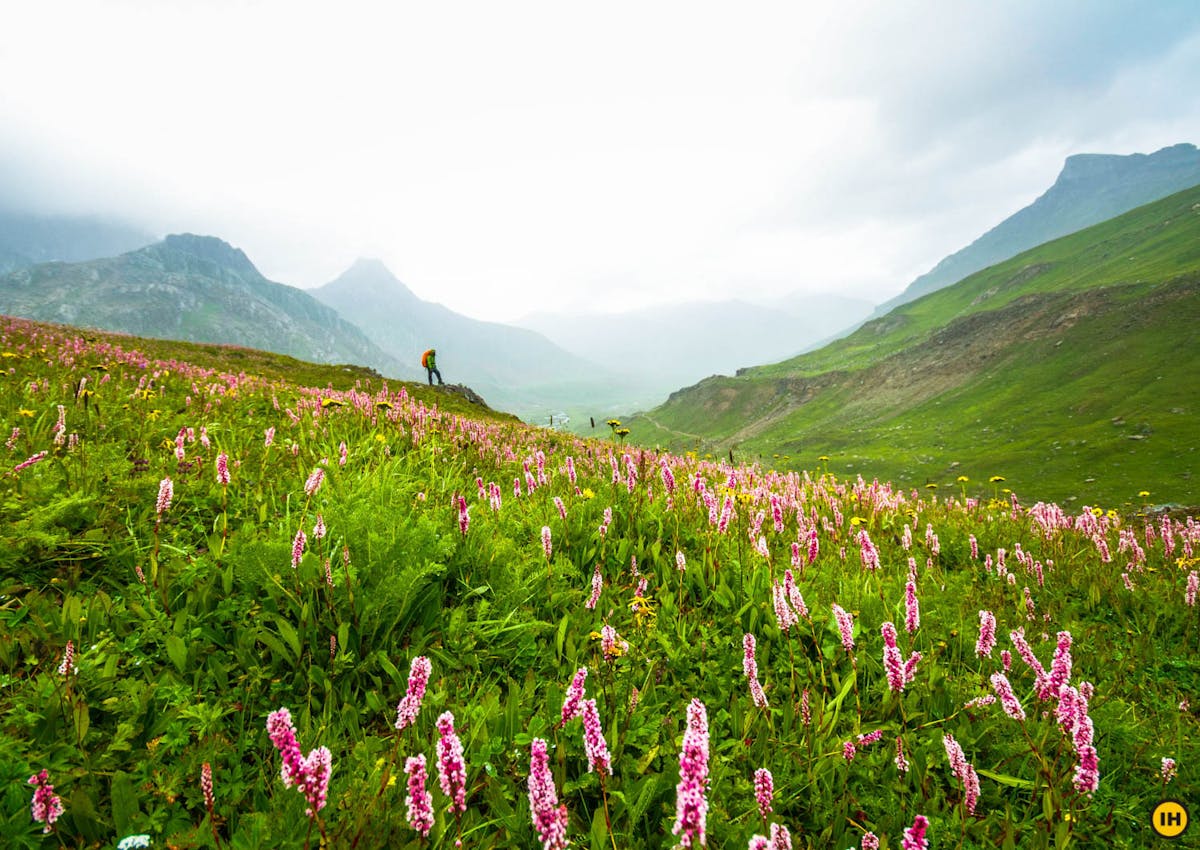 The wildflowers after crossing Gadsar Pass will make you laugh with delight. They're endless and you'd have never seen anything like it. Picture by Sushma Honappa
7. The Only Lake Where You Find Ice Floes
This lake is not blue in colour like Vishansar or Krishansar. It is greenish in colour.  It has algae in it which makes the colour greenish. It is again a photographer's delight.
This is the only lake where you can see icebergs floating, they are known as ice floes. Gadsar Lake is the place to have lunch. 
After lunch and taking in the sight, move towards Gadsar camp at the end of the valley which has lots of shepherd's huts.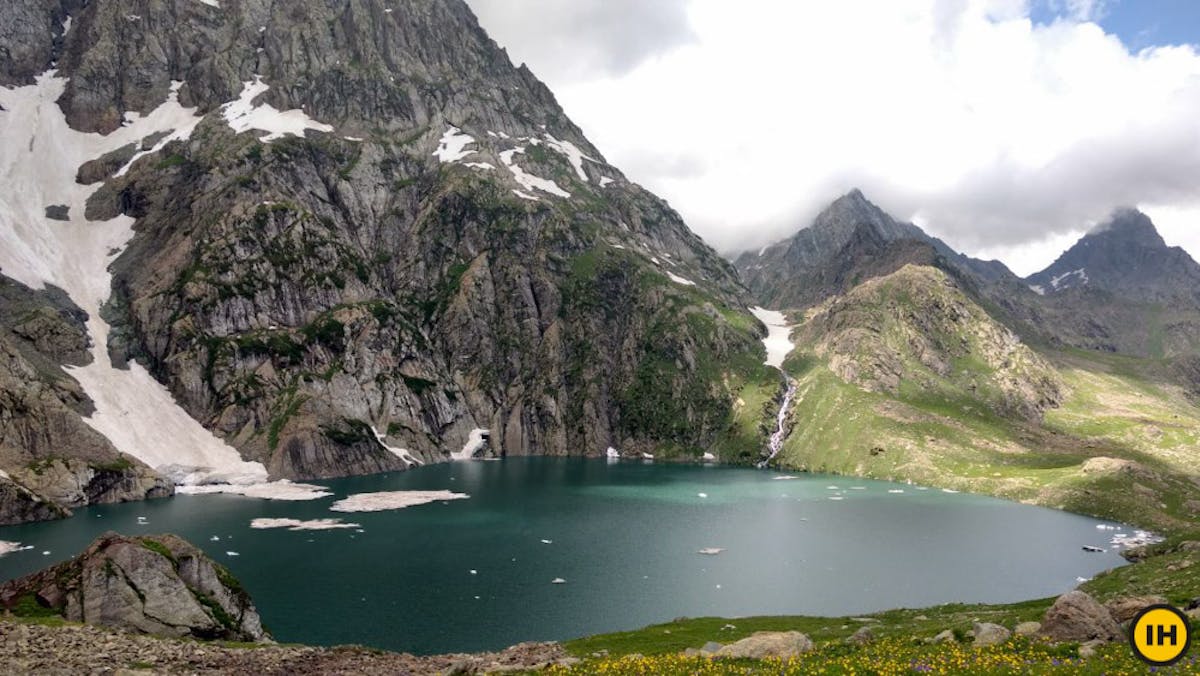 Ice Floes in Gadsar lake PC: Vishal Negi
8. A Unique Experience Of Camping Close To The Army
We will camp close to army campsites. You will go through beautiful grasslands. Very important to know that there is an Army Camp here and there is a reason for it. You are very close to the Line Of Control.  And that's why army camps are here. These are known infiltration routes, especially from Gadsar to your next camp Satsar. 
Nothing to get alarmed, that's why there is an army camp right here. They love meeting trekkers but there will be many formalities. They are going t check your ID which is original otherwise army will cross-examine you which is not a very pleasant experience. 
On the other hand, meeting army folks is really nice. They are looking forward to meeting trekkers. They want to see who's come from their own region. All jawans come forward and ask where are you from.
Interact with them, share your stories, they feel at home when they meet trekkers. So it's a really nice experience.
Our camp is just 5-6 minutes away from army camp, right under their noses. And under their watches.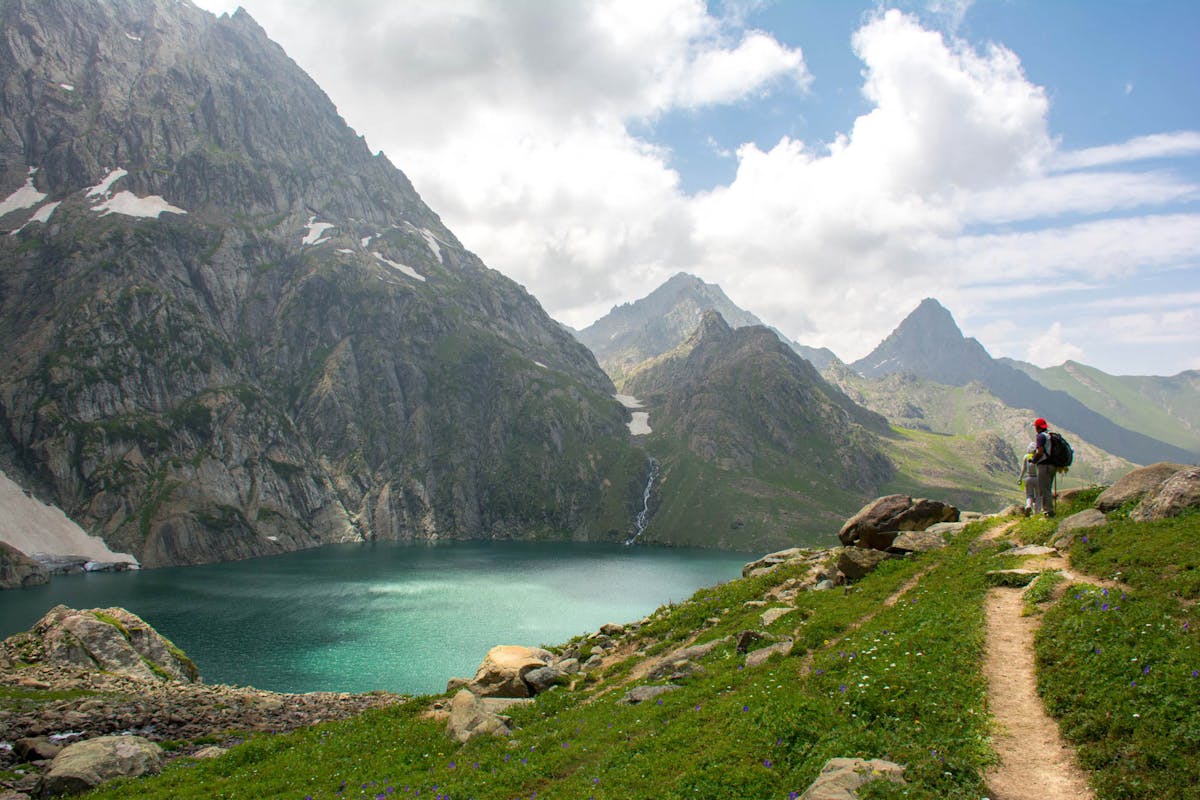 From Gadsar lake, you walk towards an army camp, where we pitch our camps. You feel safe and protected under the watchful eye of the army. Picture by Vishwajeet Chavan
Those were 8 things about the longest day of the Kashmir Great Lakes trek. Given the enormous variety, adventure and unmatched landscapes, this could very well be one of our favourite trekking days out of all our treks! It's that special. 
If you have an experience to share from the longest day of the Kashmir Great Lakes trek, drop it in the comments below. We would love to hear about it!
Sign up for our much loved Weekly Mailer
We have terrific trekking tips, trek updates and trek talks to look forward to