Why The Deoriatal-Chandrashila Trek Is Too Great A Reward For Too Litt...
Share this story
"Look, look! My God!"
I ran up the rest of the path, heart hammering. Not from exhaustion–although I'd just trekked two kilometres up a hill–but with alarm. What had happened? Was someone in trouble? Had one of the trekkers who'd gone ahead gotten injured?
Bursting out of the thickly wooded forest into the clearing ahead, I looked about, trying to gauge what the matter was. Some of the people of my group were standing frozen, bags still slung over their shoulders, although I could see our tents already pitched on the meadow.
Why hadn't they unloaded yet?
"What is it? What's wrong?" I asked, still running.
"Look!" One of the trekkers excitedly pointed ahead. I stopped and looked. Spread out before us was a sprawling meadow made up of dunes, only instead of sand, they were covered in lush green grass. On the right, surrounded by trees along its outer periphery, was a huge lake. The expression on my face must have shown my lack of enthusiasm, because one of the girls beside me prodded me in the ribs.
"Look UP!" she said.
I did. And my jaw dropped.
Hanging down from the sky (yes, it looked like it was hanging down, instead of sprouting up from the ground like other peaks), was this huge–staggeringly HUGE!–mountain, that lay just beyond the cluster of trees and hillocks bordering the lake.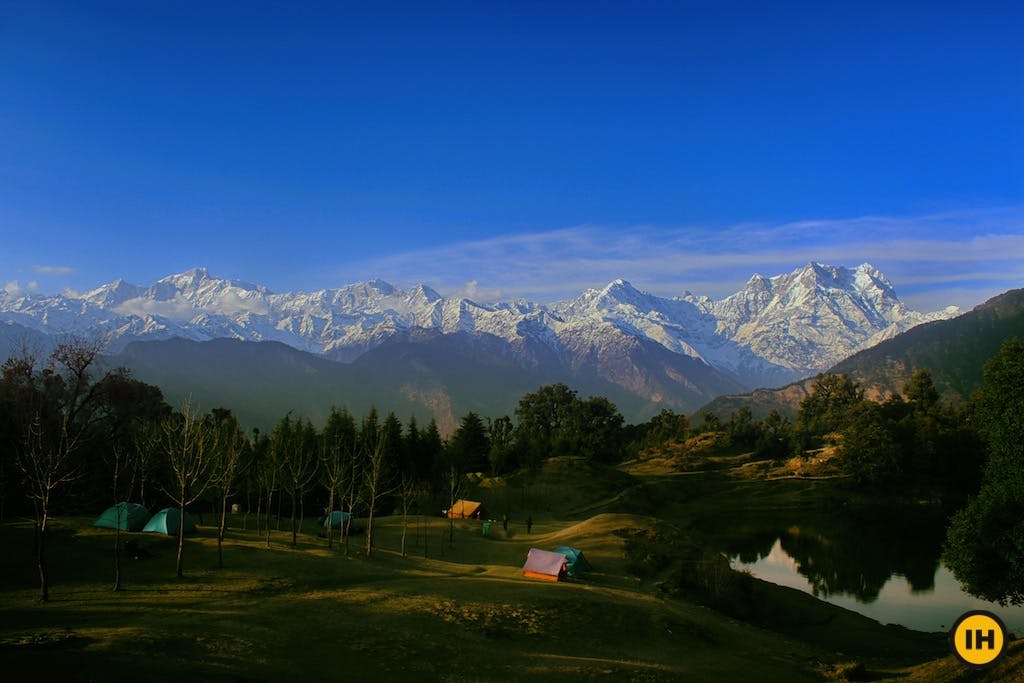 It was so close, that I automatically reached out, raising my hand to touch the tips of the four-cornered mount. For a sudden moment I became conscious, then smiled, seeing others doing the same. It must be a common reaction, I guessed, because the people coming up behind me too did the same, necks bent back, rucksacks still on their shoulders, all their tiredness forgotten. All silent in awe of the majestic mountain looming over our heads.
"Too great a reward for such little effort."
Those were the words Arjun Majumdar, the founder of Indiahikes, had used to describe the sight. I had to agree. This was the shortest climb I'd ever done to reach so close to a summit: barely two kilometres from Sari village, our base camp. The slowest member of our team had reached there in less than 2 hours. It wasn't even noon. Almost all the trekkers started taking pictures, squatting down, lying with their backs on the ground, trying different positions and angles to capture a sense of the scale of the mountain. What they were all doing was, in fact, trying to capture the sheer feeling of incredulity that overwhelmed us.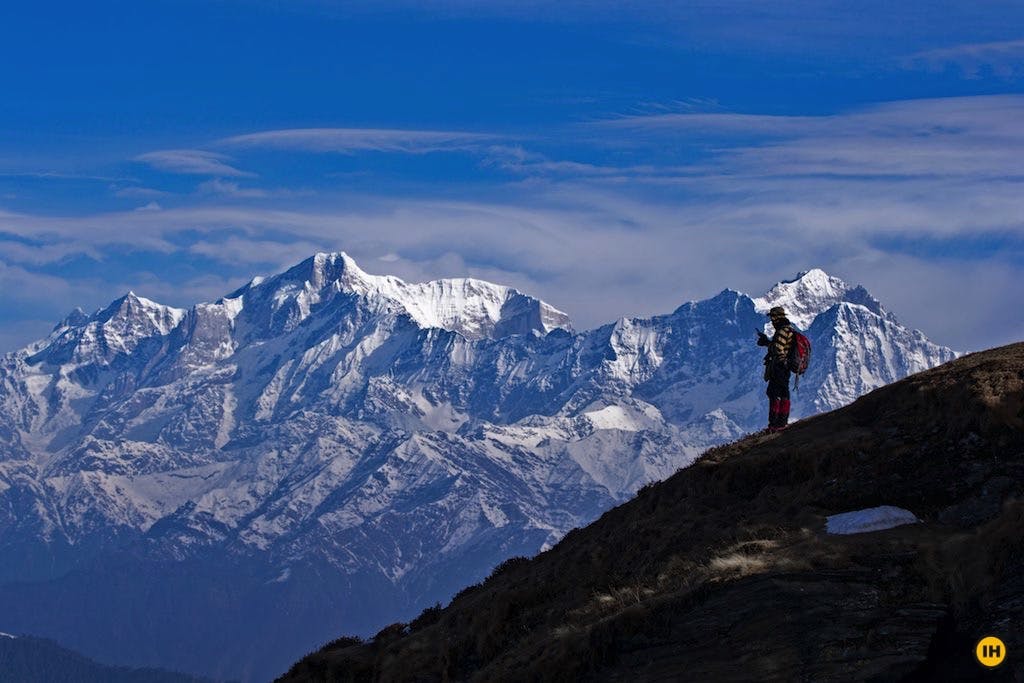 We would all fail. Cameras–or any man-made gadgets–are pathetically inadequate to give an idea of what our eyes, our senses, beheld. Heck, we had difficulty believing even our own eyes!
"That's Chaukhamba," said our local guide. Literally meaning 'Four Pillars', it was the most apt name I could think of. The four pointed peaks seemed to hold up the sky. The vast range of snow-covered mountains on either side seemed to play supporting roles to this gargantuan cliff, although I knew they only looked that way because they were further off in the distance (some of them, like Kedarnath, are topographically higher).
Some of my fellow-trekkers, specially the younger ones, eventually came out of their thrall and went about exploring the lakeside and the surrounding forest. But most of us simply lay back on the grass, staring endlessly at the cliff for a long time. It made sense, because standing up, we were all getting cricks on our necks, having to bend back our heads to take in the tips of the summit.
Over the next three days we'd encounter many more awe-inspiring sights, trekking through rhododendron forests, sliding down dry-leafed trails to play in the crystal-clear waters of a mountain spring, camping atop the breath-taking meadows of Rohini Bugyal and Bhrujgali, and eventually the summit of Chandrashila peak which offers a 360-degree view of snow-capped mountains like Kedar Dome and Nanda Devi, India's highest peak. But for now, we all lay quietly, soaking in the serenity of Deoriatal, the Lake of the Gods, and the majesty of the magnificent Chaukhamba.
Too great a reward for such little effort. Indeed.
Sign up for our much loved Weekly Mailer
We have terrific trekking tips, trek updates and trek talks to look forward to