Deoriatal Chandrashila Trek: Stunning Rhododendrons from March to April
Share this story
Deoriatal Chandrashila Trek: Stunning Rhododendrons from March to April
Category Photo Story
By Soumya Krishnamurthy
2020-02-17
The Deoriatal Chandrashila Trek is a go-to trek if you want to see Rhododendrons. In March the trails and mountains are brimming with Rhododendron flowers. This remains until the end of the season – the last week of April. 
On the first day of the trek you reach the Deoriatal campsite. "Deoriatal itself is surrounded by innumerable rhododendron trees. Trek a little further towards Rohini Bugyal, soon after you cross the Aakashkamini river, you will see the trail turning completely pink," says Arjun Majumdar, Indiahikes founder.
The next day, after the meadows of Rohini Bugyal bowl you over, walk towards the connecting forest ridge from your right. Here, watch out for a tall lone rhododendron tree. It is a 5-minute walk from the campsite. 
Next, the section from Chopta to Baniya Kund is straight out of wonderland. You will see a beautiful bright pink and scarlett hue throughout the day's trek. The rhododendron trees just keep coming in – layer after layer. To get some respite from the red, you will see an occasional yellow rhododendron as well.
For anyone trekking in the Himalayas, seeing these flowers in full bloom is an unforgettable experience. And we notice that trekkers who do this trek during the Rhododendron season just cannot stop talking about it.
In addition seeing the rhododendrons in the forest section, shrouded by deep greens, and earthy browns is on the trek.
At the beginning of March one side of the trail, you will see clear white snow and on the other side rows of bright red Rhododendron flowers. Simply for this sight, you must do the trek in March.
There are different types, and colours of Rhododendron trees. Lakshmi Selvakumaran, Head of the Trek Experience Team at Indiahikes says, "On a trek, you will notice two types of Rhododendrons based on their size – trees and shrubs. At the base camp, and on the way to your first campsite, you will see Rhododendron trees. As you climb higher, you will notice Rhododendron shrubs. They come in different colours: shades of pink, red, and white. You must be careful as these ones are poisonous."
Words do not do full justice to the beauty of these flowers, and the mountains they inhabit. Here is a photostory.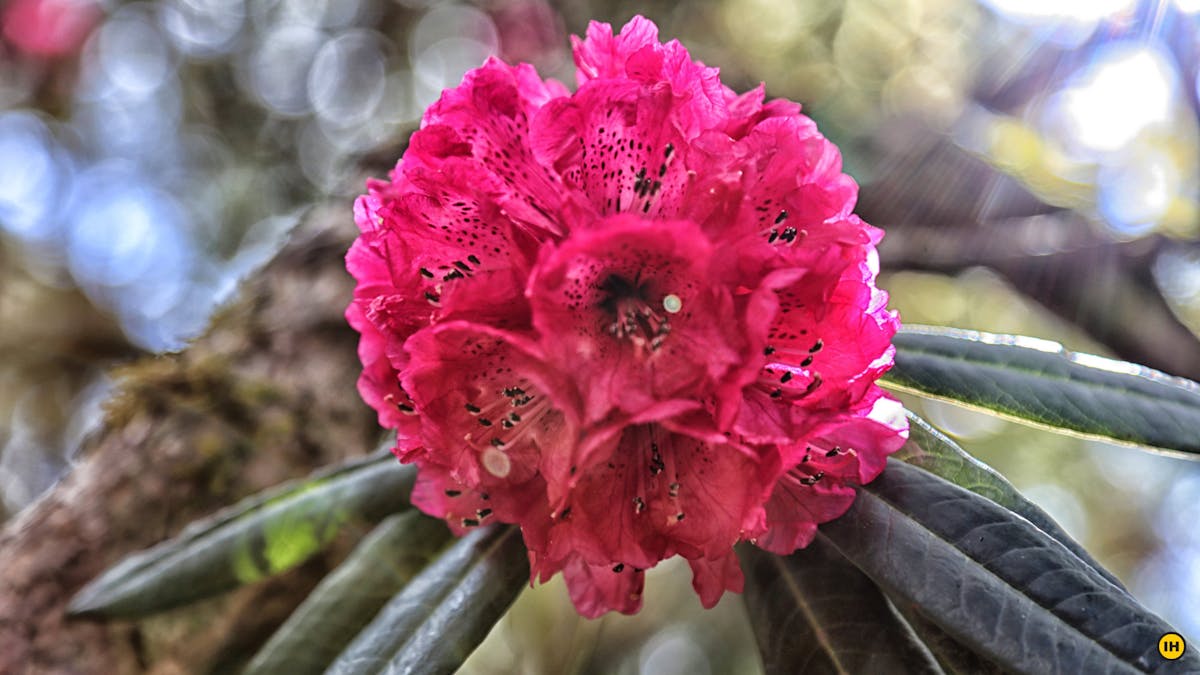 The word Rhododendron means "red tree" in Latin. A close up of a Rhododendron on the Deoriatal Chandrashila Trek. Picture by Satyen Dasgupta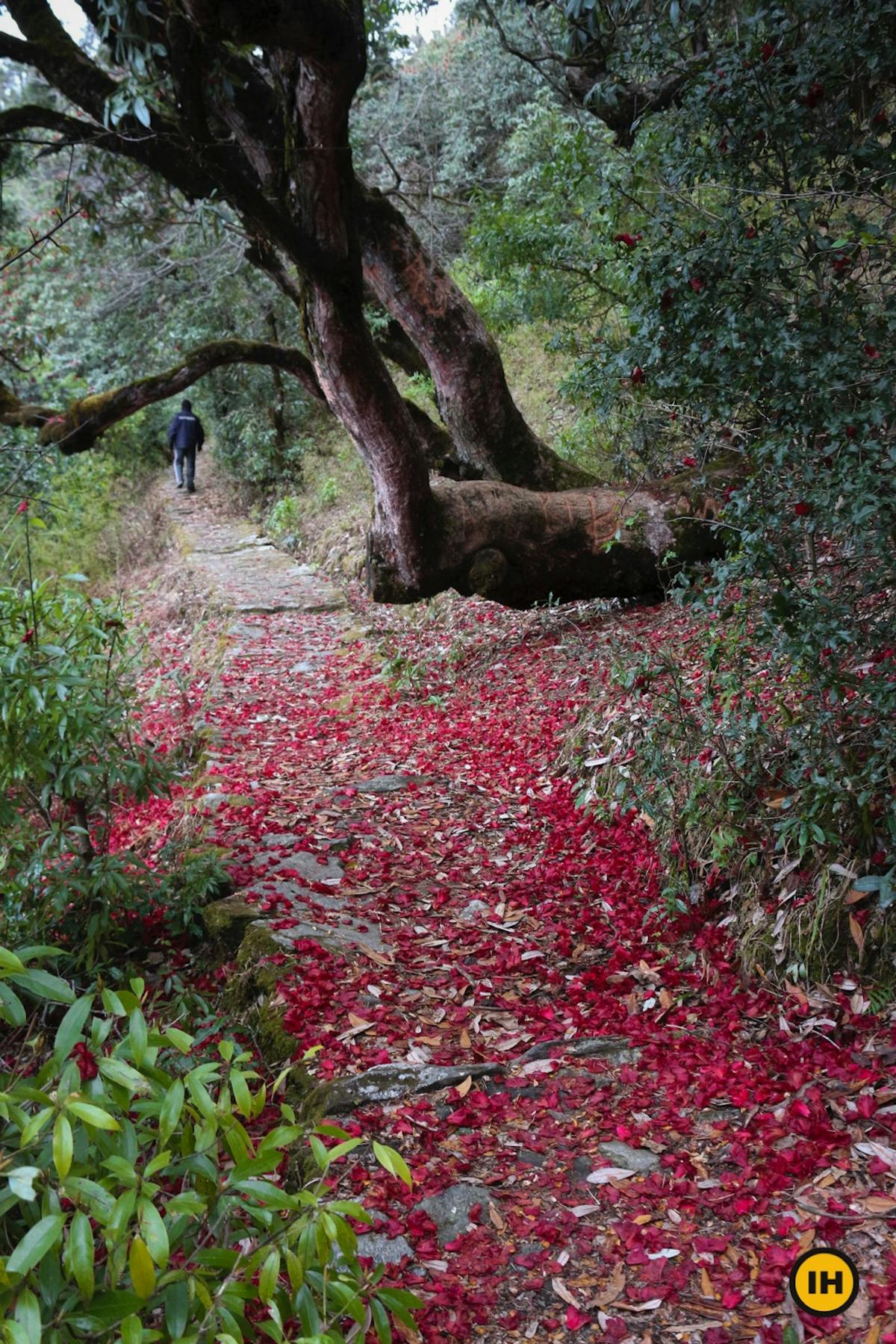 The magic begins from the very first day of your trek. A Rhodo laden path on the way to Sari from Deoriatal, near the Ropni Daar section. Picture by MadalamHarsha.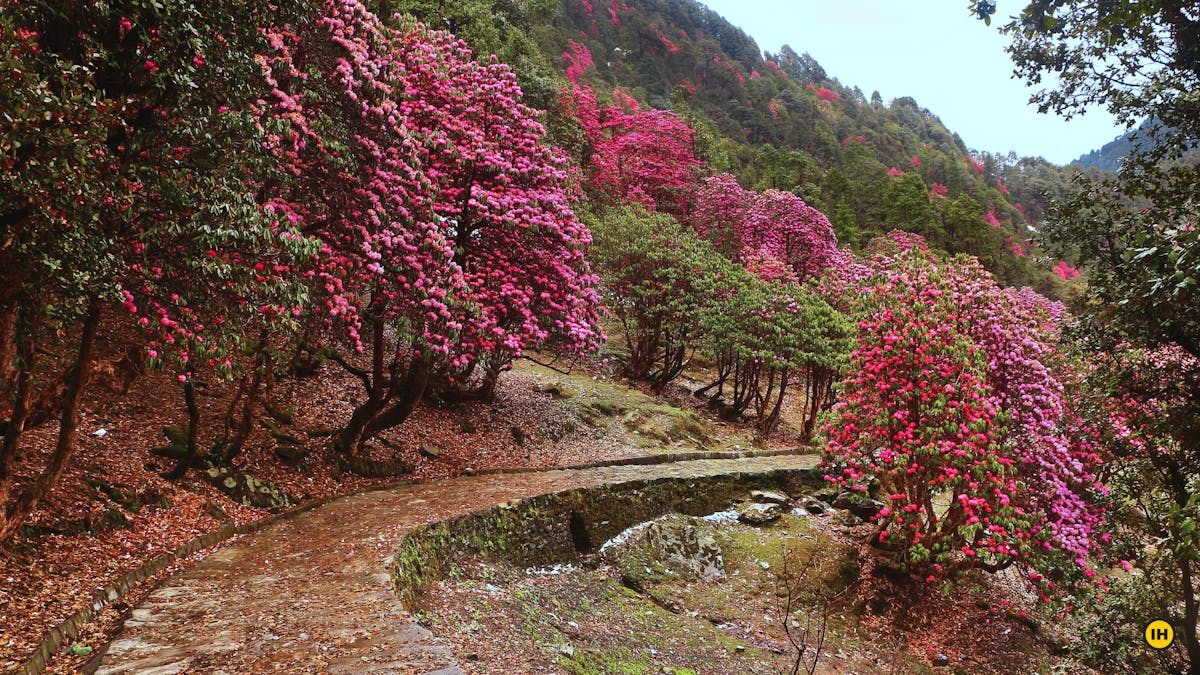 There are a total of 87 species of Rhododendrons in the Indian Himalayan Region. A pathway surrounded by Rhodos on the trek from Deoriatal to Syalmi. How many shades of pink can you count? Picture by Yogesh Shinde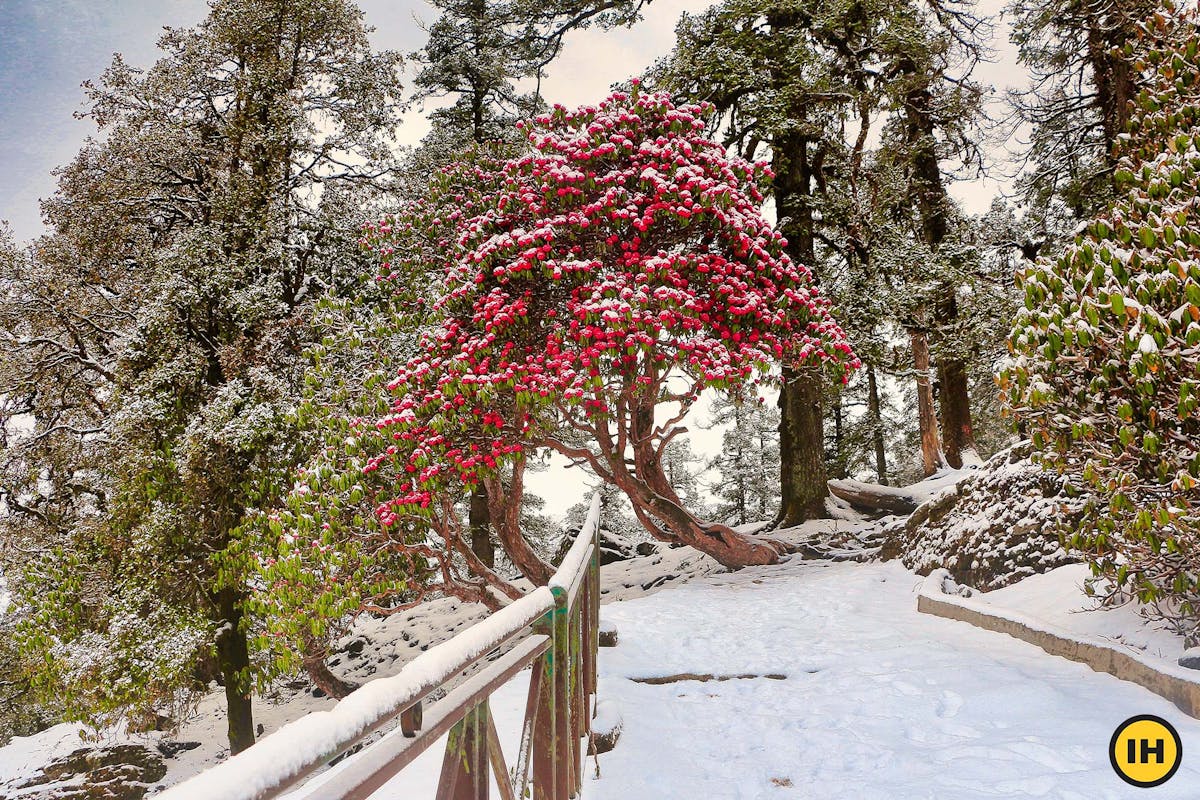 A blooming Rhododendron treek on the way from Chopta to Tungnath. The contrast of the white snow and the pink rhododendron is simply stunning. Picture by Yogesh Shinde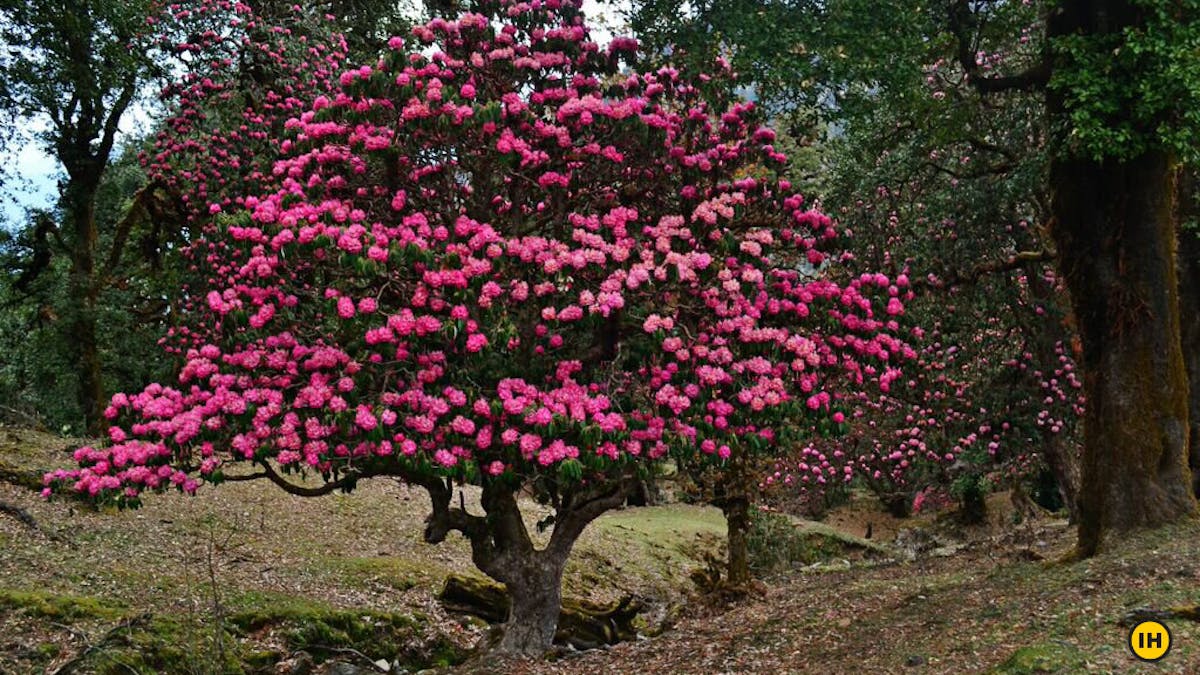 Deep in the forest sections, the pink trees are picture-perfect in contrast with the earthy brown and deep green. This section is on the way to Martoli from Syalmi. Picture by Amandeep Singh,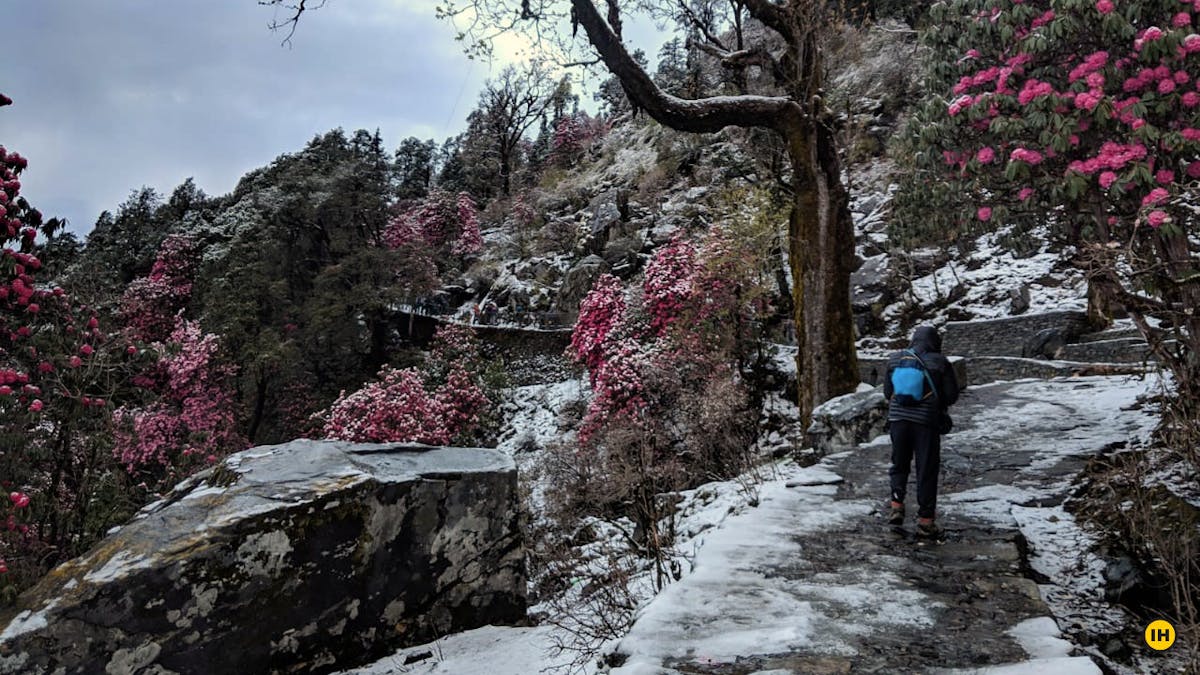 On the way from Baniya Kund to Tungnath. The forest section comes to an end here. Picture by Himanshu Singla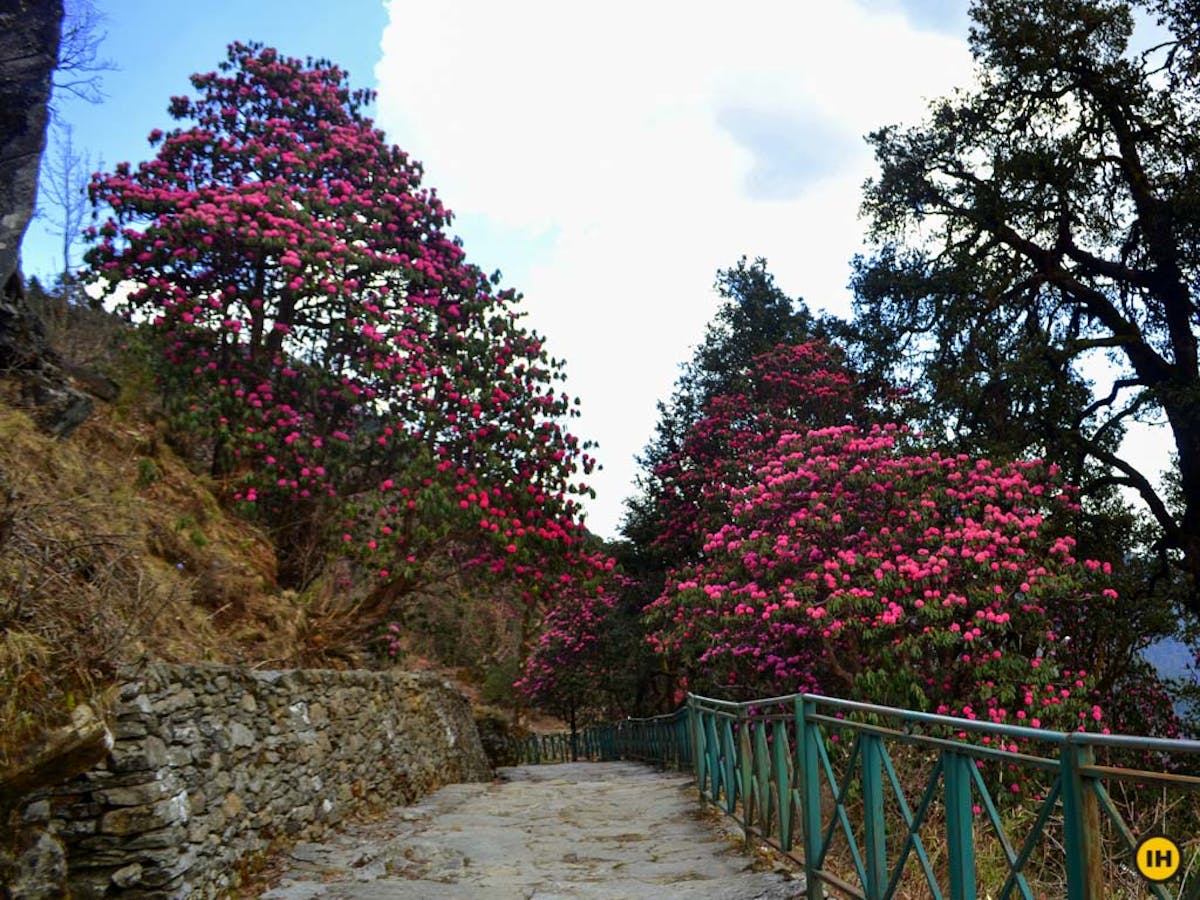 The climb from Chopta to Burj Gali. Keep your camera handy, there are some stunning rhodos on this sections, and beautiful views. Picture by Sandhya UC
Sign up for our much loved Weekly Mailer
We have terrific trekking tips, trek updates and trek talks to look forward to