How Dharamji, A Local Hero, Keeps The Lohajung Village Clean
Share this story
Every once in a while, we meet someone who holds the Green Trails spirit close to heart. Someone who finishes work before first light of day. Someone you see everyday. Someone who toils to keep the place green. Someone you see keeping the trail clean.
Someone who initiates, inspires and acts.
The evolution of Green Trails is largely because such individuals create a lasting impact through their actions. These local heroes instigate change within their communities and their stories are inspiring.
In the past month, I have heard so many such inspiring stories from our Green Trails team about these changemakers in action.
I decided to dig deeper to learn about them and their motivations. Look out for our Local Hero of the week every Tuesday!
In this article, I want to talk to you about one such local hero.
He is an unassuming man working tirelessly behind the clean scenes of the Lohajung market.
His name is Dharamji.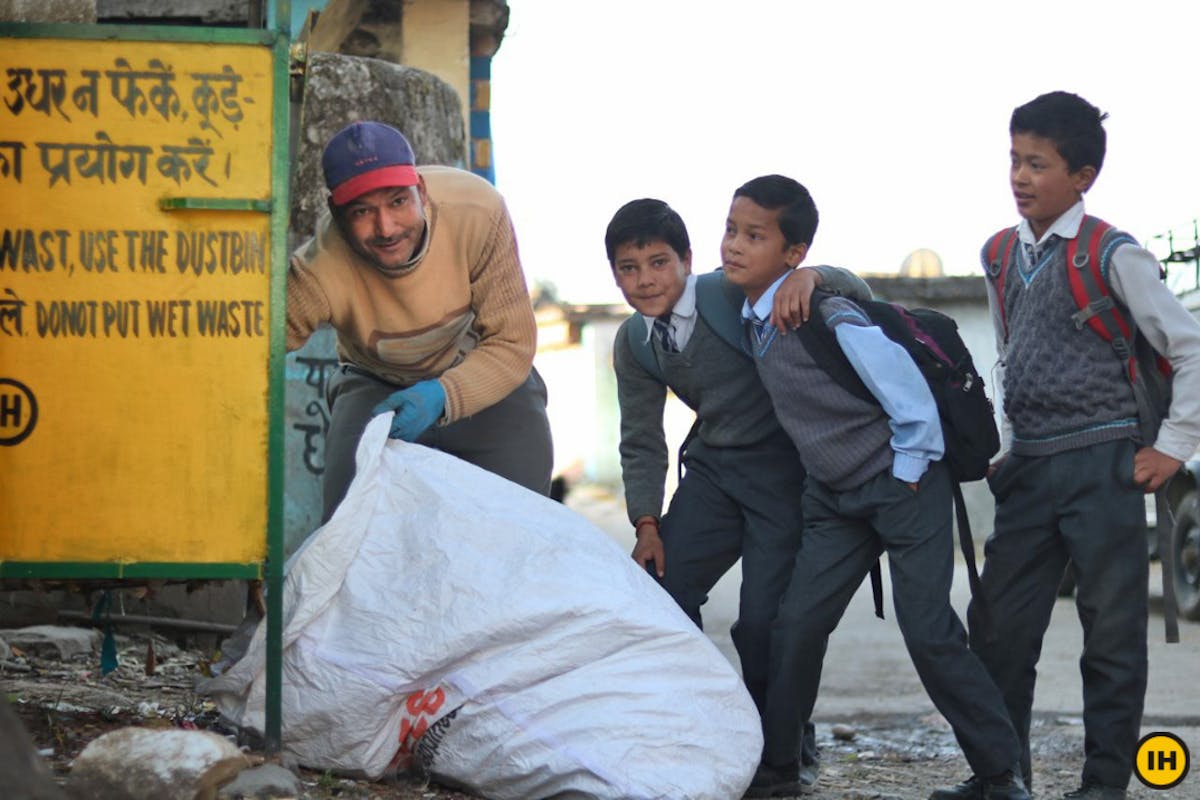 Dharamji on one of his rounds of the Lohajung market.
Our Green Trails fellow Anagha struck up an interesting conversation with him; about his thoughts on waste management, his work with Indiahikes, and his future plans.
Before I tell you his story, let me quickly brief you about the waste problem in Lohajung market.
The problem
The Lohajung market near our Brahmatal–Roopkund base camp is a busy place serving as a commercial point for about 10 nearby villages. Villagers from around the area come to buy and sell goods. The waste produced on a daily basis is enormous.
The Green Trails team initiated a process to put in place a proper waste management system.
To start things off, we set up 3 new labelled dustbins in the busier parts of Lohajung – the bank, the village centre and the Indiahikes base camp area. These dustbins replaced open dumpsites used by locals.
But we needed someone who could collect the waste from all these dustbins and do a consistent, dedicated job.
How Dharamji came in with a solution
Soon we hired Dharamji to manage the job of waste collection.
Dharamji took to this job like a fish to water.
His dedication towards his job is amazing. Without fail, he collects all the waste twice a week and brings it down to the base camp. As a result, the collected waste is now segregated periodically.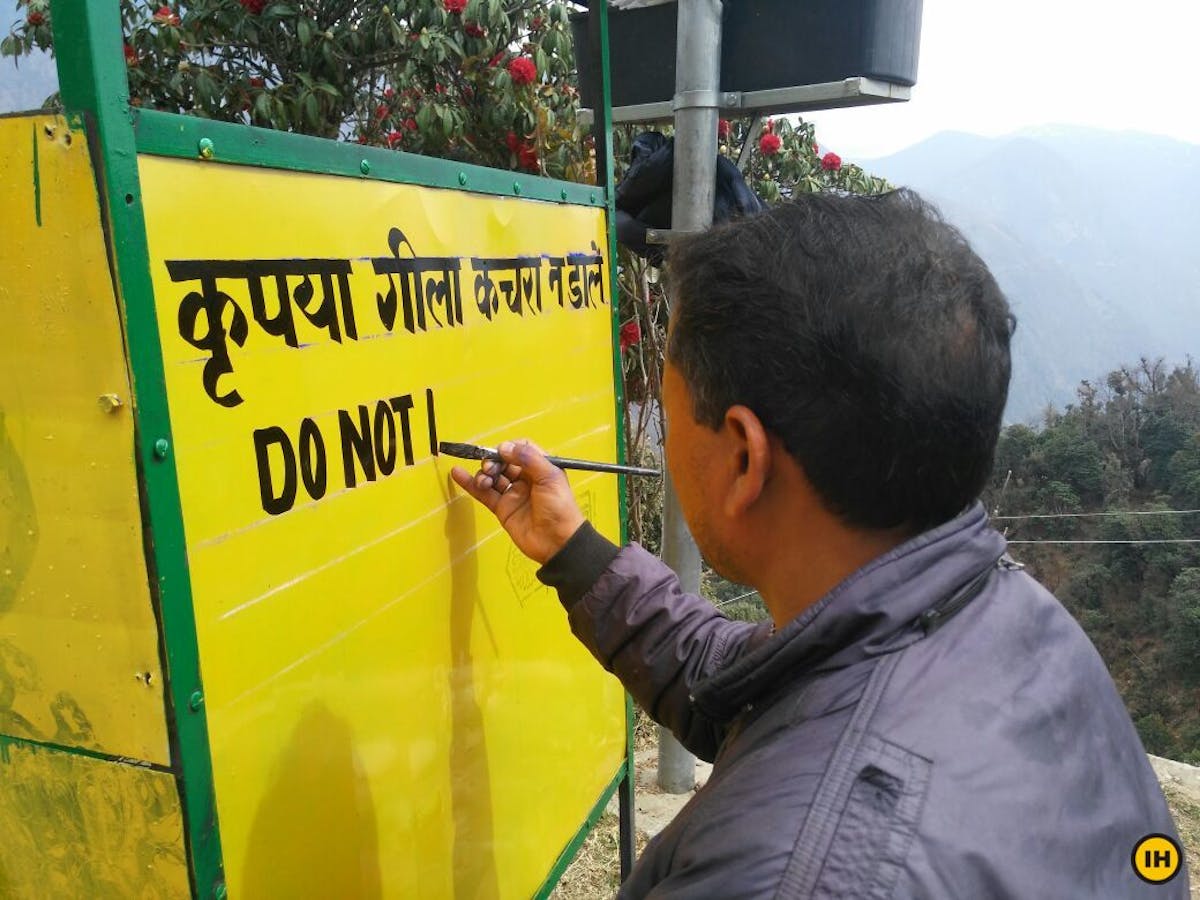 One of our dustbins being labelled by a local artist. Picture By: Trek Leader Satej Najare
How It All Began for Dharamji
Hailing from Nepal, Dharamji is a strong advocate of maintaining a clean environment.
He humbly credits his school for instilling this sense of responsibility towards the environment. Ever since his school days, he was an active participant leading the clean-ups at school every Sunday.
After completing 8th standard, Dharamji took up a variety of jobs working as a cook, watchman and a tailor. He finally resorted to working as a daily labourer doing odd jobs.
But it was when he came to Indiahikes, he felt like sticking it out. He tells us why.
"No matter how 'dirty' the work is, it is our duty to clean", he proudly tells Anagha. "If it is our waste, we should clean it up. And once cleaned, it benefits more than one person and for a long time thereafter."
Dharamji's Journey At Indiahikes
Dharamji heard about an opportunity to work at the Indiahikes lodge in Lohajung through a local. Initially, he came every trekking season to work as a daily labourer at campsites.
Tired of working as a daily labourer, he was on the lookout for a regular job. His diligence got him a permanent position at Indiahikes as a Chief Waste Collector. During his work and interactions with our employees, he observed a couple of things that reiterated his decision to stay.
Working at Indiahikes means that you do not hesitate to get your hands dirty. Whether you are the founder, a trek leader or a content writer- we are all serious about our waste segregation and management.
Dharamji's perspective about waste and its management changed as he worked with us.
He said he thought of waste, much like everyone else, as something dirty and untouchable. Yet he saw Indiahikes' employees unhesitatingly participate in collecting, segregating and transporting waste.
He points out how the Indiahikes team largely comprises of well-educated degree holders who could choose to work anywhere. Yet here they are getting their hands dirty to ensure a clean environment. For him, this is respect-worthy. He strongly believes that a person's value or status does not fall just because he/she does the so-called "dirty work".
Within just a few days of working with Indiahikes, he saw its impact on the cleanliness of the village. He felt content about contributing to a great cause. So when he was asked if he would help us with collecting the waste at Lohajung market, he did not think twice.
What's more – he sees it as an early morning exercise.
He strongly believes in the work he's doing and that people first watch, then learn and finally do.
Here's a video that our Green Trails Fellow – Leo Saldanha made about Dharamji.
Meet Dharam Ji, our local hero. I was very humbled to see the kind of hardwork he does everyday. From picking up waste from the market to lifting huge sack bags for construction purpose. You name any job and it shall be done. His wife used to think that picking up waste is a disrespectful job, until they saw us picking, segregating and upcycling waste. He said, "Jab mene aap jese padhe likhe logo ko kachra utha te dekha to soch me padgaya. Soch badal gayi aur dheere dheere garv mehsus karne laga". He's motivated by us and we're by him. An unsung hero who we adore much. So here's an ode to change. #HumansofLohajung #IHGreenTrails #indiahikes @lakshmiselvakumaran @neha_satheesan @indiahikes #livinglocal #lohajung #uttarakhand #himalayas #cleanup #environment #wastemanagement #recycle #upcycle #instagram #leocaptures
A post shared by Leo Saldanha (@leocaptures) on Apr 24, 2018 at 9:35am PDT
What's Next On His List
His work has inspired him to start waste management when he goes back to his village in Nepal. He also makes it a point to teach his children that there is nothing dirty about waste handling. He also wants to teach them ways to encounter waste at its source.
One interesting aspect Dharamji brought out was the role of teamwork in waste management. Waste can be icky. He says that it is good to have a team – someone to do it with.
What can we take away from Dharamji
Dharamji's work is done before the market sees daylight. He is the invisible hand who keeps the Lohajung market clean. To us and a few shop owners, he is a lifesaver, a green crusader.
Imagine if a single person can clean up the entire Lohajung market what an army of such people could do.
We need many more Dharamji(s) to drive the change. We end with this parting thought:
Waste needs to be talked about, addressed and managed. It cannot be restricted to an individual. It requires continuous community involvement.
Currently, Indiahikes financially supports Dharamji to run the waste collection system. Seeing Dharamji's work, the Market Association of Lohajung is keen to arrange for his pay amongst themselves. That is a good sign for us. We want villagers to implement self-sufficient systems that are independent of organisations like Indiahikes.
Scroll down and send in your wishes for Dharamji in the comments section. We will make sure it reaches him.
Have a green idea in your mind that could help the environment out? Comment below or write to our Green Trails head – Lakshmi at Lakshmi@indiahikes.com.
What you should do now
1. If you want to serve as a Green Trails Intern: Read this article by our Green Trails Head – Lakshmi.
2. If you want to work with us: Head over to our careers page. We have lots of positions open. We also have lots of applications coming in. So the sooner you apply, the better.
3. If you ended up here by chance and were actually looking for treks to do: Then head over to our upcoming treks page. You'll find all our Himalayan treks there.
4. If you want to see the 13 best treks of India: Then get our guide here.
Sign up for our much loved Weekly Mailer
We have terrific trekking tips, trek updates and trek talks to look forward to