What Do Our Trek Difficulty Ratings Mean?
Share this story
We often get calls from our trekkers asking us how we classify a trek as "easy" or "difficult".  To be fair, when we say "easy", we mean "easy in comparison to other Himalayan treks. " There are certain standards by which you grade a trek.  We will talk about them one by one.
The Trek Difficulty Rating has two parts: Broad category and specific level. 
Broad Category: Easy-Moderate, Moderate, Moderate-Difficult and Difficult
Treks are classified under the broad category by these criteria:
Altitude gained every day of the trek
Highest altitude of the trek
Temperature during the trek, snow/ice on the trail, camp site locations
Availability of water
Specific levels: Level 1, Level 2, Level 3
A 'level' differentiate treks on the basis of
Length of trek each day
Gradients during the trek
Nature of terrain (grass, even path, gravel, stones, boulders or slippery)Level 1 is the easiest, Level 3 is the toughest.
"The levels help you plan better, prepare better. You realise that after a Level 1 trek of an Easy-Moderate trek, the natural progression is not to 'Moderate'. It's to Level 2," shares Arjun Majumdar, founder and CEO of Indiahikes.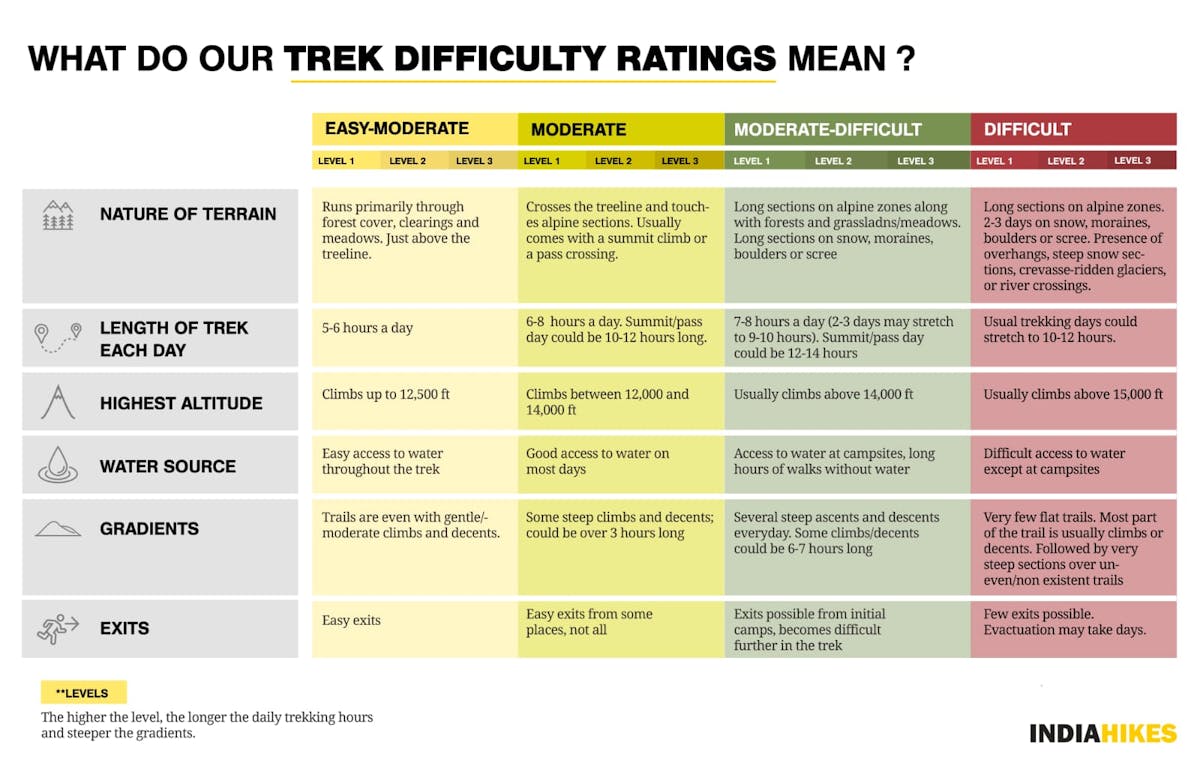 What does an 'Easy-Moderate' trek indicate?
On an easy trek, the trails are even and gently laid out. As a pahadi would call it, the trail would be a seedha rasta. They usually run through meadows and forest cover. This means the altitude does not go so high that it hits alpine sections.  These treks are not more than 5-6 days long. You trek around 4-5 hours a day. Camp sites have good access to water. The trail also has easy exits — should anything go wrong.
Deoriatal-Chandrashila, Dayara Bugyal, Kuari Pass treks are easy-moderate treks. They are the best Himalayan treks for beginners.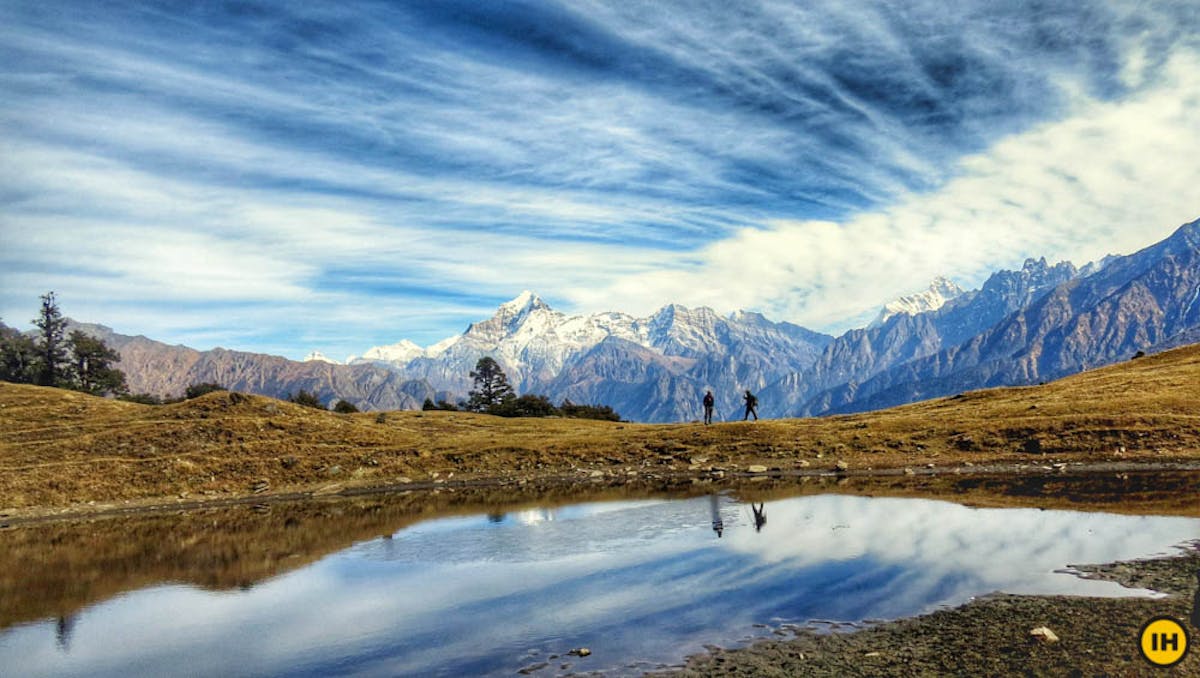 Kuari Pass has short trekking days and not much altitude gain. It is an easy-moderate trek perfect for beginners. When there's winter snow, it becomes slightly more difficult. Picture by Dipabali Paul
What would you call a 'Moderate' trek in the Himalayas?
The trails are generally even but may have steep climbs or descents. The number of trekking hours could last up to 6 hours in a day.  The trail may run into snow or climb above 14,000 ft. Campsites generally have good access to water. There are easy exits possible from some campsites, not all of them.  For example, in Hampta Pass, once you have crossed over the Pass, the exits become extremely difficult.
So Hampta Pass, Phulara Ridge and Tarsar Marsar would be classified as good moderate treks.
They can attempted by beginners as well, only if your fitness matches the requirement of the trek.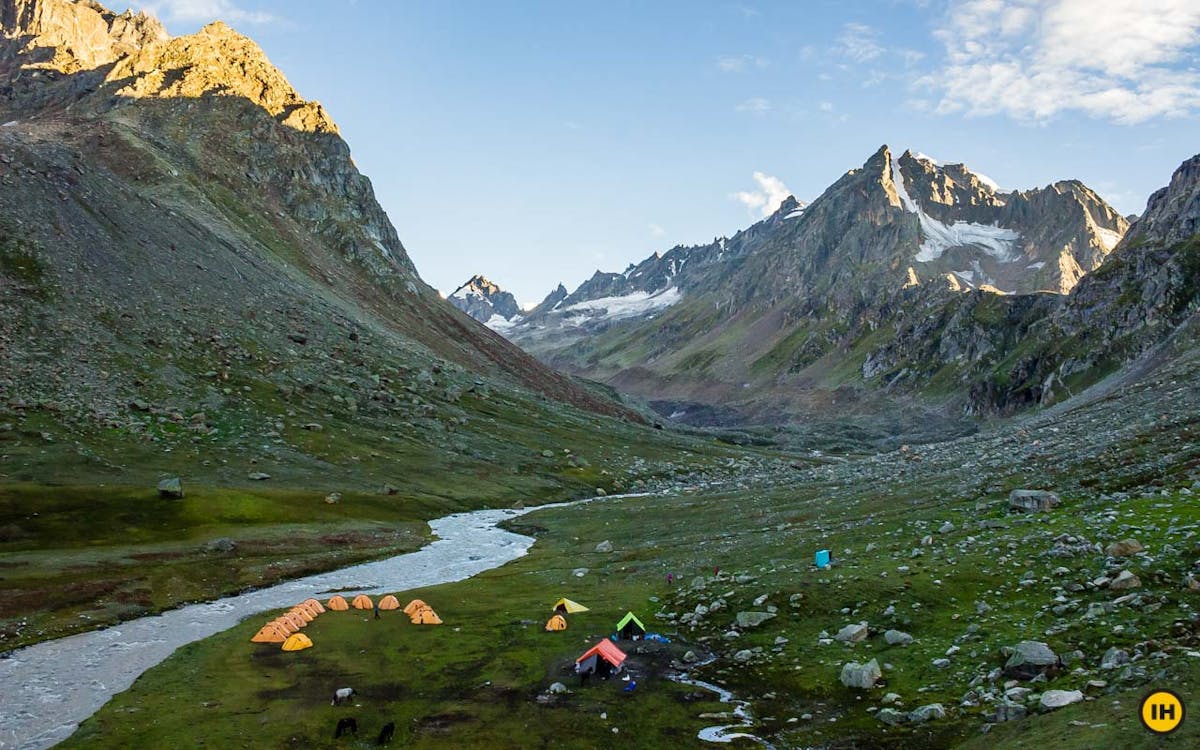 Hampta Pass has nearly 6 hours of trekking each day and difficult exits from campsites such as Shea Goru. That makes Hampta Pass a moderate trek. Picture by Nikshep Trinetra
What is a 'moderate-difficult' trek in the Himalayas?
The trails could have some rough sections. Prior high altitude trek experience and peak fitness is ideal for treks like these. There could be long sections on snow, moraines and boulders. Steep climbs and descents sometimes over three hours long could be present on some days. One or two sections would require careful navigation. Trek could last 6-7 days. Temperatures at higher camps could dip in minus. Highest altitude gained could be above 15,000 feet (4,500 m). Chances of altitude sickness is very high. Easy exits possible from the initial camps. As you go further into the trek, it becomes difficult.
Pangarchulla, Rupin Pass, Pin Bhaba Pass and Kashmir Great Lakes are few treks that would classify as moderate-difficult treks.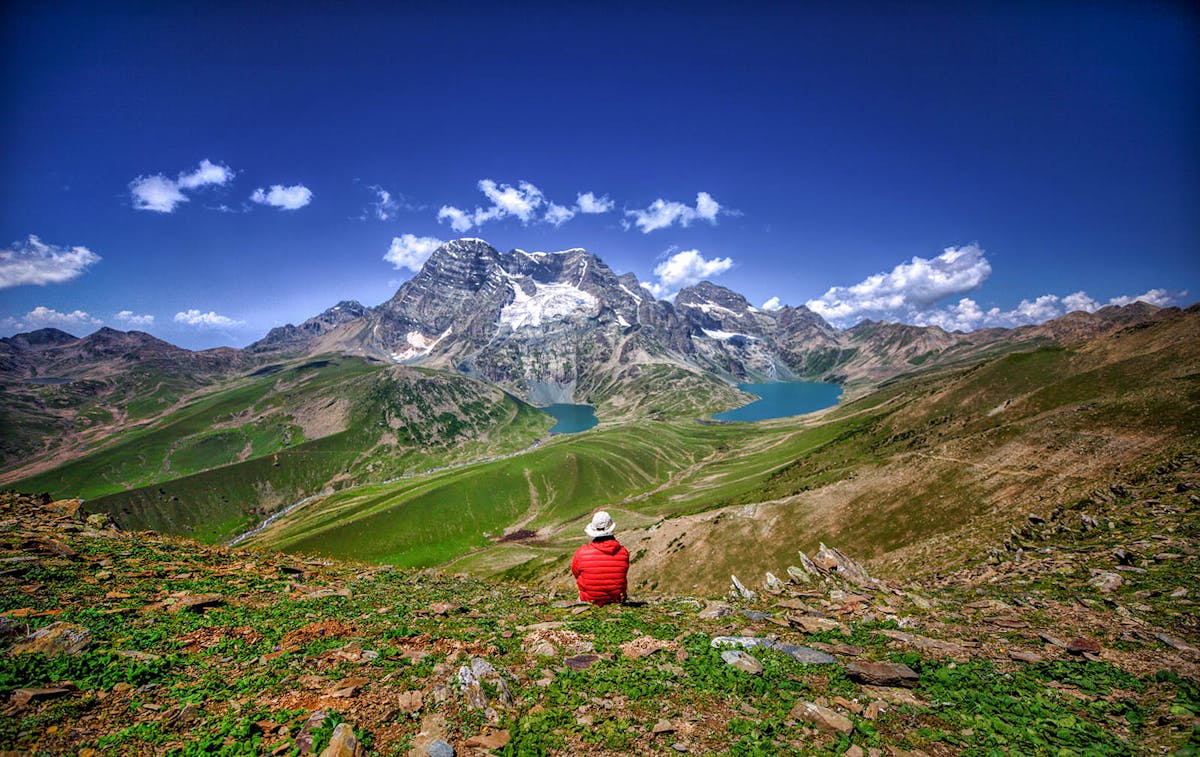 Kashmir Great Lakes classifies as a moderate-difficult trek because of the long days and the lack of easy exits once into the trail. Picture by Prasanth Premchandran
How do you classify a 'difficult' trek in the Himalayas?
Trails could be uneven on some days. Trek days could be long, stretching to 8-9 hours. Highest altitude gained could be above 16,000 feet (5,000 m). There could be some high altitude camps where air is thin and temperature in minus. There usually would be long walks and climb on snow. Glacier/crevasse crossing possible. Chances of altitude sickness high. Weather is generally unpredictable with rain/snow chances any time. Few exit options. 
Warwan Valley, Kedartal and Bali Pass are few of the difficult Himalayan treks.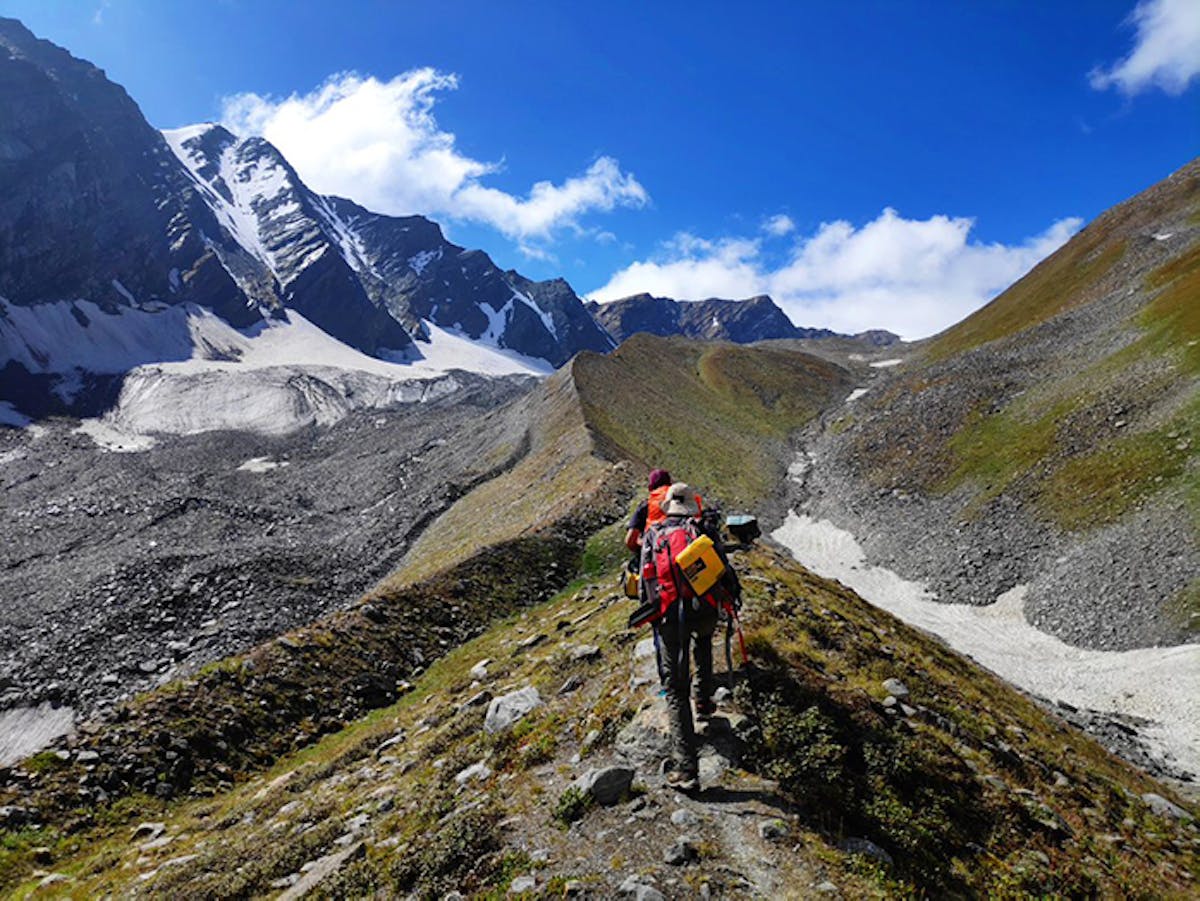 Bali Pass is classified as a difficult trek because of rough terrain, incredible altitude gain and the high risk level of the trek. Exit is nowhere in the picture either once trekkers enter the trail. Picture by Preetham TS
We hope this post gives you a clear picture of the difficulty levels of Indiahikes treks. You will find all our upcoming treks on this page, classified by their difficulty levels.
Plan your next trek according to your fitness level and past experience.
Almost all the above treks (except the difficult ones) can be attempted by beginners with good fitness levels. Just ensure you go through the trek information thoroughly before registering.
If you have questions, head over to the Indiahikes Community Forum and ask your question. You'll get valuable help from fellow trekkers, who have a good amount of experience trekking in India.
Related Videos
How Difficult Is The Gaumukh Tapovan Trek
REALITY CHECK On The Difficulty Of The Kashmir Great Lakes Trek
Why Fitness Is Important For The Goechala Trek
Sign up for our much loved Weekly Mailer
We have terrific trekking tips, trek updates and trek talks to look forward to