An Experience of a Lifetime at Gidara Bugyal
Share this story
Any journey, especially when it is exciting and long-awaited, does not start on the day of travel but the day you conceive the idea. A Himalayan trek was a long-cherished dream which has been in my mind for the past two years 2 years. My personal way to deal with such delays nowadays is to go ahead and book it at suitable dates( which is an illusion) and then later put effort to make the dates work.
Is there such a thing as a 'perfect plan'?
I don't even try to ask people to join because time is never suitable for all. So I usually book and then ask. People who really want to join would anyways join, irrespective of what dates you choose. It in fact, makes it easier for them. This holds true for me as well. If the idea that someone has proposed is too good to deny, I will make it happen! September end was looking good to me and Indiahikes was recommended as a safe bet by more than one. So after scrolling through their long list of available treks, I chose to go to Gidara Bugyal. Travel was booked too and I was to report at Dehradun on September 21st 2019 at 6:30 am. I played safe and reached Dehradun the previous night.
Trek preparations are fun as well as demanding. I went through the numerous videos on the Indiahikes website, where they have illustrated and explained beautifully on what you need, how to gear up and what you can expect on a trek. Decathlon was the obvious choice for shopping and I was awed to see the range of gear on display. My excitement was nothing less than that of a child in a chocolate factory. I wanted to buy it all. But then sanity returned and I bought what was absolutely essential and that could be used anyways. The rest of the gear could be rented at a very reasonable price from Indiahikes. The demanding part was a fitness requirement. 5 Kms in 35 minutes. And you need to actually upload a pic to qualify for the trek. Although I am into regular gym sessions, endurance was what it needed. So one needs to work up and prepare yourself physically for the trek. Give yourself enough time, trek is not something you book and go on the next weekend, especially if it is a high altitude one.
The long-awaited journey begins
Once I got to the reporting location, the Dehradun railway station in the early morning, I saw a lot of trekkers. They were all on the way to various destinations. Finally, my fellow trekkers dropped in one by one. 6 men and 4 ladies made us a small group of 10 strangers, each skeptical about the others to start with.
We took 2 jeeps to travel about 8 hours north to reach our basecamp, a village called Bhangeli. On our way, we saw the Alaknanda river which later transforms into the Ganges. As we all got into conversation, we came to know each other better and got more comfortable. The group had people from various age groups and professions, that made it interesting.
Bhangeli, a small but a beautiful village amidst the mountains, of about 30 houses and a population of 200 odd, hosted us. It stands at 7200 ft in Garhwal Himalayas. We were served hot tea and lip smacking snacks on arrival and were briefed about the trek. We introduced ourselves to the Indiahikes team which consisted of a Trek Leader, local guides and porters and cooks, about 6 men.
Our trek leader Nitesh, a young, bearded, lean man in his 20s sounded welcoming and knowledgeable. He really was passionate about mountains and had left his city life to pursue his passion of trekking. He had trekked to Everest Base Camp on his own. We knew that we were in safe hands. Our trekking team also included 6 khacchars  who carried out rations, tents and other stuff all the way up and back.
The next morning we were off to the mountains after a hearty breakfast and a nutritious lunch packed in our lunch boxes. As we climbed our way up, Bhangeli was left behind and so was the last of the civilized world. It was just us and the wilderness.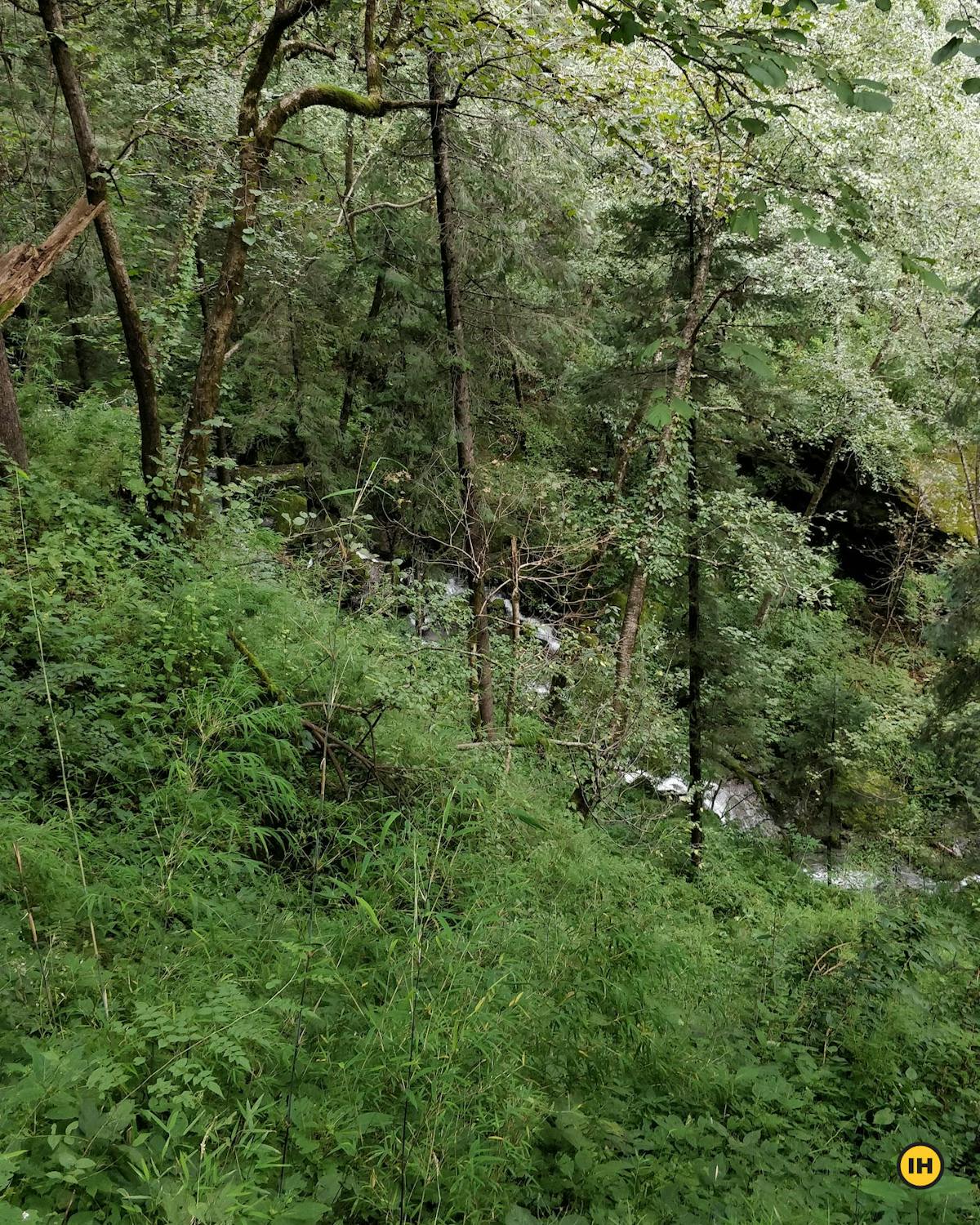 The forst section on the trek with waterfalls, small river crossings, and beautiful bridges. Picture by Dr.Rohit Tatu
We walked and ascended through the jungles of various species of plants and of course the pines.
We crossed the gushing streams over makeshift log bridges. The water was crystal clear and drinkable, and I did have a fistful. I can't remember when I did that last.
As we ascended, it started getting misty and it even drizzled a bit. Good that we were well prepared for it.
After about 3-4 kms of climbing, we reached a clearing. That's where we had our lunch. Perhaps it was just pulav and pickle, but it tasted like heaven. It was well earned and well cooked.
After lunch, we continued toiling for 3 more km, but all the way enjoying the serene beauty all around. We were tired and yet we wanted to go on, we had no choice. When we were about 7.5 km from Bhangeli, we reached our first campsite Rikhoda. This was about 10,200 ft above the sea level.
The crew and the khacchars had overtaken us and they had already pitched the kitchen and dinner tents. We were suitably rewarded with refreshing orange juice with a zing of masala on arrival.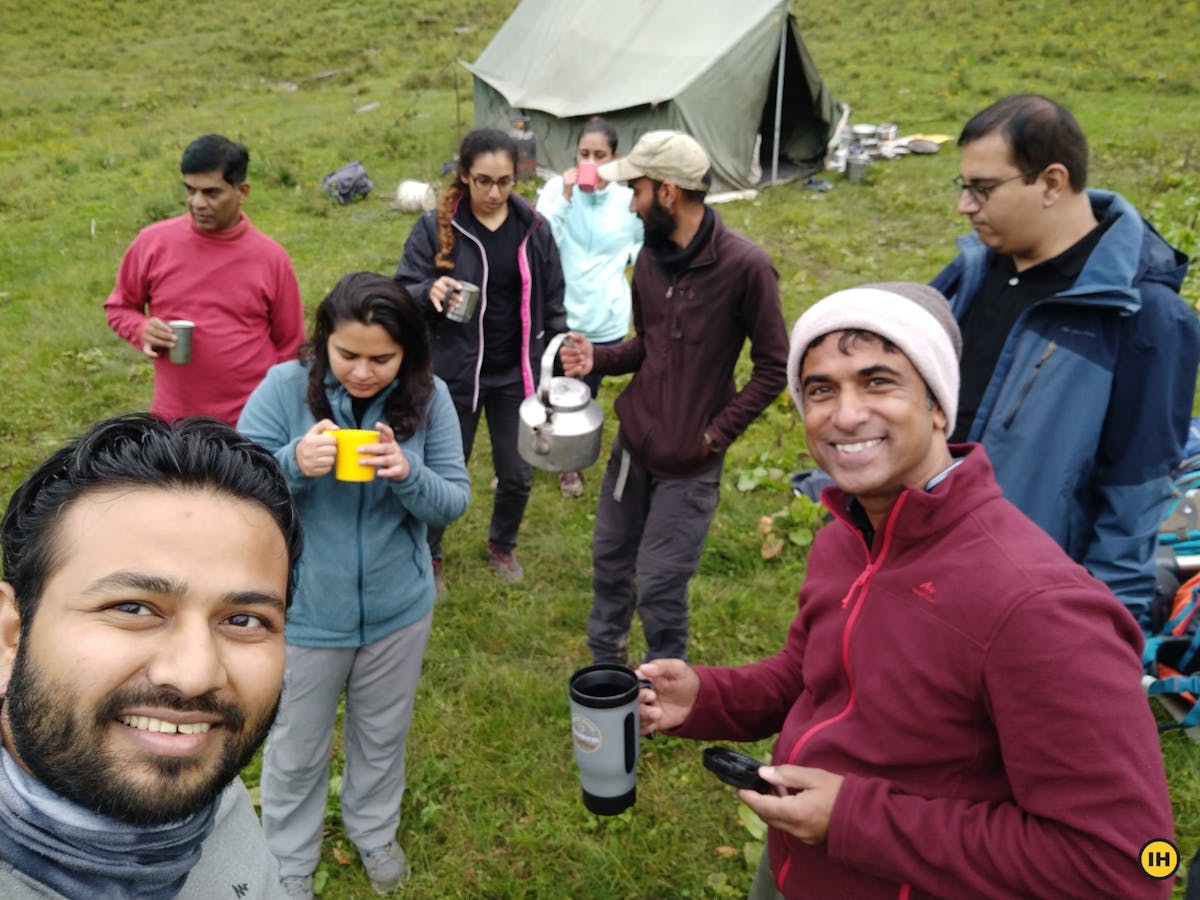 The team enjoying fresh orange juice upon reaching the campsite. All smiles.
But the day was far from over. The next item on the agenda was to pitch our own tents. Sleeping in a tent was something I was looking forward to. And here I had the opportunity to pitch one all by myself. It could not have got any better. And they are not difficult to put up at all, 15 mins max if there are 2-3 people. They are waterproof, windproof and safe against insects when closed. I shared my tent with 2 most experienced trekkers in the group and it was a pleasure learning from their experiences.
Once the tents were put up, we were all asked to gather in the dinner tent for some quality time interacting with the Trek Leader, our fellow trekkers while enjoying snacks and dinner . The Trek Leader delivered important talks on topics ranging from how to keep yourself hydrated on a trek to high altitude sickness each day. Our oxygen saturation and pulse were monitored twice a day and recorded on a health card. These guys surely knew their job and they took it very seriously. Yet on some days, we played fun games like Mafia( never heard of it before). Once it was dark, we were left with a single battery operated bulb in the dinner tent or our headlights.
A sky full of stars and a trek full of surprises
On that night, I was blown off my mind when I gazed up. The sky was clear and I was lucky to see a galaxy of stars and it was a galaxy in the literal sense. I have never seen so many stars back home or anywhere else to be frank. Seems like they like the Himalayas too.
Every night, the trek leader used to declare next morning schedule. E.g 6-7-8 meaning morning tea at 6, breakfast at 7 and march at 8. And that too after pitching and packing our tents. Though it sounds like too short a time, it used to be more than enough as nobody dared to take a bath. Brushing your teeth with ice cold water was challenging enough and bare minimum you needed to do. Answering nature's call in a dry toilet tent was itself unique experience which I'd better not describe in details. But I must say everything that could be done to preserve nature and the mountains was done.
We were all in fact given small carry bags right at the basecamp which we had to use to collect any litter left by people and hence clean up the mountains while we trekked. Indiahikes calls this initiative 'Green Trails' and I really appreciate them for this. And that's not all, the waste is segregated for recycling. Just amazing. We carried back 3 sacks full of waste from the mountains and I felt so good of having done something for the mountains who revealed their unmatched treasures .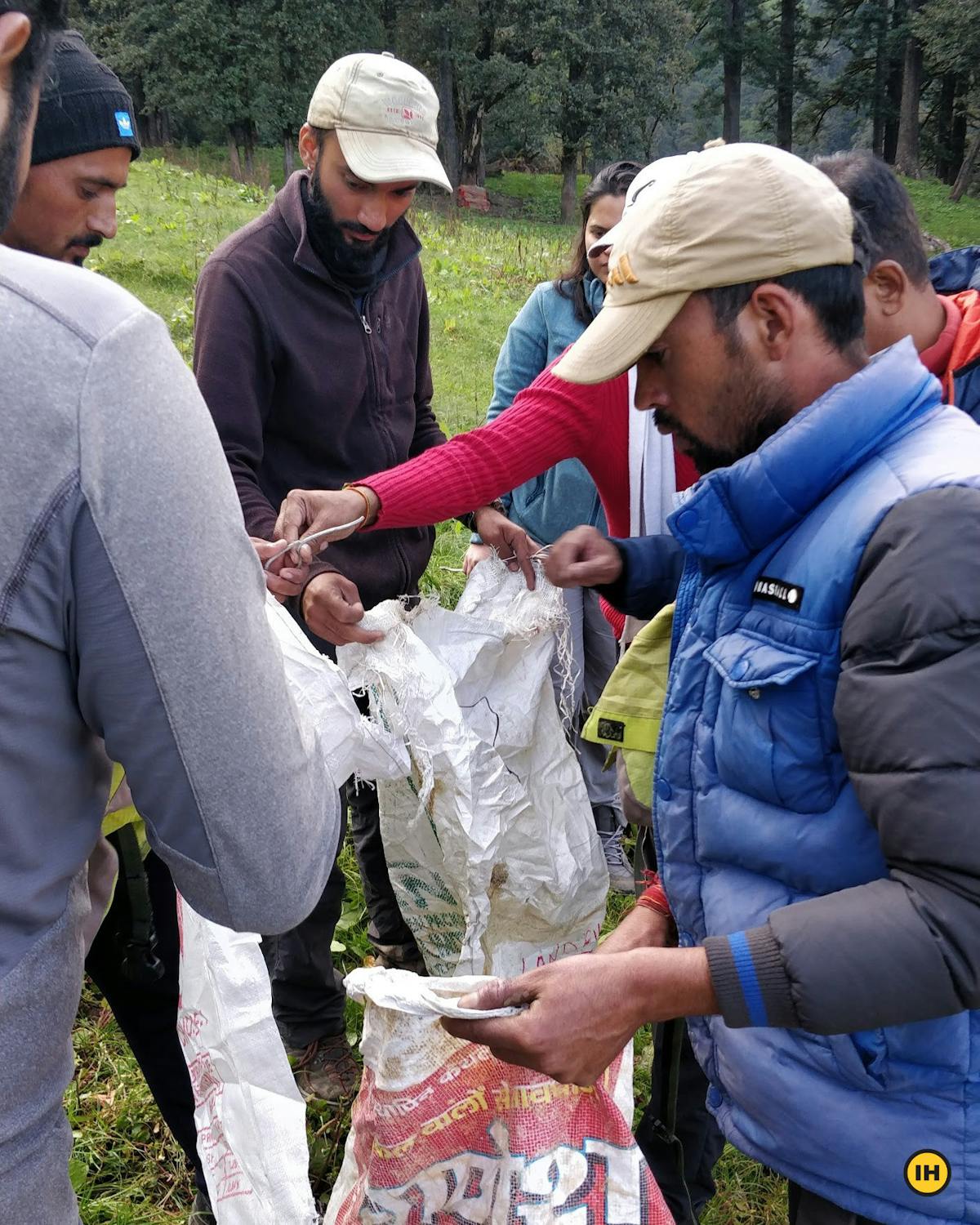 Trek Leader Nitesh helping trekkers segregate their waste. Picture by Dr. Rohit Tatu
The next day began at 8 am and it was relatively short. The ascent went over the slopes of the mountains. There were no trails here, we were creating our own. The greens varied from ankle height to about 6 feet, some of them thorny too. We used our trekking poles to scout through them. A good way to ascend is by taking baby steps and finding your own rhythm. Racing is not a good idea on the mountains and you are here to enjoy the views which keep on changing. Sometimes we saw the snow capped Shreekanth, Gangotri 1& 2 and sometimes gleefully gushing streams in the valleys.
On that day, we never got a flat, clearing to camp on. We also needed a nearby water source. So when our trek guide chose a camping site on a mountain slope of almost 30°, we could hardly believe. But the crew really worked hard by clearing some shrubs or flattening them. And there we had our hanging campsite Dokrani.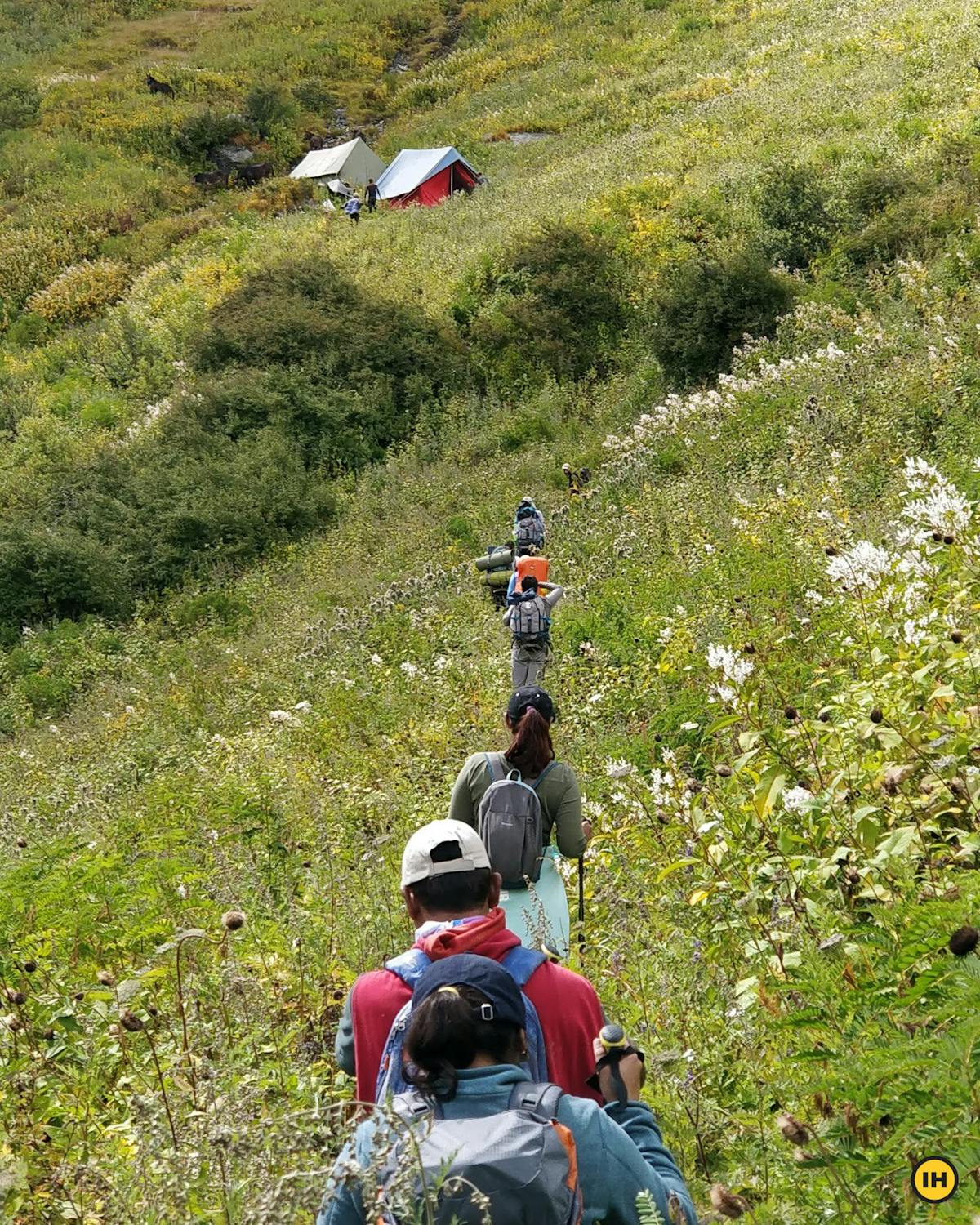 On the way to Dokrani. Picture by Rohit Tatu
We pitched our tents and sleeping position was so inclined that we had to keep our backpacks under our feet to avoid sliding down. That night I couldn't sleep. But the view we got in the morning was mesmerising. Sun soaked mountain tops with snow took a golden hue and it was breathtaking.
As if God wanted to make it a bit perfect, a rainbow appeared too!
Trees, bugyals and clouds – in the Himalayas
And we were off again ascending closer to our destination, the bugyals(meadows) of Gidara. The plants started shrinking in size and trees were no more to be seen. We were close to 12,000 ft. The mountains were layered with green carpet of weeds of different species. Tiny flowers in orange, yellow and purple welcomed us.
We took occasional rest over rock formations beautifully sculpted by mother nature. As I lied down over one such rock moulds, a vulture encircled us over a clear sky as if delightfully showing me its vast home. A thought crossed my mind that what makes us sulk over our 3-4 BHKs, villas, mansions or even estates. This guy has the entire sky and all the mountains to his disposal.
On this third day, we had a mix of sunny and cloudy patches. On a Himalayan trek, you obviously feel cold but as you walk and ascend, you start sweating. While you take rest, the wind again makes your wet body feel cold. So it is always advisable to keep a warm layer handy as you may need to put it on time and again. The clouds kept playing peek-a-boo but we as paparazzi never missed a chance to click whenever they revealed what lay hidden behind them.
On the silverscreen of the clouds, it sometimes featured snow peaked mountains and sometimes they revealed glaciers .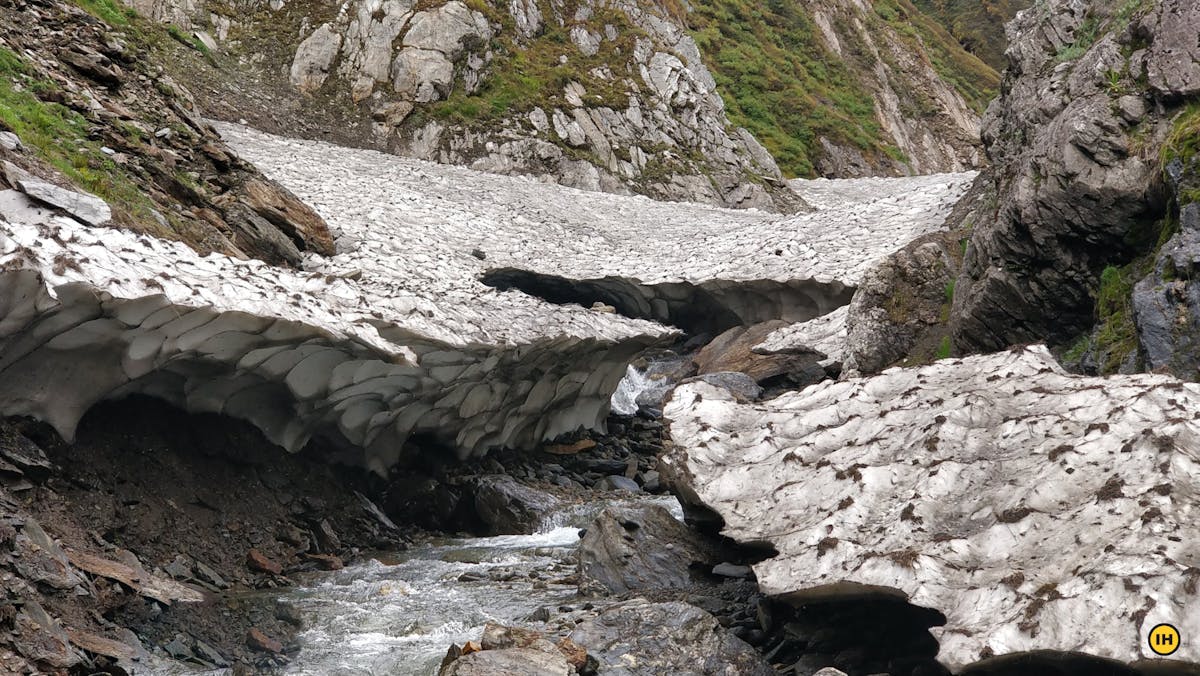 The Thalotia glacier on the Gidara Bugyal Trek. Picture by Dr. Rohit Tatu
Crystal clear waters sang a constant lullaby that night and I had a wonderful sleep. We slept early as the next day was the day for the summit climb. It was supposed to be the longest day of the trek and the instructions were 3.30-4.30-5.30, meaning morning tea at 3.30 am, breakfast at 4.30 am and march at 5.30 am. We left our campsite before dawn with our headlamps lighting our way. As we went over the top of the mountain just across the glacier stream, we actually saw the meadows. They were vast, stretching over for kilometres.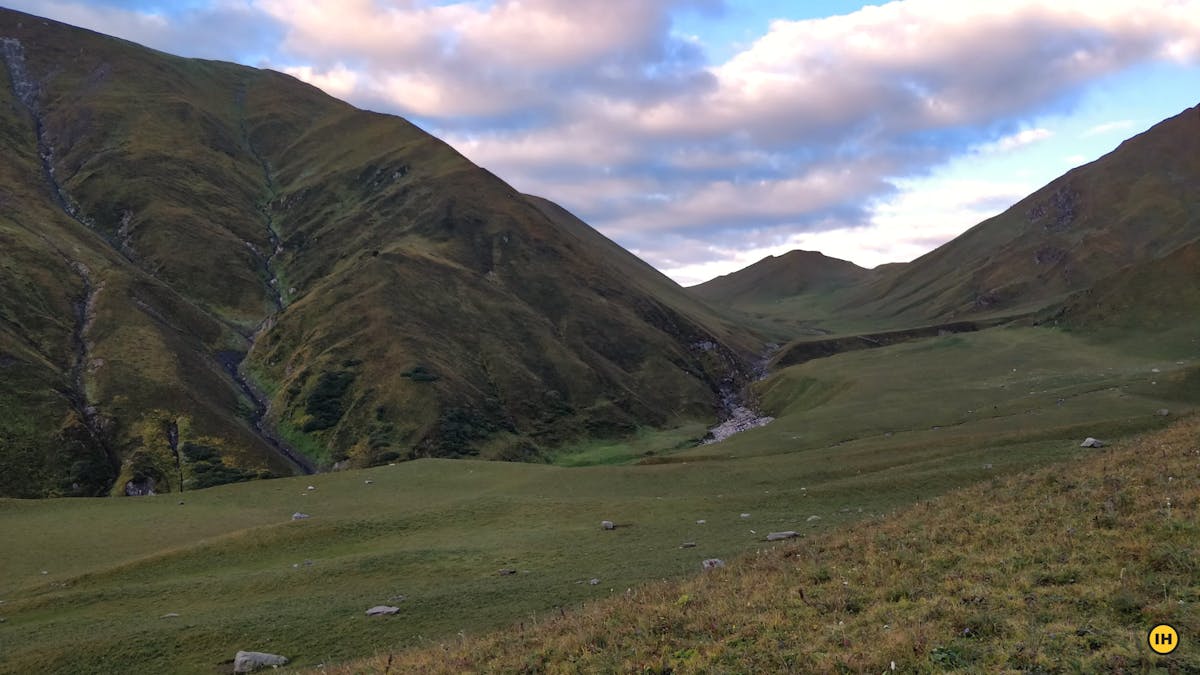 On the way to Gidara Top at 13,000 ft. Picture by Dr.Rohit Tatu
The meadows over the mountains are usually small but these were endless, and we kept on walking, wondering where to look, as each direction presented exceptional views. We walked the green carpet amidst the mountains for hours without realizing. Clouds played their own part. They did their shadow art on the bugyals giving us a newly painted canvas to admire every now and then.
The final push
But bugyals were not our target for the day, it was the Gidara top at 13800 ft. and that's where we were heading. We walked and walked and there was a point we saw the sunrise but we were nearly at 13000 ft and clouds were passing well below us. This created a divine scene, we witnessed what can be best described as Godrays.
We clicked as many pics as we could and then headed further. When the guide showed the mountain we were headed to at a distance, we could not believe it. I really thought he wasn't serious, but he was. Far down the meadows after several hillocks stood a tall one which we were aiming to conquer. Getting there itself seemed miles away.
We walked over the meadows and mountain ridges to reach what they called the Gidara end. It was nothing but a cliff of the mountain. Lush green meadows on one side and a free fall of 90° on the other. In the post trek memoirs, most people called this place the most beautiful place they saw on the trek. I too felt the same. The scene across the cliff was something else. Amidst the sweeping clouds, appeared castle like rocky mountains of Doditaal. It was a visual taken right from Lord of the rings or Harry Potter movie. Or should I say it was a visual taken by Lord of the rings or Harry Potter movie. But this was for real, right in front of my eyes. I just stared and stared sitting on the cliff enjoying. Everyone was requested to be silent and we soaked in solitude enjoying the symphony of silence and the winds. When I lied down in the lap of mother nature, I felt a comfort unprecedented. I just wanted the moment to stretch a little longer!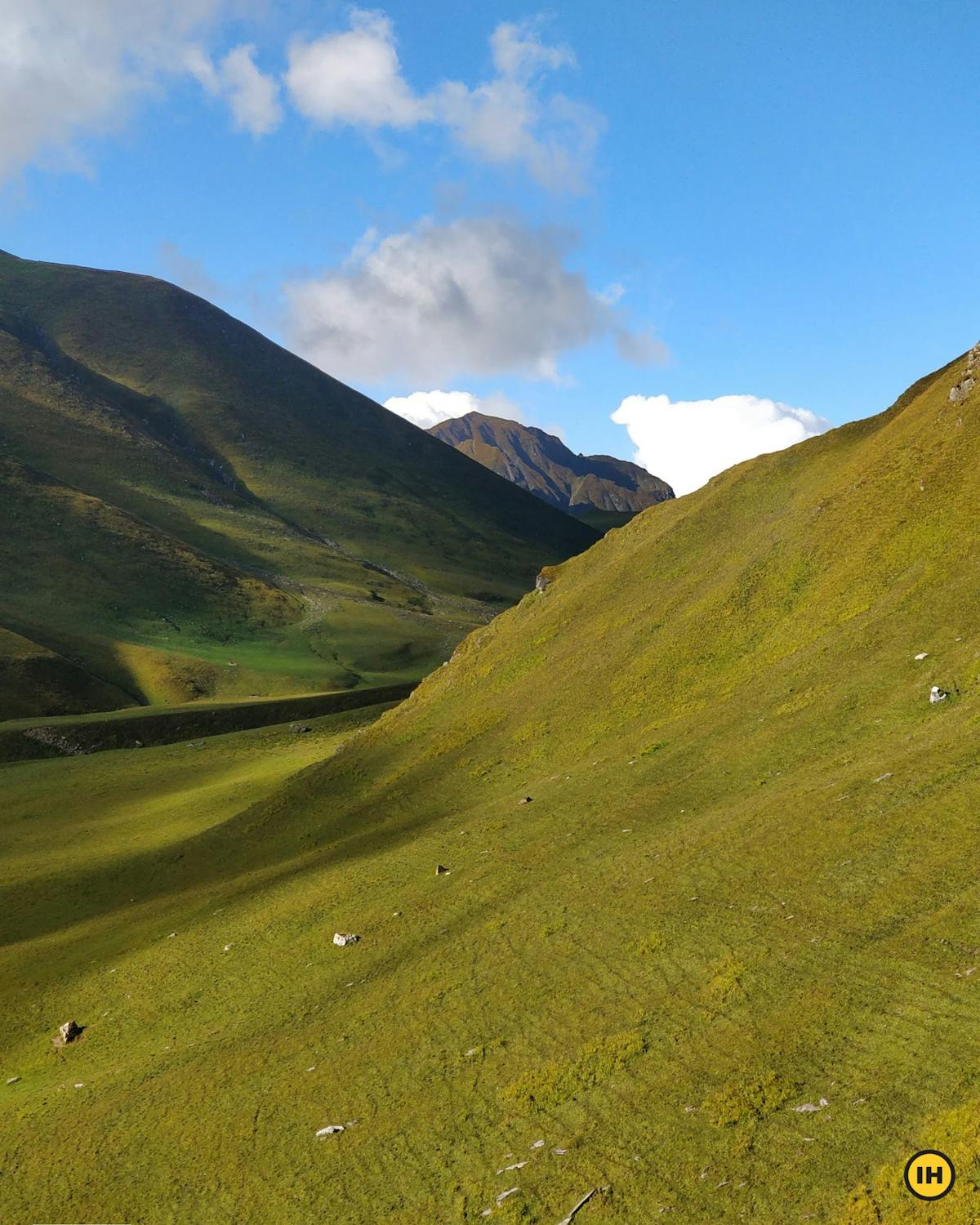 On the way to Doditaal. Surrounded by meadows. Picture by Dr. Rohit Tatu
But this too was not our destination. We were here to conquer the Gidara top and we continued our ridge walk.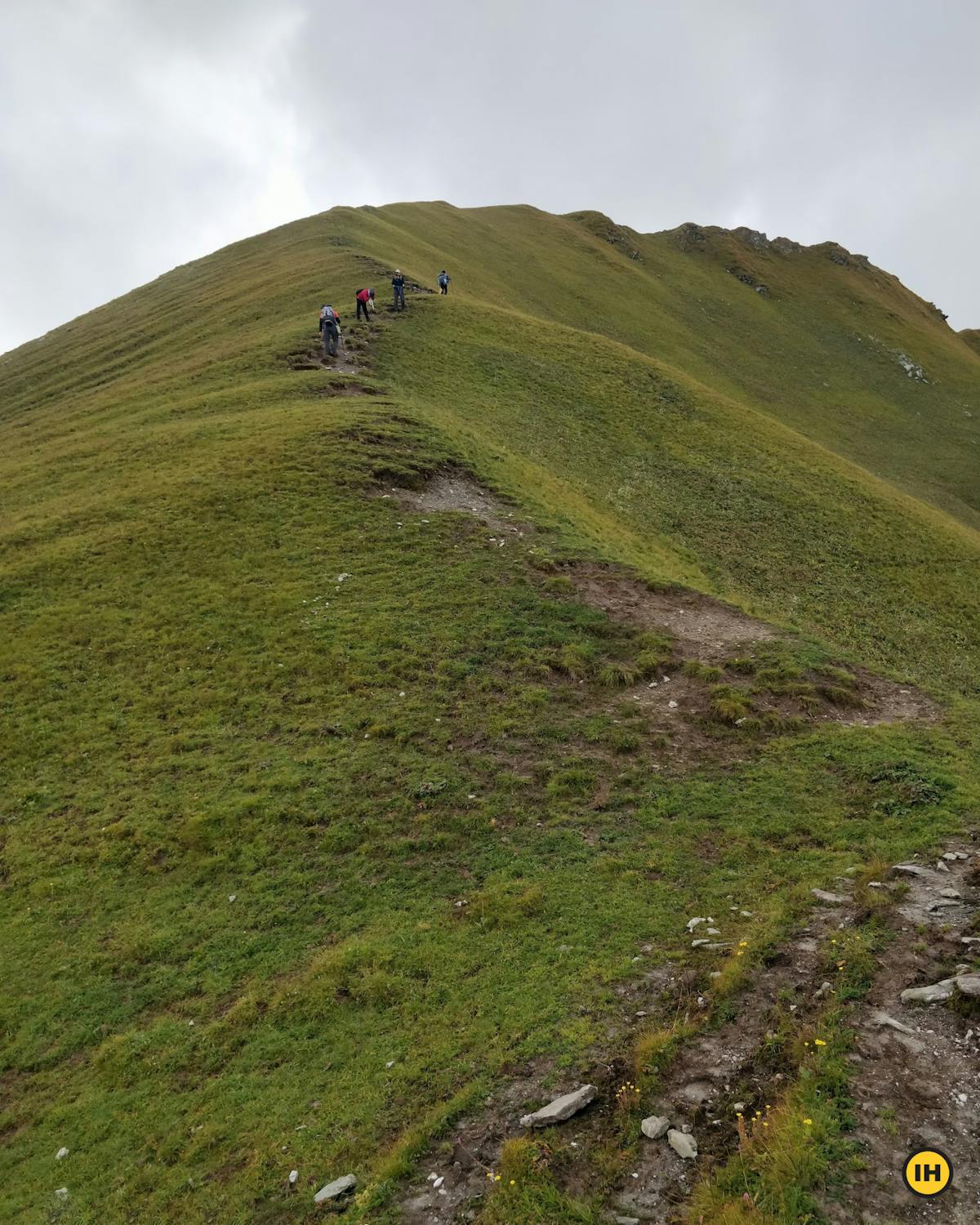 The climb to Gidara Bugyal. Picture by Dr. Rohit Tatu
As we finally reached at the base of the giant, we realized that it is going to be a short ascent but at 70°. You can't possibly climb straight at this vertical slope without harnesses so we went up obliquely in a criss cross manner. And one by one we made it. All 10 of us were there. Each one had won their individual battles.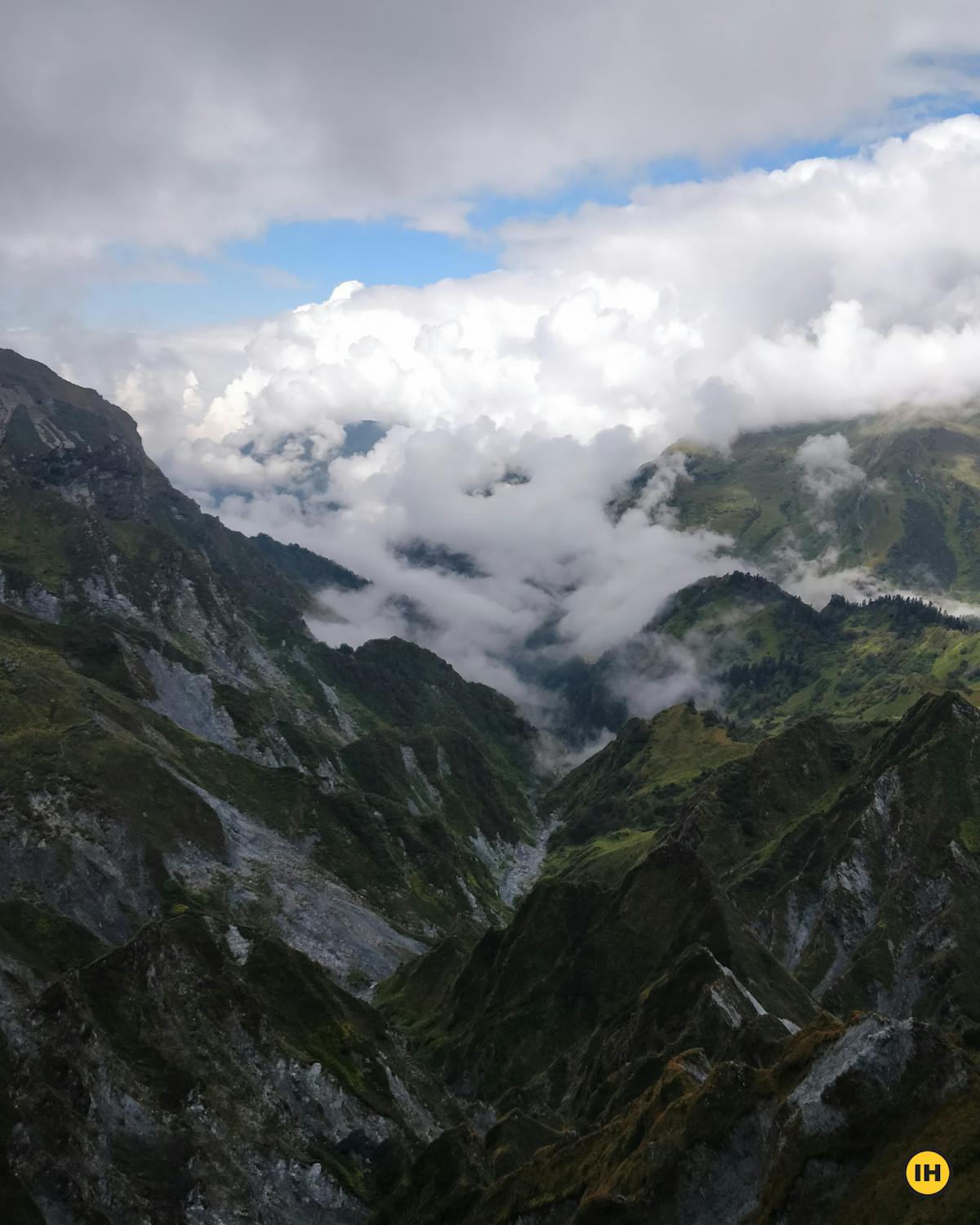 Excitement sets in at this point. On the way to Gidara Bugyal. Picture by Rohit Tatu
Everyone congratulated each other but no one exulted in triumph. We even hoisted the tricolour. We were all thankful to the mountains to allow us to get there safely and giving us the toiling but beautiful journey. We took our lunch feeling on top of the world and yet humbled. We then experienced the most lovely gesture by our Trek Leader Nitesh. He gave a pen and paper to each one of us and we wrote a letter to our loved ones from 13800 ft. The bonding I felt in doing so was immense. In this digital world, writing a letter was an art I had long forgotten.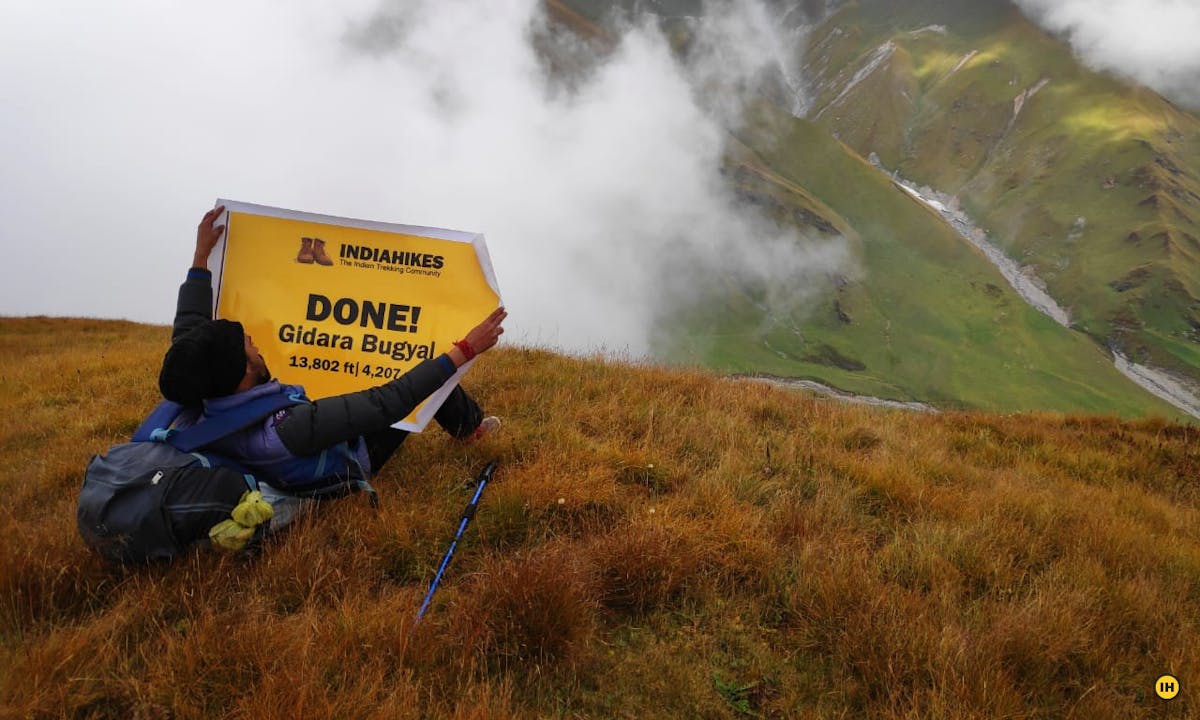 We were all thrilled upon reaching Gidara top. Trek Leader Nitesh congratulated us all, and gave us each a pen and paper to write about our experience. Picture by Rohit Tatu
This place had a wonderful view all around for sure but it also had a few rocks laid in a cluster acting as landmarks for the Nomadic tribes who keep moving in search of pastures for their cattle.
At the top, we also spotted a beautiful and unique flower called the Brahmkamal. It is offered to the Gods by the locals. Obviously, I had never seen it before.
After spending a couple of hours at the top, we started our journey back. We were supposed to descend to a campsite close to our first one. We nearly jogged down the mountain ridges and we were going pretty well.
A tricky journey back to base
Until we started to come down the face of the mountain, a supposed shortcut. As we had already lost some height, this place was like going through a forest on the slope of a mountain. And it was slippery too since it could have rained recently. It was easily the scariest part of the entire trek hands down. It was so scary for all of us that hardly anyone clicked a pic. We were all scared for our lives.
There were places where it was safest to sit down and slide to the next foothold. There were places where you had to double check your footing as there was no land visible 6 inches to your foot. Shrubs everywhere.
We had to make sure that our trekking poles dug into some earth to support us. And obviously there was no trail. Our lives were in the hands of our trek guide. He was a pro at the mountains but he had things to worry about. After all we were not as dextrous trekkers as him,  and he had to get each one of us down safely. He kept edging us on. A little more to go, just a little bit more, we kept on telling ourselves.
We were running out of water and it was getting dark too, more so because of the tree cover. We were tiring down fast and our knees and big toes hurt because of the constant, relentless descent. We were all desperate to get the site of our campsite.
We got there at around 6 pm after 13 hours and more than 13 kilometers of demanding journey that was the most beautiful and most dreadful too. A day to remember and a night to sleep like horses! That day at dinner, we were coaxed with gulab jamuns but we didn't miss a chance to bully our trek guide for the short cut that almost cut our lives short. He genuinely apologised and shared his genuine concern for each one of us.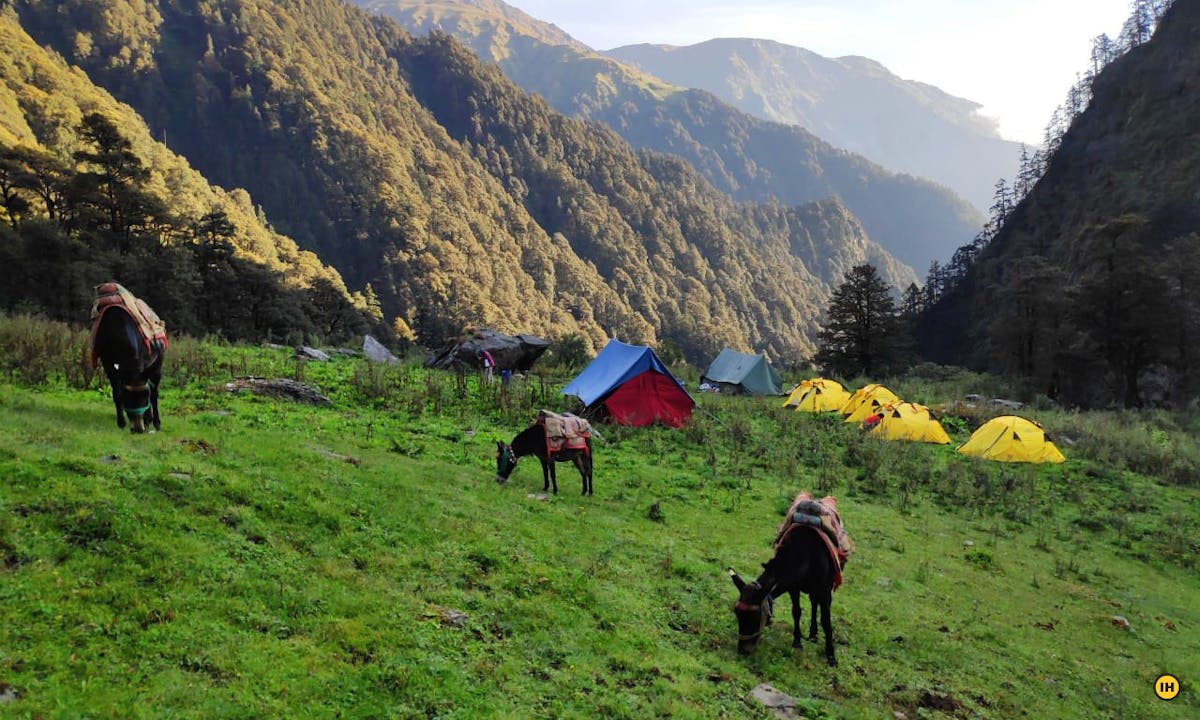 At the Tirya campsite. Nestled between tall mountains and the most beautiful meadows you will see. Picture by Dr. Rohit Tatu
The next day we had to trek back to Bhangeli, a trek of about 7 km through the same path we had walked earlier. The friends who were trailing at the end of the group for these many days were made to lead. And they did a wonderful job, the group went along together in a good time. The mood was upbeat, people sang as they walked. After all we had seen through the toughest part. We made it to Bhangeli by noon and the village seemed to be as welcoming as the first day.
That evening we had a summarising meeting where we all shared our experiences and thanked the entire trekking team for all that they did to make it worth for us. Next morning we were all to get back to Dehradun and the real world. We all felt that we should be doing at least 1 trek a year, of course the Himalayas had much more to offer. We also wished to meet up whenever destiny provided a chance.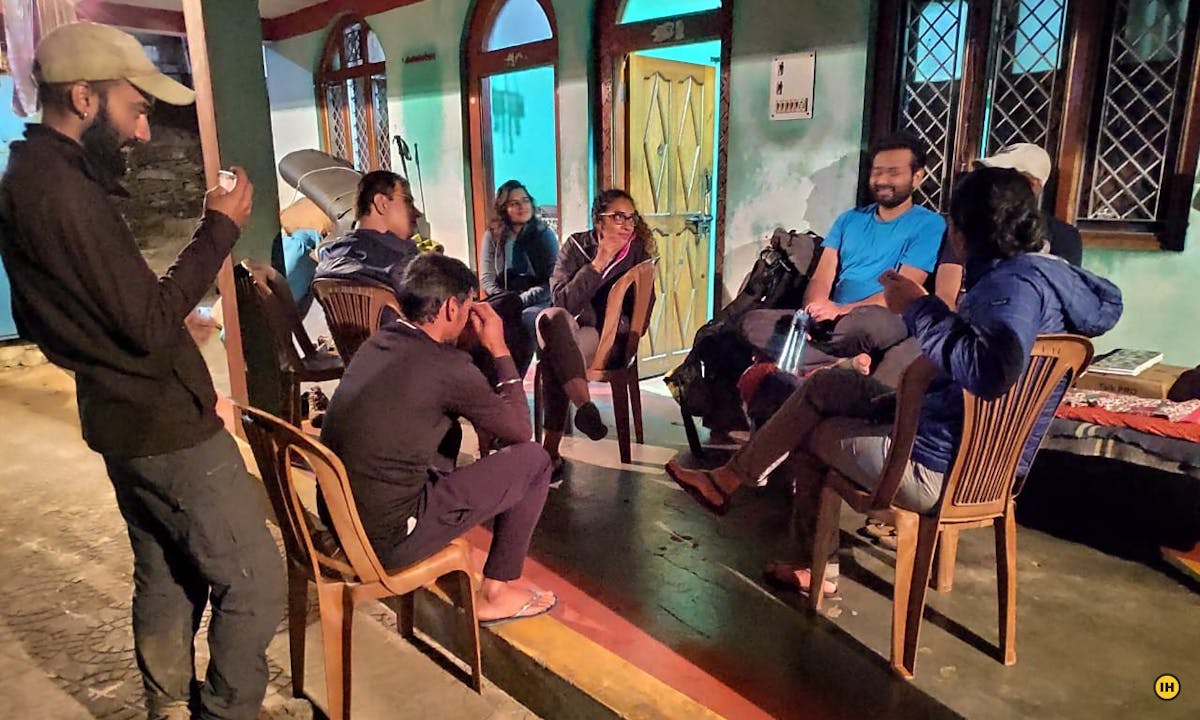 Our last briefing session together, back at the base. Picture by Dr.Rohit Tatu
Now that I've described the entire trek in a brief yet all inclusive way, I'm left with one question. Why did I do it or why should one do it?
I may not be able to drive home my point clearly but some 'never before' things did happen which kept me eager to write this long narrative. I am an adventure loving person so a trek does satisfy that quotient . Was I in need of a detox? I guess I did need some fresh air, pure simple food and my eyes -their share of unprecedented visuals to regain their gleam.
Was I soul seeking? And did Himalayas have an answer? No they didn't, but they did get me closer to myself. From the third day onwards, I lost the sense of day and time, it did not matter. Time, the very thing that governs you day in day out becomes secondary. You just focus on the very basic things, eat, walk, watch , rest and so on. There is nothing waiting to be done. Your mind is relieved of unnecessary chatter of the past or future. You are fully present in the moment doing just what you need to do and not think about what you could have done or what you should do. This trek also allowed me to accept others as they are without judging. I did have my opinions on every individual there but I was aware that it was my mind making conclusions based on past experiences and I really was able to dissociate from my thoughts. This awareness was priceless. I got an opportunity to actually realise that I am not my thoughts! This is quite an ever escaping revelation which I had read in a book. The trek allowed me to test my physical and mental endurance. A mind that is free of unnecessary luggage can charge your body with immense energy. This was aptly proven when we met two 65 year old men doing the trek solo. Surely, their bodies were not at their prime but their mental strength must have been amazing.
I'll stop being philosophical here and just end by saying that given a chance, I'll trek again for nature and it's treasures unseen, to overcome my fears and ego, to stretch myself physically and mentally and to meet more wonderful people in this world. And why do I need to be given a chance, I'll create one!
Sign up for our much loved Weekly Mailer
We have terrific trekking tips, trek updates and trek talks to look forward to