How even the most experienced trekkers can get lost in the mountains
Share this story
How even the most experienced trekkers can get lost in the mountains
Category Thursday Trek Talk
By Swathi Chatrapathy
2016-09-16
He said he would head back to the base camp. His foot, hit by chilblains, was in excruciating pain. He couldn't go on. But eight hours and a summit climb later when his team returned, they couldn't find him at the base camp. He was not in contact with anyone. Saranbir was missing.
How could a Senior Trek Leader, especially Saranbir, who has conducted several rescues in the Himalayas himself, get lost?
Thirteen hours earlier, at 2 am. Sachin narrates his story.
It was on August 18th, the day of our climb to the Kanamo Peak. It might have been a successful summit climb, but the aftermath was a nightmare. Even now when I think about it, I feel shivers run down my spine. We all thought we'd lost him.
Saranbir (or Bir as he likes to be called) and I had been together for two months in Bangalore, working out of office. We had done treks together around Bangalore, lived together, partied together. He was like the brother I never had! When I learned that he was going to be my Trek Leader at Kanamo, I was thrilled beyond imagination!
So there we were together, all set to climb the Kanamo Peak – the White Hostess who stood at an incredulous 19,650 ft.
As I geared up for the summit climb, I reflected upon the past week. It had been a grand one. I had taken off from the office in Bangalore on August 11th, leaving my colleagues green with jealously! Working on the tech team at Indiahikes did have its perks. This was my second high altitude trek in only four months!
I had met the Kanamo team at Manali. From Manali, we drove together to Kaza, the base camp. "Scenic" would be an understatement for what we saw. The landscape turned from peppermint green to a choco-vanilla brown in a matter of a few hours. The stark, barren mountains of Spiti Valley had left us awe-stricken! I had never imagined Himachal Pradesh to be this gorgeous!
From Kaza, we had travelled to Key Monastery, which was literally perched atop a hill. From afar, it looked like a strong gust of wind could tip it over. But up close, it was as sturdy as the mountains around it. From Key, we made our way to Kibber, an elegant village along the banks of the Spiti River. From Kibber, we'd arrived at the Kanamo basecamp, and there we were, tight as a pack of wolves, scaling the summit!
For the summit climb, we had to go from 15,748 ft to 19,553 ft and come back – a 4000 ft gain and loss in day.
We began the climb at 2.00 am as planned. We climbed until dawn without much event. No stars lit our path. Clouds shrouded any possible light. The higher we climbed, the worse the weather got. But we weren't let down. Our meeting with Bachendri Pal earlier had boosted our confidence. We were an unstoppable bunch of trekkers!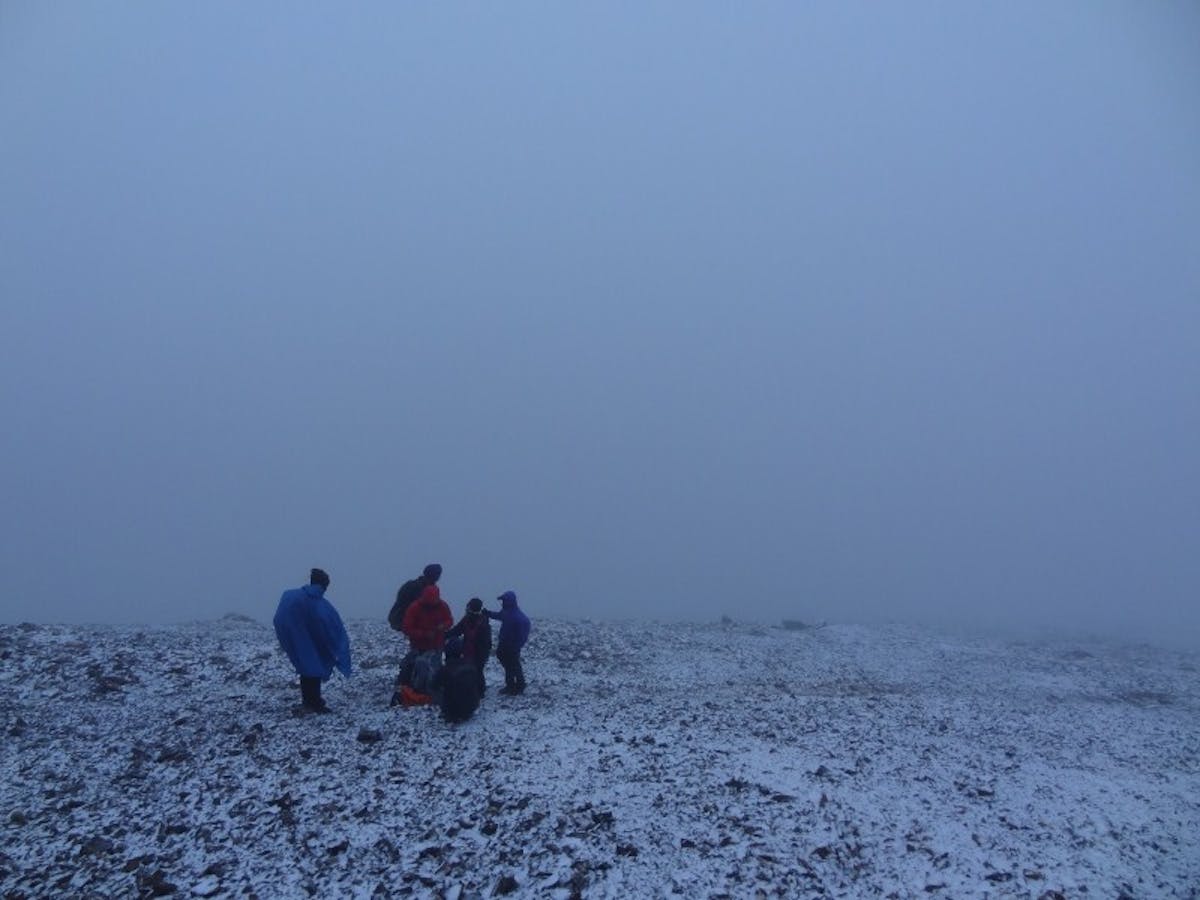 Trekkers climbing to the Kanamo Summit PC:Mark Savio Rodrigues
But as I looked around, Bir had gone from leading, to being a pilot and was now sweeping.
"Is something wrong?" I asked him. Knowing the person that he is, he would never tell if something was wrong. But he was limping. On inspecting his left foot, we noticed that his toes were beginning to swell and turn red. His big toe had already turned to a deep purple. He had been hit by Chilblains – a painful swelling caused by lack of blood circulation because of the cold. He urgently needed to give his feet some warmth.
It was around 6.00 am by then. We were at 17,600 ft. Knowing that it wasn't wise to go to any higher with such a case at hand, he asked everyone's permission to turn around.
"You have Mukesh, Raj, Sachin and Chacha with you. You will be fine," he assured all of us. But the team was more worried about him. He reassured us that he will be fine. He said he would go back to the base camp, an hour's descent. He would get some hot water and treat his toes.
"Take a right turn from the saddle," we all reminded him.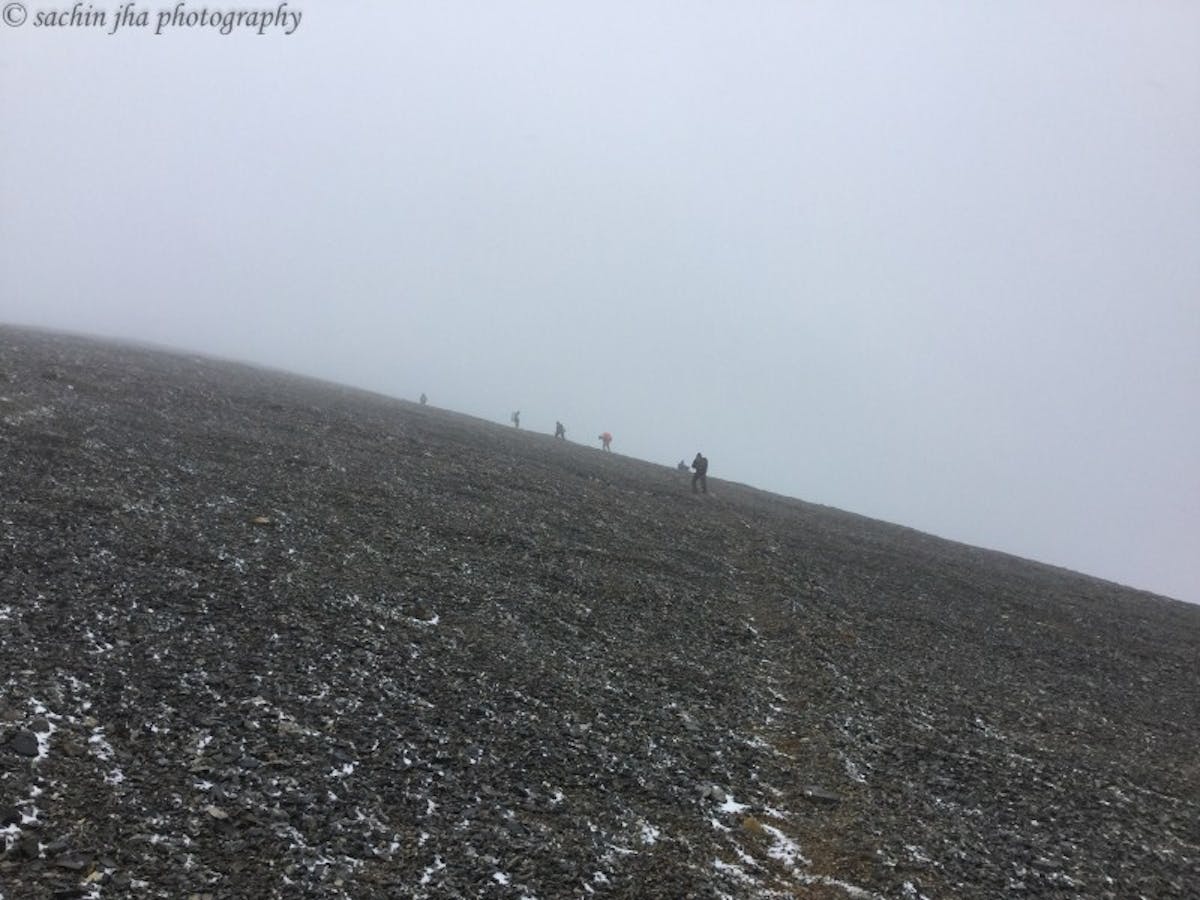 Trekkers climbing to the Kanamo Summit PC:Sachin Jha
We watched him until he disappeared into the fog. We couldn't see beyond 50 metres. We just hoped he took the right turn.
We were disheartened that Bir wouldn't be summitting with us. Over the past few days the team had grown extremely fond of him.
We were disheartened that he wouldn't be summitting the Kanamo Peak with us. Over the past few days the team had grown extremely fond of him. That's the kind of guy Bir is. You tend to immediately like him. His larger-than-life persona and his ear-to-ear grin is not something you can overlook.
But we moved on to the summit. We didn't have any time to waste on a trek like this! It took three more hours in ridiculously bad weather and slippery terrain. None of us could see the trail, but Mukesh and Chacha knew the trail. All of us made it to the top at 9.00 am! Dark doomsday-like clouds covered everything around us, but lack of views from the summit didn't bother any of us! We had made it to the top and that's all that mattered! We felt glorious! At 19,650 ft, we reveled and ate some celebratory halwa.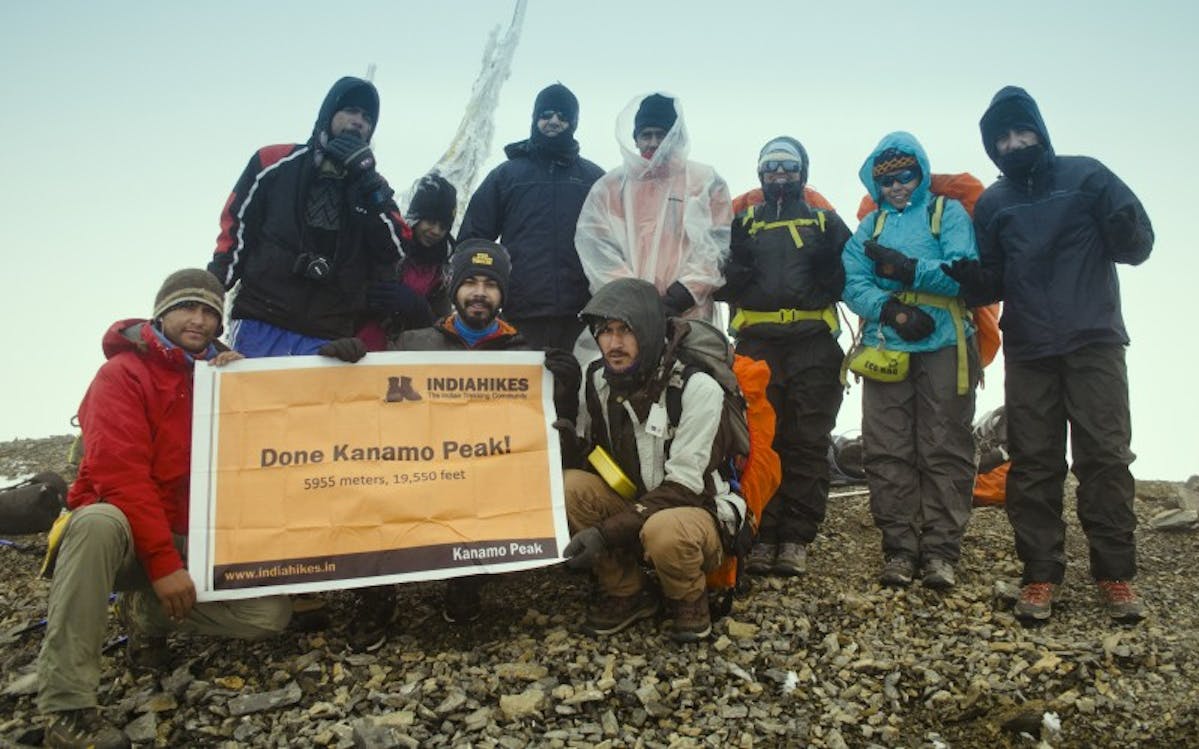 Trekkers at Kanamo Summit
We spent around half an hour at the summit and began our descent. Mukesh had estimated that it would take around five hours to descend. As estimated, we reached the basecamp at around 2.00 pm.
I immediately went to check on Bir.
But Bir was not at the basecamp.
That's when I got the worst news.
He had never reached the basecamp. In fact, everyone at the basecamp thought he was with us, summitting Kanamo.
Then I realised that no one had seen or heard from him since he left us at 6.15 am. That was eight hours of absence.
I stood rooted to the spot. My feet suddenly felt really heavy, like bricks. My face grew hot despite the cool breeze. There were so many thoughts creeping into my head. He didn't have any food on him, nor did he have enough water. A dysfunctional leg, dreadful weather, high altitude, anything could have happened to Bir. I shuddered to think further.
I looked around at the team celebrating their summit climb. I heard bouts of laughter and happy banter. How could I tell everyone that their much-loved Trek Leader was missing?
But it had to be done.
So I told them that he was missing.
That's all it took. Just one sentence, to suck out all the happiness from them. Their faces fell. Their hearts sank.
Now, of all times, I really hoped Bir was just playing a prank on us – something that would be typical of him. But my hopes came crashing down. It turned from 2 pm to 5 pm. The search teams that went out returned with no news. The sun went down and there was no sign of Bir.
Evening turned to night and we had no news. That was one of the hardest nights for me. I didn't know what to think. My mind felt clouded, much like the weather that night. That's actually when the magnitude of the wilderness came crashing down on me. We were literally in the middle of nowhere, just small dots on a landscape, completely obsolete beings.
In the mountains, experience might count, but you definitely can't get the better of these mighty creations.
I drifted into an uncomfortable sleep. That night I dreamt that someone found Bir's backpack with a note in it saying he was fine. If only the dream was true!
Rewind to 6.15 am – As told by Saranbir
I'll be honest. I was not happy to say goodbye to the team half way to the summit. An incomplete summit climb is a trekker's nightmare. But I knew that this time, I had to prioritise wisely, or I could lose a few toes thanks to Chilblains.
Chilblains are not very pleasant. Just 40 minutes of trekking can feel like 8 hours. So instead of taking the right turn at the saddle to the basecamp which was an hour away, I chose another route where I had seen two villagers. I knew they could help me get some warmth sooner than an hour. As I expected, they took me to their hut and gave me hot water within 20 minutes.
But by the time I went down to their hut, an old injury in my left ankle – a tendon rupture – got aggravated. That worsened everything. The pain was worse than most things I'd experienced before. But this is a part and parcel of trekking in such adverse conditions.
In fact, I remember sitting and laughing to myself in the hut. The toes of my left foot were dipped in hot water while I was treating the same ankle with cold water! I had made a temporary cold water pack with a doodh packet.
I did this for 40 minutes. While I sat there, there were so many smells in the hut – of my feet, of the milk packet, of the wet weather. I can tell you this much, the smell wasn't too pleasant. So after 40 minutes, I put on my shoes and made to leave. My shoes hurt terribly because the leather had shrunk thanks to the wetness. I decided to leave nevertheless. I'd have to make it back to the base camp before the team.
Outside, it poured like the clouds were in a hurry to empty themselves. The visibility was nil, and all I could see was grey. I left the hut at around 8.45 am in the white out.
We trek leaders usually get our bearings right keeping the geographical direction and altitude in mind. If not that, we learn by looking at the mountains around, or keep landmarks such as huts or lone trees in mind. But this situation was hopeless. I couldn't see beyond 10 metres.
What I did know was that I had descended by 1000 ft from the base camp. I was at 14,600 ft and needed to get to 15,650 ft. So I began walking uphill, relying on my watch for altitude. It was an agonizing walk, but over the next few hours, I had limped across six mountain ridges.
As I walked, I realised I was in absolute wilderness. The surroundings had transformed from slightly tamed to absolutely wild. I saw a flock of Himalayan blue sheep, wild Black Yaks, rare flowers like Edelweiss. None of these things thrive where civilization exists. I knew I was headed in the wrong direction.
The rains that had stopped for a while, started off again. I had rain wear so I was alright, but the wind was extremely chilly. It's not easy to stand around at 15,600 ft and wait for it to stop raining. I was freezing. But I endured the rain because I knew the clouds would clear up after a good rain.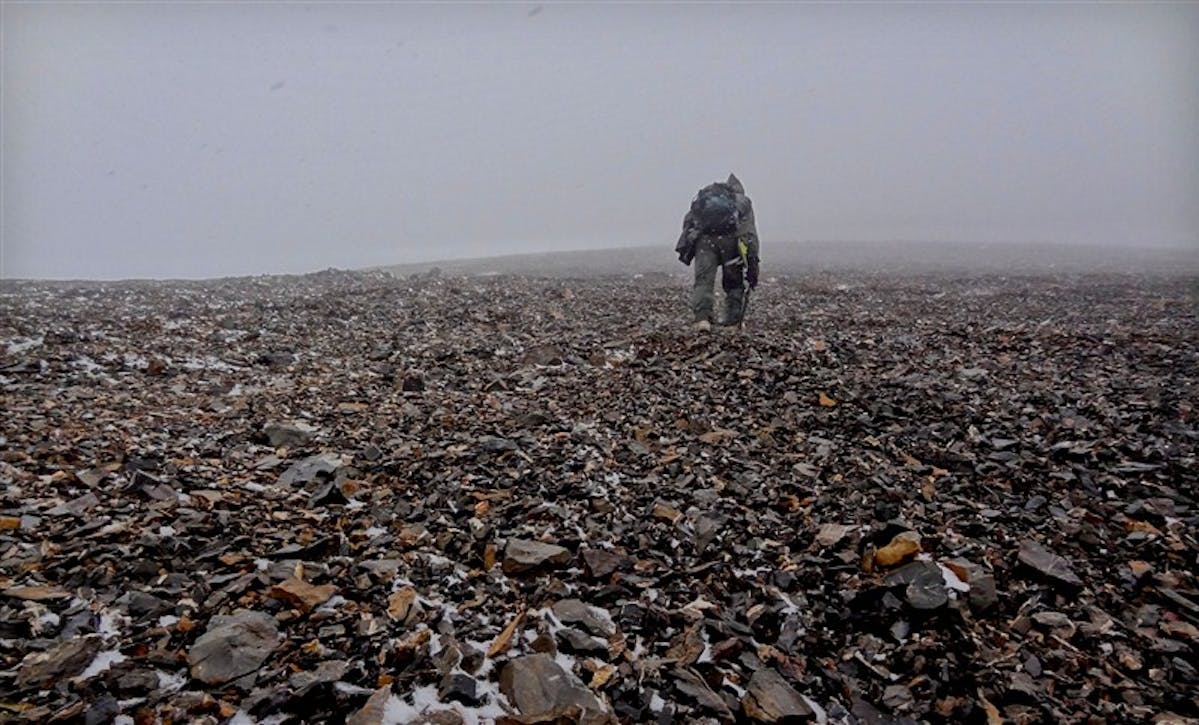 Climbing to the Kanamo summit in a whiteout PC:Mark Savio Rodrigues
After a few minutes, as expected, the clouds paved way. I got a quick long distance view. My first real view since 6.00 am. Believe me, I was stumped. I saw Key Monastery far far away. It was a stunning sight and everything, but I had been walking in the wrong direction for hours. Before I could even get a good look at the surrounding mountains, the clouds took over again.
That's when I made up my mind to just climb to the highest point around and get a good view of the surroundings. I started my uphill climb. Again, I relentlessly walked and crossed four more ridges to get to the highest point. I remember thinking to myself that I might as well have climbed the Kanamo summit with everyone! This was getting me nowhere.
Every now and then, I stopped trekking. I lay down and did nothing, I thought of nothing. I just had to keep myself calm.
Thrice, I feared that I would lose my toes. They were extremely sore and changing colour fast. I had to pee on my own foot to keep it warm.
It was 12.30 pm by the time I reached the tip of the highest point around – 17,350 ft.
I waited and waited. 10 minutes. 20 minutes. 30 minutes. Nothing. I squinted into the distance, trying to spot tents, lakes, big mountains, but I got nothing. The clouds did not give me a single second's relief. It was a complete white out.
I was in the middle of nowhere.
It's strange going back to that moment. Everything was going against me. A small part of me just wanted to give up and remain there.
But my basic instinct took over – I needed to survive. It didn't matter that my last meal was at 1 am. Meals were secondary. My primal instinct was to survive the weather, survive the terrain and the wilderness.
After half an hour's rest at the tip, I began descending. Every move was a guess. Every step stung my foot. The surroundings were absolutely desolate. I was just relying on the direction and making my way down. I walked for two more hours. Those two hours felt like eternity. Every minute took a toll on me.
It was 3.20 pm.
That's when two small houses floated into view. I took ten more steps. More houses arranged themselves in a row on the jagged mountain face before me. And suddenly, there it was in all its glory – the village of Kibber, at 14,200 ft, much lower than the Kanamo Base Camp.
If you ask me what my reaction was upon seeing Kibber, I can't really say. I was mind-numbed. I was extremely thankful. But honestly, the back of my mind kept going, The trekkers are at the Kanamo basecamp. They'll be worried and you have to go back there! What if they have medical emergencies? 
In fact, I did start walking towards the basecamp, but I took ten steps and couldn't go on. Instead, I walked into Kibber and slumped down after what had been the longest, most exhausting day of my life.
After having left at 6.15 am from 15,500 ft, I had climbed to 17,600 ft, descended to 14,600 ft, walked across ten ridges, back up to 17,350 ft and down to 14,200 ft. I had ended up walking around 40 km from 6.15 am to 4 pm with a dying foot.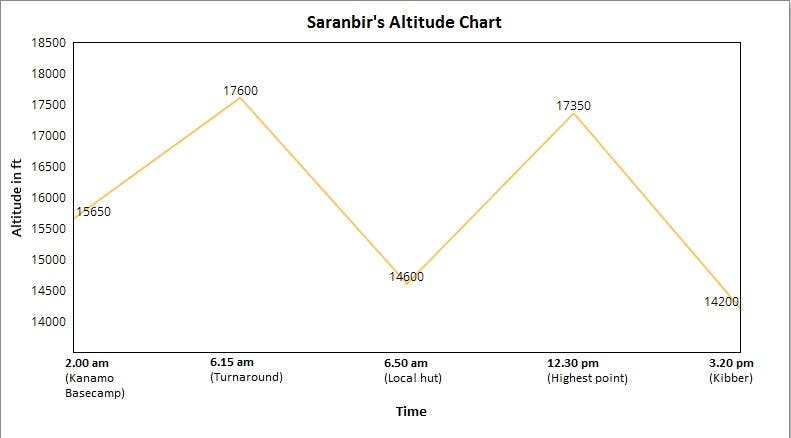 I sat in my chair procrastinating for a while. When I could muster the strength I set out to get my first meal in 15 hours. Believe it or not, at this point, it took me 25 minutes to walk 200 metres.
As I was having a meal, our guide Chacha came into Kibber looking for me. A small man of around 4 ft, with an endearing face and teary eyes – I was thrilled seeing him! He insisted on going back to Kanamo basecamp and informing them that I'm safe.
I left a note with him for the team saying I'm safe, and gave him my backpack which had a headlamp and some warm clothes.
The next morning – August 19th 
The next morning was almost more emotional than the summit day for all the trekkers! Having heard news about Bir making it to Kibber, they were beside themselves.
"Most of us didn't even want to have breakfast. We wanted to just rush down!" recalls Sachin. Sachin had had a troubled night, drifting in and out of sleep, on the border of dreams and reality. When Chacha had returned the previous night with Saranbir's note and his backpack, Sachin thought it was a dream. But when he woke up and discovered that his "dream" was actually true, he was overwhelmed!
"You know how they say – you only realise the significance of someone when they're gone? That's how I had felt the previous evening. I felt utterly forlorn without Bir. This summit climb as supposed to be something we did together. I had almost given up hope of ever seeing him again. But to just hear that he was alive and well… oh god! don't make me recollect that moment! I had a huge lump in my throat and I had to go away for several minutes before I got my voice back," recalls Sachin.
It was indeed a grand reunion for all of them. "Jyoti and Tanu came to me and gave me a big hug. They were both smiling through teary eyes. They began singing Luka Chuppi! It goes Luka chuppi bahut hui, saamne aaja na. That is not the best song to listen to if you want to keep a poker face," says Bir sheepishly.
"Most of us actually wanted to kick him for walking 35 km to nowhere instead of coming to the summit with us," jokes Sachin.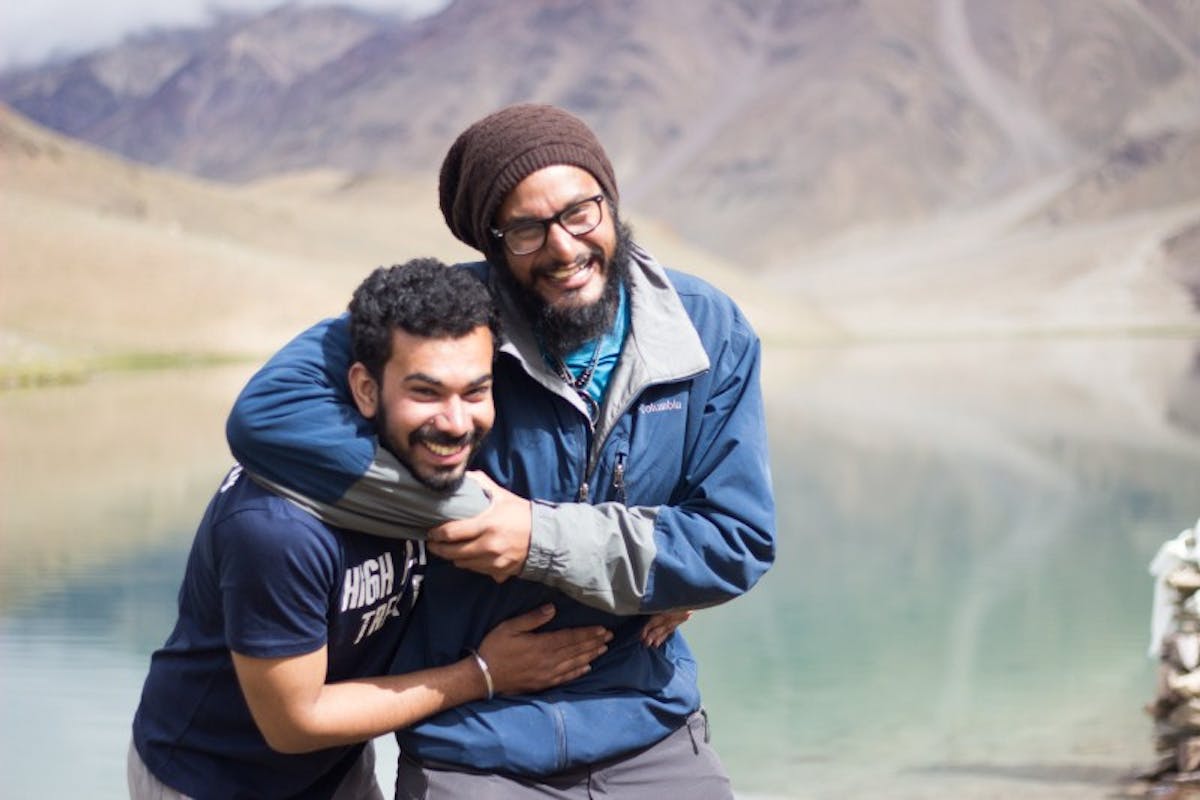 Sachin Jha and Saranbir Singh
Saranbir and the rest of the team spent the next two days together, exploring Hikkim and Chandratal. Needless to say, they have built a bond that is not likely to ever break.
It's funny isn't it, how we use the phrase "It's a small world!" so loosely. But when you actually think about it, at high altitude, even an area of five kilometres can seem like an endless mass of land, with nowhere to go, nothing to eat or drink, no one to meet.
No matter how experienced you are, you cannot take mountain trails for granted.
Here is a quick video shot on the summit. You'll see what we mean by "low visibility."
What to do if you get lost in the mountains – Saranbir shares some learnings 
1) Firstly, avoid panicking. The more you panic, the more you lose your ability to make good decisions. Breathe deep and calm yourself. Sipping water will help too.
2) Try to retrace to the route. If you're stuck in cloudy and bad weather, stay put. The clouds will clear up at some point in time and you can find your way. If weather clears out then continue, and if not, wait for a maximum of 30 mins (if it's the first half of the day) or 15 mins (if it's the second half of the day).
3) If there is a river nearby, and if it's not too far away, try following it in either of directions. It is likely to lead you to the nearest inhabited area.
4) Keep hydrating yourself as much as possible. Refill at every water source. Try reserving any food as long as you can.
5) Make note of the trail beforehand. Mark the hills and mountains around you.
6) Keep a whistle and a torch handy so that you can send out distress calls.
"Being lost as a Trek Leader is something that has happened to me for the first time. There were a lot of things I did wrong, but I don't regret my mistakes. Every single mistake has something to learn from. Believe me when I say this, I'm going back to Kanamo next year, and this time, I'll make it to the summit!" – Saranbir Singh
Sign up for our much loved Weekly Mailer
We have terrific trekking tips, trek updates and trek talks to look forward to