How Children Of Mussoorie International School (MIS) Built Resilience ...
Share this story
How Children Of Mussoorie International School (MIS) Built Resilience Through Trekking
Category Experiential Learning;
By Charumathi Supraja
2022-07-25
The 10th to 12th Graders of Mussoorie International School (MIS) had just reached the camp on Day 1 of the Kedarkantha trek when the weather turned rogue. Huddled in two dining tents, the children had to scream to be heard over the surround-sound of thunder and hail. 
What if the next four days turned out like this? How would they use those shoes now drenching outside in the rain?  
Somehow, lunch was brought to them but it barely calmed their fears. A post-lunch game of Anthakshari drowned the questions and the storm. After the rain stopped, the sky became clearer. They sat in silence and watched the sunset.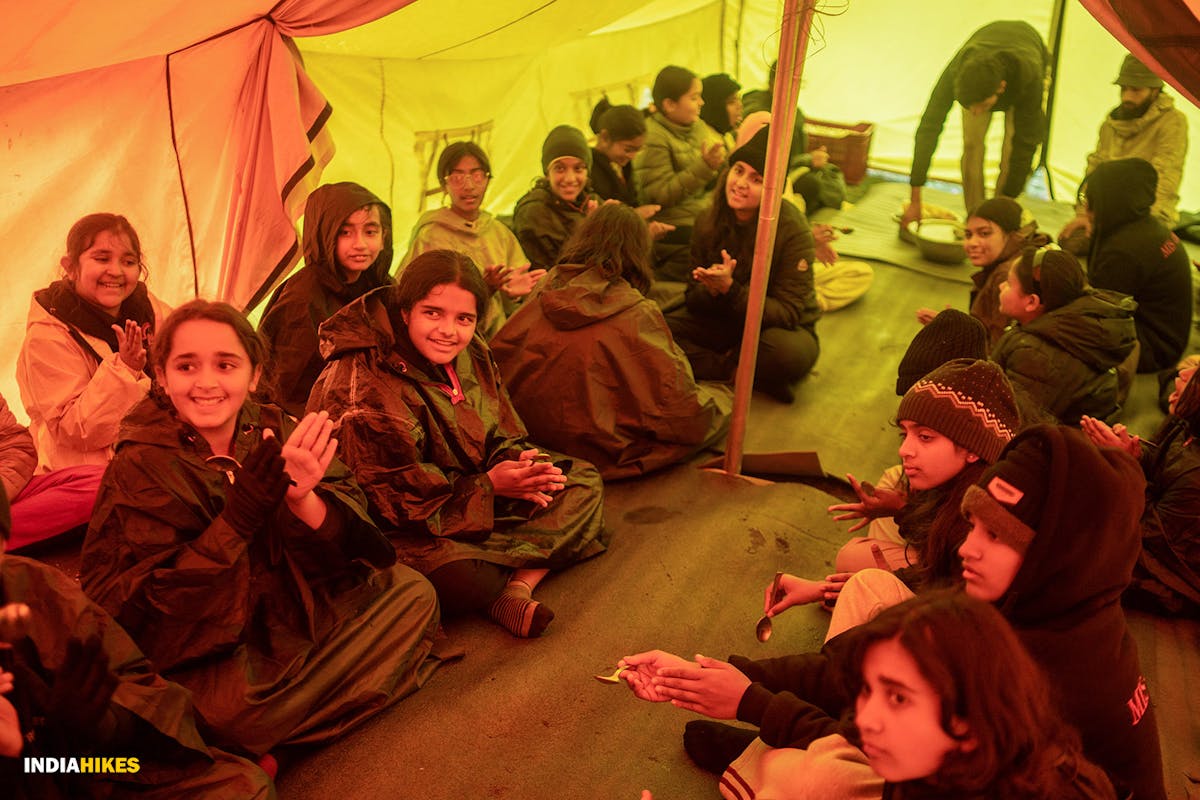 Students huddled in a dining tent after trekking through rain and hail. Picture by Vishnu
"During reflections that evening, the students recalled that they had prepared for this in their Trek Experience Agreement (TEA) before starting the trek," shares Suhas Saya, Trek Leader for the 10th to 12th Graders' group. The Trek Experience Agreement (TEA) is a ritual facilitated by the Trek Leader in order to arrive at collective outcomes and intentions before starting a trek. It is the first step in bringing the team together towards unified goals.
Suhas says he was amazed at the connection the children made with the TEA in which they had put down that "there are going to be uncertainties to face on the trek." 
The next afternoon, when it rained again, the students were unfazed. Within a day, they had built the resilience required to withstand bad weather in the Himalayas. 
Resilience is the ability to recover quickly when adversity strikes. It is a toughening of the skin of the mind, body and spirit. It enables further movement, irrespective of the level of adversity being faced. Though this article explores how trekking and Experiential Learning (EL) played a role in building resilience in the children of Mussoorie International School (MIS), it applies to all the children we have taken on treks through our EL programmes.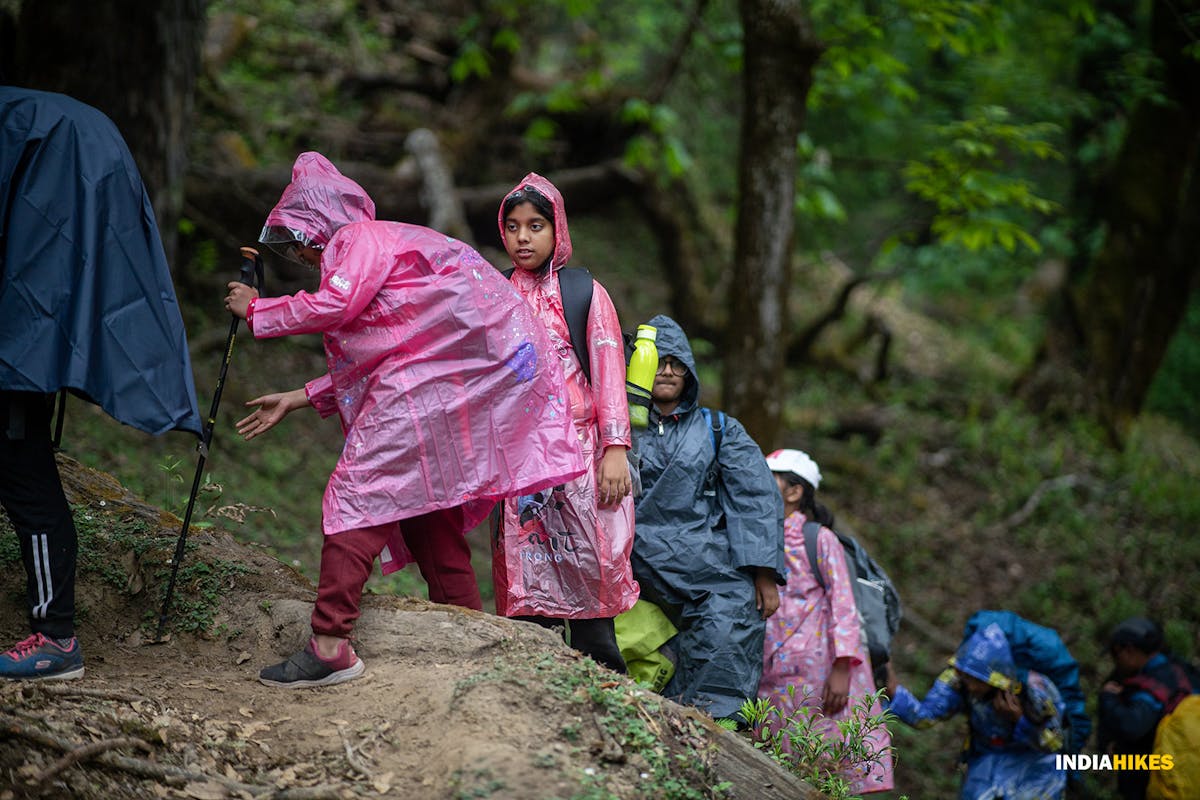 Resilience is the ability to recover quickly when adversity strikes. Himalayan treks have built-in adversity, such as difficult terrain and unpredictable weather. Picture by Vishnu
Resilience-building is a key learning we have observed time and again when children trek.
Over the past 7-8 years as we have observed children trekking, one of the biggest takeaways we have seen is a strong sense of resilience. They go back home with a new awareness of their own strength, like nothing can stop them. And it's a feeling that stays with them for years to come. 
This time as well, as we took MIS students on our EL Programme in the Himalayas, our observations were strikingly clear. All children, whether 5 years old or 18 years old, came out of the programme more resilient. They undoubtedly emerged stronger in their mind and spirit.    
Such a strong behavioural change usually takes years of training to inculcate. Yet, we saw students cultivating this resilience over just four days. 
Aditya Bodke, Slope Manager, Indiahikes, led the MIS trek to Dayara Bugyal with the 8th Graders. He recalls the students sharing at the end of Day 1 that they had almost given up, more than once. Walking the steeper route to the camp, the children were tested sorely on their endurance. 
What had kept them going was the motivation from each other and the Trek Leader, they said. They walked on despite the lack of certainty over how far the camp was and when they would possibly reach it. From Day 2 onwards they were better prepared to face anything that the trail threw at them.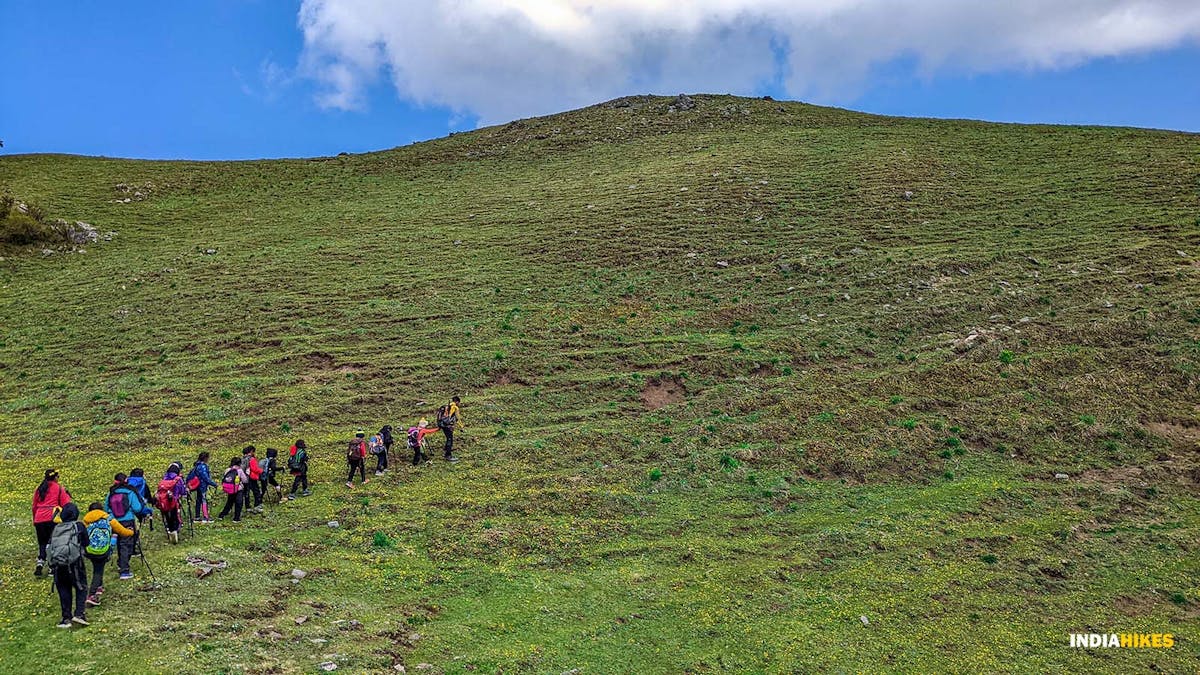 Children as young as 6 built the resilience it required to reach the top of the summit. Picture by Manisha Hegde shot on the Dayara Bugyal trek.
How daily routine builds resilience
From dressing independently, washing their plates properly to getting into the sleeping bag or carrying their backpacks on the trail, the MIS children built skills and strength from one day to another. The water being ice cold and the trails being steep added many levels of difficulty to the learning challenge. 
Senior Trek Leader Mrinal shares that "what they initially brought up as issues, quietly faded away. By the end of the trek, they were ready enough to help others as we descended in heavy rains." 
She elaborates that, "On Day 1 the children could be seen using spoons to clean their plates but by Day 4, they were happily using their own hands. There was no hesitation." Not only had they gotten used to the cold water, they had overcome their reservations about "touching the dirty plate." 
Deeksha, an Indiahikes volunteer, recalls that the children from the 2nd to 5th Grade cried more, whether from hunger, fatigue, cold or pain. They were very young, almost tiny tots. Here they were, doing a trek in the high altitudes of the Himalayas, in the harshest conditions the mountains could throw at them. "Walking, using the toilet or eating together was most difficult for them. But I noticed day by day, they got better at it," she says. 
Manisha Hegde who assisted with the same group says that communication is the key to motivating or soothing the children. "When they understand that they are in it together, they simply go on."
Experiential Learning treks stoke the independence levels of the children in an environment of community learning. Being children who are used to having things done for them, students get an opportunity to master many life skills on such treks. 
"It was good to see our students washing utensils, using less water and even helping others on the trail. We could see our students in a new perspective. At least a handful of them, if not all, have experienced transformation for life through this trek," says Mrs. Anupama Madan, an English teacher from MIS, who trekked with one of the groups. She adds that she feels so grateful to have experienced her own abilities in a new light and is thankful to the Indiahikes team for all the guidance.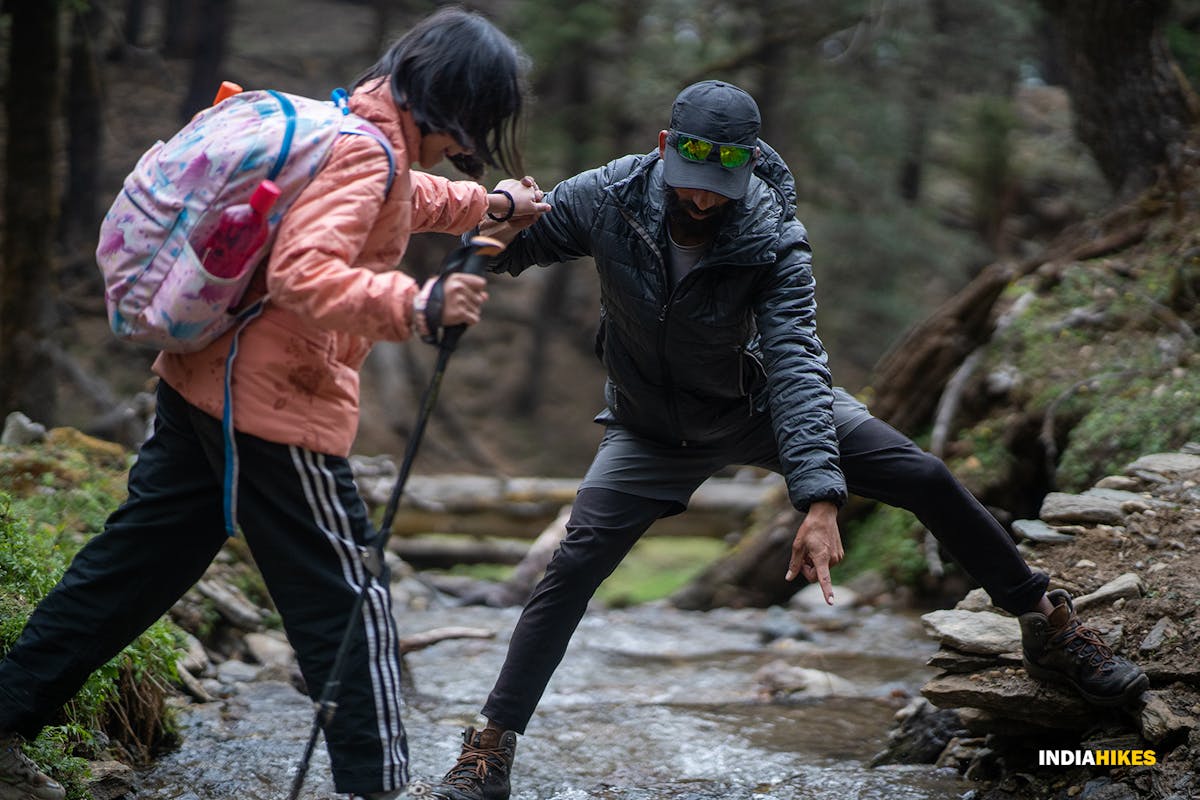 Walking, crossing streams, camping, washing their cutlery, all of them seemed like hurdles inititally. But almost all students looked at these as normal routines by the end of the trek. Picture by Vishnu
How pushing your physical limits builds resilience
Summit Day is usually the longest trek day. Good fitness preparation enables an easy Summit Day. Since many children did not prepare physically and were also making do with gear that they could rustle together at the last moment from their boarding school (using school backpacks, raincoats and sports shoes), they were fighting more than the usual odds. Bad weather further complicated things. Untimely rains struck more than once, testing everyone's limits.
Swarada Ghangurde, Senior Trek Leader, Indiahikes, led the group with the youngest trekkers. She describes how some children refused to budge and were crying though they were quite near the campsite, at the end of summit day. They were wet, cold, hungry and exhausted. More team members had to get involved in offering solace and support to each child till they reached the camp. 
After that, however, when they were changed into warm clothes and given hot soup with snacks, they were seen running around and playing in no time. The way they become stronger is in their minds, she says. "It's the belief that if I've survived this, I can survive anything."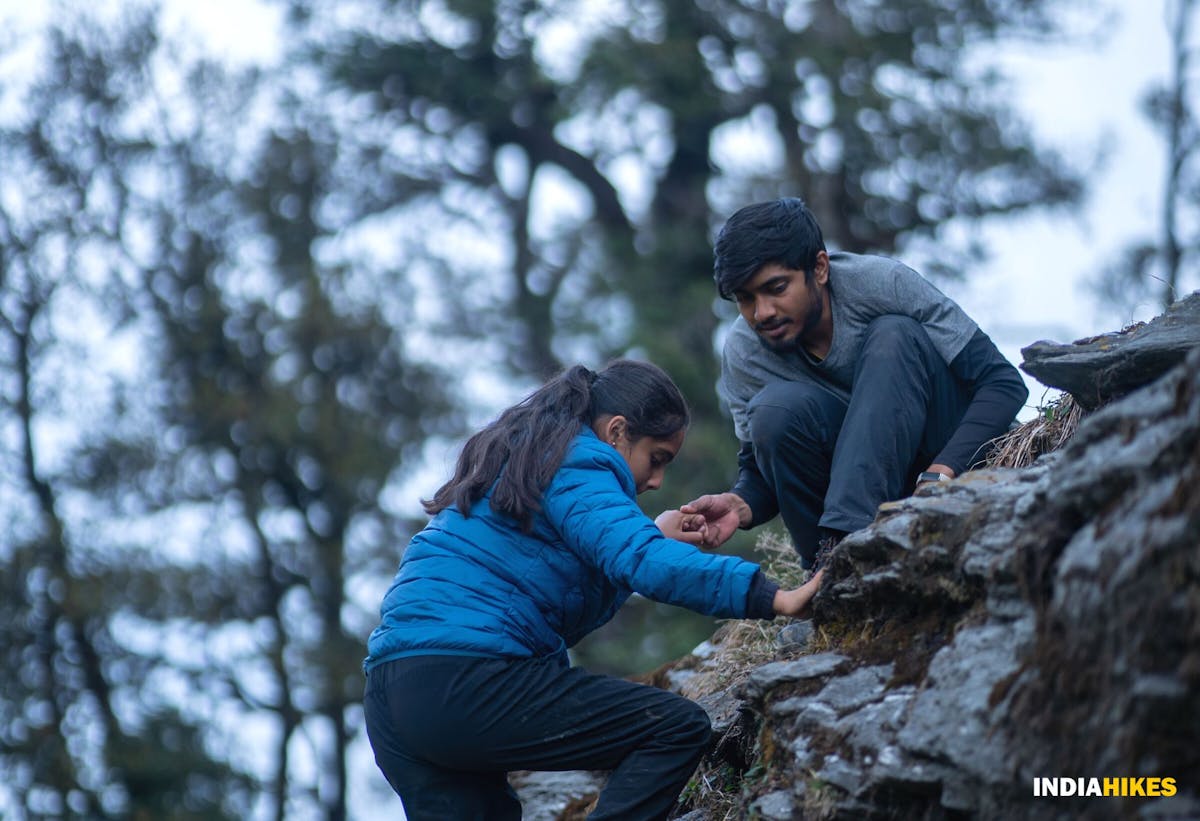 How Experiential Learning plays a role in helping build resilience 
Resilience is the ability to "bounce back" after a fall. It is born of stress. It can enable growth, especially if it occurs in the presence of protective factors. 
In this case, the Indiahikes team was constantly present like a safety net as the children stumbled on the trails or struggled with the tasks set for them during the trek. Learning in such circumstances is bound to stay with them long term — as muscle memory and core strength. 
We have observed that the children who participate in Experiential Learning treks like these become tougher, more adaptable and more comfortable with discomfort. This is because they are subjected to hardships while navigating a rugged and demanding environment while trekking.
Well and truly out of "the comfort zone," children learn on their feet to cope with shifting situations, challenges and landscapes. 
Sign up for our much loved Weekly Mailer
We have terrific trekking tips, trek updates and trek talks to look forward to