First Ever Eco-Clubs Opened At Three Schools In Uttarakhand
Share this story
Our Green Trails team believes that even a small action towards making the environment green has an impact. Here are a few updates on how we have been trying to make an impact in the past week.
Valley of Flowers has 3 Eco-Clubs 
Our interns Neha and Mohit started an Eco-club called Environmentalists. These are now operating in the Pandukeshwar area at three schools – Rajkeya Prathiba Madhya Vidyalay (class 1-5), Saraswati Sishu Mandir Vidyalya (class 1-8) and Inter-college school (class 6-12).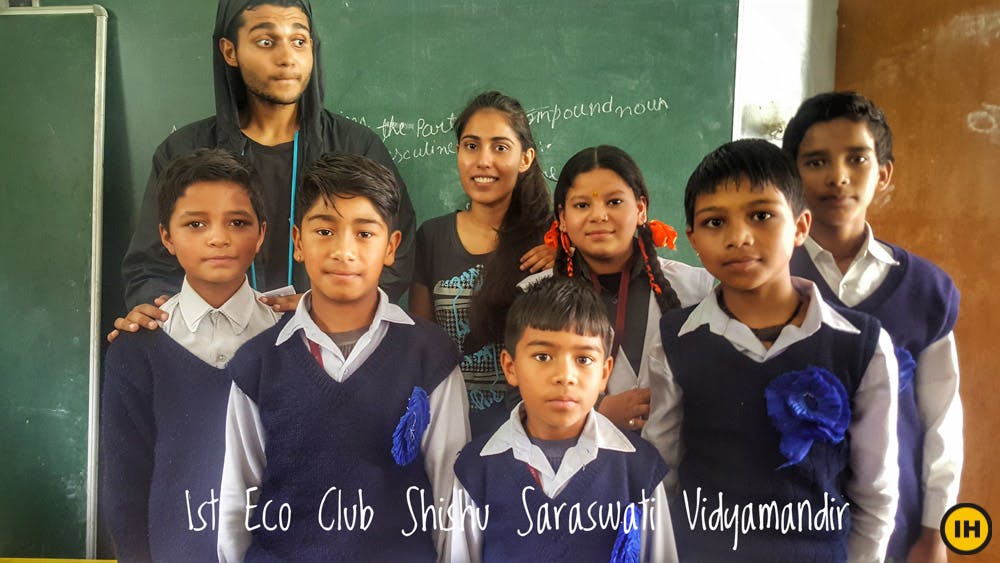 Environmentalists aims to raise awareness at a grassroot level by targeting students from 1st to 12th standard. Our interns will conduct sessions specifically designed to educate the children on the harmful effects of careless waste management, deforestation, afforestation. They will also cover topics like menstrual sanitation, hygiene and the right way of going about it.
To do this they have planned numerous activities. These include regular clean-ups, segregation, composting, upcycling, rainwater harvesting, etc. The idea is to make the activities practical and engaging. This gives the students a perspective of making a change, however small.
Last week, our interns conducted sessions on global warming, acid rains, afforestation, deforestation and upcycling. We received an enthusiastic response both by the students and the teachers during these sessions.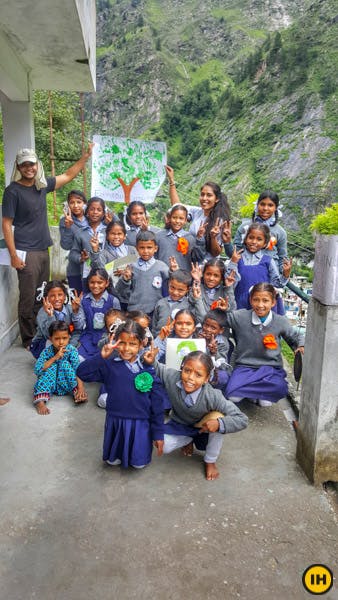 Bottle bricks are the way to go
Upcycling has moved to the forefront on the Green Trails agenda in these schools.  
Over the past week, in a bid to upcycle non-recyclable waste, students were taught how to make bottle bricks. The students at the schools in the Govindghat region made 45 bottle bricks the past week.
FYI: Bottle Bricks are made using throw away plastic bottles. These bottles are then stuffed with non-recyclable waste such as wrappers and covers. You can read more about our plastic bottles upcycling project here.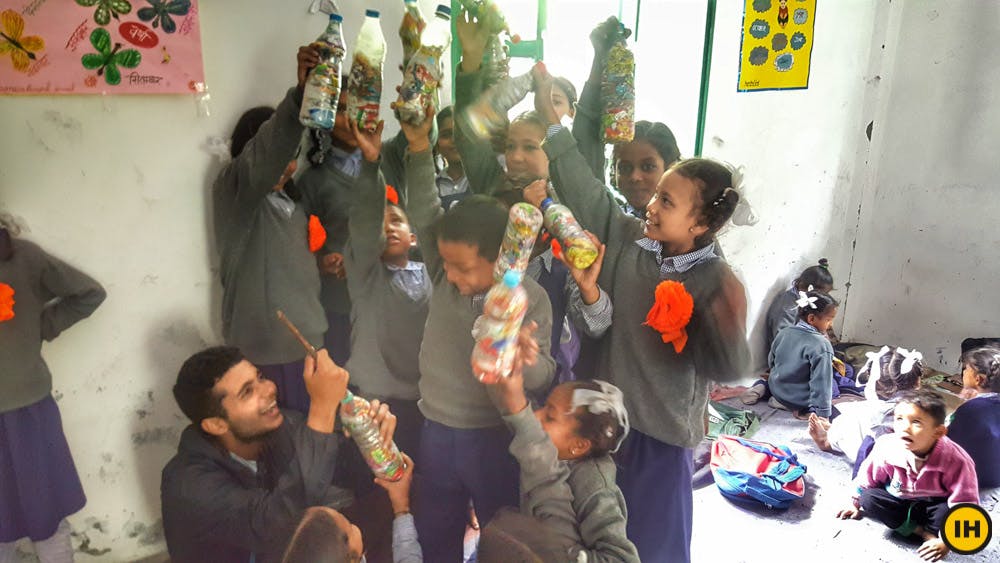 7 sacks of waste collected around Govindghat and Ghangria
In other news from Valley of Flowers, our interns alone collected a total of 7 sacks of waste! This waste was collected primarily from cleanups along the trail. These were also conducted in the town of Govindghat and in Pandukeshwar village in Ghangria. The waste was segregated post the cleanup.
A big chunk of this waste will be used in upcycling projects.
How waste became colourful
Rajkiya Prathmik Vidyalaya's little stars have put on their creative hats to make these masterpieces. They have transformed discarded plastic bottles by crafting them into pencil holders which are proudly displayed on the prinicpal's desk.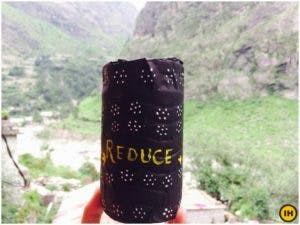 Similarly, the students have made various decorative objects to brighten up classrooms. These decorative pieces are made from waste such as: plastics balls, newspaper, cardboard etc. The students have successfully used trash to add a stroke of colour to their lives. They are true green getters!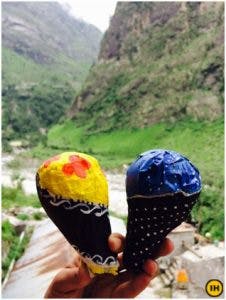 Eco bags collaborate with Eco-Tourism Council
Intern Komal Daal approached the Eco-Tourism Council with the idea of introducing eco bags to all trekkers going on the trails to Hemkund Sahib and Valley of Flowers.
Since Valley of Flowers is one of the most popular treks in India, there are several trekkers who go there independently. If each one does his bit to not leave any trace behind, it can do a whole lot of good to the trail.
The council has expressed a keen interest to take it forward. We are now working on a design for the eco-bag.  We hope to see everyone carrying eco-bags and doing their bit in keeping trails clean. 
Removing the taboo around menstruation
Our interns, Komal and Neha, are conducting regular meetings with the women in the village. They are working towards helping women muster the courage to remove the taboo around menstruation. For instance, during their menstrual cycles, women are not allowed inside the kitchen, temples etc.
While these are seemingly harmless practices, there are other practices that cause heavy damage to the environment. Most women, as we have noticed, either bury their sanitary pads or burn them. With a taboo around the topic, no one tries altering these habits to dispose of them correctly. To hamper things further, there are no waste management systems in these remote villages.
Currently, we are trying to make Eco-femme's cloth pads accessible to them avoid accumulation of plastic waste on the mountains.
Our interns are also conducting sessions on menstrual hygiene and sanitation in Inter College School.
Kashmir trekkers collect 15 sacks of waste in 1 month
So far 15 sacks full of waste have been collected from the past 6 batches.  Our Trek Leaders are extremely happy to see trekkers taking great efforts to clean-up the treks even during heavy rains. 
20 sacks of non-recyclable waste disposed at Manali
Intern Mohit just returned from his trek with good news! Almost two to three sacks of waste has been collected at each campsite. This, along with all other waste that has been collected this week, will be segregated and brought down to Manali for disposal.
A big kudos to everyone who participated in cleaning the Hampta Pass trail. One whole sack of recyclable waste and 20 sacks of non-recyclable waste that were collected at the base have been disposed at Manali.
Intern Ori just came back elated from the first batch he led on the Hampta Pass trek.  He was very happy to see trekkers participating in cleaning the dumping pits of a dhaba on the way to Balu ka Gera.  He was also impressed with a group of trekkers who went out on their own to collect two sack fulls of garbage at Shea Goru. 
Biodigester + New Toilet Design in the making
Few weeks ago, interns Tushnik and Rahul built a biodigester at Jwara, the first campsite of Hampta Pass trek. This biodigester is currently under the testing phase.
Read here about how we innovate to make trekking sustainable
Our Intern Adithya has been working on a new design for a compostable toilet. This week he is working on building a prototype. The goal is to design the toilet in a manner that will be able to seamlessly output the waste to the biodigester. By doing so, we want to create end-to-end organic waste management systems for our treks. Fingers crossed!
This was our weekly update from all our Green Trails teams currently on the slopes. We will be filling you in on what we do, plan to do and have done every week. Stay tuned to this space for more updates on Green Trails.
Sign up for our much loved Weekly Mailer
We have terrific trekking tips, trek updates and trek talks to look forward to