Finally Here: Our First International Trek To Georgia!
Share this story
Finally Here: Our First International Trek To Georgia!
Category On Trekking News
By Swathi Chatrapathy
2019-07-22
As promised, I'm back with the first invite to trek with World Of Hikes! 🙂 In case you missed it, last week I wrote about our very closely held dream. A dream we nurtured for the past ten years about the World of Hikes. A vision to bring out the greatest trek of every country in this world. 
Finally, we're starting our sister concern, World of Hikes, and our first overseas trek is going to be The Great Atsunta Pass Trek Of Georgia! It has been such a long wait!
Honestly, I was overwhelmed by the response I got for my last mail. I didn't expect so much excitement about the trek from our trekkers. It made me marvel at the enormity of starting something new on an international level! I'm both nervous and excited with this new beginning! (I can actually feel my heart thumping — we just went live with the website!!)
Calming down, let's talk about Georgia! I'm equipped with a great deal of information for you today!  
First, a bit about the trek. 
As I mentioned last week, the vision of World of Hikes is to discover the greatest trek in every country. 
And we believe that the Atsunta Pass trek is the best trek in Georgia. We don't say this without reason. After going through many treks there, we zeroed in on this one. The trek passes through the most breathtaking mountainscape of the Caucasus mountains. 
The grasslands, for which the trek is famous, are perfectly landscaped. Wildflowers grow almost on every inch of these grasslands. (I've seen pictures and they're almost unreal!)
Charming villages and ruins of ancient fortresses decorate the entire remote trail. These are just not heritage, but history many centuries old. 
The thrill of climbing the high Atsunta pass is pure adventure. Not many treks in Europe give you the high of a pass crossing as much as the Atsunta Pass. The changes in the landscape during the pass crossing are stunning. 
Frankly, if you have the time and the fitness, don't think twice. These are sights that you don't get to see elsewhere.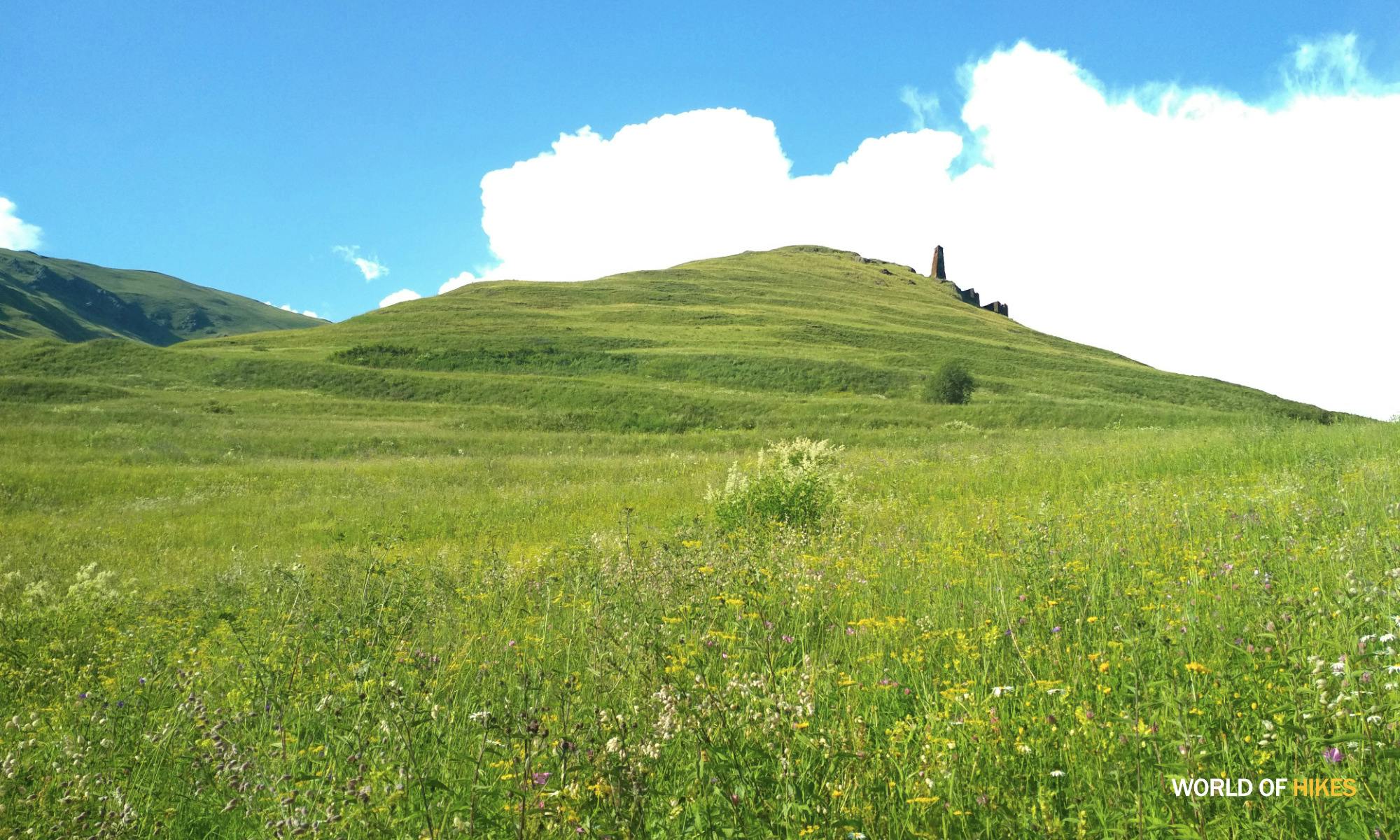 Whom is the trek suitable for?
This is a moderate-difficult trek. Even though there are no tricky or technical sections, the trek has long days. On some days you cover as much as 21 km on a single day. The pass day climb is big too. So you need to be really fit and strong. 
We're open to taking beginners too, but only if you're really fit.  The Trek Coordinator for this trek will be keeping a close eye on the fitness of each member of the team. 
On a completely different note, you'll see that international trekkers on this trail are extremely fit — fit enough to give the fittest of us a complex. 
When are we running this trek? 
We have just one date for the trek this year — from Sept 6th to 13th (Just a month and a half away!)
This duration covers the trek from Tbilisi, the capital city of Georgia, back to Tbilisi. It also includes a buffer day. 
In total, you'll need around 11-12 days, including the travel. We would like you to reach Tbilisi at least 2 days earlier and rest well. Even after the trek, we would recommend some sightseeing to take in the culture of Georgia. Georgia blew us away! I think you'll fall in love with the country too!
Will we have any more dates this year? 
This is something many trekkers have been asking me. Our answer is no. We are taking just one team this year.  Much as we would have liked, we have run out of time this year. 🙁
The trail is accessible only in the months of July, August and September. There's too much snow after that — all the way till June 2020. So expect the next dates to be around July and August 2020. 
Will the trek be similar to our usual Indiahikes treks?
Yes and no. In terms of safety, our highly trained Trek Leaders, and the overall "Indiahikes experience," yes. You can expect to see our yellow tents, our toilet tents (much better than the current system there!) and our Green Trails practices. 
Expect the trek to be slightly exploratory in nature. This is our first team to Georgia. This means that you will be more than just a trekker, you will be part of an exploratory team, dealing with and learning from uncertainties. 
In terms of food, you may not find your usual Indiahikes food. You will not find jalebis after crossing the pass. 😛 Instead you will be served good Georgian cuisine. On camp days, the food will be Indian.  
Our policies will be different too. Please make note of these. 
World of Hikes is an international entity. So don't be surprised when you see the trek fee in Euros on the website. 
Our registration process will be slightly different too — you don't have a 72 hour window to make the payments like our usual Indiahikes treks. The session times out within an hour. So go ahead with your registration only if you're sure of going on the trek. 
We will need a proof of flight ticket confirmation and Visa approval within 20 days after you register to mark your trek status as "approved." The visa approval usually comes through within a week. You can even get an e-Visa. If we don't get this proof, we will refund your trek fee and open up the slot for those on the waitlist. 
You'll also notice that our cancellation policy is different. So just read through the details thoroughly on the website before signing up. 
Information about the trek, the visa requirements, the currency, connectivity…
We have put together exhaustive information about the Atsunta Pass trek on this page – http://worldofhikes.com/atsunta-pass-trek-omalo-shatili-georgia/
The guide helps you do the trek on your own if you wish to. It has brilliant information about the trail, travel and visa, money matters, connectivity and contacts, food and culture. You'll also find a downloadable GPX file on the page. 
In fact, making this exhaustive guide is what we have been working on furiously the past few days, trying to detail out every bit of information to the T. Use it well, share it with others too. It's a great trek to do on your own! 
I'm actually excited just to share the website with you, whether you're trekking or not! (It's still a work in progress, but has some great information.)
How much does the trek cost? 
The trek costs €390 from Omalo to Mutso/Shatili. This is roughly Rs 30,100, including taxes. 
This does not include the shared travel cost from Tbilisi to Omalo (the base of the trek), and the fare from Shatili back to Tbilisi (where the trek ends). Expect it to come up to roughly Rs 1,500 per person one way (will have to be paid in Georgian currency to the transporter over there). More details on this on the website.   
Apart from that major expense, if we use a buffer day only then the buffer day cost would be taken. That will come to €75, if used.
Important note: We are not managing flight tickets or visas. You will have to do this on your own. The visa process is mentioned clearly on the website. As for flights, there is only one airline that flies to Tbilisi — Air Arabia. No matter which city you're coming from, you will likely have a stopover at Sharjah, from where you'll have to board an Air Arabia flight to Tbilisi. 
Register soon
With just one group this year, and lots of trekkers vying for a place on this trek, I expect the slots to be filled soon. My last week's mailer has created a storm. The registrations are going to be tight. I don't expect it to stay open for more than 2 days. 
I hope you'll be one of the first to trek with World Of Hikes. Somehow the first group is always special. It is going to be a privilege for us. 
We're available on 080-468-01269 if you need help with anything. 
You're also welcome to drop in a comment on this page for any help!
Sign up for our much loved Weekly Mailer
We have terrific trekking tips, trek updates and trek talks to look forward to