Do's and Don'ts of Green trekking
Share this story
As soon as you sign up for our treks, one of the preparatory emails that you receive is about how to trek without harming the environment. In this article, I explain why we insist on these do's and don'ts of green trekking and how it makes a difference to the mountains we love.
Let's start with the do's
1. Carry your backpack. Do not offload it.
Carrying your backpack is part of the trekking experience. It is a testament to your physical and mental strength. It is very empowering.
We encourage this practice for two other reasons.  Firstly, although we have a weight limit of 9 kg for backpacks, I have personally witnessed trekkers coming with overweight bags. Porters and mules bear the brunt of this carelessness. When you make a conscious choice to carry your own backpack, you pack cautiously. Watch this video to see how to to pack effectively.
Secondly, every time you offload a backpack, we take in an additional porter/mule. With that comes the need for extra resources which results in excess waste generation.  Hence, I recommend to give it a serious thought before choosing to offload your backpack.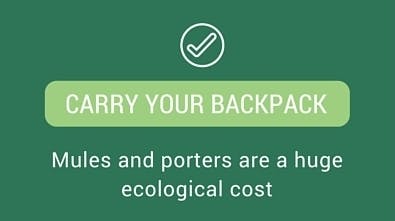 2. Bring reusable items
This is pretty self-explanatory.  Many trekkers find it inconvenient to wash their own utensils. Some bring disposable items for the trek.
Although we insist on reusable water bottles, use-and-throw bottles are frequently used by many. Not only are they a health hazard, they tend to accumulate and usually don't find an exit from the mountains. Plastic bottles, styrofoam plates are a common sight. They take hundreds of years to decompose and are a threat to any ecosystem, let alone the pristine mountains.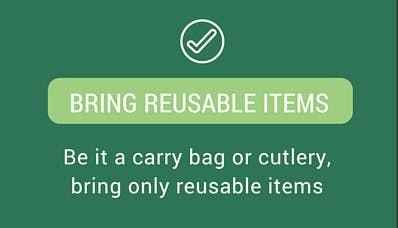 3. Bring eco-friendly products
We often come to the mountains to detox  physically and mentally. With common toiletries like toothpaste, face wash, sunscreens, lip balms, etc., the dream of detox is a far cry.
Toiletries and cosmetics are often laden with harmful chemicals.  Oxybenzone in sunscreen has been attributed towards declining coral reefs by various studies and sodium laureth sulfate in toothpaste.
These are damaging to the body of the user as well as to the environment. So plan and pack eco-friendly alternatives.  To know more about these options, email lakshmi@indiahikes.in.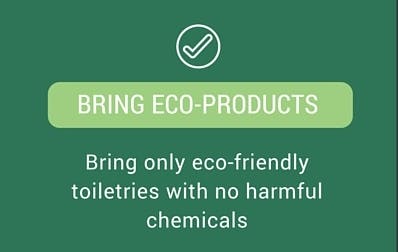 4. Collect and segregate waste
Our core vision is to leave the mountains in a better state than we find them in. One way to do that is to clean the trail as we trek. The success of this mission depends largely on your participation. Thousands of trekkers like you, have helped us collect over 1500 sacks of garbage.
Cleaning is one thing; disposing the waste is a completely different ball game.  Much of the waste that we collect can be recycled.  Much of the waste we generate can be up-cycled.  But to facilitate this, we need to segregate waste. The easiest way of segregation is at the point of collection. Unsegregated garbage in landfills is as bad as transferring trash from one place to another. It is our moral obligation to segregate the waste we collect.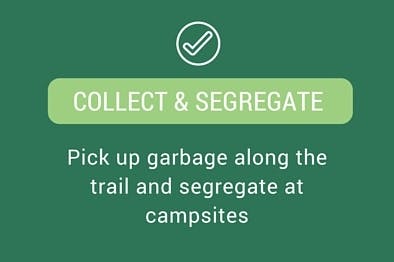 5. Take your waste back
Finding places to properly dispose waste is a constant struggle for me. Even when we do, the state of landfills is a far cry from set environmental standards.
Dumping grounds of Manali is one such example. Situated on the Beas river, it is a safety hazard by itself.  One way to reduce the load on these landfills is by consciously taking back the waste we generate. This includes the packaged food wrappers, plastic bottles, etc.
We also ask women trekkers to put used sanitary napkins in zip locks and take them back to the cities. At high altitude with low temperatures, bacteria is hardly active which means the rate of decomposition is dismal. As long as you properly layer it with newspaper and place it inside a zip-lock bag, you will hardly experience bad odor.  There is no reason to consider it unhygienic.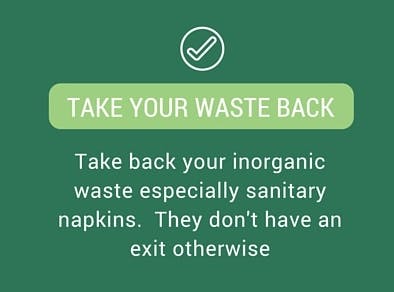 Don'ts on a trek
1. Don't get packaged food
One of the points discussed earlier was to take back your own waste. To minimize the waste carried back, we can simply control our consumption of packaged food.
I will not ask you to stop eating your favorite snacks. If necessary you may bring them in zip locks or reusable boxes. If you choose to buy from local shops, get them in a paper bag or reusable boxes. If everyone makes this choice, we can make a huge difference.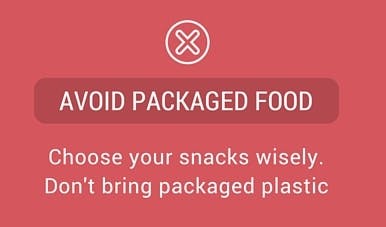 2. Don't consume carelessly
Dhabas on your trek are often laden with packaged food.  Trekkers are excited to find Maggi there. I won't deny how comforting it is to have warm Maggi after a cold and hard climb. But it is precisely after such a strenuous day that you need to avoid Maggi.  Trekking is a demanding activity. Adequate nutrition is a must.  Made from refined flour, Maggi and other packaged food is anything but nutritious. To add to that it cause indigestion. At high altitudes, indigestion is a common ailment.  We don't need to make it harder for our bodies that are struggling to acclimatize.
This is just one reason why I insist on buying cautiously. These days, the local cuisine is slowly disappearing from the menus of local dhabas.  Encouraging local food is a win-win: it's good for the environment, supports local sustainable farming and you get to experience the local culture! A demand for local food provides direct income for a mountain farmer and encourages local farming. Not to forget the food is healthier compared to any packaged food.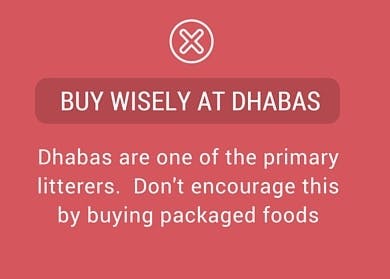 3. Don't pollute water
This is pretty much common sense. The rivers and streams you cross are the source of drinking water for thousands. Those in the valley directly consume this water without filtering. So, peeing and washing in the stream is a big no-no. Ideally, washing areas and toilets are at least 50 m away from water sources. This is to avoid leachate from reaching the water sources.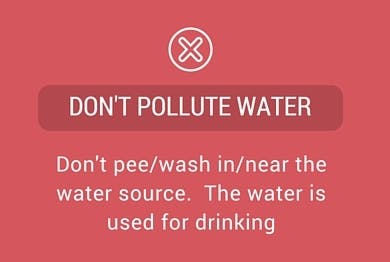 4. Don't waste
Use resources minimally. Trekking is all enjoying nature and surviving with minimal requirements. So adopt that idea and imbibe it. Even recyclable and organic waste is waste. So let's avoid wasting.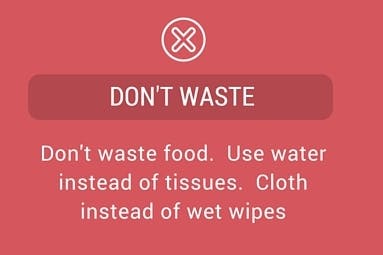 Don't create noise
We don't belong in the mountains. We are visitors. Animals and birds often shun away from the noises and change their behavioral patterns.  So let's make it a point to not disturb our hosts and enjoy them in their natural setting. Loud noises are pollution and though we are used to it in the cities, creating a ruckus in the mountains is unacceptable.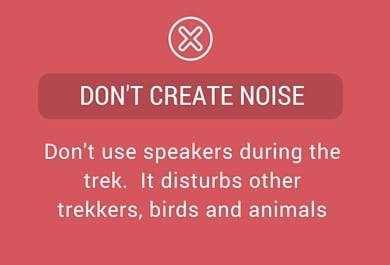 We owe it to the mountains to protect them. So let's practice the do's and don'ts of green trekkingand keep our carbon footprint to a minimum.
Share your green trails experiences with us at lakshmi@indiahikes.in.  If you want to do more for the mountains, click here.
Sign up for our much loved Weekly Mailer
We have terrific trekking tips, trek updates and trek talks to look forward to