How the Goechala trek perpetually changed my lifestyle
Share this story
I've been longing to write about my success story. But something has held me back. Perhaps I've been waiting for the right time – to sustain the magic long enough to talk about it.
By the way, this is not a travelogue. Anything that sounds faintly so has been put there in order to complete the story.
When my company announced a mid-year shutdown in May 2016, I decided to make good use of the holidays. My 11-year-old son, Abhinav, and I had been trekking in the Western Ghats for the past five years. Why not go on a Himalayan trek? I thought. 
That was when I came across Indiahikes. I chose Indiahikes based on my friends' feedback. What caught my attention was their Green Trails initiative. Their zero tolerance to litter impressed me. They even distributed eco-bags to collect the trash left behind by others! I looked no more. I was going on my first Himalayan trek with Indiahikes.
I zeroed down to the Goechala trek based on three factors: May was the best season to do the trek. The available slots fit my schedule perfectly. Most importantly, Indiahikes features Goechala as one of the Top Ten treks in India.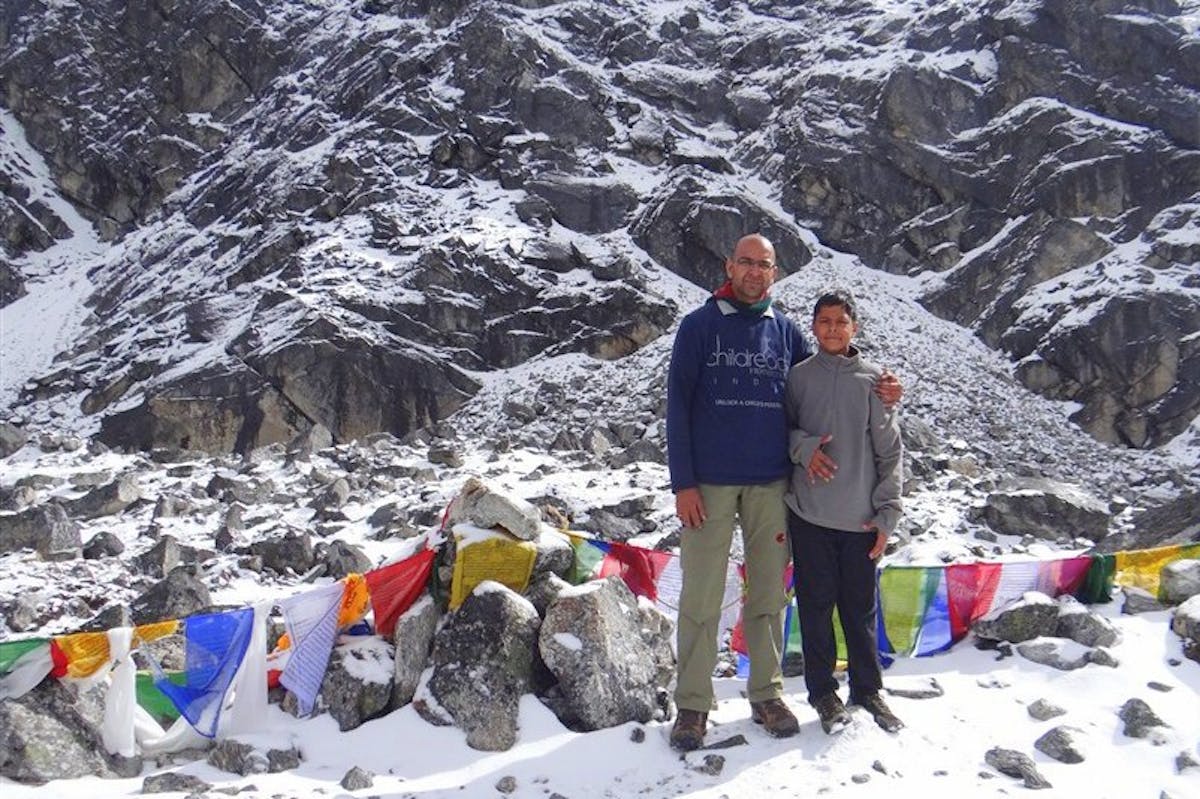 Abhinav and me on the Goechala trek
In retrospect. I cannot help but smile because I made all the right choices.
We were a group of 20 people from all over the country united by our love for trekking. We met at Yuksom, a small town in West Sikkim. Our team was led ably by Trek Leader Kamal and his support staff. My son Abhinav and the Trek Guide Dawa became great friends in no time. He even got special access into the cosy kitchen tent – who wouldn't want to be in there!
Initially, I was skeptical about certain safety aspects. Especially because I had my son along with me on the trek. And then I saw how well-prepared they were. From walkie-talkies to oxygen cylinders and oxymeters. They had done everything possible to keep us trekkers safe.
All that aside, I had come to realise that my son was perfectly fit. I had nothing to worry about except myself.
Out of the nine days of the trek, the summit day was exhilarating. Imagine twelve hours of continuous trekking! To top it all, the gigantic mountains that tower over you make you feel like tiny specks. It was surreal!
I think the T-shirt designed by Indiahikes perfectly summarizes the whole episode in a simple and very apt statement " Bloody hell, Done Goechala!"
I guess people trek for a lot of reasons. To enjoy nature, photography, for seclusion, to meet like-minded people, achieve a set goal, and sometimes, like me, to check their fitness levels.
In fact, I have a habit of keeping a tab on my weight. Five years ago, I weighed 62 kg after my trek to Everest Base Camp. I was fit and energetic.
However, after the trek, I made no conscious attempt to hold on to my weight. Even though I sustained my hobby by trekking in Western ghats, I went on a weight gaining spree. Whenever I looked into the mirror, the protruding belly was a constant reminder that I needed to work on getting fit. But, I repeatedly failed.
Every time I skipped my 3-4 doses of coffee and snack-munching, I got a bad headache. This headache went away only when I popped in a Paracetamol. Once, in a newspaper article, I read that the best way to avoid headache is to avoid situations that trigger it. So, I strictly followed it – I constantly fed my body with breakfast, lunch, dinner and necessary doses of coffee and snacks in between. In fact, I spoke to a couple of my friends who had tried to maintain a strict diet. They also complained of headache. I was glad that we were all on the same boat. But I was in a vicious loop and my health was spiraling out of control.
However, things changed with Goechala. When I set out on the trek I weighed 69 kg. When I came back home, the first thing I did after talking to my wife was get on the weighing scale. I weighed 66 kg. I had lost three kilos over a nine day trek. Moreover, I didn't get any headache even without the regular coffee intake.
This time, I decided not to fall back into the old routine. I made a new diet plan. One with regular, small and healthy snacks and minimum caffeine intake.
I drank coffee only once every morning. At work, I ate dry fruits, salads, sweet corn, sweet potato and dates. My wife was extremely supportive in this regime by packing 5-6 boxes by 8.00 am every day. I sincerely stuck to home made food for breakfast, lunch and dinner. Guess what? No headaches. My body was happy with what it was getting and I was happy too.
So six months after Goechala, I can now say that the trek changed my life.
Within two months, I hit 62 kg. I couldn't believe it! I waited four months to ensure that I could sustain that weight. And I did! Now, I have been at a stable 62 kg. My old trousers fit me perfectly! The new ones needed a belt with two extra holes punched in!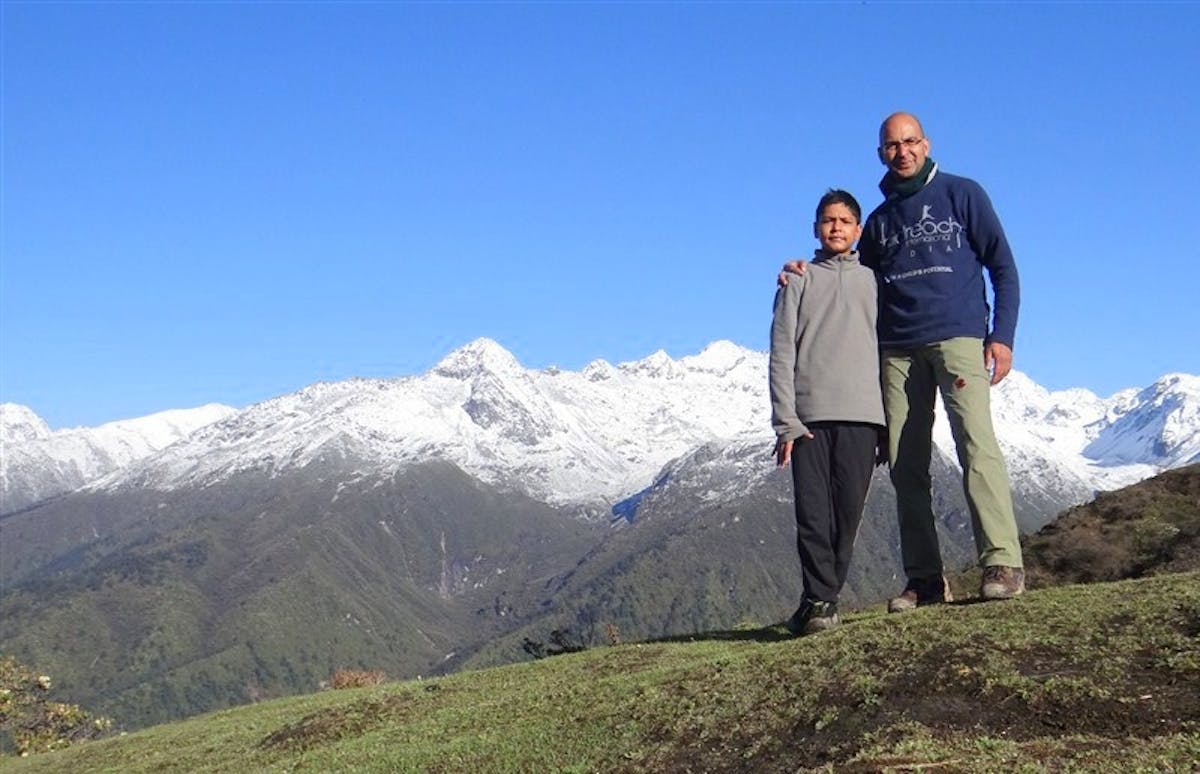 A snap from the trek that changed my life
Trekking as an experience is something that's inexplicable – it changes you in several ways. And some changes, when you welcome them, can last for life. The Goechala trek gave me an excellent jump start. The weight loss came as a pleasant surprise and a bonus change in my lifestyle. I feel happy, confident and great. This is my success story, it could be yours too.
Let me know if trekking has changed you in any way in the comments below. I would love to hear your take on it.
Sign up for our much loved Weekly Mailer
We have terrific trekking tips, trek updates and trek talks to look forward to