What Cleaning 545 kg of Litter Taught Us
Share this story
We conducted a massive Green Sweep on the Hampta Pass trek. But we were not prepared for the amount of litter we saw. And that taught us an important lesson.  
To give you a perspective, when Hampta Pass opened in the beginning of June, it was a pristine trail. The snow had just melted, giving way to sprawling meadows, flowers, rockbeds, and streams.
But as the season progressed, more and more trekking groups started getting on the trail. Alarmingly, parts of the trail started becoming dumping grounds for waste. At Indiahikes, we call these 'Litter Hotspots'.
During the peak season between mid-June and mid-July, close to 400 trekkers went on the Hampta Pass trail every day. Every day. 
Many camped off the trail, without sustainable campsite and toilet practices. As a result, zones around these campsites became hotspots for litter. Over time, these hotspots started growing in volume, and in number. 
Even though trekkers in every Indiahikes team cleaned the trail, collected the litter in EcoBags, segregated it, and brought it back to the base, the impact was limited. Indiahikes trekkers only accounted for 25 out of the 400 trekkers going on the trek each day.
Among the rest, there were surely a few others who, if they did not clean others' litter, at least did not add to the litter on the trail. Unfortunately, these numbers are still painfully small.
So by the time we entered the middle of September, our team in Manali knew something more intensive had to be done. 
We decided to conduct a massive Green Sweep to attack the hotspots
A Green Sweep is when all trekkers simultaneously clean specified areas - like campsites - before proceeding forward. Here the team decided to do this to the entire Hampta pass trail! Our team planned to do it over two days - September 14-15, 2022.
We quickly put together a team of 13 Green crusaders. These were our trek leaders and assistant trek leaders who were at Manali, winding up operations at the end of the Hampta season.
They decided to do this out of care for the environment and as a parting gift to the mountains.
Executing such a massive Green Sweep required careful thought and quite a lot of resources because our team anticipated bringing down over 400 kg of litter. 
Collecting so much litter and bringing it down from the mountains is a Herculean task. First, it has to be done on a high altitude trek, where weather is unpredictable. It requires extensive resources to bring back so much litter. To top it, the waste we are looking for is out of plain sight. 
So cleaning up the hotspots required our Green Trail Crusaders to hunt for the waste first and then collect it. That required effort and time. But we had only two days in hand. 
"We decided to focus on some of the prime hotspots. These included Jobri, Chikha and Chhota Balu ka Ghera. To clean these hotspots, we planned to trek till Balu ka Ghera in one day and return with all the litter the next day," shares Dushyant Sharma, slope manager and leader of the Green Sweep at Indiahikes.
While our team had anticipated litter, what they witnessed shook them up.
The hotspots were teeming with empty liquor bottles and used wet wipes
The hotspot at Jobri where all the trash was dumped behind a rock, away from the trail. Photo by Trek Leader Shrirang Pujari
It was not easy to pick up such waste. To understand the difficulty you have to understand the terrain and the weather. 
Hampta Pass is a Moderate | Level 3 trek. The trail till Balu ka Ghera is not easy. You cover 11 km in one go. While doing that, you climb from 8,965 ft to 12,220 ft. 
"But the most difficult part was not the trail, it was finding the litter," says Dushyant. Usually trekkers who leave litter behind, hide it under rocks, or bury it underground.
To bring out this litter, our team crouched under rocks, stepped into ice-cold streams, shoveled out layers of soil, and picked up shattered glass bottles. They put their hands into mud, slush, sometimes even human waste, to fish out wet-wipes and sanitary napkins. 
"Many trekkers had burnt waste in campfires. And the remains had solidified in the high altitude. Such waste had to be cracked open, broken. This took a lot of effort," Dushyant says. 
So even though the team started trekking at 8.15 am they reached Balu ka Ghera only by late evening. Extremely tired and exhausted. 
If this was not enough, it rained heavily as well. "We were close to Jwara when it started raining. And it was raining so heavily that we had to stop and somehow take shelter under rocks. This slowed us down," shares Dushyant.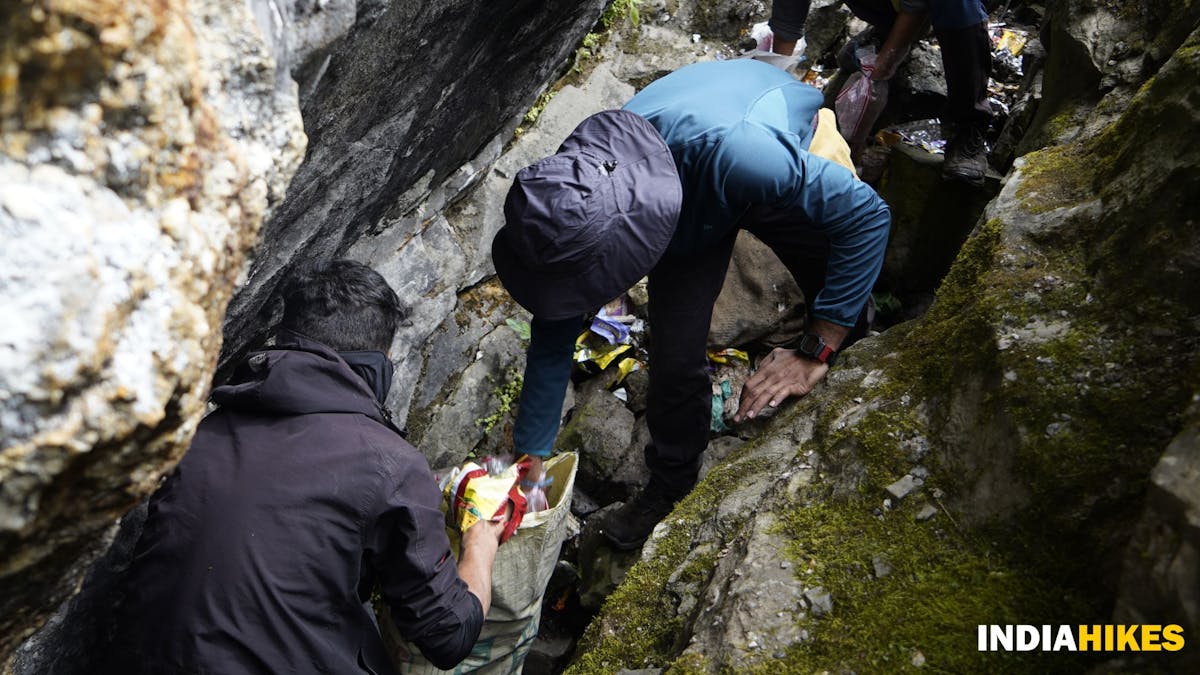 The waste our team witnessed reflected the disastrous impact of mindless trekking practices and beliefs. If not cleaned, this waste would lie in the remote mountains, contaminating the fragile ecosystem for years to come. 
"Many trekkers believe wet wipes are paper, so they are biodegradable. But they're not. Even the ones certified as biodegradable wet wipes do not degrade in the harsh conditions of the high altitude," Dushyant shares.
The Indiahikes team collected 545 kg of litter
I want to put things in context here. The biggest waste contributors on trails are chips packets, biscuit wrappers, toffee wrappers and paper waste. Each of these hardly weighs 3-4 grams. When such is the case, to have removed 545 kg of waste is backbreaking work. 
A major chunk of this waste was packed in sacks and loaded on the mules. A lot of it was carried by our team on their backs, sometimes on their shoulders, in addition to their own backpacks. 
Each of these sacks weighed around 8-9 kg with waste jutting out at odd angles.
Nevertheless, all the waste collected was brought down at our Indiahikes Manali basecamp. But there was more ground to cover. 
The tough challenge of waste disposal
After bringing down the waste, our team spent hours segregating it. Then the segregated waste was loaded in a truck and taken to the dumping ground. 
Not many trekkers know this but due to lack of space, there is just one dumping ground in the region — in Rangri. This is a Waste to Energy Plant managed by NextGen Chemicals. If you ever visit this location, you'll notice mountains of waste being dumped here every day to be processed.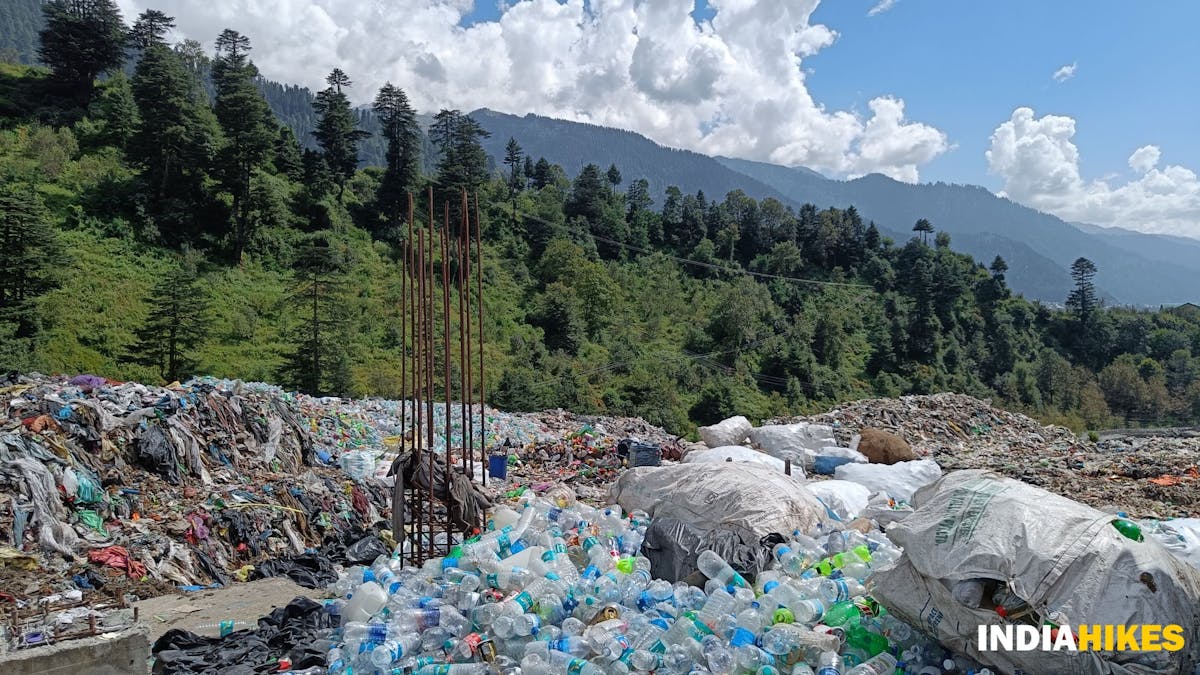 "All waste collected from Kullu, Bhuntar, Manikaran, Jibhi, and the surrounding areas, comes here," shares Prem Kumar Sharma, the owner of NextGen Chemicals. 
Can you imagine the amount of waste that's getting accumulated here? 
This season, from just three treks — Beas Kund, Bhrigu Lake, and Hampta Pass — we collected and deposited a staggering 1710 kg of waste at the Waste to Energy Plant at Rangri. Out of that 545 kg was collected from this recent Green Sweep.  
The Green Sweep left a deep impression on our team
The team members involved in the Green Sweep were deeply moved by the experience. 
"When you put your hand into the litter, collecting used sanitary pads resting on human waste, litter that's rotting, with algae growing on it, covered with slush, it shakes you," shares Dushyant, "We had a deep realisation, especially from team members who have joined Indiahikes very recently. They saw first hand very deeply how  litter was scarring our pristine mountains." 
"Such an experience is very powerful for new trek leaders. They understand their responsibilities not only towards themselves but also towards the society. In future they are able to become better trek leaders, sensitised and conscious trekkers," says Arjun Majumdar, Founder-CEO, Indiahikes.
One such person on the trek was Trek Leader Rahul Paul.  
"I went through a lot of mixed emotions in these two days. I have understood and realised how our own actions and the way we lead our life can have a huge impact on others. Considering sustainability, I don't want to restrict my sustainable practices only when I am in the mountains. Rather, I want to lead a holistic sustainable lifestyle wherever I am," shared Rahul. 
Being a part of such an experience is life-changing. Yet, it is not the solution to the problem that's staring us in the face. 
Conclusion
This Green Sweep showed a harsh reality. Popular treks are becoming a dumping ground in the mountains where the pile of waste is growing higher. 
But the lesson it taught us was that Green Sweep by one organisation is not a solution. 
Arjun Majumdar, CEO-Founder of Indiahikes offers his solutions:
"Indiahikes can only do this much. Even after the Green Sweep, the litter left in the mountains is enough for multiple Green Sweeps. The Government, especially the forest department must step in to manage the waste. The number of trekkers on popular trails must be restricted to around 150-200 trekkers per day in peak season. 
The forest department must use the fee collected from trekkers to man every campsite with ranger guards 24/7 for the duration of the season. Watchful rangers can help reduce the waste dumped in a very big way.  
In addition, volunteers can be roped in by the forest department to participate in awareness building as well as in conducting green sweeps — much like how tiger census is done."
Taking the thought forward, Lakshmi Selvakumaran, Head of Experience at Indiahikes says, 
"Everyone wants to go on treks. People think it is normal to bring alcohol and packaged food on the trek. They feel it is OK to carry wet wipes. More importantly, they feel it is OK to leave them behind. They feel that someone else will clean their mess. The trek cannot survive if fundamentally this is how we behave on the trek," says Lakshmi Selvakumaran, Head of Experience at Indiahikes.
Considering that trekking is a wonderful sport and impacts people deeply, restricting it is really not the answer. But for any lasting change, collaborative efforts of all stake holders are required.
On this note, I'd like to ask you -- as a trekker, what do you think is the right solution?
Sign up for our much loved Weekly Mailer
We have terrific trekking tips, trek updates and trek talks to look forward to