Why Green Trails
Share this story
As trekkers, it is our responsibility to ensure we leave the trails in a better state than we find them. This is our belief with respect to the environment.
Being a responsible trekking community, Indiahikes has always tried to solve the problems of the mountains. Garbage on the trails, on river beds, in flowing streams, at roadsides, near the edges of tree lines – this is something that has always bothered us. To tackle this serious issue, we came up with the Green Trails initiative a few years ago. We have been able to do our bit at all our slopes and the local governing bodies have recognized what we've done. Be it Kashmir, Dehradun or Sikkim, we are trying our best to clean up the mountains.
As we try to inculcate the true spirit of trekking in all our trekkers, we also encourage them to join us in making a difference with respect to cleanliness of our trails. The moment someone registers with us, a Green Trail Pledge along with the other paper work is mandatory. The true feel of trekking is incomplete without a sense of morality towards the mountains.
On Treks: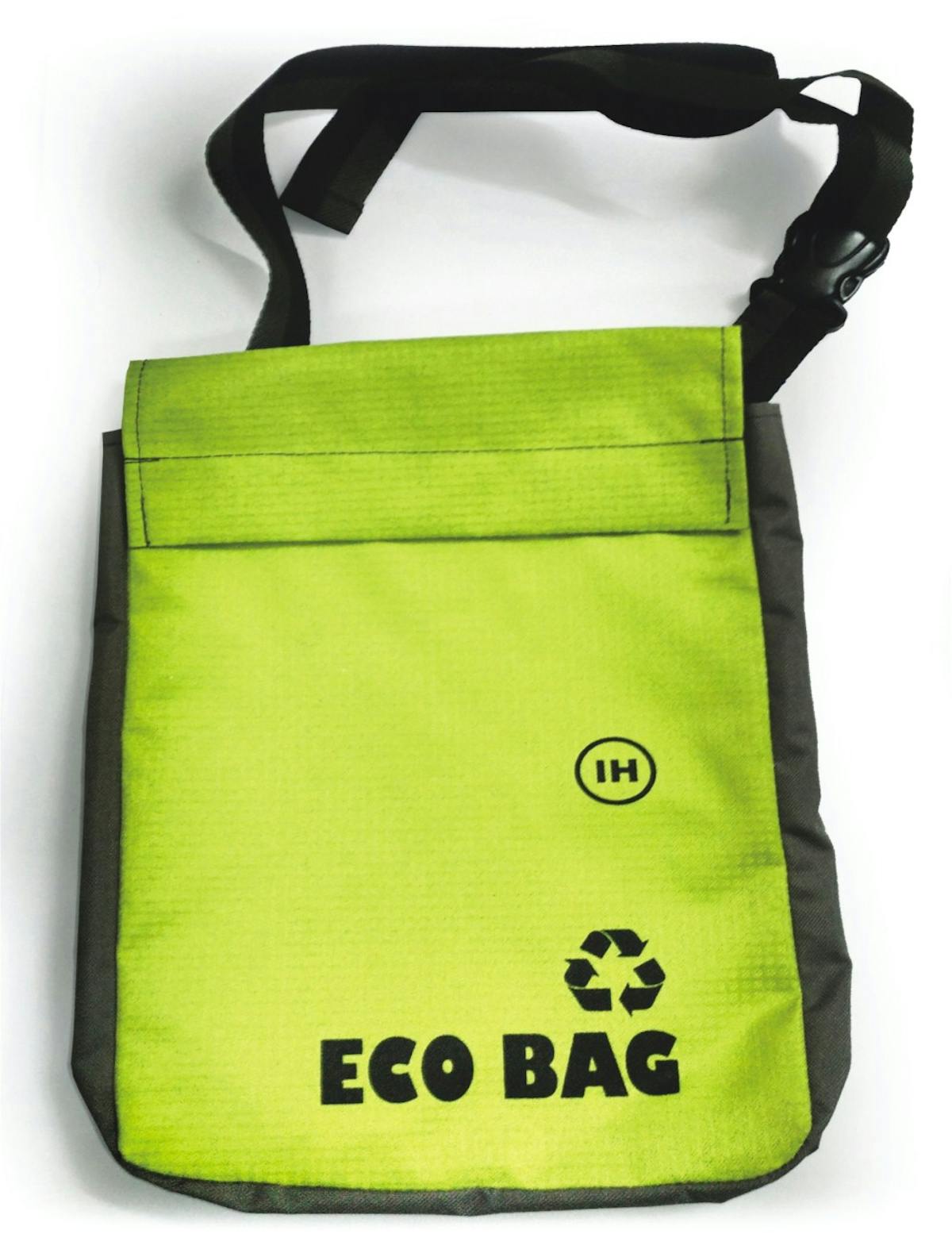 An eco-bag that's handed to trekkers at the start of the trek, so thye can collect garbage in it
At Indiahikes, we issue an eco-bag to each trekker, in which garbage can be collected. At each campsite, we open up white sacks and fill them with all the waste found on the trail and around our campsites everyday. We then send these white sacks back to the base. At the base, they'll be collected and stored properly. We ensure that they are taken down to the nearest dumping grounds where they can be treated or else dumped properly.
Trekker's eye:
Most trekkers enjoy contributing to the cleanliness of mountains. Their spiritual journey seems all the more fulfilled when they can take care of nature. 
But sometimes, we get trekkers who say they are here in the mountains to have a good time and not to pick up garbage. We are fine with trekkers who do not want to contribute in maintaining the cleanliness of the trails, however, the fact is that if we as trekkers don't take this initiative, our next generation might not be able to trek at all.
If nothing else, at least not adding on to the litter is something we take care of very strictly.
Green Trails Volunteers:
If you love the mountains or if you just want a change from your daily routine, we suggest you apply as a Green Trails Volunteer. Collection of waste, awareness of cleanliness, running of Green Trails Drive, bifurcation as per biodegradable and non-biodegradable waste, maintaining cleanliness of the waste disposal areas and much more, are the tasks associated to Green Trails Volunteers. A proper system has to be followed to get rid of waste in the mountains.
Misconceptions:
It is very easy for us to say that the organisations/ governing bodies have a role to play in order to do something for the environment. However, we forget it's our responsibility too to make a difference. All it takes is the right intent.   
Other Practices:
Burning of plastic waste or any kind of waste is not the right solution. At Indiahikes, we ensure that no waste sack is burnt as hazardous toxic waste depletes the ozone layer.
Over years and years of experience and research, we have been able to clean up several trails, but that is just one per cent of the work. There's a lot more cleaning left to be done.
Food for thought:
Ever wondered about the amount of time an apple core takes to decompose in those altitudes? Two months. We have other numbers for you that may make you think twice before dumping waste on the mountains. 
| | |
| --- | --- |
| Altitude Waste | Time to Decompose |
| Paper towel                                         |  2 to 4 weeks |
| Toilet paper      |  40 days, if buried under 6 inches |
| Tissue paper |  2 to 5 weeks |
| Banana peels |  3 to 4 weeks |
| Orange peels |  6 months |
| Apple core |  2 months |
| Paper bags |  1 month |
| Newspaper |  1.5 months |
| Cardboard |  3 months |
| Waxed milk cartons |  3 months |
| Milk cartons |  5 years |
| Cigarette buds |  10 to 12 years |
| Leather shoes |  25 to 40 years |
| Tinned cans |  50 years |
| Foam plastic cups |  50 years |
| Rubber boot sole |  50 to 80 years |
| Aluminium cans |  200 to 500 years |
| Plastic bottles |  200 to 1000 years |
| Glass bottles |  One million years |
| Nylon fabric |  30 to 40 years |
What some of our trekkers have to say about the Green Trails initiative
"People who are associated with Indiahikes have love for mountains. Charging money and taking for a trek is one thing, but parting the fundamentals of green trails, documenting trails, respecting nature, learning basics of trekking is another. Can't thank Indiahikes enough for bringing a new culture in India."
"Indiahikes runs itself as a community rather than a profit seeking organization. They know how to respect nature and also have the keen desire that each trekkers imbibes these practices within himself, whether he's in the mountains or at home."
"I totally subscribe to the policy of being eco-friendly and not leaving any non-biodegradable waste on the mountains."
"I liked the emphasis on environmental care. I also liked what I perceived to be the idea of developing a trekking culture instead of just taking tourists on a short trip."
"I did the Chadar trek in 2014 with Indiahikes. The green trail angle was a big time eye opener. I have always enjoyed trekking with IH and I'm sure shall continue to do so in future also."
"The people involved at Indiahikes seem to have a passion for trekking while also being considerate about the environment!"
"A promise of an environment-friendly trek was most important for us. This is why we chose to trek with Indiahikes."
"I liked the go green initiative from Indiahikes, i.e. they give garbage collecting bags and encourage trekkers to maintain green trail."
"I like the team and their true trekking spirit. I like the fact that this organization has very strong values that it stands by. Green tra
To see more about our initiatives, click here. 
Sign up for our much loved Weekly Mailer
We have terrific trekking tips, trek updates and trek talks to look forward to