The Uphill Nature Of Managing Waste: Notes From A Green Trails Fellow
Share this story
Ashish worked with Indiahikes as a Green Trails intern in 2018. What follows is his account of the experiences and learnings he had as part of our Green Trails Fellowship Programme.
"Why is taking care of our environment such a difficult task?"
This has been a question that stayed with me for the longest time. It was a question I wanted to find an answer to as I set out to do my fellowship with Green Trails. After all, I am sure I wasn't the only one in love with the natural world. Who could possibly fail to feel the immense peace when they are out in nature, where things are at their rawest? If everyone feels as I do, then what are the limitations to this work?
This fellowship, I decided, was my path to find those answers and give back to the environment. I had a lot of exciting ideas I wanted to implement!
I stayed from late July until early December, journeying across three trek slopes as the seasons changed in the Himalayas. I had the privilege of seeing the last phase of the wet monsoons give way to the short, crispy autumn and then, beginnings of the chill of winter.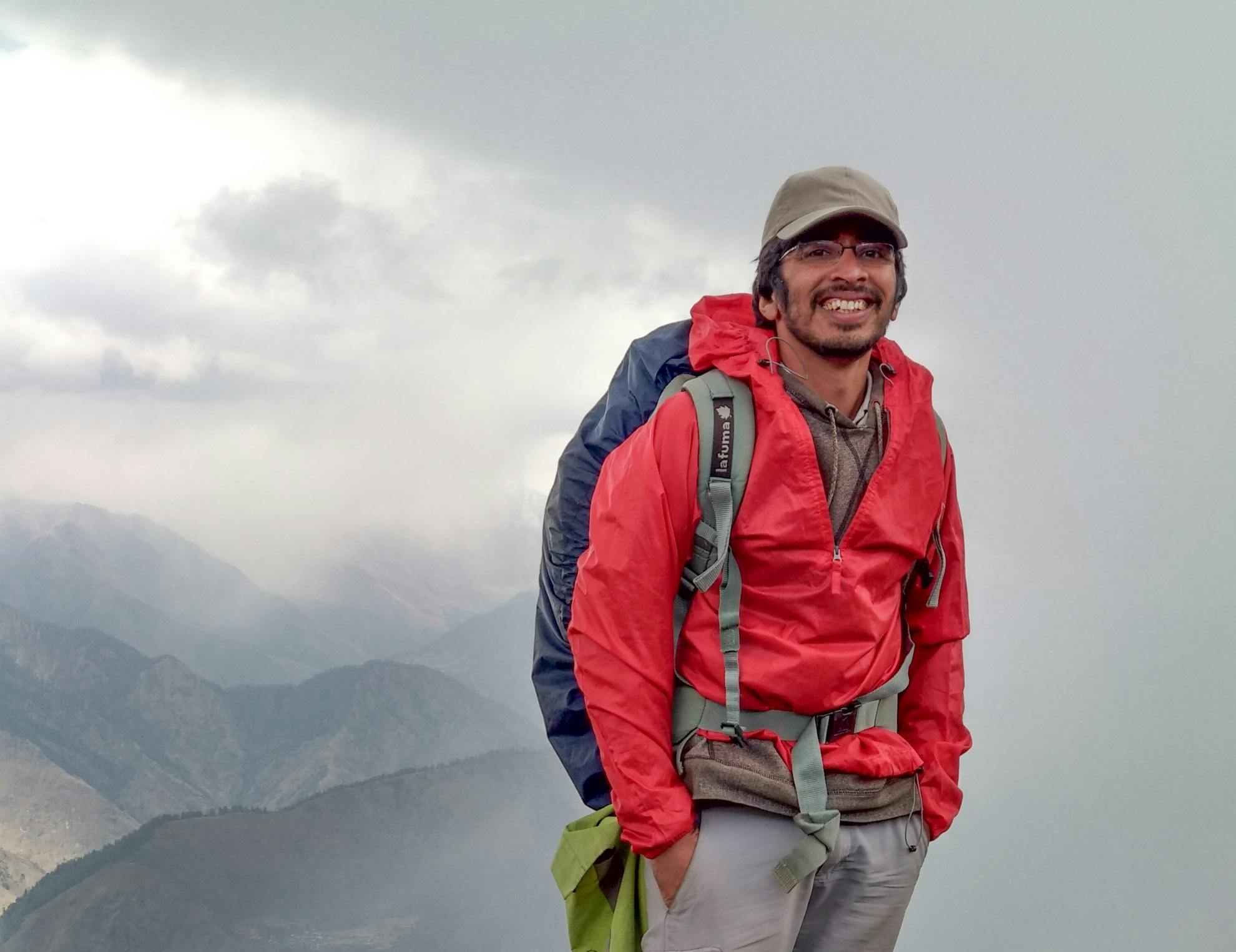 Each of the three locations I was in was different, not just because of their locations, but also because of the communities, the season, the infrastructure, our space, the operational structure and my experience.
My first stop? A small town called Govind Ghat, the base for Valley of Flowers.
Monsoon – Govind Ghat
Govind Ghat is wedged in a valley surrounded by formidable, steep mountains. I could hear the Alaknanda river furiously gushing down all the water that had been brought in with the monsoon clouds. This valley sees a large number of people moving in and out. Pilgrims come for Sri Hemkund Sahib, a place of immense religious significance and the trekkers come for the Valley of Flowers, " a colourful fairyland of flowers" – a term coined by the mountaineer Frank Smythe who discovered the valley in 1931.
The high volume of people coming into the valley meant the waste generated was tremendous. Looking at the scale of the problem, it felt like what the Green Trails team is doing is constantly pushing a large boulder up a very steep mountain. This problem isn't going to go away just by managing waste generated on our treks!
To keep an area unpolluted is a collaborative effort – an effort that involved all the stakeholders of the area. This was the work Vishal Sinha, the previous intern did. He identified and understood the structure of all the other stakeholders of Valley of Flowers. That is, the Eco Development Committee, Gurdwara and Joshimath Nagar Palika. By initiating discussion with them, we could develop ideas to work together as a community to manage waste more efficiently at a place dear to trekkers and pilgrims alike.
In fact, with the Joshimath Nagar Palika's infrastructure and support, our landfill waste reduced to about less than 10 per cent of the total waste that we generate! I left Valley of Flowers, optimistic that the interns that will come after me will take these discussions forward and work on creating more consciousness in the valley.
Autumn – Jagatsukh
Jagatsukh, the base camp for Hampta Pass and Bhrigu Lake, was the next base I worked at. A few kilometers from Manali, this town is set within a very broad valley with gently rolling hills of the Himalayas. Autumn was beginning to set in, giving us brilliant blue skies, golden floorbeds and innumerous apple orchards bloomed to life.
However, the exit for waste from Manali is the poorest of all the places I worked in. I saw vehicles carrying waste, dump it on banks of clear streams and rivers. They were hoping the monsoon and the flow of the water would carry it downhill. Local community members burn their waste on the hills.
To top it all off, the municipal corporation in Manali still does not have supporting infrastructure and space to handle the waste that comes into this popular tourist destination. The corporation landfill grounds are right on the banks of Beas river!
As a team, our immediate goal was to reduce the amount of waste that goes to this landfill. This was done by ensuring the waste goes to a kabbadi-wala and upcycling! The idea of upcycling – all the tetra packs, plastics and making them into usable prototypes of stools and other products — was given by another intern, Preeti Chauhan.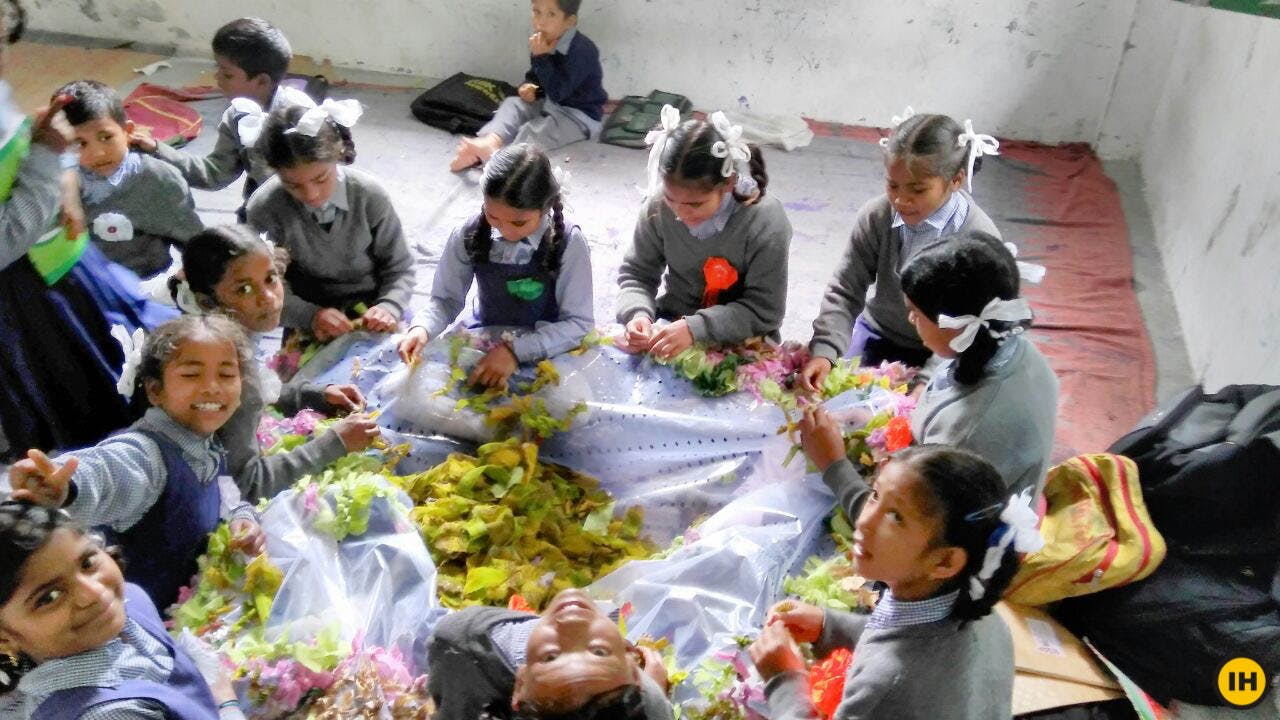 Now, what we needed to do was to share this knowledge. It seemed like there was already great interest and buzz among them. We just needed to sustain this interest.
While my heart broke at Manali at the way waste management was done, their interest in upcycling made me believe in presence of some sort of magic. The magic when all the stakeholders of an area — the trekkers, the staff and the locals – work together to save what they all love.
As our camp at Jagatsukh was getting closed for the season, I carried these thoughts to my final base camp: Sankri.
Winter – Sankri
The beginnings of winter started turning the skies of Sankri into a brilliant blue canvas with the clouds hanging onto the skies like paint strokes. Sankri was the base camp for the ever popular Kedarkantha along with Har Ki Dun and Phulara Ridge.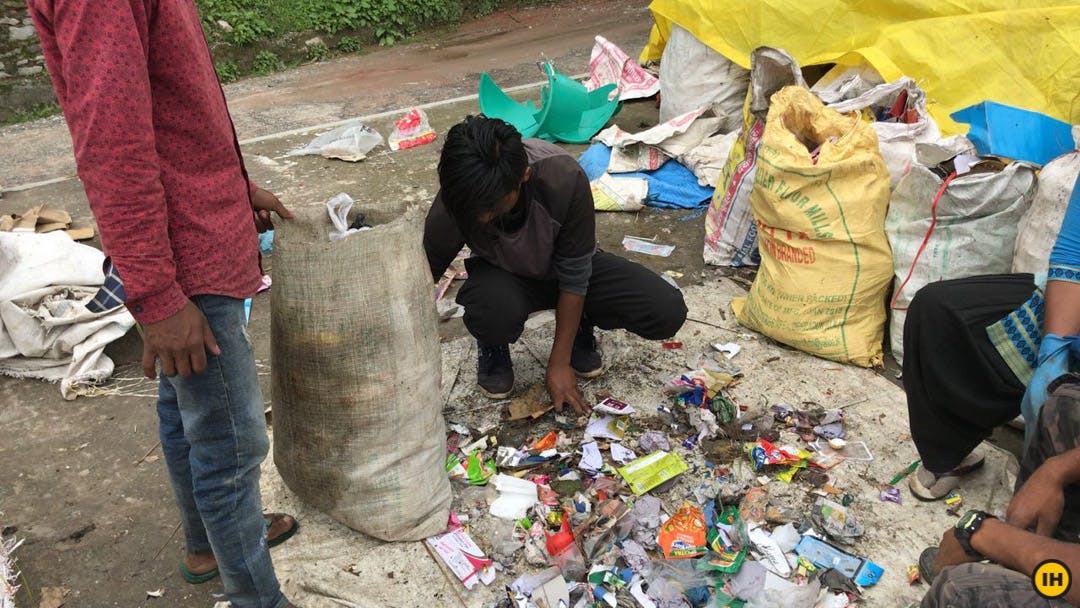 As the treks here saw a lot of footfall, our immediate task was to get a system in place where the waste can be collected, segregated and exited efficiently. After much time taken up to set up the system, we identified two ways the waste could exited – the local kabbadiwala and for us to transport the waste all the way to Waste Warriors in Dehradun. If you remember the ride from Dehradun to Sankri base camp, you would know it is a long one. We all became a kabbadiwala at one point.
Reflections From My Four Month Journey
Three seasons, three base camps. While each base camp posed a unique challenge, some of the problems were curiously similar.
So what makes the work of waste management so difficult?
I broke it down by three players – the trekkers, the team and the locals.
The trekker usually comes with a mindset of a holiday – a holiday that they have earned, a holiday where they can relax and probably splurge, a holiday where they want to be serviced.
The Indiahikes team is largely concerned with how to give a safe and enjoyable experience to trekkers while being operationally viable and environmentally sustainable.
The locals, on the other hand, work very hard for a living and are understandably, just looking for ways to increase their income.
So when people – staff, trekkers and locals – worked together, outside these limitations, I felt the presence of the magic where development becomes more meaningful.
Yet, these are things that make waste management such difficult work and there are no measurable rewards. There are costs and logistics involved in exiting the waste. Instead of funds being utilized for this task, it is instead used to reach products that are carrying waste deep into the hills.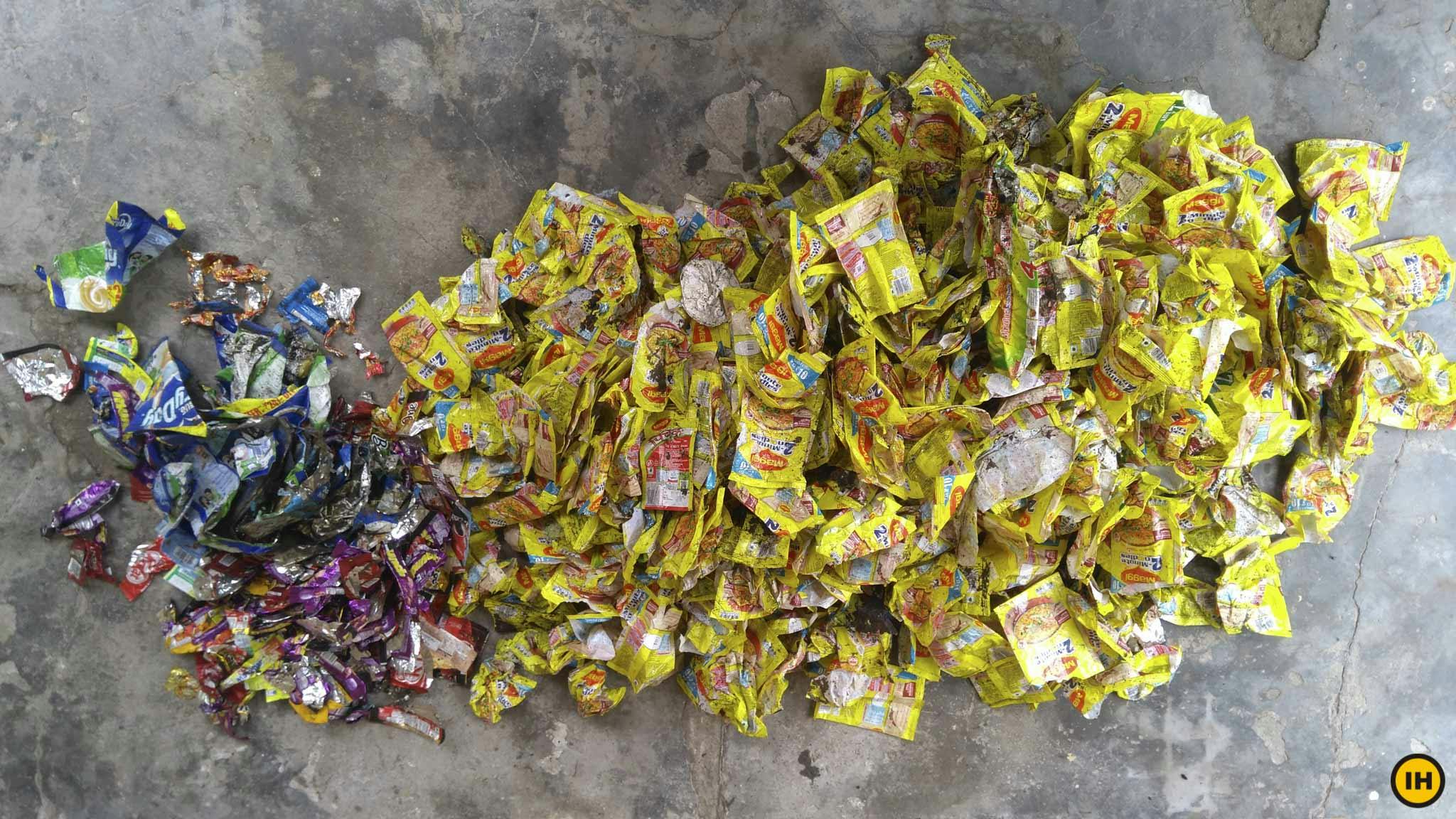 Questions From My Journey
There are funds to bring packaged food in but not sending the packaging material out! The dominance of packaged food can only be attributed to the unwillingness to try out new, locally sourced produce. Food produce probably tastes the same all across India and probably the globe.
Why is that? Is it because we want things that have been highly curated by the colours, packaging design that makes it look clean and comfortable to consume? Is it because we do not want to go outside of our comfort zone? And if we do not want to go outside our comfort zone – why do we travel, why do we trek? These are hard questions that need us to introspect.
Our comfort has become our difficulties. We create environments designed to nullify challenges posed by natural world – so much so, that sweating while going to work is a challenge, getting wet in the rain is a challenge, walking under the sun is a challenge, hair getting spoiled due to wind is a challenge, a crease on an ironed apparel is a challenge. I found myself questioning the lifestyle back home.
As a community, we regard handling waste as the lowest task. I was a kabbadiwala for four months! I saw how we treat our streams and mountains in these months and I realised – only if we have empathy for each other and our natural environment will we will be able to reach a more viable solution.
A kind of solution that views natural resources as one of our most important assets. Assets that should also be shared by all as a community.
What Can I Do?
The question still remains open to me "What makes taking care of the environment so difficult?" The answer to which is a hard truth to which I may not have the caliber to grasp and move on.
But how do I begin to move on? What can I do back home? I knew I needed to become much more aware and active myself. I created a check-list for myself and I hope it helps you too.
1. I need to start refusing goods that come packaged.
That may not yet be entirely possible, but at least I could begin to start reducing the consumption of those goods and start reusing and recycling what I consume.
To elaborate, I need to:
Stop the consumption of bottled/packaged water completely.
Stop the consumption of food packaged in small plastic completely. Example: Pulse, Eclairs , Alpenliebe, Pass Pass and etc.
Stop the consumption where you have laminated plastic and metal packaging. Example: Lays, Hide and Seek, Bikaji Bhujia and etc.
Stop using wet wipes totally.
2. I need to better segregate waste at home and give the segregated waste directly to a kabbadiwala.
3. I need to start consuming local produce.
This means I have to
Start looking for local produce and start buying goods with the least amount of packaging.
Start by learning to tear the packaged food neatly so that you reduce the number of pieces of plastic while you open it. The tear should be such that eventually only one piece of plastic should exist like when you purchased it. Someone has to collect your waste and it makes it easier for them.
Start becoming aware of my consumption.
These are my thoughts after my experience as a Green Trails Fellow with Indiahikes. Feel free to do add your suggestions on how we could take care of our environment better in the comments below or by writing us a mail.
What you should do next…
1. If you'd like to participate in the Green Trails Fellowship, just like Ashish did, click here.
2. If you'd like to read more about Green Trails, head over here.
3. If you landed up here by chance and were actually looking for treks to do, head to our upcoming treks page.
4. To download our guide for the 13 best treks of India, click here.
Sign up for our much loved Weekly Mailer
We have terrific trekking tips, trek updates and trek talks to look forward to