Har Ki Dun: A photo story of the doorway to ancient Himalayan villages
Share this story
Har Ki Dun: A photo story of the doorway to ancient Himalayan villages
Category Photo Story
Har Ki Dun or Hari Ki Dun ( "Valley of Gods") is a trail where time has stood still.  Off Taluka, you'll see villages and people so strongly rooted to culture, customs and clothes of a time gone by that it is almost as if the folds of the mountains hide them away from the outside world. Follow our trekker Ujwal Bala's journey to Har Ki Dun valley.
Day 1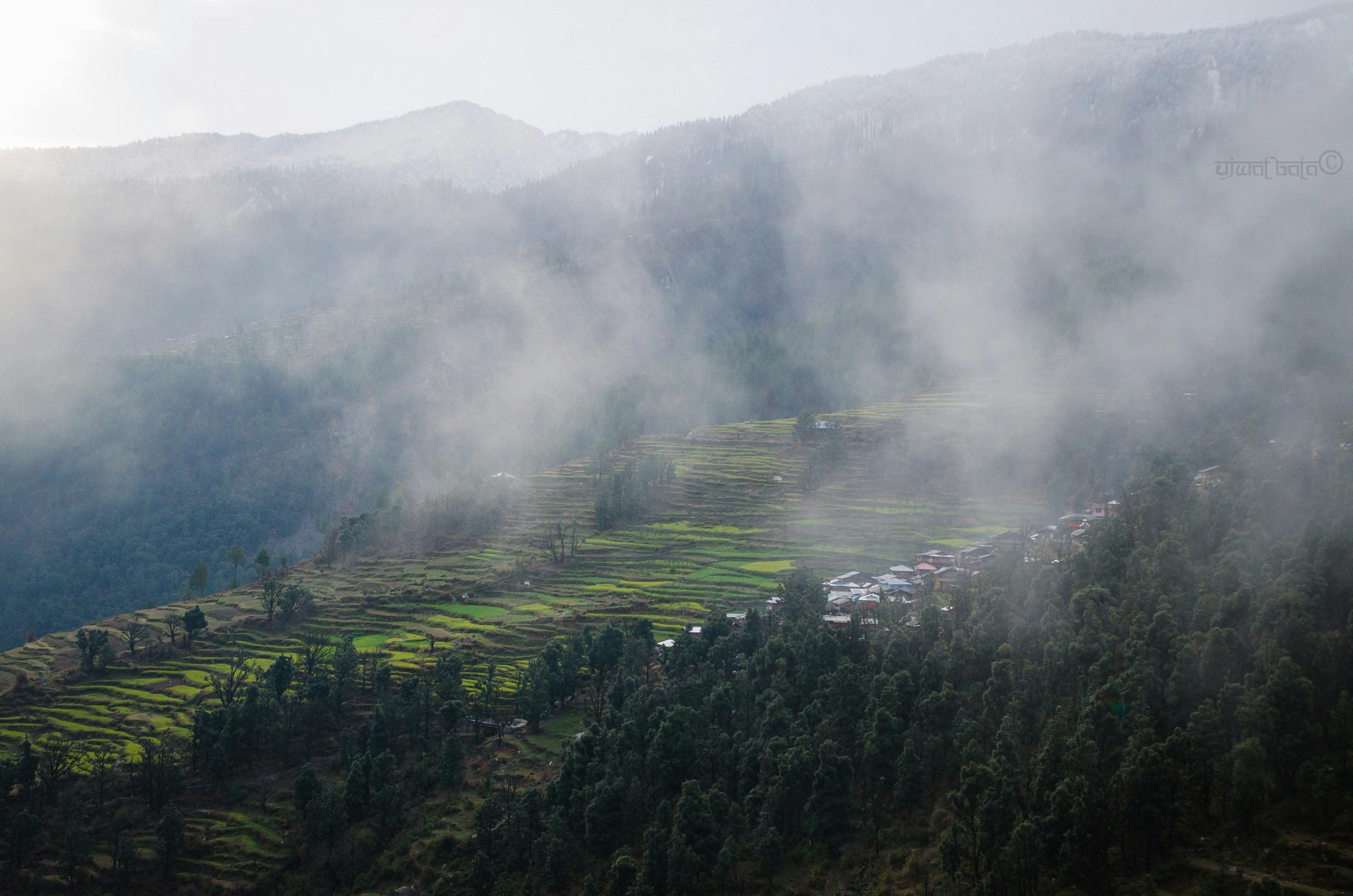 Hidden under a waft of clouds is your base camp, Sankri at 6,300 feet. It is a small, pretty village beyond whose ridges is Swargarohini- the peak that dominates the Har Ki Dun valley.  From Sankri, on your north-west, watch out for Sirga, a village that stands near the mountain top in a way that will make your jaw drop. Sirga was built in this way so that villagers can maximise their harvest – by getting sunlight early.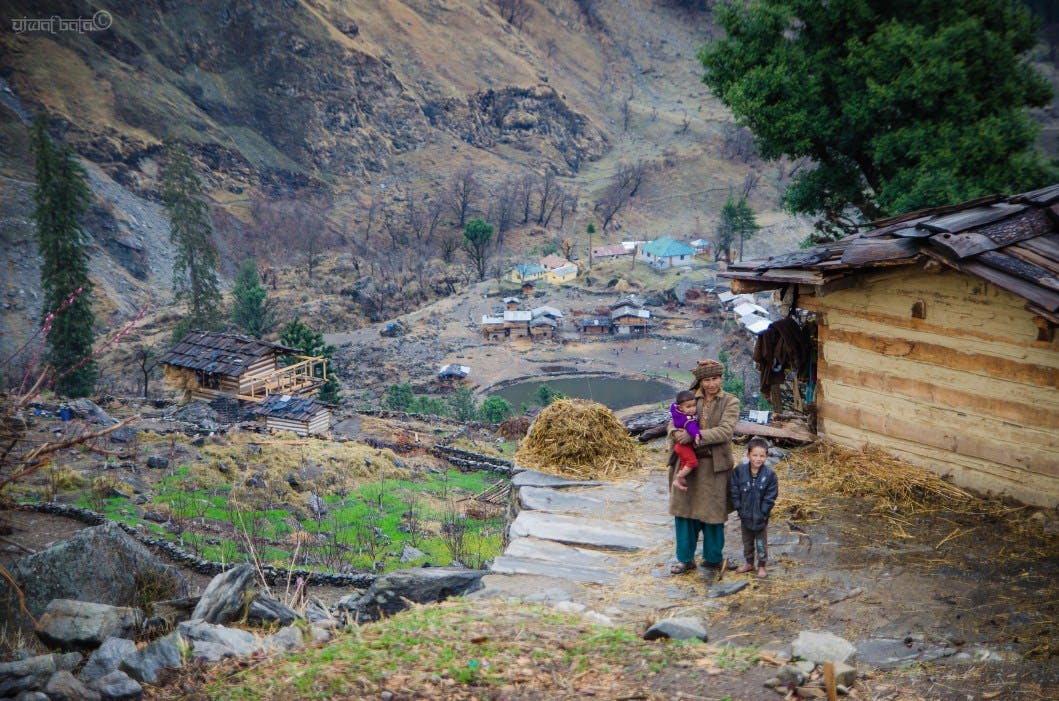 Twelve kilometres from Sankri is the village that you see here: Taluka. The hike towards Taluka is extremely pretty:  passing a series of wild roses and irises, deodar, bamboo and chestnut trees. There are a few concrete houses in Taluka – this makes Taluka stand out from the old architecture of other villages on the trail.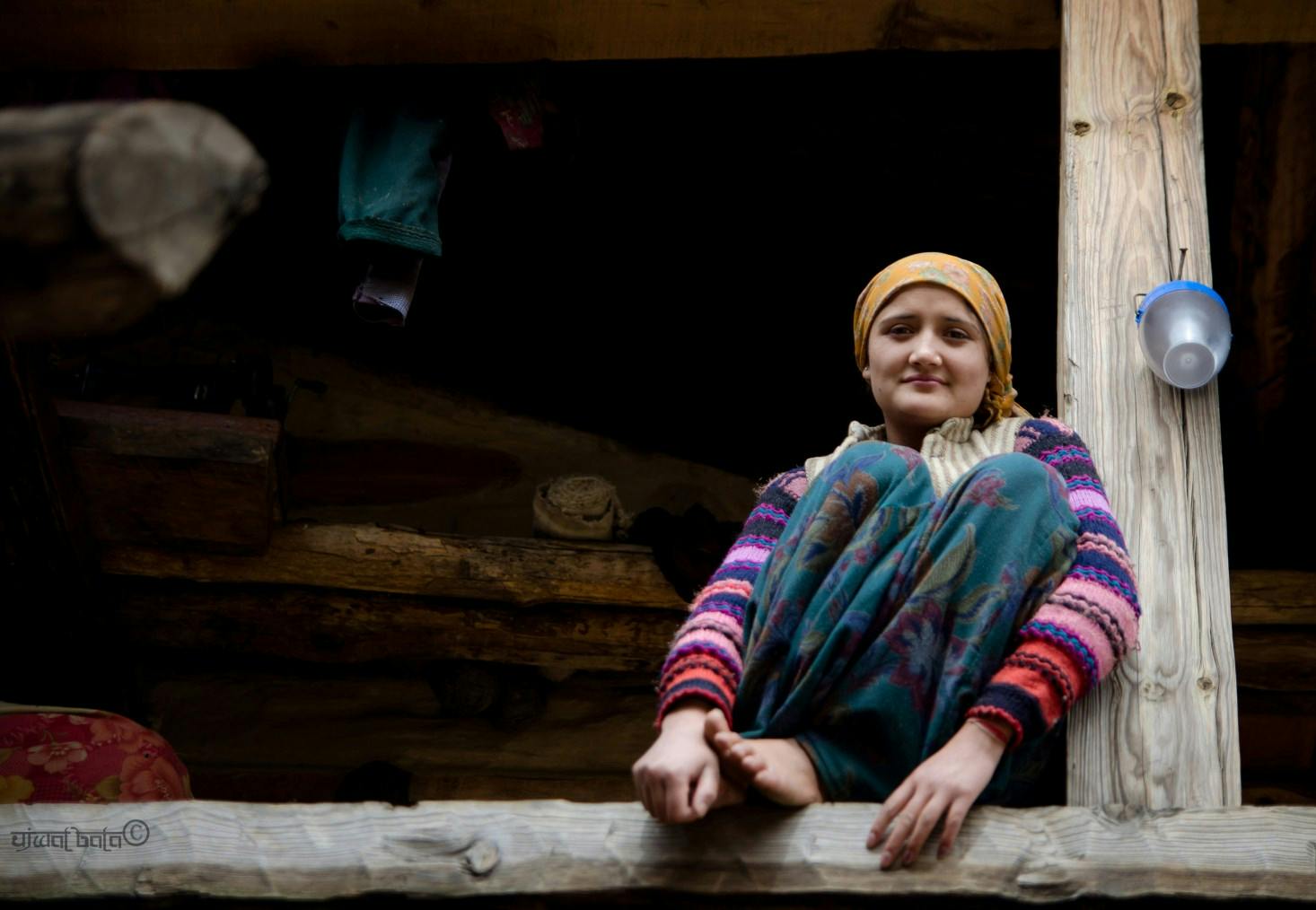 A woman looks on as trekkers trod through the village. Har Ki Dun is a trail frequented by trekkers, villagers and school children alike. The villagers' easy manners display their familiarity with strangers who walk by.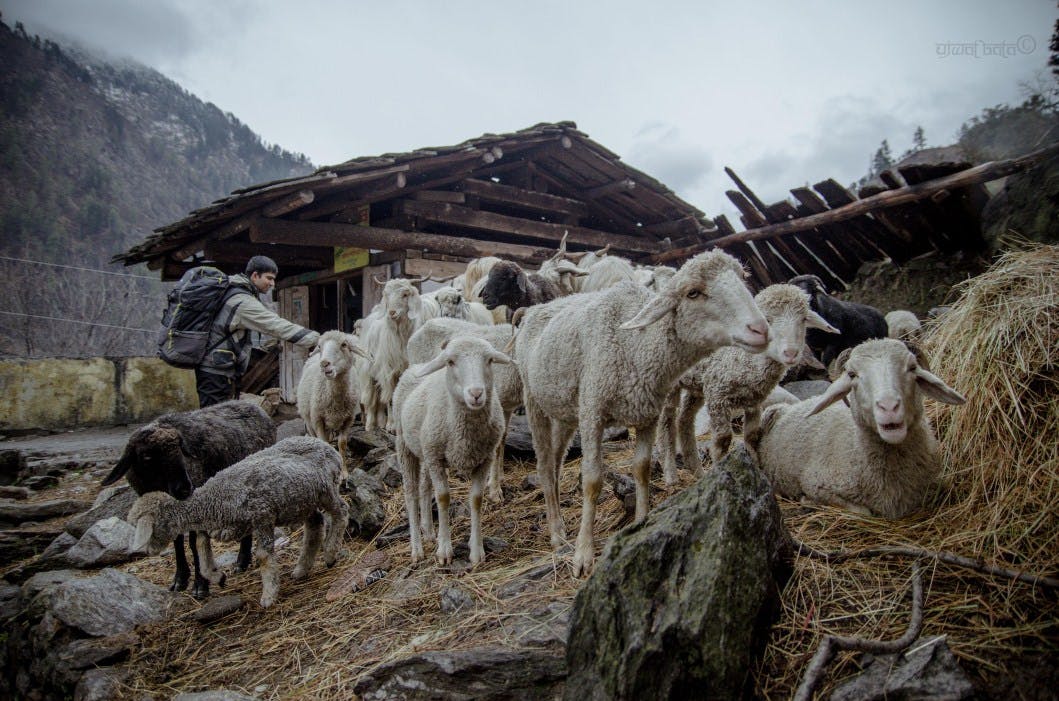 A trekker reaches out to pat a sheep's coat.  Villagers here weave their own jackets and coats. The trail from Taluka towards Puani Garaat is essentially a shepherd's trail.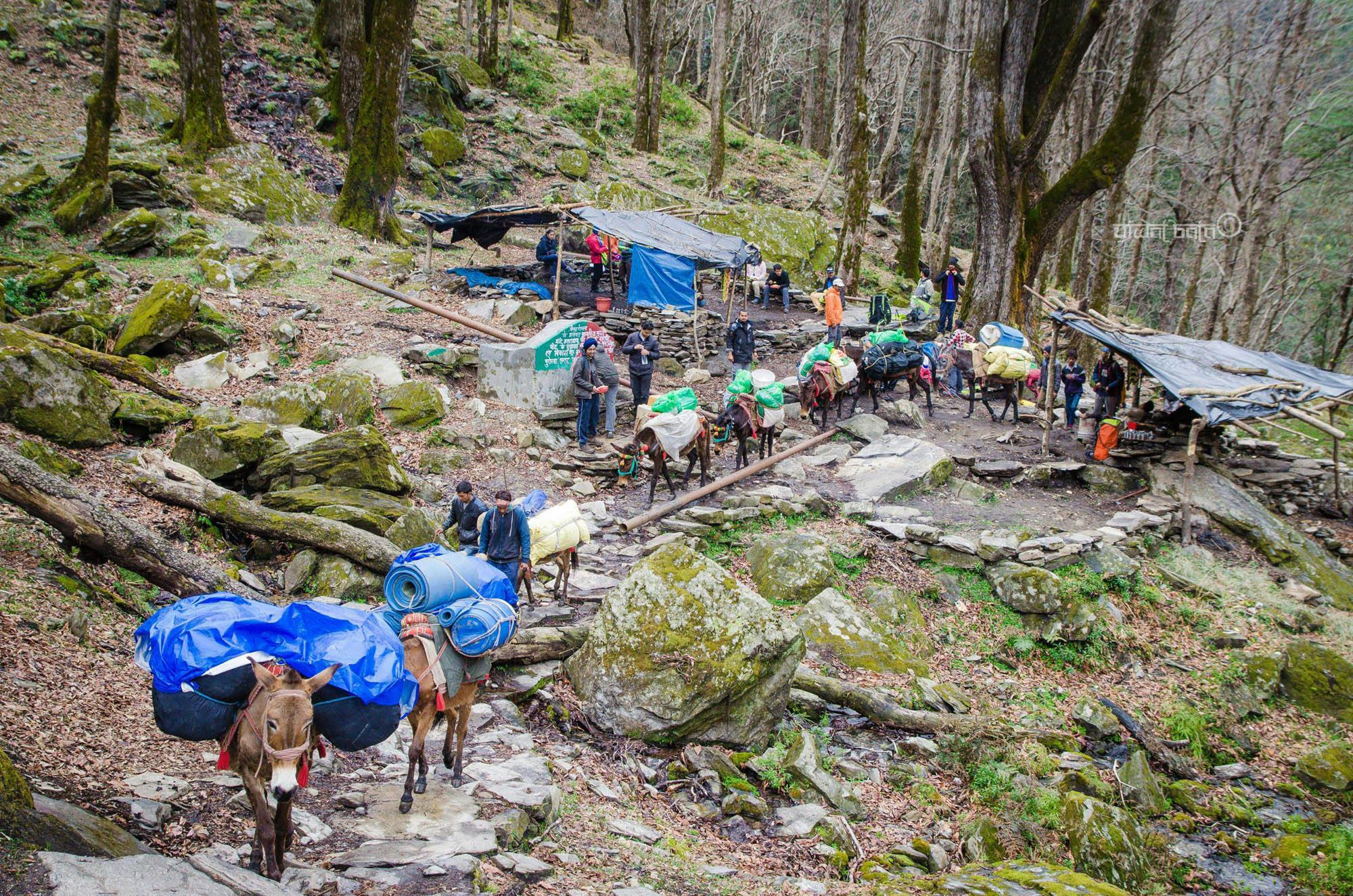 chai
chai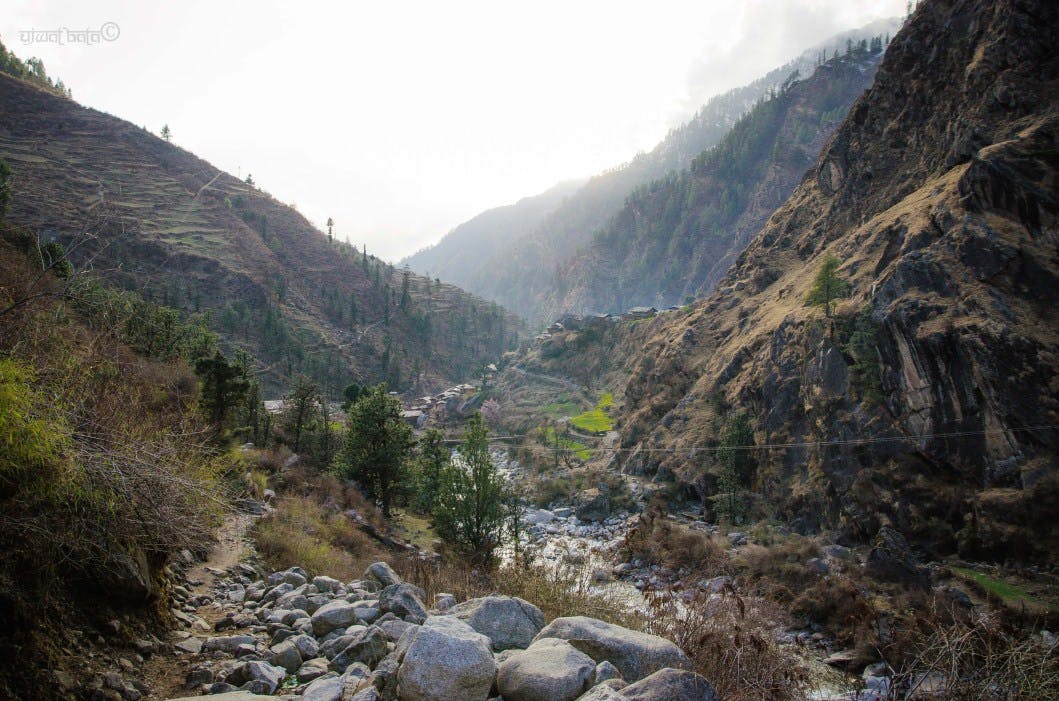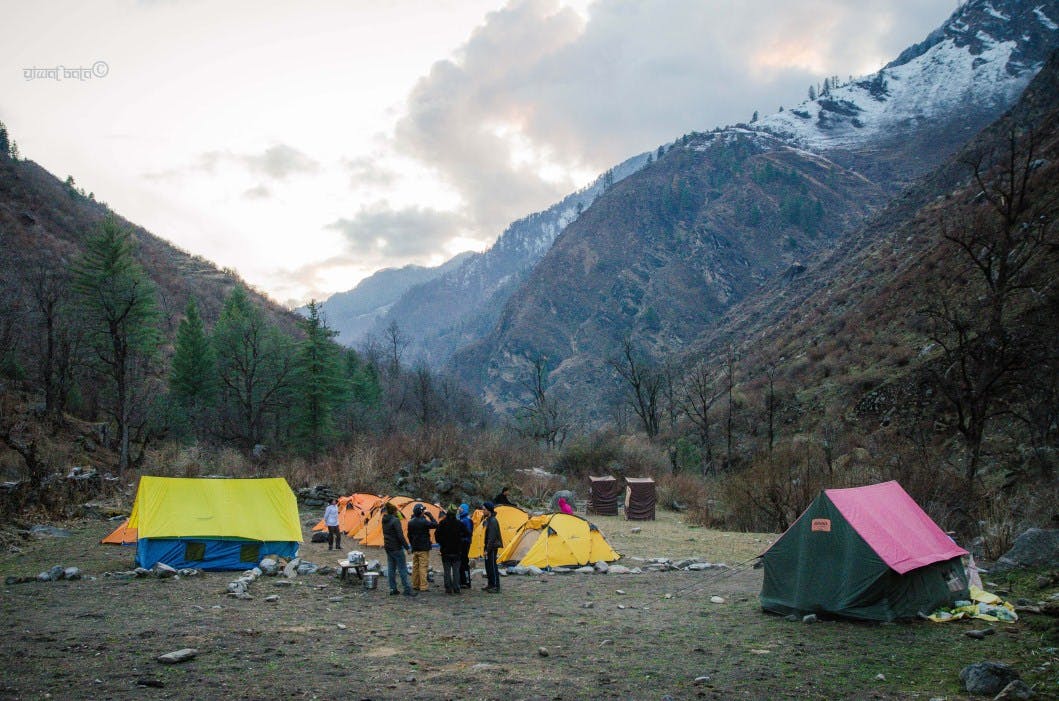 This is your campsite for the first night: Puani Garaat.  From this campsite, you'll see the peaks of Swargarohini and Har Ki Dun shimmer in distance during sunset. The name of the place comes from Puani, as in paani (water) and Garaat  (grindstone). This area has a hut with water-run grindstone to grind flour. It is often used by nomads.
  Day 3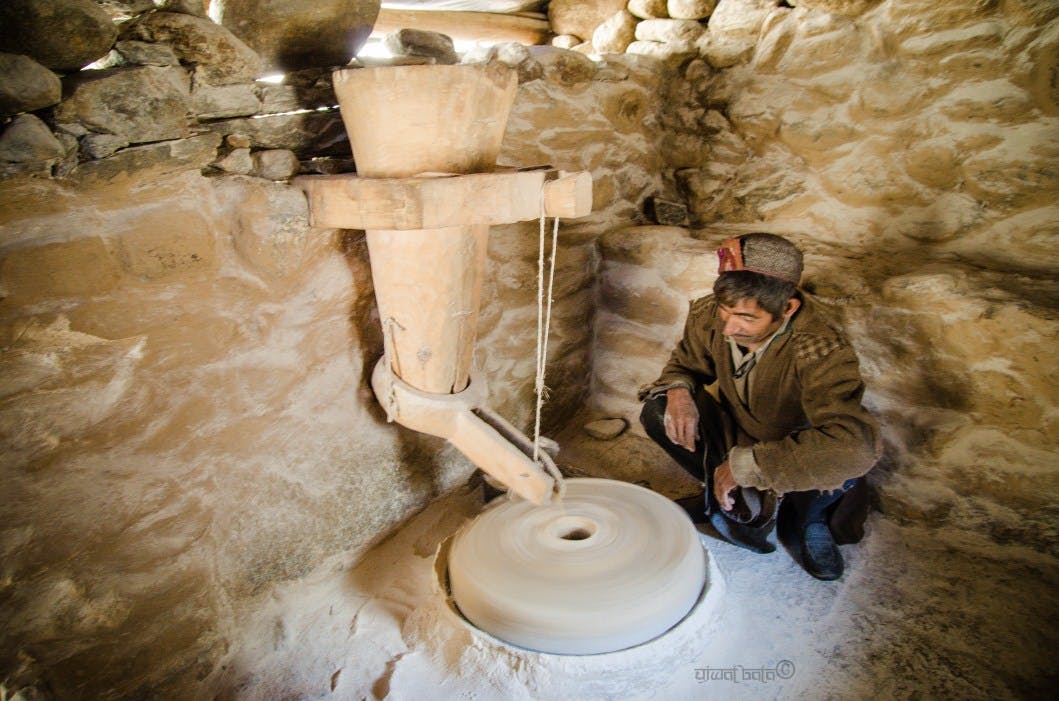 As you start the trek for day, you'll see this grindstone at Seema village, similar to the one at Puani Garaat. Villagers here have found ingenious ways to grind flour with limited technology. The stream water's momentum runs this mechanical grindstone.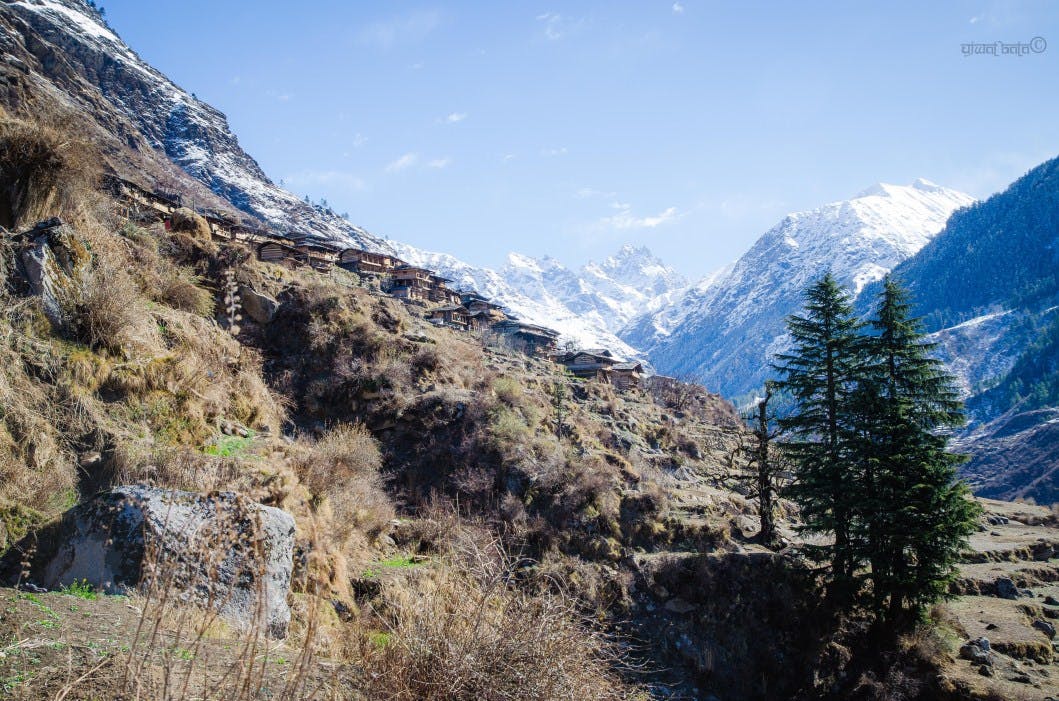 As you head towards Kalkatiyadhar, you pass through the Osla village. Linger here just to marvel at the architecture of the village: the wooden houses where villagers stay on the first floor, stone roofs, the ornate carvings on their doors…  This village seems to have blended in with nature over time. The village is famous for  the Someshwar Temple.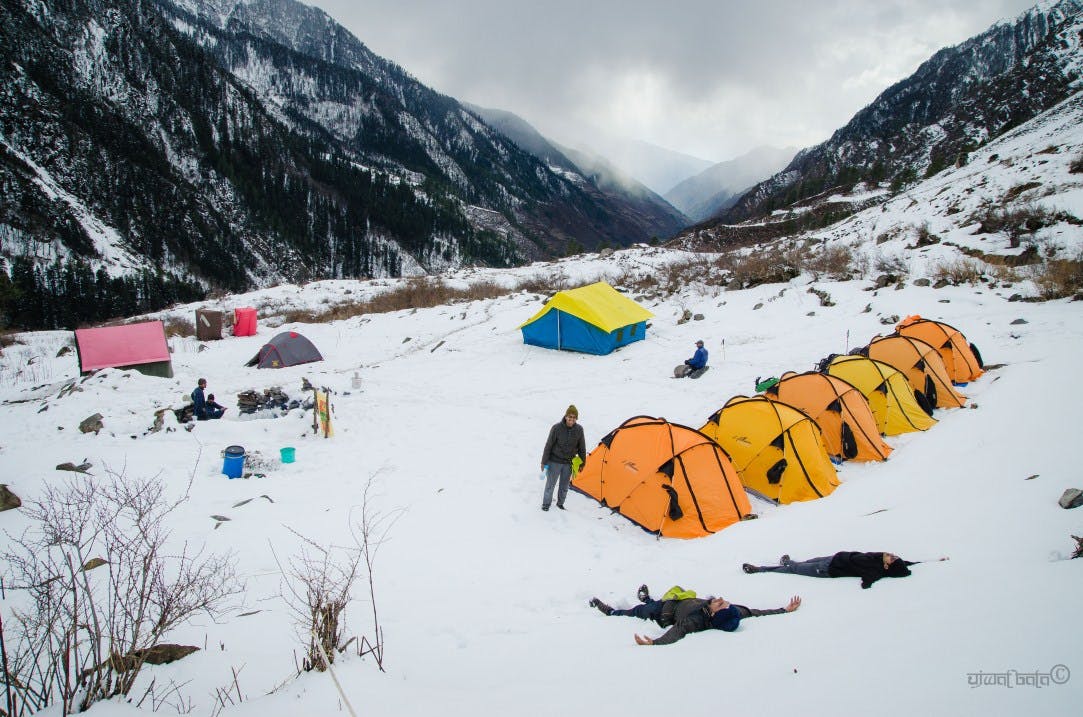 This is your next campsite: Kalkatiyadhaar. The trail ascends over the confluence of Supin and Ruinsara river to a vantage point of the mountains of Dhauladhar. Look out for Kalanag and Bandarpoonch peaks looming in the distance. You'll huff and puff through the steep climb but this beautiful campsite offers many rewards.
Day 4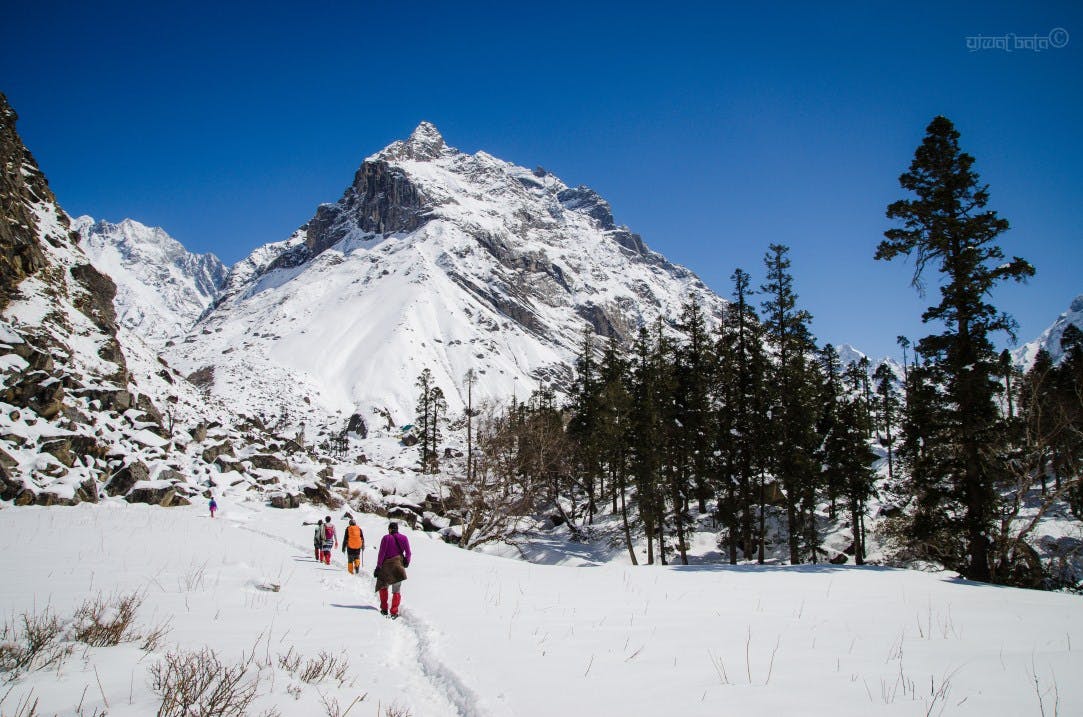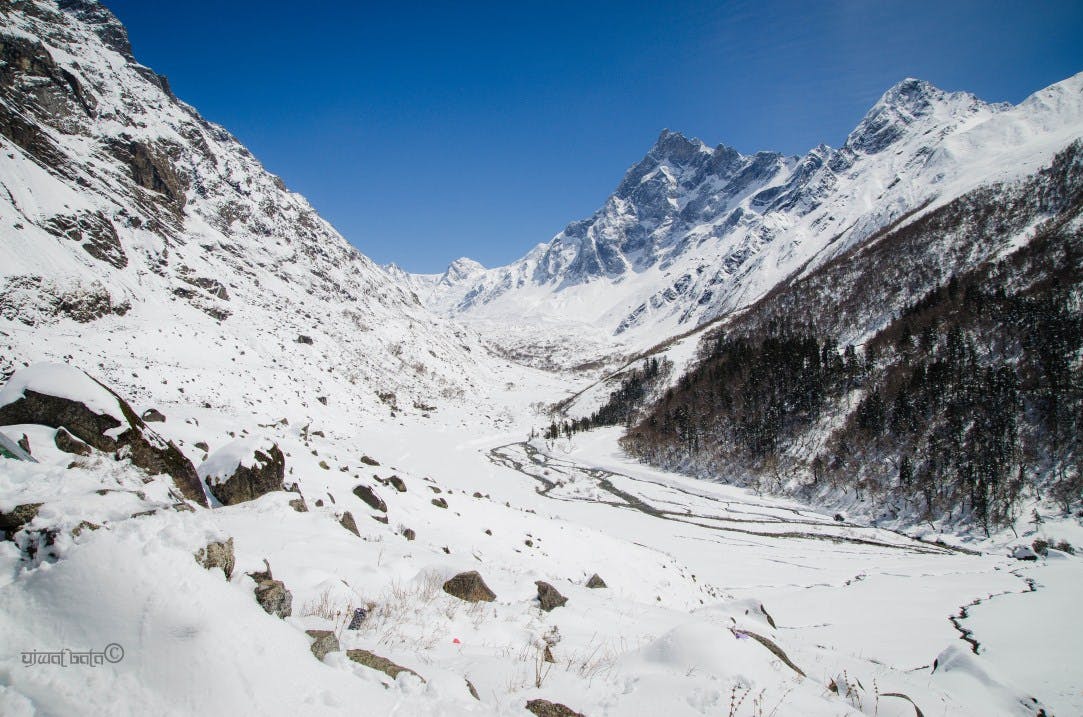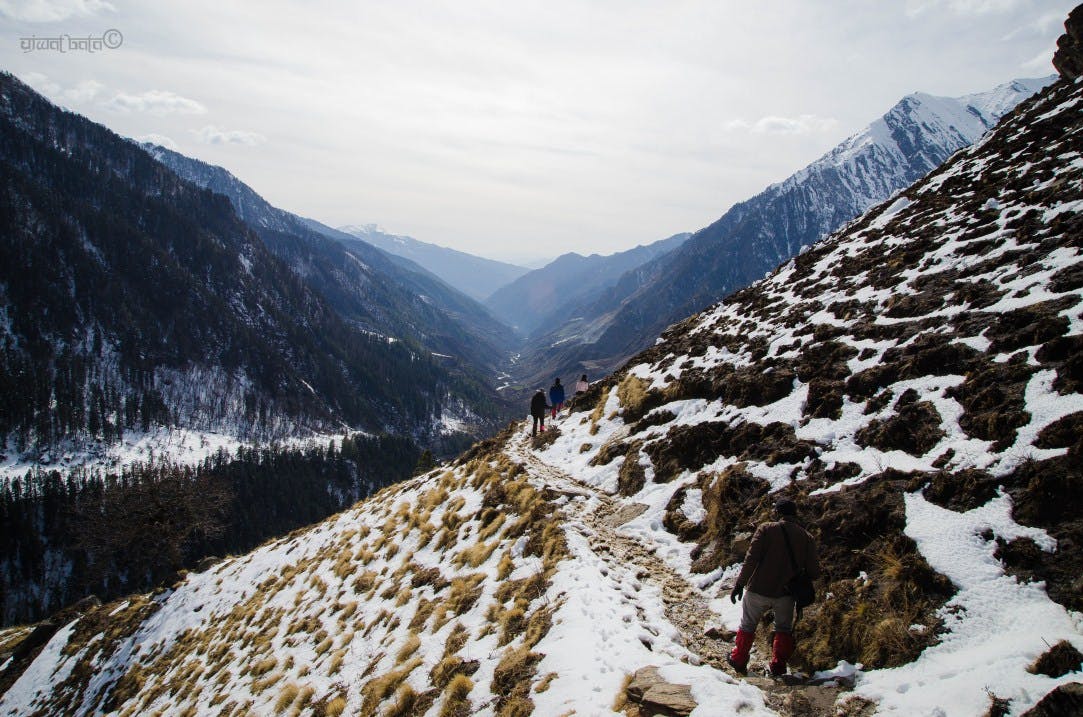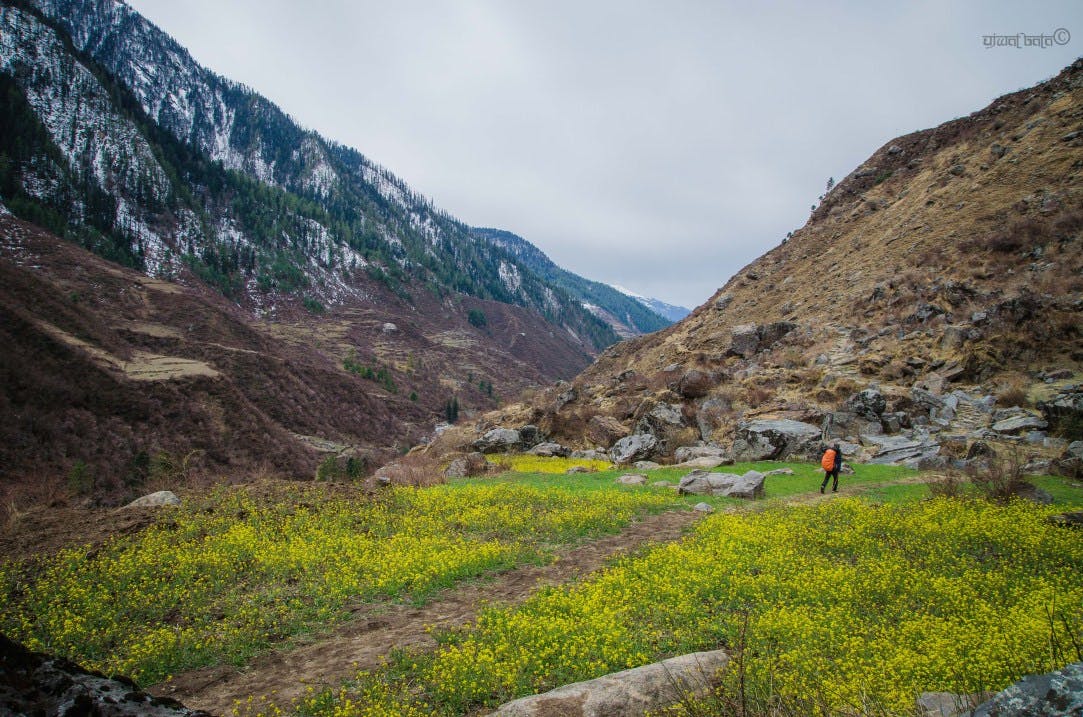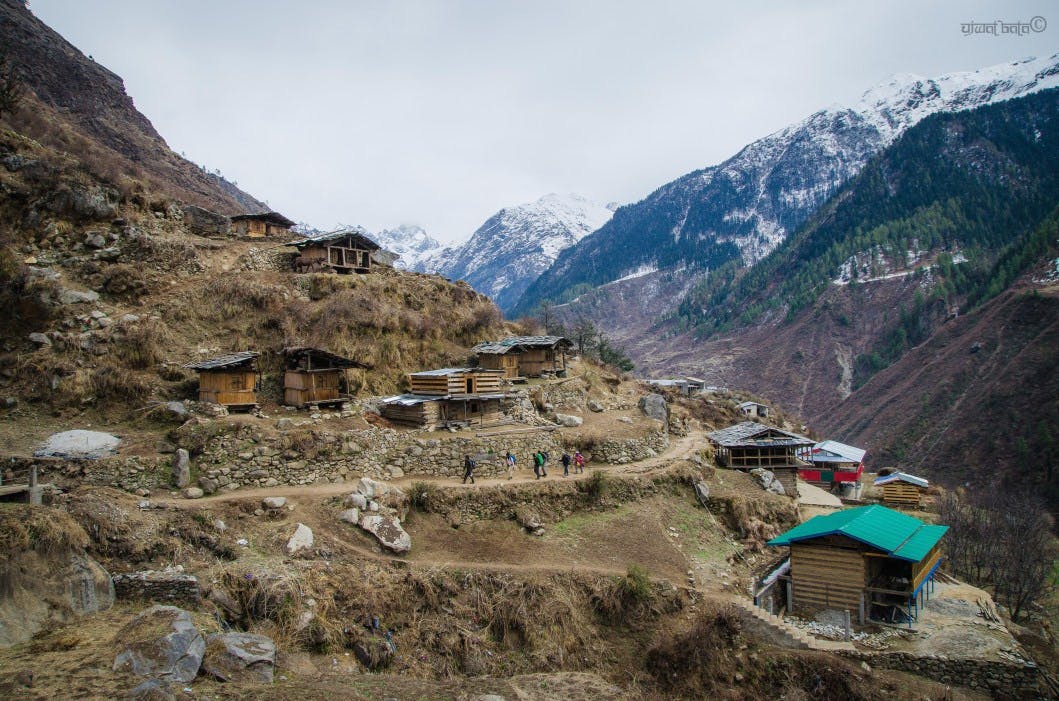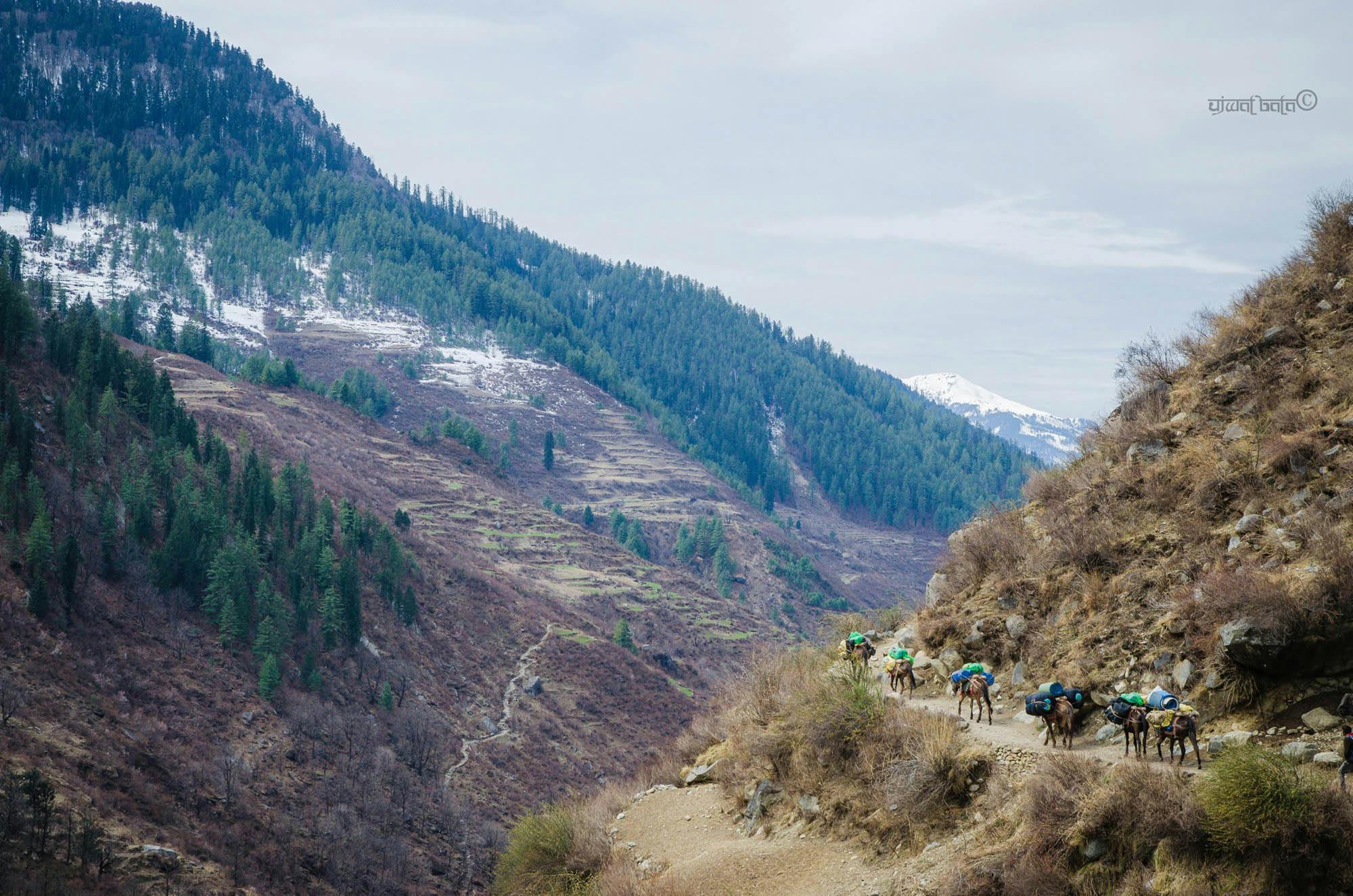 puranas
kantha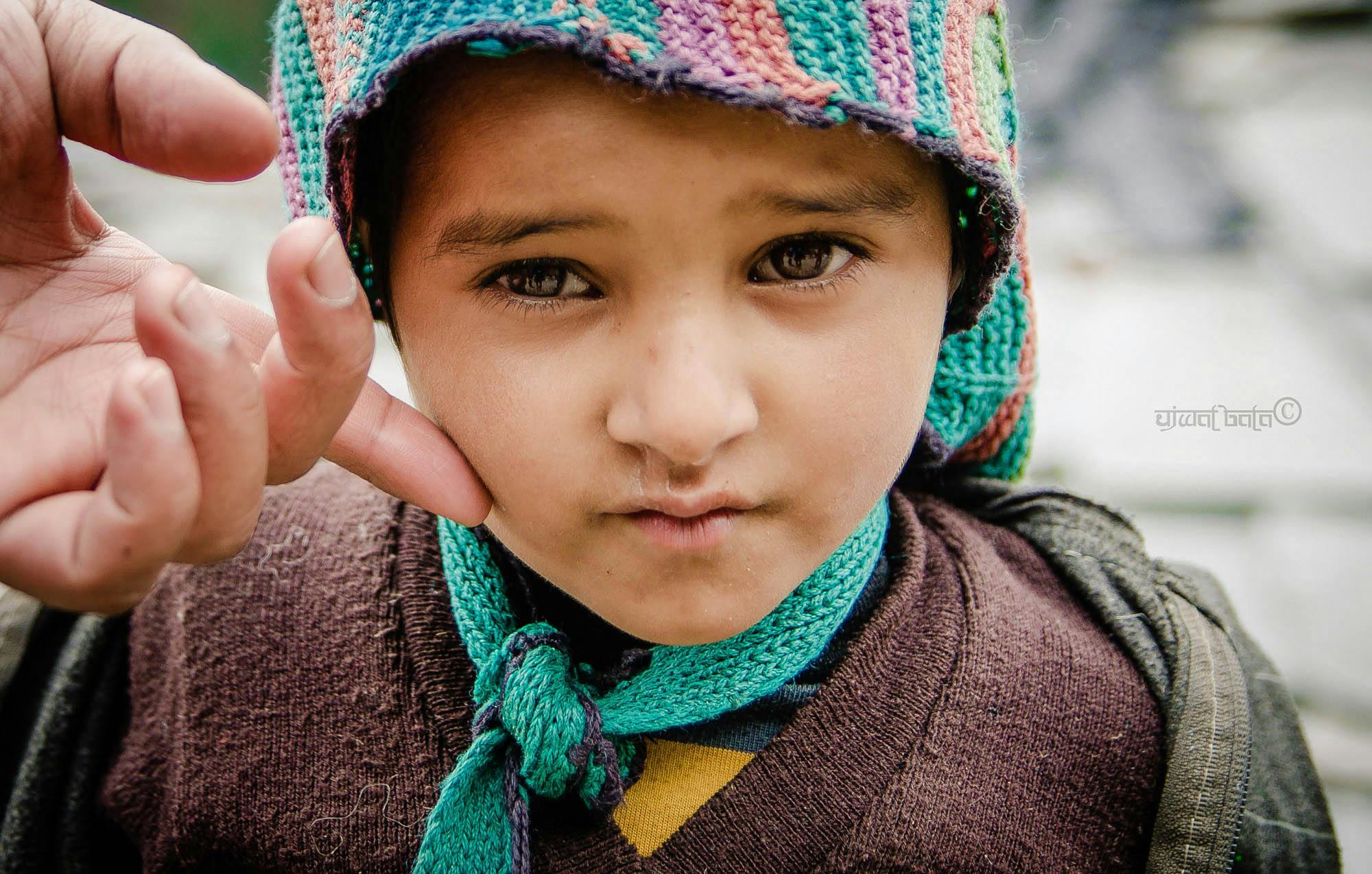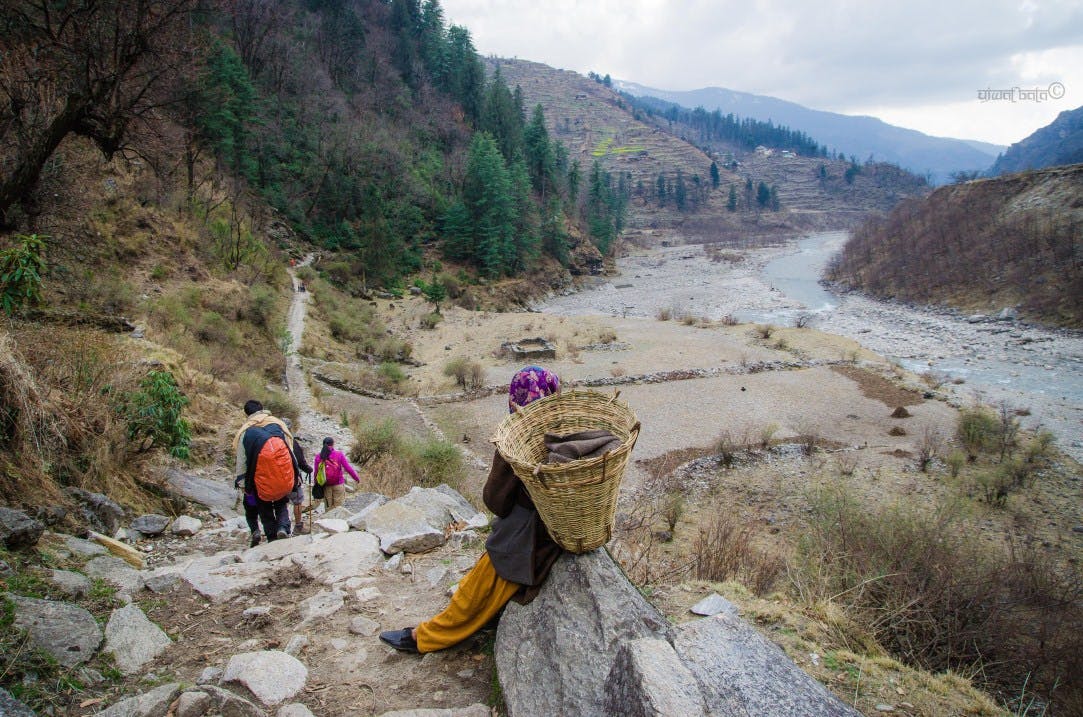 pahadi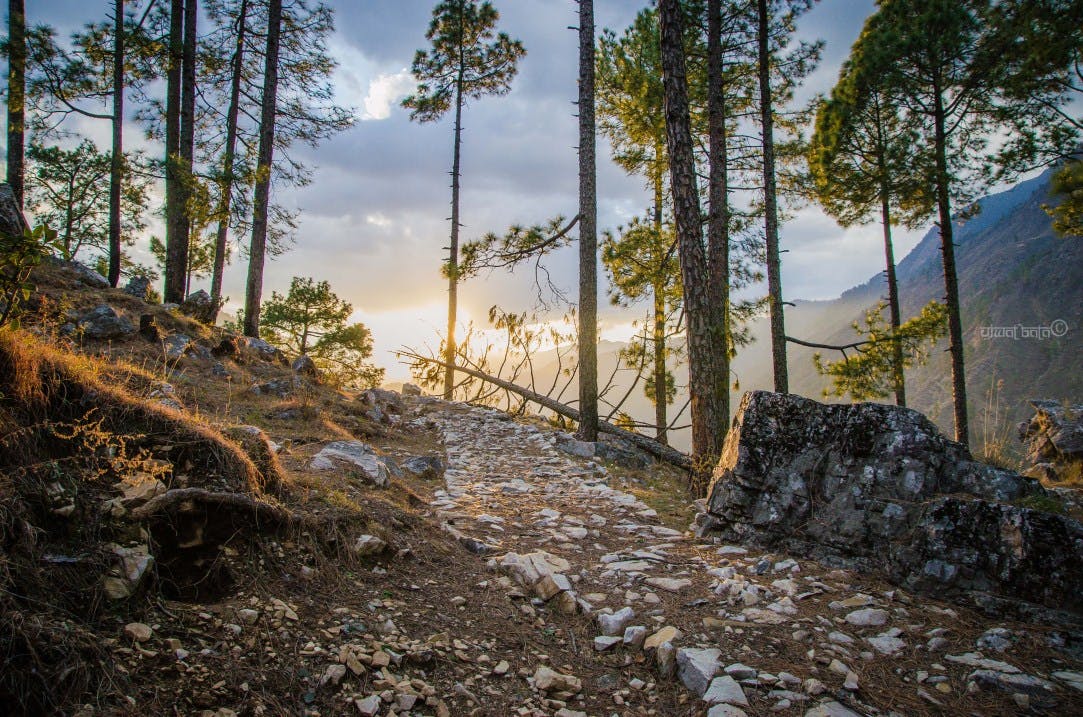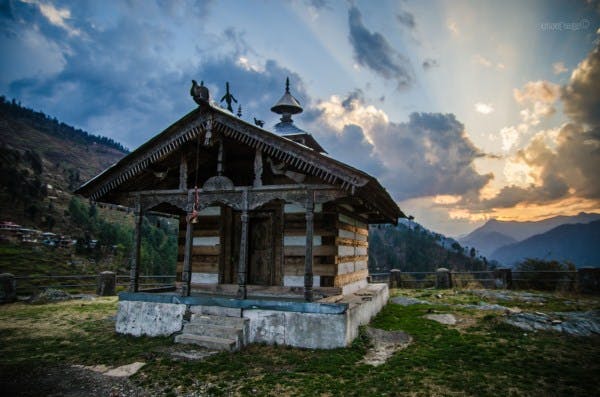 A 15 minute walk towards the village of Sankri and you'll find a staircase on your left- which leads straight to this temple of Bhairav devta. Bhairav is a fearsome avatar of Shiva.
The ending of a trek is never a happy thing. However, the drive back to Dehradun, through dense pine forests, is so beautiful that it dispels the somber mood. You know you'll come back to the mountains again.
Sign up for our much loved Weekly Mailer
We have terrific trekking tips, trek updates and trek talks to look forward to