Why The Har Ki Dun Trek Is Incomplete Without A Visit To Ruinsara Tal
Share this story
I have a confession to make. I was very reluctant to trek to Har Ki Dun (albeit before the introduction of the Ruinsara Tal) for many years. It is a popular trek. All our trekkers love it. It is also an ancient route steeped in culture and mythology.
I know that Har Ki Dun valley is breathtakingly beautiful. Yet something held me back from trekking to Har Ki Dun.
I felt 6 days were too long to go up for 3 days and come back down on the same route 3 days. 
I could not ever say this out loud but the qualm continued to exist. 
That is when Ruinsara Tal, which is just a valley away from Har Ki Dun came into our minds. It was right there. Almost like the obvious logical other half of Har Ki Dun. Yet we had not been there in 7 years. Now, I wanted to see it for myself.
And once I went there, I was bowled over.
While Har Ki Dun was a beautiful valley, living up to expectations, the addition of Ruinsara Tal brought in a lot more. 
Ruinsara Tal takes you to unseen, untouched parts of the same valley. Magical but deserted forest walks, clearings beside the river, Silver Birch forests popping in out of nowhere, and finally, a lake set in a remote valley sitting all by itself. If not for the addition of Ruinsara Tal you would miss all this variety.
Getting into more details, I'm jotting down three highlights of the Har Ki Dun – Ruinsara Tal trek, which are exclusive to the Ruinsara side. These are highlights that complete Har Ki Dun-Ruinsara Tal experience.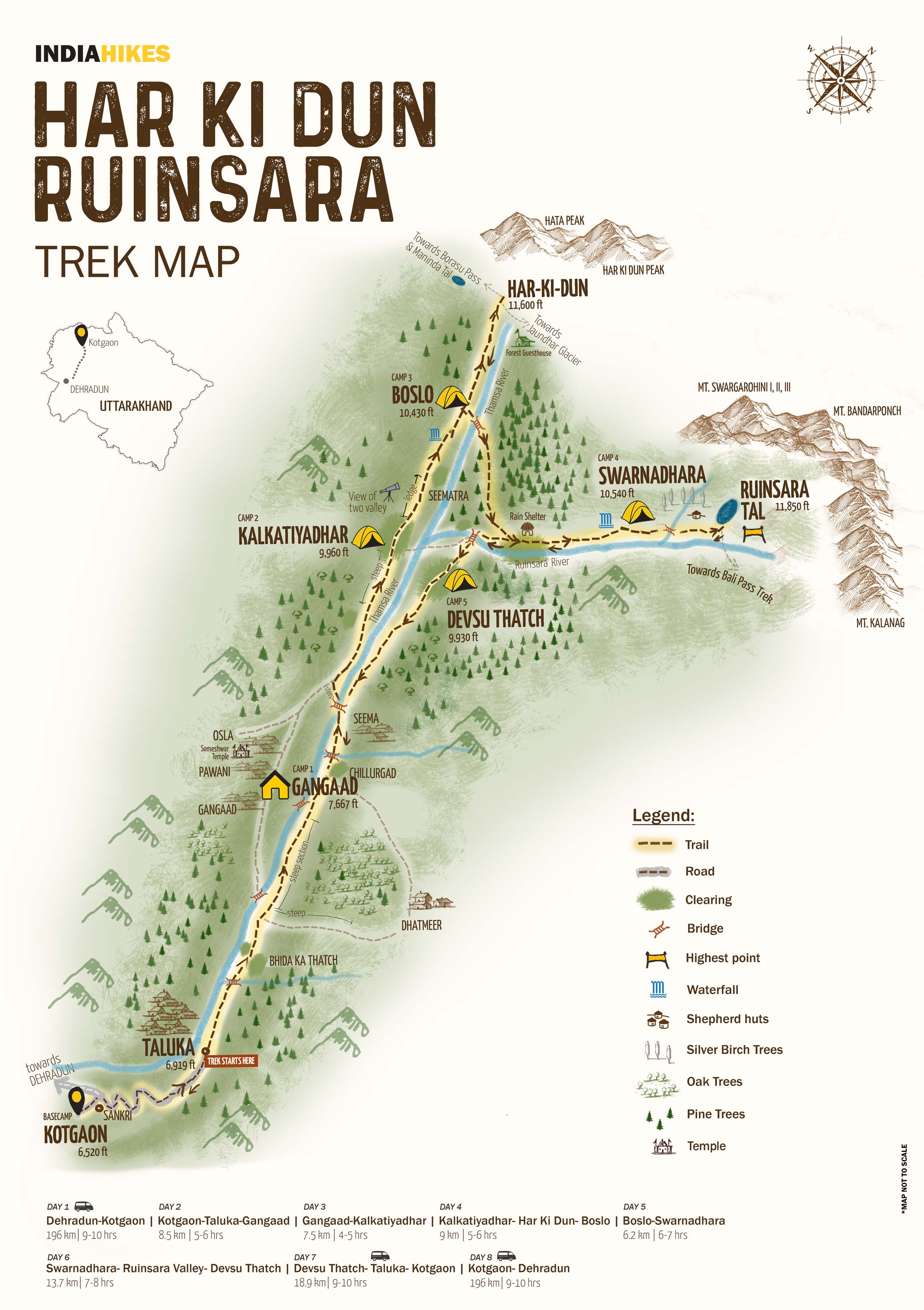 The jungle walk after Boslo
Har Ki Dun is beautiful. There are no two ways about it. But it does see a lot of footfall. You're likely to see many tents and trekkers from Kalkathiyadhar all the way to Har Ki Dun valley. 
But surprisingly, I noticed that the moment you turn away from the main Har Ki Dun trail towards Ruinsara Tal at Boslo, the crowd vanishes altogether! 
Further, at Boslo, a wooden log bridge over the roaring Thamsa takes you into what seems like the gates of a manicured forest. Huge pine trees reach out to the sky. The green roof lets little light to seep in even during mid-day. A well-marked trail makes its way amidst these tall pines for the next 3 kilometers.
Though desolate, the forest looks almost manicured. The shrubs, bushes, and trees make their presence felt but never feel overgrown. Lovely shrubs with leaves of various shapes and sizes grow on either side of the trail. Flowers are a bonus in spring but the jungle is mesmerizing all year round. And as a classic Har Ki Dun trademark feature, the trail is almost flat in the best sections. The forest walk is effortless and you wonder why it got over.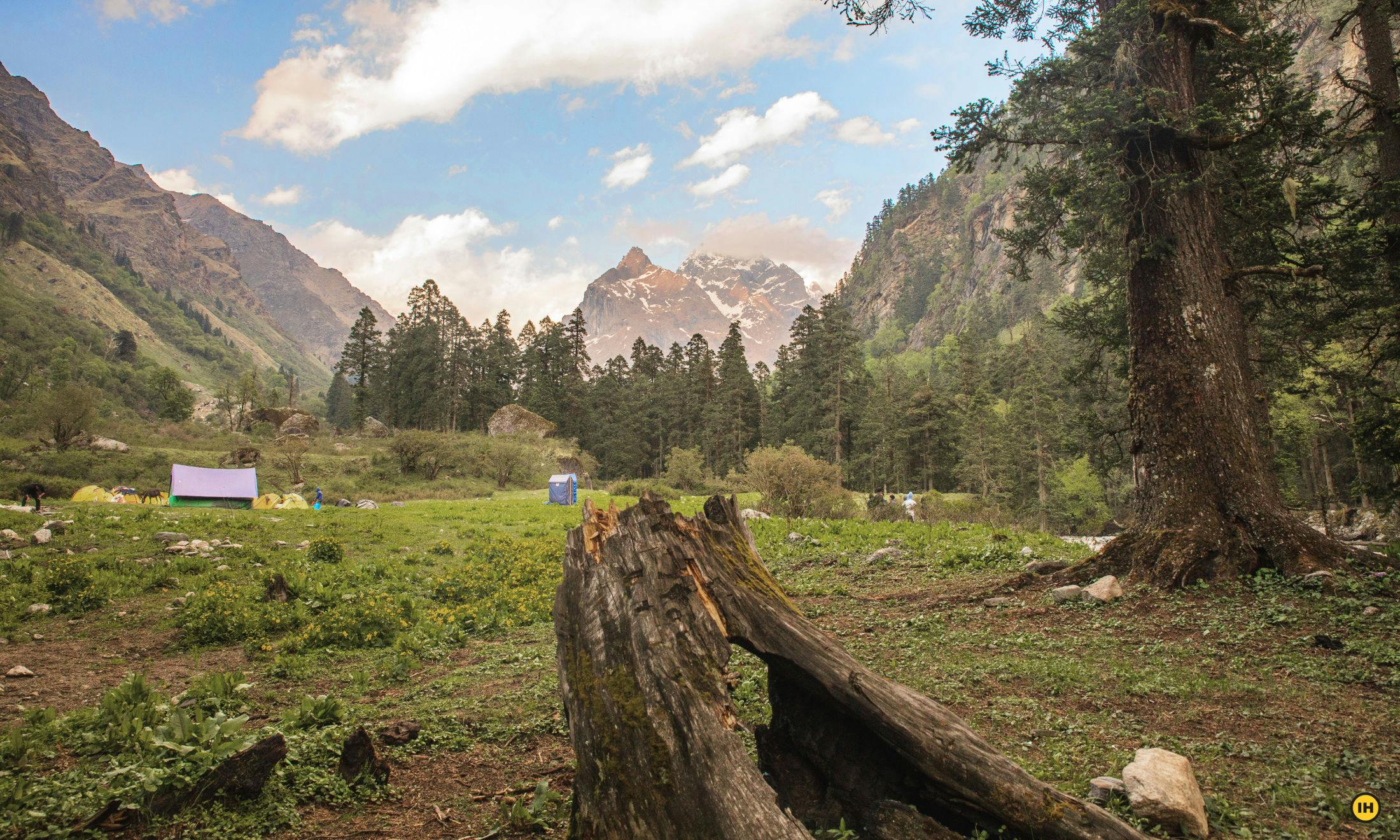 Ruinsara Tal and Ruinsara Valley – a place from another world
This forest in Bhoslo is the gateway to Ruinsara valley. When you come out of it, you enter another world. The river is now on your right — the Ruinsara Gad flowing down from the Ruinsara Tal. As the trail keeps up with the river, the valley begins to open up. Small meadows and snow peaks beckon you towards Untigad, your next campsite. The landscape steadily changes.
Untigad is a wide-open area with a huge patch of silver birch trees. The river flows right in the middle. A small climb up from Untigad you come to the actual Ruinsara plateau. You are closer to the mountains now and above the treeline. 
A small ridge stands beside the Ruinsara Tal. Climbing up, you realize that there is a wide river basin on the other side. You are amazed at the number of things packed in this small stretch. 
As you soak in the environs of Ruinsara Tal, you cannot help but take notice of how far you have come into another world. Even the Har Ki Dun valley seems like a lifetime away.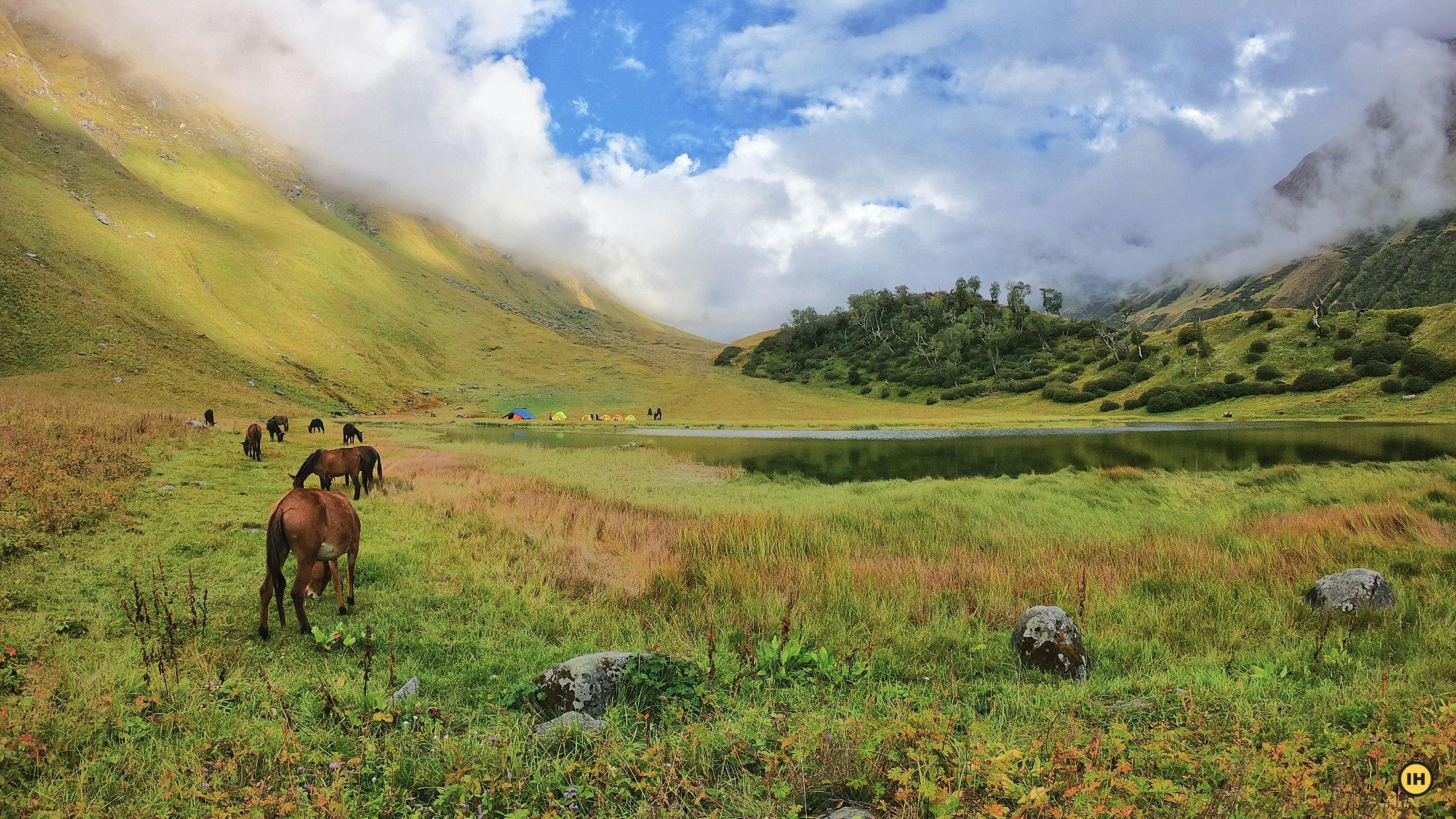 Saving the best for the end
I hate to give this away but Devsu Thatch is Har Ki Dun valley's best-kept secret. 
Unknown to most trekkers, there lies a beautiful meadow across the Thamsa river. Surrounded by thick pine trees, it is almost impossible to even guess that such a meadow exists here. But when you are returning from Ruinsara Tal, you suddenly get ushered into this wonderland.
After crossing the roaring Ruinsara Gad over the wooden shepherd bridge, the trail winds up through thick dark pines. Finally when you see light filtering through the pines, you get an inkling that a different scenery awaits here. 
Sure enough, you soon enter the grand meadow. 
The meadow flows on multiple levels. Each level exposes different scenery on the horizon. Some showing the Ruinsara mountains, some showing HKD valley, Kalkathiadhar, and the Osla side. Knowing that you are going to camp here will definitely bring a big smile on your face.
This multi-level meadow stretches at least 3 km wide. Being higher than Kalkathiyadhar, this vantage point gives you a bird's-eye view of the entire trail. You can spend at least a couple of hours in the evening exploring the meadows and taking in the scenery in the setting sun. 
In my opinion, Devsu Thatch is the best campsite on the trek and it appears just when you're thinking you've seen it all.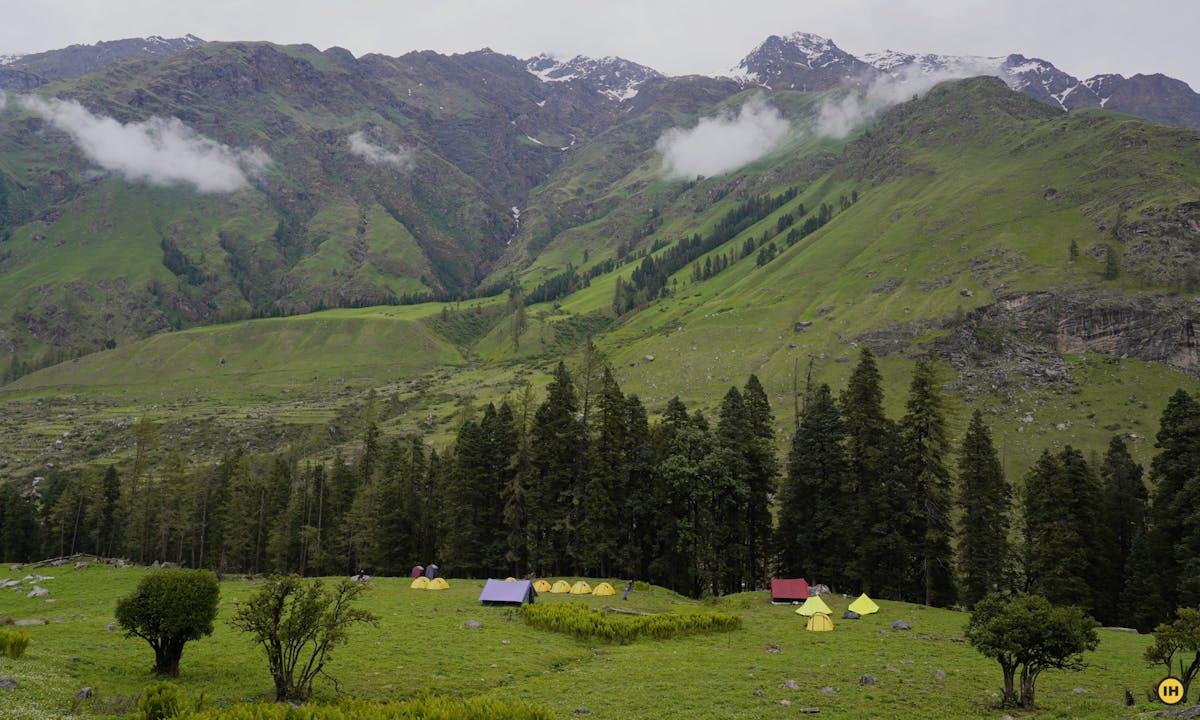 The Indiahikes camp at Devsu Thatch. Picture by Shishir Jain
In conclusion 
So these were my reasons on why you must not trek only to Har Ki Dun without Ruinsara Tal. 
Both these valleys are two sides of the same mountain region. They are very different and complement each other fully to make your trek complete.
Do them both as one circuit. It is not every year that you will go to the same base camp and the same trek route to see its two sides. The additional day you spend in doing both the valleys is worth its weight in gold!
What you should do now
1. If you want to read more about the Har Ki Dun Ruinsara Tal trek, see the dates and itinerary, head over to this page.
2. If you liked this post and want to read more such posts: Go to this page – You'll find many such Expert Opinions here.
3. If you're looking for treks to do: Then head over to our upcoming treks page. You'll find all our Himalayan treks there.
4. If you want to work with us: Head over to our careers page. We have lots of positions open. We also have lots of applications coming in. So the sooner you apply, the better.
5. If you want to see the 22 best treks in 2023: Then click here.
Sign up for our much loved Weekly Mailer
We have terrific trekking tips, trek updates and trek talks to look forward to