A doctor's view of the Stok Kangri trek
Share this story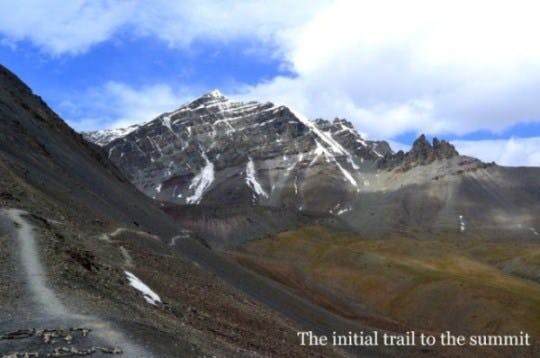 Q. Why did you choose this trek?
Well, I had two things on my mind. First, its formidable altitude and second, the picturesque Ladakh. Its barren landscapes, snow-capped peaks and clean azure sky have always lured me – and trust me, its mesmerising!
Q. How did you prepare for the trek? 
As per the guidelines set out by Indiahikes, I  worked out daily for 2 months before the trek. Along with the workout, I planned my daily diet and made sure I avoided junk food as much as possible. Trekking is commonly perceived as an endurance test of one's physical capacity. A common thing missed out by most of us is the fact that for any successful trek, apart from physical parameters, a significant role is played by our mental capacity and mindset. For that, I  practised yoga (including breathing exercises) twice a week.
Q. Stok Kangri is a high altitude trek. What kind of equipment and trekking gear did you prepare yourself with for the expedition.
While walking on ice you definitely need good quality crampons plus gaiters. To prevent injuries due to cold, like frostbite or trench foot, one can put a plastic/polythene layer in between two layers of socks. Trekking poles, when used correctly, are advantageous in reducing load on the lower limbs, increasing stability and reducing muscle damage. Headlamp is a must for the night trek to the summit.
Q. What was the most difficult part of the trek?
There were a couple of tough times where I had to push myself to the limit. The first time I felt I was losing my nerve was on the final stretch on the way to the base camp after crossing the river. The rocky trail was so monotonous; I had to motivate myself really hard to carry on. The second time was on the way up to the ridge – right below the summit. The never ending icy slope and thin cold air were really difficult to fight, both physically and mentally.
Q. Please mention some moments while on the trek that stuck the most in your memory.
The final push to the summit. Oh God how can I ever forget it! I still remember the sound of my breath growing louder and heavier with every laboured step. I felt like some invisible force was driving my mind and body all along towards the peak of my endurance. As a result, I was duly rewarded with a view and a moment that was truly 'beyond life!'
Q. As a team doctor, how was your experience and do you have any suggestions for the future trekkers? Also, could you guide us on dealing with high altitude sickness and the like. 
Well, opting to apply and work as a trek doctor was a tough decision as it carried  huge responsibilty. I had to be sure in advance about my own capability – physically, mentally and professionally. Thankfully, no one suffered from acute mountain sickness (AMS) on our trek. Few minor ailments like nausea, vomiting, diarrhoea, cough, cold, hyperacidity/heartburn, headache, bodyache, shoe bites are fairly common and mostly don't warrant active treatment.
As a doctor I would still like to highlight few points that are often neglected:
1. Please do take Diamox (Acetazolamide) regularly as advised. There are lots of misconceptions and myths regarding Diamox, which throughly should be cleared. Just go through some authentic literature on the Net.
2. One should know the importance of hydrating oneself in such hostile conditions. Dehydration is something that presents very acutely and similarly as AMS, but it's largely preventable by planning your fluid intake correctly.
3. Don't neglect your med-kit, in time of crisis you never know whats going to prove handy.
4. Lastly, I would like to say, while on trek please, don't feel shy or discouraged to share your problems with your trek doctor or guide, no matter how trivial they appear to be as they could be an early warning signs of something more serious and appropriate corrective measures can be taken in time.
Q. Do you have any suggestions for the future trekkers?
For me, trekking is not just a hobby, it's a never ending journey of self realisation. Each trek gives me a chance to discover myself in a better and newer way. Ironically, mountaineering and trekking are still in a primitive stage in India, while our counterparts in the other parts of world are scaling new heights everyday. Thanks to organisations like Indiahikes for infusing and igniting the spirit of trekking and mountaineering among Indians. There is still a long way to go but I am optimistic. Be an informed, disciplined and responsible trekker and I am sure there will be no dreams so high that they can't be reached. Happy hiking! 
Sign up for our much loved Weekly Mailer
We have terrific trekking tips, trek updates and trek talks to look forward to