How My Wife And I Did 9 High Altitude Treks With Our Baby
Share this story
M y wife, Srimati, and I had done five treks in the Himalayas until October 2010. The birth of our daughter, Tista, put a brake on this for a while.
We enjoyed watching Tista grow but yearned to return to the Himalayas. But as months passed, it was becoming almost impossible to stay away from the mountains.
Finally, in March 2011, fifteen months since our last visit to the Himalayas, we headed to Kaluk, a small car trip. This was to be the beginning of Tista's Himalayan adventures.
She was just 5 months old.
Tista's first trek
After returning from the Kaluk trip with Tista, we started thinking seriously about getting back to trekking.
Our last trek in 2009 had been an unsuccessful one from Baralacha La to Chandratal.
I was still very hesitant. In addition to the challenges of trekking in high altitude, Srimati would also have to tend to Tista. I did not want trekking to end up being a pain for her. But Srimati was very confident.
Srimati's excitement eventually got the better of my worries. Memories of her courage and strength on treks also came to mind.
When I was affected by AMS symptoms at Samiti Lake on the Goechala trek in 2007, it was Srimati who led me to the pass and helped me descend along with Krishna, our guide on that trek.
So, we planned a trek to Chintaphu in Nepal in October 2011. At approximately 12,000 ft, Chintaphu was a 12 km walk from a village called Maimajua in Nepal's Illam district.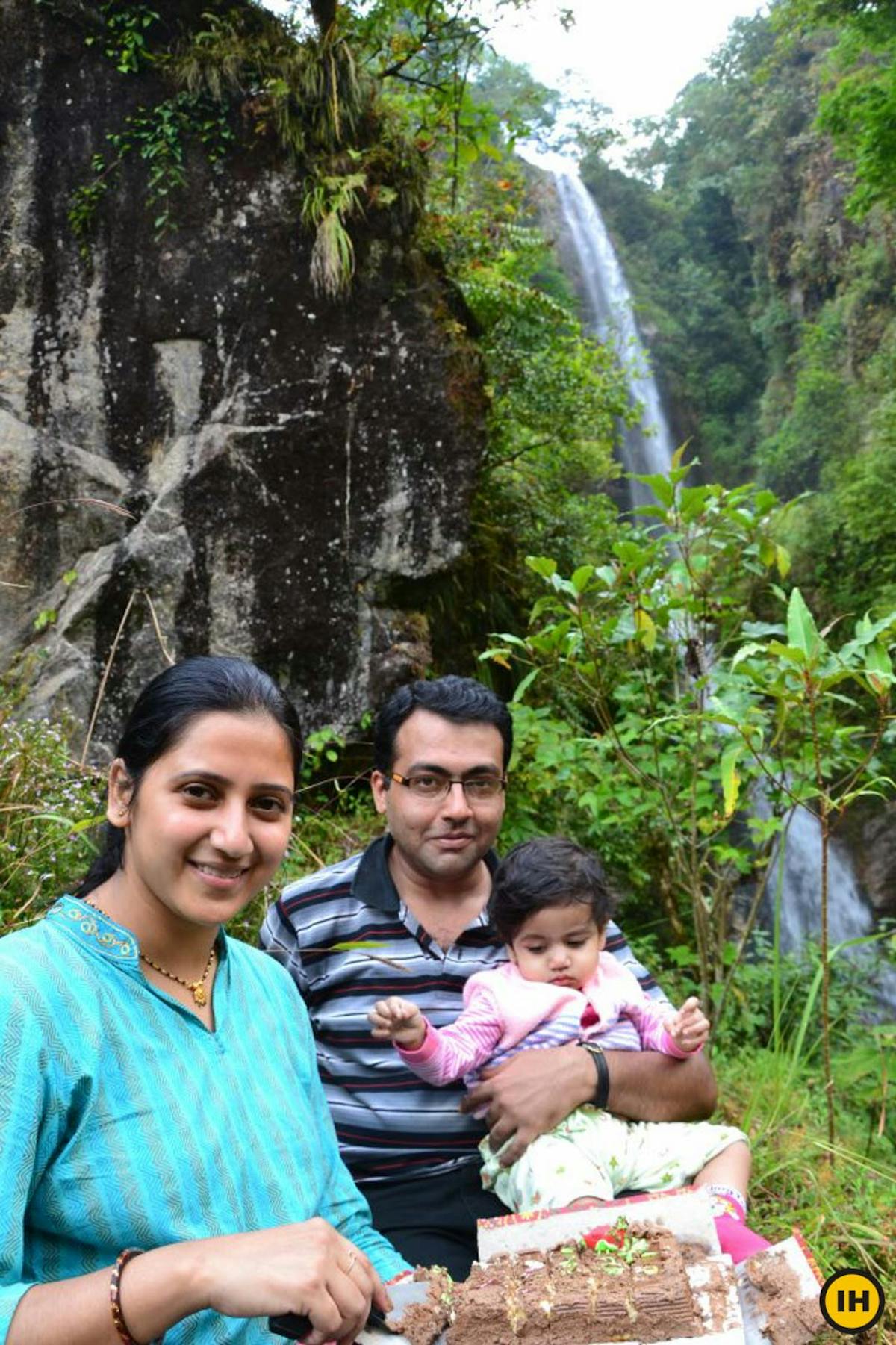 1st Birthday celebration of Tista under Torkey Jhora – Chintaphu Trek, Nepal
Not only did Srimati complete the trek comfortably, she even brought Tista out in her arms at 5.00 am to watch the sunrise!
Women indeed have some magical superpower, much beyond the cognizance of men.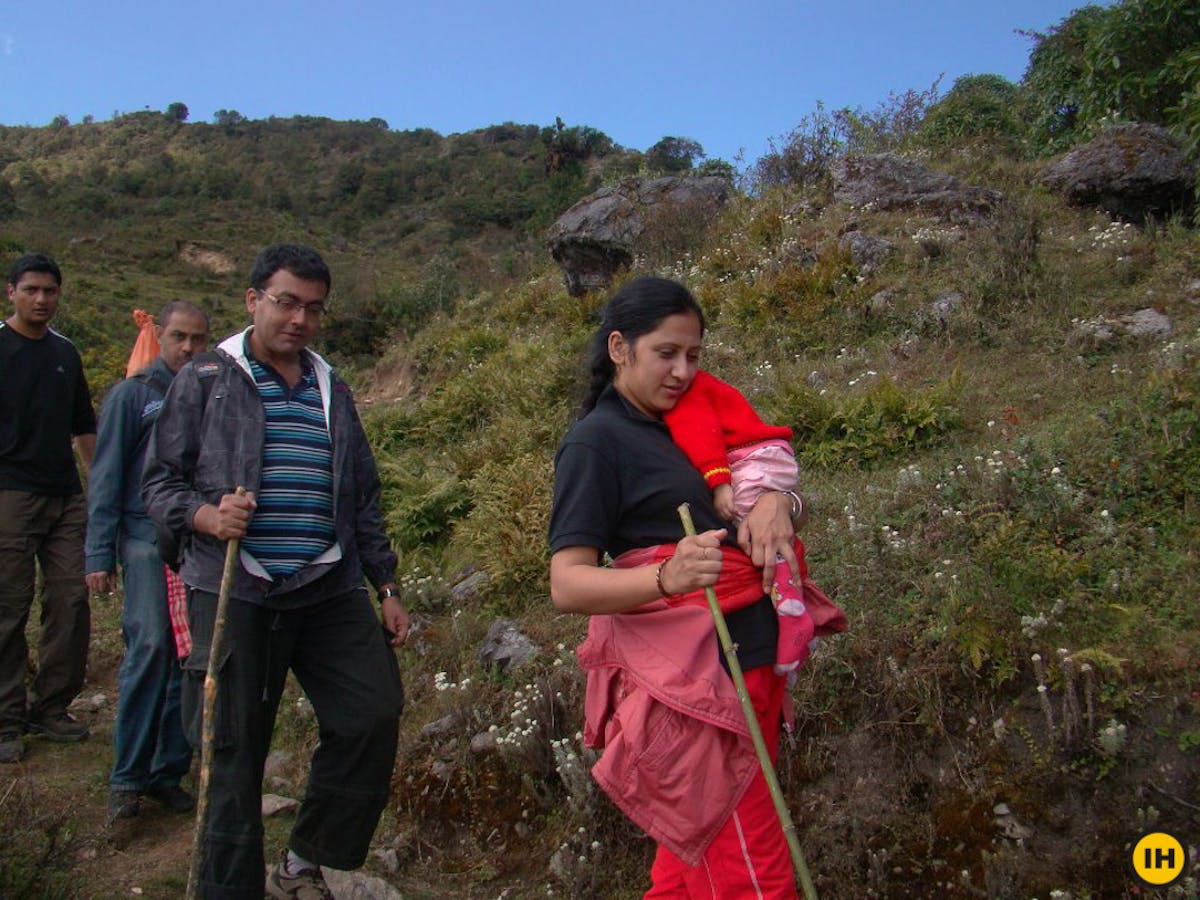 Srimati carries 1-year-old Tista on the trails of Chintaphu Trek as I follow behind.
We felt truly blessed as we took in crystal clear views of Mt Kanchenjunga, Mt Pandim, Mt Makalu, Mt Lhotse, Mt Everest and other mighty peaks in a row. Tista was one year old.
Getting familair with the mountains
After Chintaphu, we went to the Himalayas each year in 2012 and 2013.
First, to Chansal Pass and next, to Sach Pass. However, these were not really treks. We made a few day hikes to Nagasti-ITBP camp from Chitkul and Khanjar village from Udaipur-Lahaul-Himachal.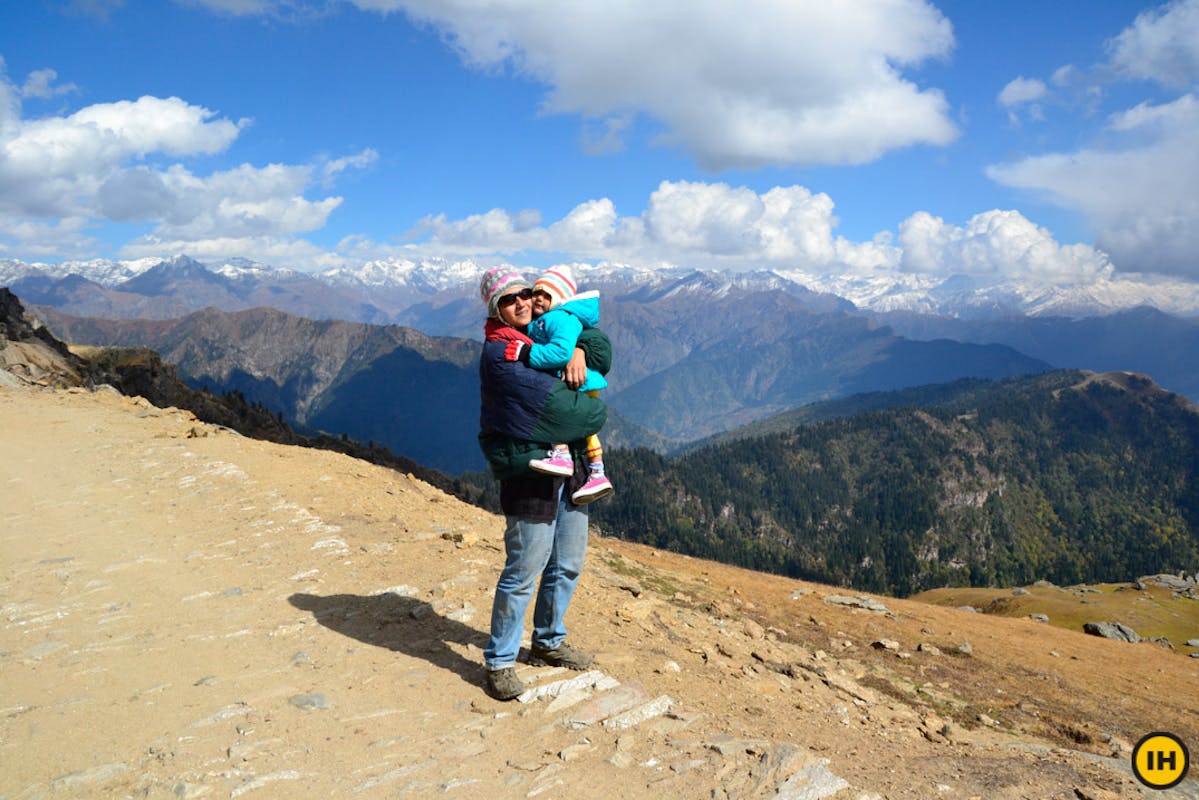 Srimati and Tista – the mother-daughter duo at Chansal Pass. Tista was around 2 years old.
This driving around and fitting in short hikes did not quench our thirst for the Himalayas.
We started planning 'proper' treks.
In April 2014, we trekked with Tista to Phoktey Dara in West Sikkim.
Tista was now 3.5 years old.
After this trek, there has been no looking back.
Full-fledged trekking with Tista
The trek to Phoktey Dara was followed by Bagini Glacier in Oct 2014.
Then came Panchachuli Base Camp in May 2015, Madh Maheshwar in Oct 2015, Kunt Khal in June 2016, Har Ki Dun in Oct 2016, Kedartal in May 2017 and Hampta Pass in Oct 2017.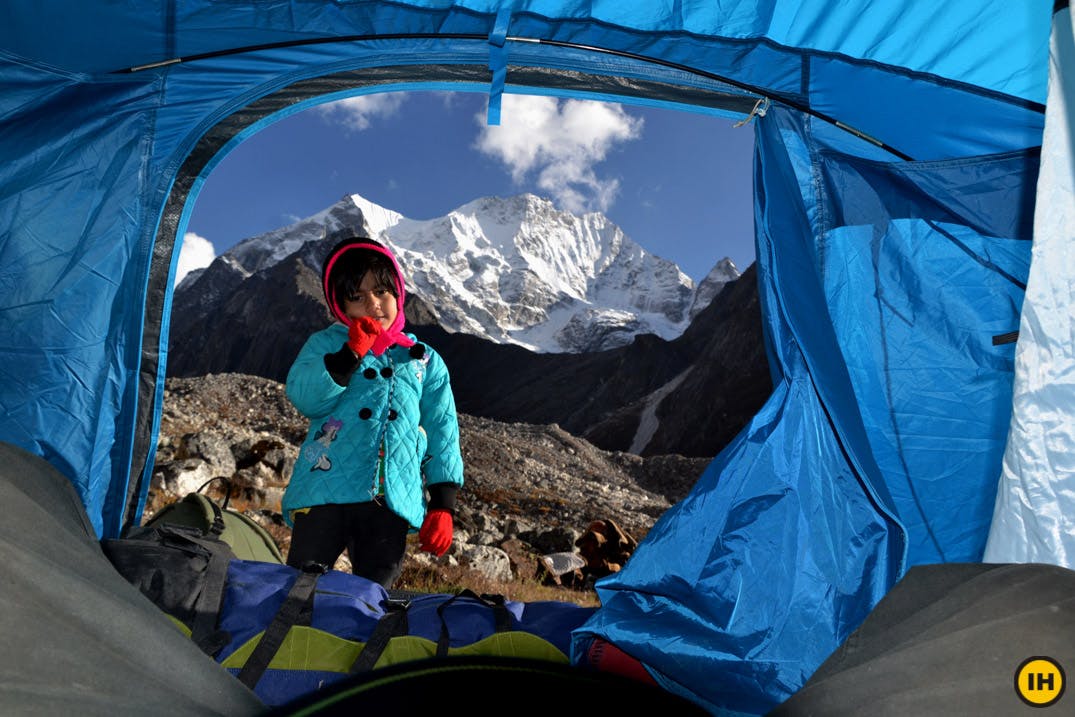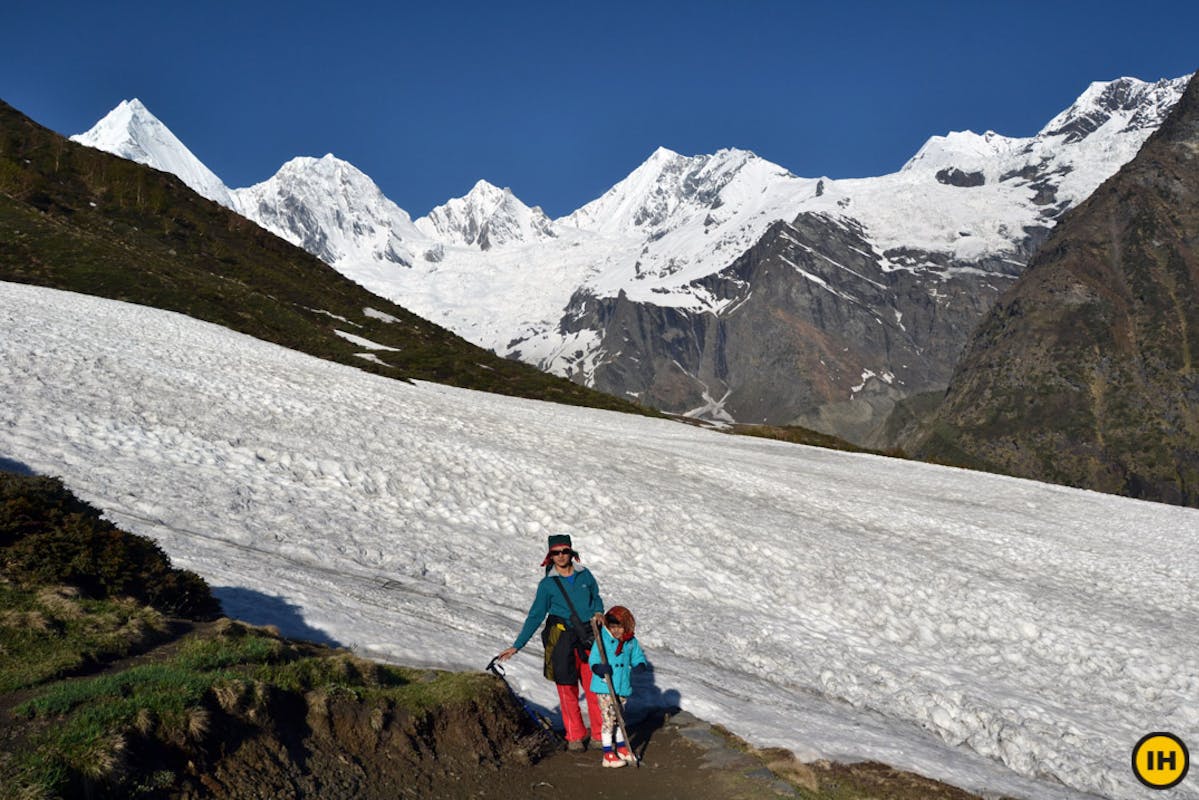 Srimati with Tista near Panchachulli Base Camp, Uttarakhand.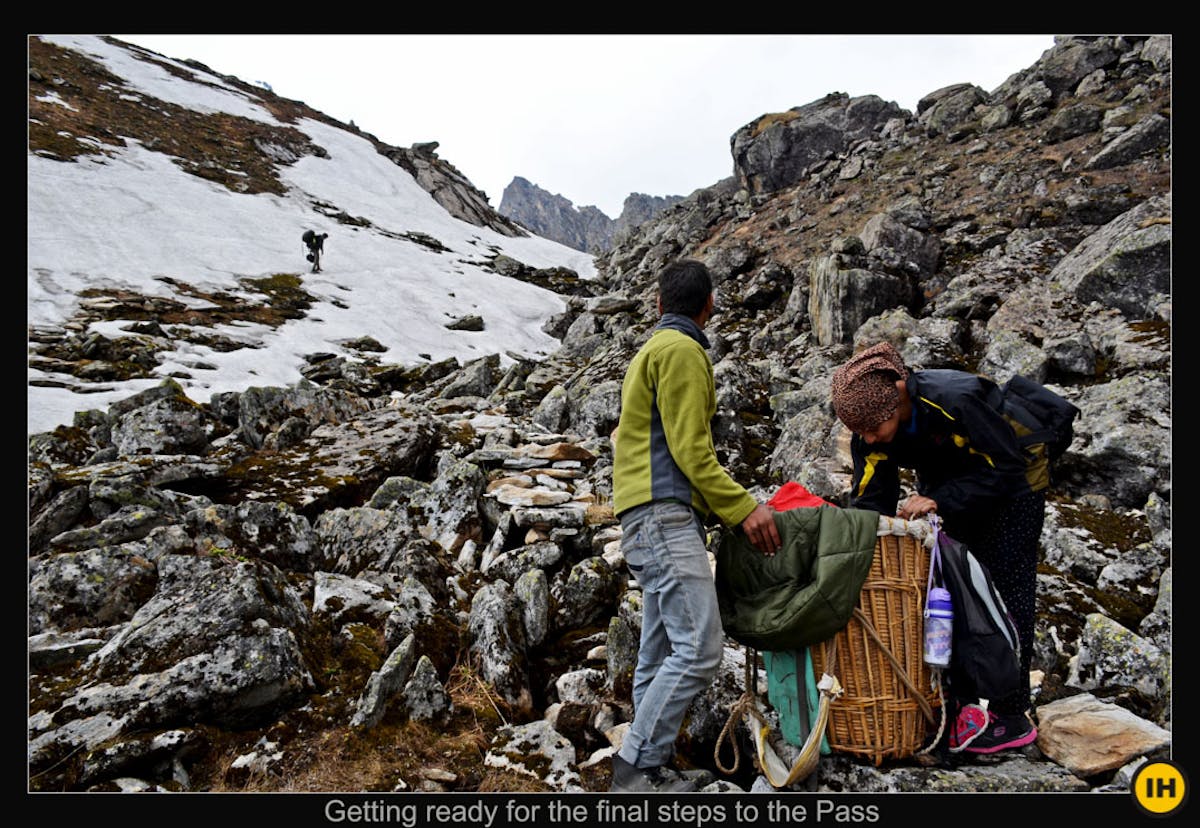 Srimati arranging the Kandi for Tista near Kunt Khal top, Valley of Flowers Trek, Uttarakhand.
How we manage our daughter while trekking
Srimati has her ways to ensure that Tista is always engaged at campsites. She packs her drawing books, colour pencils, an extra set of clothes and most importantly, her favourite doll!
Srimati is also careful not make trekking a very strenuous activity for Tista. She doesn't want her to lose interest in trekking because of the terrain.
For this, we always arrange for an extra porter to carry her either on Kandi or Baby Carrier. At Hampta Pass, it was Tista's horse, Badal, who carried her across and she managed quite well on the horse.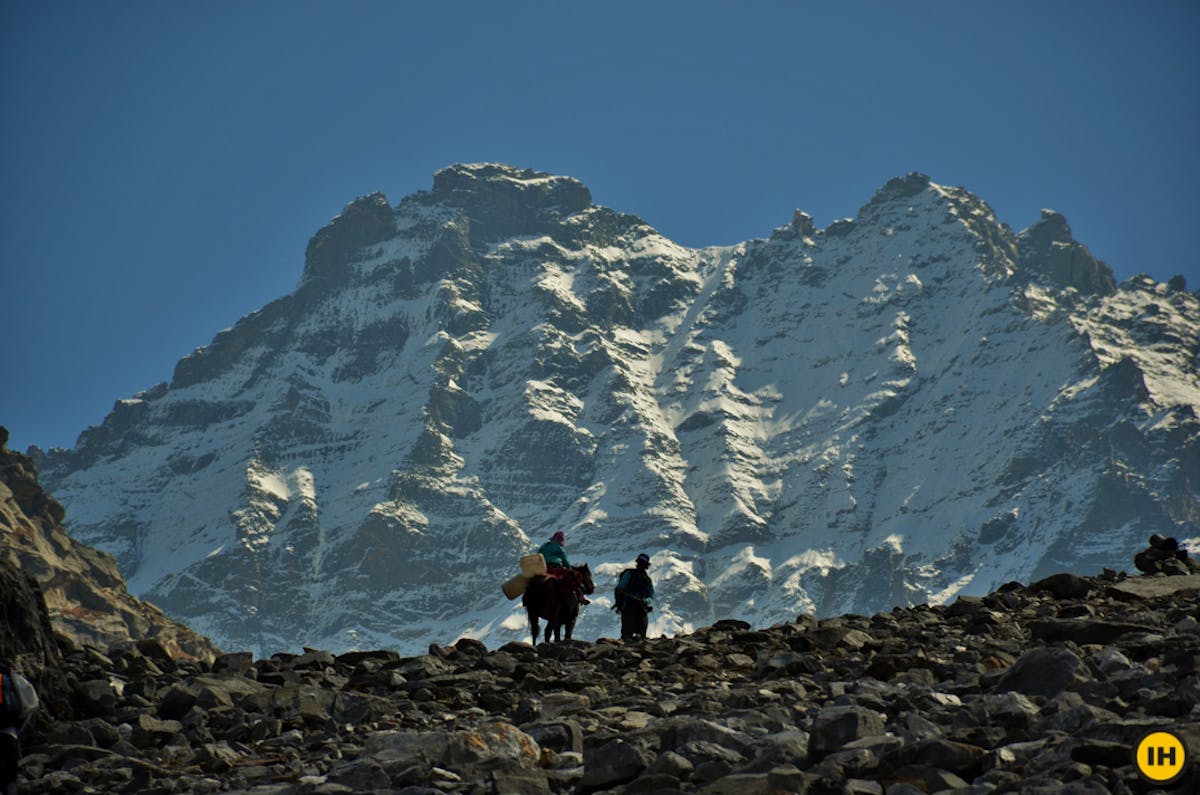 Tista on her horse, Badal near Hampta Pass, Himachal Pradesh. She was 7-years-old when she did this trek.
Inculcating green practices in our daughter
My wife is very much concerned about nature and ensures not to leave any sort of garbage behind us in the mountains.
She has been constantly raising this awareness in Tista as well.
Tista has, in turn, imbibed this love for nature and at seven years, deeply respects mountains.
I highly appreciate the courage, enthusiasm, love and respect for the Mountains that Srimati possesses. This is something that is helping us constantly to return to the Himalayas time and again.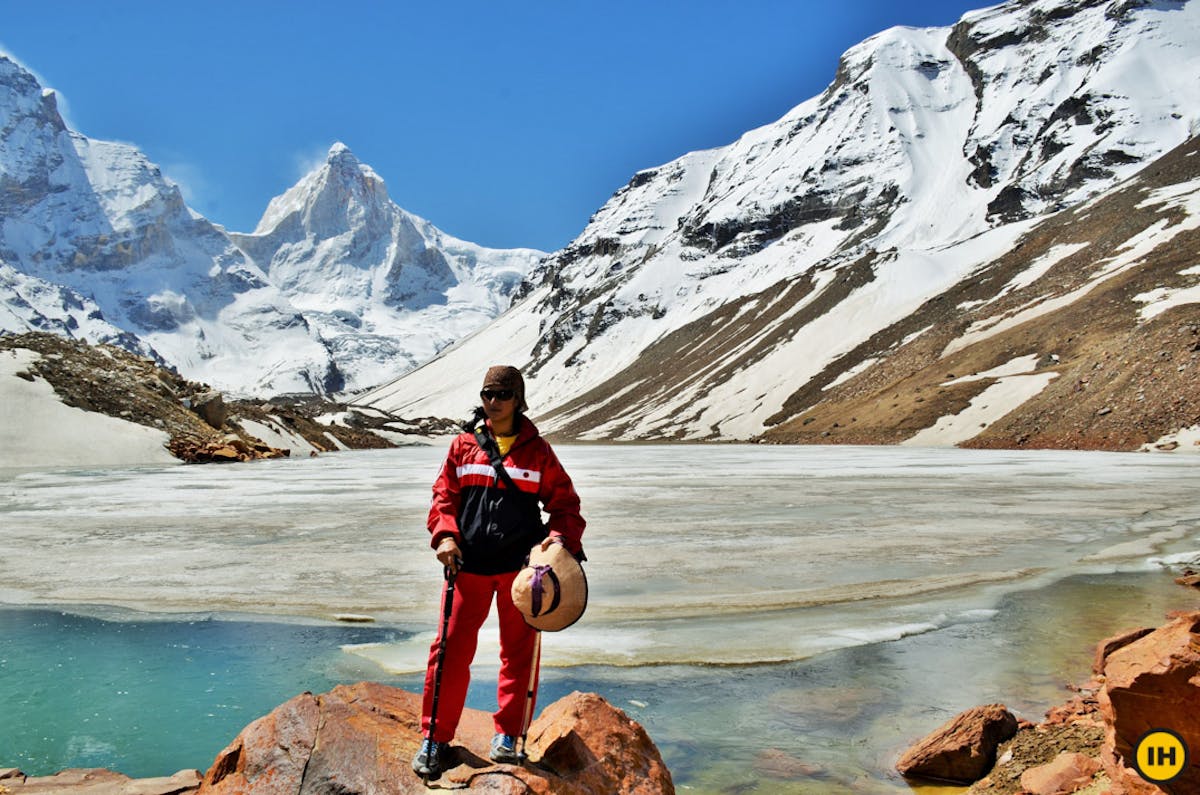 A defiant Srimati poses at Kedartal.
Here's a full record of the treks we have done with our daughter ever since her birth
1. Kaluk in Sikkim at age of 5 months
2. Chintaphu in Nepal at age of 366 days
3. Chansal Pass – Oct 2012 and Sach Pass – Oct 2013 (Car tour)
4. Phoktey Dara – April 2014
5. Bagini Glacier – Oct 2014
6. Panchachulli BC – May 2015
7. Buda Madh Maheshwar – Oct 2015
8. Kunth Khal – June 2016
9. Har ki Dun – Oct 2016
10. Kedartal – May 2017
11. Hampta Pass – Oct 2017
A note by the Editor
It is heartening to see women like Srimati who make the seemingly impossible, possible. We salute her 'never say never' attitude. A big shout out to Anirban who endlessly supports his family on this noble feat.
Little Tista is lucky to have such parents. We wish them very best in their future endeavours.
As a follow-up, if you're looking to trek with your children, we highly recommend that you read this article, which tells you of a few good treks that you can take children on. 
What you should do now
1. If you want to read more such inspiring articles: Head over to this section.
2. If you want to work with us: Head over to our careers page. We have lots of positions open. We also have lots of applications coming in. So the sooner you apply, the better.
3. If you ended up here by chance and were actually looking for treks to do: Then head over to our upcoming treks page. You'll find all our Himalayan treks there.
4. If you want to see the 13 best treks of India: Then get our guide here.
Sign up for our much loved Weekly Mailer
We have terrific trekking tips, trek updates and trek talks to look forward to