Can you Trek at High Altitude with High Blood Pressure?
Share this story
At Indiahikes we pride ourselves to be the safest trekking organisation in India. It is natural that our conversations often revolve around how to make high altitude trekking a safer experience.
Today, we discuss whether trekkers with high blood pressure levels can trek at high altitudes.
Very often, we are asked about why we take BP readings before trekkers start their treks. A lot of trekkers end up frustrated when we turn them around because of a severe rise in blood pressure.
It's an often misunderstood concept, yet something extremely prevalent among trekkers.
Lakshmi Selvakumaran, our Head of Learning and Development team, estimates that there is at least one person with high blood pressure when we take BP readings at the start of the trek (that is one in 20).
To understand this topic better, I spoke to a few experts at Indiahikes and outside. I interviewed Dr. Sreelakshmi Thirumoorthy at length. Dr Sree is our go-to medical practitioner. She is a high altitude trekker and a keen researcher on the effects of high altitude on human physiology.
I also spoke to Sandhya UC, the co-founder of Indiahikes, Vijeet Shaw, a senior Trek Leader at Indiahikes and Reena Shah, an experienced high altitude trekker and physiotherapist.
Let's start with the basics.
How does altitude affect blood pressure levels?
"Having observed trekkers for over 12 years, I can say there is a direct impact of altitude on blood pressure," says Sandhya UC, co-founder of Indiahikes.
"We've seen that trekkers who have completely normal readings in the plains show higher BP readings when they reach the base camp. Many of them are surprised by this. But this is normal at high altitude," continues Sandhya.
Trekker and physiotherapist Reena Shah agrees. "My BP shot up to a reading of 190 (systolic) right at the base camp of Kedarkantha. I have a known case of hypertension. But it was in control without medication for over 4 months before my trek. I have been trekking for many years, and I've seen this happen to me at Sar Pass, Hampta Pass and most of my other treks," she adds.
While it's normal for one's BP to rise, it gets worrying when it rises beyond a certain point.
"We have seen that trekkers with uncontrolled blood pressure are more susceptible to strokes and heart attacks," says Sandhya, who has been witness to such a situation herself, when a trekker suffered a cardiac arrest without warning. Only later did we learn from his family that he had an existing issue of hypertension. 
"Your pulse increases considerably when you climb to high altitudes. It is your body's way of acclimatizing. Along with a high pulse rate, such high exertion can be detrimental for those with high blood pressure," she adds.
Reena adds, "It's also medically known that blood pressure is generally higher in winter or cold temperatures. Because of the low temperatures, your blood vessels narrow down. This means more pressure is needed to push blood through your arteries and veins. So when you're on a high altitude trek in the Himalayas, it's natural for one's BP to rise, especially those who are already hypertensive."
Since high BP has no observable symptoms, it can get even riskier. This is why our Trek Leaders always carry a sphygmomanometer in their high altitude medical kits.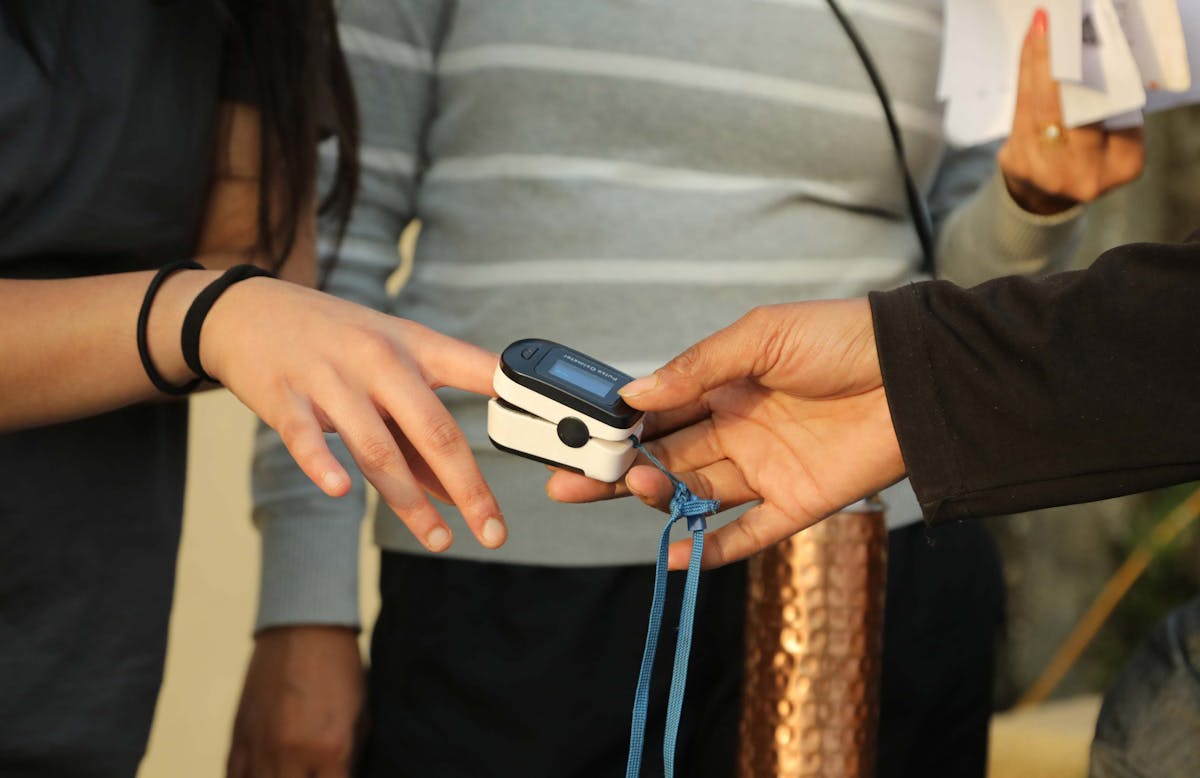 Your pulse increases at high altitudes to acclimatize better. Along with an increased pulse and high exertion, high blood pressure could put you at risk.
"Frankly, there aren't too many medical studies on how altitude affects blood pressure. But our Trek Vitals app data, which we are studying now, will be crucial in helping us understand the effects of high altitude on blood pressure," says Sandhya.
For a detailed understanding of what happens to your body on a high-altitude trek, click here.
I have high blood pressure. Can I sign up for a high altitude trek?
The short answer, according to Dr.Sreelakshmi, is YES, you can. We've had many trekkers with a history of high blood pressure trek with us successfully.
If your blood pressure is under control and stable, and you have been engaging in regular physical activity, you should have no problem going for a high-altitude trek.
If you have poorly controlled or very labile hypertension, you should consult a doctor, get your blood pressure under control for at least one month before heading out to the mountains.
"This is where I would suggest that trekkers with a history of hypertension start off with easier treks that climb to just around 12,000 ft. These treks would help them test the waters at high altitudes, yet, they'd be able to exit quickly in case the need arises," advises Dr. Sreelakshmi.
This table will give you an understanding of whether or not you can trek with your history of Blood Pressure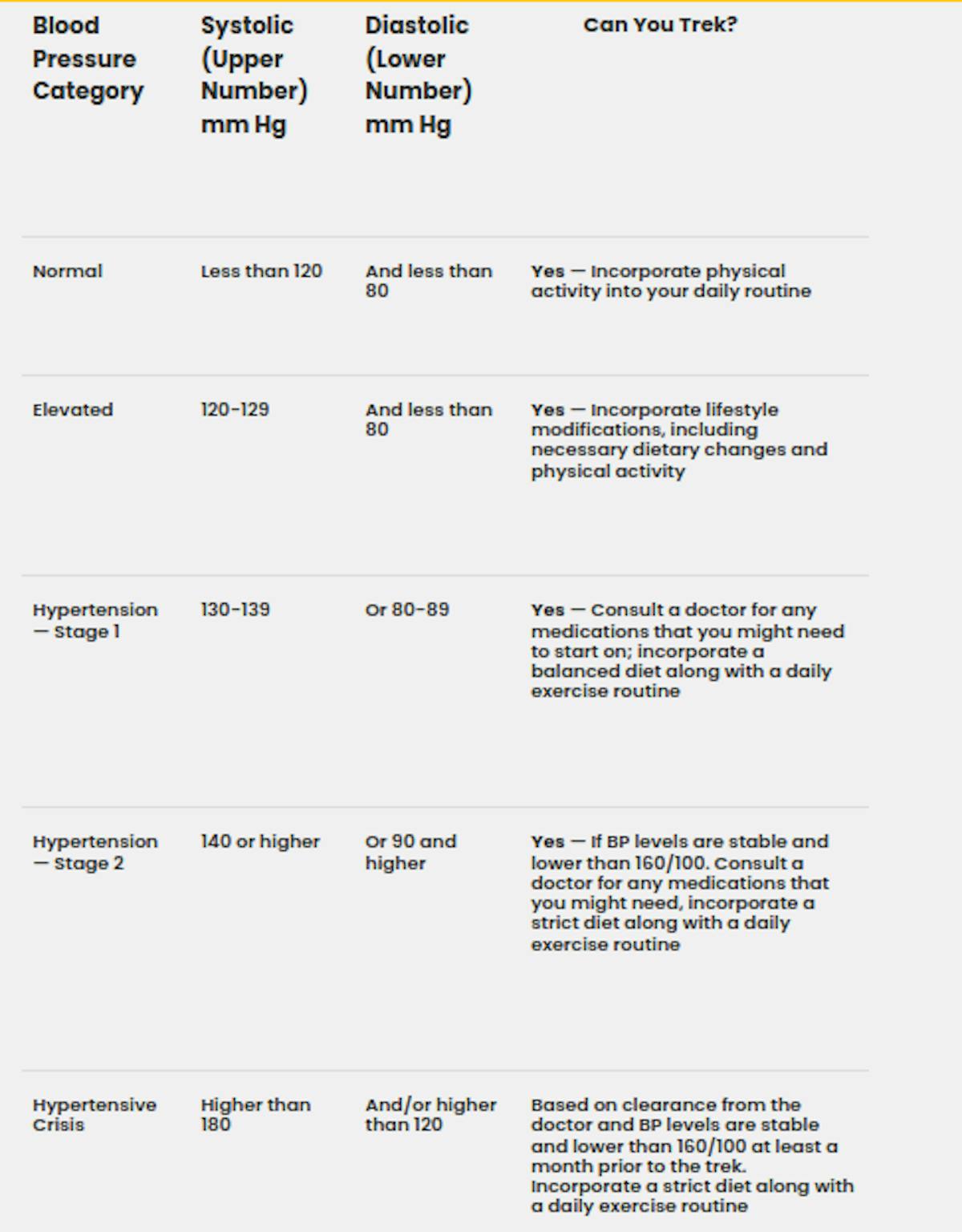 Based on clearance from the doctor and BP levels are stable and lower than 160/100 at least a month prior to the trek. Incorporate a strict diet along with a daily exercise routine
What are the blood pressure guidelines that Indiahikes follows?
 At Indiahikes, we take blood pressure readings of all our trekkers at the base camp on the first day of the trek.
Our criterion is that your blood pressure readings are lower than 160/100 before setting off on a trek.
This number has been decided upon after consulting with medical experts and our experience with trekkers with high BP or heart conditions.
Those who have readings at or just slightly above the cut-off mark are encouraged to take an extra day to acclimatize to see if their blood pressure readings fall within our permissible limits. If possible, they can even join the next group heading for the trek.
While this might be disappointing for trekkers, we believe that the health and safety of those trekking with us come first and foremost.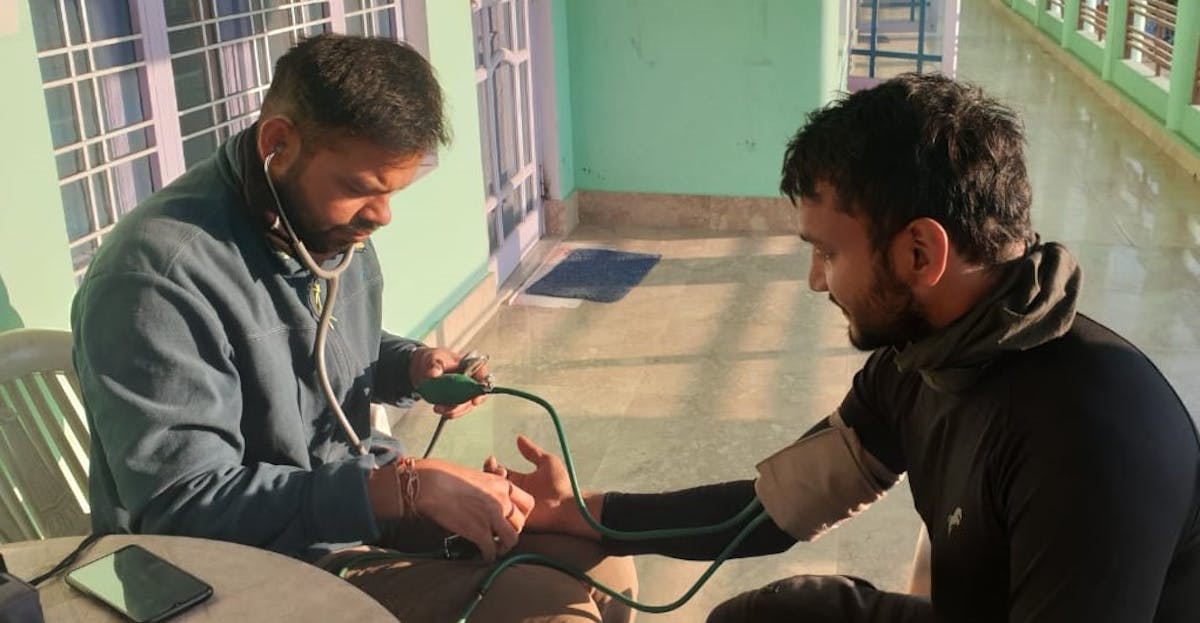 Indiahikes Trek Leaders take down blood pressure readings of all trekkers at the base camp. They keep a close eye on trekkers with high BP and return trekkers whose BP rises above 160/100 mm Hg.
On the other hand, our senior Trek Leader, Vijeet Shaw, brings my attention to the possibility of blood pressure levels dropping low during a trek.
While low blood pressure levels can be brought up by giving food and medication, readings of below 100/60 are considered a danger sign, and trekkers are advised to head back to base camp.
As Vijeet quite simply points out — The mountains will always be there! Your life and safety are of higher priority.
Did you know? You might have noticed that your blood pressure reading has two numbers. E.g., 110/75 mm Hg. The first number is the systolic blood pressure and measures the pressure on your arteries when your heart beats. The second number is the diastolic blood pressure and calculates the pressure on your arteries when your heart rests between beats.
As someone with a history of high blood pressure, how can I get ready for a high-altitude trek?
There are several things you can do to prepare yourself for a high-altitude trek.
1. Get a green signal from your doctor —  Share your plans to go on a high-altitude trek with your doctor so that they can make modifications to your current regimen, if necessary.
2. Exercise regularly —  We can't stress this point enough. Regular physical exercise of any kind, makes your heart stronger. It helps to pump more blood with less effort. Hence, the force on your arteries decreases, lowering your blood pressure.
Start on an exercise regime at least one month before the trek and stick to it. Indiahikes shares a detailed exercise plan ahead of your trek that is meant to get you ready for the adventure ahead. Try to follow this as closely as you can.
Incorporate brisk walks, short runs, HIIT, endurance training, stair climbs into your daily exercise routine. Plan short day treks near your city. These activities will get your body ready for the actual trek.
3. Practice Pranayama — Many studies suggest that regular pranayama helps control blood pressure levels, particularly amongst those with mild hypertension. But these practices take time to show effect. Lakshmi suggests you make it part of your daily routine as soon as you decide on signing up for a high-altitude trek.
4. Inculcate healthy eating habits —  Stick to a well-balanced diet, high on whole grains, fruits, vegetables, and low-fat dairy products. Cut down on foods that are high in salt, sugar, saturated fat, and cholesterol.
5. Check your BP regularly —  Get your blood pressure checked at least a month before a trek and then at regular intervals to make sure your BP levels are stable. If possible, check your blood pressure levels after a strenuous workout. It will give you an idea of how your body will react on a trek.
6. Start small —  If you are relatively new to trekking, we recommend starting with an easy to moderate trek. This will help your body adapt gradually and give you a good idea of how well prepared you are.
Some of the easy-moderate treks we recommend are Dayara Bugyal, Deoriatal-Chandrashila, Kedarkantha, Brahmatal. Apart from not being too strenuous, these are treks from which you can exit within a matter of hours, if the need arises.
What does Indiahikes do to support trekkers with a history of high BP?
Before your Trek — As soon as you sign up for your trek, your Experience Coordinator gets in touch with you to get to know you better. If you have any health-related issues, let your Experience Coordinator know. Our ECs are all trekkers themselves and have the expertise to guide you towards the right kind of preparation.
At the Base Camp — A blood pressure reading is taken on the first morning of the trek before breakfast. Our Trek Leaders take note of any medical conditions you may have and medications that you are currently on.
During the Trek — If your BP falls between 140/90 and 160/100, you automatically go on our watch list, and our Trek Leaders will keep track of your readings once or twice a day during the trek. If necessary, our Trek Leader may prescribe a low or no salt diet to get blood pressure levels stable and within permissible limits.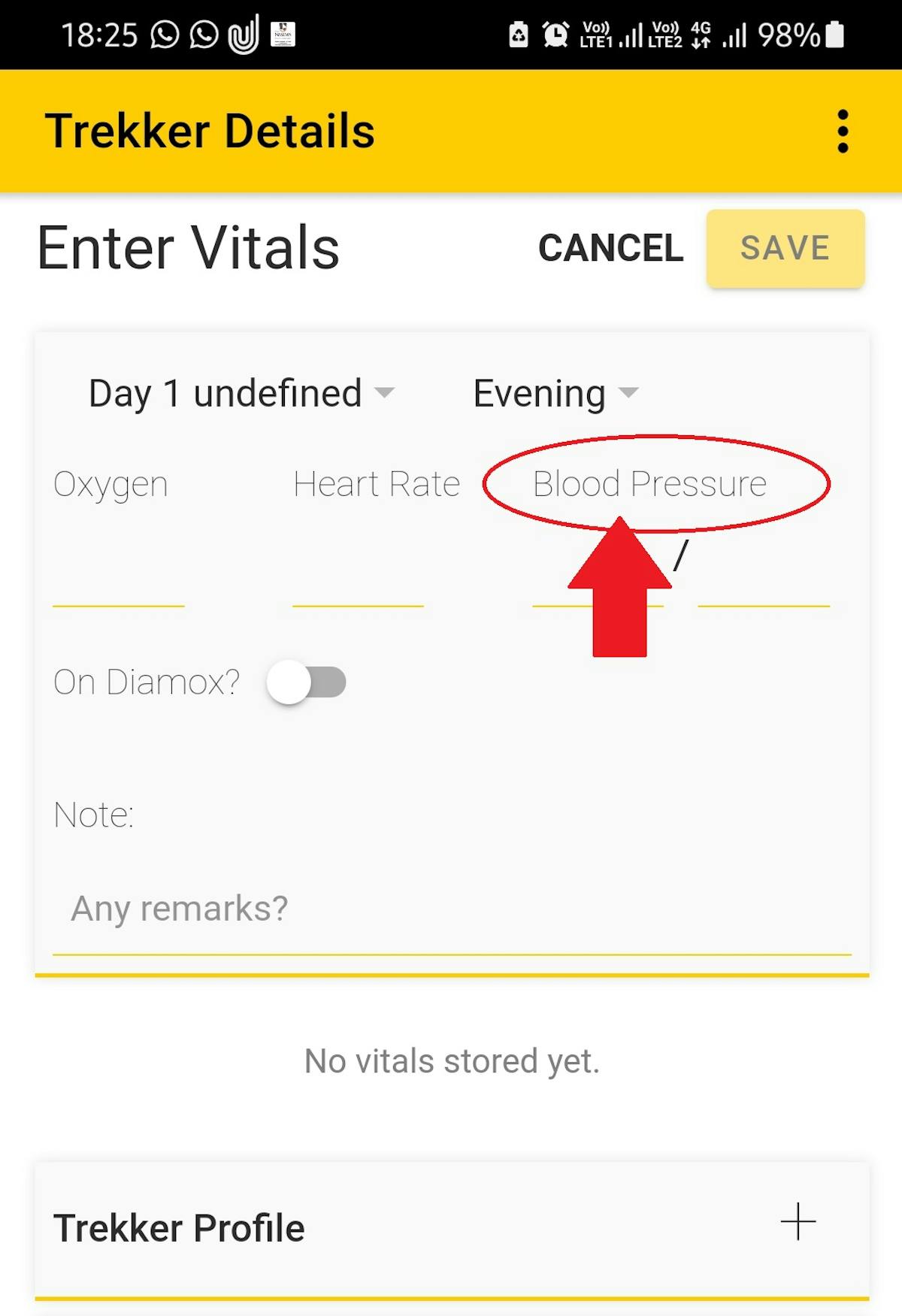 The Indiahikes team keeps track of every trekker's blood pressure during the trek through our specially designed Trek Vitals app.
What precautions should I take during a trek if I have a history of high blood pressure?
1. Communicate with your Trek Leader —  During your Safety Check-In at the basecamp, discuss any health conditions that might need attention with your Trek Leader. Provide a list of all medications you are taking. Remember, the more information we have on your health conditions, the more we will be in a position to help you.
2. Reach your base camp a day earlier — This is so that you give your body enough time to get acclimatized. Make sure you get adequate sleep in the days leading to your trek. Another hack is to take a journey break during your drive to the base camp. Try to stay overnight at a beautiful scenic place that is roughly half-way on your journey.
3. Pace yourself —  As you start your trek, remember that this is not a race. Maintain a steady pace and take breaks for water and energy-boosting snacks. Of course, don't forget to enjoy the 'breath'taking views.
4. Go easy on salty foods —  Skip the pickle, papad, and ORS and load up on dals and veggies.
5. Hydrate and rest well — Make sure you drink enough water and get enough shut-eye.
6. Carry an adequate supply of your medications — We advise our trekkers to carry sufficient quantities of their medication. And most importantly, don't forget to take your medicines as prescribed by your doctor.
Conclusion
At Indiahikes, we have always believed that everyone must trek. We have seen trekkers radically change their lifestyles for the better after their treks — sometimes reversing BP issues, sometimes even diabetes.
Our Trek Leader Vijeet Shaw sums it up for us. He states emphatically, "People with high blood pressure can definitely trek. It needs more awareness and discipline on the side of the trekker.
"As long as you consult your doctor, physically prepare yourself for the adventure and keep a check on your blood pressure readings, you can head out for a high altitude trek."
If you have always wanted to sign up for a high-altitude trek but hesitated due to blood pressure issues, let us know if this article helped answer some of your questions and concerns.
Related Videos
How to get fit for a trek 
What is Acute Mountain Sickness (AMS)
3 Life Saving Drugs (LSD) To Tackle Altitude Sickness
Why alcohol is a big NO at high altitude
Sign up for our much loved Weekly Mailer
We have terrific trekking tips, trek updates and trek talks to look forward to