High Court Order Ends Trekking in Uttarakhand
Share this story
High Court Order Ends Trekking in Uttarakhand
Category News
By Swathi Chatrapathy
2018-08-30
T he High Court of Uttarakhand has passed an order that prevents overnight camping in the high altitude meadows (and semi meadows) of Uttarakhand. Before I get into what it means for trekkers take a look at the order yourself.
Well, initially we thought it was a terrific, well-meaning order. It was a step in the right direction. Yet, when we looked deeper we felt it was not very well thought out.
The High Court has left many points ambiguous. I'll get to that later.
Without surprise, it sets a cat loose on a hot tin roof. The forest department immediately clamped down on treks across Uttarakhand. A notice from the Chief Conservator of Forests was sent to all DFOs of Uttarakhand. They were asked to follow the high court orders. The DFOs (District Forest Officers) in turn instructed their Regional Offices not to allow trekking.
What turned out to be an order that did not allow overnight camping on the meadows has now brought a complete stop to trekking in Uttarakhand. It sounds bizarre, but that's how it is. No one can make out anything of this. And no one can go trekking.
Naturally, the people of Uttarakhand are up in arms about this. They welcome regulations to trekking, but a complete stop also means a full stop to any livelihood. With the September season coming up, everyone is scared.
Trekkers across the country (and the world) are stumped too. Plans have been made, flights have been booked. At Indiahikes we are somewhat lucky. We have the ability to shift people to other treks in Himachal and Kashmir. In other organisations, they are simply stranded.
The original petitioners of the RTI, the Aali-Bedini-Bagzi Bugyal Sanrakshan Samiti, are absolutely befuddled. They never wanted their petition to end trekking. They just wanted to protect the Bugyals (meadows). What's worse, their leader, Mr Patwal passed away a few months ago. Now there is no one to lead them. So everyone's making their own judgement.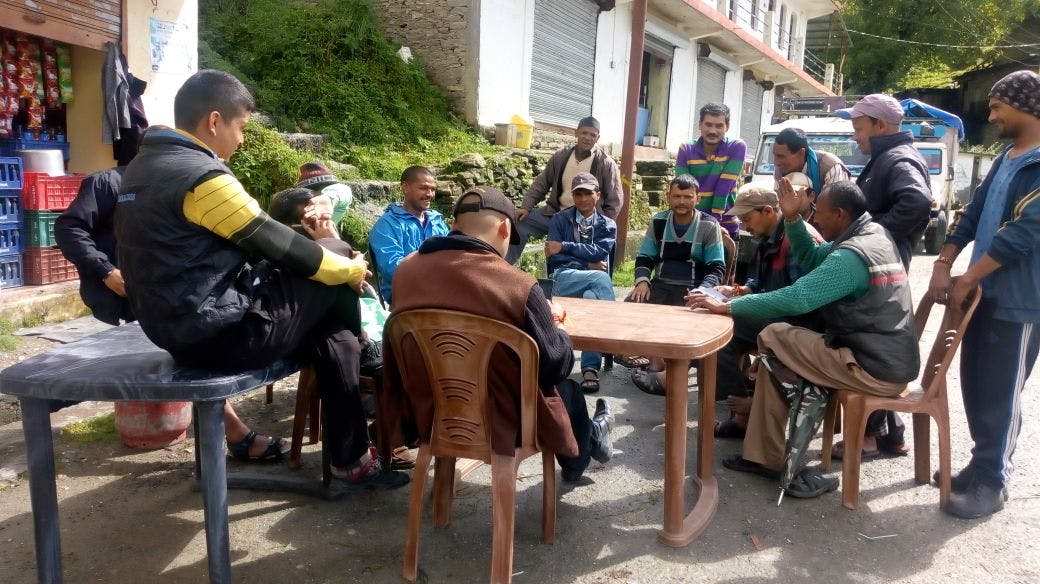 We knew Mr Patwal well. He was a friend of trekking and a friend of Indiahikes. In fact, we started Indiahikes out of his premises in Lohajung on the Roopkund trek way back in 2009. We have spent countless hours with Mr Patwal discussing the future of these meadows.
In this state of utter confusion, the people of Uttarakhand have met the Chief Minister and the Secretaries of Tourism. The CM has promised to go to the Supreme Court to challenge the order.
Meanwhile, everyone has legitimate questions that they are asking. These are:
1. How can the High Court take away a right to livelihood?
Why can't we have responsible tourism (like how we at Indiahikes do)? I have a good reason to say so.
Somehow people assume that if an organisation takes more trekkers it does more harm to the environment. They sometimes fail to see that larger organisations are more conscientious, they have better processes and resources to do good. The Green Trails project that Indiahikes runs is an example of it.
It is ironical that the biggest Green Trails project that Indiahikes runs is based out of Lohajung (on the Roopkund Trek). Indiahikes has been responsible for extensive clean up of the trekking trails, segregation of waste, installing greenhouse projects, ensuring a system of waste collection in the local villages, setting up of upcycling projects with the help of villagers. This documentary will give you an idea.
Who sponsors them? Who accounts for their work? Well, there is a dedicated Green Trails team at Indiahikes who work independently taking environmental concerns forward. The resources come from Indiahikes.
Looking at us, other organisations have followed suit. It is heartening to see organisations make their own cleanup programs. There is a sense of self-regulation among the larger organisations. Unfortunately, I cannot say the same about smaller groups who go there. They are usually trekking groups of 4-5 people with local guides.
The smaller groups dirty the most. So do the dhabas who have just sprouted up. They need to be regulated.
It is absolutely disheartening when trekkers and general public, and now even the high court assumes that if there is pollution then it must be a result of tourism. Nothing can be further from the truth.
Like any activity, trekking to needs regulation. In Sikkim, the Khangchendzonga conservation committee has stepped in to regulate trekkers on trekking trails. They have done a wonderful job of it. Trails in Sikkim are mostly clean despite the large number of trekkers who go on them. Similarly, initiatives need to be taken in Uttarakhand.
India cannot be compared to Nepal in the sheer number of trekkers who trek. Yet Nepal has learnt to manage trekking by bringing in wonderful regulations. The tea houses are regulated, guides and porters have been made into associations. Regular education and training have been given to them. They enforce that trekkers do not litter or damage the environment.
Isn't that the step forward?
In the High Court order, what was a petition to save the local Bugyals, the High Court has gone ahead and made sweeping statements about how tourism damages the environment, bringing in a stop to trekking. That too in entire Uttarakhand. This is an extreme step!
Today we are paying the price with a stop to trekking.
Our personal feeling is that this kind of ban is not sustainable in the long run. India is a growing country and the whole world's attention is on it. Adventure tourism cannot be wished away. We believe it must be regulated but not banned.
Uttarakhand is India's largest destination for adventure tourism. Thousands of lives are dependent on it. The Government must challenge the High Court order.
The Government has promised quick action. We are hoping a stay order from the Supreme court may happen anytime soon (perhaps by the end of September). But for that, the Government has to act quickly.
As of now all of us are very worried.
If you are trekking with Indiahikes in Uttarakhand and have a trek coming up, get in touch with your trek coordinator. We have alternative options for you.
If you have any thoughts or arguments about the High Court order, put them in the comments box below. These reach a lot of people, including Government bodies.
If you want to read the complete order, you can find it here.
Sign up for our much loved Weekly Mailer
We have terrific trekking tips, trek updates and trek talks to look forward to