THE Stand-out Section On Every Himalayan Winter Trek
Share this story
THE Stand-out Section On Every Himalayan Winter Trek
Category Guides To Choose Treks
By Swathi Chatrapathy
2019-11-14
At Indiahikes, we have the habit of diving deep into each trek, and dissecting small sections of the trek. You will not believe the debates that go on about even 100-metre sections.
And I've noticed that not everyone has the knack of spotting these sections and talking about them in such detail. It requires practiced eyes to spot them and distinguish them from other sections. 
So you'll surely be surprised at some of the sections I'm going to mention in this mail. They're not what most trekkers would pick.  
Let's get started. 
Dayara Bugyal – That moment when you enter the meadows
When you start the Dayara Bugyal trek, you're mostly under forest cover. All you hear is the crunching of leaves or the soft rustle of snow under your feet. The sky is hardly visible, hidden from sight by the giant oak trees all around. The trail quietly ascends.  
When you're not expecting it, the treeline abruptly ends at a section where there is a settlement of abandoned stone huts. Past that, perhaps in another 200 m or so, the trail gently ascends and rounds a curve. 
Starting there, the Dayara meadows, like a deer playing hide and seek, gradually reveals itself to you. And in the next 15 mins you emerge into the grand meadows of Dayara. Just miles and miles of meadows in all directions. In winter, these meadows are vast snow fields stretching as far as your eyes can see. It's a big surprise for even the most experienced trekker. 
"The high altitude meadows that you see in Uttarakhand are very very rare. Such smooth, lovely, undulating meadows like Ali Bugyal, Bedni Bugyal, Dayara Bugyal and Gidara… After having done so many treks, I still haven't seen any such meadows in our country. Even Kashmir or Himachal don't have such meadows.
The bonus is the big white mountains popping out behind these meadows taking it to the next level. With the current ban on camping in high altitude meadows, venturing near Ali and Bedni meadows is almost impossible. Dayara is the only place from where you can get this experience," says Sandhya UC, our co-founder. Gidara Bugyal, she says, is another trek that comes close to this experience.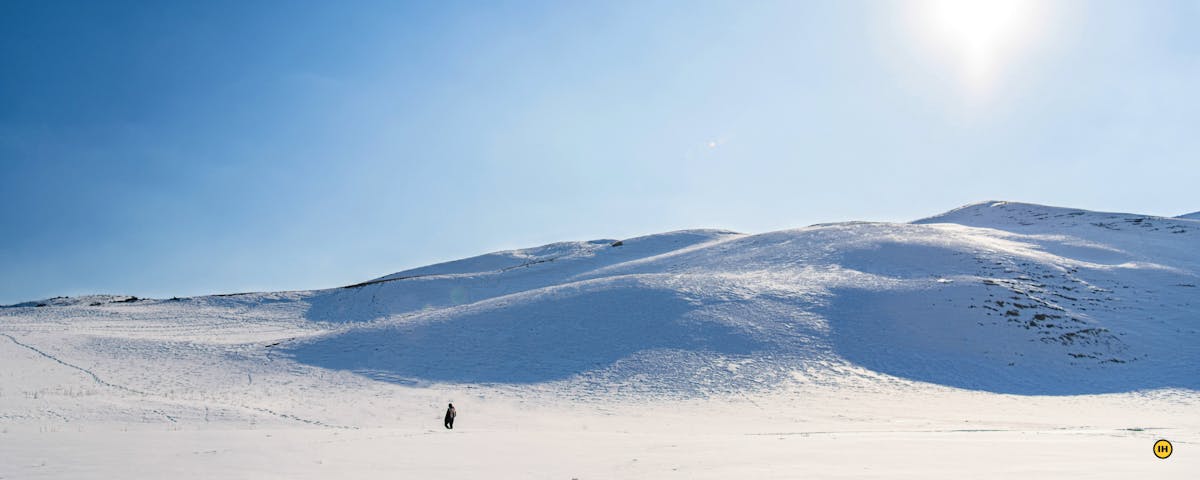 The vast meadows of Dayara Bugyal in winter. Picture by Sudheer Hegde
Deoriatal-Chandrashila – Crossing a ridge in a forest and getting down to Akash Kamini
"You cannot take your eyes off this section even for a minute. It is THE section for me. Every time I have done this section, I've seen wildlife," starts Arjun Majumdar, our founder, who has frequented the Deoriatal-Chandrashila trail quite a few times.  
"Look, there are jungle sections on every trek. But this one section on the Deoriatal trek is very different. It starts just after you enter the clearings of Rohini Bugyal. As you climb from one clearing to another, you get this dense jungle of Rhododendrons mixed with oaks. The gnarled roots of the trees spread out on the forest floor like serpents seeking out their snare. The canopy is heavy but light streams through them in a way that makes the forest come alive with colours. 
"Then you climb what is like a small mountain pass inside the forest. It is actually a ridge top. And in between two massive trees you slip over to the other side. If you don't keep your eyes peeled, you may even miss the gap. 
"The magic of the forest, now of a totally different kind, continues until you get down to the clear waters of the Akash Kamini river. It is exhilarating, this bit! 
"You can hear the river from far away, but you can't see it until you reach the small moss-laden bridge over it. Whenever I do this trek, I am just waiting to get to this section, such magical it is," says Arjun.  
It is the last 200 meters to the Chandrashila summit which sets my heart beating every time. Just below the summit, you have these Everest kind of views of Mt Chaukhamba, Mt Kedarnath, the Kedar dome. You are at a very high point. But you know when you get to the summit, there's something quite unexpected waiting for you. 
And then with every step your anticipation grows! Suddenly, you step onto the summit and your jaws drop. Rolling out in a straight line are the greatest mountains of our country, including Mt Nanda Devi, India's highest, and Mt Trishul! I would bet any money on the high you get when you get to the Chandrashila summit!" completes Arjun in a gush.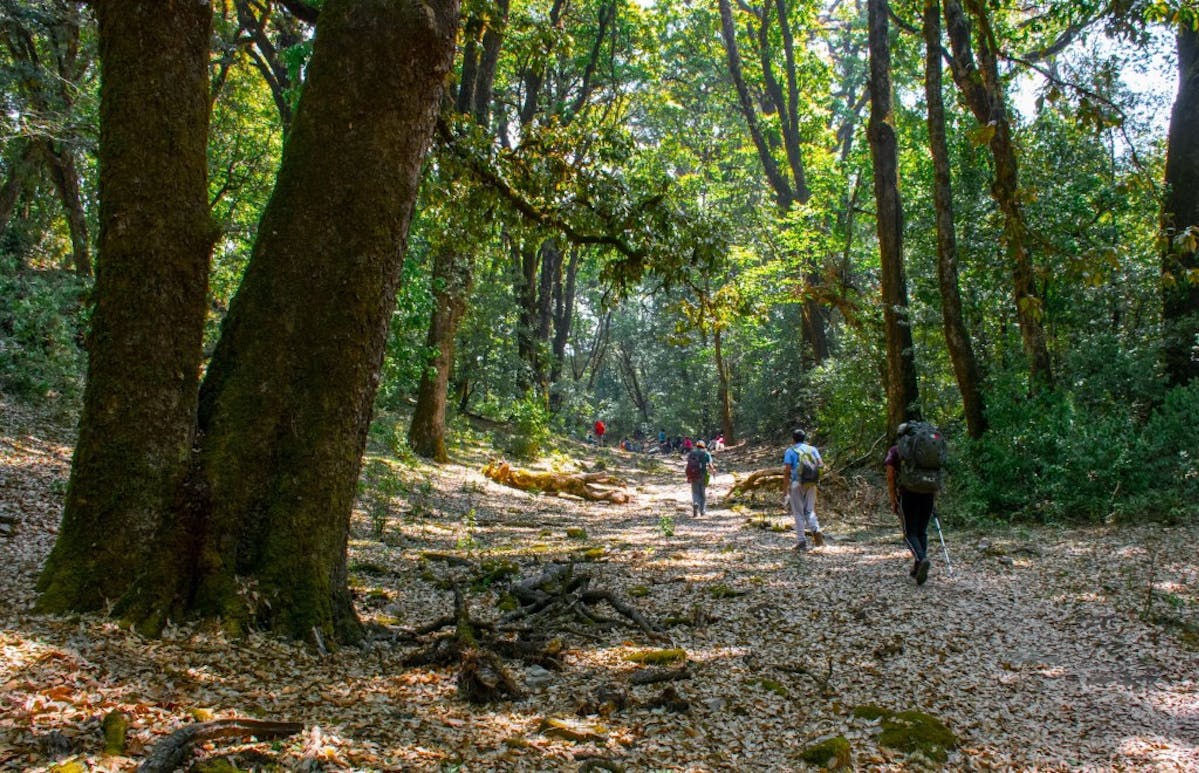 The gorgeous canopy on the Deoriatal Chandrashila trek. Picture by Prakti Desai
Mukta Top – The Mukta Tal campsite
"I can easily say that Mukta Tal is one of the best campsites I've been in," says Vijeet Shaw, our Trek Leader about the Mukta Top trek. And coming from him, that's saying a lot, considering he's led the best of our treks. 
"The sunset at Mukta Tal, especially is something that will make anyone melt. You have the frozen Mukta Tal lake by your side, a small stream flowing from it through the campsite, you see Mt Bandarpoonch glowing in the distance. You can just sit at the camp, staring into the distance for hours, and you will not get tired.
"To add to that, you camp at Mukta Tal after an excursion to the highest point on the trek — Mukta Top. So when you're back at the camp, you're on a high from the climb, and you feel absolutely at peace. I can't put it in words. You have to be there and experience it," he says.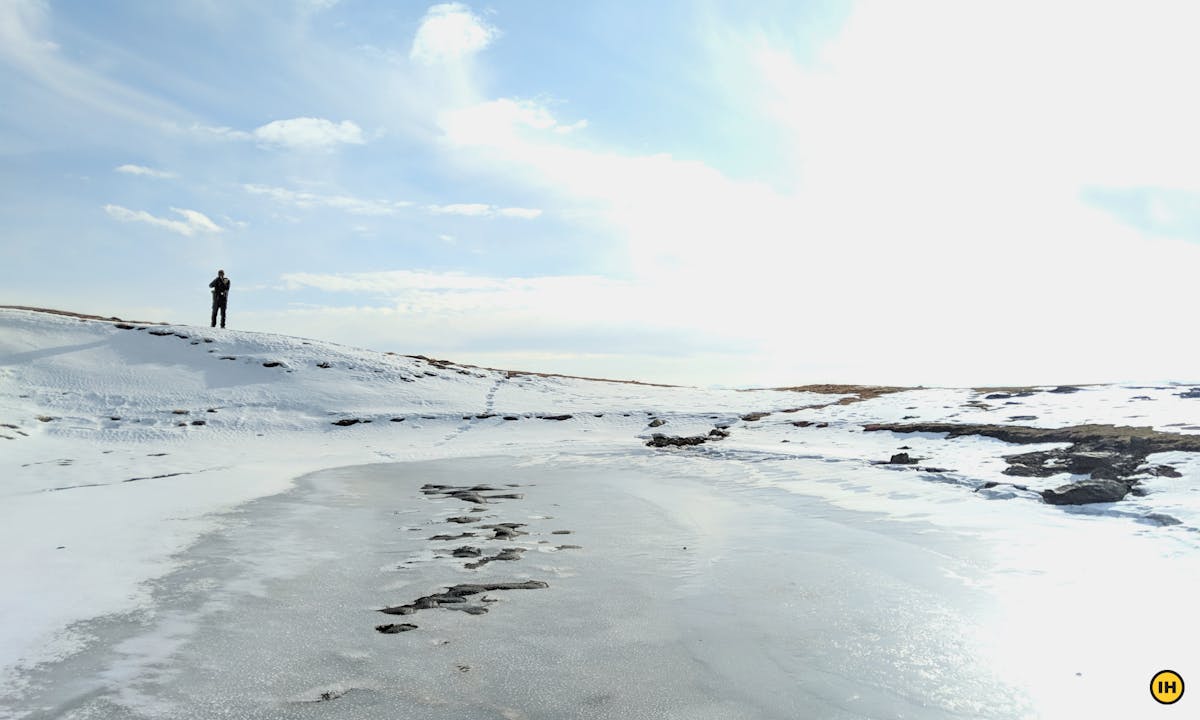 The frozen Mukta Tal at the onset of winter. Picture by Chitan Gada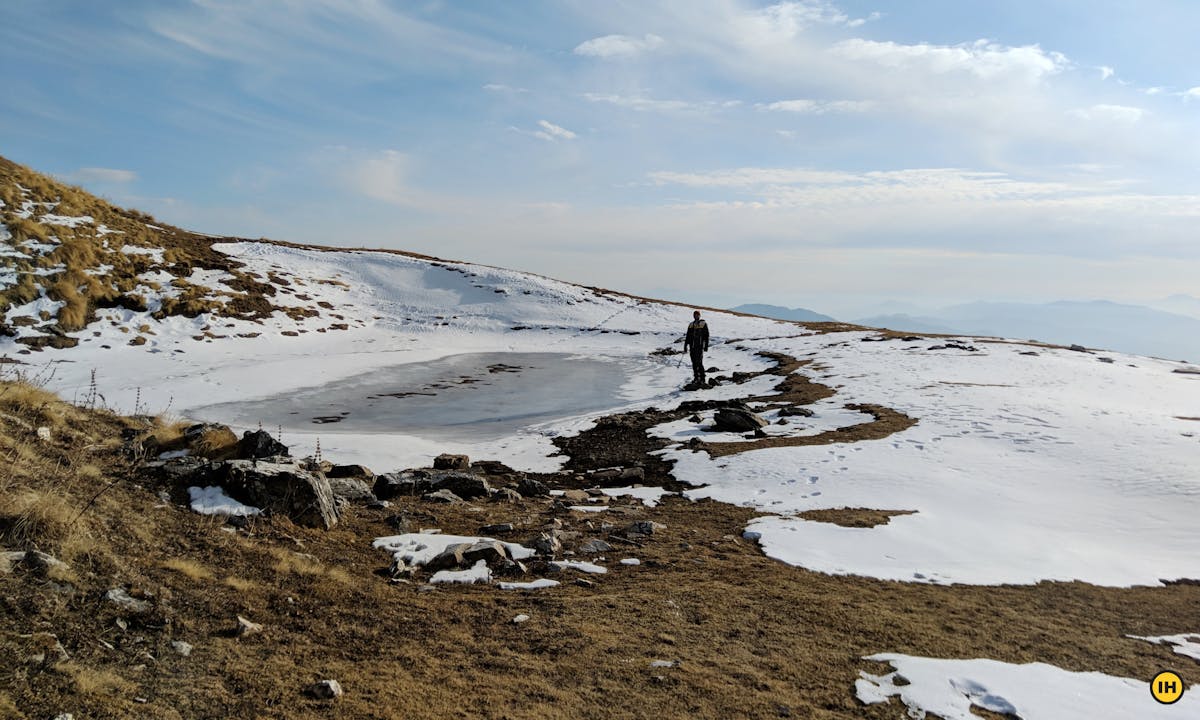 The frozen Mukta Tal at the onset of winter. Picture by Anshul Gangwal
Kedarkantha – The forest section from Talketra until the tree line ends
I asked Izzat Yaganagi from our team, who has been on the Kedarkantha trek multiple times on different routes, to choose a section from Kedarkantha. Without so much as a thought, she said it's the forest section from Talketra until you climb above the treeline. 
"You see tall pine trees covered with snow – just like on Christmas cards. Every branch of the pine tree has cotton-like snow sitting on it. When I was there, I almost expected to see a sleigh with reindeer fly past. It felt ethereal. Not a habitation for humans. Absolute silence. Then a gentle breeze began to blow and flakes of snow started falling all around from the treetops. My breath stopped and warm tears started flowing down my frozen cheeks," she recollects. 
The place is magical because between these tall pine trees are huge swathes of clearings with undulating carpets of untouched snow just sitting on them.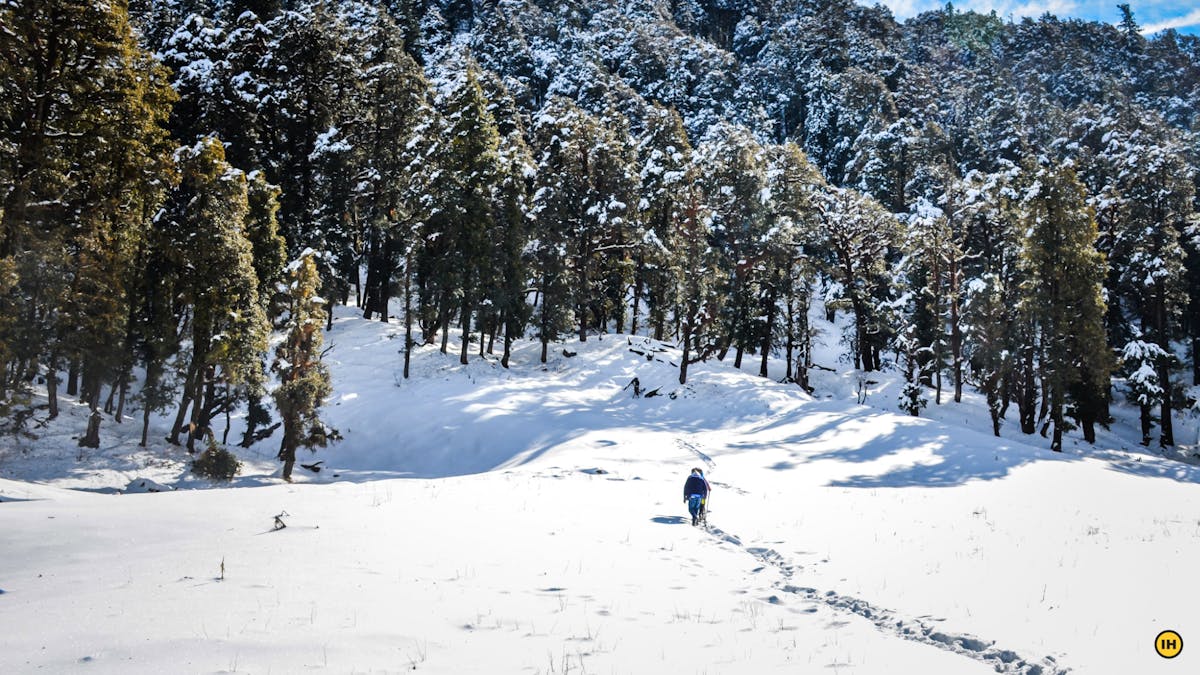 The snow laden pine forest of Kedarkantha. Picture by Bappadotya Chandra
Chhattisgarh Jungle Trek – The entire second day
"It's hard for me to pick a section because the entire second day on this trek is a treat," says Lakshmi Selvakumaran, who explored this trail in Guru Ghasidas National Park. "It's filled with so much variety that even though the day is long, it whizzes past you. 
"You start from the river beach, where you would have camped the previous evening. For a good 3 km stretch, you walk in the sand beside the river. You also walk in the river since its shallow and cool, barely even covering your ankles. You almost feel like you're at a beach, but it is different. The river cuts through the jungle and sometimes gets in and out of gorges. And if the weather is pleasant (which it is in winter), it adds to the charm. It is really really beautiful," she recollects. 
"After the riverwalk, you climb up a hill and the view completely changes. You are at a vantage point from where you get a 360 degree view of the jungles of Chhattisgarh. It's green in every direction as far as your eyes can see. It's truly Jungle Book come alive. This contrast after the beach walk is stunning. 
"From this hill, you descend and enter a dense jungle, then a plateau, and then you see the river again. This time, the river looks different. There's one tree, with its roots exposed right in the middle of the river. It's a strange sight that you'll absolutely love. 
"At the end of the day, from your home stay, when you think back on the day, you'll go through every section in your mind. You look at peculiar trees, paw prints, rocks, water bodies. Each section stands out," she says.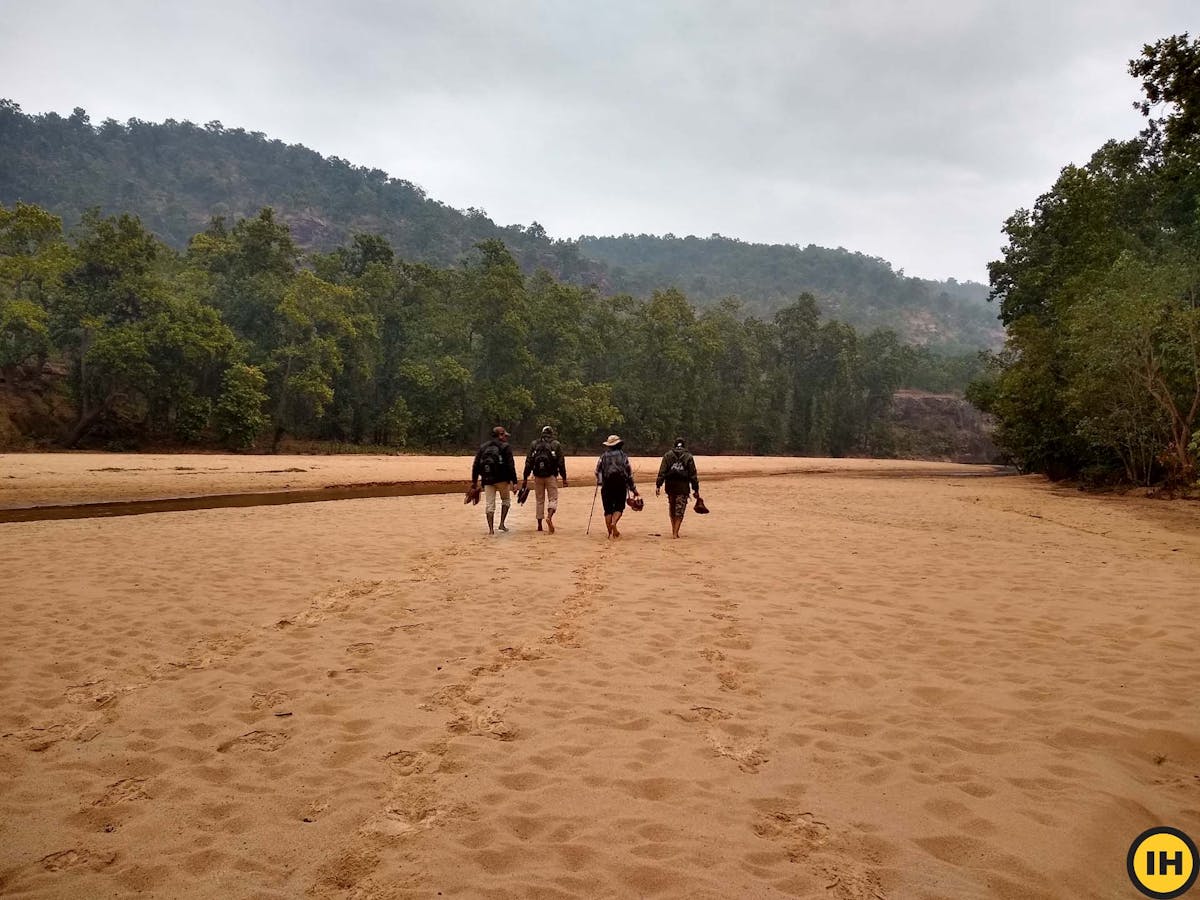 Walking on the river beach on the Chhattisgarh Jungle Trek. Picture by Sandya UC
Har Ki Dun-Ruinsara Tal – Devsu Thatch
"This is a tricky one, since after we have added Ruinsara Tal to the itinerary, there are several sections that leave you gaping," says Arjun. But if he had to choose "the" section on the trek, it would be Devsu Thatch. 
"Devsu Thatch is the closest I've come to feeling like I'm in Kashmir, when I'm not in Kashmir. I almost felt like I was at Lidderwat (from the Tarsar Marsar trek). If you are going to Har Ki Dun, and if you haven't seen Devsu Thatch, you might as well not go on the trek," he says. 
To this, Sandhya adds, "Devsu Thatch is surrounded by thick pine trees, it is almost impossible to even guess that such a meadow exists here. But when you are returning from Ruinsara Tal, you suddenly get ushered into this wonderland.
"After crossing the roaring Ruisnara Gad over the wooden shepherd bridge, the trail winds up through thick dark pines. Finally when you see light filtering through the pines, you get an inkling that a different scenery awaits here. 
"Sure enough, you soon enter the grand meadow. The meadow flows on multiple levels. Each level exposes different scenery on the horizon. Some showing the Ruinsara mountains, some showing HKD valley, Kalkathiadhar, and the Osla side. Knowing that you are going to camp here will definitely bring a big smile on your face," she adds. 
Hopefully, with permissions from the forest department, our trekkers get a chance to camp here. Sometimes because of the presence of wildlife the permissions are withheld. But if we have the permission and you are camping at Devsu Thatch, then consider it one of your biggest blessings. And even if you don't camp, walking on Devsu Thatch is what trekking is all about! Because it's an experience hard to find on any other trek.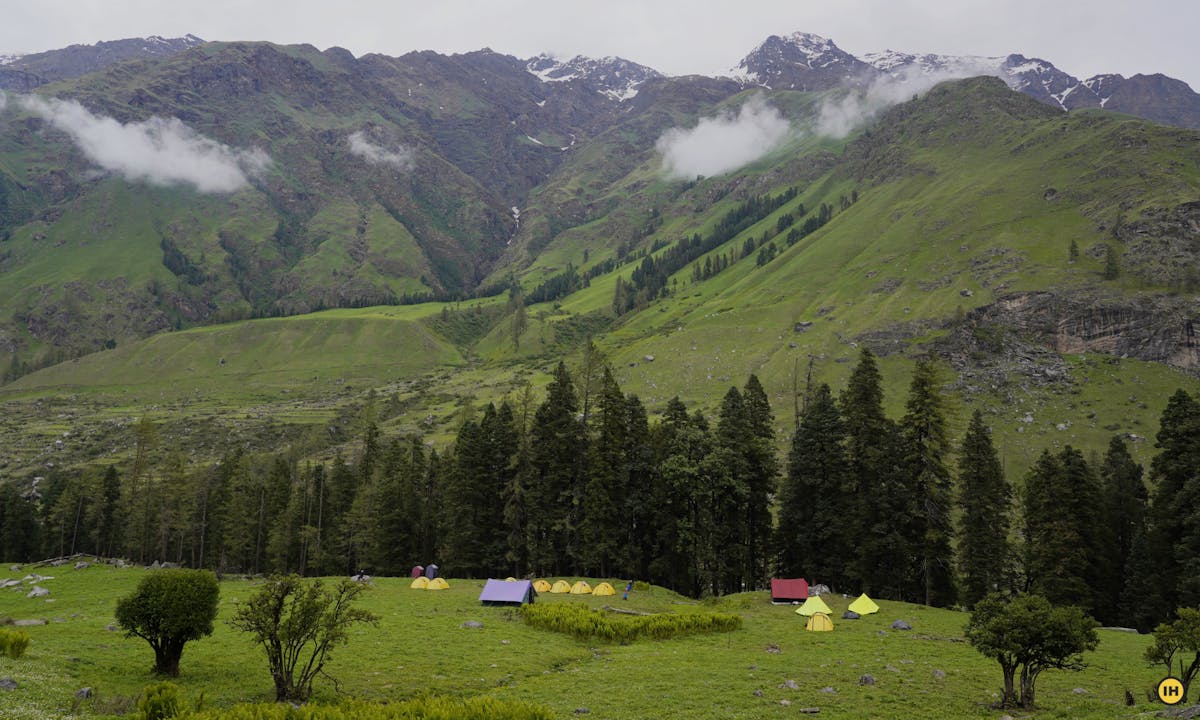 Our camp at Devsu Thatch on the Har Ki Dun trek. Picture by Shishir Jain
Brahmatal – The ridge walk on Day 2
"When you exit the treeline of Brahmatal on the second day, very soon, you get onto a ridge. Since it's a ridge, the scenery on both sides is completely open," starts Sandhya.  
"On your left, you see layers and layers of blue-grey mountains stretching all the way to the horizon. And on the right, you see the majestic white Mt Trishul and Mt Nanda Ghunti towering over everything. 
When you are just beginning to fathom the grandeur of this view, just below these two big mountains, you see the entire Roopkund trail laid out. You see Ali Bugyal and Bedni Bugyal, you recognise the green huts at Bedi, you spot Bhagwabasa, you even see the dip in which Roopkund lies. The view will take the breath out of you," she exclaims.
This ridge walk lasts 2 whole hours. It's rare to get this experience where you constantly want to look to your left and right, afraid that you might miss a view. "You just don't want to blink," says Sandhya. "I was hesitant to even look down where I was stepping, lest I miss the view!"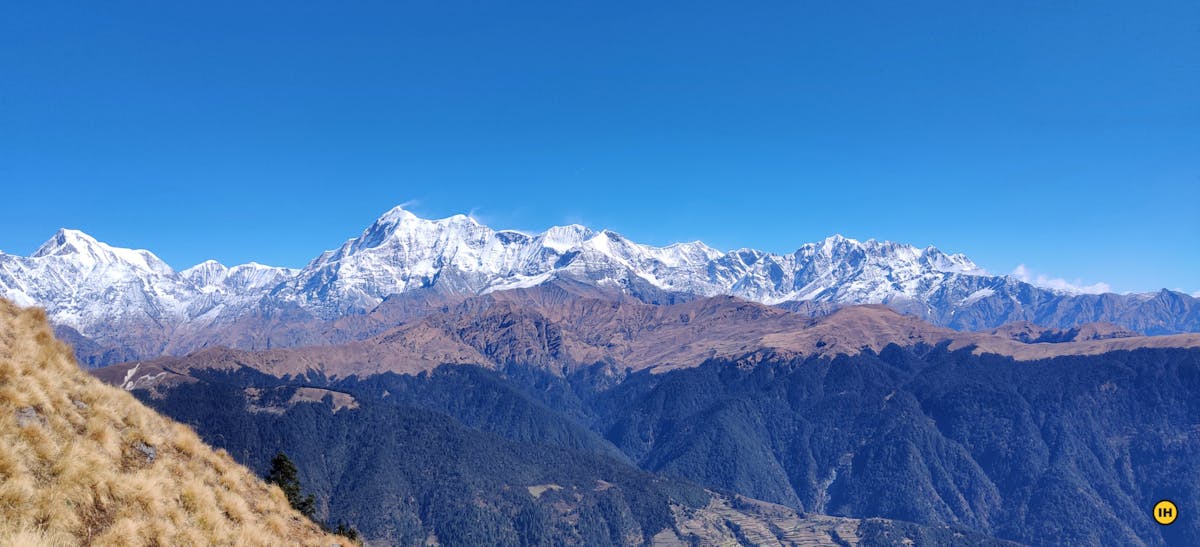 Mt Nanda Ghunti and Mt Trishul in the backdrop, with the entire Roopkund trail laid out in front of them. Picture by Afreen Jaffer
Sandakphu – The sunset at Tumling
"This sunset from Tumling will bowl you over," says Sandhya. "It's special because Tumling is on a ridge. You feel a sense of expanse because of the openness around you. And during sunset, the sky just beaks into hues of orange and red.
What's more special is that from Tumling you can see almost the entire Sandakphu trail, all the way till Phalut, your final destination, which is 20 km away! It's a looong distance view that you can study for hours! This is the only spot from where you see the entire trek! And it's just the beginning of your trek.
"And then, there's the Sleeping Buddha at eye-level, glowing radiantly in the golden hour. Trekkers need to move away from the tea house area, and come slightly uphill, where you get away from the crowds. At that spot, it's just beautiful! It's a sunset to die for," says Sandhya.  
The sleeping Buddha glowing in the sunset as seen from Tumling. Picture by Sharbari Das
As you can see, these are expert eyes observing trails. I hope someday, each of us can pay this much attention to the trails. It can really bring every minute of the trek alive! 
If you have liked some other sections of any trails, drop in a comment on this page and share it with us.  We would love to publish your stories as well! 
Sign up for our much loved Weekly Mailer
We have terrific trekking tips, trek updates and trek talks to look forward to