How 15-Year-Old Poorva is taking the Legacy of Sustainability Forward ...
Share this story
How 15-Year-Old Poorva is taking the Legacy of Sustainability Forward After Returning from the KGL Trek
Category Transformation Stories
"When I was 5-6 years old, I remember feeling disgusted looking at the trash on roads.
The sad part was that there was no escape from this feeling.
As I came to 9th standard, I decided to start clean up drives in my locality. For that, I got permission, spoke to some people to volunteer and even bought gloves to use. Unfortunately, at that time, Covid cases started rising in our country and my plan took a backseat.
When I went on the KGL trek along with my mother and her friends, I wasn't expecting Indiahikes to talk about sustainability practices to follow on the trek!
To top it all off, I was beyond happy to know about the philosophy of picking up trash from the trails.
There were so many things that caught my attention. The water contraption set up to wash our hands and face, the solar energy used by the kitchen staff for cooking.
Above all, our trek leader Mrinal herself was such a huge inspiration. On the first day, she spoke about minimalism and no packaged food on treks. I could see her living that all throughout the trek.
Even when someone offered her a bite of a chikki (snack), which came in packaging, she firmly refused it. All throughout the trek, she wore about 1-2 pairs of clothes and here we were wearing a new pair every day. I felt really guilty about that.
Seeing her I realised that on my next trek, I can definitely reduce the weight of my backpack by avoiding unnecessary things to carry.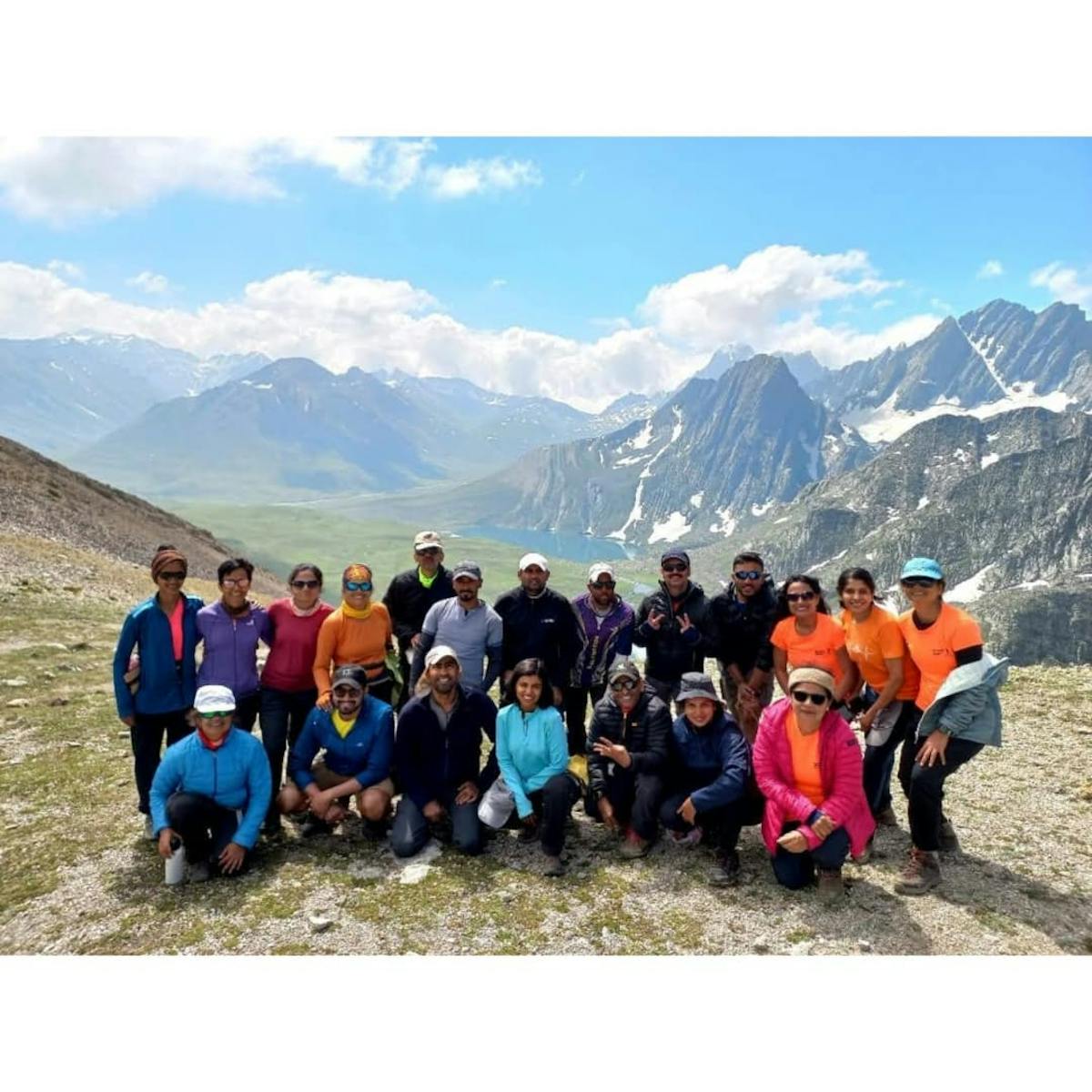 Poorva with her trek mates on the KGL trek
The whole sustainable trek experience with Indiahikes pushed me to go beyond my boundaries.
I had been collecting all the soft plastic in my house even 2-3 months before the trek but after coming back I went to the grocery shop owner and convinced him to give his plastic waste to me.
Now, I'll be talking to my society members to provide me with some space to keep the plastic waste.
There's an organization Rudra Environmental Solutions in Pune that converts soft plastic into Poly fuel. I had a conversation with them and they agreed to collect plastic waste from my society twice a month.
Moving further, I want to mobilise my society members to give their soft plastic to our collection unit so that we can divert this waste from landfills to much more meaningful use.
I have also signed up for the Sustainability Championship Program by Green Trails, Indiahikes.
I am still in 10th standard so sometimes all these things make me nervous. But if I have been able to take this idea forward, a huge reason for that is my recent motivation after trekking with Indiahikes."
- Poorva, Indiahikes Trekker | Kashmir Great Lakes Trek
Sign up for our much loved Weekly Mailer
We have terrific trekking tips, trek updates and trek talks to look forward to