How Difficult is the Sandakphu Trek?
Share this story
Sandakphu Phalut is one of the popular treks in the trekking community. However, it isn't an easy trek. It has a moderate level difficulty and we need to keep certain things in mind before we plan for this peak.
Before we explore them in detail, here's some more about this trek.
➤ A Quick Overview of the Sandakphu Phalut Trek:
Sandakphu is located right at the border of India and Nepal. It offers the most significant mountain views. You can see 4 of the world's tallest mountains, including the Everest cluster. 
This trek takes you through the dense and green forests of the Singalila National Park. The sunrises and sunsets from here are magnificent. You can literally take a walk through the clouds. These unique details have made it popular amongst trekkers.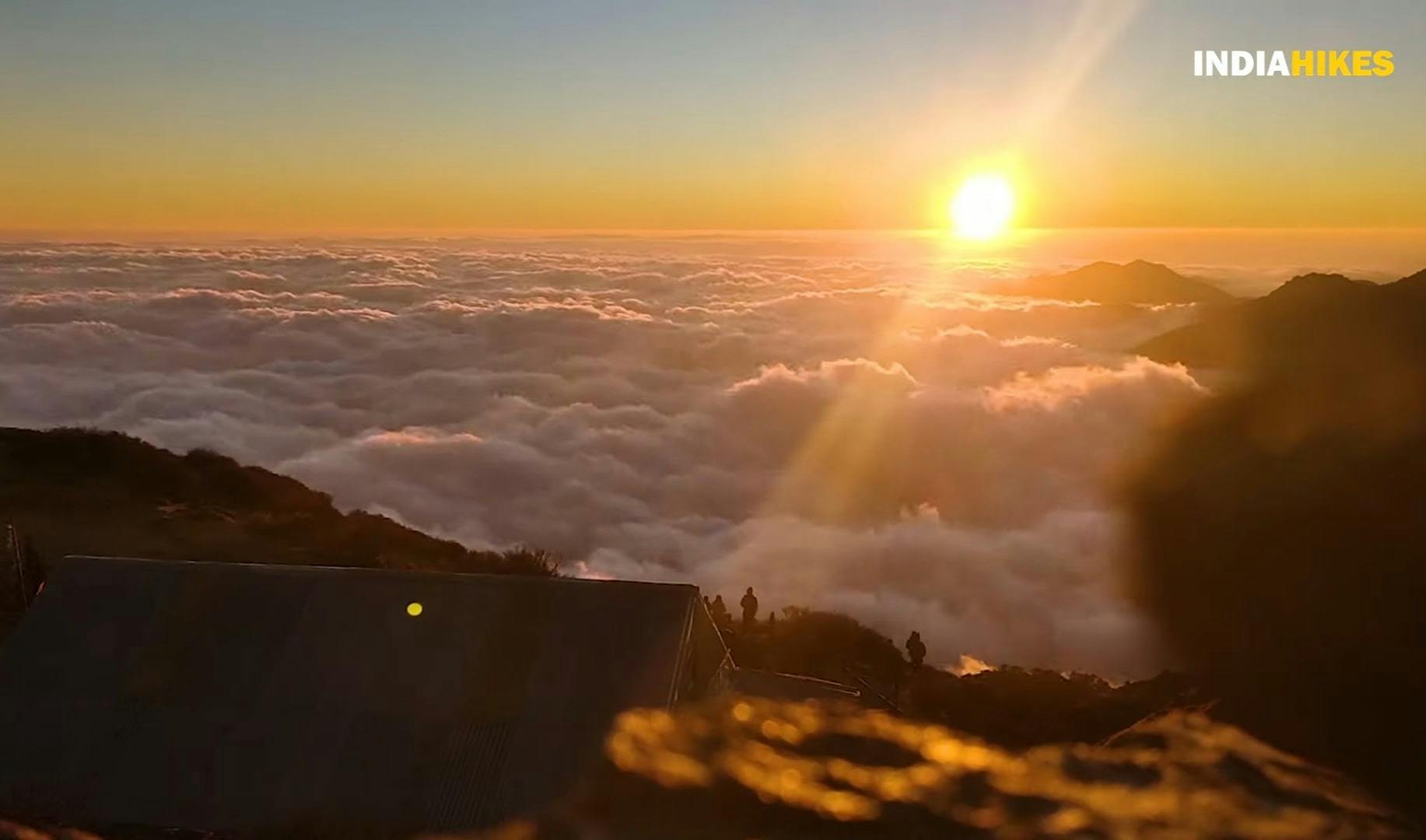 The maximum altitude on Sandakphu is 11,950 ft. So comparing it with other treks like Rupin Pass or Goechala, it's not that high. But that doesn't mean Sandakphu is an easy trek. I would say it's a moderate level trek. 
➤ 3 Reasons Why Sandakphu Phalut isn't an Easy Trek:  
Long walks
Sandakphu Phalut has long walks every day. The trek is 6-7 days long. In this span, you'll be covering a minimum of 78-80 kilometres. That means walking at least 10-15 kilometres daily. This distance is considered to be moderate on a Himalayan trek. As the distance is moderate, it requires serious fitness. 
Steep Sections
Contrary to popular belief, the walks on Sandakphu are not on a flat surface. There are a couple of steep sections. Hence, few trekkers may find Sandakphu to be a bit challenging. To give you a glimpse, the Sandakphu trek starts from Jaubhari, at 6,400 feet. Over the next 3 days of the trek, you'll be climbing to an altitude of 11,950 ft. That means you'll be gaining an elevation of 5,500 feet in just 3 days. The real challenge is Day 3 of the trek. Just before reaching Sandakphu, you have to navigate through some steep portions. This will really test your lungs and legs.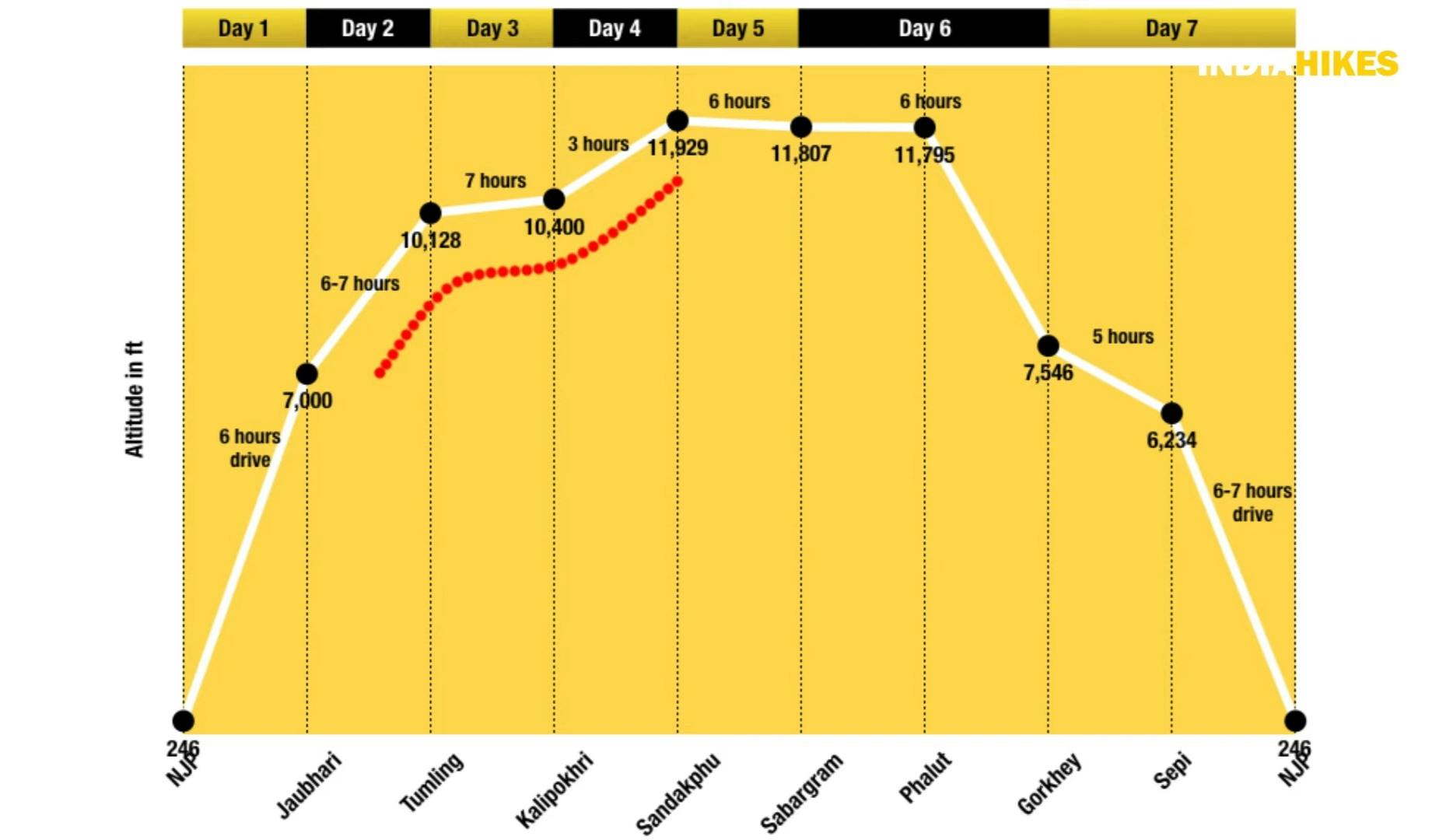 Trekking in Winter
Sandakphu trek is located in the Eastern part of the Himalayas. Yes, the Eastern Himalayas don't receive heavy snowfall like Himachal and Uttarakhand. But winters here can get pretty cold and windy, especially in the months of January and February. The temperature dips down to -5 degrees celsius in the evenings. In the nights, it even goes down to -8 degrees celsius. On this trek, you'll be spending your nights Aal and Kalipokhri. These places are known for windy weather. This wind will surely reduce the temperature by a few more degrees.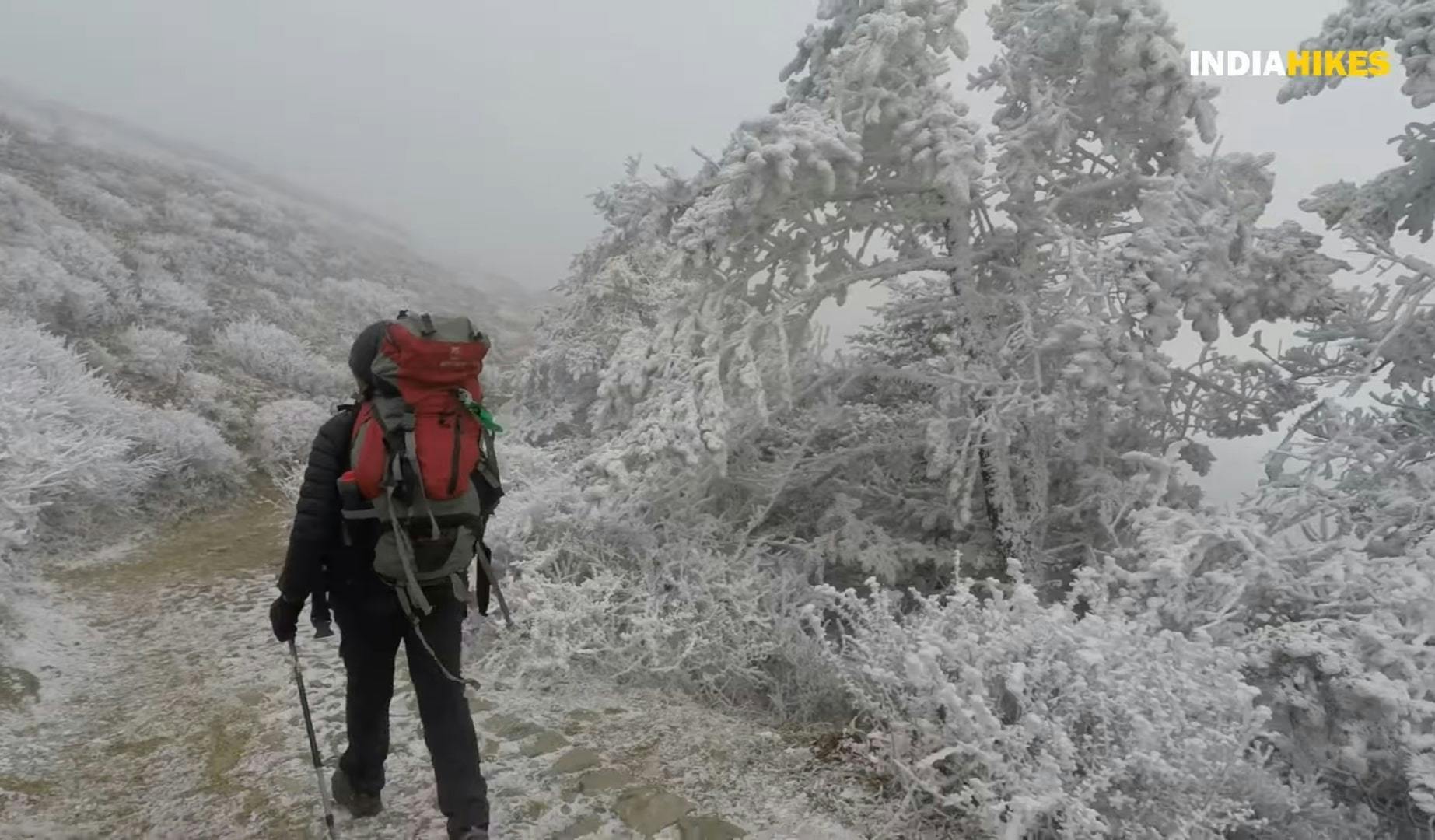 ➤ Things to Carry on the Trek: 
It's essential to have sufficient warm layers. Carry at least 5 warm layers, including a thermal and down jacket. In addition, if you're going there during winter, take a windcheater or windbreaker. It will protect you from the cold air. 
➤ How to Prepare: 
To be well prepared, work on your cardio fitness and leg strength. Make sure to start your fitness preparation at least two months before the trek. 
Cardio
 Your goal is to cover 5 kilometres in 40 minutes. Start with light jogging and slowly work your way up. Ideally, you should be able to run 5 kilometres 4-5 times a week. As you progress, try to increase the distance slowly. Right before your trek, aim to complete two 10 kilometre runs in 80 minutes. This will really help you build the stamina required for the trek.
Leg Strengthening
Make sure to include lunges and squats in your routine. In the steeper sections of this trek, this will really help you. You'll feel way more confident about it. 
Do check out our video of how to get fit for a high-altitude trek. 
Frequently Asked Questions about the Sandakphu Trek: 
Can the Sandakphu trek be done without a guide?
The Sandakphu trek cannot be done without a guide, as  this trek is inside the Singalila National Park. You will need a guide no matter which route you take.  
There are several routes to do this trek. The most popular one is from Manebhanjan. It is easiest to find guides at Manebhanjan. There are two associations of guides available here. You could easily book a guide from either of them. 
Rimbik is the route we follow and is more isolated. You can find a guide here too, but it's not as easy. 
 Can I do Sandakphu alone?
Yes, you can. Sandakphu is one of the few Himalayan treks you can easily do by yourself, since your food and stay is taken care of at tea houses. You don't have to prebook the accommodation either.
However, it's hard to find accommodation in the peak season–end of December and the beginning of Jan. So try and avoid these seasons.
Make sure you hire a guide. 
 Is the Sandakphu trek good for beginners?
Yes! Lots of trekkers that do the Sandakphu trek are beginners. However, you shouldn't take your fitness for granted. There are steep sections and difficult climbs in some places, and hence you should be fit enough. 
Author: Dhaval Jajal
Read up more on the trek here.
If you have any questions about the trek, please drop them in the comments below, and someone from the Indiahikes team will address them.
For more information about the trekking world, you can follow us on Instagram, Facebook, Twitter, and LinkedIn. We're up-to-date with the latest information. 
For any other information, can reach out to us at info@indiahikes.com. 
Related Videos
"Sandakphu Diary | The Journey | Trek with Indiahikes"
Sign up for our much loved Weekly Mailer
We have terrific trekking tips, trek updates and trek talks to look forward to