How I Dealt With Acute Mountain Sickness On My 28th Trek
Share this story
It  was my 28th high altitude trek. I was headed to Buran Ghati, one of the new discoveries of Indiahikes. I had heard gushing reports of its beauty. I couldn't wait to get on the trek.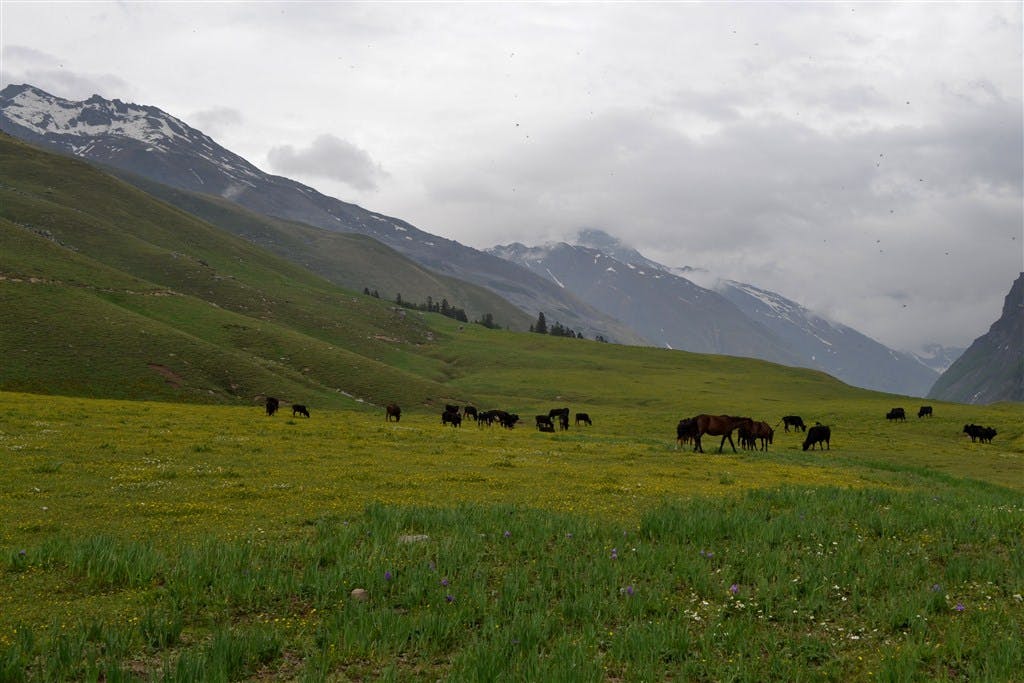 Starting the trek from Janglik
An early morning flight, followed by a 24 hour road journey made me sleep deprived and awfully tired. When I reached the base camp at Janglik, I just wanted to crash into my tent.
The next morning our trek leader woke us up really early. Thankfully, the first day's trek was short. Starting at 9,000 feet the trek climbed to 11,000 ft to the beautiful Dayara meadows. I was wary of the altitude gain, but didn't think too much of it. On reaching camp I was as fit as I could be.
In the evening, at the mandatory check for oxygen saturation, I recorded 94 percent. It was very healthy. Frankly, I was worried about few other trekkers who recorded below mid 80s — but didn't fret too much. Our trek leader was taking good care of them. I ate dinner and retired early. All was well.
The first signs of Acute Mountain Sickness at the Dayara campsite
The first signs of trouble showed up at 3 am. I got out to pee with a funny feeling in my stomach. The dinner didn't feel digested. I had a mild headache. I ignored it and slept till 5 wishing it would go away. After 5, when dawn was just breaking, I was feeling very uneasy. I came out of my tent and took a walk hoping the fresh air would make me feel good. Within ten minutes I vomited. I thought the dinner was the culprit and vomiting would solve my issue. The thought of Acute Mountain Sickness (AMS) did cross my mind, but with the confidence of my oxymeter reading, I still thought it was the undigested food. Unfortunately, this was only the beginning. Within half hour, I retched up five more times, digging deep to throw up stuff until there was nothing left to come out. I felt miserable. I knew this was not a normal case of indigestion. I was affected by altitude sickness. I had to act fast.
Unlike my usual practice, I was not on a preventive course of Diamox. On this trek, I wanted to take a chance on the easy gradient of the trek — and see if I could cross the pass without feeling the affects of altitude. But now things were grim. I was affected by altitude sickness. I gulped down a tablet of Diamox. It was 7 am.
Read here about how Diamox deals with Altitude Sickness.
Few minutes later I vomited out the tablet. The sick feeling only increased. By eight I could hardly walk. Meanwhile, the camp started to pack, preparing to leave unaware of my misery. As a partner at Indiahikes, and the author of the AMS manual, I was the last person anyone would check for a problem. I lay down on the beautiful grass of the Dayara meadows engulfed in my own misery absolutely flattened by altitude sickness.
I took my oxygen reading again. Now it read 69.  At 11,000 ft the reading was alarmingly low. I was a full blown case of Acute Mountain Sickness. There wasn't any way I could continue with the trek. Descent was the only option.
Complete depletion of energy. Administering myself medicines to keep going.
I had little energy left to stand, yet, I had to somehow make the descent. I started to walk with the help of two trek poles. I had hardly covered ten steps, when my feet buckled under me. I was flat on the ground. I dusted myself up, covered another 500 meters and collapsed again. Passing shepherds offered to get porters from the village to carry me back. I refused. I  knew it was time to give myself a dose of Dexamethazone. For trekkers and climbers, Dexamethazone is a magic steroid. It buys time to get out of altitude. It gives a temporary boost to a dying system.
With 4 tablets (2mg) and twenty minutes of rest I got back to my feet. I walked for an hour to reach a shepherds hut. Inside the hut I napped for an hour. The Dex and sleep gave me a terrific boost. I felt better. I could walk down to Janglik without much ado, on my own.
By evening with the lower altitude I was fine. The thought of reattempting the trek crossed my mind too. But the team had already gone ahead to the next camp at Litham. Doing a double camp catch up with a history of recent altitude sickness was not wise. With a long look of regret I let go of Buran Ghati. In the night I took a weaning off dose of 1 mg Dex (2 tabs).
The Buran Ghati experience rattled me. I didn't want to lose another trek to Acute Mountain Sickness. Next month, I was scheduled to go for the difficult, gruelling Warwan valley trek in Kashmir. It is a 6 day, 100 plus km trek. It rises to 15,000 ft in totally desolate settings. Evacuation is unthinkable.
I took lot of precautions this time.  I reached the base at Panikher a day ahead of schedule. I rested and acclimatised. I also put myself on a preventive course of Diamox. The Warwan valley trek was a breeze. I did not face any altitude related issue.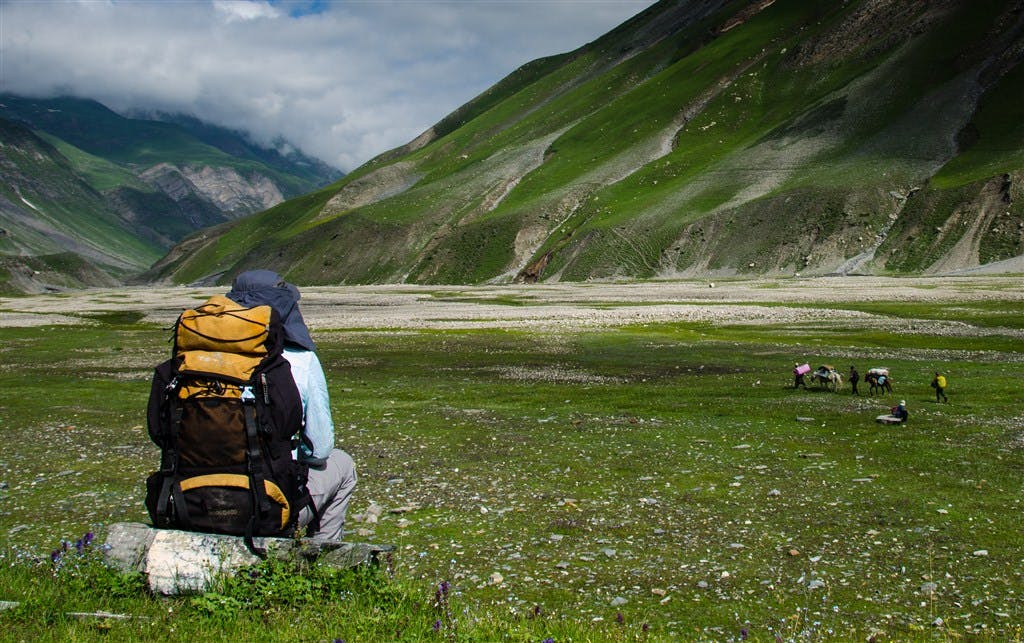 A few important lessons that anyone can take away:
Altitude sickness does not distinguish between a first timer and an experienced trekker. I have been trekking in the Himalayas since I was very young. It was my 28th trek. I was affected by a full blown case of altitude sickness. It was not the first time either.
Altitude sickness can come with only one or two symptoms like nausea and vomiting. Headache is not a mandatory symptom for AMS. Too many trekkers are waiting for a headache to strike before taking steps. It may be too late.
At an altitude, do not attribute an upset stomach to indigestion or acidity. They are just symptoms which tell you that all is not well with the body. Your body does not have enough oxygen to process the food in your stomach. It shows up as indigestion. But it is almost always a case of altitude sickness.
Adequate rest is  important on a high altitude trek. The rigors of a long journey along with quick gain in altitude can make you more susceptible to AMS. Getting to camp (or near camp) a day early helps immensely. Rest is very important when you get to a camp too. While it is great to take in the sights of a camp, rest is critical. It is your body's way of getting back to equilibrium; to adjust itself to the lower levels of oxygen.
No matter how high you have been in the past,  you can still get affected by altitude sickness. Even at relatively lower high altitudes like 11,000 feet.
Being on a preventive course of Diamox can take care of 80% chances of not being affected by altitude sickness. A trek is a big commitment of time, energy and money. Walking back from a trek is not easy for all. Being on a preventive plan of Diamox is a good insurance on a high altitude trek.
Most trekkers may not carry equipment like an oxymeter with them. But learning to recognise your symptoms is as good a measure. Trekking existed much before such equipment did.
Dexamethasone is a steroid. It must be used in rare cases. But it can give you a super boost, reducing the symptoms of AMS. It gives you a window to get out of a bad situation quickly and descend to safety.
When badly affected, take 4 mg of Dex. Descend to safety. Wean away with another 2 mg of Dex (after 6 hours approximately).
A manual to help you understand Acute Mountain Sickness better
To get a good understanding of Acute Mountain Sickness and how it affects you, click on the manual below. It is a freely downloadable file. Take it with you if you're off on a trek. It's mighty useful.
Sign up for our much loved Weekly Mailer
We have terrific trekking tips, trek updates and trek talks to look forward to