How to enrich your child's trekking experience
Share this story
Taking your child on a trek does not start and end with making plans, trekking and coming back. There's so much you can do to enrich his/her trekking experience, right from involving him in making plans and telling him stories about trails. Here are a few tips to help your child have a perfect trek.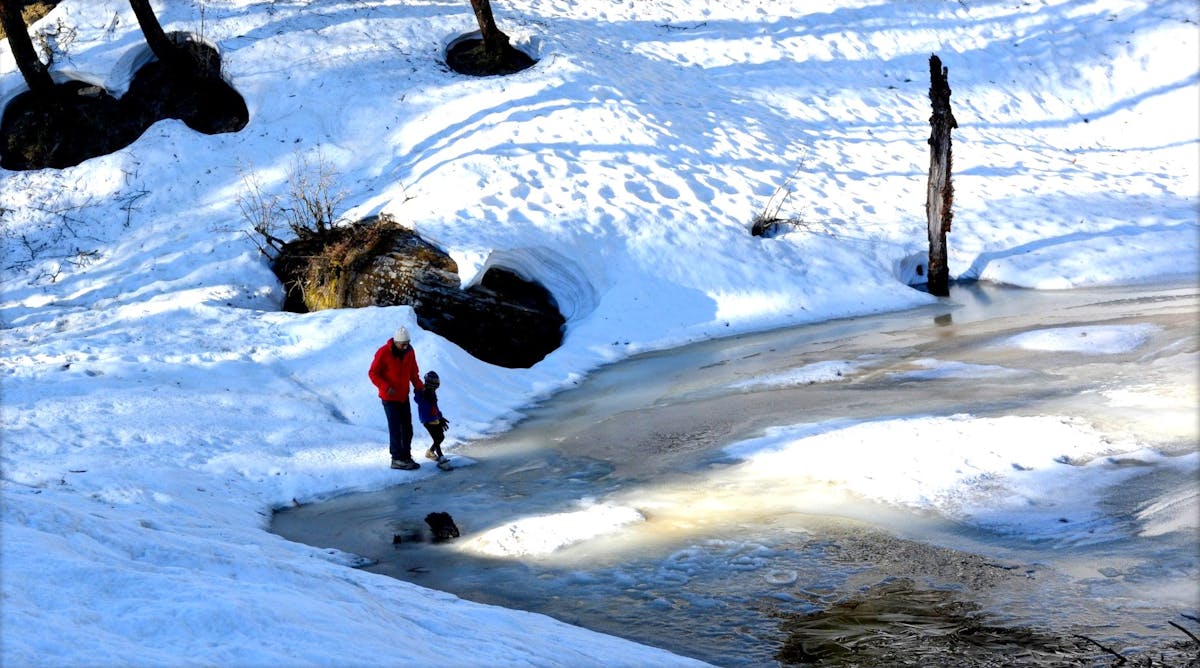 PC-Praveen
Before The Trek
1. Start your child early; there is a bigger possibility of him voluntarily going back to the activity at a later stage.
2. Explain to your child that it is not a visit to a resort or a gaming parlor; he has to be responsible for himself. Hand him some simple responsibilities such as filling water or unrolling sleeping bags. He'll feel important.
3. Before you trek with your child, practice a walk with him. Let your child carry a backpack – perhaps with a bottle of water, a few snacks, or even a camera to keep him motivated. This will prepare him for a bigger trek.
4. Simulate a camping situation at home. Pitch a tent in your garden or backyard or even indoors. If possible, sleep in the tent along with your child to help him understand what it feels like to sleep in a tent.
5. Involve your child in the process of planning, however young he may be. Take his suggestions. Ask him to make his own list of things to carry. Let him search on the internet or ask his friends.
6. Invite other families that have children. More the merrier.
During The Trek
1. Do not expect too much. Remember, you planned this trek to give a valuable lesson and memory to your child. Do not expect him to be Tenzing Norgay. Just go with the flow, and enjoy every little moment, be it seeing a rare flower or a mountain dog.
2. There are several trails on a trek, a few easy, a few difficult. If your child is a first timer, make sure you choose the easy trail. If you choose a difficult trail, and if he's unable to complete it, he might get demotivated.
3. Chart out a map of the trail and hand him a compass. Even if he's not really leading the team, he'll fell good about knowing which direction he's headed in.
4. Let your child carry his own backpack. You can plan to keep it light and adjust the heavy stuff in your bag, but let him have the feeling of being the captain of his own ship.
5. Tell your child stories associated with the trail. Every trail has a story – be it historic, religious or scientific. Gather information about the trail and explain to your child during the trek. He will surely be elated to see the story weave itself around him as he hikes.
6. Practice the concept of Green Trails, and make sure you leave the trail in a better condition. Tell your child not to leave any traces of litter behind. Educate him about conservation of the environment and keeping the surroundings clean.
What You Bring Back After The Trek
1. There are two things that you can come back with after a hiking trip – a deep sense of bonding and a scrapbook of memories you can cherish forever. These memories will be passed on from your kids to their own kids. They become a sort of family heritage.
2. A feel good factor about exercising and healthy living.
3. Dollops of improvement in the self-confidence and self-sufficiency of your child.
4. Emerging as an independent and more rational individual.
5. Enriched with the knowledge they have acquired during the trip.
6. Respecting and appreciating nature by knowing its worth and true value.
Must Do
Please, do ask your child to document the whole experience in the form of writing, photographs, painting, sketching or even poetry. It will help him remember his journey even several years later. So go ahead, take your child on a trek. Weekend treks are best to start with. If you want to take your child on a long Himalayan trek, the Kedarkantha and Dayara Bugyal treks are well-suited for lower age-groups.
Sign up for our much loved Weekly Mailer
We have terrific trekking tips, trek updates and trek talks to look forward to