How to Plan the Kumara Parvatha Trek
Share this story
The Kumara Parvatha Trek is one of the most popular treks of Karnataka. In this post, one of our team members, Vishnu Benne, an avid trekker who has done this trek 14 times, shares how exactly you must plan your trek. He has a lot of experience in this region and wants to share it with everyone. 
Information you'll find in this article:
Travel to and fro
Camping on the trek
Permissions required
Food available
➤ An Overview of the Trek: 
A trek situated in the Western Ghats of Karnataka, the Kumara Parvatha Trek is quite popular among trekkers. Kumara Parvatha is the fourth highest peak in Karnataka. The trail is filled with thick forests, grasslands, and you get to witness a waterfall too! 
There is a famous ancient temple called Kukke Subramanya in the foothills of Kumara Parvatha. The temple holds great importance among the locals. Behind the temple, you'll witness the lush green forest of the Pushpagiri Wildlife Sanctuary.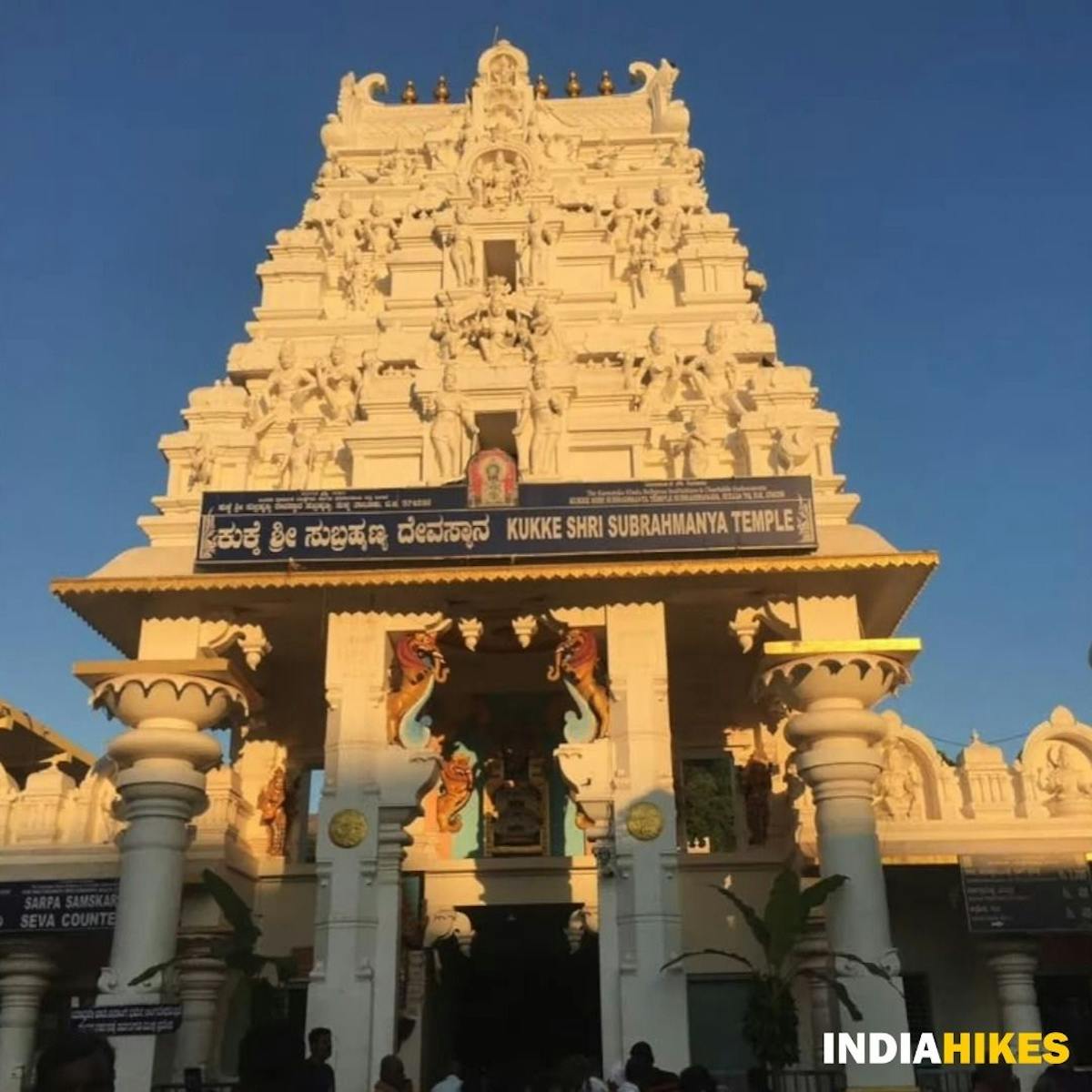 Subramanya temple at Kukke, base of the Kumara Parvatha trek.
The Kumara Parvatha is a long trek. You will be covering a total distance of 22 kilometres. And it's best to spread it over two days. It's your ideal weekend trek!
➤ What an Ideal Itinerary Looks Like 
Day 1 (Friday): Start from Bangalore on a Friday night. Reach Kukke Subramanya in the morning. Kukke is the base for the Kumara Parvatha trek. 
Day 2 (Saturday): Trek the forest section until you reach the forest office itself. Once you reach the forest office, set up camp there. 
Day 3 (Sunday): On the next day, you can go all the way up to the summit. Then, come right down to Kukke. On the same night, take a bus from Kukke Subramanyam to Bangalore / your city. You'll reach early in the morning on Monday. 
This is the ideal way to plan the Kumara Parvatha Trek.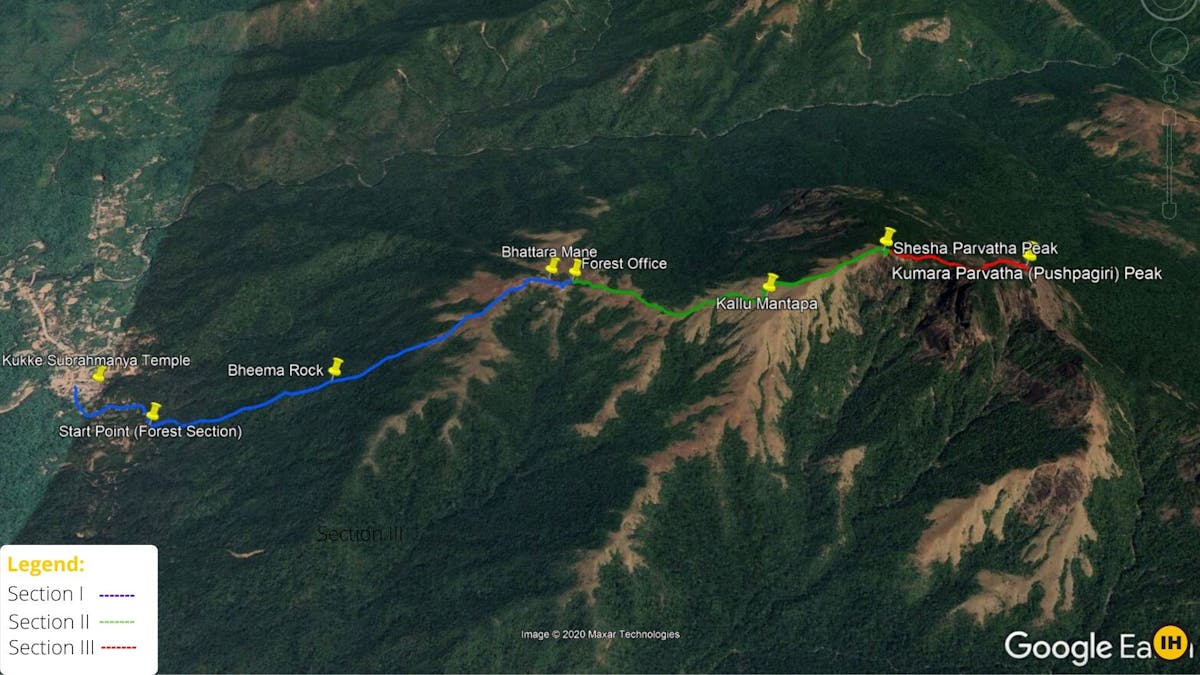 Route Map of the Kumara Parvatha Trek
➤ Travel to and fro
Travel to Kukke Subramanya (Base Camp) from Bangalore
The distance from Bangalore to Kukke Subramanya is 281 kilometres. Time taken to travel is 6-7 hours by road. You can find numerous buses coming from Bangalore to Kukke. There are government buses, KSRTC buses, Volvos, and private buses. 
It would be best if you planned to leave Bangalore by 10:30 latest. You will reach Kukke around 5-5:30 in the morning. This will give you enough time to freshen up and eat breakfast. 
Start the trek by 6 am. It will allow you to have the best experience. 
➤ Camping 
Camping is allowed only around the forest office area. In fact, there is a designated camping ground created by the forest office. You can pitch your tents only here. Beyond the forest office, it's the trail that leads to the summit. You are not allowed to carry camping gear beyond this point. 
There are a couple of rooms to keep your camping equipment. You could even keep your extra luggage here. The forest office will take care of it.
Designated camping area near the forest office
For the Summit Climb, Carry the Following: 
A day pack
Suncap 
Snacks
Two 1 litre water bottles
Raincoat
These would be the most essential items while trekking. 
Some trekkers don't carry a tent. But, they still want to have that trekking experience at the Kukke base. There are two shops at Kukke that have started renting tents out. You can choose these options too. 
➤ Permissions 
You have to take permission from the forest department to trek beyond the forest office. This is the trail that leads to the summit. The charges are Rs.350 per person. They note down your name, contact number, and address. And you'll receive a receipt for the same. 
There is another vital point to keep in mind. Depending on the number of plastic items you carry, you must pay a deposit. This deposit ranges from Rs 100-1000. They will keep a count of the number of plastic items you carry and you'll be charged on the basis of that. 
For example, items like biscuit packets, plastic containers, etc. The more plastic you carry, the bigger the deposit. It's an excellent initiative to reduce the waste on the trail. The bottom line is to trek sustainably and take fewer items. 
➤ Food 
Breakfast: As soon as you reach Kukke, you'll find two hotels. To the right, you have the Neo Mysuru Cafe. And to the left, you have the Kumara Krupa Hotel. The best part is, both these hotels open at 5 am in the morning. You can quickly finish your breakfast and get started. 
Our Recommendation: Veg Pulav at Kumara Krupa Hotel. It will keep you full, and is tasty too! 
There are no water sources on the first section of the trek. So, make sure you fill your water bottles while having breakfast. Carry two 1 litre bottles per person. 
For snacks, carry dry fruits. These contain carbohydrates and will keep you energised for the trek. You can find a shop right outside Mysuru Cafe. There's a vendor who sells dry fruits in loose. 
Don't forget to carry a box from home to keep the dry fruits. Buying dry fruits from here will help you reduce the plastic you carry too. 
➤ Food on the Trek
Bhattaramane, or Bhatta's house, is the only food source on the trek. It's incredibly close to the forest office. After crossing the forest section, you'll find his house on the left side. 
Bhatta prepares basic but tasty food for all the meals. You'll find food like rice, dal, pickle, and buttermilk on the menu. The charges are Rs.150 per meal. 
However, you are required to pre-book your meals. Give him a call a day before the trek. Mention details like the number of people and timings. This will give ;him enough time to prepare the food for you. 
Bhatta's House Contact No: 09448647947 / 0825728150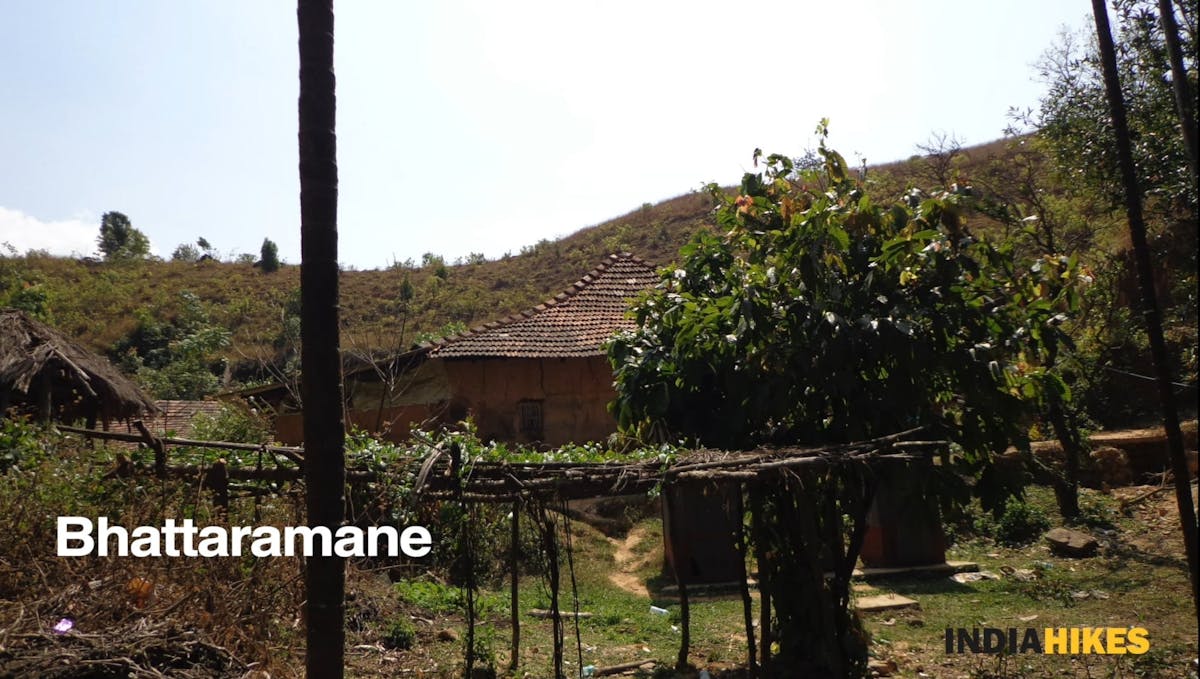 Bhattara Mane on the Kumara Parvatha trek
Best Way to Plan Food on the Trek
Breakfast: At either hotel in Kukke, finish breakfast and fill up the bottles. Then, start the trek at 6 am.
Lunch: Reach Bhatta's house around 11:30ish and report to him that your group has arrived. 
Dinner: Speak to Bhatta about dinner and the next day's lunch itself on arrival. 
Breakfast for the next day: Use packed dry fruits for breakfast. Head to the summit and finish the trek. 
Come back to Bhatta's in time for lunch.
Lunch: At Bhatta's. Finish lunch and head down to Kukke.
➤ Things to Keep in Mind
Kumara Parvatha is a top-rated trek. So you can expect a lot of crowd on the trek. Bhatta's house will be packed with trekkers and tourists. You might even have to wait for 2 hrs to be served. 
Hence, it is recommended to carry some home-cooked food as well—chapatis, a paste that you mix with rice. Essentially, food that would not go bad for the next two days. 
Try and manage with your own food, so you don't have to wait. You can have a more fantastic trekking experience like this. 
Frequently asked Questions about Planning the Kumara Parvatha Trek
Can we trek Kumara Parvatha in one day? 
Yes, you can! It is quite a challenge, but you could still do this in 7-8 hours. However, you would have to be really fit as you would be covering a distance of 22 km. 
For more information about the trekking world, you can follow us on Facebook, Twitter, and Instagram.
If you have any thoughts or questions, drop in a comment and we will get back to you.
Sign up for our much loved Weekly Mailer
We have terrific trekking tips, trek updates and trek talks to look forward to