How To Time A Successful Attempt To Goechala
Share this story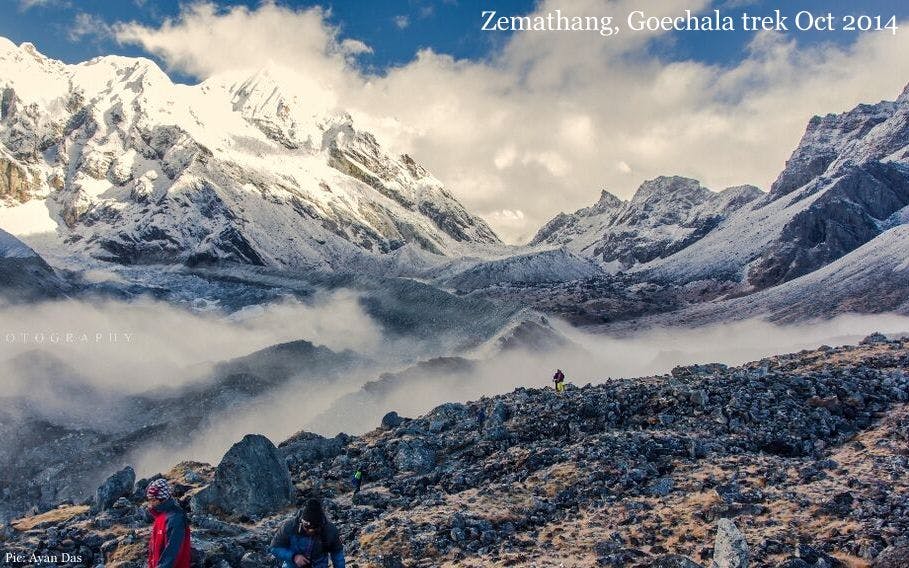 Prohibition on camping at Samiti lake has made the pass day of Goechala trek tad difficult. Now, the key to getting this spectacular hike right is by timing it well
In my younger days it was a lot easier to do Goechala. For the final pass day, you could camp at Samiti lake. We would leave at 3.30 in the morning from Samiti, reach the sunrise point by 5.00 and eventually reach Goechala by 7.00. All in a leisurely fashion.
Now all that is not possible. Camping at Samiti is prohibited. Trekkers need to make the Goechala attempt from Lamuney, a camp earlier to Samiti. This makes the day long, very long. You also climb from 13,700 feet to 16,000, an altitude gain of 2,300 feet in rarified air.
For a successful Goechala attempt that's why it is crucial to get your timing right.
A successful Goechala attempt depends on when you begin
Begin your trek at 3 am from Lamuney. It takes a regular trekker 45 minutes to get to Samiti, one hour max. So don't start anytime later than 3.00, if possible start half hour earlier. 3.00 am is your final start time. Aim to reach Samiti by 4. Samiti is a beautiful lake. But in the wee hours of morning it is pitch dark to see anything. Leave the sight seeing for later. Breeze past Samiti to get to the end of the lake by 4.30. This is crucial. If you are later than 4.30 at the edge of Samiti, consider shortening your trek to Zemathang.
No later than 4.30 begin your climb to sunrise point (or as what most people call it now, Viewpoint One). It is a comfortable one hour climb to the hump at sunrise point. With your headlamps on and no other distractions, climbing is usually faster. As you get closer to the sunrise point, the sun would just start to peek behind Kanchenjunga. You don't want to miss this — so it is imperative you reach this spot by 5.30. Take a 10-15 minutes break here. Don't stretch the break beyond 15 minutes though.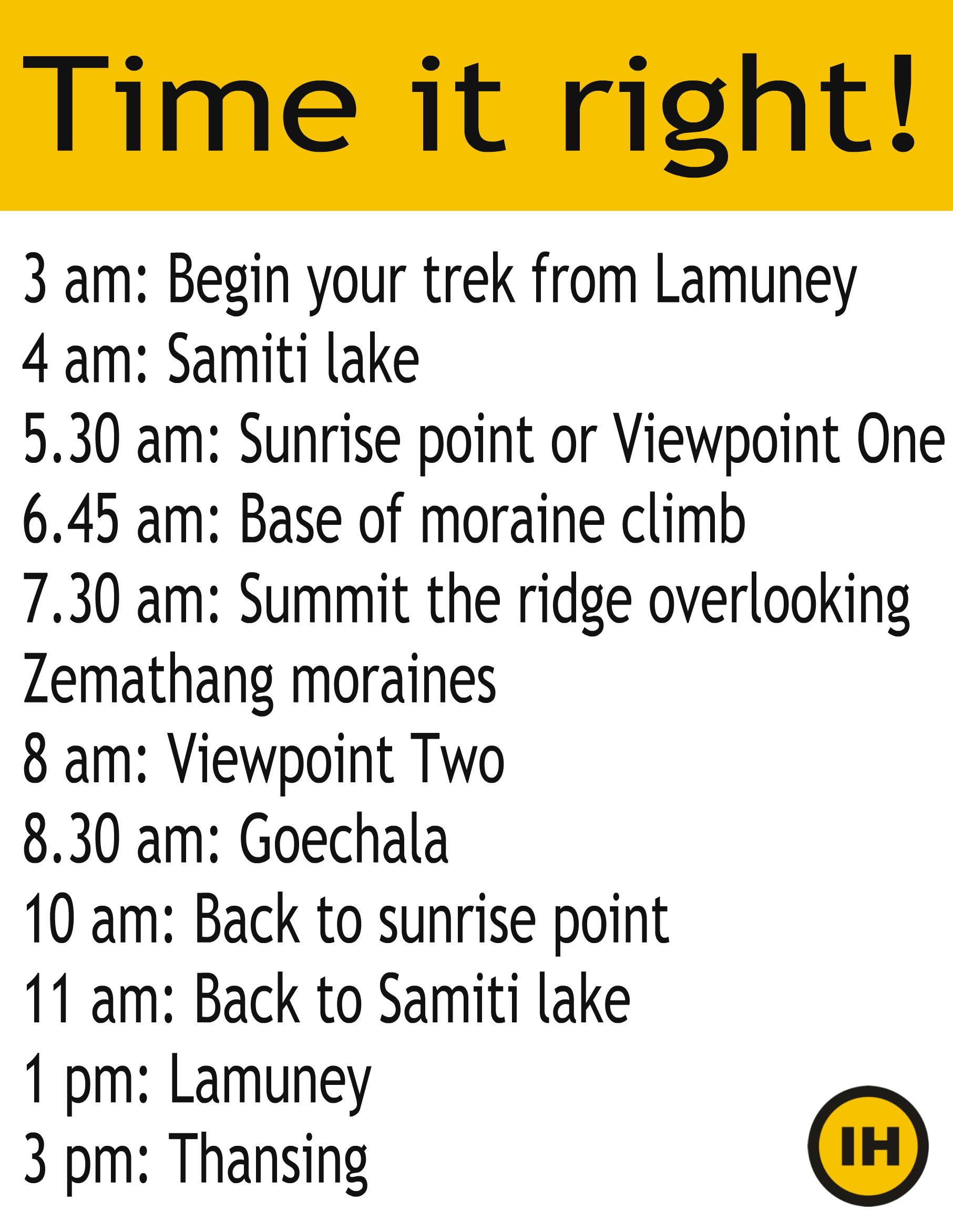 It is a short 15 minutes descent to the sandy flats of Zemathang. It can take longer if the trail has covers of ice. So account for that. Get to the other end of the sandy flat in another half hour.  A curve later is the start of the moraine climb that leads to Goechala. Aim to be at the base of your moraine climb by 6.45. You are almost at 15,500 feet, so the going is going to be slow. Account for it.
Climb the switch back trail on the scree laden moraine to reach the summit of the ridge in another half hour. Keep a target time for getting to the top between 7.15 and 7.30. From the top of the ridge, you get commanding views of the Zemathang moraines. You also see Kanchenjunga and the mountains flanking it. Walk along the top of the ridge to finally get on top of the green waters of Goechala lake. The large lake is below and on your left. At the end of the walk with the lake slightly behind you is when you reach the start of the Goecha pass. This spot is marked by prayer flags. The local folks also call it Viewpoint Two. If you have been walking well, you are at this spot at 8.00 am or slightly later, but not later than 8.30 am.
When to choose Viewpoint 2 over Goechala
It is okay to end your trek at Viewpoint 2 and head back. Or you may want to extend the trek further to the true Goechala, which is a straightforward trail for another 30 minutes. I have been to both spots and frankly, the view from Viewpoint 2 is a lot grander than the true Goechala. Heading to true Goecha also pushes your getting back time by an hour and half. For a long trekking day, the sapping of energy for the time spent is not worth it.
If you are heading back, then start your return at 9.00 am from either Goechala or Viewpoint 2. If you have not reached either of these spots by 9.00 am, turn around from wherever you are. 9.00 am is already late in the high mountains of Goechala.
Assuming you have started your return at 9.00 am from Viewpoint 2, attempt to reach sunrise point by 10. Usually trekkers take a fifteen minute break here on the return. So can you.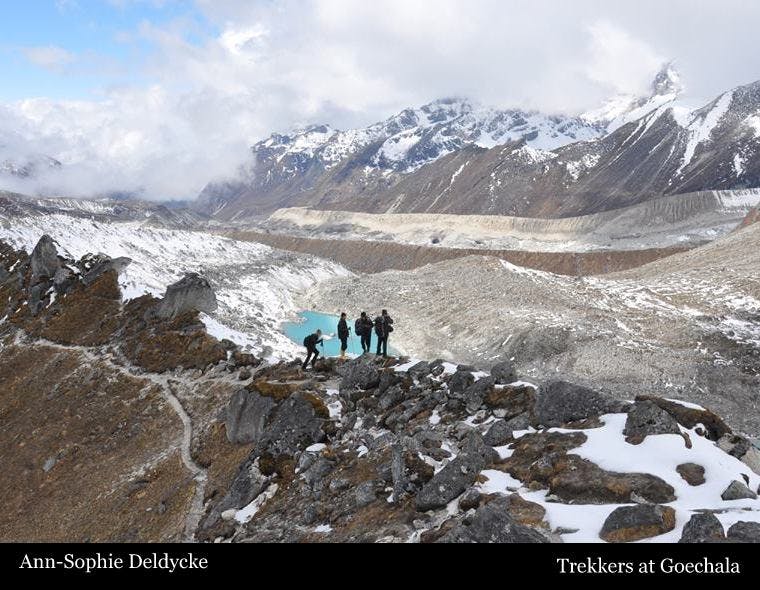 Start your descent to Samiti by 10.15. It takes an hour to reach Samiti, usually between 11 and 11.15. Samiti is beautiful at this time of the morning, so give yourself half hour to forty five minutes to rest and photograph the spot. Begin descent from Samiti at 12 to reach Lamune by one.
If you are lucky, your camp at Lamuney would still be around for a quick snack. Or else, after a brief rest, move ahead to Thansing which is going to take another 1½ to 2 hours. After the long pass day, even the level walk to Thansing feels like dead weight. Whatever it is, end your trek by 3.00 pm (or half hour more), either at Lamuney or Thansing. Sometimes, trekkers do push further to Kockchurang (the trekkers huts are warm and cozy), but it is an unnecessary push without much gains. It only tires you endlessly.
The Goechala day is easily a 12 hour cracker. It is thrilling and exhilarating. But it is a long day. Plan it well. Stick to the schedule.
Read more:
Everything you need to know about Goechala trek
Sign up for our much loved Weekly Mailer
We have terrific trekking tips, trek updates and trek talks to look forward to