How Trek Leader Sharwari Brahme Felt the Impact of Her Work When She M...
Share this story
How Trek Leader Sharwari Brahme Felt the Impact of Her Work When She Met Two 51-Year-Old Trekkers
Category Transformation Stories
"One of the teams that I led to Beas Kund shifted my way of looking at life and work.
I had two trekkers in my team - Chandrakala Ji and Radha Ji. Both of them were 51 years of age. They are colleagues and know each other for quite some time.
Both of them had previously trekked with Indiahikes to Valley of Flowers in 2018.
Since Chandrakala Ji doesn't know Hindi or English, it was Radha Ji who narrated her story on the trek.
Chandrakala Ji has a conservative husband who has always kept her in control of where she is going and what she is doing.
When she signed up for the Beas Kund trek, she didn't tell her husband about it initially. Because in 2018 when she came back from Valley of Flowers, he didn't speak to her for almost 2 months.
So in order to prepare for her trek, she used to wear track pants and a t-shirt under her saree and go to work out.
She secretly kept training like this for almost a month or so without him having any idea about what she was up to.
Even before coming for this trek, her husband was not okay with her decision. Despite the negative warnings he gave, she took the bold step to choose what she wanted and came for the trek.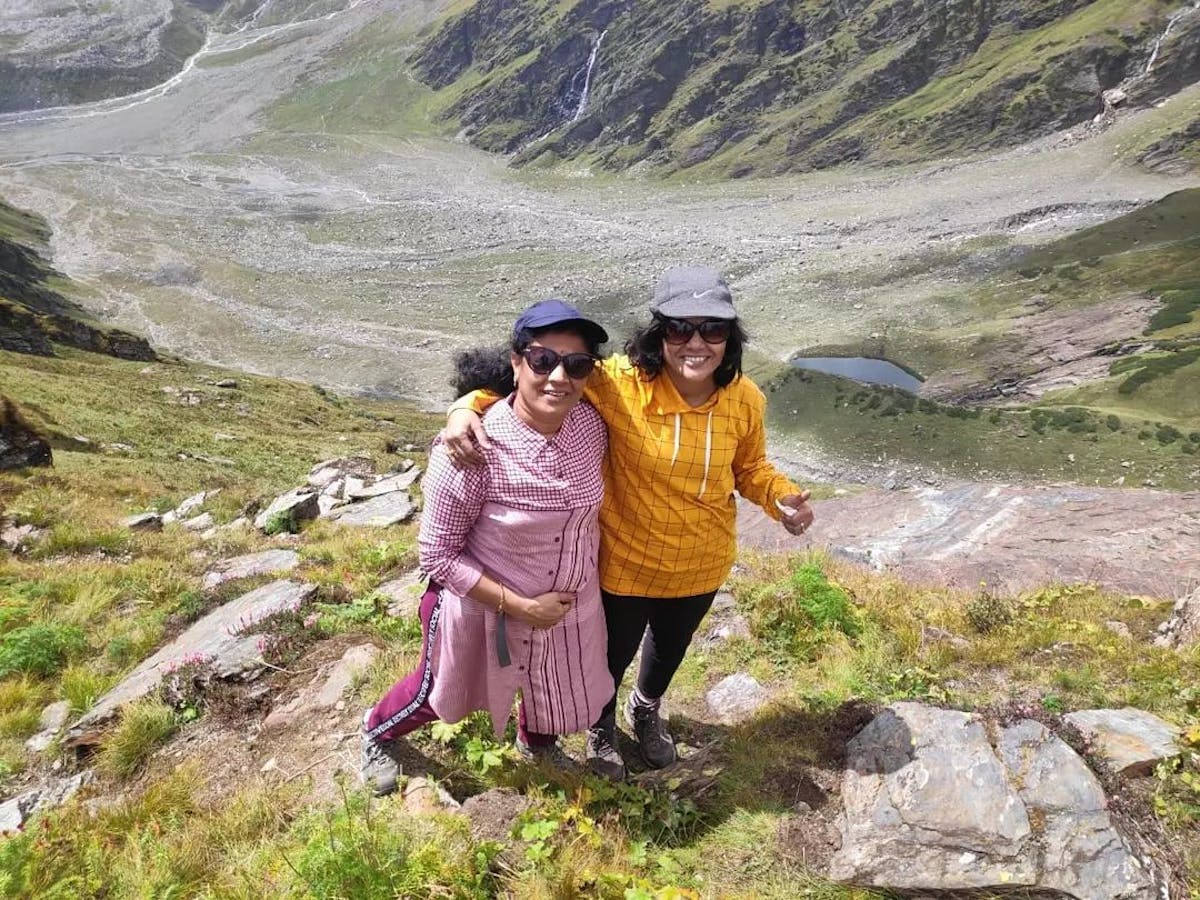 Chandrakala Ji and Radha Ji's stories left a deep impact on Indiahikes Trek Leader Sharwari
When I asked her what made her take that step, she told me that the mountains are her only escape. This is where she feels the most alive and free.
Being married at the early age of 17, she even completed her BA and MA secretly.
I was really moved by her story. The way she has gone about her life, choosing what she wants and working towards it by hook or by crook, isn't easy.
As a trek leader, I felt extremely touched. The kind of safe environment we are able to create for people here which allows them to open up and be vulnerable about their life, we don't even realise how transformative it can be for them.
She shared this story with me after we did the hug a tree activity. The kind of emotional impact it had was visible on her face and in her body language.
We often take our freedom for granted, but here is Chandrakala Ji who goes to such extent to trek and experience freedom."
- Sharwari Brahme, Trek Leader at Indiahikes
Sign up for our much loved Weekly Mailer
We have terrific trekking tips, trek updates and trek talks to look forward to