How Trekking Transforms Relationships - A Personal Story
Share this story
At Indiahikes, we hear stories of transformation every single day. We hear riveting, inspiring, and truly emotional stories from our trek leaders and trekkers alike. Stories about how trekking changed their lives, about how a trek brought about a complete shift in their attitude, about how someone rediscovered a part of themselves that they thought was lost.
To document some of these extraordinary stories and experiences, we've created the How Trekking Transforms Lives series. This is our attempt to share with you the life-changing effects of trekking.
Today's story is from one of our own, Rutuja Nighot, who recently joined our team as an Experience Coordinator. During one of our day hikes, she shared her experience of how a trek changed her relationship with her mother. This was a story that struck a chord with us. 
She took us on a trip down memory lane.
A tight relationship between mother and daughter
Rutuja had always had a very close relationship with her mom. With her dad working in the Army, he was out for the better part of the year, visiting home only once or twice annually. In Rutuja's own words, she and her mom were best friends. 
But all that changed when her dad got a transfer, and they shifted from Pune to Navi Mumbai even as Rutuja got ready to enter 11th grade. Rutuja's parents thought that moving a bright student with tremendous potential to a big city school would present their daughter with the opportunities she deserved. 
However, the move from a vernacular school to an English medium convent school didn't turn out to be as smooth as Rutuja's parents hoped it would be. Looked down upon by her English-speaking classmates, Rutuja turned from an exuberant, confident young girl who excelled in academics and sports into a defiant teenager. She took out the hurt and rejection she faced at school out on her parents. Primarily her mom. 
"I stopped communicating for two years. I just wouldn't speak. I would be crying all day. I would just open my books and stare at them for hours. My parents didn't understand what was going on. That feeling of `I am not worth it, and I don't belong here' crept in," says Rutuja.
This continued as Rutuja graduated from school and joined an engineering college.
"I used to be irritated and angry with my parents. Even though I knew they had good intentions for me, I held a grudge against them," added Rutuja. 
Rutuja could feel the relationship with her mom weaken, and that bothered her a lot.
However, in the 2nd year of college, an incident changed this mother-daughter relationship forever.
The idea of a trek 
Wondering if she could mend her relationship with her mom, Rutuja asked her mother to join her on a trek early one weekend morning. Her mom agreed, and they headed out to Prabalgad Fort for a day hike. 
As a regular gym enthusiast and trekker, Rutuja was not worried about doing the trek. Her mom, on the other hand, was fairly new to trekking and not at her physical best. 
It turned out to be a rainy day. 
As they hiked up, they came across a boulder section that was tricky to climb. The heavy rains had made it slippery. 
"I was very scared to cross this section. But to my surprise, my Mumma led the way! She was at least 100 meters ahead of me and was constantly encouraging me to go over it," Rutuja recollects. 
But even as they continued to trek, dark clouds gathered, threatening to come down. With no other human presence on the trail, a strange sort of fear and doubt gripped Rutuja, and she was overwhelmed with emotions. Instinctively, she went towards her mom seeking comfort.
Rutuja narrates, "I don't know what happened, but I just felt like crying. My Mumma was so confident even though she had gone through two surgeries in the recent past. She had an inner strength that I didn't. I just went up to her and cried. At that moment, something changed and I realized the importance of her being in my life."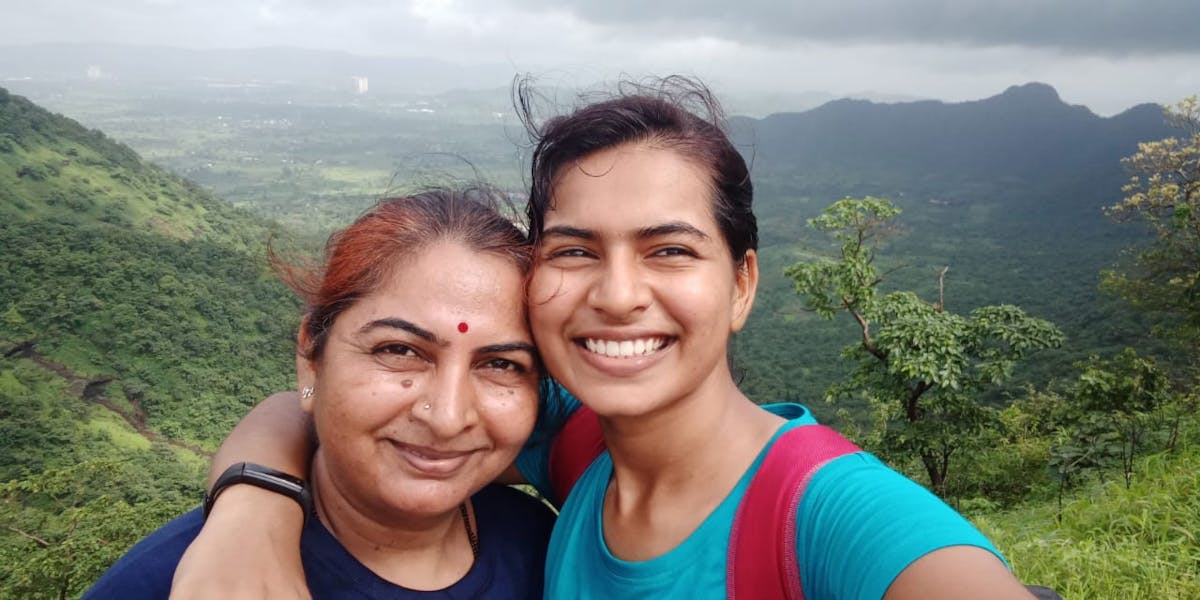 Trekking to the top as a team
A transformed relationship
Back from the trek, Rutuja's perspective of her mom underwent a significant shift. 
"Ever since my childhood, I had only seen my mother in the kitchen. But, after this trek, she was no longer JUST a homemaker. She was not just someone who had to drop out of school. She was not just somebody who couldn't speak English. She was somebody who could give me strength in any situation. I could now turn to her no matter what problems I faced," Rutuja reflects.
Rutuja started viewing both of them as a team and started spending more time together and learning from each other. 
"Even today, I know that I can talk to my mom about anything that I am going through, and she will be there for me," says Rutuja, with deep emotion. 
Rutuja and her mom's partnership extended outside the confines of their home and they went on to become workout buddies, even training and completing a 10k together. "My mom's timing was much better than mine. She is some NEXT LEVEL lady," Rujuta states with unmistakable pride.
Rutuja and her mom at a 10k run
While on the face of it, Rutuja's story might just seem like a happy, feel-good one, the intent of this article (and series) is to demonstrate how trekking gently nudges you, sometimes unknown to you, and sometimes when you least expect it, to challenge your beliefs and perceptions. Not all of these experiences are pleasant but they are necessary. Necessary for your personal growth and imperative to keep evolving. 
So, on that thought, we'd like to ask you – How has trekking changed your relationship with yourself and with others? Tell us in the comments. We'd love to know!
Related Videos
"How My First Himalayan Trek Changed My Outlook | Indiahikes Trekkers Speak"
"How an Indiahikes trek Transformed Me | Indiahikes Trekkers Speak"
"Why the Brahmatal Top Holds a Special Place in my Heart | Indiahikes Trekkers Speak"
Sign up for our much loved Weekly Mailer
We have terrific trekking tips, trek updates and trek talks to look forward to