5 Reasons you must replace your water bottle with a Hydration Pack
Share this story
"An apple a day keeps the doctor away," is an expression that has been around for centuries. While this may hold true down at the cities, it's different up here in the mountains. Water is the magic liquid that keeps most health issues at bay.
As a Trek Leader, I advise trekkers to drink at least 6 liters of water a day especially when they're on a course of Diamox. Unfortunately, most trekkers do not drink enough water, for the simple reason that it is not convenient to get the water bottle out every few minutes.
So what's the alternative?
Hydration packs.
I've noticed that in the recent years, hydration packs have been gaining popularity in the Indian trekking scenario. But it's still a meagre number that uses them, perhaps 4 or 5 per cent of the trekkers. However, I would strongly advise all trekkers to use a hydration pack and not just water bottles. I'll tell you why.
Here are 5 reasons why a hydration system works really well in the mountains, whether you're hiking for a day, or trekking for days together.
1. Convenience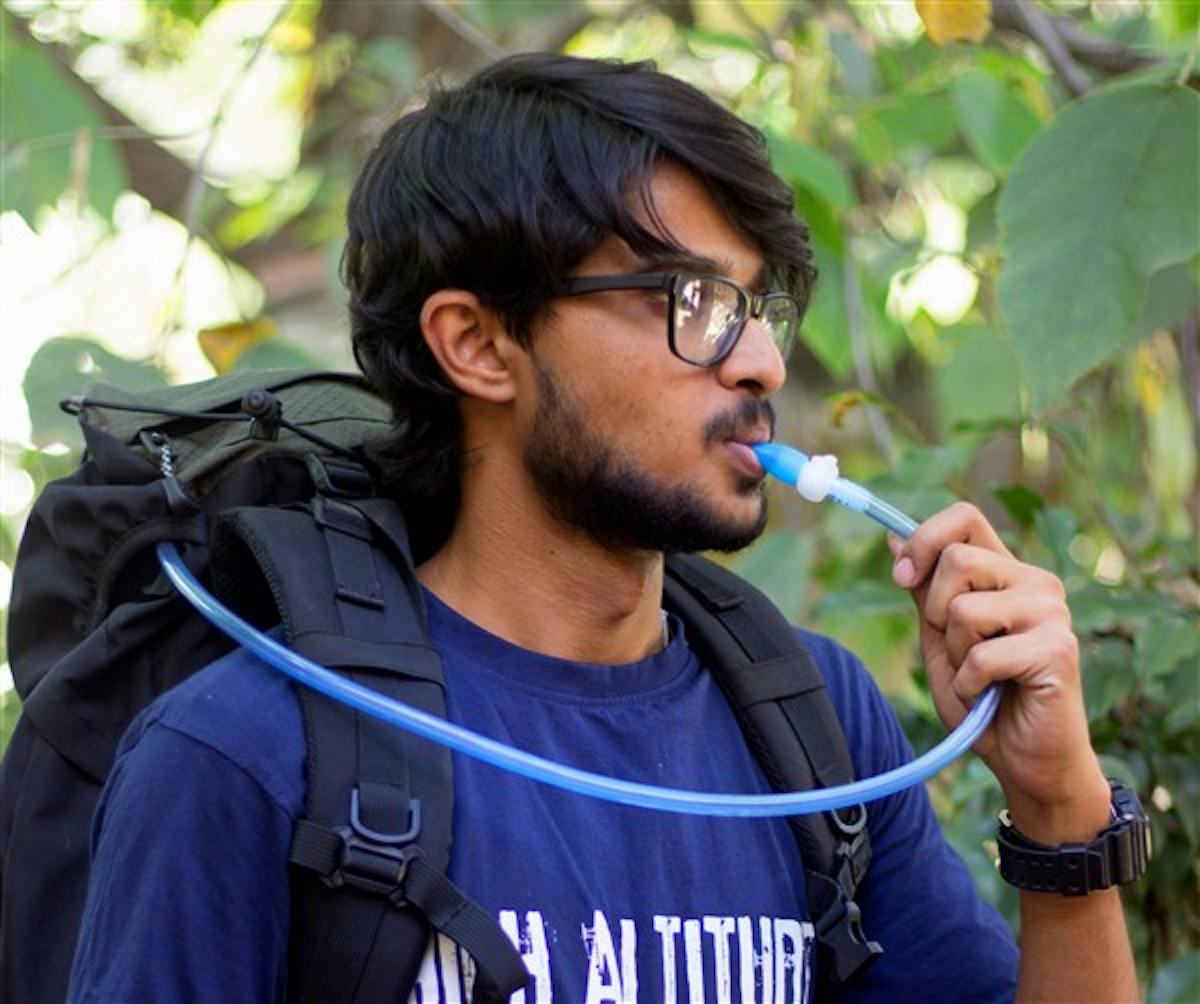 Backpack hydration bladders are a convenient alternative to water bottles.
A hydration system provides easy access. It allows you to drink on the go without having to reach out for your water bottle or asking your friend to help you get it out. Most new backpacks are compatible with hydration packs. They either have a separate compartment for the hydration bladder and a small opening on the side or at the back, which usually reads "H2O" for the pipe to come through. This pipe extends to your shoulder and you can keep yourself hydrated while walking.
2. Medical reasons
The main medical reason for using a hydration pack is that it will keep you hydrated. Like I mentioned before, water is akin to medicine on a high altitude trek. And sipping out of a straw that is hovering around your head will keep you hydrated whether you like it or not. Water will keep you away from all sorts of altitude sickness, and a hydration pack is a blessing in disguise to keep you drinking water.
Another thing I've noticed is that when drinking from water bottles, trekkers tend to gulp down a lot of water at once. This can cause gag reflexes. Besides, a splashing sensation in the stomach is not a pleasant feeling while on the trek. Sipping water at regular intervals is the best way to prevent this from happening. A hydration system fits that purpose perfectly.
3. Helps maintain rhythm
We advise trekkers to use a certain technique called "Microsteps," where you try to get your breath into a certain rhythm. With microsteps, you won't need to stop every now and then to get your breath back. However, stopping to drink water from a water bottle messes with that rhythm. A hydration bladder however, allows you to drink on the go, without stopping.
4. Trekking with your hands free
We ask trekkers to keep at least one hand free, assuming that they are using a trek pole. But many trekkers tend to carry their water bottles in their hand, since it is more convenient, than to stop, reach out to either sides of the backpack to get the bottle out, unscrew, drink, put the cap back on, and then put the bottle away. This habit puts them in harm's way, as even small fall can be deadly. Having a hydration pack keeps your hands free – one for a trek pole and the other hand for, well, freedom.
5. Backpack stability and weight distribution
Two 1 litre bottles on either side of the backpack evens out weight on the backpack. But it is always advisable to carry heavier weight on your back and not the sides. Since water is dense, it must ideally be carried on your back.
While hydration bladders are very useful while on a trek, they have some limitations as well:
1. They are hard to use in extremely cold weather conditions. Sometimes the water in the tube freezes making it impossible to drink.
2. Hydration packs are harder to refill while on the trail. It is not easy to check how much water is actually left in the reservoir.
3. Carrying hydration packs around at campsites during dinner or snacks doesn't make sense. Especially since your back pack won't be on you. Water bottles would be a better fit for campsite usage.
4. They are harder to maintain. They need thorough cleaning to keep microorganisms and mold away.
Jude's advice
If you're going on a high altitude trek, carry one hydration reservoir (1-2L) and a 1L bottle. This would be the perfect combination, convenient for the trek and for usage at campsites.
If you have any more suggestions from your experience, do let me know in comments.
Sign up for our much loved Weekly Mailer
We have terrific trekking tips, trek updates and trek talks to look forward to