Is it safe for a solo woman to trek?
Share this story
The idea of a woman travelling solo often gives rise to apprehension among her peers. But it so happens that 34% per cent of Indiahikes' trekkers are women, many of whom come alone and feel completely safe. Vishi Bansal is one such trekker, who loves backpacking the world. Just having returned from a trek to Bagini Glacier, she talks about her experiences and hands out tips to solo women trekkers.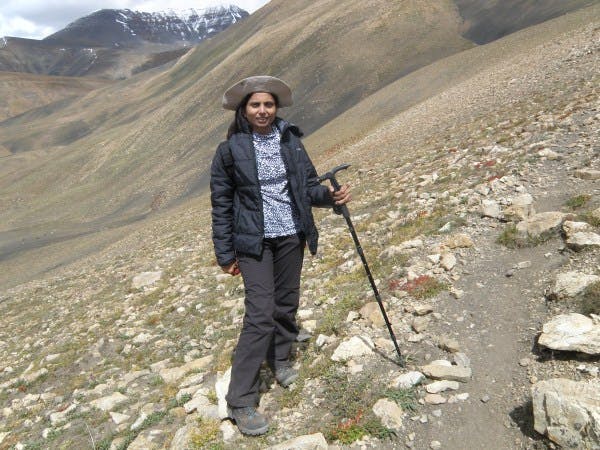 I have never felt safer than when on a trek.
I am often asked questions by friends / colleagues and my reply astonishes them. Let me explain. I firmly believe that only people with a certain mindset go for treks. They are not the ones with malice,  the ones who would mean any harm to fellow human beings. So, all trekkers in a group, including the local staff, are there because they love nature and want to savour their limited moments in its company.  They wouldn't spoil this celebration of life with any nasty thought or action. That is why there is usually such camaraderie between trekkers on most treks.
Usually, on organised treks, the groups are large enough ruling out any chance of feeling left out or lonely. You are bound to find company in the midst of all like-minded people. And with majestic hills and charming meadows for company, who feels lonely anyway!
I have never had issues related to safety on a trek. However, once I had severe diarrhea on the Kashmir Great Lakes trek, and the situation could be salvaged only with help from fellow trekkers and the Trek Leader. A doctor in the group gave me medicines, while some other trekkers offered to share my day pack. And the trek leader was accommodative enough to allow me to eat a larger portion of fruits as I wanted to avoid any cereal. I don't think one could expect such generosity anywhere other than on a trek.
During my winter trek to Ladakh early in 2015, I was the only woman along with three other guys. I shared the room as well as the tent with them- all 9 days of the trek. Believe me, I have never had so much fun with tent mates on any other trek. Actually, I never felt I was a female, or different from them. I was just one of them. The only thing I did differently was request them to go out into the biting cold when I needed to change. They obliged.
So, considering the entire trek is safe, the next question that pops up is: how about travelling to and from the base camp? Well, I've never thought about it for a second. I travel a lot and it is like any other travel. I am sure many women travel a lot for work so this is also no different. If you feel lonely, carry a good book or music that you like. I love observing people, so I have a really good time during my travels. I can feast on a multitude of personalities.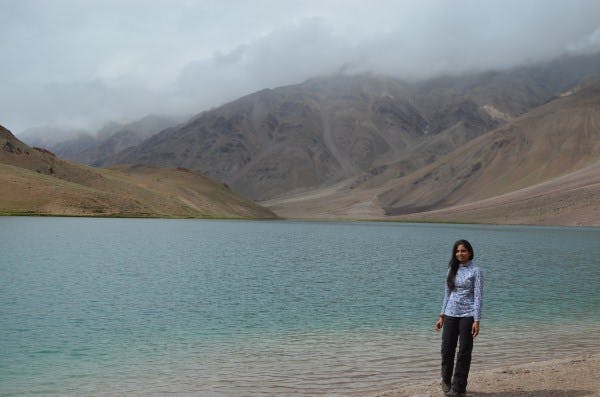 Some tips to our other women travellers:
1. Feel confident of yourself at all times; half your battle is won if you feel and look confident.
2. Even in situations when you are a little scared or unsettled, don't let it show.
3. Plan well for your travel – book flights that reach a new city during daylight; book stay in advance.
4. If you are sceptical of staying in economy hotels / lodges, opt for youth hostels' accommodation wherever it is available
5. Always have the travel map on your smartphone when you hire a taxi in a new city. This will ensure that you are not being misdirected. Insist on sticking to the route shown by Google maps.
6. Read up a little about any new place that you plan to visit so that you are not left at the mercy of local people offering unsolicited advice.
7. Use public transport wherever possible – it is a lot safer than a taxi.
8. Above all, stop thinking that you are the centre of everybody's attention. It is not the case all the time, so no need to panic.
9. If you can, try to blend in, in terms of dressing and behaviour, so that you do not attract unnecessary attention.
Sign up for our much loved Weekly Mailer
We have terrific trekking tips, trek updates and trek talks to look forward to