What Makes An Ideal High Altitude Trek Team
Share this story
Late in May 2018, I went on the Kedartal trek. Needless to say, I loved every minute on the trek. The rugged landscape around Kedar Kharak is as clear to me today as it was on the trek. So are the graceful silhouette of Mt Thalaysagar and the roar of the Kedar Ganga river along the trail. But what made my trek so memorable was the fantastic team that I went with.
Working at Indiahikes, and being an HR professional for many years I know what it takes to put a team together. A good team of trekkers doesn't just show up at the base camp expecting to be escorted from one campsite to the next. All members are completely hands on, helping with food and equipment, guiding each other on the trail, and being responsible towards each other's safety. They are as much the 'organisers' as trekkers.
My team at Kedartal reminded me of this. They were fit, independent and became a team in no time. Half way through the trek, they seemed as much a part of Indiahikes as the staff!
They were the ideal team to trek with.
I'll tell you what made them ideal.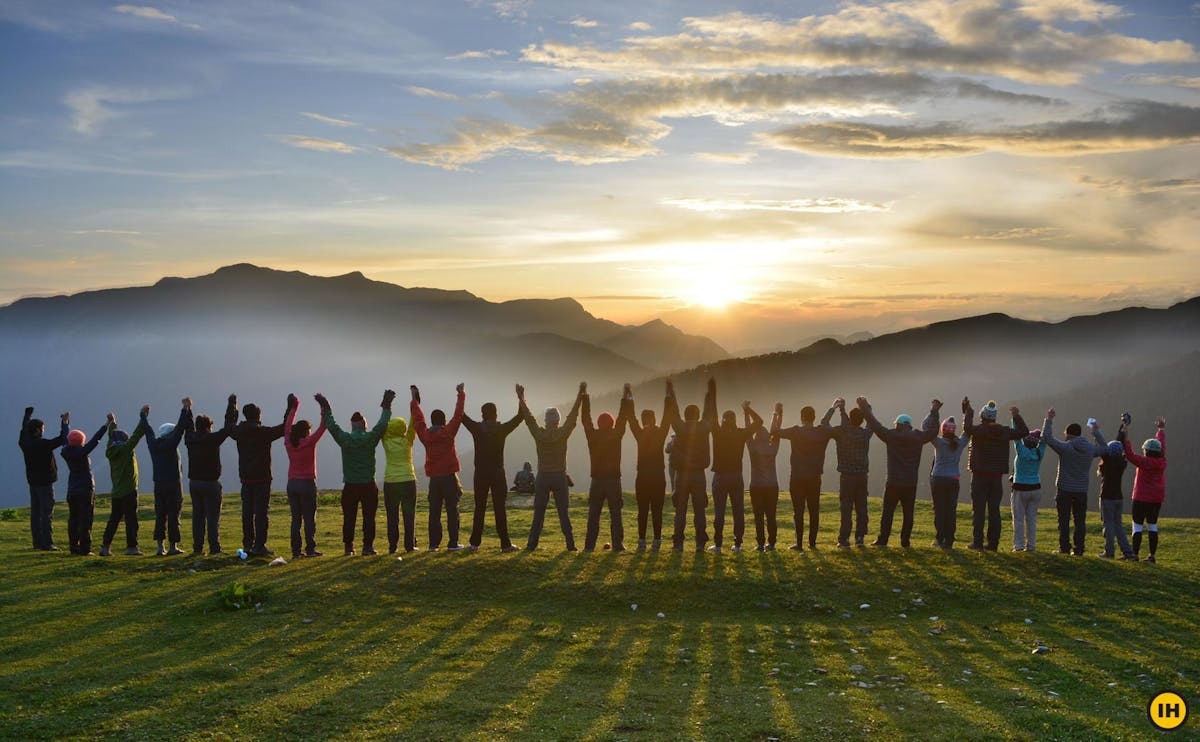 Trekkers at the Bedni Bugyal campsite on Roopkund trek. Picture by Avijit Jamloki.
The team had fit trekkers
The terrain on the Kedartal trek is very challenging. The trail from Gangotri to Bhoj Kharak on the first day ascends relentlessly at a steep incline. To add to that, there are sections with loose stones and slippery mud. The notorious spider wall makes an appearance in this section too. Despite this, even the last person to reach the Bhoj Kharak campsite took just 4½ hours.
On almost all days of the trek, the gap between the first and the last trekker wasn't more than half an hour. This was because the team was fit.
Having a fit team of trekkers had many advantages — we often took breaks together and had our packed lunch together. As we trekked, we could have conversations with one another — we weren't always huffing and puffing for breath. We had enough time to rest at campsites. And because we were well rested, we also had the energy to play, share stories and have fun together.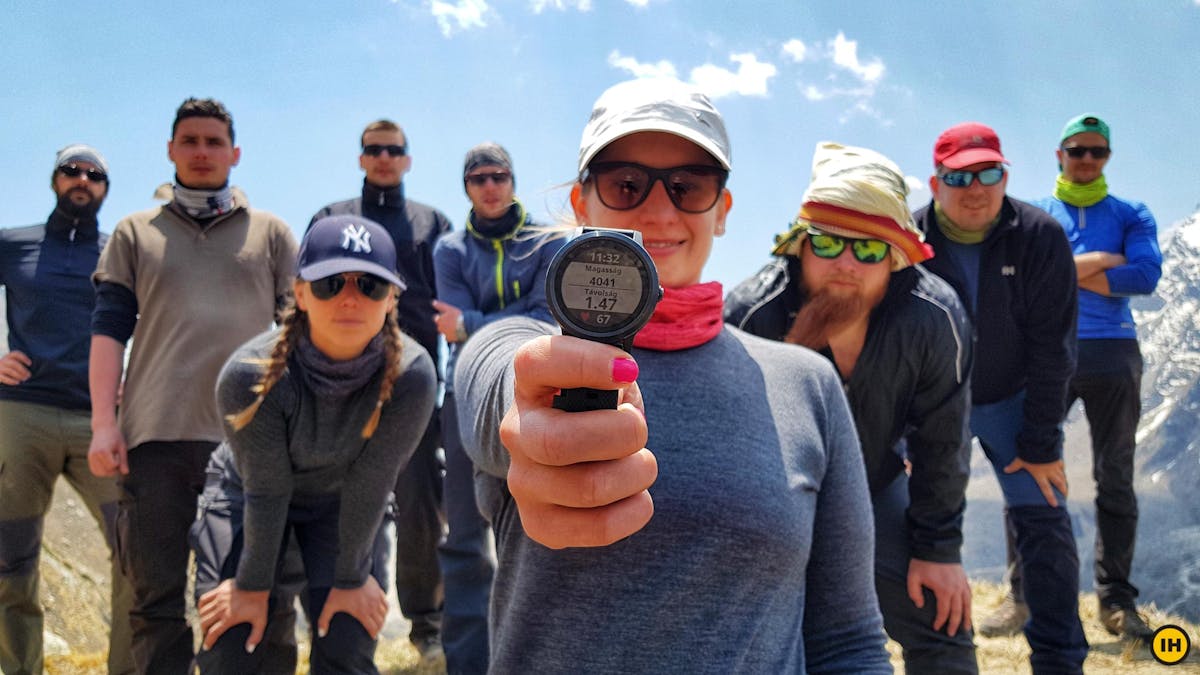 A fit team on the Gaumukh Tapovan trek. Picture by Bence Farkas
Trekkers in the team looked out for one another
Every time I stopped on the trail to catch my breath, the nearest trekker asked if I was alright. I never felt alone on the trek.
Others experienced this as well. The youngest trekker in our team, an 8 year old girl who was often trekking some distance from her father, always had someone around to look over her.
At the campsites, people were quick to alert the Trek Leader with any health problem their tent mates were facing. They were also aware of what was happening with other trekkers. For example, when one of us had to stay back at Kedar Kharak because of AMS symptoms, on the acclimatisation walk, everyone cheered him up once we got back.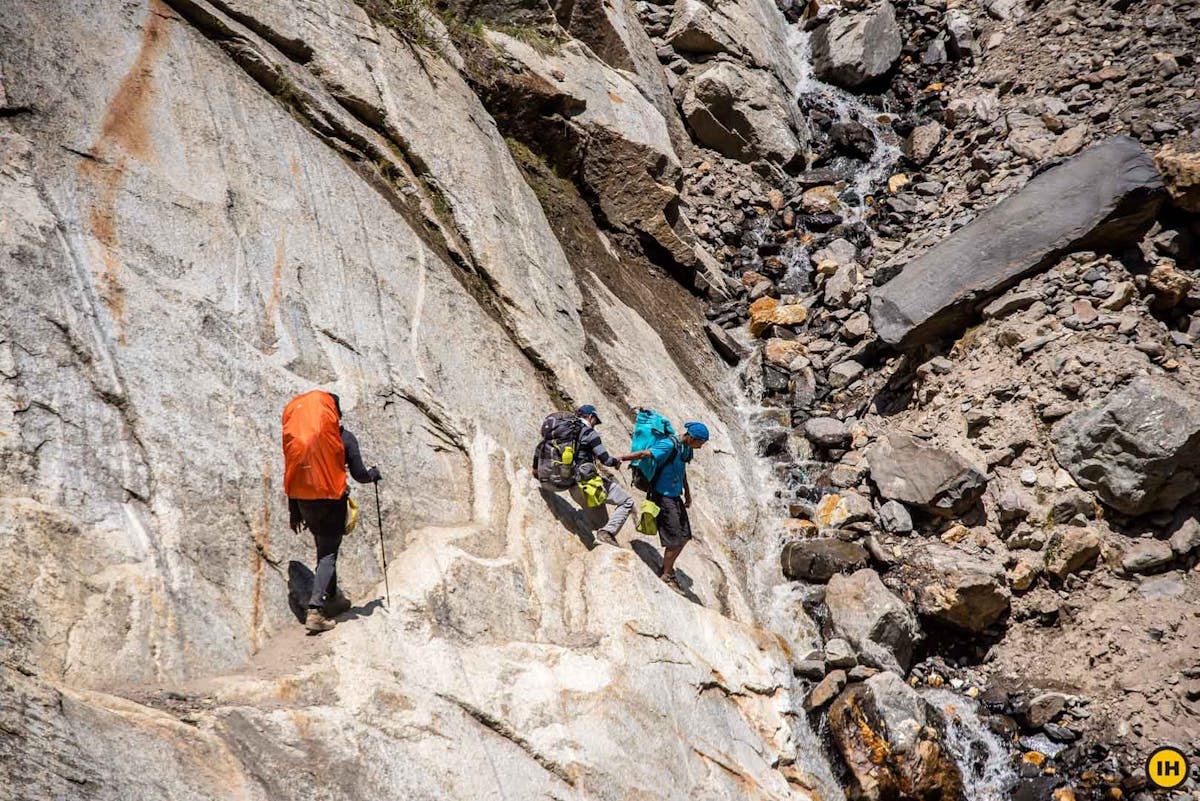 Crossing the tricky spider wall on the way back from Bhoj Kharak, on the Kedartal trek. Picture by Sudheer Hegde
During a tricky river crossing, a trekker rolled up his pants, took off his shoes and joined the technical guides and Trek Leader in the icy cold water to assist every team member to cross.
Sharing of cutlery and washing responsibilities, which usually happens by the last day of a trek, started on the very first day for us!
Trekkers were generous with others
I realized that good trekkers don't hold back; they share.
Biscuits, chocolates and home made laddoos were passed around freely while trekking. If a trekker forgot to bring a mug or lunch box at tea time, they usually didn't have to go back to their tent to get it. There was always a forthcoming box that he or she could dig into for snacks.
If somebody wanted to talk, there was always someone to listen to them. If somebody wanted to read quietly, they had their space. And if someone wanted to play, a group would fall into place.
This generosity did not stop with the trekkers. I can think of several instances where trekkers offered water or food to resting porters. They were generous in their appreciation of the kitchen staff and quick to offer a helping hand to anyone who needed it.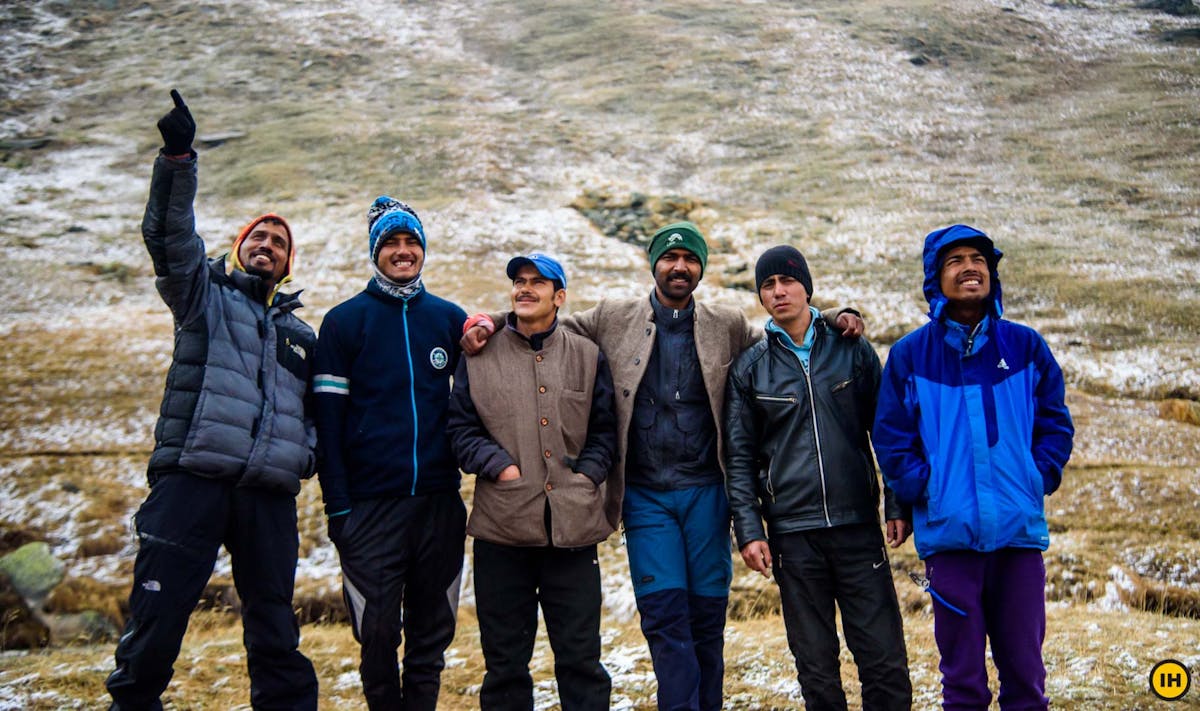 The Trek Leader, technical guides and wonderful kitchen team that kept us safe and healthy on the trek. Picture by Sudheer Hegde
The team was immersed in the trek
This was a team that had done its research about the trek well before arriving at the base camp.
At least half the team had seen the weather forecast for the week ahead. Almost everyone had read about the spider wall and other tricky sections on the trail. Quite a few knew the significance of the region we were in – Gangotri as a char dham spot, names of other well known treks there, past expeditions to mountains such as Meru and Thalaysagar etc.
This not only ensured that we were all mentally prepared, it also added a certain intensity to our trek.
Knowing that our trail coincided with that taken by expeditions to Mt Jogin made us more energetic.
Knowing that we were treading in the path of mountaineers made us hold our surroundings in awe.
But this is only part of the story. Even at campsites, trekkers were involved in everything that was happening. When we reached Bhoj Kharak, our Trek Leader announced that we would have to pitch our own tents. In no time, trekkers who knew how to do this, collected tents and poles and others just automatically drifted towards them to 'pitch' in. The campsite was up and running in twenty minutes, with no follow ups from the Trek Leader.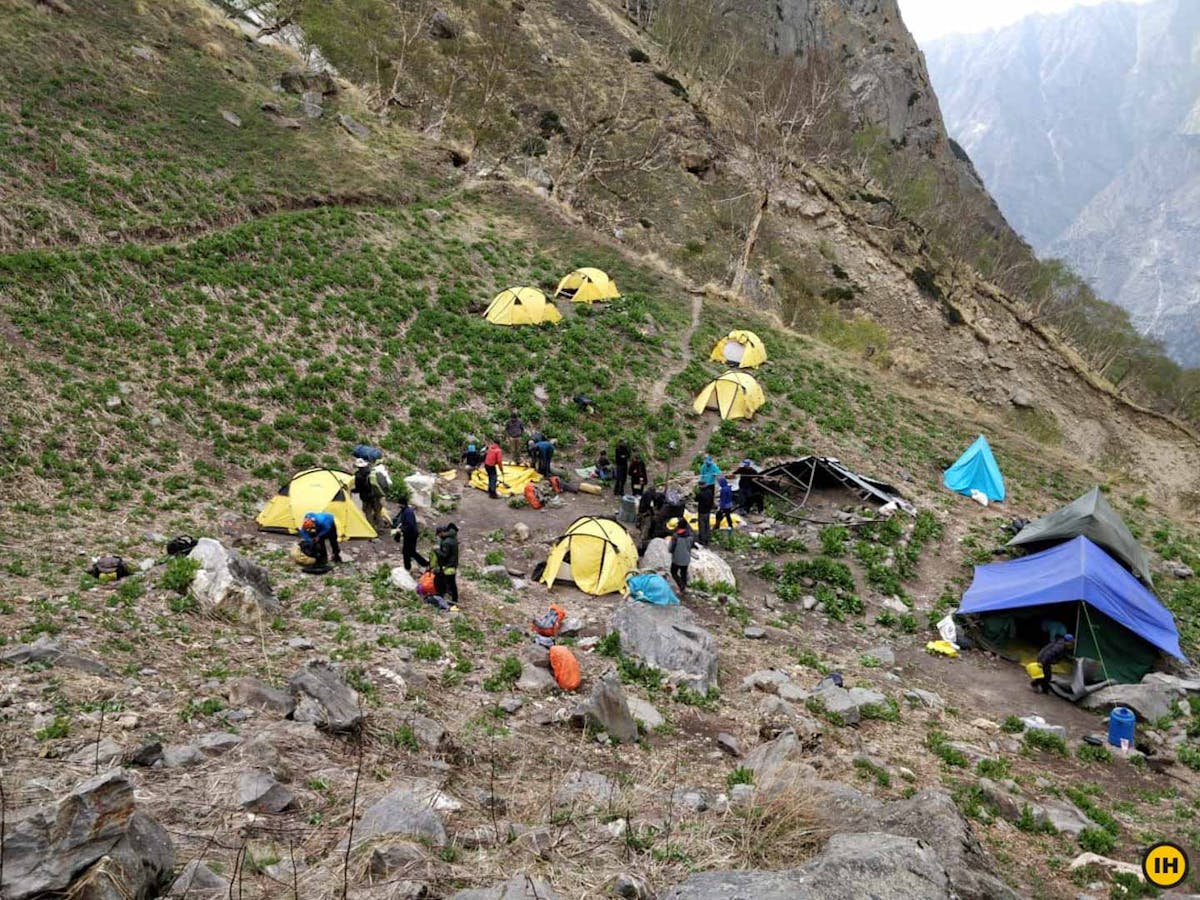 Our team, setting up the campsite at Bhoj Kharak.
Trekkers were active at campsites
Except for a few who needed to rest, the entire team was almost always outside their tent. They were either outside soaking in the sun to stay warm or huddling together, playing a game.
The dining tent sessions in the evenings were lively as ever as we shared stories of everything from mountaineering history to Himalayan flora and fauna to the colourful swamijis at Tapovan.
In fact, on our last day at Kedar Kharak, I entered the dining tent at lunch time only to leave after dinner! Engrossed in conversations, little did I realize how time had passed.
We even followed up on some of the new things we learnt as we visited the ashram of a well known swamiji on our return to Gangotri and spent hours browsing through his book about the Himalayas.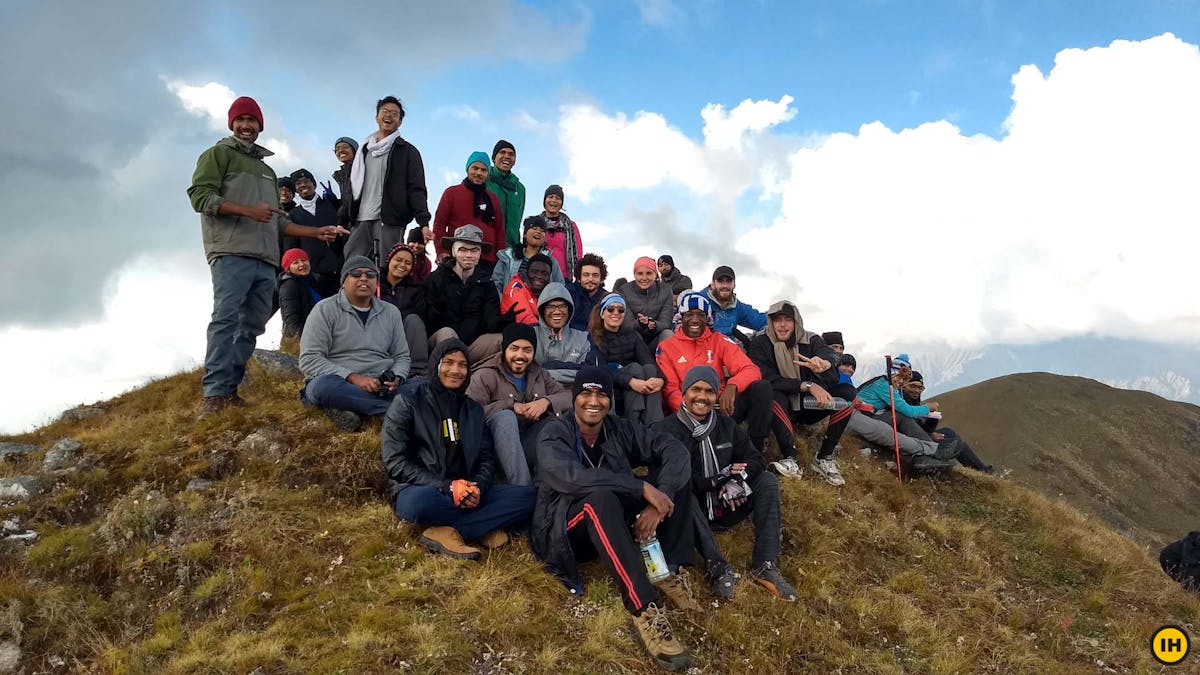 Students of IIM Indore participate in the Himalayan Mountain Challenge to work on team building and people skills. Picture by Swathi Chatrapathy
Trekkers respected the environment they were in
The trail from Gangotri to Bhoj Kharak goes through dense forests of pine and silver birch (bhoj) trees. In fact, the campsite gets its name from these trees. You find thin strips of bhoj bark all along the trail. These make for good souvenirs since our ancestors are known to have written on this before paper arrived. Nobody in the team had to be told not to strip this off the trees. We just picked what was lying on the ground.
This instinctive sensitivity to nature showed up in other things as well. Not once did we hear the jarring sounds of loud music on this trek. Those who chose to listen to music at campsites or on the trails did so on their headphones.
Because there was no unnatural noise, herds of bharal or blue sheep came to graze on the slope opposite our campsite at Kedar Kharak. They stayed there for hours despite many of us trying to get close to them to click photographs or just to observe them. They were undisturbed, despite our proximity.
Since entry on the Kedartal trek is restricted, you don't find too many trekkers here. Nor do you find dhabas or garbage on the trails. Yet, we had quite a few eco-bags filled with trash by the time we reached campsites. It was heart-warming to see such diligence on such a challenging terrain!
Why a great team matters on a High Altitude Trek
On a trek, where you're with a team for days on end with no distractions, your team really matters. I'll go as far as to say that your team can either make or break your trek experience.
I've seen experiences go horribly wrong because of the team — trekkers racing ahead with no concern for their teammates, blatantly unfit trekkers, demands for campfires… But what I experienced at Kedartal was a refreshing contrast to this.
I also realized that I could get only as much from a trek as I gave to it. This included giving my time to getting fit for the trek, getting out of my comfort zone to speak to people I had never met before, caring for people I might never meet again. Being in the midst of a great team, none of this was hard to do. It helped me put my personal concerns aside and become truly immersed in the trek.
I hope that, as a trekker, you get to experience this some time too. Because I can safely say that this team elevated my experience to a whole new level.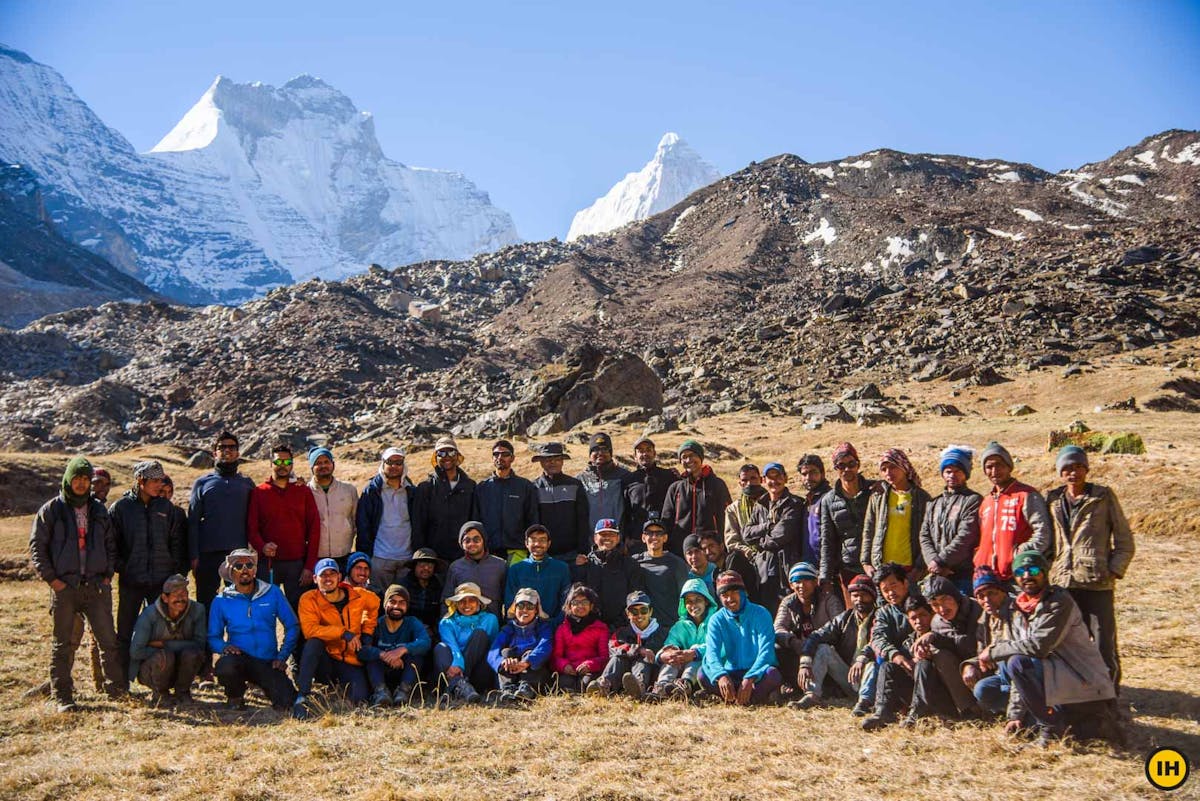 Our entire team including the support and kitchen staff at Kedar Kharak campsite, under the watchful gaze of Mt Bhrigupanth and Mt Thalaysagar. Picture by Sudheer Hegde.
What you should do now
1. If you liked this post and want to read more such posts, go to this page – You'll find many such Expert Opinions here.
2. If you're looking for treks to do: Then head over to our upcoming treks page. You'll find all our Himalayan treks there.
3. If you want to work with us: Head over to our careers page. We have lots of positions open. We also have lots of applications coming in. So the sooner you apply, the better.
4. If you want to see the 13 best treks of India: Then get our guide here.
Sign up for our much loved Weekly Mailer
We have terrific trekking tips, trek updates and trek talks to look forward to