Indiahikes Opens The Bali Pass - Ruinsara Tal Trek
Share this story
Indiahikes Opens The Bali Pass - Ruinsara Tal Trek
Category Thursday Trek Talk
By Swathi Chatrapathy
2019-05-16
We have finally opened the much-revered Bali Pass trek!
For years, trekkers have been requesting us to open up the Bali Pass trek! It is one of those treks that are on every adventurer's bucket list. It is a high adventure trek like Rupin Pass, Buran Ghati or Kedartal.
Why hadn't we opened the trek earlier? Frankly, we have been so tied down running our regular treks that we could not devote attention to this fantastic trek. Finally, early this year we took the plunge and committed to the trek.
Even then it took us time to set up the trek — with our technical, safety and backend team — which is why the announcement is coming bit late. We had to run recce teams earlier this month, and set up a rope bridge across a river.  
I was smiling to myself when I saw these comments on our Facebook page last week. Little did they know what was going to be announced a week later!
I must let you know that the Bali pass is a very sought after trek. Some of our regular trekkers got to know we were opening the trek (when we talked about it on social media). They have grabbed the early positions in the only two batches that we are launching.  
I'm not going to say much more about the trek; I'll just let this picture do the talking.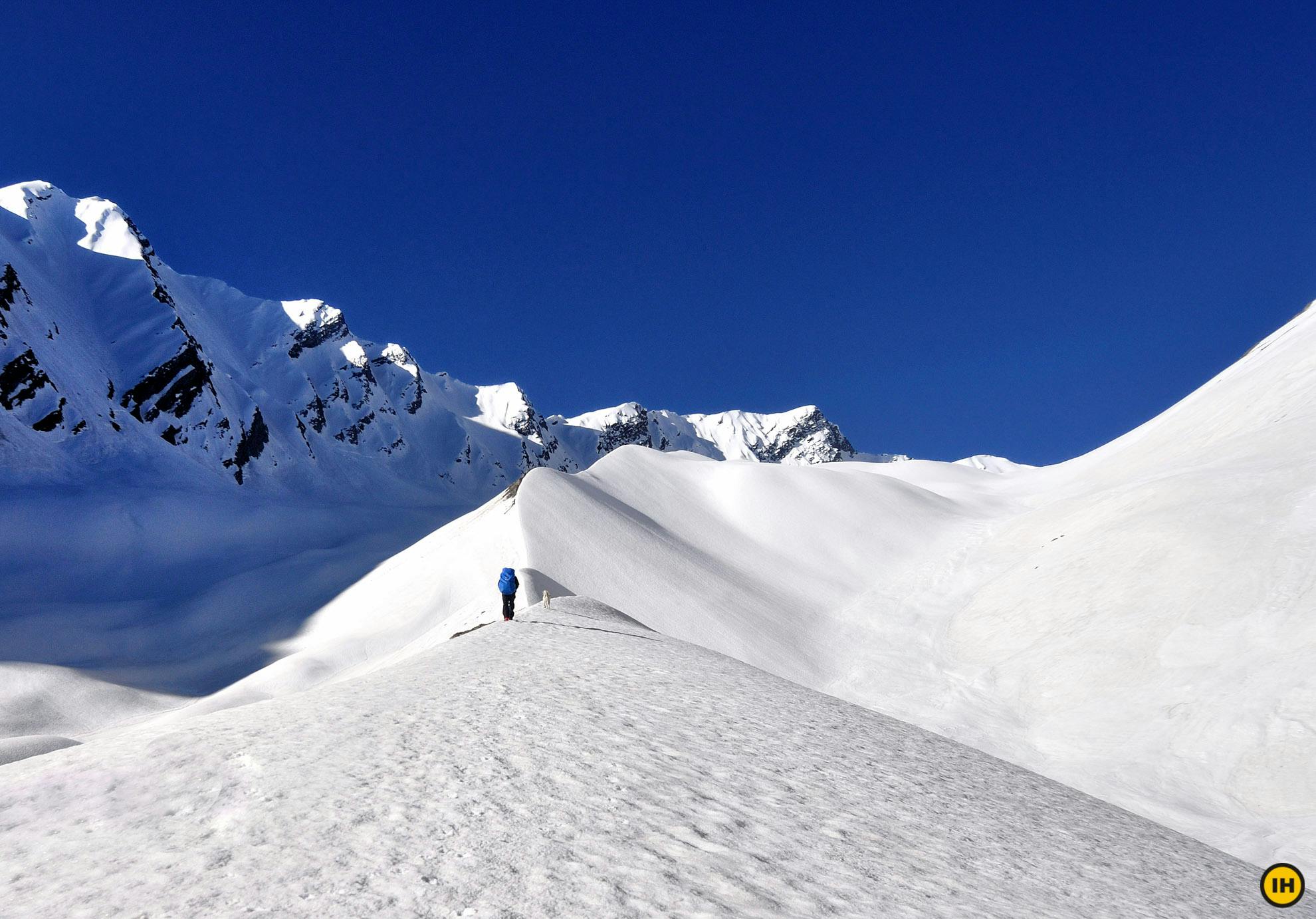 This was shot on the approach to Bali Pass. Interestingly, we explored and documented the Bali Pass trek back in June 2014. That's when this picture was taken.
Before you decide on the trek, a few points to note: The Bali Pass is a difficult trek. There is tricky terrain to deal with. It also goes to an altitude above 16,000 feet (16,207 feet precisely). After the pass crossing, there is a narrow precarious overhang that has to be negotiated carefully. It is not for those who are attempting a high altitude trek for the first time.
There will be a fitness and trek experience screening when you start registering for the trek.
We have only 2 dates this pre-monsoon. June 14 and June 23. We're taking only 15 members in a team. We won't be opening any more slots until September (we'll put up those dates after the summer season ends).
So if you're very keen on this trek, register as soon as you can. In my opinion I don't think slots will be available within the next two days.
For more details about the trek, head over here – https://www.indiahikes.com/bali-pass-ruinsara-tal/
If you have any questions, drop in a comment below! We'll help you out!
Sign up for our much loved Weekly Mailer
We have terrific trekking tips, trek updates and trek talks to look forward to