A Typical Indiahikes Trek Experience: A Trekker Shares His Thoughts
Share this story
S  amar Chandel went on the Kedartal trek with Indiahikes in October. He sent us an email about his experience with Indiahikes. We're putting it up as it came, with no edits, so that you get an idea of what a typical Indiahikes trek experience feels like.
Before The Trek
It's an interesting story of how I got eligible for the trek in the first place.
The trek dates had already gone by. I could not apply on time, as due to the nature of my work, I don't have very good internet access for quite some time of the month. I submitted a query to Indiahikes and requested Kinshuk, who's one of the trek coordinators, to reconsider (as I had done quite a few treks in the Garhwal region before this). She was happy to oblige.
I reached Delhi the night before the trek (6th Oct) and rushed to get a bus to Dehradun. I knew I would be late than the official reporting time (6:30 AM) but I had to chuck it and put the pedal to the metal.
Reached the Dehradun railway station at 7 AM where we had our pickup for the ensuing 12 hour long journey. The road took us through some beautiful mountains and scenery, although I was mostly either sleeping or puking for the duration. Ultimately, the flights and cabs and buses had to take their toll some time. I popped in an Avomine and slept through most of it, pledging to be up on the return journey.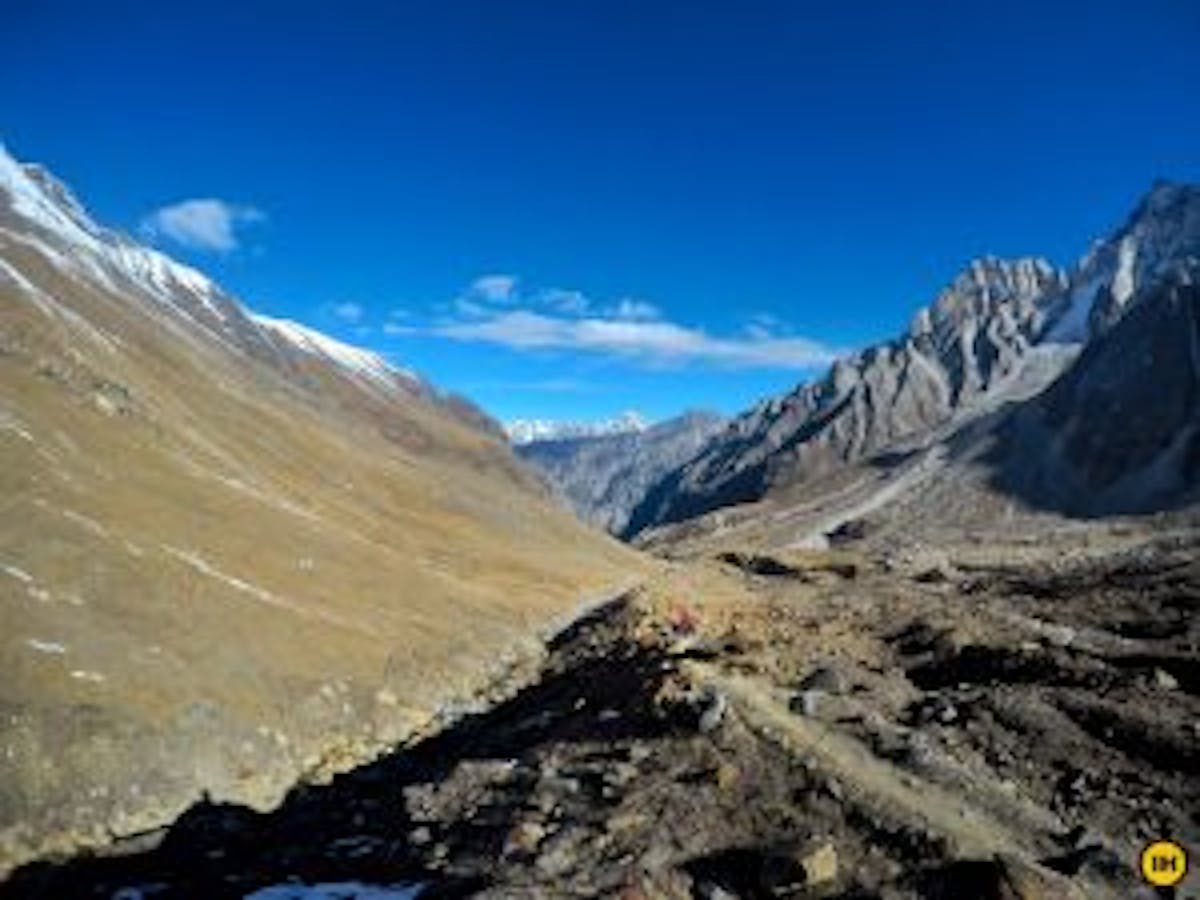 Photo taken by Samar during his trek.
We reached around 6 PM and settled in our rooms (since for the first and last days of the trek, we had hotel accommodations). After the usual chit chat, we all gathered for the evening briefing and got introduced to each other. We got to know about the upcoming route, what to expect, medical emergencies that could arise and how to take care of ourselves throughout the trek. Then we all called it a night.
The next morning, we all assembled in time to meet up for breakfast and the morning briefing. We were introduced to the Green Trails concept which I personally thought was great and the need of the hour. We were all given our green Eco Bags to collect trash on the way. Today was gonna be the start of our trek.
The Team
Our team was lead by Geet (Trek Leader), who had done more than 50 treks in totality in the Himalayan/Sahyadari ranges. And Tony (Asst. Trek Leader), who used to be a sports instructor in France with a background in Muay Thai.
We had our local trek guide, Sourabh bhai who had been on 3 trek batches for Kedartal in the past one and a half month. And a team of cooks (led by Harpal ji), kitchen staff, and porters. Among these three and the rest of the crew, we knew we were in good hands.
We had a healthy mix of young and old in our 16 member strong group of trekkers. We had a few people from Maharashtra, Rajasthan, few Bangalore folks, a guy from Indonesia. Among them were two surgeons, a few engineers, an entrepreneur, business owners etc. So all in all, it was a diverse group in all respects.
Most strikingly, there were 3 friends who had been trekking since most of us were not even born, or were in our diapers. Since 1973!!! They were in their late 60s and seemed quite wizened and knowledgeable by the multitudes of treks they had done.
Day 1: Gangotri to Bhojkharak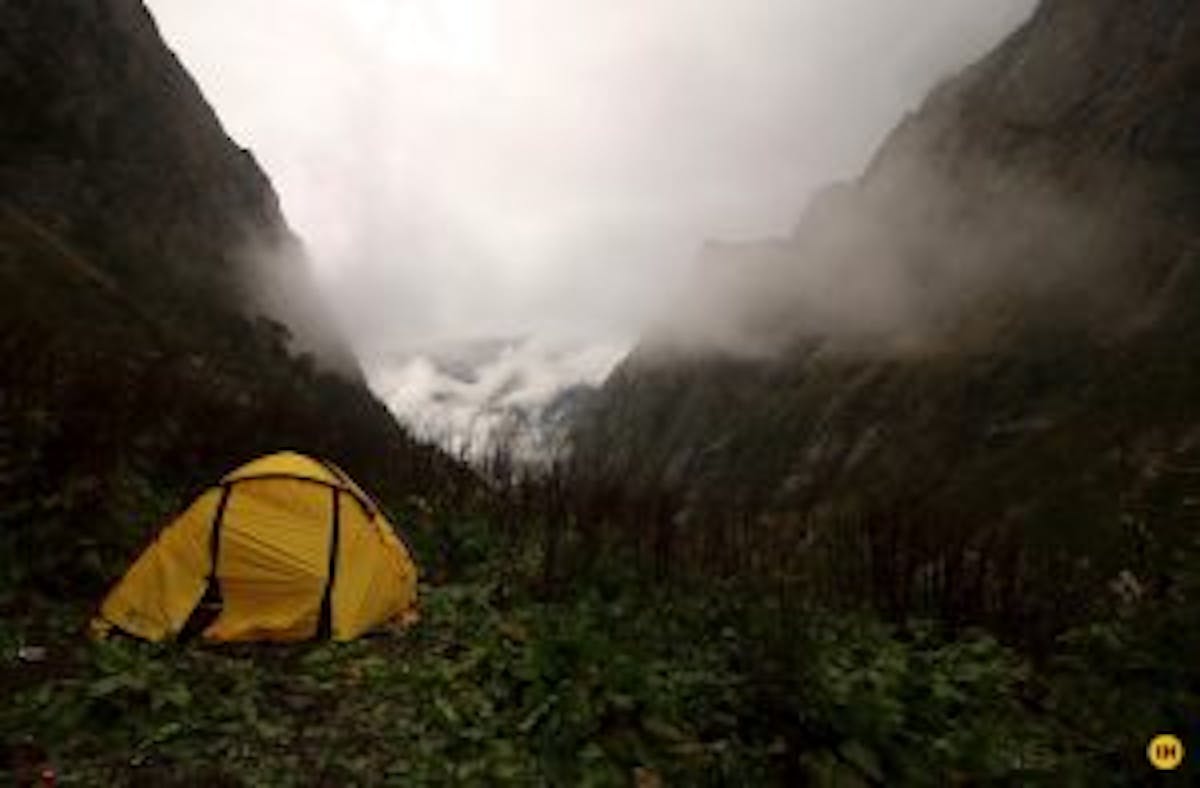 A gloomy day at the Bhojkharak campsite on the Kedartal trek. Photo taken by Atul Kini
The Highs
– The first day started with much enthusiasm and positivity. We all worked our way through the mountains while mingling among ourselves and getting to know more about each other. There was still much greenery around us and we could spot a waterfall or two along the way.
– Today we had to cross two spider walls, which were sort of an attraction of this trek. And they lived up to their name. All of us had to be on all 4s, crawling across the thin ledged wall while our mouths were held in awe as we saw the porters carrying twice the weight we were, wearing sports shoes/flip flops and crossing the same with so much ease. We all just had so much respect for them.
– At the campsite, we all learned how to pitch our tents and in no time we were ready, helping each other out.
The Lows
– It was a strong ascent to Bhojkharak which was relentless and to a certain extent, an early reality check to everyone as to why this was a Moderate-Difficult trek. By the time we all reached Bhojkharak, we were tired and thinking about how excruciating the descent would be. As most of us were experienced trekkers, we knew that ascent might be tiring, but it's the descent which is more painful on your knees.
Day 2: Bhojkharak to Kedarkharak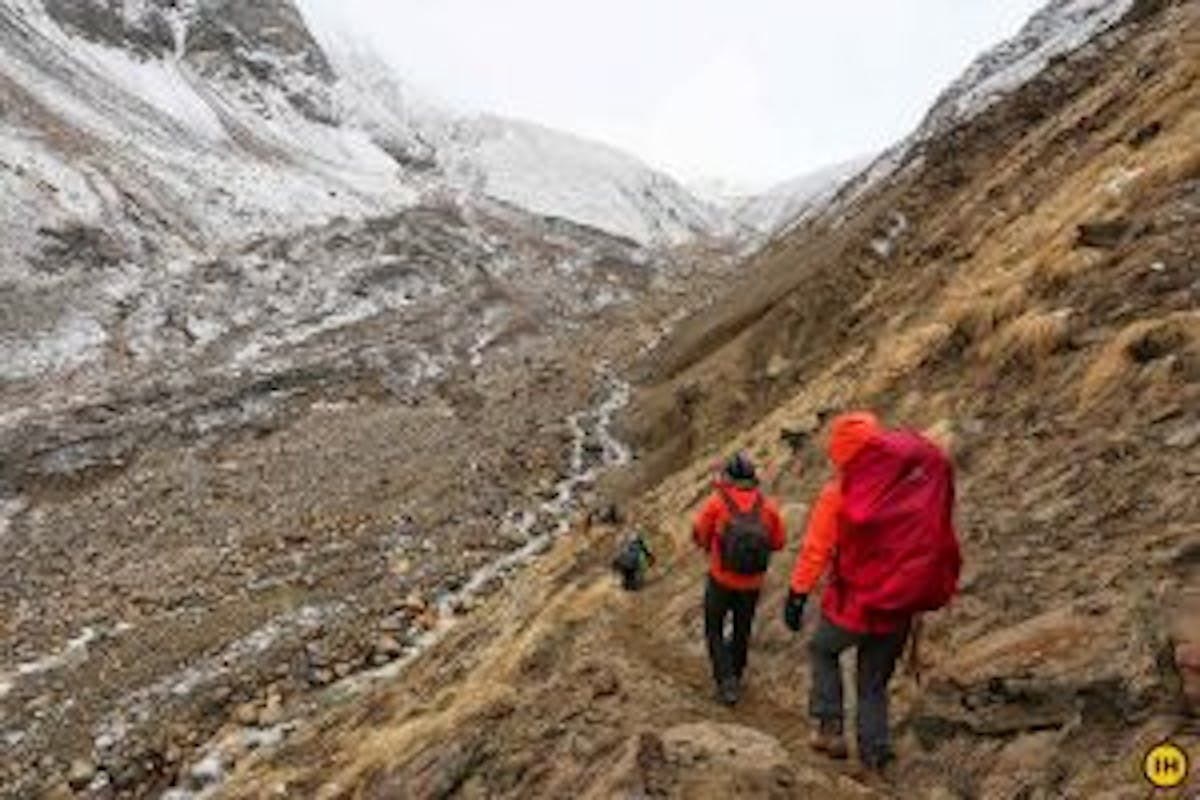 The rockfall area between Bhojkharak and Kedarkharak. Photo by Satyen Dasgupta
The Highs
– Packing up our own tents, while getting excited about the upcoming day. This was also the day we passed a designated landslide/stonefall region and were terrified/excited at the same time. There were many thin ridges with steep falls, and for an acrophobic like myself, they were jaw-dropping(ly) exciting.
– At the campsite, we could see the beautiful sunset with the sun pouring all its golden sheer on the peaks in front of us Thalaysagar, Bhrigupant, Meru.
– We also caught glimpse of a pack of the Himalayan Blue Sheep (Bharal) as they navigated across the charred landscape looking for the tiniest scrap of grass and scurrying in safety from the elusive Snow Leopard.
The Lows
– Right during breakfast, we started off with a bad news. One of the trekkers (who was a seasoned one) had pain in his leg. He had a hairline fracture in his femur which was agitated by the strong ascent the previous day. And he himself decided to not attempt the route further. This was smart on his part, but still we felt bad that he couldn't continue ahead.
Day 3: Kedarkharak to Kedartal and Back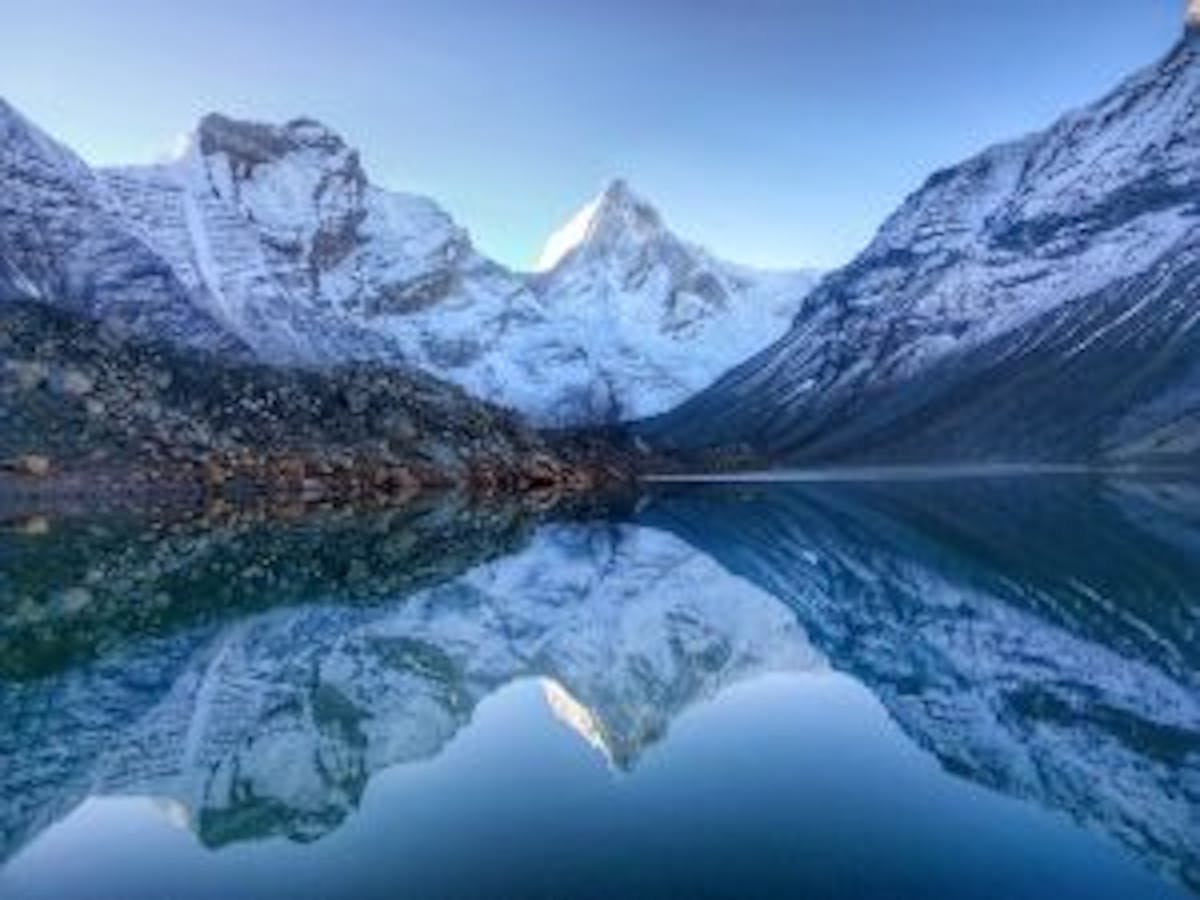 Reflection of Thalayasagar in Kedaral. Picture by Vikas Sharma.
The Highs
– We were charged up for the upcoming trek to the lake. Everyone knew this was gonna be a cold and long tricky portion considering we'll have snow and ice along the way. But we were excited. We left at 8 in the morning with the intention of reaching there by 11-12, spending an hour or two there, have lunch and be on our way back if need be, as the weather worsens around 1 PM every day.
– Navigating through the snowy trail was fun. So was figuring out where the trail actually was, as the landscape was pretty confusing, and you could easily take a wrong turn. But thanks to our expert guides and cairns kept at regular intervals [we stuck to the correct trail]. 
– The climb had multiple ridges to traverse and reach the tal of Thalaysagar and the source of Kedar Ganga- the Kedartal Lake. It was pristine, calm and for quite a few moments, we could see the stark reflections of Thalaysagar and Bhrigupant peaks in the lake.
– Once all of us were back, we congratulated each other on a successful and safe day at during dinner. We decided it was not worth waiting another day here to camp at Kedartal because the weather didn't look to change its stance. Instead, we decided to directly descend back to Gangotri (skipping the campsite at Bhojkharak), as we were confident if we start early and push hard enough we can make it in time before sunset.
The Lows
– The night before, we had got information from porters and previous trekkers that none of the batches before us, were able to camp at Kedartal due to the bad weather and snowstorm. We didn't have very high hopes of the same, and decided that we'll go ahead with packed lunch, without the tents and see if we're lucky. If the weather is kind enough, we could get the message across to the porters to carry our tents across and spend the night there.
– Two other trekkers and I were leading the group along with our trek guide (Sourabh bhai) and we reached Kedartal around half an hour ahead of the last of the group ('Sweepers', as they are called,  the last of the trek group generally comprises of a porter and, a Trek/Asst. Trek leader).
We roamed around a bit, clicked pictures, rolled in the snow, but then one of the trekkers from our front pack started getting headache, breathless and nauseated. We tried to give her water and snacks and laid her down, but the sensations persisted. By that time our Trek Leader had arrived and had a look at her, he declared it to be a case of AMS. The best remedy at this time would have been to descend. But, the last of our group hadn't arrived yet.
At that time, a fellow trekker and I volunteered to help her get down as the three of us had been in the front of the pack from the beginning and were physically fit enough to make a return trip quick enough. The Trek Leader and guide approved, and we headed down. On the way, we met our kitchen staff and the 'Sweeper' group on one of the ridges. We got our parathas and helped the sick trekker get some Diamox (to help with AMS), Dexamethasone (a steroid, to give her the boost to travel down fast) and some Oxygen. Feeling a bit better, the three of us started our descent.
One thing which we all seemed to have forgotten was that we didn't have enough water amongst the three of us. Although we were confident we'll finish the descent in 2-2.5 hrs, that's a long time to be sharing less than 100 ml of water amongst three tiered trekkers.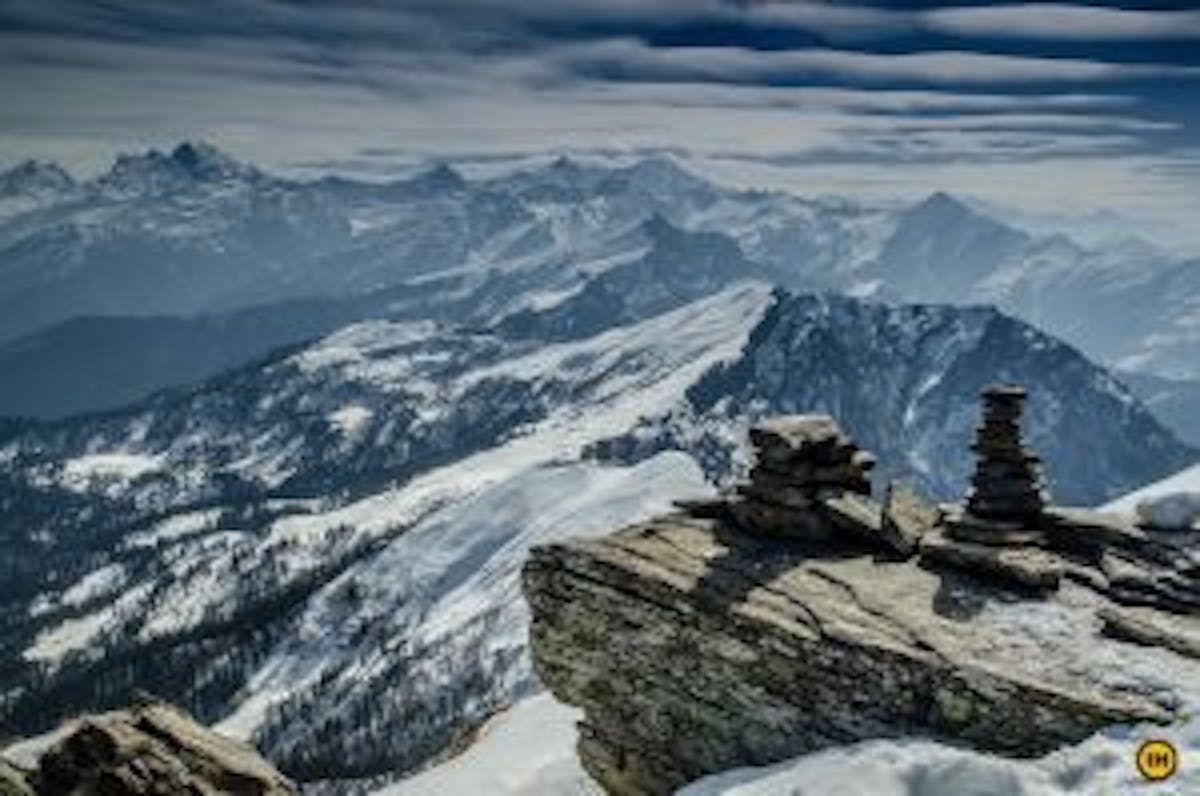 Cairns at the Kedarkantha summit. Photo by Vivek HJ
We decided to try and fill it up from the smaller lakes on the way. On the first lake, I did go down to refuel, but the water seemed kinda murky and tasted bitter. We decided to chuck it make a run for the campsite. And after getting diverted here and there a couple of times, (and right back on track, thanks to the cairns (stone markers)), we reached the campsite in 2 hrs. While on our way back, we could see a gradual improvement in the conditions of our fellow trekker, once again reinstating how important it is to respect the altitude, the nature and the mountains.
– Once everyone was back, one of the trekkers who was the eldest in our group (67 years old) fell flat on his back as he got entangled in a tent's anchor rope while going to fill water. Thankfully he had no injuries at all and was up and walking on his own in 5 minutes.
Day 4: Kedarkharak to Bhojkharak to Gangotri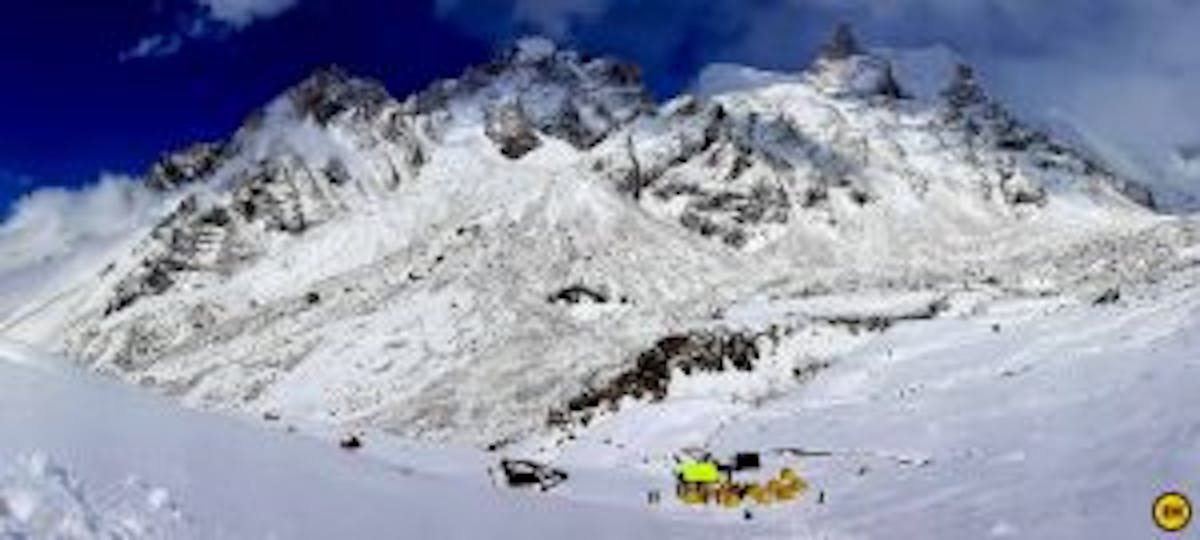 View of the Kedarkharak campsite. Photo by Sanjay Goel
– This was an all descent day while going through what we had already seen, but in a very short span of time. The weather had been cloudy since the morning and we expected some rainfall down below.
– We passed through the familiar trails and flora. Encountered the landslide region with much more activity than the last time. As the weather had been cloudy throughout the night and morning, there was not enough snow formed to hold the rocks together. We passed through without any injuries to anyone, although there were a few close calls and we definitely took longer than the first time.
– On the spider walls, it was another story and most of us crossed it without any trouble and pretty quickly too. We reached Gangotri well before sunset and were back in the cozy comforts of the modern world. At night, we attended the Ganga Aarti, and roamed around the market.
– We did our final debrief and were handed out the certificates. It was a serene moment, having finished the trek successfully and safely, we were all congratulating each other, sharing anecdotes from the trek, clicking pictures. The next day, all of us would depart from there but as cliché as it sounds, we all were taking a part of that place with us, and leaving a part of us there.
What made the trek a success?
The Team
Needless to say, the building blocks of a trek even before it begins are the trekkers, the trek leaders, the guides and the porters. We were lucky to have all the boxes checked in this regard. We had a strong and competent crew, the trekkers were friendly and helpful towards each other and everything worked like a well-oiled machine. What one person lacked, the other made up for. We had no disputes; the trekkers were courteous and caring. We could often see people not only checking up on their tentmates, but also anyone and everyone they could find.
Transparent and Meticulous planning
On the camping night at Kedarkharak, everyone took a unanimous decision about the next day's course of action, should the weather deteriorate and we're not able to camp at Kedartal. There was no conflict between the TL/guide and trekkers. Everyone respected the nature and understood the consequences of going against it. As the famous regional saying goes- "Don't be a Gama, in the land of Lama". And everyone abided by that.
The Indiahikes Trekking Experience
This continued right from the day we registered for the trek, and we had started getting emails from our Trek Coordinator Vishnu about little knicks and knacks to help us survive and make the best out of our trek. From fitness tips, to medication to clothing, we were thoroughly briefed about everything. That makes you feel valued and engaged in the trek.
Even after the trek finished, apart from the usual feedback requests, we received emails about the trek experience. Like how it's the IH policy that we need not pay for the same trek in the future if we ever wish to enroll for the same. Or that, considering we finished our trek two days in advance, we'll get the corresponding amount for those two days deposited back into our account (from the trek fee that we paid). These small but important things go a long way in building a loyal and happy clientele.
The Most Cherished memory
It had to be coming down from Kedartal to aid in our fellow trekker's descent due to AMS. It was just something about the 3 of us confident enough to go down on our own, looking to help our fellow trekker out, that made a special memory for me.
What should you do now?
1. If you'd like to read more reviews from our trekkers, head over to this page.
2. If the Kedartal trek caught your interest, you'll find more details about it on the Kedartal Trek page.
3. If you would like to see the 13 Best Himalayan Treks in India, get your PDF here.
4. If you landed up here by chance and were actually looking for treks to do, head over to our upcoming treks page.
Sign up for our much loved Weekly Mailer
We have terrific trekking tips, trek updates and trek talks to look forward to