How I overcame a deformity in my foot and became a Trek Leader at Indi...
Share this story
The oldest memory I have is a dream. A dream to be in places I had seen only in movies. Endless grasslands, gigantic snow-covered mountains. The kind of mountains that made my heart thump a little faster than it usually did. But none of this was for me, for I was a handicapped child.
Born with a twisted right foot, I could not walk properly. I couldn't balance myself because of the different shapes of my feet. So being at such postcard-perfect landscapes was just what it was – a dream.
My parents, however, made every possible effort to get my foot fixed. They spoke to doctors, arranged for corrective surgeries. Even after everything, my leg was very weak. I could walk but I walked with a limp. The doctor who operated me told my parents that I would never walk properly.
Birthplace of the dream
I was 10 years old when I first heard of trekking. My sister would participate in day-hikes programmes organised for students at school. I vividly remember how excited she would be. She would come back home and speak animatedly about things that I could only dream about – living in the wilderness, sleeping in tents, walking through forests and hopping across streams.
I tried submitting my name at school for these day-hikes. But I was never allowed to participate. I wasn't fit enough. And I couldn't walk quickly. Those moments of rejection were painful.
But I found determination in such times of despair. All I wanted was to walk properly so I'd get chosen for those camps. I worked on it every day. I tried to strike a balance between the strength of one leg and weakness of the other. It took me months just to find the right way to place my body weight evenly. After that, I had to work on the strength of my legs. It was a lot of effort and the progress was slow. But it was something that had to be done if I ever wanted to trek in the wilderness.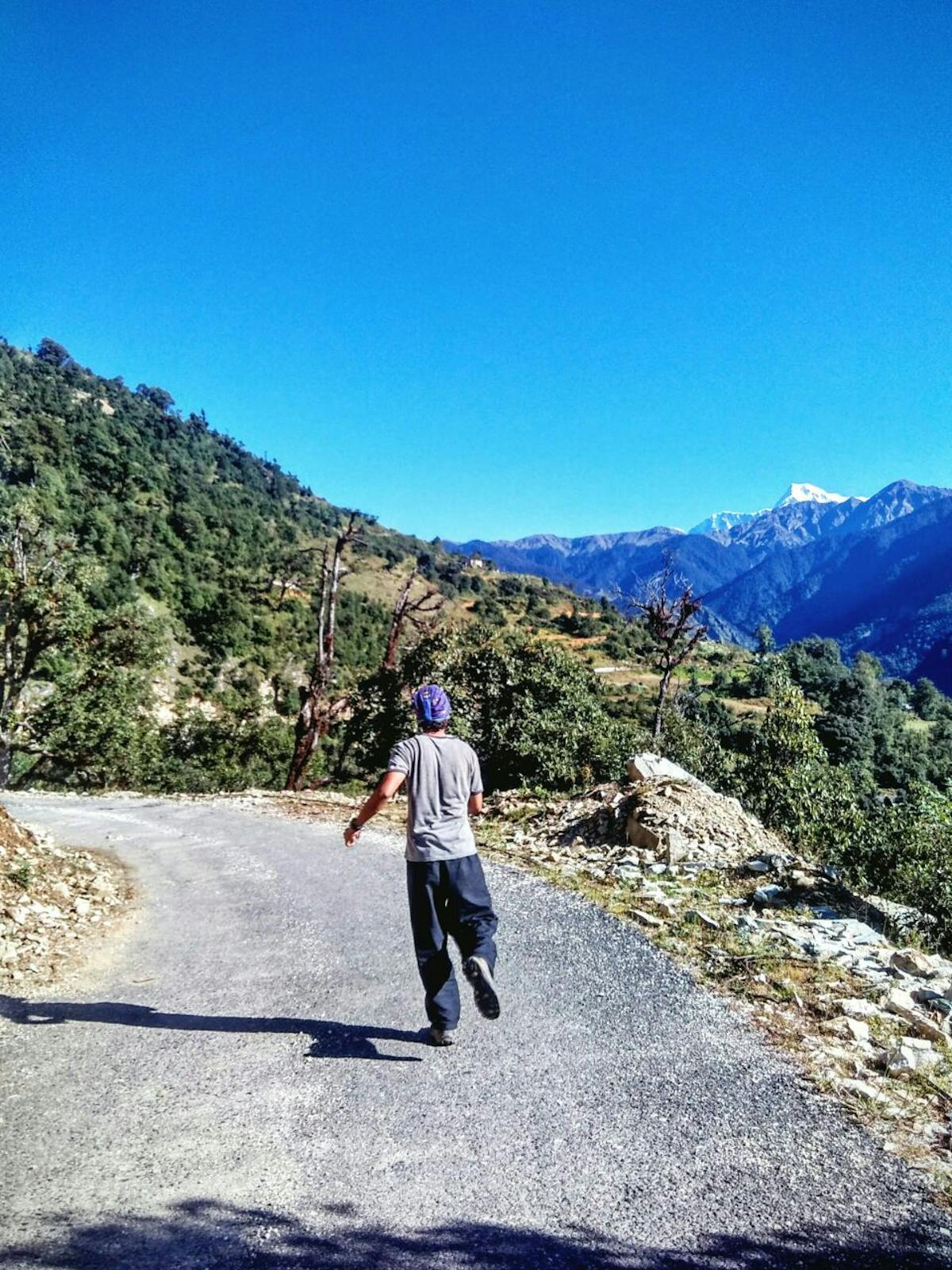 Running regularly is something Indrajit lives by to maintain his fitness, whether at home or in the mountains.
My first taste of Success
My reward came after a whole year's hard work. I was chosen to participate for a camping programme. I couldn't believe my ears when my name was announced!
All the miserable days of rejection were forgotten in a jiffy. That hike was a great accomplishment for me as a child. It boosted my confidence to a great extent. I felt like I had lived a short dream.
Post that, over the next few years, I was engrossed in studies. I went on to pursue interior designing and started running my family business. Every turn of my life went smoothly. Yet something seemed amiss.
Rediscovering the forgotten dream
One fine day in the late 2000s, I chanced upon a website, roopkund.com. The pictures reignited a long forgotten childhood dream in me. The more I researched about Roopkund, the more it mesmerized me. The trek was described in such detail that I read it over and over again. I could almost picture myself on the meadows and beside the glacial tarn that was Roopkund. What surprised me the most was that Roopkund was very much in India! I hadn't imagined such picturesque landscapes to be accessible to me. That's what sparked my interest in the Indian trekking world.
Just when I made up my mind to go to Roopkund, I faced another obstacle. My weight. I had stopped taking care of my fitness. At 75 kilos, I was overweight.
So I started with a basic work out regime. The progress was extremely slow. I kept going just because I wanted to be on a trek. It took me a long time to actually get fit enough for a high altitude trek.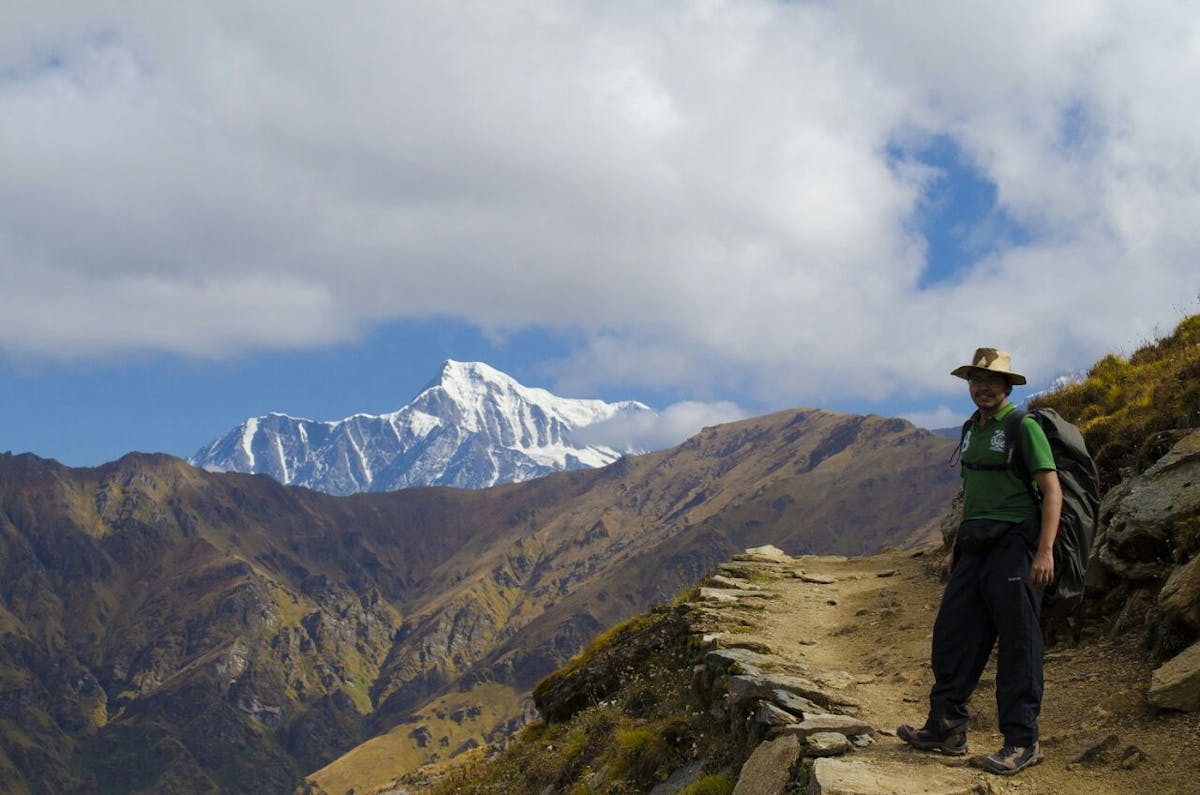 On the Roopkund trek for the first time in September 2014
By then, Indiahikes had formed and there was a brand new website. The array of treks they spoke about on the website was overwhelming! Browsing the website became a habit – one that I followed religiously every day. New articles, explored treks, documentations, mesmerizing pictures and amazing video blogs. It was inspiring to say the least.
Following the documentation on the website, I decided to do a trek by myself. So my first high altitude trek was in December 2012 to Sandakphu. I went on the trek with my friends and we completed it successfully.
After my first Himalayan Trek I never looked back. I made it a point to do two Himalayan treks every year.
On some treks I'd come across Indiahikes trekkers. Watching the Trek Leaders work was fascinating. I observed their briefings and management skills. I often caught myself wondering if I could ever be like that. A Trek Leader at a reputed organisation such as Indiahikes!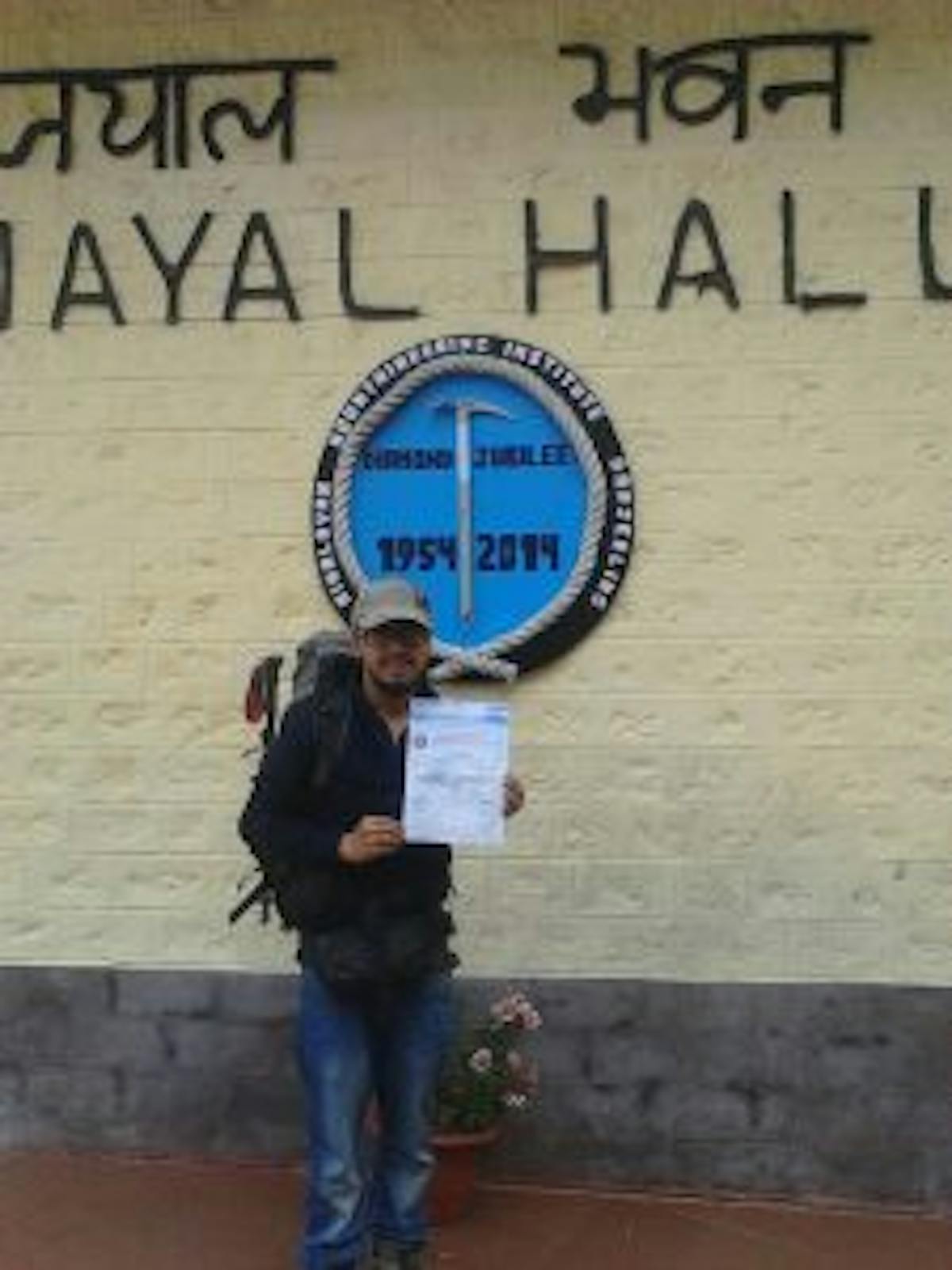 Indrajit poses with his advanced mountaineering certificate
Finding courage at Roopkund
In September 2014 I did the most popular trek in India. The Roopkund trek.
There is a point on this trek known as Junargali, which is at 16,000 ft. From Junargali, we got jaw-dropping views of Mt. Trishul and Mt. Nandaghunti. That moment triggered something inside me.
Right after I got back I began my research about mountaineering training. A special thanks my friend Laltu Mallick who guided me through the entire process. I collected all the information I needed. But the weight obstacle remained. And now I was ready to break a sweat.
I began working out rigorously. I knew that mountaineering training was physically demanding. It didn't take too long to get fit.
I was in good enough shape to join the Basic Mountaineering Course at Jawahar Institute of Mountaineering. Everyday I ran for 15 km. 15 km! I never thought I could run that far. I completed my Advanced Mountaineering course as well. My love for the mountains grew as I learnt more. That was when it dawned upon me. You never know how strong you are until being strong is the only choice you have.
Living the Dream: Leading treks in the Himalayas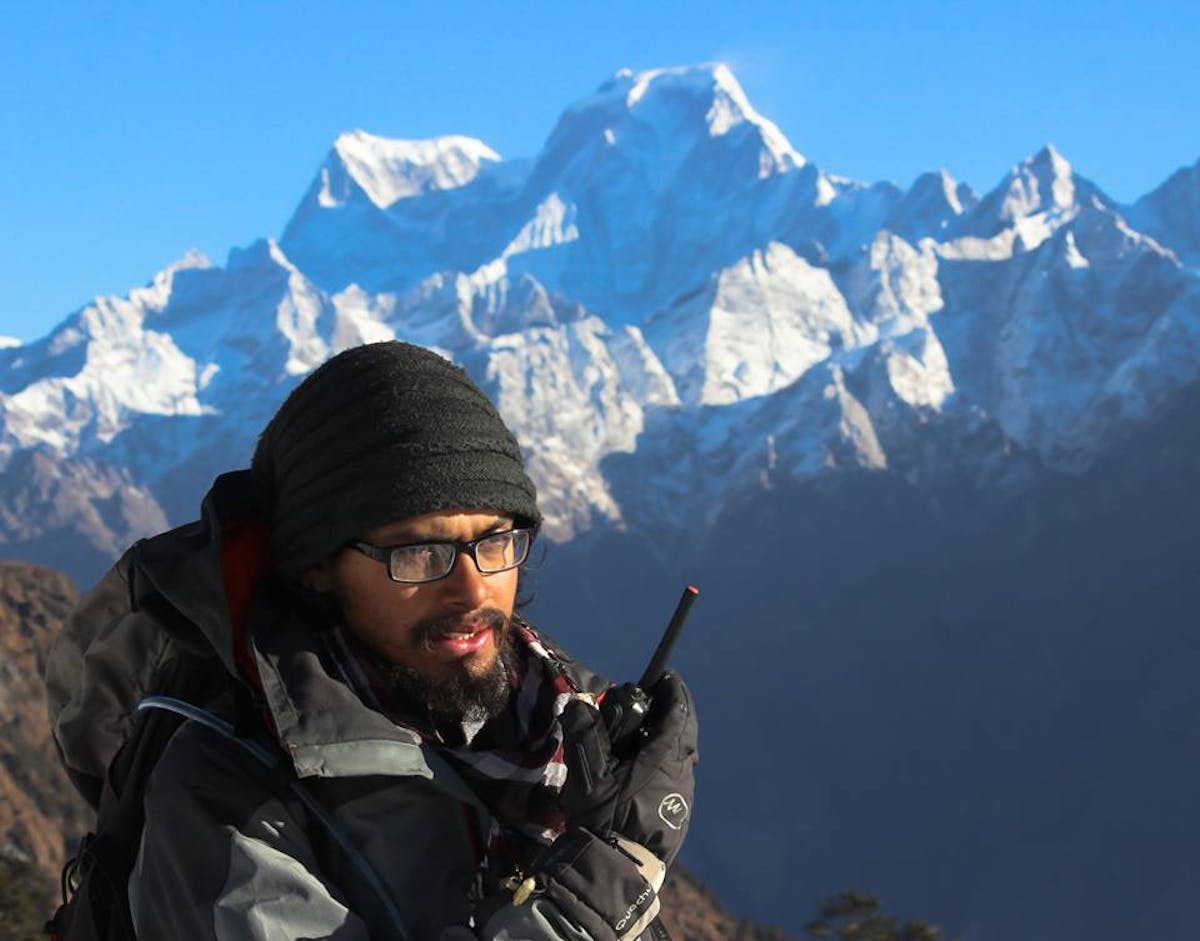 Indrajit as a trek leader on the Kuari Pass trek. PC: Satyajit Burman
With the confidence of having passed my mountaineering courses with an A grade, I applied to Indiahikes to work as a Trek Leader. The euphoria I felt when I actually got the offer letter in my hands can only be felt! I can't put it in words.
It's been seven months now. I have led trekkers to Roopkund, Sandakphu, Goechala, Kashmir Great Lakes and Hampta Pass. And I have finally stopped dreaming. Now I'm a part of my childhood dreams.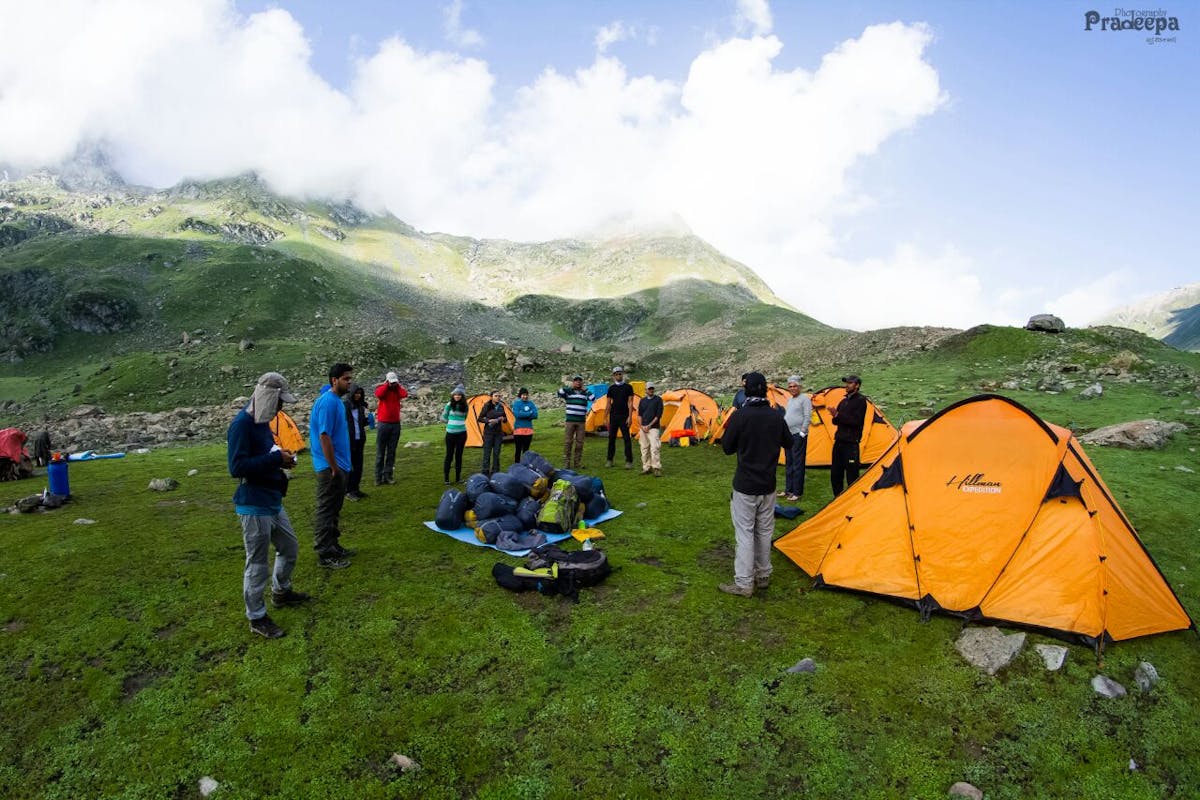 Indrajit at a briefing session with Indiahikes trekkers
For all the times I got shunned at school, for each time I was rejected for having a deformed leg, my profession itself is an answer.
My journey gave me hope and strength to fight back when I was struggling to live. It was a long and excruciating journey with its ups and downs. But I am sure this is just the beginning of grander things to come.
Sign up for our much loved Weekly Mailer
We have terrific trekking tips, trek updates and trek talks to look forward to