Indiahikes goes international with a new trek in Eurasia!
Share this story
Indiahikes goes international with a new trek in Eurasia!
Category On Trekking News
By Swathi Chatrapathy
2019-07-18
I've been on my toes for nearly a month to make this announcement to you! And I think we're finally ready for it.
Indiahikes has gone international!
We have been waiting for this day for a long long time. It has been our dream for nearly ten years to showcase the best treks in every country of the world. And we are finally ready to start.
In fact, our founders returned from our first international exploration recently, bubbling with stories and spectacular pictures of their adventure!
So without further ado, let me announce our first international trek!
Our first international trek is in the country of Georgia! 
If you have not heard of Georgia, then rest assured most people have not. Nestled just south of Russia, in between the Caspian and Black Sea run the Caucasus mountains. And in these mountains are some of the best trekking trails in the world.
"This is a country hardly anyone talks about in the trek circles. And yet, it has left us stupefied!  We have never seen such vast, smooth grasslands. They are soft, stretch as far as your eyes can see, and overflow with wild flowers! You can clutch at the flowers and make them a bouquet! They're that pretty!" says Arjun Majumdar, our founder.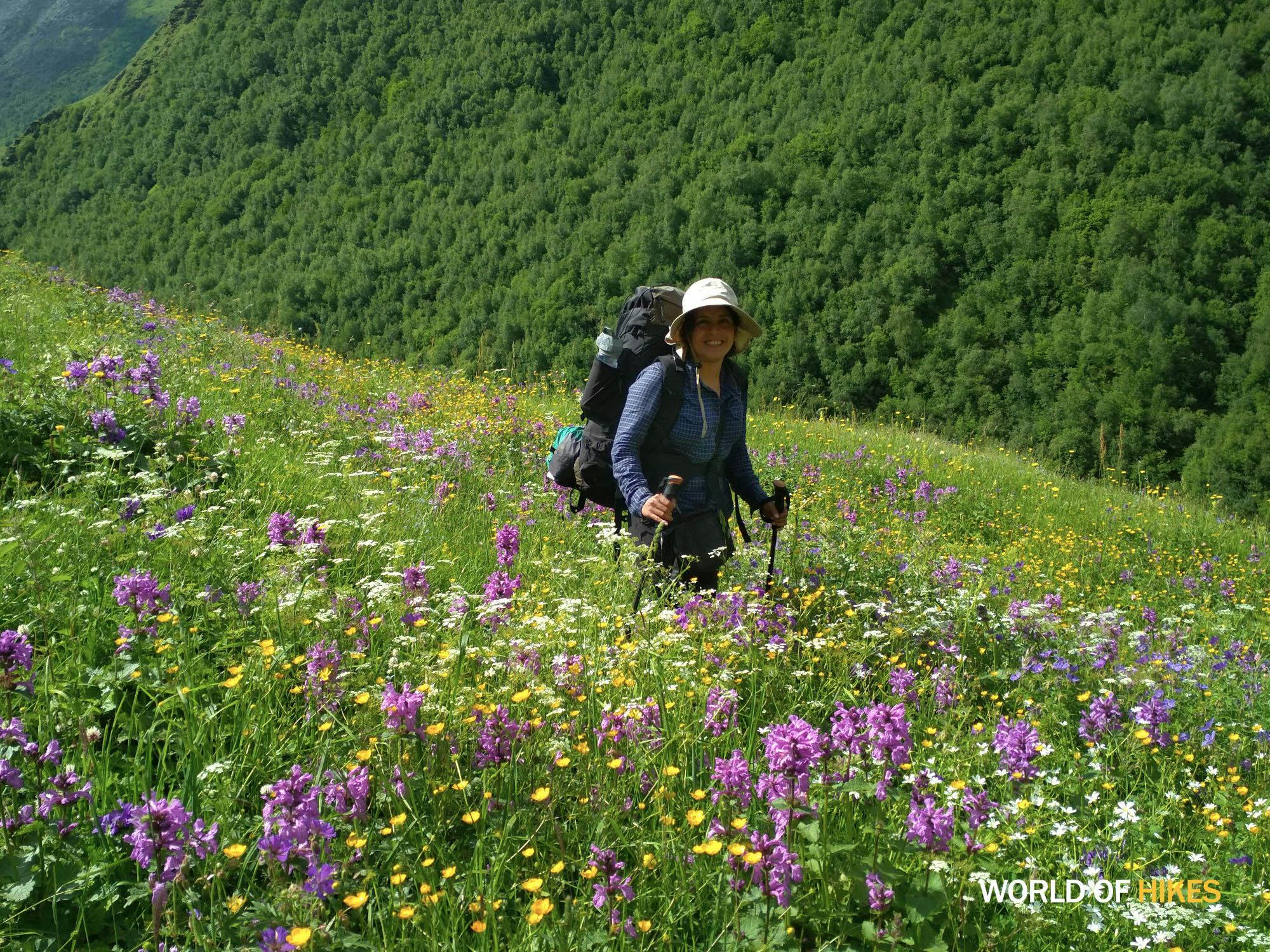 Arjun has trekked extensively across the Himalayas and a little bit in Scotland. Sandhya, our co-founder, who was also on the exploration, has hiked in New Zealand and Austria apart from her many Himalayan expeditions.
"Going by the geographic location, and knowing that the Caucasus mountains are often compared to the Swiss Alps, we had a rough idea of what to expect. But we didn't expect it to be this glorious," says Sandhya.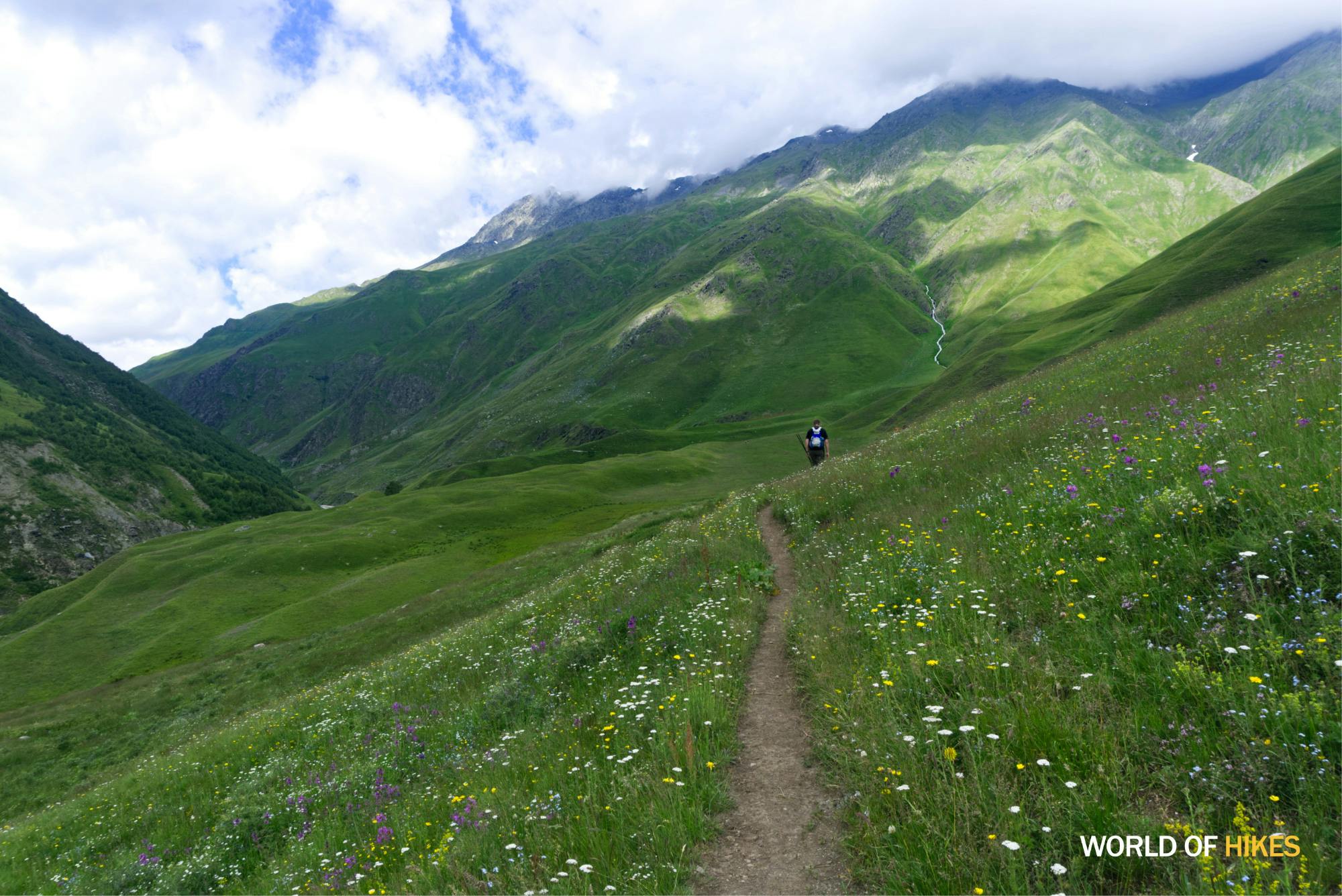 Where exactly is this trek? 
Well, Georgia is a Eurasian country that lies just below Russia and above Turkey and Armenia.
Our founders trekked in the Northern region of Georgia, where the Greater Caucasus Mountains run along the length of the country. The entire trail runs close to the Georgia-Russia border.
The trek starts in a town called Omalo, cuts across the Atsunta Pass (at 11,500 ft) and ends in Shatili.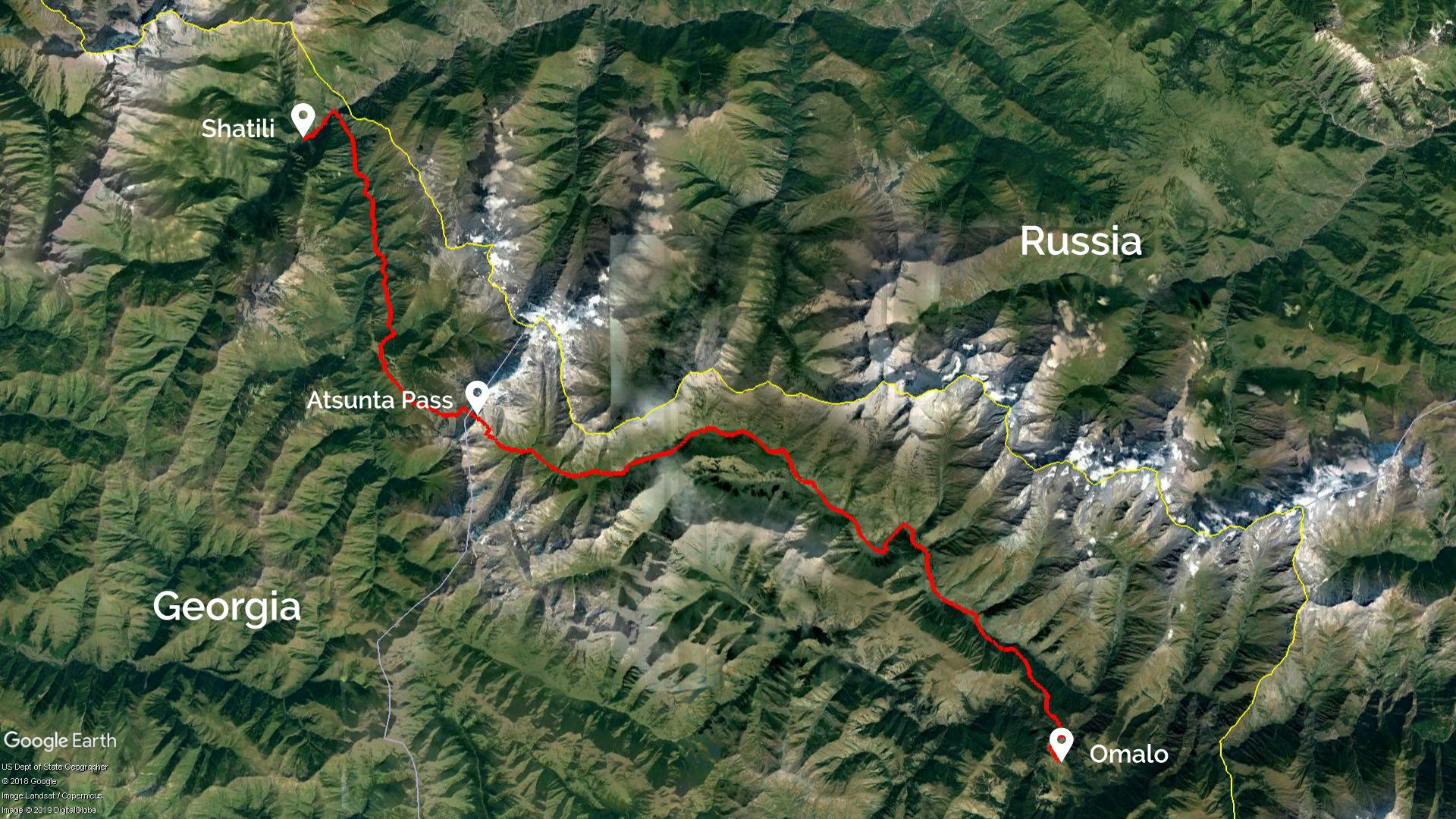 This is a fairly well-known trek in Georgia but not too many people from other countries trek there.
"We saw a handful of solo trekkers from Germany, Czech Republic, Sweden and Israel. They were few and far apart," says Sandhya.
The trek is around 75 km long, and covers around 10-15 km a day, much like our Kashmir treks.
"But the scenery changes here are astonishing. Usually, in the Indian Himalayas, you need to climb at least 2,000 ft to see a change in terrain — from grasslands to alpine zones. But here, you see a sudden change within 300-500 ft of climbing! You suddenly step out of grasslands and into a dizzyingly different alpine zone, within no time," says Arjun.
Here's a picture of the Atsunta Pass crossing to give you an idea. This is just after crossing some mind-numbing grasslands of the mountains half hour earlier.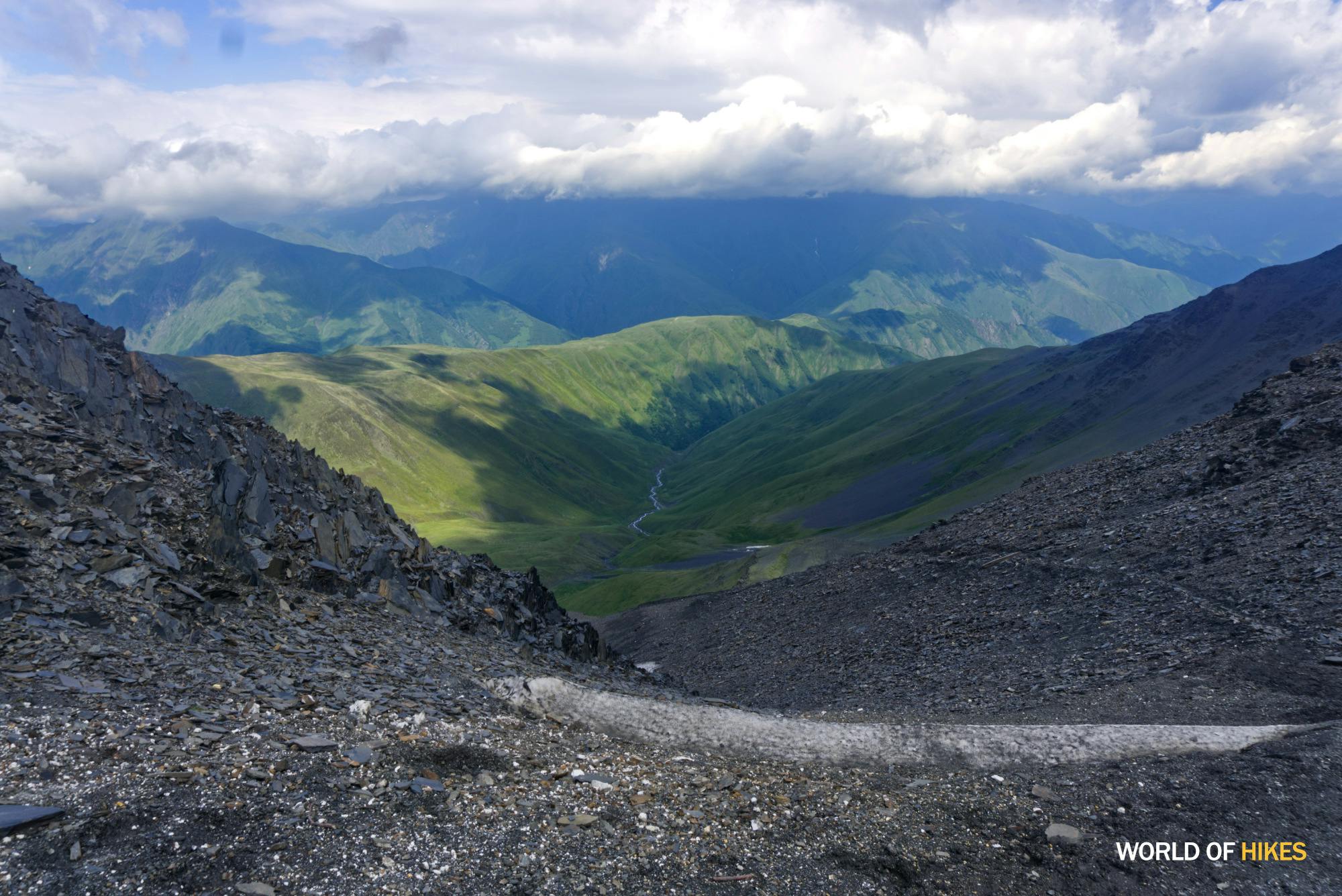 While the first half of this trek is full of grasslands, the second half is a whole other adventure, with even prettier grasslands, forested descents, river-crossings and tall cliffs to Shatili.
The trek is a delight, and Georgia as a country itself is a pleasure on its own.
"A feeling of being in Europe at Indian costs"
I love how Sandhya put this — a feeling of Europe at almost Indian costs.
The feel of Georgia is very European — their architecture, their streets, the landscape, the food… "But unlike other European countries, Georgia is not expensive for tourists. And if you're a minimal trekker, it's even less expensive. You can do a European trek and come back in less than Rs. 30,000," says Sandhya.
To me, that's a big bonus. I have personally avoided the Swiss Alps and visited the Austrian Alps to save on the cost. But even that is not easy on the pocket. And here's a European trek whose costs resemble Indian costs.
A culture that's uniquely Georgian 
And I must touch upon the culture of Georgia too, because from what Arjun and Sandhya tell me, just for the culture, it's worth travelling to Georgia.
The culture is very rich. There is a strong sense of art, theatre and music. The architecture of the city and the simple homes of the villages fill you with warmth. On the trek, ancient ruins and monasteries are many. The food is delicious. Homes have fruit trees growing out of them.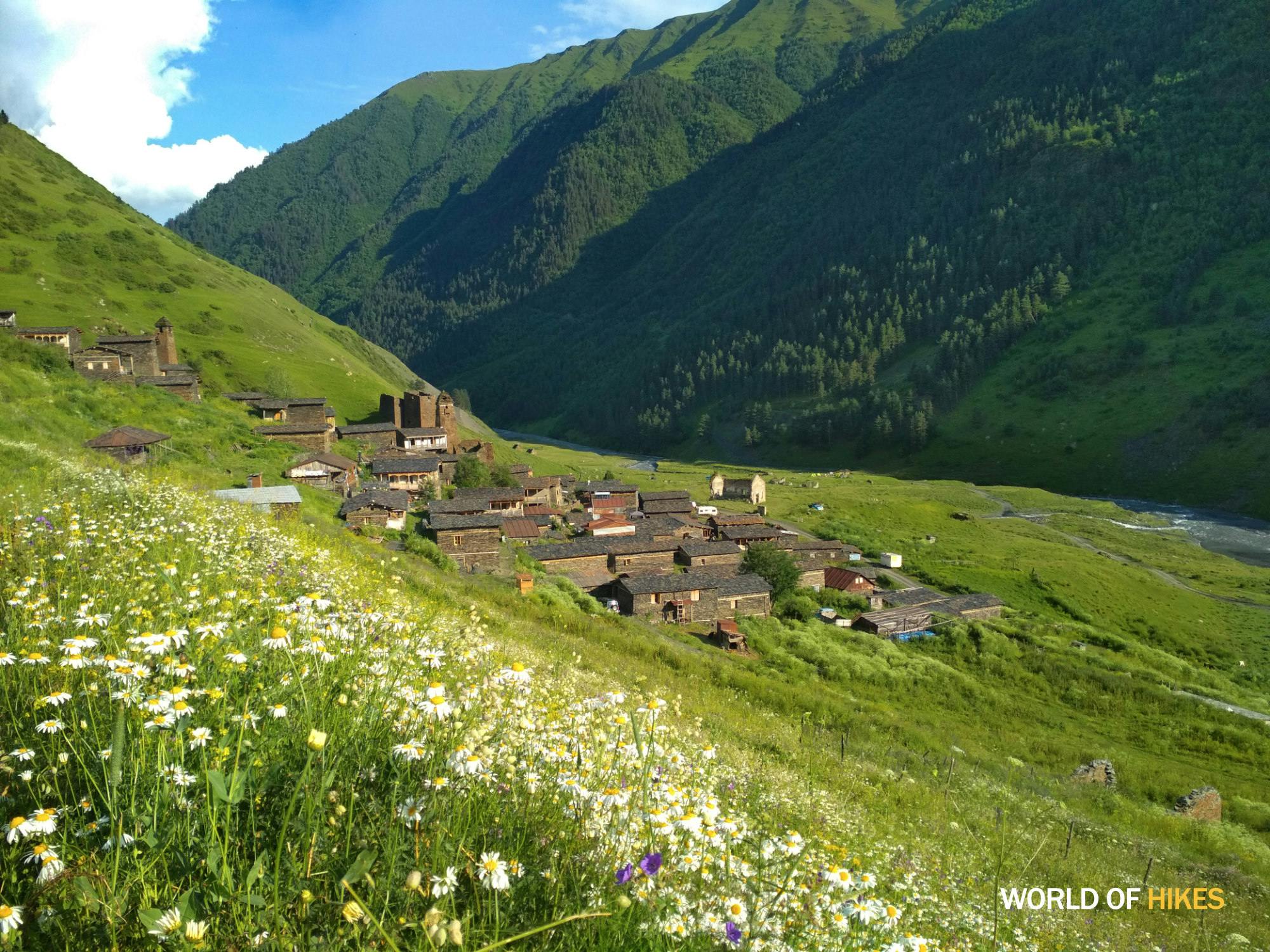 "The world relishes Georgian cuisine, they take pride in their dance, music and theatre. And the people have a strong sense of belonging to Georgia. Interestingly, the hospitality is a lot like that of the mountain folks in our country. The locals love to host, feed you and show you their culture," says Arjun.
Our office is extremely excited about Georgia. After seeing the initial pictures, we are all dying to go to Georgia.
Well, I have a lot more to tell you about Georgia, but I'm intentionally holding myself back till Monday.
But in brief that is Georgia for you! A fantastic trekking trail, warm and welcoming people, great culture and food (even for vegetarians) and a feeling of being in Europe at Indian costs.
This marks a new beginning for us! 
With this trek in Georgia, we mark the beginning of a new journey.
We have had this vision for a long time, to explore trekking trails in other countries, to bring out that one great trek of that country.
"One best trek of every country," as we have been saying.
We will be running this under the name of World Of Hikes — a sister concern of ours. Don't go looking for the website. It is not up yet, though we have had the domain with us for over ten years. That long has been our dream in waiting!
Here's hoping everything goes smoothly! Fingers crossed!
You're welcome on our first international trek
I will share more about this on Monday. Details about the dates, costs, visa requirements and everything else you would need to know.
I can tell you this much now — you will have to clear out your schedule for early September for this one. I know it's a bit of short notice, but we are going to be taking a small team of around 10 people doing it exploration style. It's going to be one heck of an adventure!
The good bit is that it isn't a difficult trek like Warwan Valley. It does require fitness of course, but it doesn't have any technical difficulty. Even fit beginners are welcome to go on this trek.
So if you're up for a trek in Georgia, to one of the prettiest places in this World Of Hikes, then stay tuned for Monday.
To new beginnings!
Sign up for our much loved Weekly Mailer
We have terrific trekking tips, trek updates and trek talks to look forward to