GPS tracking devices to be made mandatory for Nepal tourists
Share this story
GPS tracking devices to be made mandatory for Nepal tourists
Category News
By Vaibhav Chauhan
2014-11-21
After the Nepal snowstorm disaster of October 2014, the country's tourism department made it mandatory for tourists visiting the Himalayas to rent a satellite navigation unit that will help trace them in case of an emergency. This is one of the few suggestions the authorities have come out with, to address future mountain disasters. However, it does not sound like the authorities have learnt a lesson from this disaster, which has claimed 43 lives.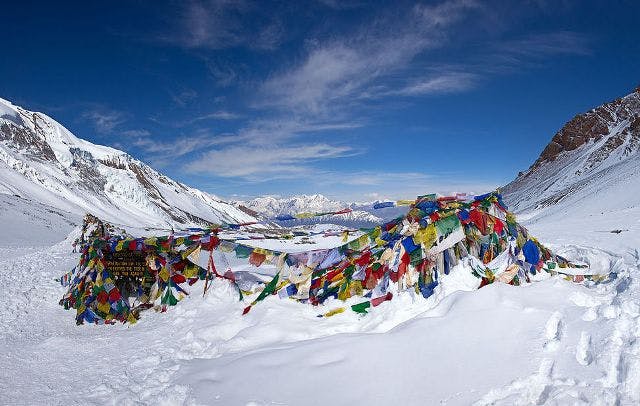 A post-mortem of the Annapurna snowstorm disaster by independent experts has revealed that the idea of introducing GPS systems is a knee-jerk reaction. "GPS has its uses. Especially, if you know how to use it. In a tricky situation, it can help you to find directions. But again, you really must know how to use it," says Arjun Majumdar, co-founder of Indiahikes. "But a better communication device is the need of the hour, and not just GPS," he adds.
Field results have shown GPS tracking devices often don't work in extreme conditions. Tracking missing people is not a solution to the problem. What is a worrying trend is that trekkers and their guides often walk into a brewing snow storm without consulting real time weather updates.
The Prime Minister of Nepal, Sushil Koirala, called the loss of life "extremely tragic at a time when worldwide weather updates are available every second," and said that weather warning systems would be improved. Perhaps setting up of emergency shelters and equipping technical staff members with better weather tracking and communication devices are some of the things that can help. "A device that can provide real-time weather updates can be a real boon in hand of a trek leader," opines Parth Phalke, a Trek Leader at Indiahikes.
"Technology alone is not the real solution to this problem," states Ravi, a certified mountaineer and trekker. "You have to look at this as an opportunity to get your act right in training your guides, porter in responding to a mountain catastrophe." There needs to be better training and education in place for both the trekkers, local guides and porters on the mountains for improving decision making and affirmative action. Trekkers need to make sure the guides and the local staff they are hiring have the required skills for handling situations like these.
So what are the few things that can be done to be better prepared in such scenarios? Here are few things we'd like to point out.
1. High-tech gadgets are only a quick fix and do not help much in escaping future disasters. A better communication system among guides and trekkers needs to be introduced. Long range, Long wave radio can be used in the mountains as a means for effective communication and sharing of information. Devices like a radio walkie-talkie are better suited for the mountains and are very useful.
2. Setting up of emergency shelters can really help.
3. Training and education of local guides and staff in rescue and disaster management should be made compulsory on the trails.
4. Proper clothing and gear should be made available for local staff. This will help in saving lives of local porters and guides, who are often seen with minimal or no protection during extreme weather conditions.
5. Trekkers should ensure they hire trained and competent guides.
Sign up for our much loved Weekly Mailer
We have terrific trekking tips, trek updates and trek talks to look forward to