The Adventure Of Trekking To Jalsu Pass - The Flower Valley Of Himachal
Share this story
| Editor's Note: Here's a trek experience documented by Kabil Ghhogra of the Jalsu Pass trek. If you plan to do the trek on your own, this experience will surely help you. (Jalsu Pass is a good solo trek too.)
Jalsu pass is one of the oldest routes connecting Kangra and Chamba. Gaddi Shepherds have used this pass from centuries to travel between the plains of Kangra and their homeland, Chamba (Gadheran).
The trail is well marked as it is still used as a pilgrimage road to Manimahesh Kailas. The best season to travel is between April to September, especially before the monsoons when the valley starts to blossom with a variety of flowers to live up to its name of "Flower Valley Of Himachal".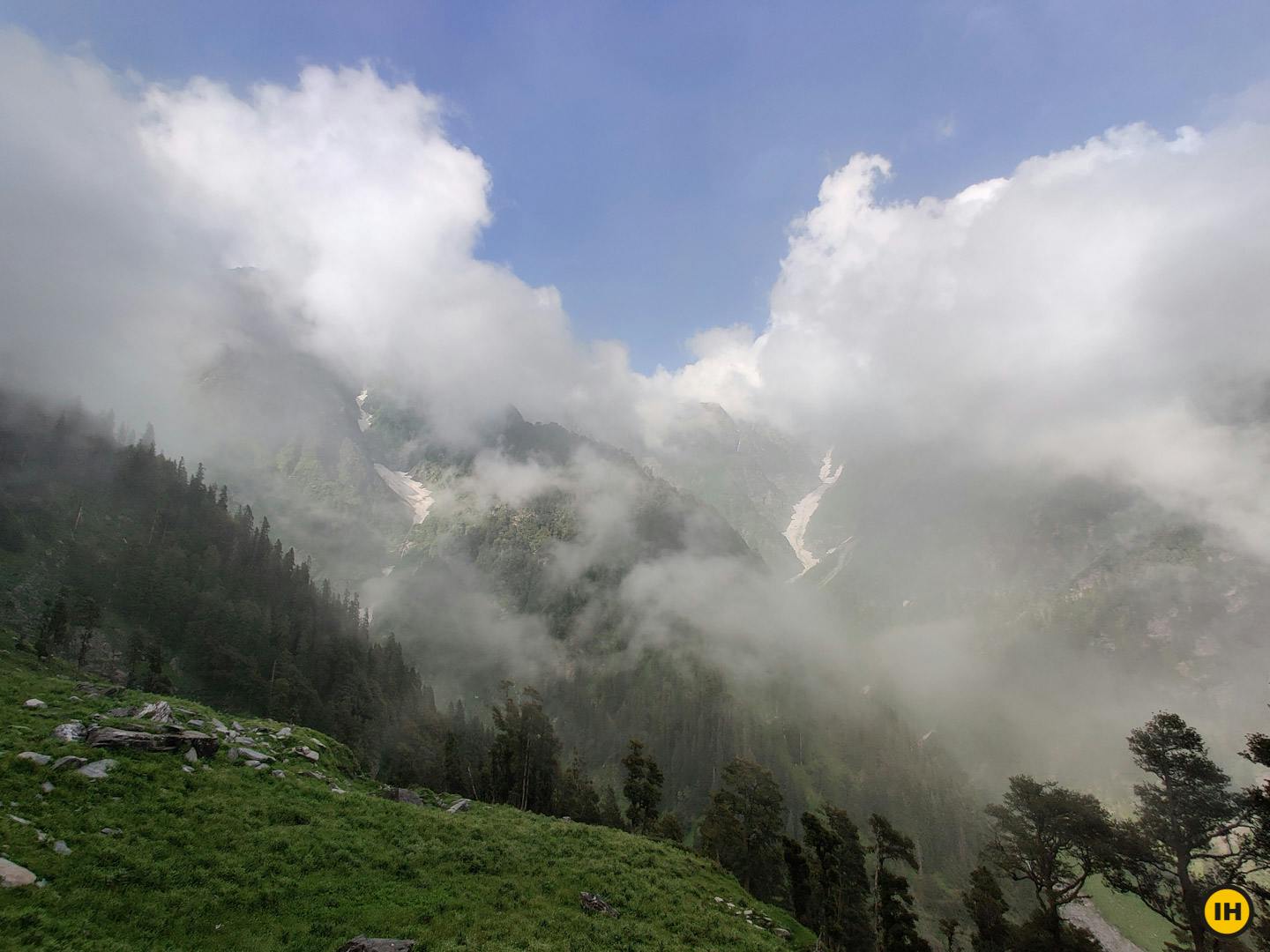 We — me and my 2 friends, Nitish and Akshit — planned for an easy to moderate trek a month ago in mid-June 2020 and started running for half an hour everyday to prepare our body and mind. Checked a few websites, blogs, vlogs and contacted local people who have done the trek before. (For anyone planning for this trek, hiring a guide is always recommended)
We talked to each other over phone and decided on the day we would start the hike by checking weather forecast and chalked out the itinerary.
On the day of the hike, we texted each other that it has started raining, but we were sure of the forecast and that rain is only expected in the lower regions, and the high altitudes would have very less rainfall. (Even if it rains, it will pour for an hour or so in upper regions during this time of the year before the arrival of monsoons.)
So, we decided to go ahead with our plan.
The Journey
We started around 4:30 AM from Palampur and reached Uttarala at around 6:00 AM. We started our trek at 7:00 AM from Uttarala after the rains stopped completely. The road we followed was still under construction for about 2.5 km after which we started trekking uphill with a little guidance from a local.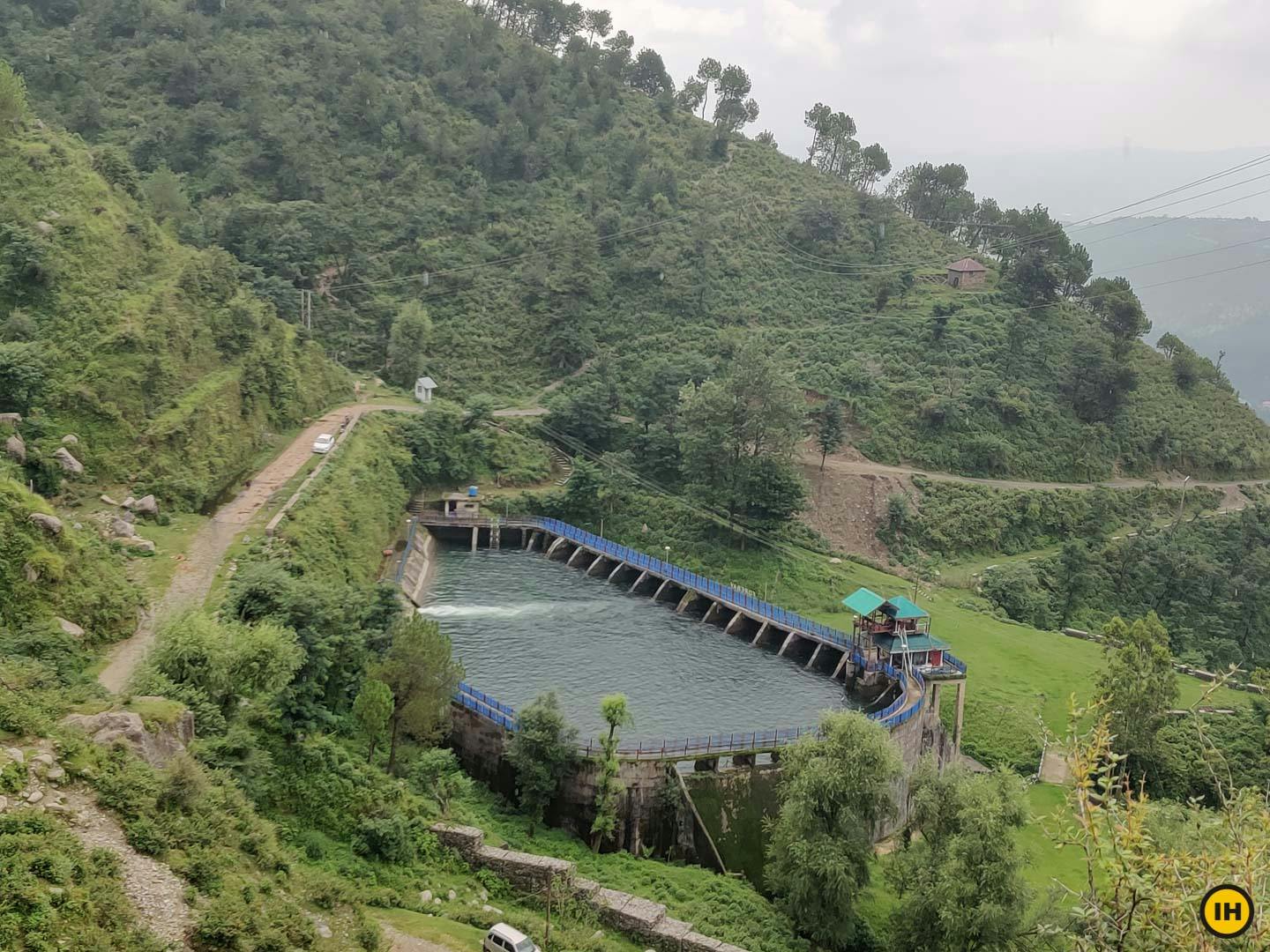 In about an hour we reached a place called Bakludu, where a local Gaddi lived. He was waking up to his morning chores when we reached. It had started drizzling by the time we reached Bakludu.
He invited us inside his cave-like mud hut, and we spent half an hour there until it stopped raining again.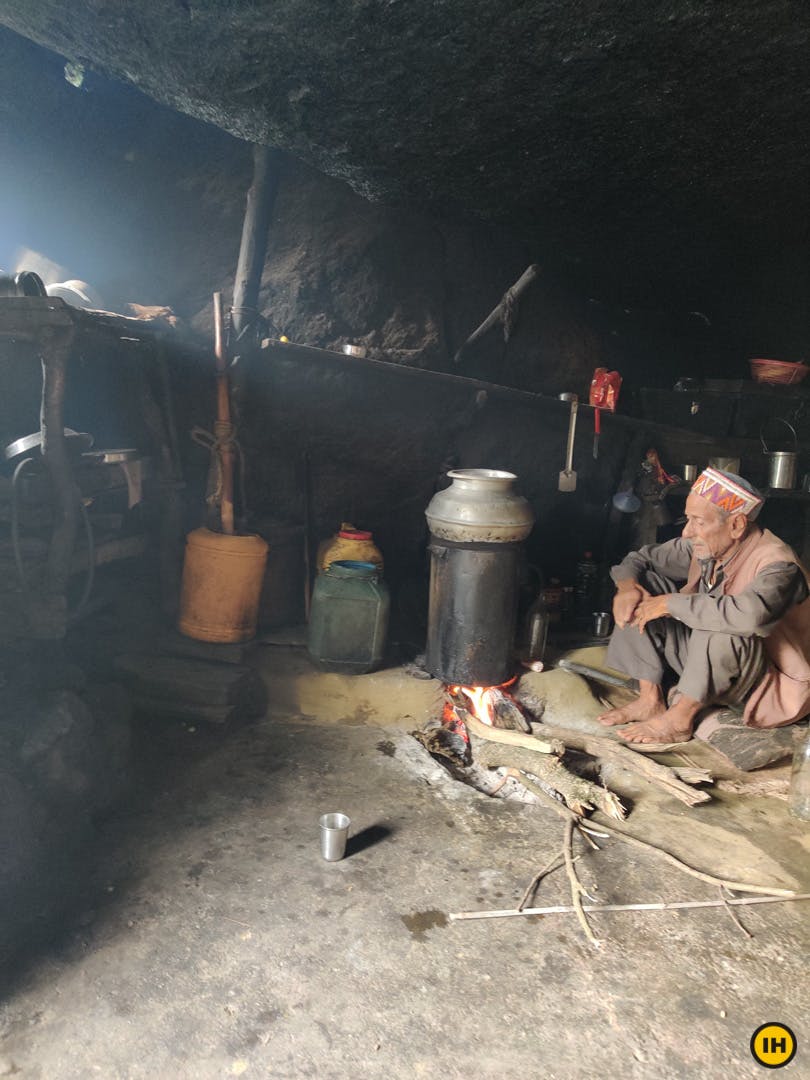 This is where the actual trek starts, with the trail making its way up and down but mostly ascending. You don't have to carry a lot of water on the trek.
A bottle or two of 1-litre each would be enough as there is a ground water outlet on the way. Do not drink water from little rivulets (many animals die on the trail and the water that flows over the trail gets intoxicated upstream).
Watch out for the small mud huts on the top from around the corners of the valley while you are trekking but be aware of your footing as it could be slippery, especially on the descents.
After walking for about 3 hours we reached a spot across a small cement bridge and decided to fill our lungs with fresh air and our stomachs with home-made food we had packed. We could spot some mud huts from this spot and thought we are almost near Preyein, our destination for the night.
Thankfully Preyein was another 2-hour trek away from here and reaching there before dusk would ultimately reduce the distance to Jalsu Pass the next day.
We experienced mountain rains here — the drops are so big that they can get you soaking wet in seconds — luckily, we quickly opened the big umbrellas to save ourselves and our stuff from getting drenched.
We Reached Preyein in about 2 hours and found ourselves a Gaddi hut where we stopped to drink tea. After speaking with him for long, he offered us a night's stay at his place and asked about our plans for the next day so that he could cook accordingly and pack us lunch.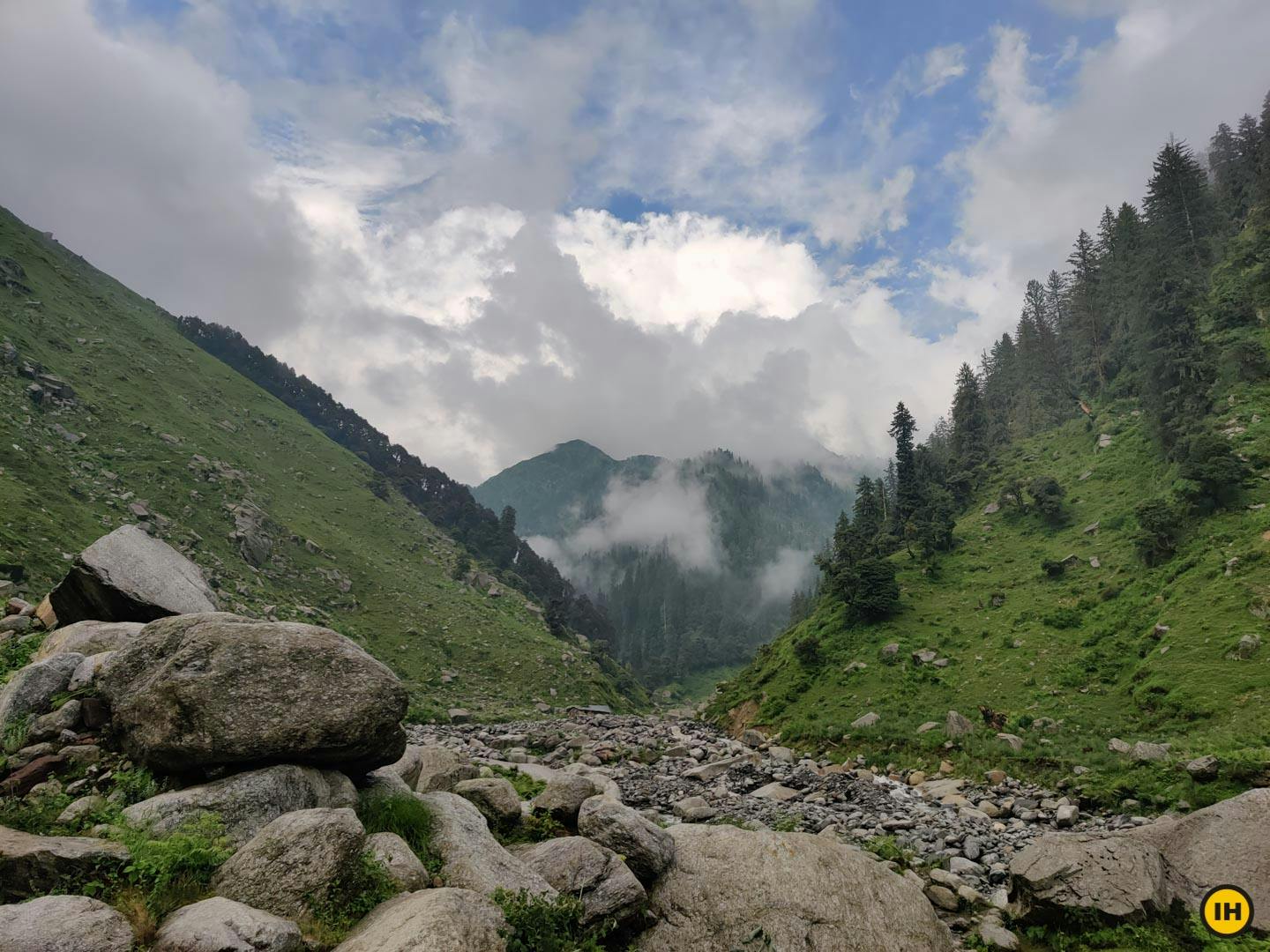 Next day we woke up before sunrise and started our trek to Jalsu pass.
First we had to cross a small river and reach another hut on the way. Soon after that we crossed a small wooden log bridge to get to the other side of the valley.
From here, the walk in the valley for about 3 hours was relatively flat and as a result, it was a lot less tiring on the legs. We witnessed the valleys one after another, all of them were full of blossoming flowers.
In minutes, we were walking amidst the Deodar trees (the Divine tree of Himachal Pradesh) until we reached a spot where we had to cross another river, barefoot, believe me it was colder than we thought it would be! Eventually it got better with socks and shoes on, much warmer than before.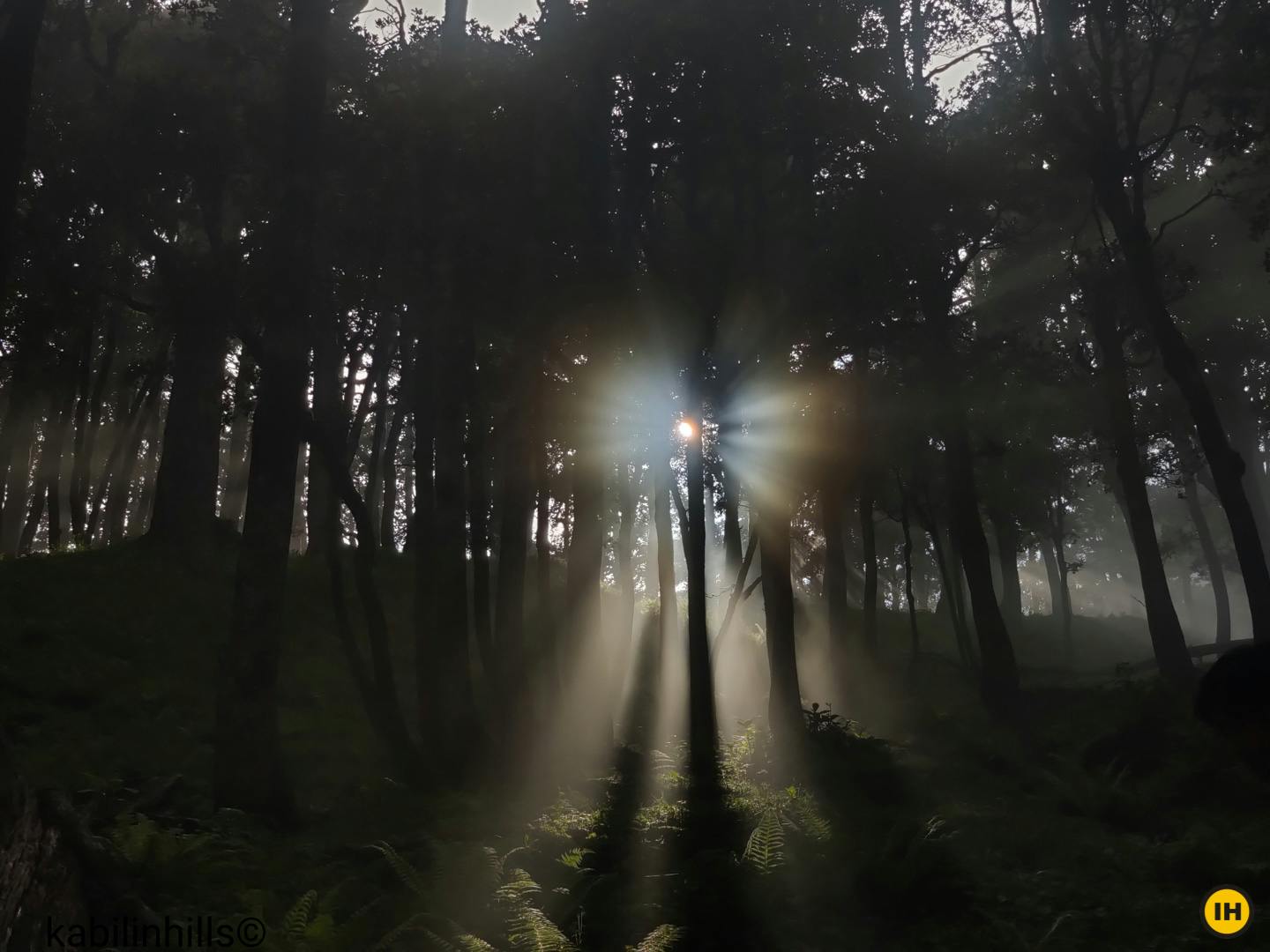 Now, we faced the toughest section of the trek — as we climbed approximately 3,600 feet, the final push to Jalsu Pass. The gradient of the slope was so much more demanding than the rest of the trail, but we kept on walking slowly and steadily and reached the top around 2:30 PM.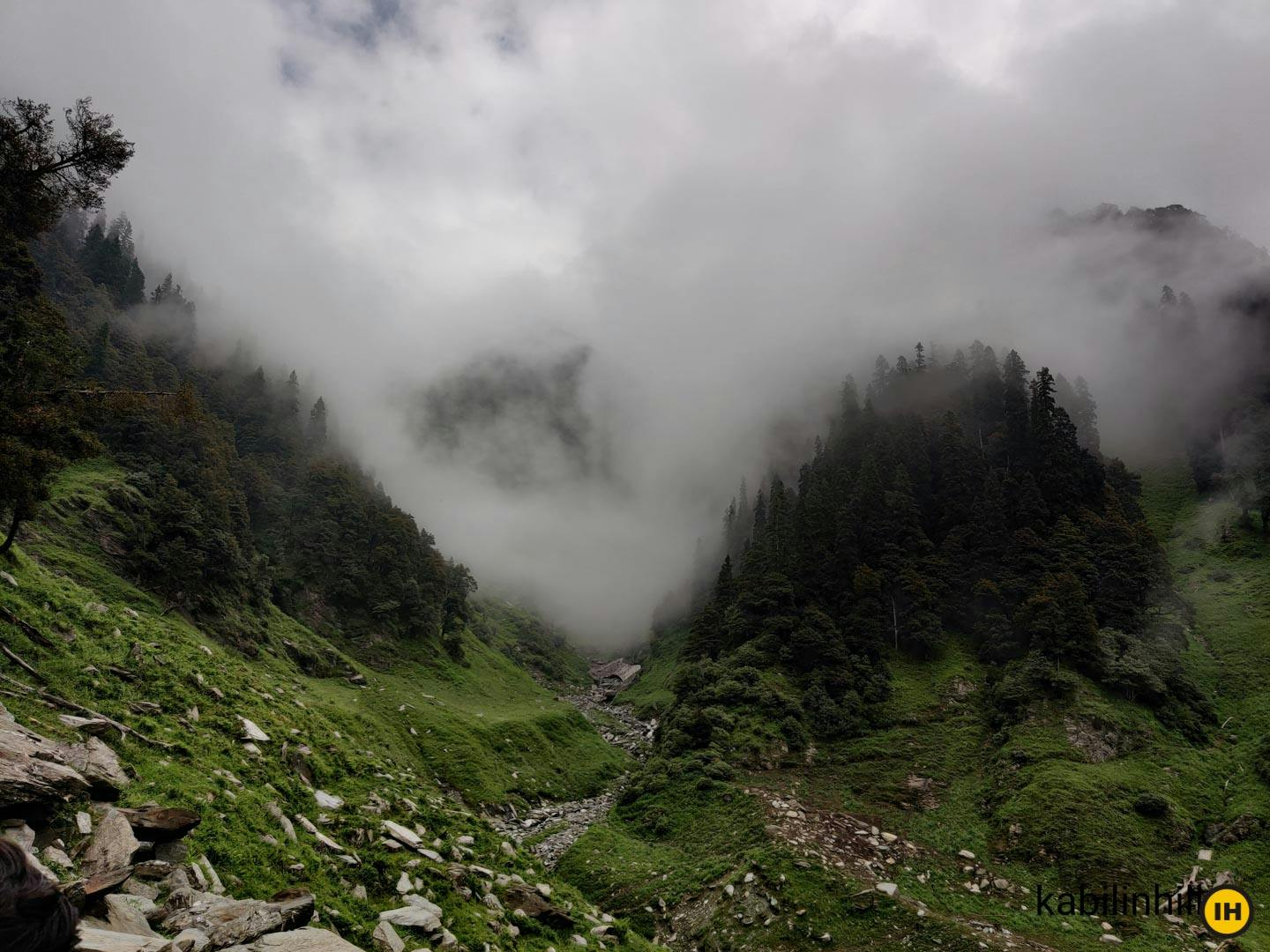 From Preyein, Jalsu Pass is exactly 10 km and it takes 4-5 hours approximately to reach at top.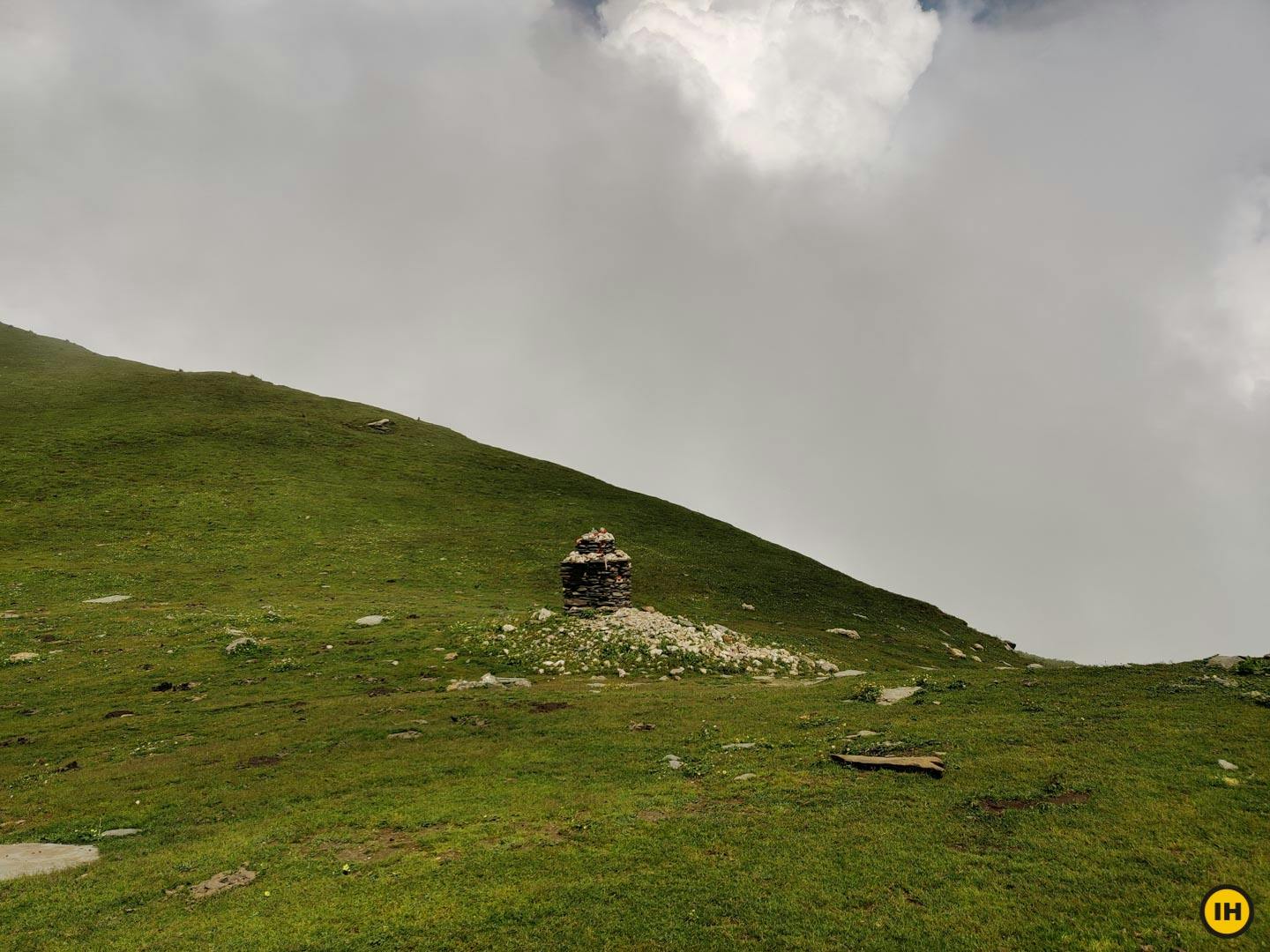 On reaching the top, weather cleared a bit and we were able to see the magnificent glimpse of Chamba Kailas to the right of the pass. We spent around half an hour there and started our journey back the same trail. We did not cross to the other side of Jalsu Pass to reach Chamba.
On our way back, just after descending down from the pass, we met a Gaddi who started at 6 AM from Uttarala and reached Jalsu Pass at 3:30 PM. He was going to Nayagram in Chamba where the Jalsu Pass trek ends and had plans to reach there by 6 PM, which meant he would cover 45 km in a single day!
We reached Preyein around 7:30 PM and stayed at the same Gaddi hut for the night. Next day, we reached Uttarala to mark an end to this amazing journey.
| Necessary things we carried:
Sleeping bags (preferably that support temperatures of 5-10° C)
Raincoat/Ponchos
Waterproof shoes with anti-slip sole
Big Umbrella
Pack your backpacks with raincover
Instant food and electrolytes
No need to carry tents as stay option is available, unless you want to carry
First aid kit
What you should do know
1. If you want to see a complete list of treks that we run: Head over to our upcoming treks page. You'll find help in choosing a Himalayan trek in a specific season.
2. If you want to work with us: Head over to our careers page. We have lots of positions open. We also have lots of applications coming in. So the sooner you apply, the better.
3. If you have trekked to Jalsu Pass, share your experience in the Comments section below.
Sign up for our much loved Weekly Mailer
We have terrific trekking tips, trek updates and trek talks to look forward to