How an eco-village at Jaubhari triggered a major movement at Sandakphu
Share this story
Paula Deen once said that "Change doesn't happen overnight.  It starts with a desire, then one small step in the right direction."
My experience in Sandakphu as a Green Trails intern is a testament to that. Fresh out of my PhD, I was looking for a job that would gratify me. When I came across this opportunity. I grabbed it! Mid February 2016, I was in Jaubhari, the base camp of the Sandakphu trek. I was trying to do my bit for the mountains.  Little did I know what was in store…
The beginning of my journey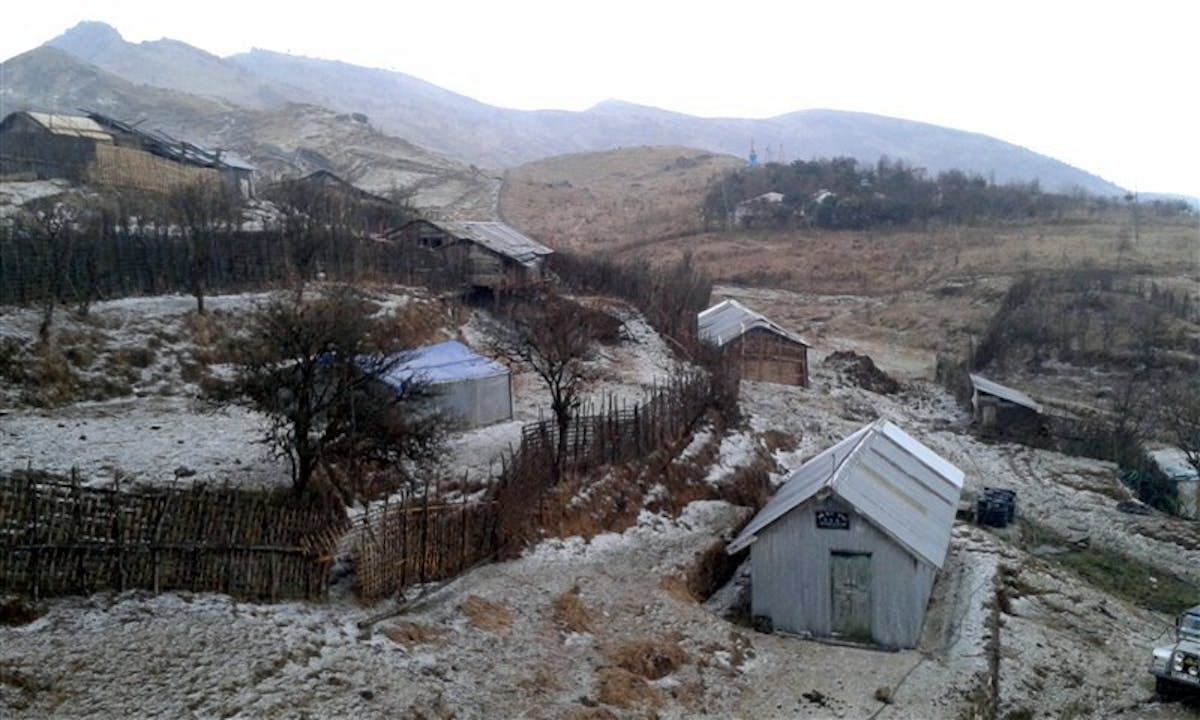 Tumling village on the Sandakphu trek
On my first day, trek leader Ankit  briefed me on what my role as a Green Trails intern was. He said that there are quite a few of problems in the mountains: deforestation, threats to wildlife, waste generated by locals, waste generated by trekkers, pollution from transportation, etc. These problems were biting away from the mountains, one crumb at a time. 
Ankit told me my task was to find a workable solution for at least one of these problems. Having read about eco-bags, my impression about the internship was that I would have to help with the litter collection and spread awareness among trekkers. Only after the talk with Ankit did I understand the scope and complexity of the internship. I was excited and scared. I wanted to make a difference and a lasting one.
I thought about the different problems that we discussed. I chose to address the problem of waste generated by trekkers and locals. That was how it all began.
The lodge we stayed in at Jaubhari was owned by seven brothers. I was welcomed into one house to stay. My first week went into knowing the place and understanding the problems. Sukhman bhai, one of the seven brothers, took me to NGOs like WWF and Prerna to meet people who have already worked on such issues.  We also went to meet the Divisional Forest Officer. The DFO was keen to help, he  asked us to come back with a report on our findings and suggestions for the trek route. I spent time meeting villagers, talking to them and understanding their needs. One of the primary problems was the absence of a waste management system. Result: Waste is either dumped along the mountain slope or burnt in the open.
My first trek – When I identified the problem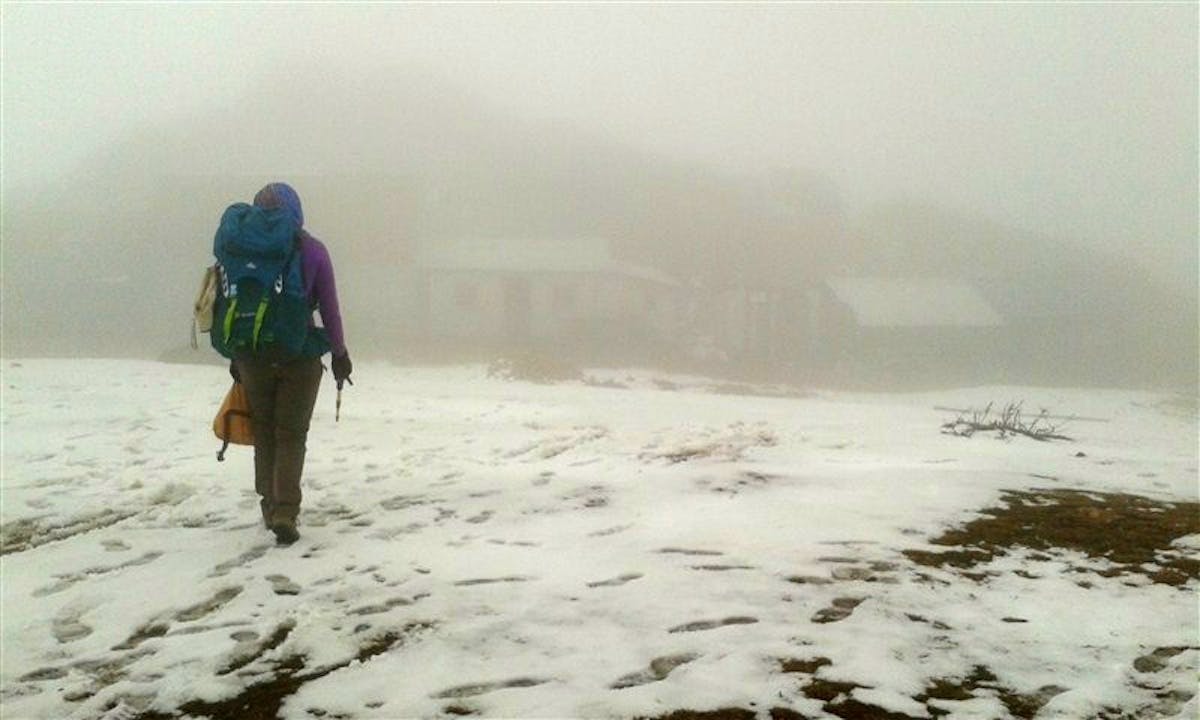 On the Sandakphu trek
During the second week, I went on the Sandakphu trek. Winding through India and Nepal, relishing the panoramic view of the 4 top peaks in the world, it was a beautiful journey. Quaint villages, thick forests, beautiful lakes and snowy peaks adorned the way to the top.
However, one constant reminder of the human footprint, was the waste I saw. The recklessly littered trail was a heartbreaking sight. Considering Sandakphu is a popular and long route, I realised that the scale of this problem was huge. It involved a lot of people! Reality hit me when I realized that I might not be able to make a difference at all! I resolved to try hard and not to give up. I spoke to villagers from the route about the problem. They shared my concerns but didn't know what could be done about it. Every village I went to I heard the same story. One big lesson I learnt from speaking to people was that we could move ahead without the Government's help.
Work begins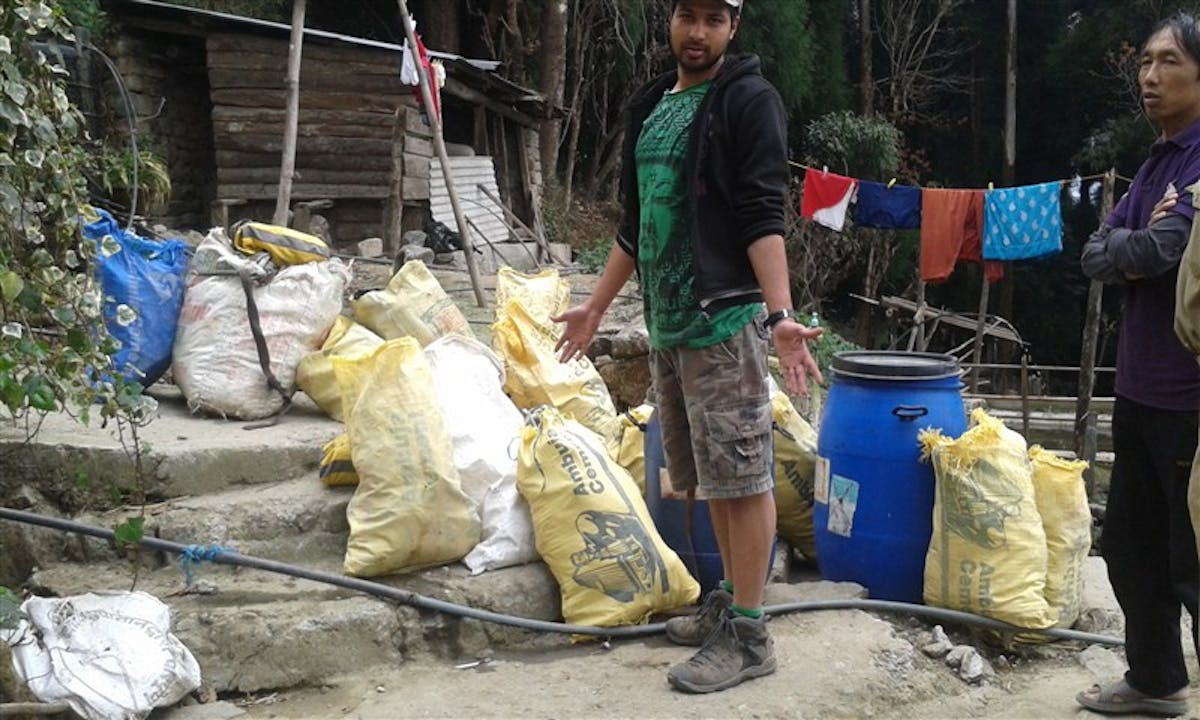 Garbage collection at Jaubhari
Coming back from the trek, I discussed my plan of action with Ankit, Jiwan ji and Sukhman bhai. We felt that targeting Jaubhari and making it a model village would help us convince the forest department to replicate it along the trek route. I sought the support of villagers of Jaubhari. I got their unwavering support. We started with cleaning up the village, 12 kids from Jaubhari gathered on a Sunday morning to clean in and around the village. For 3 hours we cleaned the village as much as we could.  Along the way, the kids took it upon themselves to ask the villagers not to litter and to collect and segregate waste. What a wonderful sight that was! They were relentless! They hunted for waste hidden in dark corners. Such was their energy and motivation. After a small break, we went on to segregate the waste we collected. On the whole, that Sunday was a great realization of the power of community.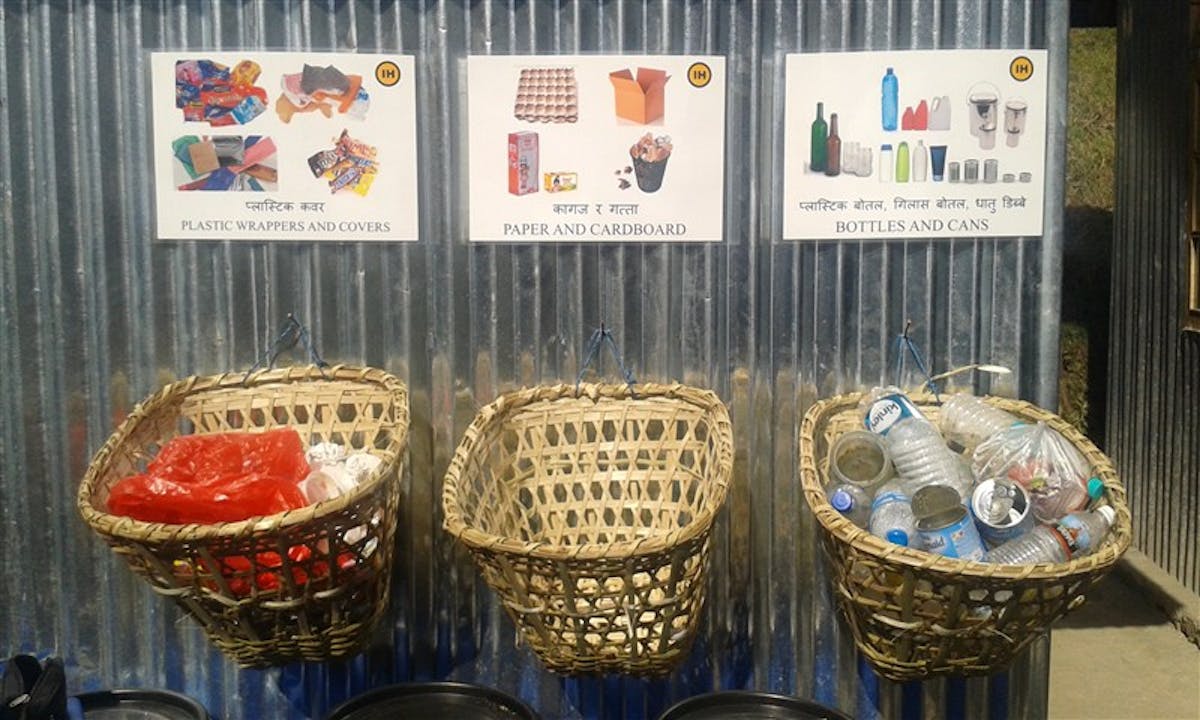 Simple labelled segregation unit
First step done, the next one was to establish a segregation unit in the village. The seven brothers and their families became my team. I got six drums and with their help lined them up at two places in the village. They were neatly labeled to segregate paper and cardboard, recyclables and non-recyclables. Not just that, we painted awareness placards and placed them throughout the village. We put in similar segregation units at lodges as well.
Step three, I identified a place to keep the segregated waste until they could be properly disposed. Ankur, an Assistant Trek Leader and I went to Siliguri to get permission to use their landfill. We identified several kabbadiwalas who could take all the recyclable waste. Shared taxis that went to Siliguri on a regular basis could be used to carry the waste.
Eco-village Jaubhari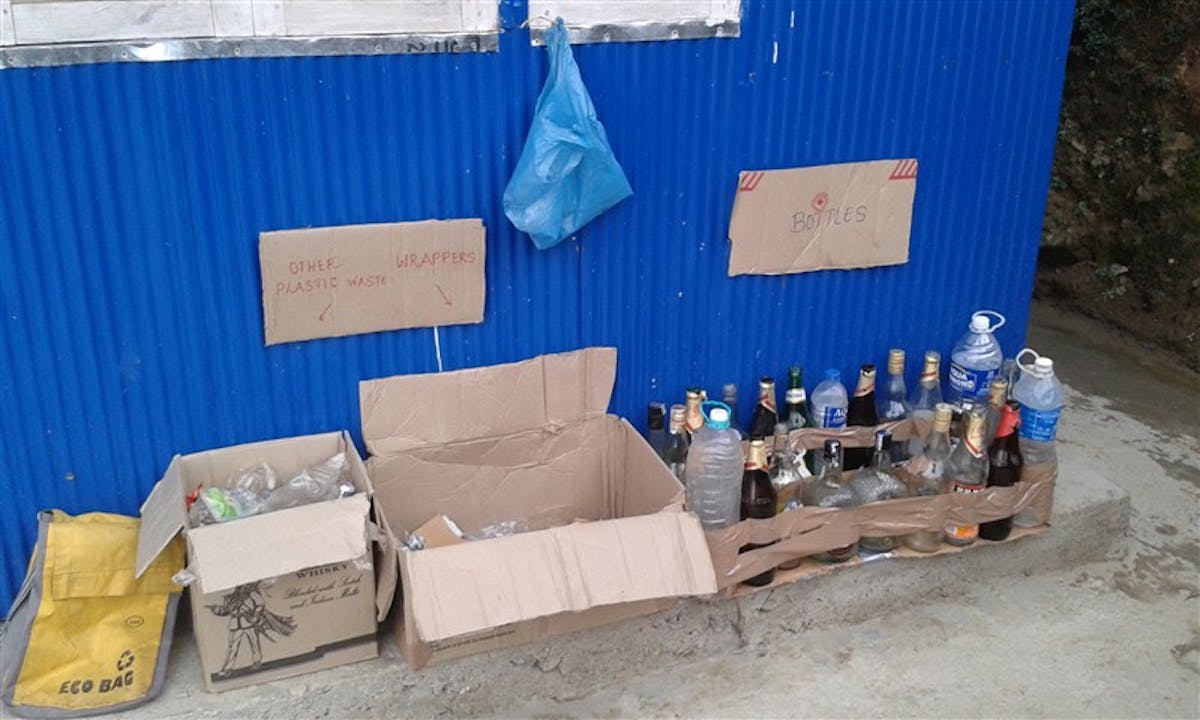 Waste segregation at the Jaubhari campsite
Now that everything was in place. The villagers went on to make it a success. Sukhman bhai took it upon himself to maintain the segregation units. Whatever was collected was to be stored until they could be taken to Siliguri. I created a report of the model village and submitted it to Wildlife and Forest Divisional Forest officers along with a petition signed by the villagers asking for a replication of such a system around the trek. Green Trails intern Kavya continued to work on the project and pushed the cause further with the Divisional Forest Officer. After several meetings with the local guide association and Range Rover association, she brought everyone to work towards this common cause. The DFO agreed to facilitate a waste management system for the Sandakphu trek. A meeting on June 28th 2016 was convened with the major stakeholders to discuss the implementation of this system. The system will soon be put in place around villages on the Sandakphu trek.
I learnt how like-minded people working together can actually make a big difference.
It was not easy. We came up with many ideas but most didn't work.We learnt many lessons. I learnt how a small dedicated step can bring a big change. I learnt how like-minded people working together can actually make a big difference. Personally, I learnt about the local culture, history of the place and the people. More than anything, during these 45 days I gained a family at Jaubhari.
Special thanks to Buddha ji, Darpan bhai, Jiwan ji, Kiran ji, Ritu bhai, Sukhman bhai, Suman bhai and their families for helping me throughout my journey and making me a part of their family.
Sign up for our much loved Weekly Mailer
We have terrific trekking tips, trek updates and trek talks to look forward to