Kashmir Calling: The great Alpine lakes fever
Share this story
Kashmir Calling: The great Alpine lakes fever
Category Trek Leaders Speak
By Vaibhav Chauhan
2013-06-25
Vaibhav Chauhan from Indiahikes reflects back on his experience of leading a team to the great Kashmir lakes trek in August of 2012 and how he rates it to be one of the best treks in the Indian Himalayas.
Kashmir has always been an enigma for me. In Kashmir there is as much hidden as revealed. It is said that the Valley has to be seen with the eyes of the soul. Those who venture here are startled by  its striking similarities to Switzerland and its alpine landscapes are the finest one can find in the Himalayas.
The waters of the pristine glacial lakes here are untouched and full of trout. The trails  wind through conifer forests with some of the tall and proud trees being centuries old. Green meadows carpeted in wildflowers run for miles across at a stretch and campsites never seem too crowded.
Kashmir is currently experiencing its most peaceful phase in  two decades with a record fall in insurgency activities in the valley. This has resulted in  a revival of tourism in  the state. There are encouraging signs of trekkers returning to the old trekking routes in Sonamarg, Pehalgam and Gulmarg.
Prelude to the Alpine Lakes Trek – Sonamarg.
For long I remained indifferent to exploring Kashmir on foot. Maybe it was to do with the perception of political instability in the state. I kept delaying it, concentrating on trails in neighboring states. I then came across an ambitious Great  Lakes Exploration by Indiahikes on their website in 2011 which got my attention.
Eagerly waiting for the exploration team to return with their stories, I kept pestering Arjun to divulge details of the trek before an official story was released. He was kind enough to share some of the pictures which left me speechless. Very rarely do you get a trek with such striking beauty that it becomes very easy to make up your mind to do it just by looking at the pictures.
So after Valley of Flowers and Hemkund trek with Indiahikes as a paid customer, I decided on the Kashmir lakes trek next. Fate had better plans and I found myself engaged with Indiahikes on a full term basis. Arjun immediately told me, "We need to see you trekking. Get ready for Kashmir lakes trek and lead a team". I could not be more thrilled and started getting back in shape for a week long adventure.
The Journey
I took an overnight train from Delhi and reached the hot and humid city of Jammu. Luckily I made it on time to catch up with Rahul and Amit, our trek leaders, as they were about to leave for Srinagar in a jeep. The drive from Jammu to Srinagar is a long one and has a series of stop overs due to traffic jams. We got heavily delayed at Jawahar tunnel.
20 km from Jammu, we found ourselves entering a heavily guarded Srinagar town,late at night. Things got tense  when we were stopped by a platoon of 20 soldiers from the Indian Army. A Sikh officer ordered us to turn on the lights of the jeep inside. They were already on but he was so worked up that he did not notice. At one point we thought we would be shot at. It was a crazy feeling. The Officer mellowed down after checking our IDs. His reaction was triggered by us entering Srinagar so late at night on the week leading to India's Independence Day. After explaining the reason for our delay he relented and let us pass.
We spent the night at a cheap hotel next to Dal Lake in Srinagar. Next morning we left early morning for Sonamarg which was a couple of hours away. Srinagar gives an apt feeling of being in Kashmir and for the first time I could sense I was in a different place altogether-  in the folds of a magical fairyland which I had heard so much about. The drive from Srinagar to Sonamarg is a picturistic one and as you proceed the landscapes keep getting better and better.
We stopped at "Kangan" to purchase few supplies. The local Kashmiri delicacies are pretty cheap and well prepared. Kashmiri "Goshtaba" or boneless mutton balls were extremely tender and delicious. We stayed the night in a local village 15 km before Sonamarg where our local Kashmiri coordinator and guide, Riyaz, lives.
The next morning we woke up to a bright sunny day and got ready to drive till the campsite next to Shitkari village, few kilometers before Sonamarg. As we crossed the bridge, remaining towards the left side of the road where the National Highway pars towards right to Sonamarg, we could see a lovely campsite along a stream meeting Sindh River. We helped our support staff in setting up the base camp for trekkers who were to arrive later in the evening. The atmosphere at the campsite was electric as it started to rain and we got a glimpse of Thajwas glacier towering in front of us. I must admit this was one of the most beautiful base camps I've camped in so far. I could only imagine how beautiful things were going to get in the coming days.
 Day 1: Trek from Shitkari to Nichnai
I woke up early at 5 am to check on the cooking staff. The morning tea in partly overcast conditions refreshed us and we went about getting ready for the trek. After a hearty breakfast and a team briefing we set off on a 9 km trek to Nichnai campsite. The trekkers were in good spirits and were looking forward to what was in store for them. Riyaz led the team, I was in the middle and Rahul was the sweeper.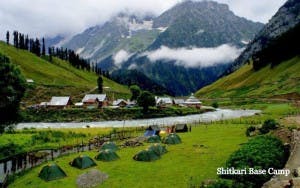 The initial two to three hours is an uphill climb  until you enter a meadow which, being August, was completely green. The highlight of the trek was the breathtaking view of Sonamarg valley and Thajwas glacier. I have never seen a valley so green and so perfect that it appears unreal.  Although the climb is steep, the walk is leisurely and has loads of attractions.
A unique array of Maple and Pine forests appeared in the background as we entered this forested area followed by a flat meadow. The sun was shining brightly and many used this opportunity for photography.  A team picture was taken while the  team was resting below a U shaped bark. We then left the meadows behind and entered a forest area full of Silver Birch trees.
A trekker who was struggling with muscle cramps had to be evacuated back to Base Camp. He was visibly in a lot of pain but the pain of not continuing seemed worse. It is always a difficult decision to send a person back on health grounds. I felt really sorry for him.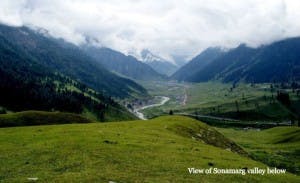 We proceeded and left behind the forest ridge for the barren rocky terrain that awaited us. The stream which was along Shitkari Base Camp is the same which flows from here all the way down to Sindh River. After an hour of hiking up the valley on boulder terrain we reached the  Nichnai camping grounds below the base of towering peaks. Our support staff had already pitched the tents and we were greeted with smiling faces and hot cups of tea and biscuits. The night view of the sky  illuminated by the  Milky Way was the second "Bloody Hell" experience of the day.
Highlights for Day 1
View of Sonamarg valley and Thajwas Glacier from the top of first hill enroute to Nichnai.
Beautiful lush green alpine meadows complemented by an array of maple, pine and birch trees.
Night view of stars, Milky Way and constellations. An unbelievable view and a treat for night photography enthusiasts.
 Day 2: Nichnai to Vishansar Lake
After an explosive Day 1, I was eagerly awaiting to start the second day of the trek as we were to see the first of the great alpine lakes, Vishansar. The first section of the hike involves traversing the 13,500 ft Nichnai Pass. The pass crossing is an experience in itself. As you move along, the scenery keeps changing. The perks of trekking in August are that there is hardly any snow on your approach towards the top of the pass. It felt like I entered an open tunnel  with sharp contrasting peaks on my right, some covered with snow.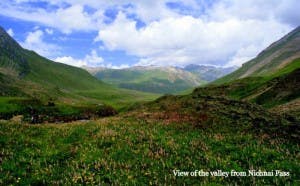 The rocky terrain gave way to a lush green wide expanse as we got to the top of the pass and were rewarded with a view of the wide green valley ahead. The rest of the trek was a leisure walk down to a flat meadow  next to a stream. As we came down the pass, we could see a couple of lovely waterfalls behind us. The green valley contrasted with blue skies looked like Microsoft Windows XP Default Desktop wallpaper.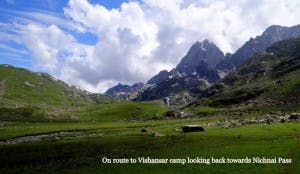 We reached the campsite next to a lovely stream early in the afternoon. Vishansar Lake is another half a km ahead towards the left side of the ridge. The team was advised to have their lunch first and then wander off to Vishansar Lake. The walk to Vishansar Lake is a gradual ascent of not more than 100 feet. We could not see the lake until the last moment when we crossed a ridge and there was nothing but an emerald green lake. The color of the lake keeps changing with the day. This was the highlight of the day for me, sitting in front of the lake, left to my own thoughts. The lake has a calming effect on some and the opposite effect on others.
Vishansar Lake is abundant with trout. Fishing can be done by engaging the local fishing inspector who can do this on your behalf. A cleaning initiative was proposed by Rahul and me and which was well supported by the  enthusiastic trekkers who helped us clean up Vishansar Campsite by collecting the garbage.
The setting at the lakeside of Vishansar between towering peaks.
The outstanding view from the top of Nichnai Pass.
The meadow walks down from Nichani Pass to Vishansar camp carpeted with a startling array of wildflowers.
Day 3: Vishansar Camp to Gadsar via Gadsar Pass and Gadsar Lake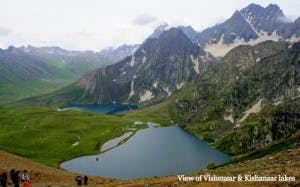 The first highlight of the trek was the breathtaking view of Vishansar and Kishansar twin lakes from Gadsar Pass. It is a pity that we got very less time to spend at Kishansar Lake which is half a kilometer ahead and 500 feet above  Vishansar Lake. The snowline is only visible as you descend down from the pass to Gadsar lake. This is an interesting spot to have some fun snow sledging down the slopes. Fiyaz and Rahul showed the team how this is to be done and many trekkers joined the party.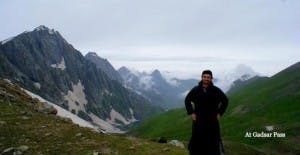 The downhill walk from the Pass is the most enchanting one of the trek. The trail winds down a small funnel like valley which I found carpeted with wild Himalayan Flowers. August and mid September is the peak season for beautiful varieties of flowers. After an hour of walking downhill walk and we found ourselves beside the stunning blue glacial Gadsar Lake. Around the lake was a  yellow variety of Himalayan flowers. So beautiful was the setting that it seemed like romance was in the air and cupid was doing his rounds. For me the romance was strictly with the beautiful setting and I enjoyed  an hour beside the lake. This was the "BLOODY HELL" moment for the day for me.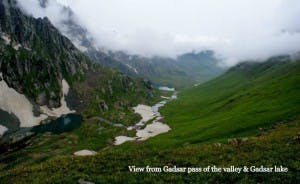 The rest of the day is a long level walk to Gadsar Camp. At the  Indian Army campsite the whole team had to assemble and show their respective I.D Cards along with copy of permits to the Commander. Indian Jawans can be intimidating when they are evaluating your paperwork and intentions. But once the formalities were done, they are the most hospitable hosts. Many trekkers appreciated the opportunity to meet our Jawans in such outposts and said this was a life changing experience to hear their stories.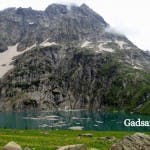 Highlights for Day 3
The setting at the Gadsar lakeside among a beautiful array of  flowers.
The view from the top of Gadsar Pass was outstanding. Particularly the view of the twin lakes of Vishansar and Kishansar.
The meadow walks down from Gadsar Pass to Gadsar camp carpeted with a startling array of wildflowers.
Interaction with Indian Jawans at Army Checkpost at Gadsar camp.
 Day 4: Gadsar to Satsar Campsite.
We woke up early anticipating  India's Independence Day celebrations with our Jawans. Sadly the commander left to attend the ceremony down at Sonamarg so there was no flag hoisting. Despite steady rainfall the whole team sang the Indian National Anthem with a lot of pride and enthusiasm along the Jawans. For me this was the second year in a row that I was celebrating Independence Day on a slope in Himalayas. The previous year I celebrated Independence Day in torrential rains at the Valley of Flowers in Uttrakhand.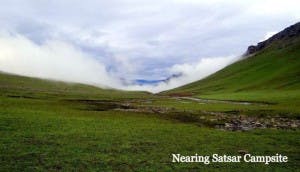 We waited for couple of hours and the rain momentarily stopped. We decided to make a dash for Satsar. An easy river crossing was followed with a steep ascent over a green mountain ridge towards our left side. The rain made trekking a tricky proposition. Trekkers were struggling climbing up the mountain as there was very less traction and a lot of slippery mud. To compound that, the mules and their caretakers were also finding it difficult to keep the  mules from slipping and falling down. In one instance a mule slipped taking one of its owners along. Rahul had to rush down and help the poor man up. Luckily the mule survived and was able to come back on the trail.
What was to be an easy day of walking on green trails was sabotaged by the torrential downpour. Knowing this to be part and parcel of any trek in the Himalayas, I encouraged trekkers to forget the trouble and think about reaching the campsite quickly. It is strange how a little pep talk can do wonders and many of the struggling trekkers made it to the Satsar campsite next to a stream.
Rahul and I trekked another half a kilometer to the Indian Army campsite for another round of I.D and permits check. The Jawans were surprised that such a big team managed to trek in so much rain. The Commander arranged for one of his men to come down to our campsite to check the I.D's thus giving the trekkers a much needed rest. The hospitality we received at this camp at Satsar was even better than at Gadsar. Many trekkers bonded well with the Jawans who wanted to hear stories from trekkers coming from their native towns or state. What ensued was an extensive photo shoot  of trekkers with Jawans with few of the Jawans allowing us to hold their empty automatic weapons. Special snacks were prepared for us and it was futile to resist as they did not take no for an answer. Interacting with Jawans from the 3rd line of defense of LOC was an experience of a lifetime and very few treks give you this opportunity.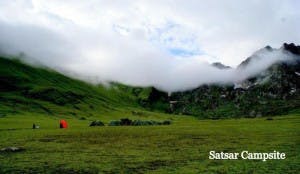 Highlights for Day 4
The Independence Day celebration with Indian Army Jawans at Gadsar camp.
The interaction with Indian Army Jawans at Satsar, 3rd line of defense from LOC.
Day 5: Satsar to Gangabal Twin Lakes via Thach Pass.
The rains settled as we prepared for a long day with the prospect of boulder hopping and a strenuous climb to Thach Pass. Half an hour of hiking and we found ourselves at a series of lakes called Satsar. As the name suggests they are a series of 7 lakes of different proportions. Depending upon the weather you may be able to see most of them. I found only 3 of them visible. The third one was the largest of the lot.
With lot of boulder hopping to do the team reached below the ridge which needed to be climbed all the way till Thach Pass. The trail is over a rocky moraine and is prone to rock falls. Since it was not raining we did not encounter any rock falls. However the climb up was strenuous and tested our endurance. The last ridge section leading to Thach Pass is above a small glacial lake. The final series of pass is at an altitude of 13,400 feet. Once at top I could get a bird's eye view of Sindh Valley with Harmukh peak (16,847 feet) dominating the landscape. Below Harmukh obscured beneath low lying clouds were the Gangabal and Nundkol lakes. The setting of the lakes with Harmukh at the backdrop was the highlight of the day. Both the lakes are 20 minutes of level walk away from each other.  We decided to camp at Gangabal lake side.
Our plans of going to Nundkol did not materialize as the team took lot of time to reach Gangabal campsite and it was too late to cover Nundkol and come back before dark. Regardless, Gangabal Lake was spectacular. I could see the receding Harmukh glacier on the falling slopes of Harmukh peak feeding the lake, like a mother nurturing her child. All this while the pinnacle of Harmukh peak remained obscured in clouds.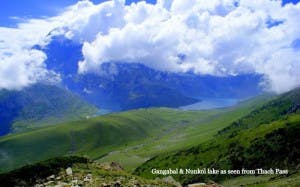 Highlights for Day 5
The bird's eye view from Thach Pass of Harmukh peak and twin lakes of Gangabal.
The campsite of Gangabal Lake.
Day 6:  Gangabal Lake Campsite to Naranag.
As I woke up early morning I saw a clear sunny day. Harmukh Peak was visible completely for the first time. The trekkers had mixed emotions as we called for a last team huddle and gave away  completion of trek certificates. The realization that we are returning to our routine urban life can bring out various emotions.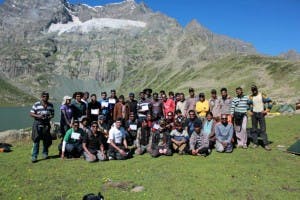 The trek to Naranag is  4000 feet of pure descent and is a knee and toe killer. It is ironic that as we exit from the valley, the meadows kept getting prettier than ever. I looked back towards Harmukh peak which looked its impressive best with the rock face we saw for the first time.  On the way down I met numerous backpackers from all parts of the world coming up and envied them for what they were getting into. Clearly I was not in a mood to exit this valley and wanted to prolong my stay.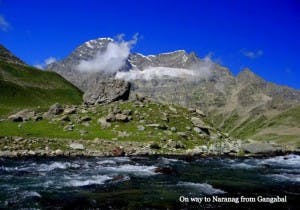 The meadows gave way to forest cover as we bid goodbye to the Alpine wonderland of Kashmir. By now all I could think of was getting down to Naranag as quickly as possible. Few trekkers were struggling so Rahul and I chose to remain with them, helping them all the way down to Naranag. On the way we rested at a Gujjar hut where we got some nice refreshments and chit chatted with few trekkers from Germany and France.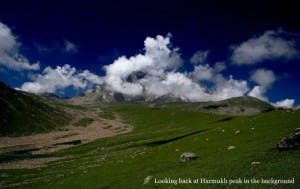 It seemed most of them planned to camp for a couple of days at Gangabal and Nundkol and had no intentions of proceeding to Gadsar or Vishansar. Trekking to Gangabal Lake from Naranag makes sense for those hard pressed for time but a real experience of the valley is incomplete without doing the complete route. By lunch time all the trekkers were at Naranag from where they boarded their cabs to Srinagar.
Highlights for Day 6
The beautiful meadows with Harmukh peak looming in the background.
The interaction with local shepherds with family and livestock on the slopes.
Conclusion
The trek may have come to a finale for some, but for me it was just a beginning. Kashmir lakes trek was a rite of passage for me, a learning curve. It was my first assignment as a Leader with Indiahikes and also my first trek as an organizer. I met with various kinds of people and made lasting bonds of friendship. I stayed for a couple of more days in Sonamarg and enjoyed being a guest at a local home stay in villages with local kashmiris who humbled me with their simplicity and hospitality. My whole thinking about Kashmir and its people changed. I would highly recommend this trek as something one should do at least once in a lifetime.
Sign up for our much loved Weekly Mailer
We have terrific trekking tips, trek updates and trek talks to look forward to