How's the Josh? High Sir! Trek Leaders Do 6 Day Kashmir Trek in One Day
Share this story
How's the Josh? High Sir! Trek Leaders Do 6 Day Kashmir Trek in One Day
Category Trek Leaders Speak
By Naman Sharma
2019-03-18
"Let's do it tomorrow!" I said.
"Tomorrow?" Bhupinder asked in surprise. We were lying down in our chambers at the Indiahikes basecamp in Gagangir. "Tomorrow", I confirmed. .
Bhupinder was the Trek Leader for 2nd August Kashmir Great Lakes batch. I could see the affirmation in his eyes to this challenge for completing KGL in one day.
I  had been wanting to push my mental limit from quite a long time. Immediately, I called our local guide Javed, who shared the same ambition, to arrange permission for the trek from Tourism office at Sonamarg. Soon, we got the confirmation and we planned for our trek.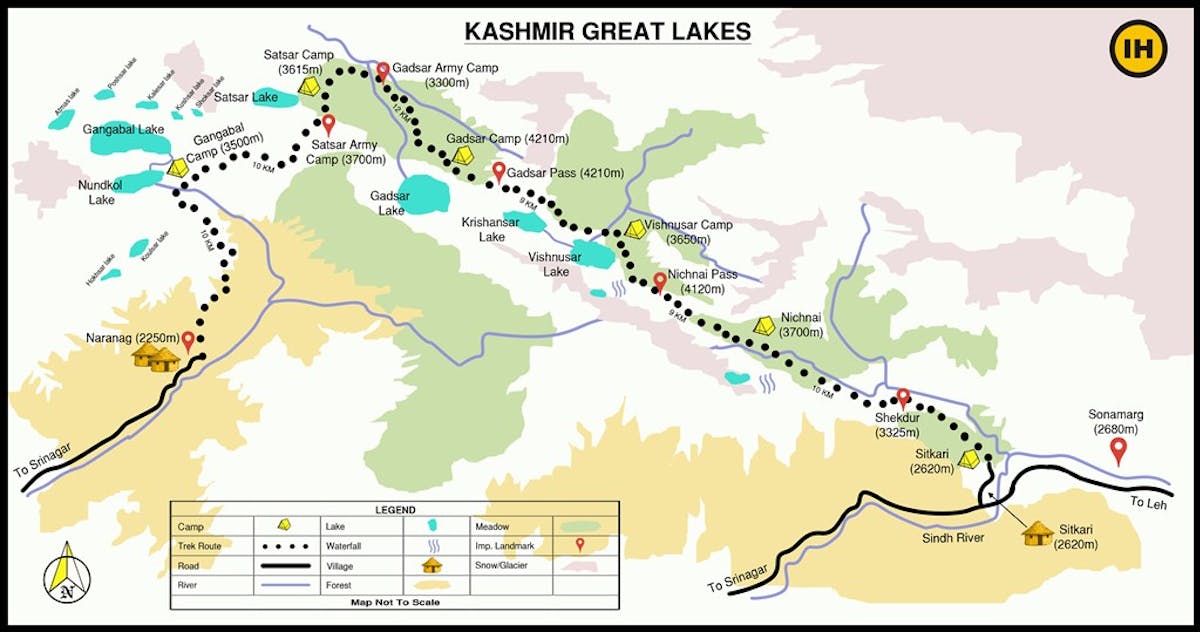 Kashmir Great Lakes Trek – The route Bhupinder and I (Naman) took.
1st August 2018, Gagangir, Kashmir
4:30 AM:  We left from Gagangir in a cab to the start point of the trek. The watch ticked  5:53 AM when we started ascending with our headlamps on towards the first Army check post. For the next 15 minutes, only one thought was running in our minds – how will the Army guys handle a surprise visit from us? Will they point their guns at us?
As we reached the post 15 minutes later, the situation was smoothed over easily.  They just asked purpose of our visit and after which we were all set to go ahead.
7:15 AM:  We had our breakfast with the team leaving for Vishansar campsite. Aashay, a fellow Trek leader, gave us his homemade protein bars and wished us good luck! Within next hour,  we were standing at 13500 ft high Nichnai Pass. We waited for Javed, who was lagging some 20 minutes behind us.
Descending the Nichnai Pass on Kashmir Great Lakes Trek
After crossing pristine wide meadows enroute Kishansar, we managed to reach the highest point of the trek – Gadsar pass, at 13800ft – before noon. At Gadsar lake, we munched on snacks with the Indiahikes team led by a different trek leader – Akshay. Akshay gave us flax seeds to eat. We reached Gadsar campsite around 1:00 PM. The Army guys at Gadsar post thought that  our journey was only till Gadsar campsite so they started sharing their stories. After 45 minutes of engaging with them, we told them we have to go ahead. They left us on a good note.
The mental game started in the next hour, when we crossed 40kms mark. Our cadence was low because we started taking a lot of breaks, especially  Javed. At the third Army post, as we knew few of the guys, we chit chatted with them for a bit. We left to Maingon Top campsite after a "Jai Hind!".
At each campsite, our staff was astonished to hear and see what we are doing. The staff gave us dry rations – what we call as pocket snacks. This is something we give trekkers during summits day.
We crossed the very famous boulder section to Zach pass in 27 minutes.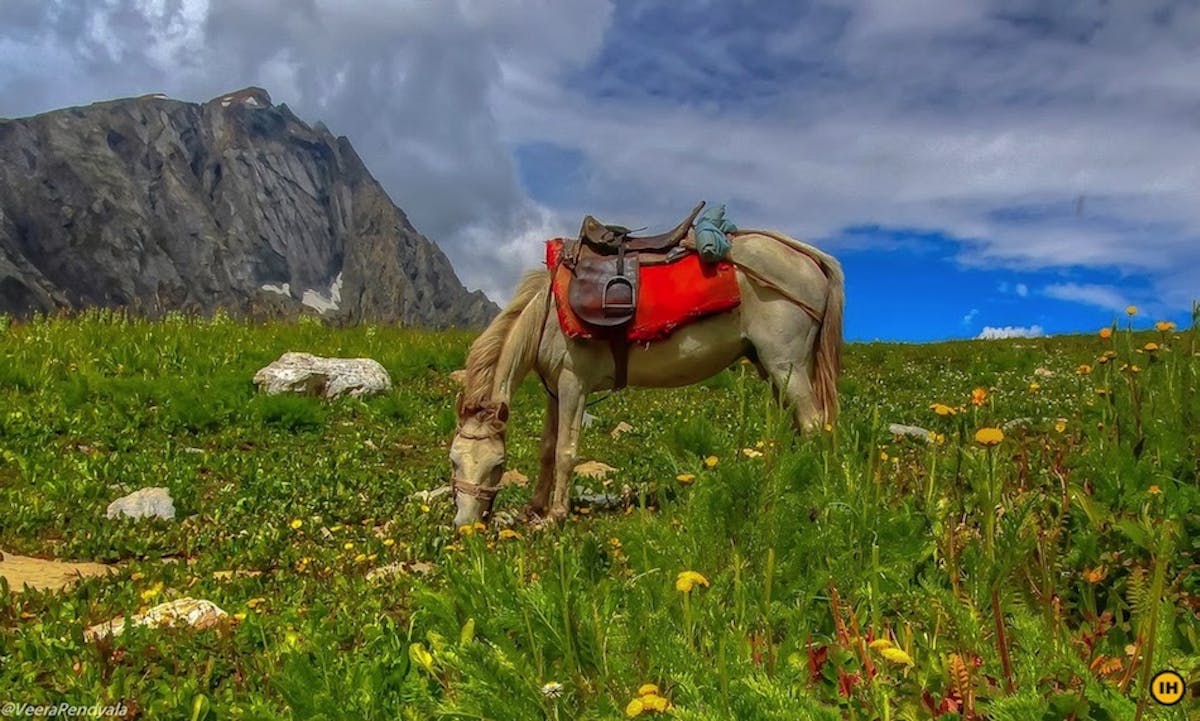 Meadows of Gadsar on Kashmir Great Lakes Trek
5:00 PM:  We were standing on the third and  the last pass of the trek, Zach pass (13300 ft). After 20 minutes of rest, with high josh of completing KGL in one day, we left the pass towards the last campsite of Gangabal. This is the second last major descent. For our knees, it was hell. At this point of time, things had gone beyond physical. We were playing a mental game of believing in ourselves!
Gangabal was the only campsite where we didn't stop. We had already spent much of our time with the staff and sitting for refreshments. We skipped Gangabal campsite at 6:40 PM and made move towards last day of the trek which includes the 4th and last Army Post. We reached the  army post around 7:20 PM. It was dark again.
The Army did not allow us to go ahead in the night as we had to go through a bear country, a dense forest area –  in short lot of risks! They emphasized: "Don't forget you are in Kashmir, take your steps cautiously."
We had no other option but to race back to Gangabal campsite for the leftover food. Since the staff is not aware of our arrival, they might have given out leftover food to horses!
8:30 PM: We reached Gangabal campsite to many questions. The questions of  "How? Why? From where you are coming from? What happened?" came to end when we told them the whole day's story while dining. Bhupinder slept immediately after dinner.
It took me roughly 2 hours to absorb things we did – neither in fascination because I covered 65 km in 15 hours nor in remorse because I could not achieve what I had a wish for. I slept with a sense of satisfaction and acceptance that I put my best efforts to go for it.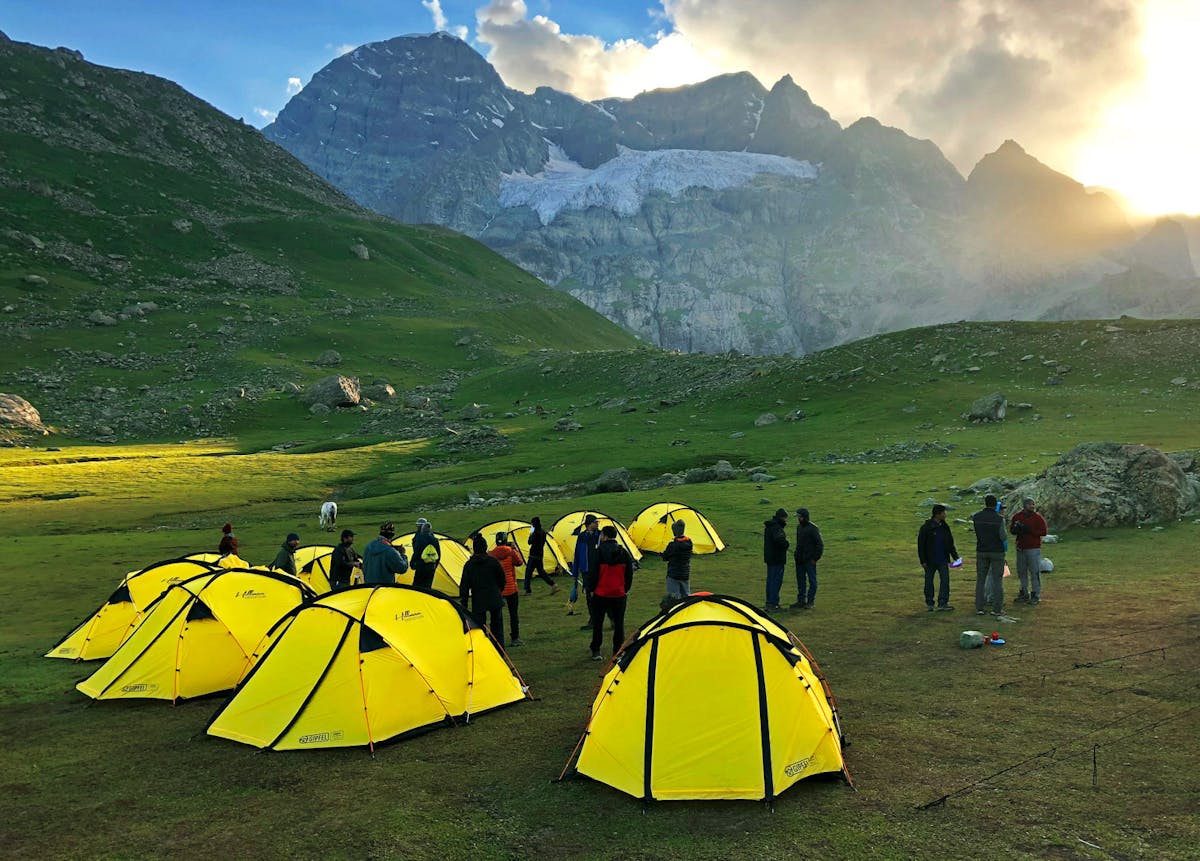 The final campsite of Kashmir Great Lakes Trek. Photograph by Santosh Patel
What I  learned on this challenge
Apparent Truth!
Things will be never in your favor.  When you think of doing something big, you feel like you are surrounded by the odds. Now, what you have to do is step outside your comfort zone. Be wishfully ambitious, give your best efforts and beat those odds to your favor.
We only had 1st Aug to do it. On 2nd August, Bhupinder had to take a KGL batch. And he did.
Is only passion enough?
Obviously, if you want to achieve what you desire, you need fire inside your belly! But, it might not be sufficient in most of the cases. Now, what are the other things you need to achieve your goals?
I would say, good planning, preparation, discipline, courage and paramount consistency. No matter if you are playing solo or in a team, things you need to achieve your goals remains the same.
In our case, we found in our 3 member team, 2 of us were super ambitious, well planned and prepared but one lacked proper preparation. If you have strong ambitions, you won't discount on planning, preparation, discipline and consistency.
This was one of the major factors why we reached late at the last check post.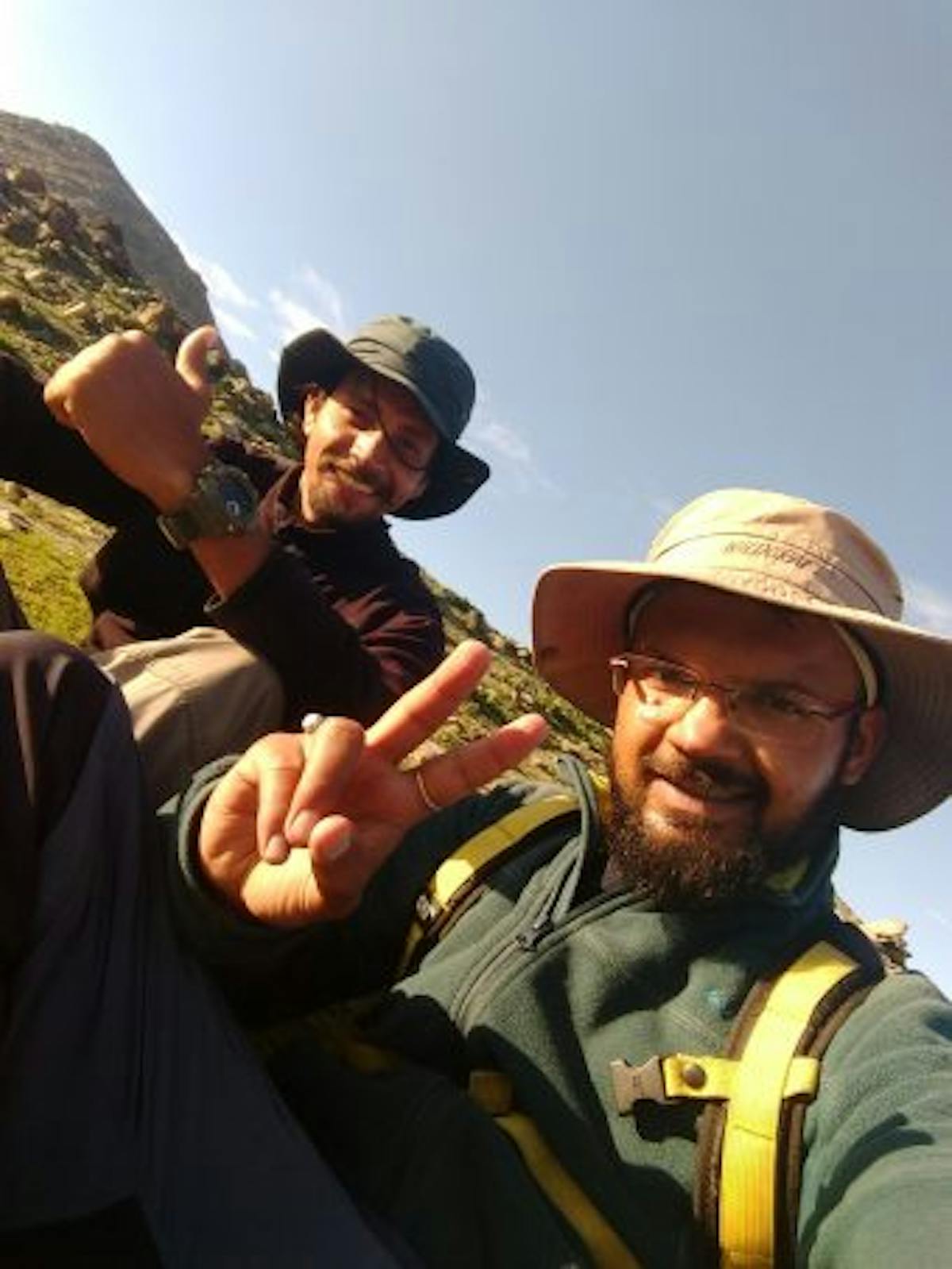 Bhupinder (L) and I, Naman (R) on our attempt to do Kashmir Great Lakes Trek in One day
Conservation of time and energy
Bigger goals or very challenging goals requires more discipline. In the mountains, one has to maintain the pace which saves energy and  time. We took a lot of rests, spent a lot of time in our campsites with fellow colleagues and at Army check posts. If we would have saved that time and crossed last check post early, I would have been flying in the high spirits of accomplishment.
Do we underestimate ourselves?
The answer is yes! We have so much potential of doing things if we start believing in ourselves.Life is precious, playing safe and tactically does not mean you are playing on back foot. Play safe and tactically using your potential. If we start listening to our inner self, you will find there is no one who can stop you except you! If you want it, go get it! But  don't lie to yourself! Ask yourself before quitting: "Is this your Best? You will never quit!"
0n 2nd August, we started again at 5:45 AM as Bhupinder had a batch. I thought  our knees would suffer and the body would ache. It came as a surprise that our bodies recovered in just 6 hours. We reached Naranag in next 2 hours and 20 minutes. In the evening, Bhupinder briefed his batch without any rest.
What you should do next
1. If you'd like to know more about Kashmir Great Lakes Trek head to our trek page here
2. Find out why Kashmir Great Lake Trek is an all time favourite of our founder Sandhya
3. And here's a short video on what's the best time to do the Kashmir Great Lakes Trek
4. If you ended up here by chance and were actually looking for treks to do, head over here to our upcoming treks page.
Sign up for our much loved Weekly Mailer
We have terrific trekking tips, trek updates and trek talks to look forward to