Stranded In Kashmir: A Quest For Serenity Amidst Unrest
Share this story
This story was written in August 2106 after the Kashmir trekking season ended. It has been written as told by Lakshmi Selvakumaran, our Green Trails Head, to Aswati Anand.
If you ask me what Kashmir is like, I'd find it difficult to answer. I have been there twice — as two different people.  
The first time I came to Kashmir, I was an unprepared trekker, huffing my way at the back of the line. Back then, the Indiahikes Chief of Operations Manish Pasad was my Trek Leader. That was Indiahikes at its early stages. I finished the trek–  haunted by Kashmir's beauty. The trek brought in a lot of questions about my life that I needed to face.  Little did I know then that I would come back to the place that was my reckoning.
In a pleasantly ironic twist, I came back to Kashmir as the Head of Green Trails. I was to oversee operations at our bases, help set up new toilets and sell eco-friendly products that I made. I found myself right in the hustle and bustle of a new trek season.
Our base camp for Kashmir Great Lakes trek, our only refuge that month was the town of Gagangir. In Gagangir was our cosy cottage, surrounded by fields. With carpeted floors, a faint milky smell of nun chai and no furniture, it had the setting of an old Kashmiri house. To the Trek Leaders, the mountain staff and me, this immediately felt like home away from home.
We ate out of gigantic brass plates, sitting against cushions propped up against the wall. We slept in a big room in sleeping bags. In the middle of the night, we would overhear each other's muffled whispered calls to family, friends, loved ones from inside sleeping bags.
That is what beginning of a season looked like for Trek Leaders and mountain staff, who are often away from home most of the year. Once the season starts, the schedules get crazier, home often gets left behind.
I had little to look back on. I was looking forward to the season.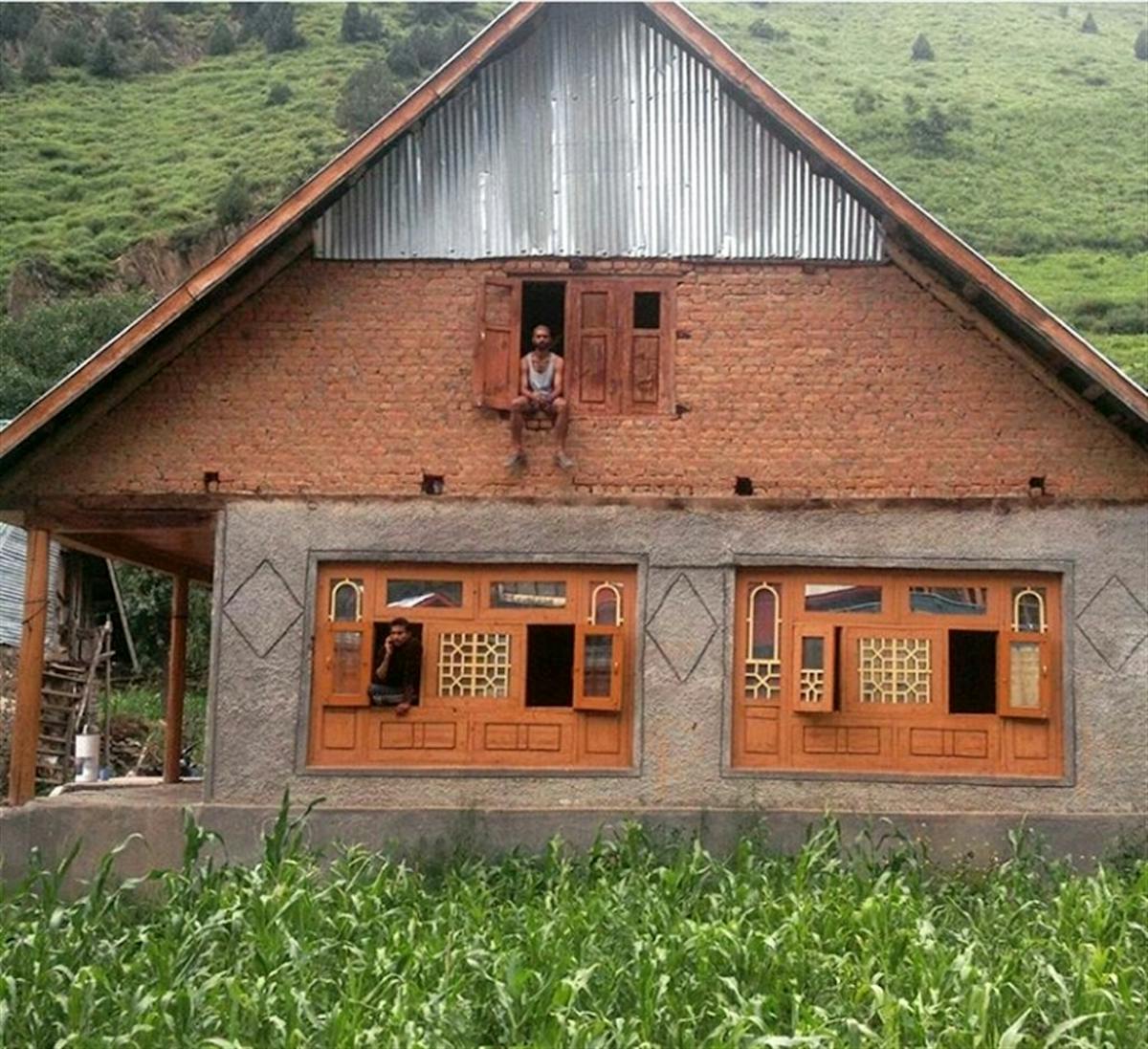 Base camp at Gagangir PC: Dushyant
The Burhan Wani killing
Then came the event that changed Kashmir, that changed us.  The killing of Burhan Wani on July 8th, the day our trekking season was to start. The world around us shifted. In a matter of hours, there were curfews imposed, crackdowns happening and violent mobs spilling over everywhere.
We were in the eye of the storm.
It wasn't just us. Some trekkers had already reached our base camp! Some were on their way. We took a tough call.
Trekkers who had already reached Srinagar were moved to base camp at night– in non-curfew hours. We would be up waiting for them as they entered, haggard-looking, at 4 am.  We would help the Trek Leader of the batch with pre-trek work: the registration process, getting tea ready for trekkers and breakfast for later in the day.
We knew that in wilderness of the trails, the trekkers were going to be safe.
Batch after batch, I envied the next 7 days of a trekker life. I knew what they were going to see. I knew what they were going to experience.
I was stuck at the base, along with staff members who were not on the trek. With no electricity, no phone, time moved slower than usual. We only had each other for company.
We devised ways to keep ourselves occupied. Rashid bhai, our staff member from Kashmir, used to sit with me to fix my abysmal Hindi.
We cleaned the attic, told each other horror stories, played board games, watched Udta Punjab for the umpteenth time and devised strategies to escape stone-pelting mobs.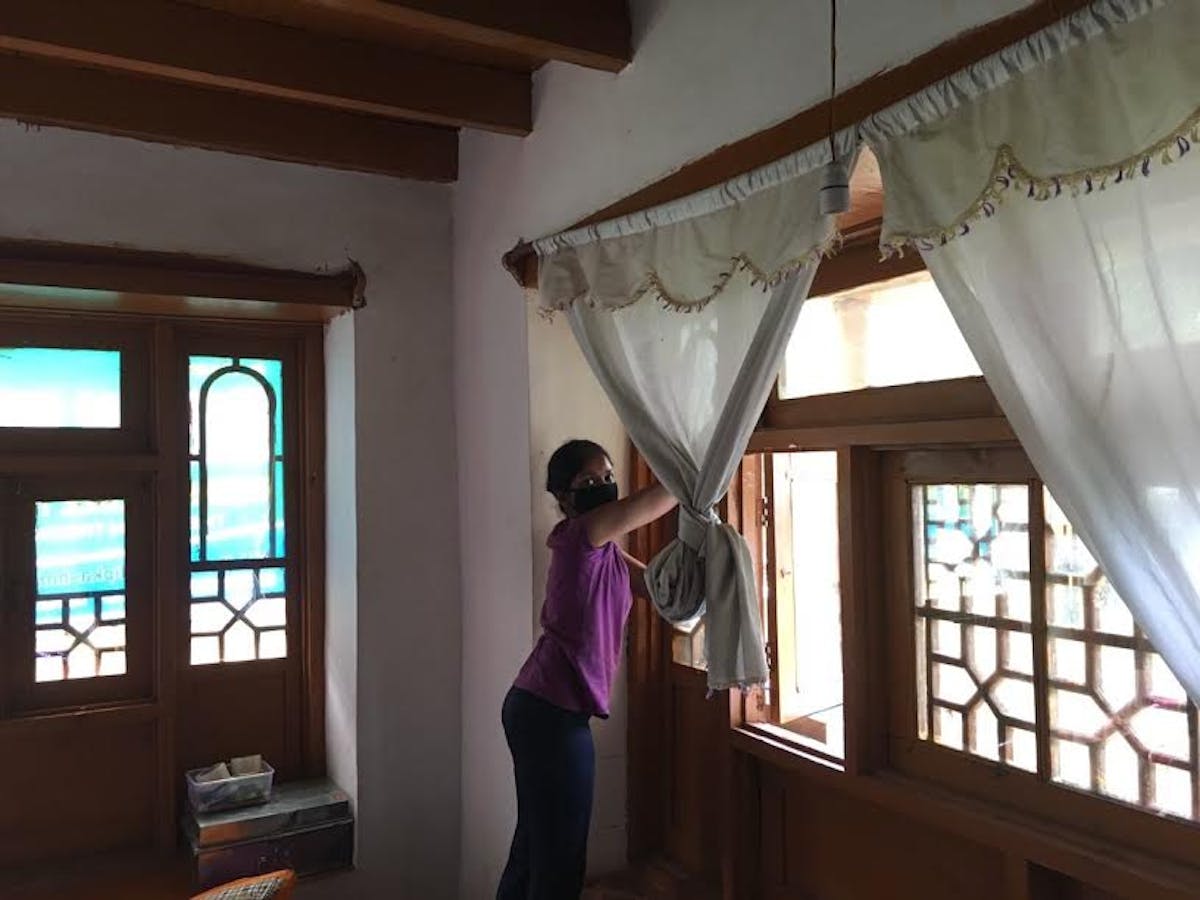 Attic cleaning session
We would often argue about who gets to be the "wicket-keeper" and "batsman" to deal with stones that would come our way. I started to find this less funny when I first saw the size of stones the mobs carry.
When the electricity did come on, we all rushed to the only phone with BSNL connection. BSNL was the only network that worked in Kashmir in non-curfew hours.
We talked to our tense families, to our worried friends, and to Indiahikes main office to understand how Kashmir looked to the outside world. It is easy to lose a sense of perspective cooped in the house. After all, all the information we got were from hearsay. The only time we were sure the information we got was concrete was when it came from our Chief of Operations Manish, stationed in Srinagar.
Information, otherwise, was always in a closed loop– a circle of set members, passing stories on like a game of Chinese whispers.
Constant mob scares 
I distinctly remember a day our Kashmir staff Rashid bhai barged into the base. He strictly emphasised not going out that day. There had been rumours going around, he said, that a man was killed in Jammu in a religious conflict. We were the only non-Kashmiris living here. He warned us that a mob might pass Gagangir and that we are to stay put. For the first time, I felt fear that made me sick to my stomach.
While no mobs came by that day, and this was dismissed as a rumour, I wondered about how easy it is to rile things up, to lose perspective here. How do people here live like this– not knowing or understanding what is happening?
Our connection to the world outside of Kashmir was only when we were blessed with electricity. That didn't happen often.
During the one month we were there, we built a cocoon for ourselves in the four walls of our cottage. Sometimes, the Kashmiri couple that owned the cottage came in to check on us. They would lament the violence that gripped the state over a cup of nun chai or a plate of akki roti.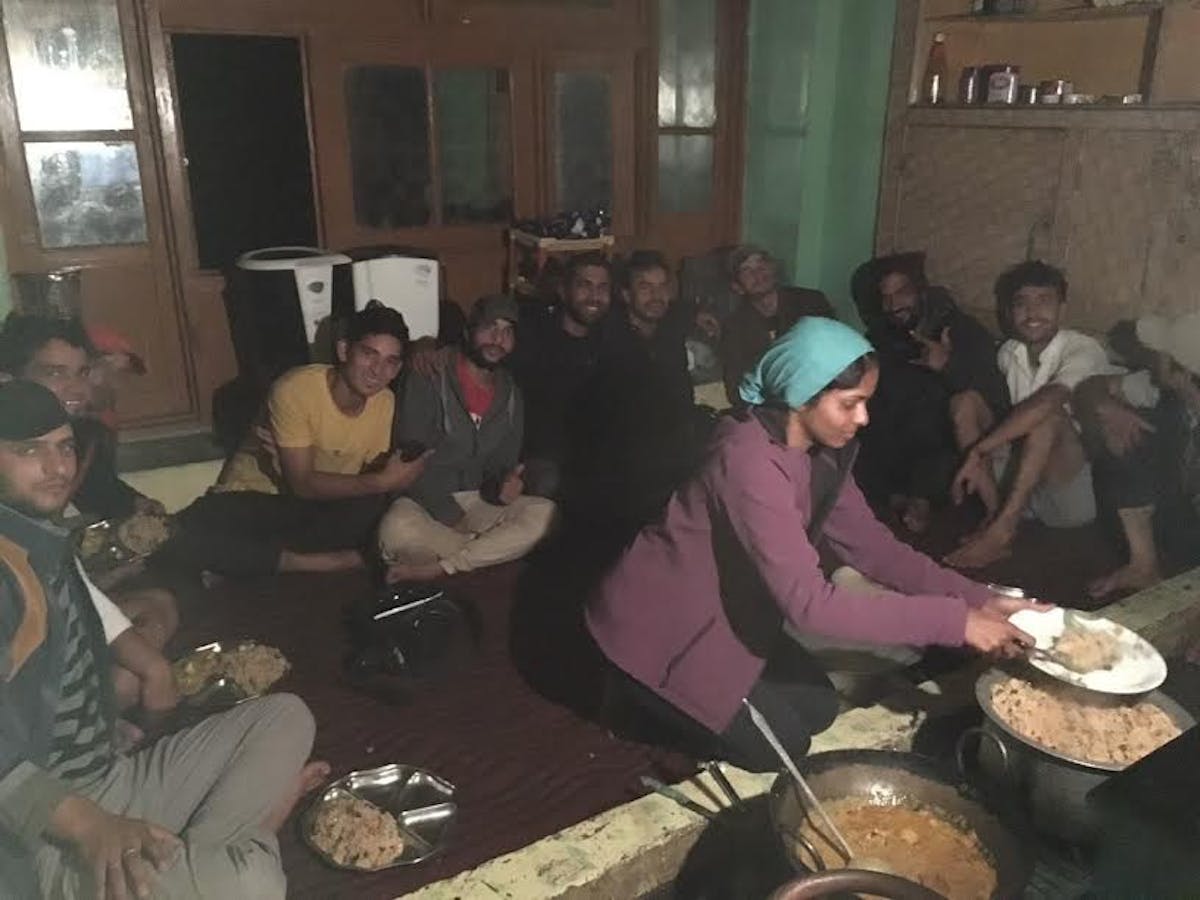 Dinner time at the base camp. PC: Dushyant
What broke the daily lethargy was trying to set things up for the batches that we did run. Going outside to get simple things was a herculean task. We got our groceries from Sonamarg– a tightly controlled area with kazillion checkposts. The area was crucial for Amarnath yatra and was heavily protected.
Risking our lives everyday 
Moving equipment or garbage collected by trekkers after each batch was another challenge. Naranag, where the trek ended, was a tricky area. We couldn't let trekkers move from there to Srinagar during the day. Stone pelting mobs were commonplace there.
Yet Rashid bhai and Dushyant, our base manager, would go up and down that tricky stretch – sometimes just to give trekkers an update on the situation.
We felt an unshakeable security whenever Rashid bhai was with us in a car. He had the gift of the gab. Throw him in any situation and he would get out — just by talking.
Rashid bhai had gotten all of us out of sticky situations. If he was with our mountain staff, he would ask them to ruffle their hair a bit to pass them off as Bakarwals (shepherds) from the mountains to the mob.
Another time, he would concoct the story of a death in Jammu and say he was taking our staff there to pay their respects. He would invent one story after another and the mob would let us go.
As every batch ended, our staff would come back to base with such stories. They would recount them with astonishment and horror. They would spot children among the mobs: violent and unreasonable. After all, a child cannot be reasoned the way adults can be. Children, strangely, were dangerous.
Comforting each other through the turmoil
In the middle of these stories, they would close all doors and windows, and sink down on the carpeted floor, just to feel the security of being "home."
For trekkers, moving at night was the only option — away from encounters like these.
There were only three times I saw obvious tension on Rashid bhai's face.
The first was when he barged into our house to tell us about the rumour floating around. Second, whenever I was in the car. I could not pass off as a Kashmiri. I could not pass off as someone from the mountains here. He would make me sit at the back and make myself as inconspicuous as possible. When we passed a stretch without incident, I would see Rashid bhai's hands relax on the wheel.
The third time was when Dushyant went alone during the day to give our trekkers updates. Dushyant was forced to turn back by the security forces – but then he went again!
When Rashid bhai heard about this when he came to the base, he was incredulous. "Why didn't he wait for me? How could you all let him go alone?" He didn't wait for answers but rushed after Dushyant.
And just like that, the harrowing tension swallowed us all whole. We tried to keep ourselves busy. We didn't want to think about where Dushyant might be, whether Rashid bhai found him, or how he found him, or if they were both caught somewhere.
The questions niggled in our heads like irritating worms. Waiting, I discovered, takes a lot of energy. I occupied myself by learning how to make rabri.
When they finally came back to the base safe, the mixture of anger and relief we felt was overwhelming. Anger, because we lived through the most exhausting hours of our lives worried about them. Relief, because we made it through the most exhausting hours of our lives. We celebrated silently with healthy servings of rabri.
Running out of  games 
With a few batches cancelled, we had lull periods time and again. Inertia set in. The staff and I exhausted all the games we could play. Rashid bhai was beginning to get happy with my progress in Hindi. But there was nothing to do to offset our restlessness at the base.
On one of those days, we decided to trek to Thajiwas (pronounced Thaj-was) Glacier. I nominated myself as the Trek Leader. Just to give me a hard time, the boys decided to roleplay: Impatient Trekker, Sick Trekker, Trekker with AMS and the Eats-only-at-Dhabas Trekker! I threatened them all with descent back to base.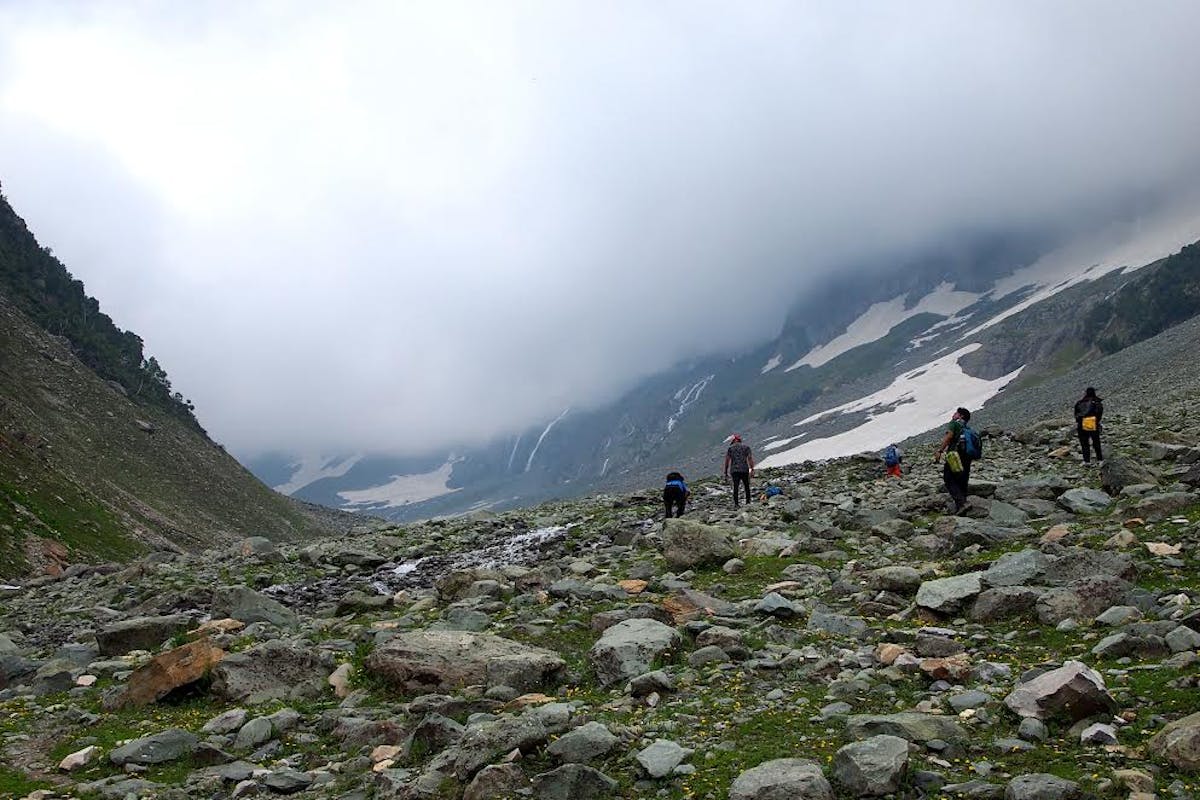 The Thajiwas Galcier Trek
The threat did not work too well: I was teased all the way till the base. Going out to see the Kashmir valley again lightened all our moods. To be on the trek was a voluntary disconnection from the rest of the world.
A more mature self 
Out in the open, in thin mountain air, I felt free of the cobwebs of restlessness and fear.  The Kashmir Great Lakes trek that I did years ago tugged at my memory. I felt older, more mature. The person who did the trek three years ago felt like a younger sister that I might have lost.
When we reached the base of the Thajiwas glacier, we decided to explore the valley to the left. And there, we walked alongside a gurgling mountain stream that cut through the valley. Conifers rose high on gentle, green slopes. Sheep grazed lazily.
A world existed outside those four walls. A world I cannot describe adequately. To know what I am talking about, you must visit Kashmir. You must trek in its grasslands and valleys.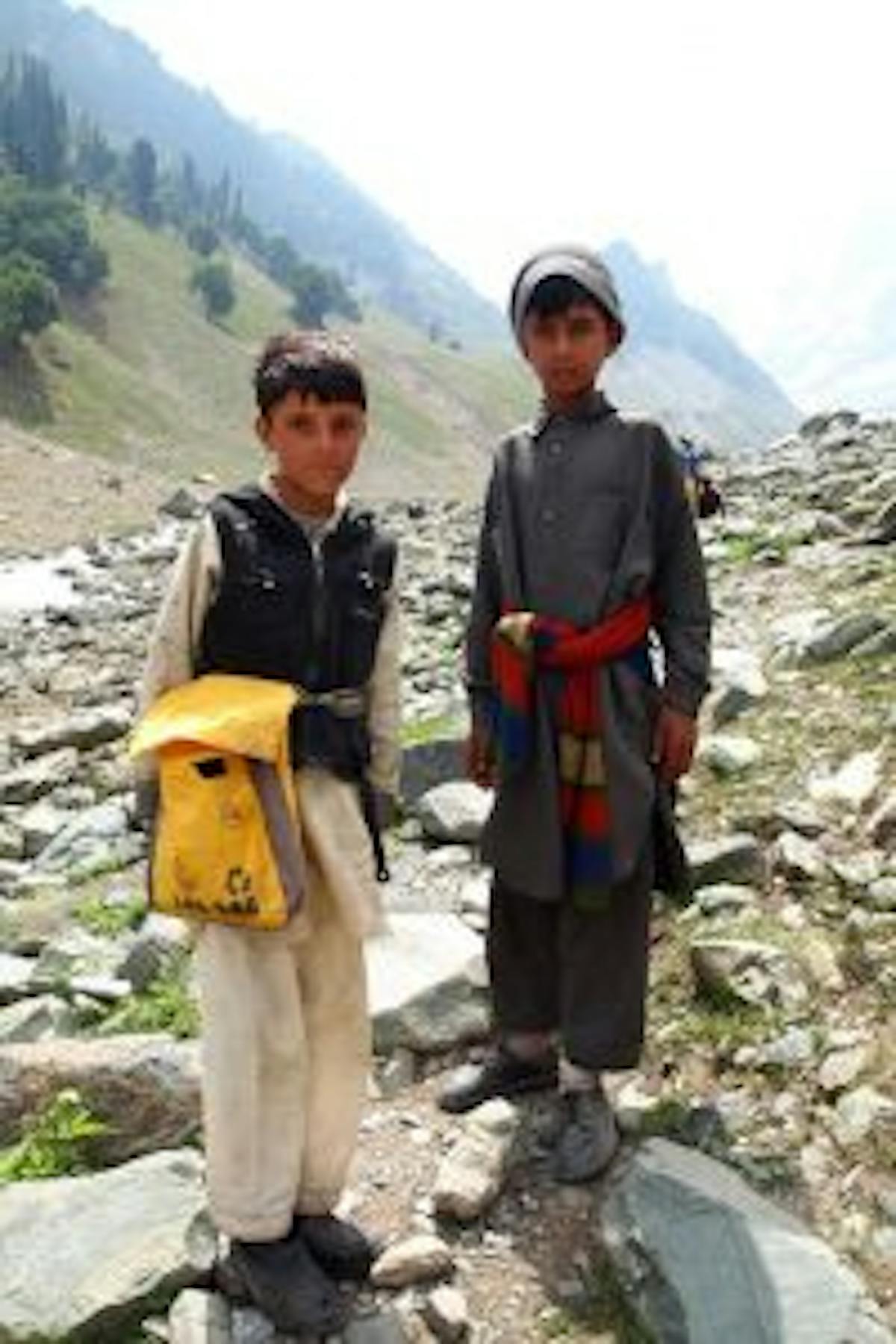 Children were curious to know whether someone was paying us to pick up litter
The trail was well-marked; dhabas and Bakarwal huts popped up on occasion. A couple of curious Kashmiri children came out to meet us, asking us what we were doing with our eco-bags. When we explained, they asked us whether we were getting paid for it. When we shook our heads, they took the eco-bag from me and started cleaning up the trail themselves!
It warmed my heart.
With them, we crossed a cluster of boulders and hit a snow bridge. On seeing the snow bridge, the kids forgot the cleaning and ran to it. They slid down the bridge with glee! They went up and down the snow bridge again – just to slide. Such a picture of innocence in the middle of all the turmoil!
We bid goodbye as we continued further. I promised them the poha we were carrying if we met again.
As we trekked on, crossing waterfalls,  we saw bakarwal huts perched precariously on the slope. Women emerged from the huts. They were curious, mostly about me. What was a woman doing here with a group of men, alone?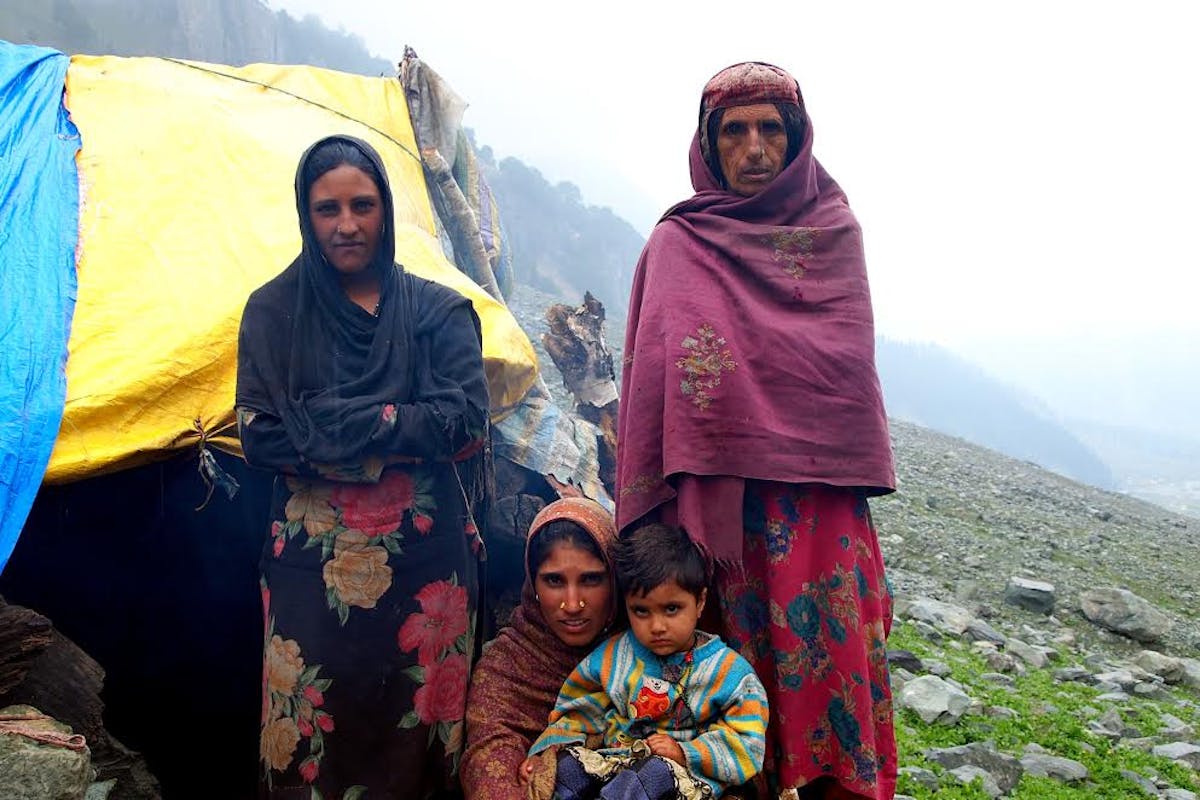 Bakarwal women who noticed us on the trail. They wondered what a single women was doing with a group of men.
To put my awkwardness of being singled out at ease, the clouds began gathering. We had to turn around.
We stopped for a quick lunch. We saved some poha for the kids. As we trekked back, it started raining in earnest, washing the entire bowl of a valley and meeting the stream. Drops that hit the snow bridges rose up in mist. It was an otherworldly sight.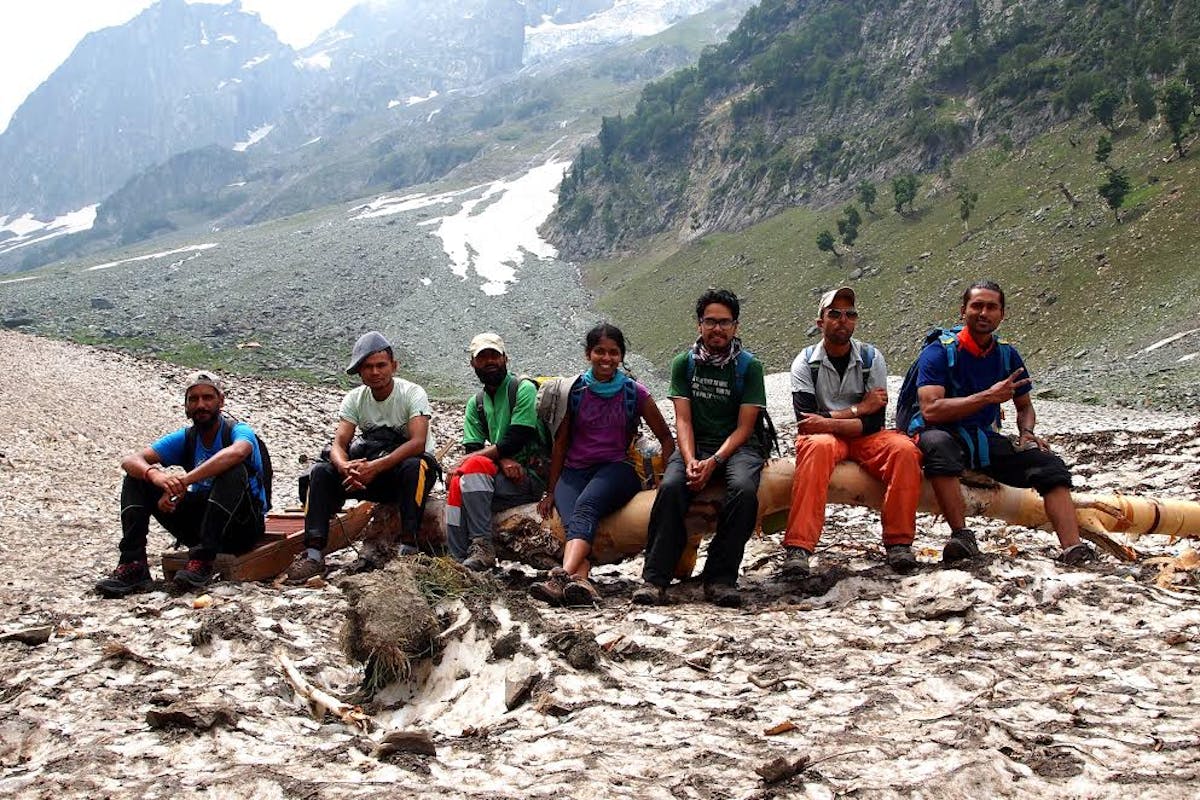 Sitting atop the snow bridge
I suddenly remembered the lines the Mughal emperor Jahangir said about Kashmir: "If there is Paradise on earth, it is this, it is this, it is this."
The translation is a little rough from Urdu, but it fit. Paradise is indeed, this.
We met the kids again, who were using a sleigh down the snow bridge, and handed them poha.
Things just got worse
Back at Gagangir, work took precedence again. Batches were starting again. We had slow days interspersed with hectic activity during batches. It almost set in like a routine– even the obstacles we faced.
Then one day the reality of the curfew was brought home to us forcefully.
Rashid bhai came to the base with swollen knees. The mob had recognised him. He had been going up and down that tricky stretch far too many times, fabricating a different story each time. They thrashed the back of his knee with a rod and slapped him around.
None of us knew what to say to him. How do you offer comfort to a man who was unperturbed by the violence inflicted on him?
Rashid bhai asked us for bandages and went back out on the road – to work.
If anything, this sums up Kashmir's heartbreaking contradictions to me.
This is what Kashmir is like: beauty, innocence, hostility and incredible sadness of the place and its people. For me, as an unprepared trekker years ago and now, as I work here and meet ordinary people, Kashmir is and always will be my awakening.
*Note: After a few weeks, we called off the entire season of Kashmir.  We had hoped the situation would get better then: but it got worse. Night curfew was imposed.
Our staff worked day and night to get updates, to move equipment, to buy ration and to make sure the the trekking season ran smoothly. As our Trek Leaders have mentioned, "The staff who worked during that season of Kashmir can face anything!"
We want this story told because of our courageous staff. You would only be reading one perspective in this piece. However, we have countless tales of bravery and sense of duty our staff showed in times of crisis. We have gotten the creme of the lot- and it is an honour to work with people who stand, with conviction, for what Indiahikes represents.
Sign up for our much loved Weekly Mailer
We have terrific trekking tips, trek updates and trek talks to look forward to