My first high altitude trek to Kedarkantha
Share this story
Abhinav Shenoy, a 12-year old-trekker shares the experience of his first high altitude trek to Kedarkantha peak. Having started the trek with heavy rain, he completed it by wading through waist-high snow and sometimes, bright sunshine. Read to know what he loved about the trek. 
Diary of a 12-year-old summitter
Nestled in the Uttarakhand Himalayas, the tiny village of Sankri serves as the starting point for the Kedarkantha trek organized by Indiahikes. I had just completed my sixth standard exams. My dad and I had planned to trek to the Kedarkantha peak in the last week of March 2013.
Sankri is situated at a height of 1,920 m or 6,455 ft above sea level. The places to stay for the night before the trek are the GMVN guest house or the Hotel Swargrohini Palace. The view from the village is splendid. You can see snow capped mountains in the distance. It is a 6-8 hour journey from Dehradun by Jeep taxi. Our batch had a total of 21 trekkers. When we arrived, the skies were cloudy. Our guides Vikrant and Manish mentioned that the weather had been like this over the past two days and that it is highly unpredictable in these places. But we were also told that if it rains in Sankri, then it snows in the mountains and I was looking forward to trekking in the snow.
We were all huddled up in late evening in the restaurant in Sankri where Indiahikes arranges for food. That night, the skies rumbled and lightning lit up the entire sky and the mountain peaks. Then it rained heavily. The rain was ice cold. We were trapped in the restaurant without any raincoats. Luckily, one of the group members, Sarfaraz, had a plastic poncho. My father and I put them on and with only torchlight to guide us; we made our way to the GMVN guest house after dinner. We were shivering with cold. When it rains in Sankri, the temperature dips considerably and you'd better be prepared with raincoats when going for the KK trek. The rain stopped soon and the other members also arrived in the guest house after their dinner. Our trek leader and guides Rajmohan, Vikrant and Manish gave a brief pep talk in the night. They also mentioned to ignore brushing teeth, washing faces, having bath for next 4 days and I was already beginning to like this trek.
We kept our fingers crossed hoping for good weather the next day, our first day of the trek. We were all up by 6 am with bags packed. The weather had changed and the sky was surprisingly clear. We had a nice breakfast (of Maggi, sandwiches and eggs. Wow Maggi for breakfast!) and then each of us was given a snack bag with a banana and an orange. Those who did not have trekking poles were given bamboo poles.

Then Rajmohan came to give us a briefing and a warm up session. He had completed the Chadar frozen river trek which had temperatures going down to -25 degrees. Our trek would have temperatures of around -5 to -10 degrees at night. As per our briefing, we would have to reach JKT (Juda ka Talab) by 2 pm that day. Then the next day we would have to go from JKT to KK base camp and the summit or final ascent would take place the day after that. We were told of fresh snowfall in the night and that we would get to see snow after the first hour.
When we began the trek we were all pumped up and excited, but after 20 mins we were extremely tired and felt like we would not be able to even reach JKT, leave alone the summit. But soon, our body and legs fell into a rhythm and we were walking comfortably. We had thought it will be cold and so had dressed up in many layers of clothing but after the first half an hour everyone was just in a shirt, inners and trousers.
There was one person in the group who was wearing glasses with a pink frame, a pink shirt and pink trousers and lo! His nick name became Pinky. We hit the snow patches soon, stopped and played with snow for a good 15-20 minutes and then continued with our trek. After that point there was snow everywhere. It was more than a foot deep and it took us sometime to get used to hiking in the deep snow. The trek was getting more and more challenging with every step. We used to fill our water bottles from water collected from the streams and it was the most delicious water I have ever tasted.

Whenever we asked the trek guides "How much further?" they would reply with, "Just half an hour more." We would continue with renewed vigour and end up walking for more than 2 hours.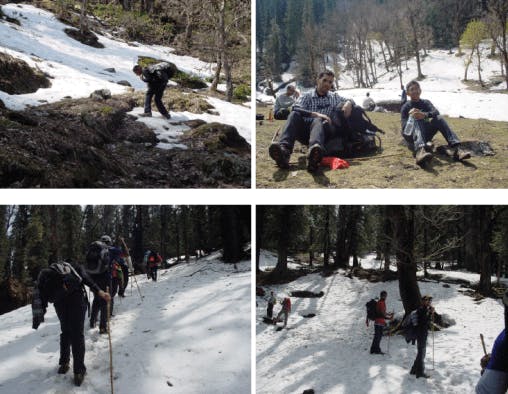 Finally, at 2 pm, we reached Juda ka Talab camp site. It was a welcome sight to our eyes. The pond had a thick layer of frost on it and it had thinned at the edges. The name Juda ka talab comes from the story that there were two small lakes and they joined together over time to form one lake. Oops! I almost forgot! Two stray dogs had accompanied us to JKT – one white and one brown. They had followed us for food. We gave them names of Snowy and Snoopy. As soon as we arrived at JKT, we were given a delicious welcome drink. Tents were already put in place and there was a delicious spread of lunch. We enjoyed the meal thoroughly, lazed around the lake in the sun.

Then, in the evening as it got colder, we lit a bonfire. We warmed up our hands and feet and the very enthusiastic members played a long game of antakshari till dinner time.  They were singing all old movie songs, which I did not know, but I enjoyed it a lot anyway.

The weather was freezing cold; we could barely feel our hands and feet as they were numb. The hot soup, then dinner and finally a hot glass of Bournvita did well to our bodies and we retired to the tents into our sleeping bags. It was the first time in my life I got to sleep in a sleeping bag in a tent. We were given a demo earlier in the day of how to use them and to sleep like Egyptian mummies. It was easier said than done. But after a struggle, we could finally lay down three in a tent. We got good sleep only for a few hours in the night.
The following day, we were given gators, which are equipment worn around the ankles to prevent snow from entering the shoes. On our way to KK base, there was a thick cluster of trees, almost three feet of snow and a narrow ridge, on which we walked. It was a steep climb for a very long time. After about 2 hours of walking, we reached an opening, from which we could see the peak of Kedarkantha. We were surrounded by a ring of mountains. The view was breathtaking. We get to see a lot of peaks of the Himalayas from where we were including the Black peak, Bandarpoonch and Swargarohini. A further one hour of steep climb in deep snow and we reached the KK base camp.

The view from the KK base camp is panoramic and we can see many peaks of the vicinity along the Har-ki-dun valley. We made hay while the sun was shining and dried all our wet clothes. After a hearty lunch and some rest Rajmohan gave us a demo of how to use ropes, the axe and cramp-ons, which are used to get a better foot grip on the snow. He also took us up a steep slope in a zig-zag manner, gave a demo of creating a makeshift igloo with soft ice and we had the time of our lives when we slid down all the way to KK base camp. Late in the evening, I helped a bit in pulling down some dead tree branches for the camp fire. The temperatures were much lower than JKT and everyone huddled around the camp fire to keep warm. It was nice to listen to all the different stories that people had to tell by the camp fire. It was a full moon night and the view was like from another world.

The next morning, we woke up early at 5:30 am and got ready with all the gear for the final trek to the summit. We stood in a line and got the day's first clear view of the summit. It seemed very close and seemed only an hour away, but it took us a full 5 hours to reach the top. The last bit was done by roping as the snow was waist deep. The view along the way and finally from the summit were simply awesome.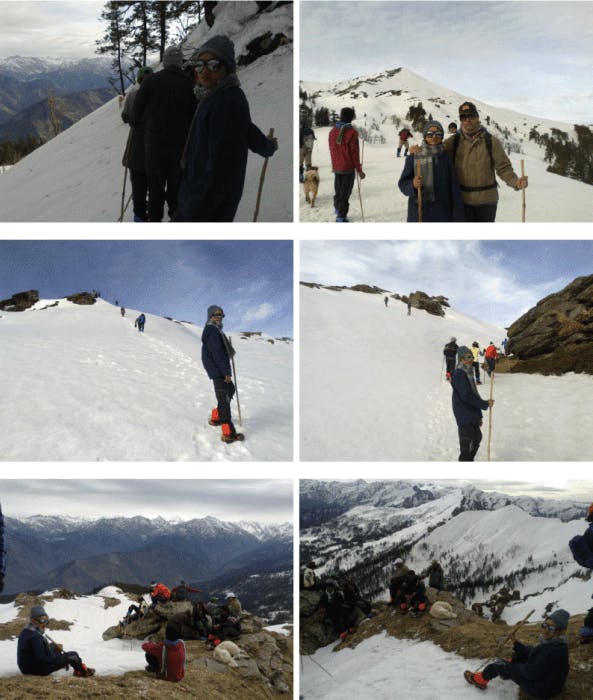 It was surrounded by mountain peaks of all sizes and shapes, all covered in snow. At the top there was a temple with only a Trishul pointing towards the sky. Since it was Holi, everyone threw fistfuls of color on each other and had a lot of fun. It was a Holi celebration that all of us will remember for the rest of our lives. Being the youngest in the group, I was thrown into the air many times. I collected a bottle full of snow as my younger brother had asked me to bring back the snow from the KK peak.
After taking a picture with the whole team and the Indiahikes banner, we began our descent to Hargaon and then to Sankri the following day.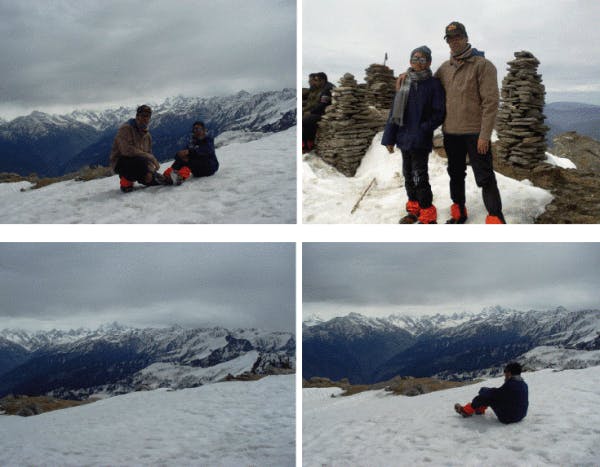 The descent was something I will never forget my whole life. We slid down the steep Himalayan slopes for 200 m at a time and we did 4 such long and steep slides. It was the best slides I have ever been on. In Hargaon, we slept in the local cottage, which had place to sleep in the first floor of the cottage and sheep were kept in the ground floor. We could see and hear them through the wooden planks.
The sight of the forests, mountains and trek trails covered in deep snow, the sheer size of the mountains, the time around the campfire, sleeping in sleeping bags in tents, the food, the briefings and pep talks by Rajmohan, Vikrant and Manish and the final presentation of certificates in Sankri to us by Vikrant will forever be etched in our hearts. I shall cherish my first snow trek throughout my life.
Sign up for our much loved Weekly Mailer
We have terrific trekking tips, trek updates and trek talks to look forward to