How The Kedarkantha Trek Helped This Introvert Break Free From Her Shell
Share this story
For, Manjari Singh, the shy Hospital and Healthcare Management student, the Kedarkantha trek was her first major outdoors experience. For most people, scaling the snowy Kendarkantha summit would have been the main challenge of the trek. But for Manjari, dealing with her first snow trek and mingling with strangers were two entirely different aspects of the Kedarkantha trek. She felt scared and thrilled in equal measure about both those aspects.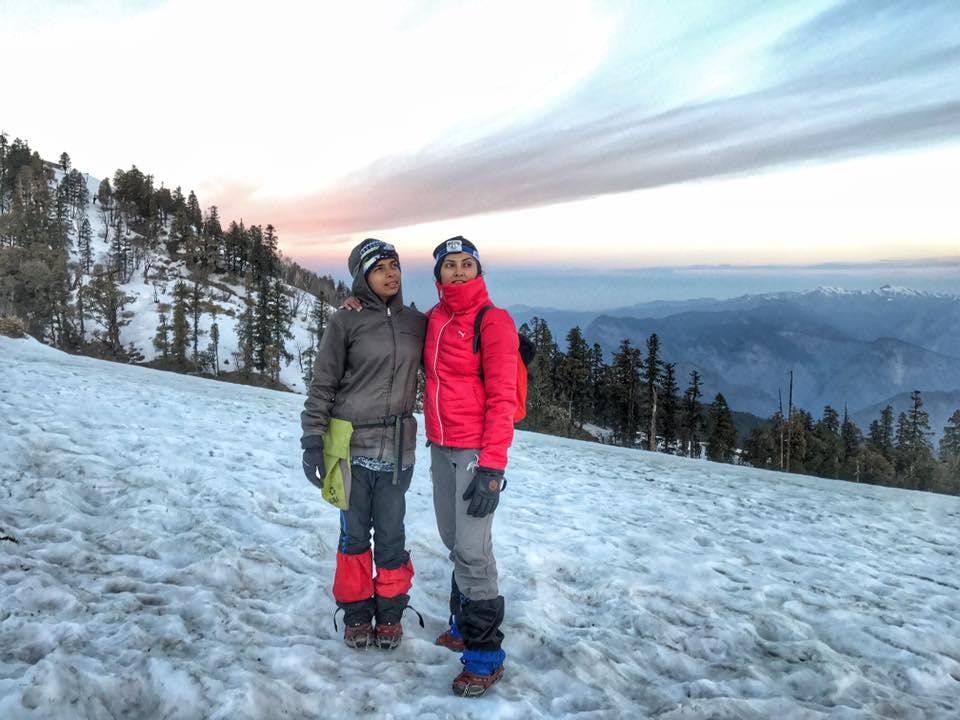 So Manjari chalked out a plan of action. She would address the summit climb on the third day of the trek. But for now, she would have to try and make friends with her co- trekkers. It sounded like a good plan. Except for one little detail, Manjari Singh was an introvert and for an introvert, it's hard to go out of your way and make friends even if you have a detailed manual on the subject.
Trek Leader Karthik was quick to take notice of Manjari's quiet demeanour. "I always go up to my trekkers and check on them a few times," says Trek Leader Karthik. "During the first day at camp Naitwar, every time I checked up on Manjari, she responded with a shy, awkward smile. Even when the entire group played games, she was a little withdrawn."
To make matters worse, Manjari landed up with stomach related issues during the second day of the trek. She felt so weak during the two- hour trek from Naitwar to Jalouta that she ended up among the last group of trekkers. She was prescribed medicines and rest for the remainder of the day.
On day 3, while the entire trekking party enjoyed the stretch from Jalouta to Kedarkantha Base, walking under the canopy of pine forests interspersed with the occasional clearing, Manjari just about managed the trek. Her condition hadn't improved despite the medications and chances of her scaling the summit were looking quite bleak at the time.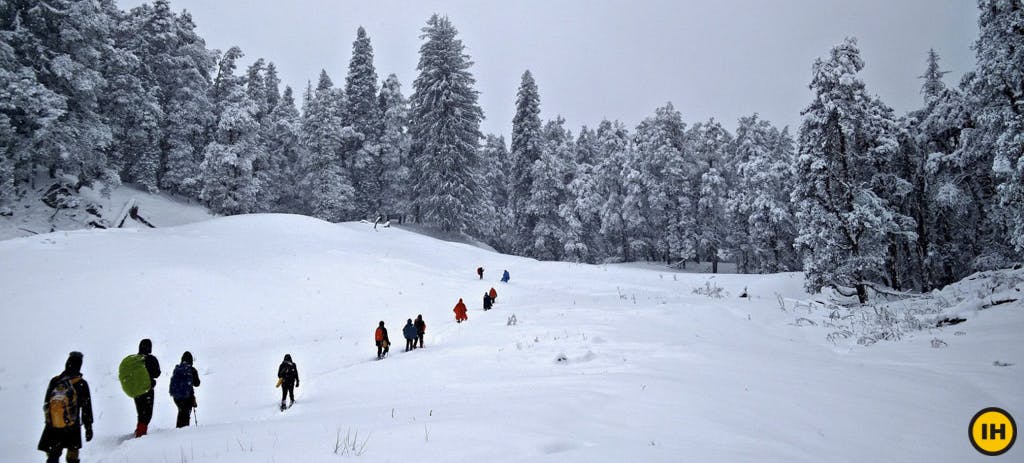 Although she didn't express it outwardly, Manjari was quite disappointed. "My Trek Leader Karthik was very supportive. He said that we would take a call on whether I could trek to the summit the next day," says Manjari. "But I couldn't help but feel under confident. I didn't want to be the only one staying back while everyone else scaled the summit."
By the evening, Manjari had started responding to the medication but Trek Leader Karthik was still sceptical about letting her climb the summit. Despite his doubts, he let her attend the evening brief anyway, where he advised his slow trekkers to avoid long breaks during the summit climb and focus on taking baby steps instead. In Karthiks words, not all trekkers heed to these useful tips but unbeknownst to him he had a keen listener in the reticent Manjari.
Come summit day, Trek Leader Karthik was still unsure as to whether Manjari would be able to participate in the summit climb. However, Manjari's insistence on coming along convinced him otherwise. "Karthik understood that the climb was important for my confidence. He advised me not to talk during the climb in order to conserve my energy and to take very small breaks," says Manjari Singh.
The climb to Kedarkantha summit commenced and within 20 minutes the group witnessed snowy terrain. Manjari immediately realised that the ascent was a steep one, along open snowy meadows that offered fascinating faraway views of other mountain ranges. While her fellow trekkers took fifteen minute breaks in order to admire the stunning views, Manjari kept taking baby steps towards the summit, pausing only for a minute or two as per her Trek Leader's advice. On and on she persevered uphill, like the famous tortoise, till she left quite a few leisurely hare behind. During the last one and a half hours, Manjari's pace slowed down a little, but she wasn't about to give up. "Karthik kept motivating me throughout. He told me that I was faring amazingly well and that if I kept at my pace I would reach the summit even before I realised it," says Manjari.
And that's precisely what happened. To the surprise of her entire group, Manjari was among the first few trekkers to reach the summit. Basking in the warmth of the sun on Kedarkantha peak, it seemed like Manjari had left her introverted shell far below.  She had conquered the summit and had effortlessly moved onto the other aspect of her trek, making friends. "She was a changed person after the trek. Her body language reflected her newfound confidence," says Trek Leader Karthik. "While descending, she had an open, childlike smile and there was an ease with which she was mingling with people that I hadn't witnessed till then."
On most occasions for an introvert in a group setting, it mighttake a conducive icebreaker to prod them out of their shell. For Manjari that icebreaker was the frozen ice itself.
"I have always dreamt of standing on the peak of a snow covered mountain and looking at the world below. I didn't care if my health issues would surface or how funny I would be looking while climbing or how many people would be watching me. I just wanted to get to the peak. And once I got there, I felt like I was in heaven," says Manjari Singh.
"Manjari was certainly different after the summit climb," notes her co-trekker Pranay Mundra. "She was interacting with the group members a lot more. It was nice to see her like that."
Trek Leader Karthik was so impressed by her transformation that he gave her the Spirit of Trekking award as a gesture of encouragement. "When you trek in unfamiliar terrain, apart from the tips we as Trek Leaders provide, a trekker needs to rely on his or her own senses and tap into an inner reservoir of strength to accomplish the stretch that is planned for every single day. More so in case of summit climbs. So, when that person finally accomplishes the summit climb, it helps them see themselves in a much more positive light. In Manjari's case it helped her shed her inhibitions and become more comfortable in her skin," says Trek Leader Karthik. " She certainly deserved recognition for that."
Well, there are many researches on how trekking can enhance your whole personality. Manjari's inspiring story is a wonderful example of the same. So if trekking helped change any of your qualities, or perhaps a friend's, drop in a comment below with your story.
Sign up for our much loved Weekly Mailer
We have terrific trekking tips, trek updates and trek talks to look forward to