Khichdi on the Kedarkantha Summit: Two Women on a DIY trek
Share this story
We have always believed that trekking Do-It-Yourself (DIY) style is the truest form of adventure. You navigate on your own, cook for yourself, pitch your own tents and plan your own itinerary. There's a deep sense of independence in DIY trekking. Which is why when Sindhu and Vaishnavi kicked off 2022 with a DIY trek to Kedarkantha, our hearts swelled with joy. They picked up DIY trekking kits from our base camp at Gaichwan Gaon and set off on their own. What's most heartening is that as their trek unfolded, a parallel journey of self-discovery opened up for both. 
Sindhu, 29, is a content developer with Byjus. She went on the Kashmir Great Lakes (KGL) trek with Indiahikes in 2021. She started trekking in 2019, choosing to go on short, weekend treks. She went on her first Himalayan trek after hearing of Indiahikes through a friend. Last year, when she got a job that allowed her to work remotely, she decided to explore new places while working from different locations.
Vaishnavi, 25, is a software engineer. Having completed four treks with Indiahikes, she is well-versed with the Indiahikes experience. Since her early school days, Vaishanvi's mother sent her on short treks around Bangalore. These experiences paved the way for her to start trekking independently, right after her Engineering. In July 2018, she did the Hampta Pass trek, followed by Sandakphu Phalut in December. In 2019, she went on the Annapurna Base Camp trek and in 2020 she did the Kuari Pass trek. 
Today, if you meet the two of them, they know the best and worst of each other. Yet, the duo were complete strangers when they met at base camp. "I met Sindhu at Gaichwan Gaon for the first time. It almost felt like Indiahikes had set me up on a blind date to become friends with Sindhu on this trek," laughs Vaishnavi.
We spoke to the two of them after their trek. Sharing an excerpt from the conversation…
➤ Firstly, what made you go on a DIY trek, leaving behind the comfort of organized trekking? 
Vaishnavi: Trekking has become a regular part of my life. I usually book a trek 2-3 months in advance and start preparing. This has made my life a lot more organized and structured. In 2021, however, I had a very short window to go trekking. When I looked at the Indiahikes calendar, no date matched my schedule. I called up Dushyant, my first trek leader, and sought his advice. He brought up the idea of doing a DIY trek to Kedarkantha. He assured me that Indiahikes can help with equipment and ration. I just needed to be mentally and physically prepared. Honestly, I wasn't expecting this but I felt I could give it a shot.
Sindhu: My first experience at KGL was memorable for many reasons. One was that I couldn't carry my own backpack. Post the trek, I made it a point to take regular fitness guidance from my trek leader Diptarka and Dushyant, who I met at one of the campsites. Last year, I started working remotely from Gaichwan Gaon — the Indiahikes base camp for Kedarkantha. I was in regular contact with the team. One day when I had gone for a run with Dushyant, he told me that his friend Vaishnavi is planning to do the Kedarkantha trek DIY style. He asked me if I would want to join her. I thought this would be a good opportunity to test my fitness training. I decided to give it a shot! 
➤ How is trekking on your own different from trekking with an organization?
Vaishnavi: I have done quite a few treks with Indiahikes. On those treks, the only thing we had to focus on was moving from one campsite to another. Once we reached the campsite, everything was already in place. When you trek on your own, your job doesn't end with reaching the campsite. You have to find a flat camping spot, pitch your tent, find water, bring the water to the camp, cook food and clean up. Even while we were on the trail, it wasn't just walking without thinking where to go next. Despite having two trail maps with us, we deviated from the main trail many times! In all these challenges, Sindhu was the motivating factor to adapt to the spirit of DIY trekking.
Sindhu: We also didn't know how much to stop and rest on the way. There was a constant analysis and assessment going on in our heads. When you have a trek leader or a guide with you, losing your way or not knowing when and how much to rest isn't really a challenge. Tackling these crucial situations has made a drastic difference in how we look at trekking.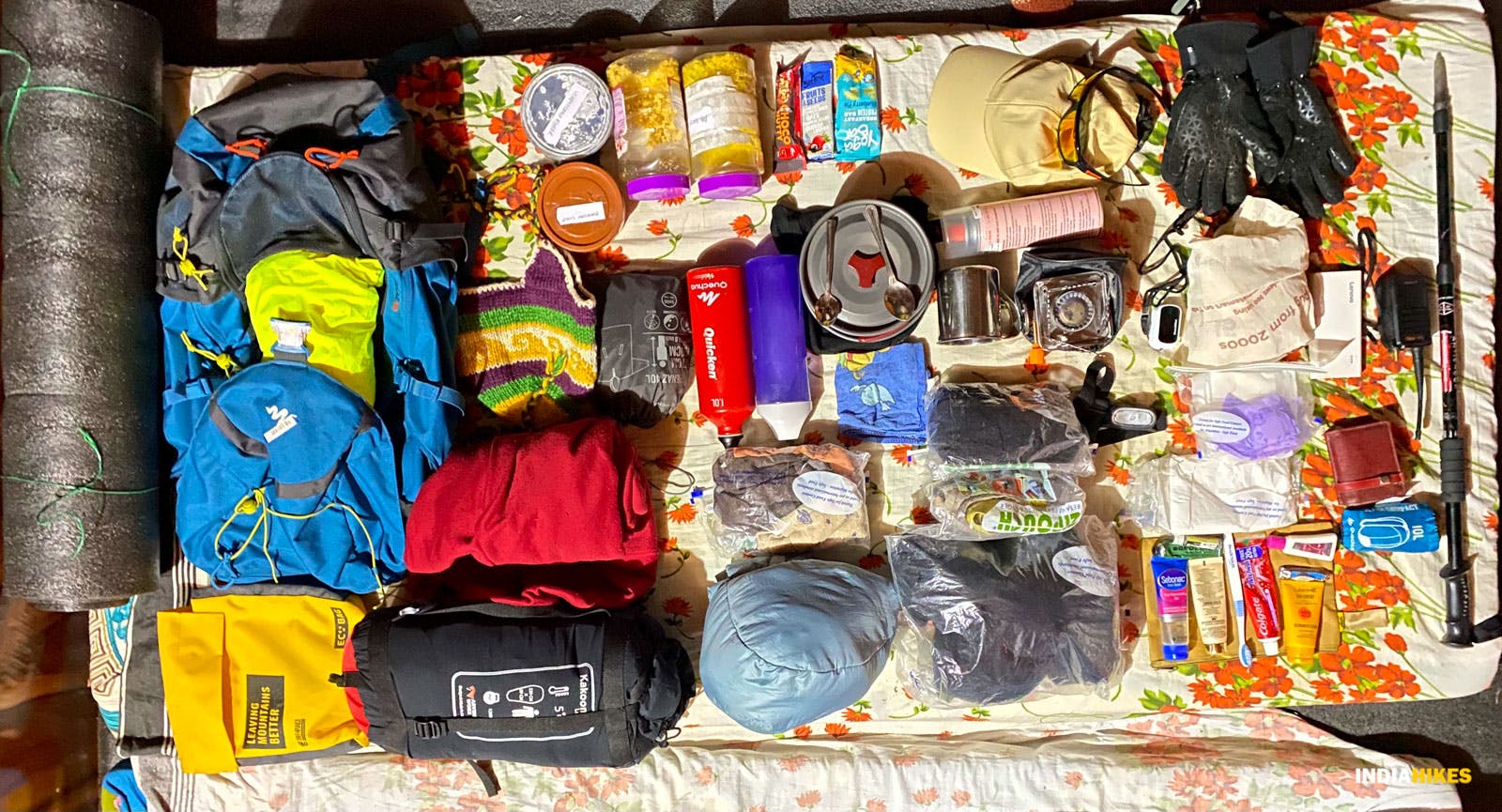 ➤ How safe was it to trek on your own?
Sindhu: The main reason for doing my first DIY trek to Kedarkantha was that it's an already established trek. Safety wasn't such a big concern as I knew that if anything happens, someone from the Indiahikes team will be there to help us. We even met the slope manager Dushyant and got a briefing from the team, to mentally prepare for the trek. Dushyant also provided us with a walkie-talkie. We got a GPX file that helped us navigate throughout. As Kedarkantha is an established trek, the trails were visible constantly but the online Gaia maps were a huge help during diversion points where we had to make a decision about which route to choose next. I remember we took a different route while coming down towards Jalota base camp. It turned out to be a shortcut. Later on, with the help of our Gaia map, we found out that we were back on the main route. That was quite fun to experience! The waypoints marked on the Gaia map become really useful at such times.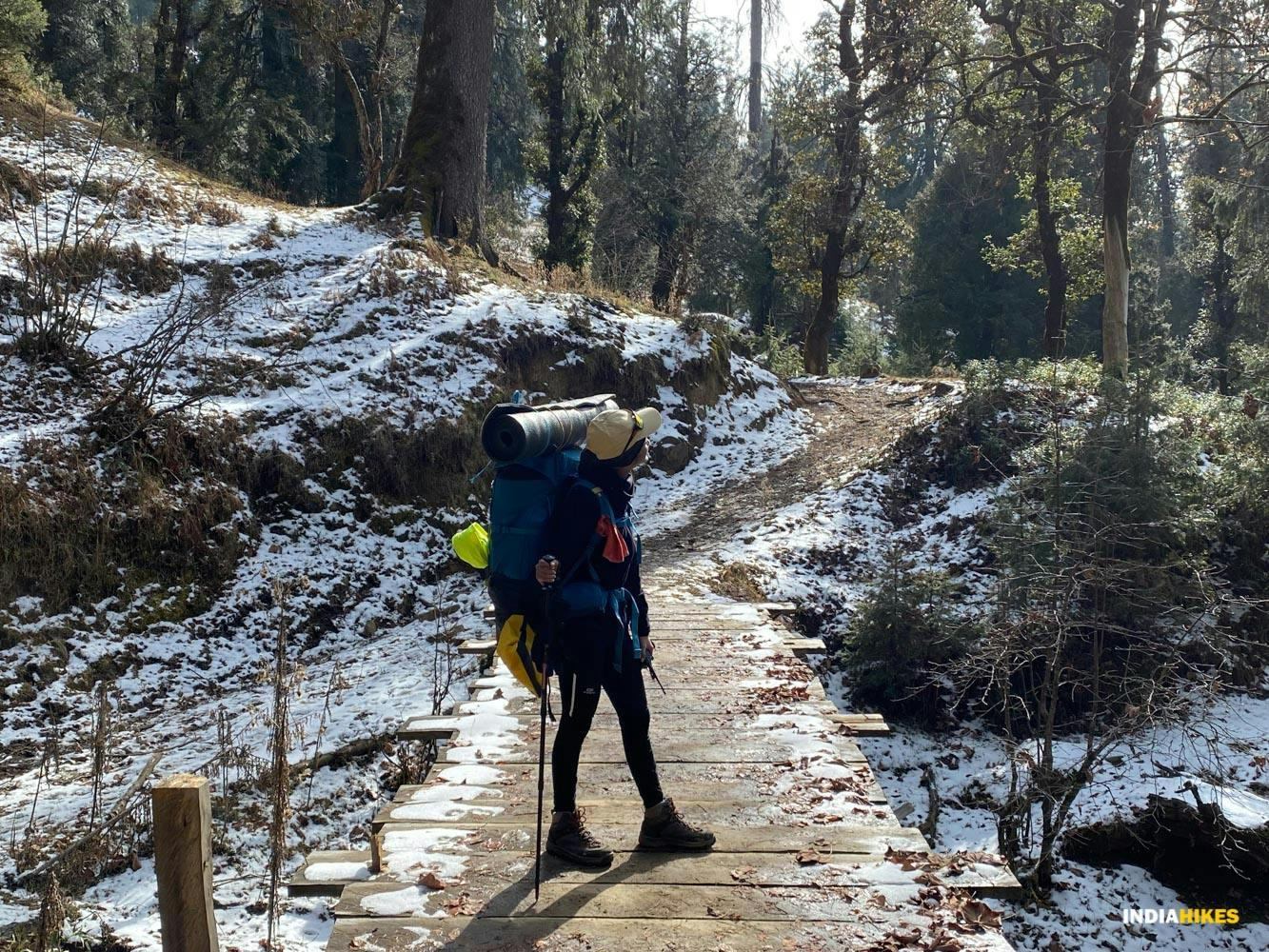 Vaishnavi: One point where I felt a little concerned was when we were constantly using the map and my phone's battery was dipping faster than usual. So we decided to use the map only on Sindhu's phone. It would have been tough had I been the only one trekking or if we were on a slightly higher altitude. When it comes to feeling safe on the trek as two women, we hardly came across anyone on the trail. Which is how we got to enjoy the solitude on the trek even more deeply! The few people we met on the trek all knew of Indiahikes or the way to Indiahikes campsites – which was very reassuring. It helped hugely that I've been living and working from Gaichwan Gaon for almost a month. I couldn't have done it without the sense of security and comfort which the people here provided. In fact, it feels a lot safer here in the mountains than in the cities.
➤ What were your biggest challenges of doing a Do-It-Yourself trek?
Sindhu: On the Kashmir Great Lakes trek, I faced a lot of difficulties while carrying my backpack. When we set out on this trek, my backpack weighed 18 kg and Vaishanavi's 12 kg. But for some reason, I wasn't worried because I knew I had no other option but to carry it on my own. It did become slightly challenging to carry the backpack on steep terrains. But since we were doing it on our own, planning a flexible itinerary helped.
Vaishnavi: We faced another challenge while camping. We had decided to pitch our tents at Pukhrola. When we were done with dinner and ready to sleep, we realized that we had pitched the tent on a slope instead of flat ground. It made us feel a bit colder than usual and we couldn't sleep properly through the night. Also, I was trekking on my second day of periods and had never been in such a situation. I decided to endure the discomfort because this is what trekking has taught me. I've come out stronger doing things that are out of my comfort zone. If we didn't have these challenges, our trek wouldn't have been as great. 
Listen to some tips and facts about trekking during periods here.
➤ What role did Indiahikes play in your DIY trek journey? 
Vaishnavi: The kits provided by Indiahikes were absolutely top-notch. The briefing we received a day before we set out helped us a lot. Dushyant and team even gave us a demo of how to cook with the stove, gas canister and utensils.
Sindhu: The cherry on the cake was the pre-mixed foods provided by Indiahikes. They had even planned a menu – complete with desserts! Every time we cooked, the food would be ready in 6 to 10 minutes! It helped us save time and energy for the trek, while also enjoying delicious meals. With the basics being set in place by Indiahikes, most of our worries were taken care of. We could focus on creating a memorable DIY trekking experience. 
Find out more about cooking on a DIY trek here.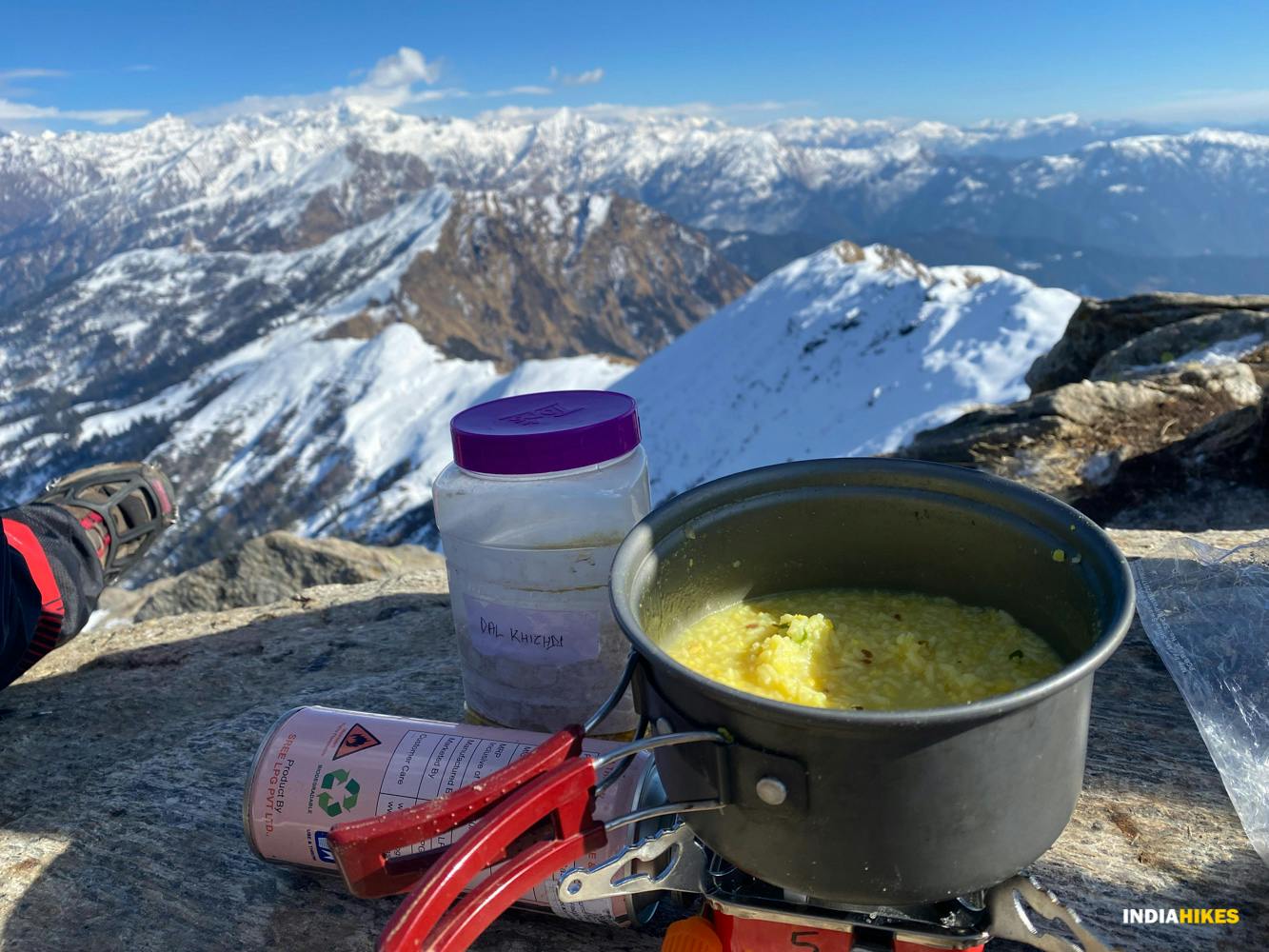 ➤ When do you know that you're ready for a DIY style trek?
Sindhu: There are two major factors – one is fitness. You need to be regular with workouts because you are required to push yourself a lot more on a DIY trek. It's important to be consistent with building good cardiovascular endurance and overall body strength. Secondly, you need to make sure that the group of people you are going with have some high-altitude trekking experience. That helps to understand how one's body is behaving throughout the trek. When it comes to high-altitude trekking, we cannot ignore the risk of Altitude Mountain Sickness (AMS).
Find out more on how to get fit for a trek.
Vaishnavi: On our summit day, I forgot to carry my sun cap. I had a severe migraine attack while coming down to the campsite. I was able to take care of myself because I was aware of what my body was going through. I decided to rest and take a painkiller while Sindhu prepared the soup. I felt a lot better within an hour. Incidents like these become very crucial when you're at a high altitude. 
➤ Why should one go for a Do-It-Yourself trek?
Sindhu: The way the tables turn in a DIY trek changes the way you look at trekking. Also, the thrill and adventure it comes with is totally different. For us, the Kedarkantha summit experience was completely unique! When we reached the summit point, there was no one there. This gave us a really good opportunity to cook some yummy khichdi to eat at the summit itself! 
Vaishnavi: My biggest reason for trekking is to structure my thoughts and be more organized. On this trek, anything and everything that we did was on our own! This made me declutter my mind and focus on thinking step by step. The fact that there was a lot of planning and analysis involved, and decisions to make at various stages, made me love the experience so much more!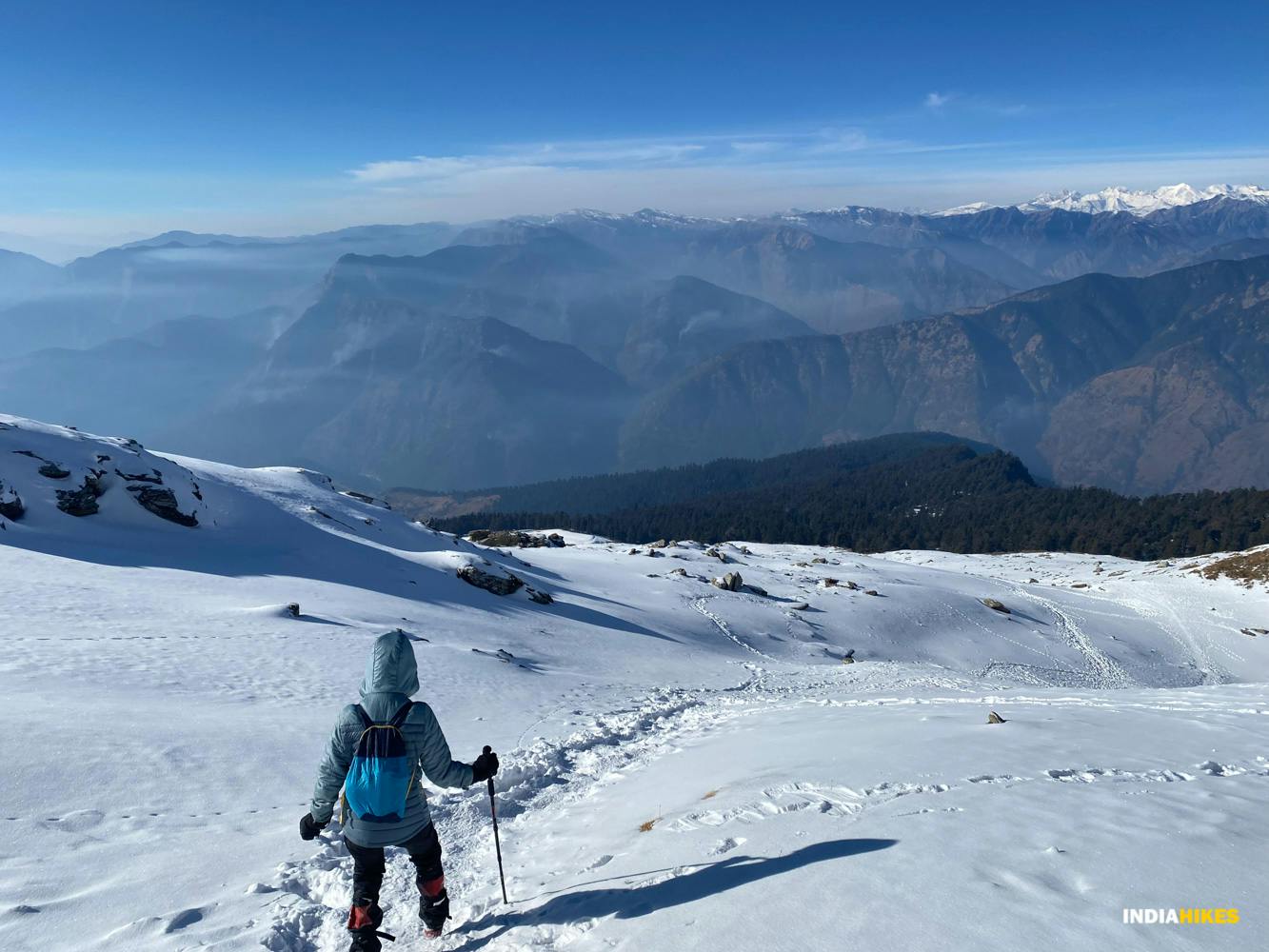 Listening to Vaishnavi and Sindhu's DIY trekking experience, we learnt that trekking with the right spirit is crucial. Doing a trek on your own means you need to be responsible. You cannot litter the trails, play loud music or make a bonfire. 
"Much before organizations started to take people on treks, trekking was done in a Do-It-Yourself manner. Only a few people would gather the courage to plan a trek like this and experience a high sense of adventure. With DIY treks at Indiahikes, we wanted to bring back the good old days of trekking on your own and change the way people look at trekking." shares Arjun Majumdar, the founder and CEO of Indiahikes. 
We were delighted to see the perfect trekking spirit in Vaishnavi and Sindhu. Their DIY experience was filled with learnings on the dos and don'ts while on a DIY trek. We hope this inspires you to trek DIY style sometime! 
Find out more about DIY treks with Indiahikes here.
Author: Sneha Yadav
If you have any thoughts or questions on this, leave a comment below!
Sign up for our much loved Weekly Mailer
We have terrific trekking tips, trek updates and trek talks to look forward to