What Makes Kuari Pass A Terrific Winter Trek?
Share this story
There are very few Himalayan ranges that are accessible in winter. And Kuari Pass happens to be one of them.
Kuari Pass receives its first snow-fall around last weeks of December. From then on, it turns into a delightful snow trek. It has everything a trek ought to have – wide expanses of meadows, rustic oak and deodar trees against the backdrop of beautiful snow capped peaks.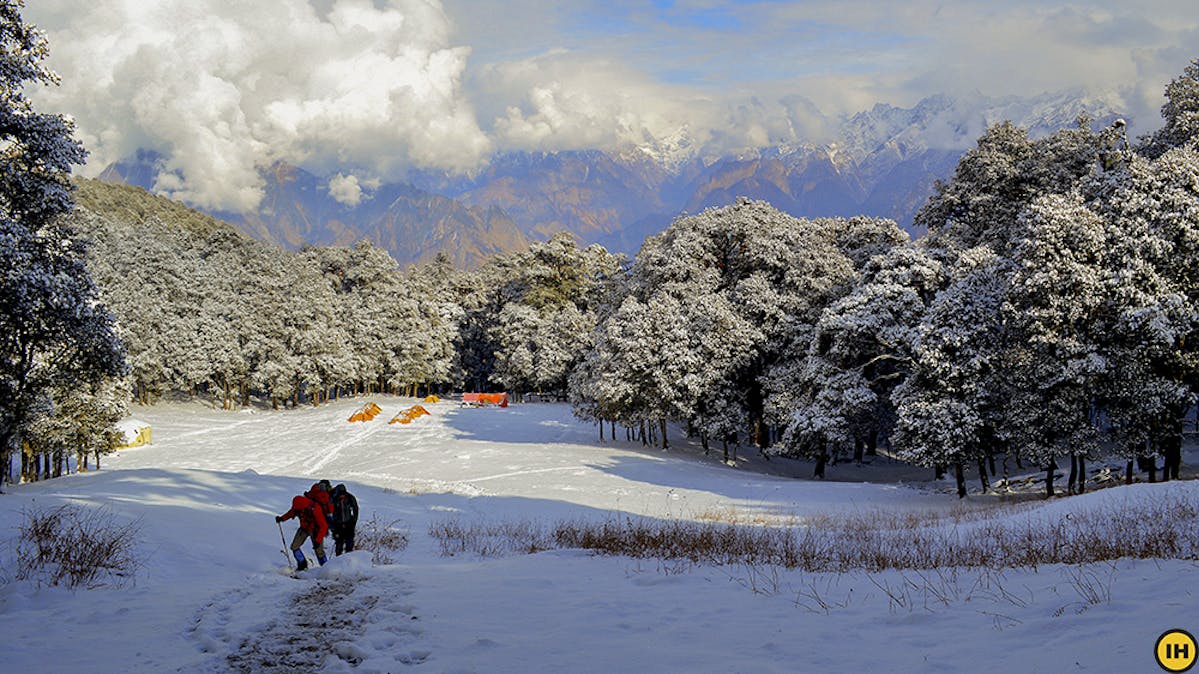 Kuari Pass in winter. Picture by Santanu Sain
It might not be hard to imagine how beautiful the scenery can get with a blanket of fresh snowfall, but to be there and wade through that snow is a completely different feeling! It's wonderful! The trails leading from Tali Top to Kuari Pass gives one an impression of doing a full scaled Himalayan alpine expedition in truck loads of snow.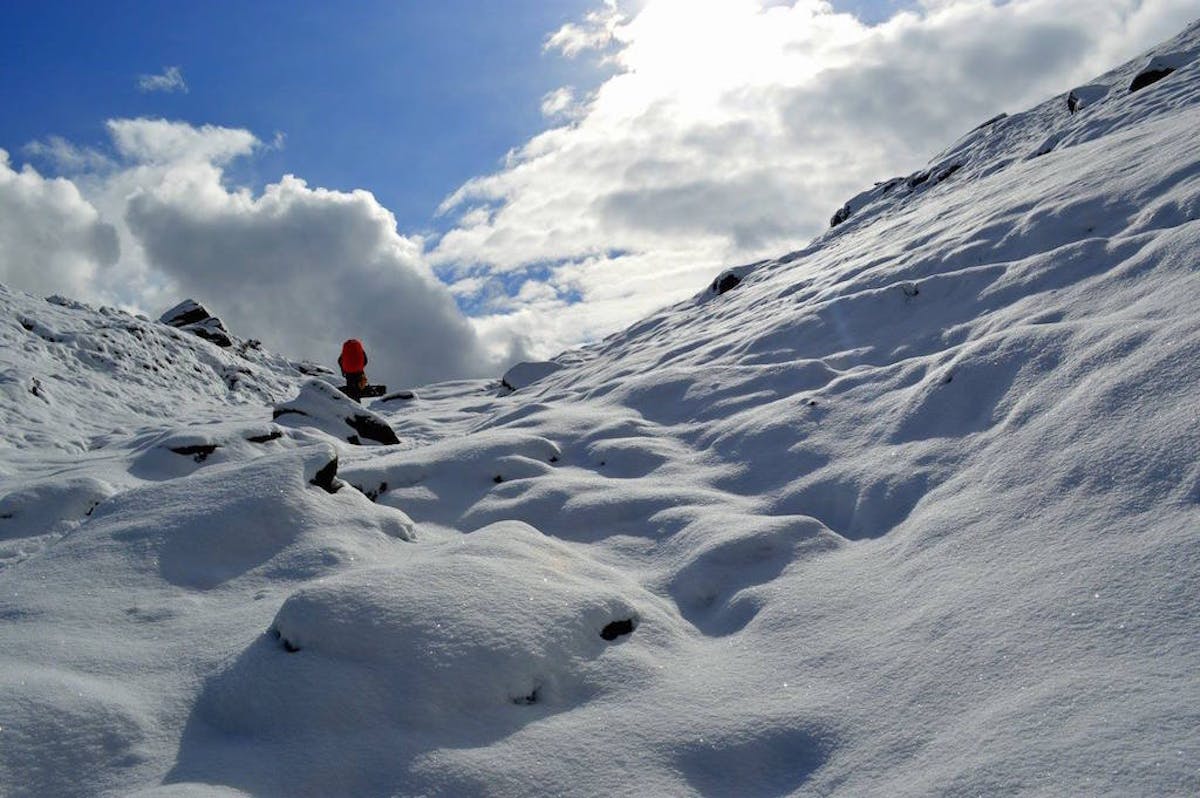 The Kuari Pass trail deep under a blanket of snow
All this, while the best of Indian Himalayan peaks like Nanda Devi, Dronagiri, Kamet, Chaukhamba, Trishul, etc. stand in the distance watching over you. It's a magnificent feeling!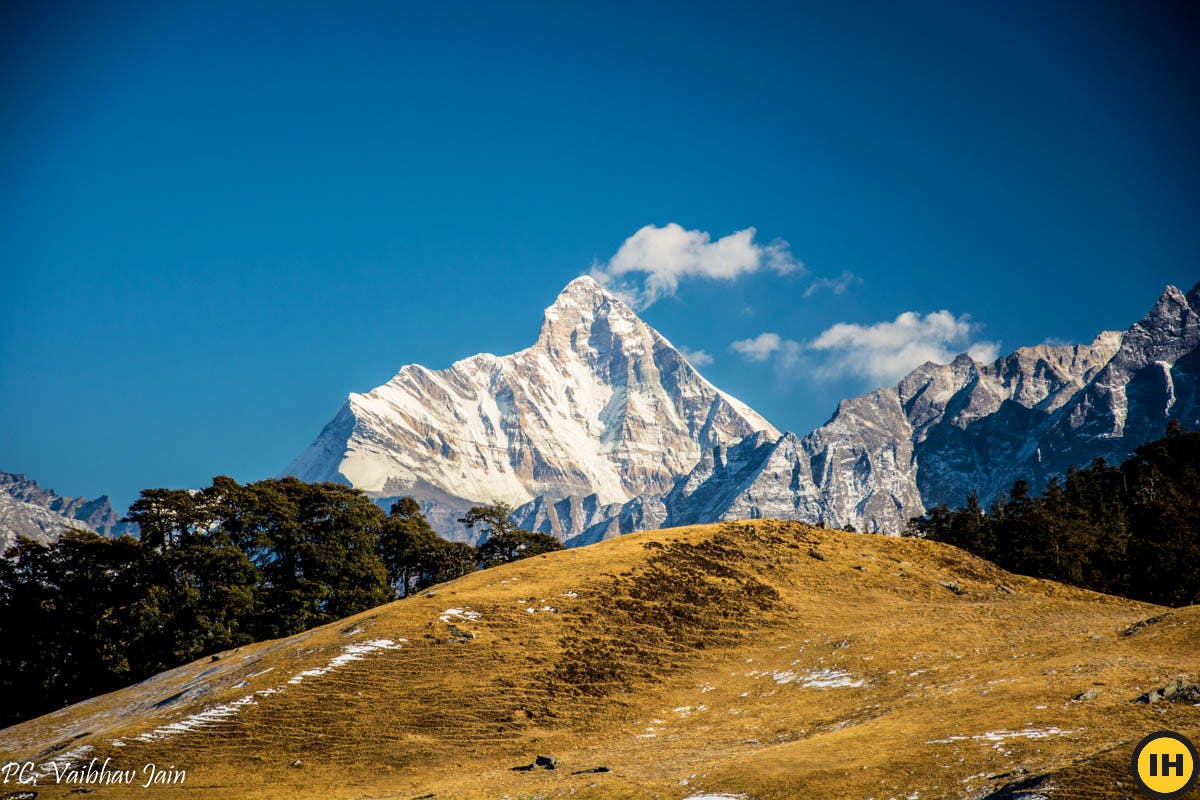 Mt Nanda Devi – Gorson Bugyal offers outstanding views of India's tallest summit
Not only do you trek in snow, but you have the rare chance of witnessing a snowfall. Especially if you time your trek right – in the last week of December. You'll have a story to tell when you go to sleep in a grassy campsite and wake up to a snowed out campsite.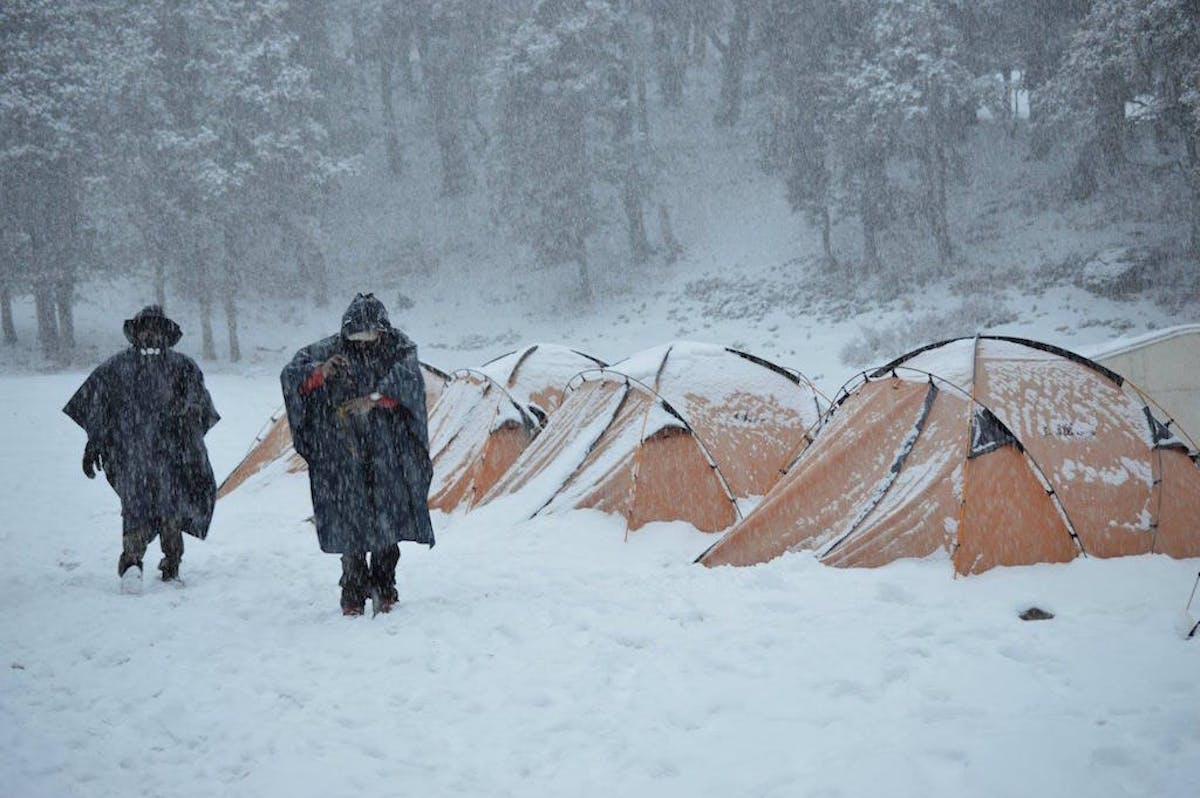 "Our campsite turned white within 10 minutes" writes Santanu Sain, who shot this picture.
Things to look out for Kuari Pass Winter Trek
1. The prospect of exploring the less traveled region of Himalayas in peak winter has its own lure. As you move away from the crowded town of Joshimath, you can observe the virtual silence in the air. No wonder silence is sacred in the Garhwal Himalayas.
2. The trail goes through a landscape that changes with each uphill heave and downward scurry. From the high passes swathed in silver oak, the route plunges through tunnels of rhododendrons. As you haul yourself up to the top of the pass, enjoy a spur of flying saucer clouds hovering over high mountains.
3.The historical route explored by Lord Curzon in 1905 is still popular among back-packers. The four-day trek is the marquee route along the western rim of the UNESCO-prescribed Nanda Devi Biosphere Reserve and is a must for any mountain lover.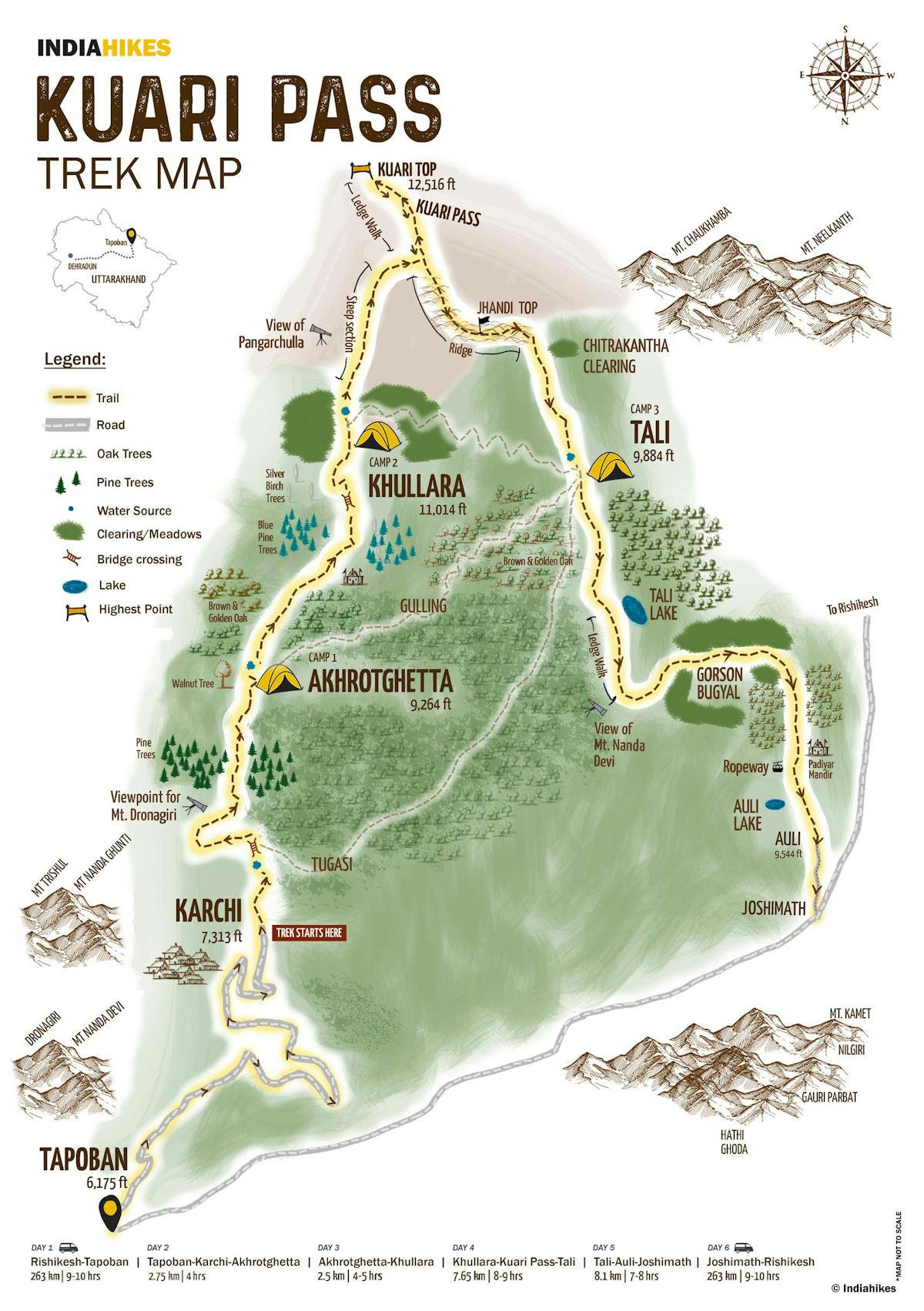 Kuari Pass Trek Map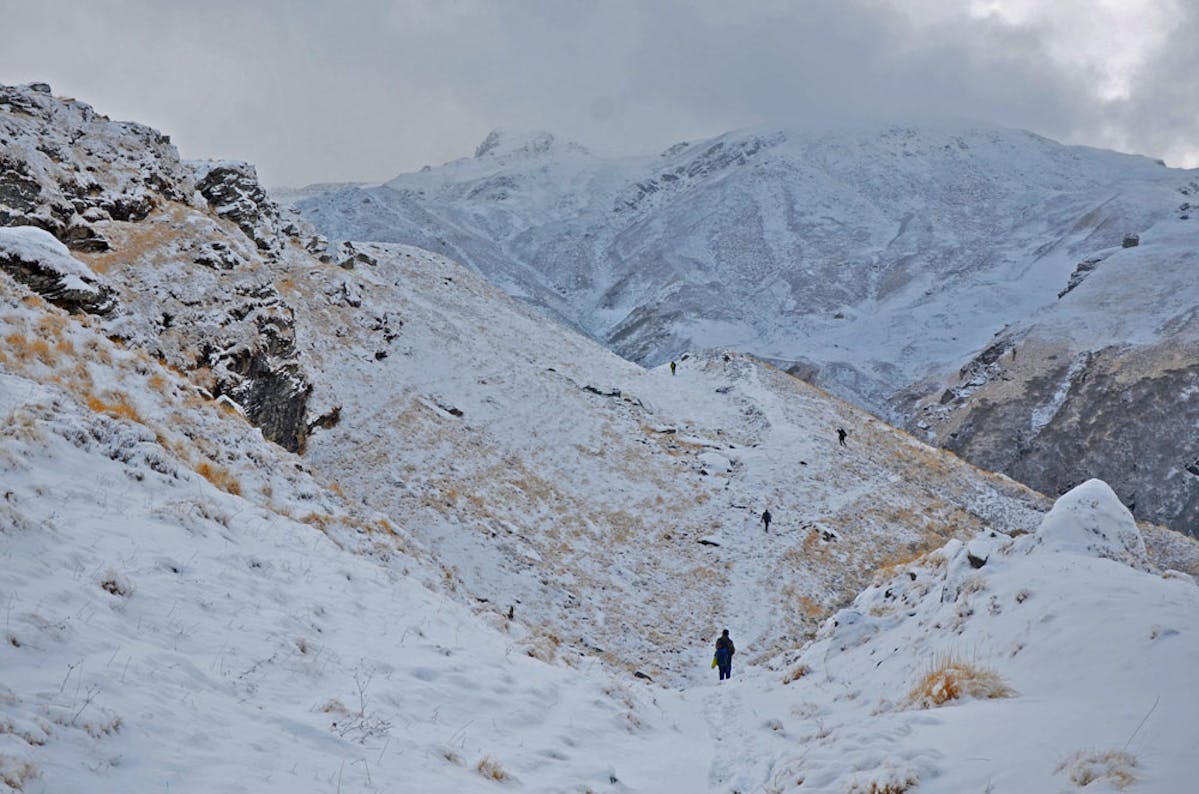 On the way to the Lord Curzon trail. Picture by Sushma Honnappa
Sign up for our much loved Weekly Mailer
We have terrific trekking tips, trek updates and trek talks to look forward to