Latest Updates: Road To Chandratal Opens Early This Year
Share this story
Latest Updates: Road To Chandratal Opens Early This Year
Category News
By Aswati Anand
2017-06-16
The first batch of Hampta Pass returned yesterday. They were thrilled at the surprise they were in for – Chandratal was accessible! The roads to Chandratal, which is often not accessible in this time of the year, are open! So all batches from here on will be able to visit this moon-shaped lake until the end of the season!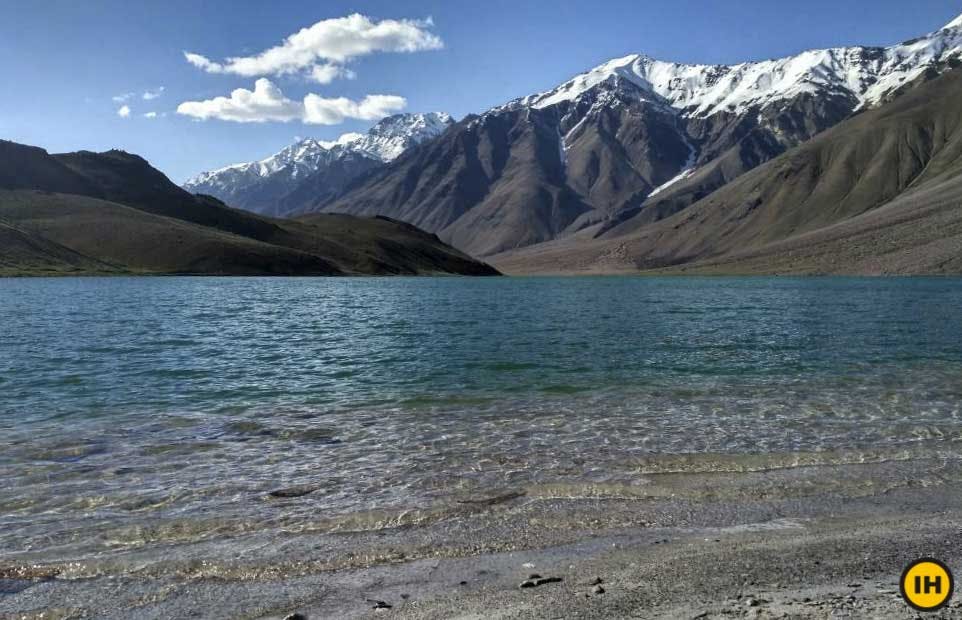 Going to Chandratal is a cherry on top of a dramatic cross over trek like Hampta Pass. The snow this year, on the narrow Hampta Valley, was not so much to deter Pass crossing. The trekkers crossed the Pass without using gaiters– which speaks of the amount of snow.
The snowline starts 20 minutes after Balu Ka Gera, and ends half an hour from the Pass descent. There are patches of snow on near Shea Goru campsite. The pass crossing day saw rain, hail and snowfall!.
Hampta Pass trekkers, do not forget your ponchos.
Updates from our other Himalayan slopes
The current batch that has gone to Buran Ghati has crossed the pass today. They have had spectacular weather throughout out. 
The Indiahikes office team has been living the Buran Ghati trek through our Ground Coordinator Suhas's eyes. He is currently there with this batch, having crossed the pass and reached the River Camp as we speak. With him, we have all been falling in love with the trek all over again.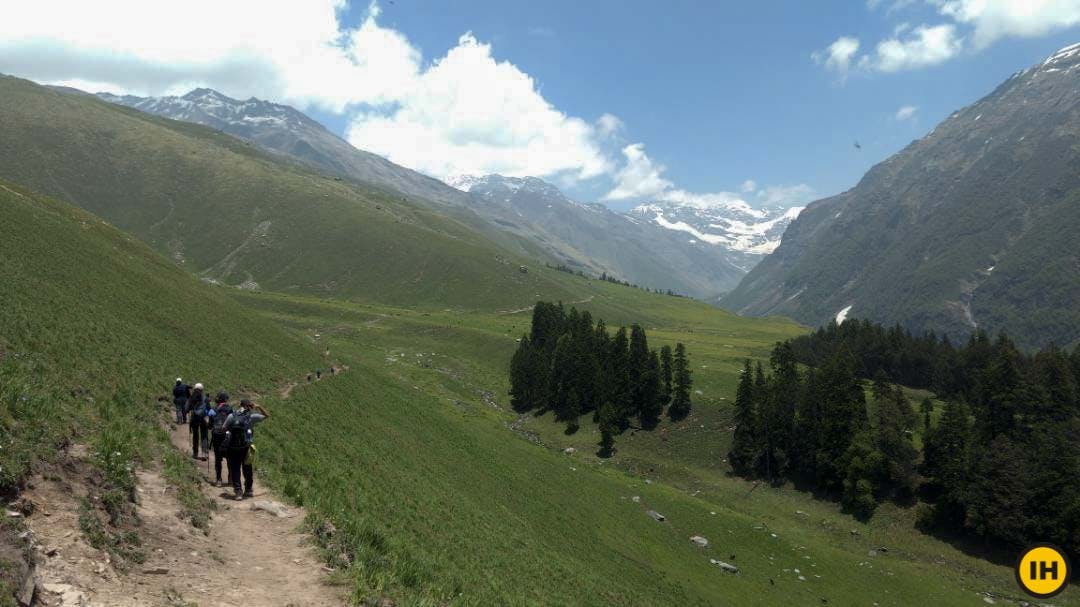 He called us this morning as he was reaching the Pass (yes! There's network there at 15,000 ft!). Arjun asked him to stay on call until he reached the knife ridge of the Pass. Arjun had wanted to hear his exact reaction looking at the wall below.
"Oh god, my heart is in my mouth!" Suhas shouted.
We also heard excited squealing of people rappelling down the Pass and sliding down later! Here is what our Trek Leader Vishal sent in as a live update: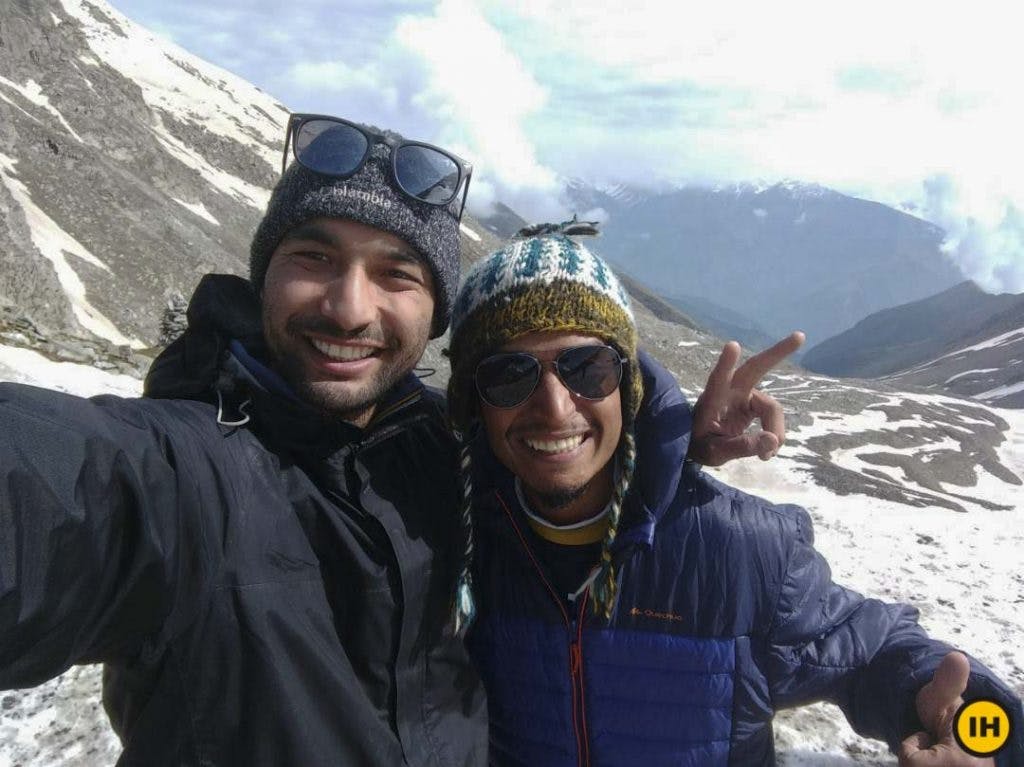 It is not just Suhas, our Trek Leaders have fallen in love with this trek as well. Our Trek Leader Yash called our Ground Coordinator Vishnu yesterday after the pass crossing. He was raving about the Dunda campsite!
Our Ground Coordinator Vishnu has recorded an audio clip telling you exactly how that conversation went. Give this a listen!
Vishnu has been putting out regular updates on his Soundcloud profile. Do give his channel a follow. You can find his channel here.
Rupin Pass runs geographically parallel to Buran Ghati. In fact, Rupin Pass was discovered thanks to Buran Ghati trek! It was a chance discovery. You can read about how a failed exploration to Buran Ghati led to Rupin Pass's discovery here.
The weather has been clearing up at Rupin Pass. If there is rain, it only rains on few low altitude camps. The Upper Waterfall campsite is lush green as the snowline has receded. The Pass day sees a good amount of snow to trek on. From the Ronti Gad campsite, you can see the bifurcation of the meadows and snowline. This trek continues to blow our trekkers away!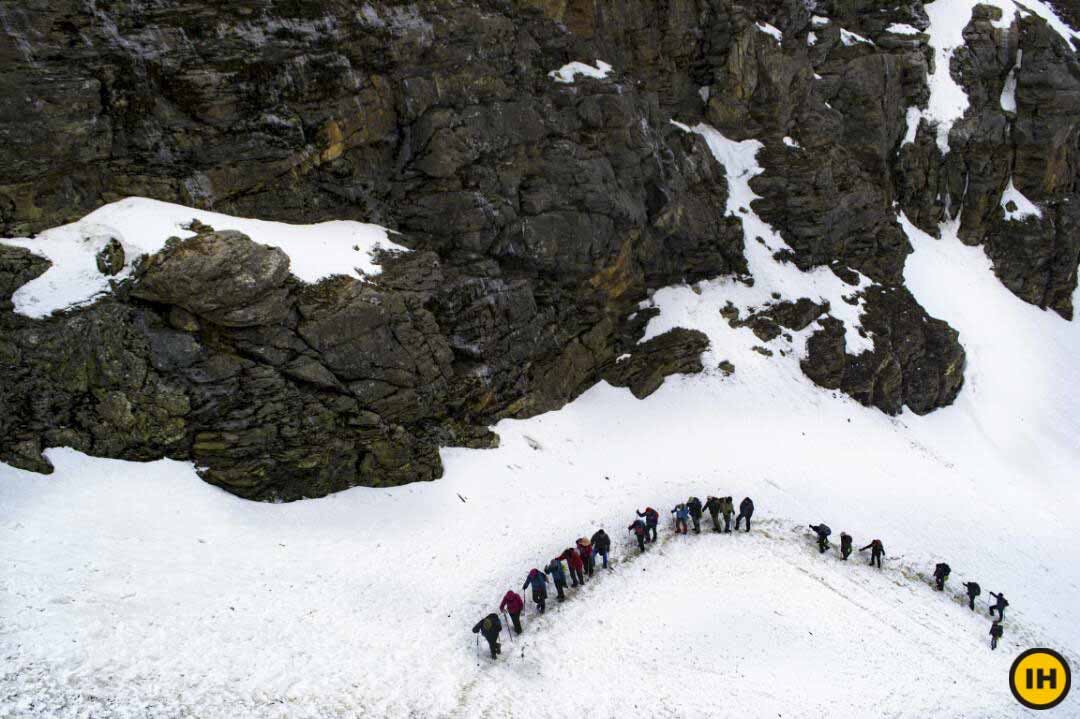 Here is what our trekkers had to say:
"Rupin did not disappoint with its surprises everyday. The mesmerizing landscapes everyday coupled with the weather changes made the trek more interesting and challenging. I can easily say this is one of the best treks considering all factors. Trek lead was great and he gelled easily with the team. In fact, we never thought we had someone monitoring us every-time. He was joyous most of the time and strict when required. Same holds good to the ATL and technical guide. Hats off to the support staff for helping us with the food and accommodation at every camp site.
Thanks for the amazing experience. Looking forward for my next trek!" –
Vivek, June 2017 batch
Meanwhile, on the Green Trails front, we have a very interesting project on our Rupin Pass trail called the bottle brick project. The bottle bricks have been used to make a public dustbin at Jiskun!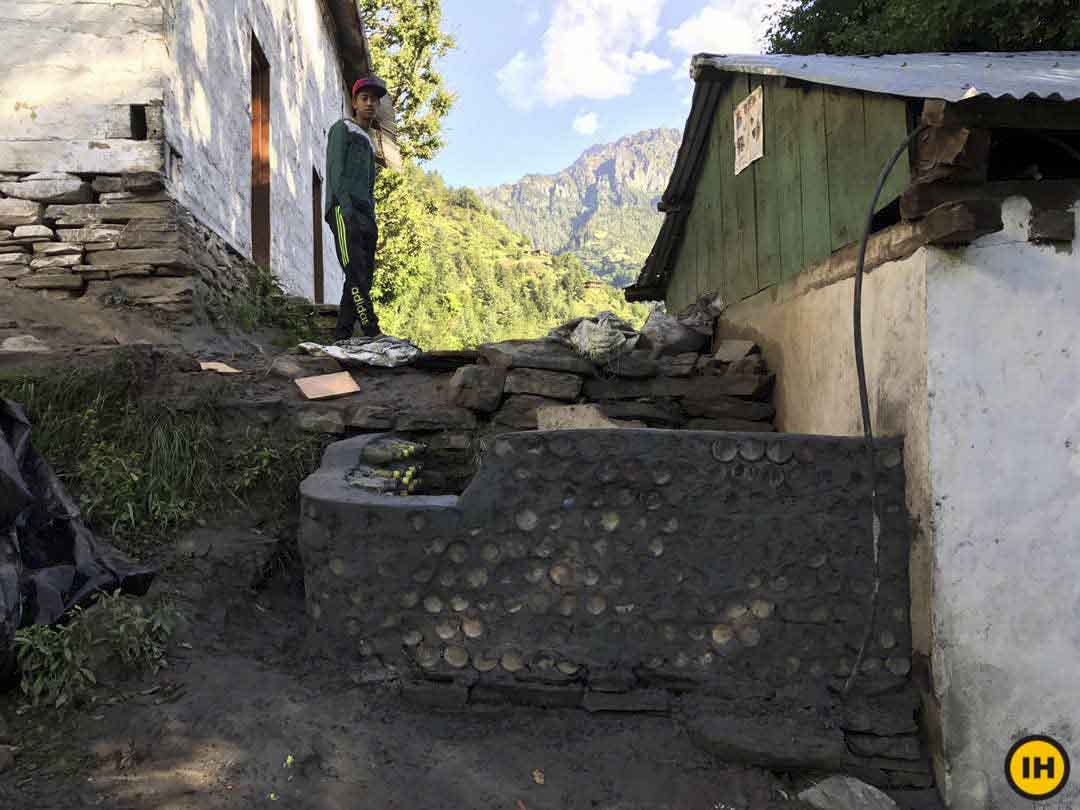 Now our interns are figuring out a way to use bottle bricks for more infrastructure projects. The idea behind the Bottle Brick project as an upcycling activity is to reduce the amount of waste that goes to a landfill. The larger theme of these projects are to make the villages on the trail as model villages. There's a lot of training of local folk, especially children, going into this.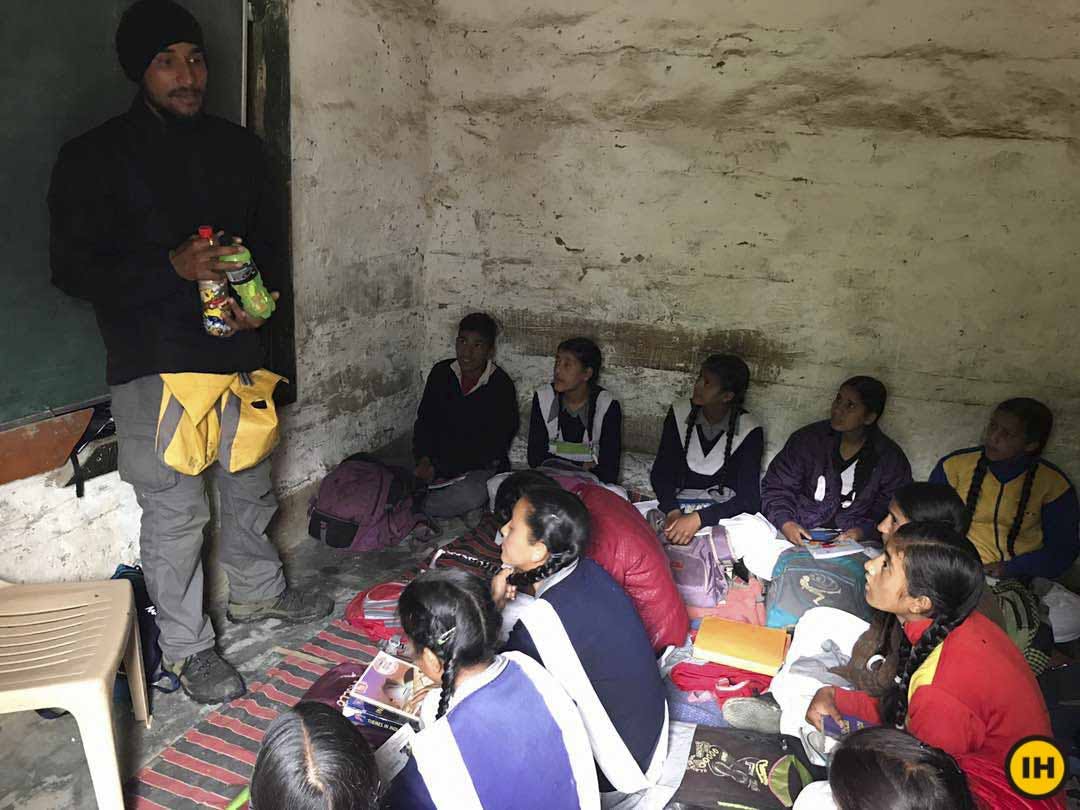 Our Green Trails Head talks about the project here.
Our trekkers have been mesmerised by Bhrigu Lake. Well, if the place looks like this, it it not difficult to see why.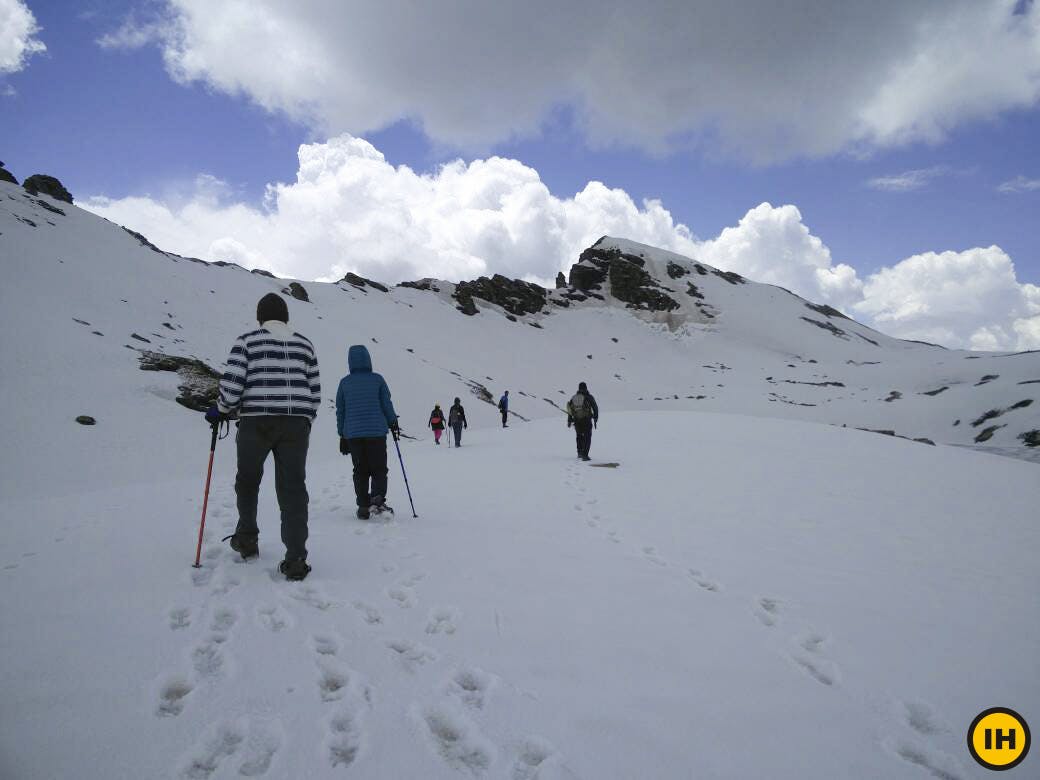 There has been a slight change on Bhrigu Lake itinerary. We are returning from the same trail that we go upto the lake from. Towards Pandu Ropa, which is where we usually camp after the lake, there is a lot of snow. So on Day 3, we will be returning to Rola Kholi instead of going to Pandu Ropa. Once the snow clears, we will return to camp at Pandu Ropa.
Here is what trekkers had to say about the trek:
"This was my first trek and will definitely not be my last. I realized the climb up to Bhrigu Lake was going to be a big challenge for someone who was going to attempt trekking for the first time. But through guidance and motivation from Abhirup, our trek leader, it was a breeze. Abhirup is an amazing Trek Leader with a balanced personality of fun and being disciplined when need be. There were definitely times when I got breathless, thought this is beyond my reach but Sham Ji and Indrajeet Ji, our trek co-leaders were so encouraging and really pulled the group together and made us push ourselves to finally see the spectacular Bhrigu Lake." – Samidha Raul, June 2017 batch
Moving back to our biggest slope, Roopkund. The weather has been settling down at Roopkund with pleasant days and slight drizzles in the evenings. In the 9th June batch, 11 trekkers attempted Junargali for the first time in the season! What an incredible feeling it must have been to see Trishul that close.
Here is what our trekkers had to say about the trek:
"Initially I thought it would be very difficult and was a bit scared. But for my luck, we had a awesome trek lead "Himanshu". He is really an amazing guy who encouraged each and everyone equally and motivated us at every step. He never let us feel the tiredness as he kept us involved in interesting activities. Also, the whole team of 23 was great. Each and everyone in the team was very friendly and encouraging. Really happy with the whole experience of trek. Not to forget to thank the cooking staff and technical staff. Special thanks to Chacha ji and Dhani bhai and to each and everyone involved in this trek who made our journey smooth and successful. According to me, everything in this trek was perfect and thanks alot to Indiahikes for giving such a great experience. I will never regret for choosing IH for this trek and will cherish this forever." – Chaitra Pallavi, June 2017 batch
On the Green Trails front, the interns at Lohajung are driving a lot of initiatives at the base. Our interns are busy setting up rain water harvesting model at Pathar Nachauni that I spoke about last week. They are also planning vertical gardens at the base. The plants at Green House are growing well. We hope to see a substantial growth this week!
Before I end the updates, I'd like you all to take a look at lovely article our Finance Manager, Komal has written. It is about how she discovered her love for running through her love for trekking. Read her story here.
Stay tuned to our website for more updates!
Sign up for our much loved Weekly Mailer
We have terrific trekking tips, trek updates and trek talks to look forward to